I'm so happy you were able to find my blog among the bazillion other blogs out there.
We started in a townhouse, bought a house in the 'burbs, renovated and bought my husband's grandparent's old house in a trendy city neighborhood (Lawrenceville for all you Pittsburgh gals), and currently live in our dream home. Dream home because of its size and layout and the wonderful community. Not a dream house because GOOD LORD IS IT BEIGE.

DIY Projects
I'm obsessed and passionate about anything I can do or make myself. Nothing you find here will be elaborate. I'm all about simple projects because I barely have enough time to shower in a day anyway?
Design Tips & Tricks
Need help choosing a rug? How to hang a gallery wall? Or just general living room inspiration? You're in the right place. I'm constantly researching problem areas people have in designing and decorating their homes and trying to solve those problems.
You'll see this motto sprinkled in around here – turn your pins into reality.
We can all spend hours sucked into the unrealistic beauty of Pinterest. It's not unrealistic for everyone by any means but for us mamas with littles everywhere, there's a different type of reality.
The sticky fingers reality.
The runny noses reality.
The omg-was-that-the-bus-that-just-went-by reality.
And I could go on.
But, let's make a beautiful, functional, family-friendly home a reality for you, too.
Explore the blog, get decorating ideas, DIY ideas.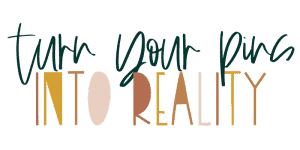 My blog is called Making JOY and Pretty Things because I want to inspire you to see the joy in your own home, and make pretty things along the way.
Please feel free to contact me at any time! I love meeting moms and crafters alike to share stories and ideas or just to talk. I've found motherhood often times to be a completely isolating experience. The times I get to commiserate share life with other mothers can bring a sense of peace to my soul, almost like "okay I'm not the only one going insane". So, please please please reach out if you need a little mama boost!
I hope you find something here to spark your creativity and help you see the joy in your beautiful life.
Let's turn your pins into reality!
So, where do you go from here?