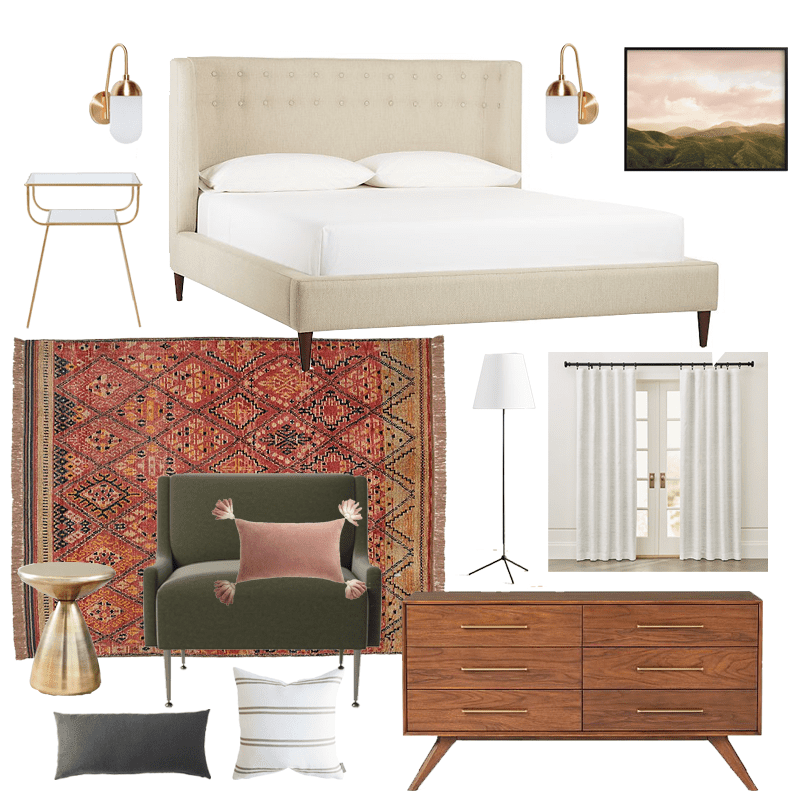 CUSTOM MOOD BOARD / CONCEPT BOARD – GENERAL INFORMATION
The custom mood board package includes:
An introductory email to talk about your space
Mood board (or concept board), which is a visual representation of all items I've selected for your room in one place
An opportunity to provide feedback via my online client portal (I'll make up to 2 revisions based on that!)
A shopping list with links to products and purchasing information
Curious about what a mood board looks like? The image at the top of this page in an example bedroom mood board. You can see more in my portfolio as well.
HERE'S HOW IT WORKS
Payment is required to begin. You can purchase all services directly through my website. Please contact me if you have any questions or concerns.
---
Click here to access the questionnaire and share some details about your space/room. Be as specific as possible. This helps me understand the scope of your project, budget, and wish list.
I'll also send out an introductory email welcoming you to my services and asking for additional information about your space.
---
STEP 3: Send photos of the room from all angles and a floor plan to [email protected]
Don't worry, it's not as hard as it sounds. This can be simple and hand drawn. If you need some tips, check out this post. Or feel free to reach out to me with any questions. Please include dimensions like ceiling height, doorways, windows, and any important architectural elements.
What to include in your floor plan:
basic room sketch
label doors, windows, any architectural elements (i.e. fireplace, etc)
measure each segment and mark on drawing
take a photo and scan it and email to [email protected]
Sample floor plan:
---
Step 4: Pin Until Your Heart's Content
Pin until your heart's content on a secret Pinterest board just for you! You can also email me pictures or links (makingjoyandprett[email protected]). This is an important part of the process to make sure I understand your design aesthetic and vision for the space. Don't know your design style? No worries. Pin (or send me) pictures that you love and I'll figure it out for you.
Provide me your Pinterest email (the email you use to log in to Pinterest) and your Pinterest user name. I'll send you an invite to a Pinterest private board where you can add your inspiration images.
---
STEP 5: SIT BACK AND RELAX. YOUR WORK IS OVER!
I'll take over and get to the fun part, THE DESIGN! You can expect to receive a preliminary design plan within one to two weeks via my online client portal. You'll be able to provide feedback at that time. Remember – you get up to 2 design revisions!
Once the design phase is complete, you'll receive:
A shopping list with links to the recommended items for your space (along with any applicable specifications like color, size, etc)
Custom mood/concept board
Any applicable setup instructions
*If you have any questions please contact me at [email protected] or through the contact page on this website.*
*NOTE. If there is a lapse in communication of greater than 30 day without notifying me of the need for additional time, Making Joy and Pretty Things reserves the right to close the project and require a $25 fee to reopen. The fee is required to be paid before the project with be reopened.*