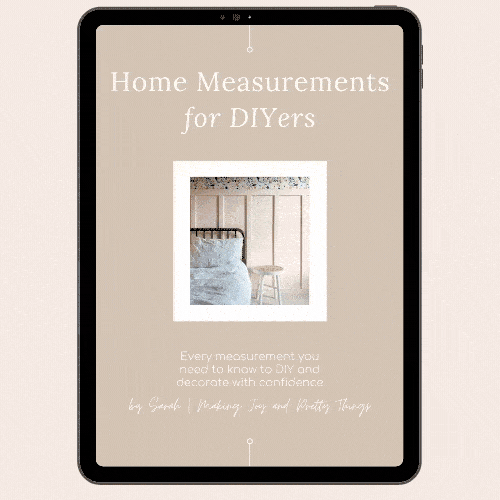 If you've ever found yourself wondering "how high should I hang this sconce?" or "what size coffee table should I buy?", this is for you!
All the home measurements you need to decorate and DIY without Googling again!
this 49 page downloadable pdf ebook is the perfect reference guide for common and not-so-common diy and design measurements like…
01
Lighting Measurements – where to hang your lights in the bathroom, bedroom, living, kitchen, and entry
02
Rug Measurements – what size rug you should use for king, queen, and twin sized beds, where to place your living room rug and how big it should be, and the ideal size and spacing for your dining room rug
03
Space Planning & Measurement Guides – where you should put your furniture in your bedroom, living room, and dining room and measurement guides for specific furniture in each of those rooms like dining room chairs, coffee table, nightstands, etc
04
Standard Furniture Size Guide – all the common furniture sizes listed in one place like mattress sizes, sofa sizes, TV placement, ceiling fan size guide, bathroom fixture sizes, kitchen measurements, and more
THIS ebook
IS FOR YOU IF…
You want to figure out the right size rug or nightstand or coffee table or *any piece of furniture* to buy
You're DIYing your bathroom, living room, dining room, or kitchen
You're sick of googling every single home measurement
You don't know how high to hang curtains or where that piece of art you love should sit above the sofa
You generally love DIYing and decorating and need a reference guide for measurements and accurate space planning
"I loved it! I thought I knew everything about paint but I didn't! I've been decorating my home for 30 years and am rethinking some of my choices!"
Pam – paint ebook review
"I love reading something that is able to teach me something I didn't know almost immediately. After reading this, I learned about a dozen things I didn't know!"
TJ – reader review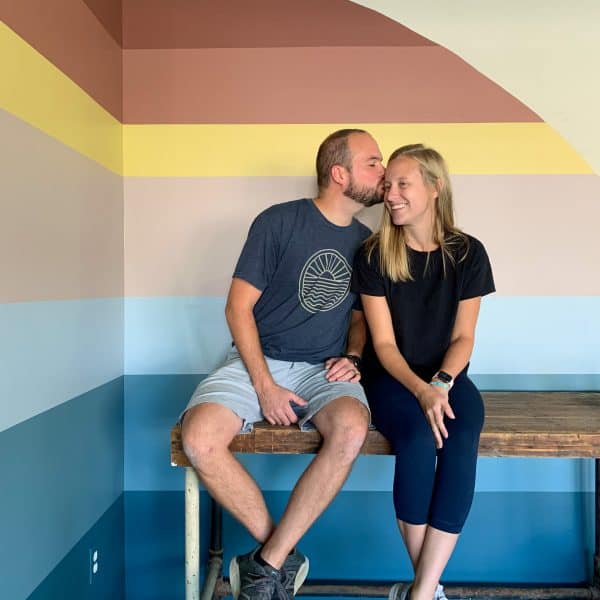 meet Sarah & tj
We're self-taught DIYers and Sarah is a self-taught decorator and designer.
Space planning and furniture measurements isn't something that comes naturally to a lot of people.
Having the wrong size furniture or putting a sconce at the wrong height can really make or break a room.
I spent hours upon hours researching measurements for every project we did and finally thought, "there needs to be a one-stop solution for measurements and space planning"
That's why I created Home Measurements for DIYers.
I've compiled years of experience and research into one document so you can stop googling and start creating.