Struggling to pick paint colors?
The Ultimate Guide To Popular Paint Colors makes it easy!
A 13-page online downloadable PDF where you'll discover designer and blogger favorite paint colors, basic color definitions and tips for picking colors, and the exact products you need to get started painting.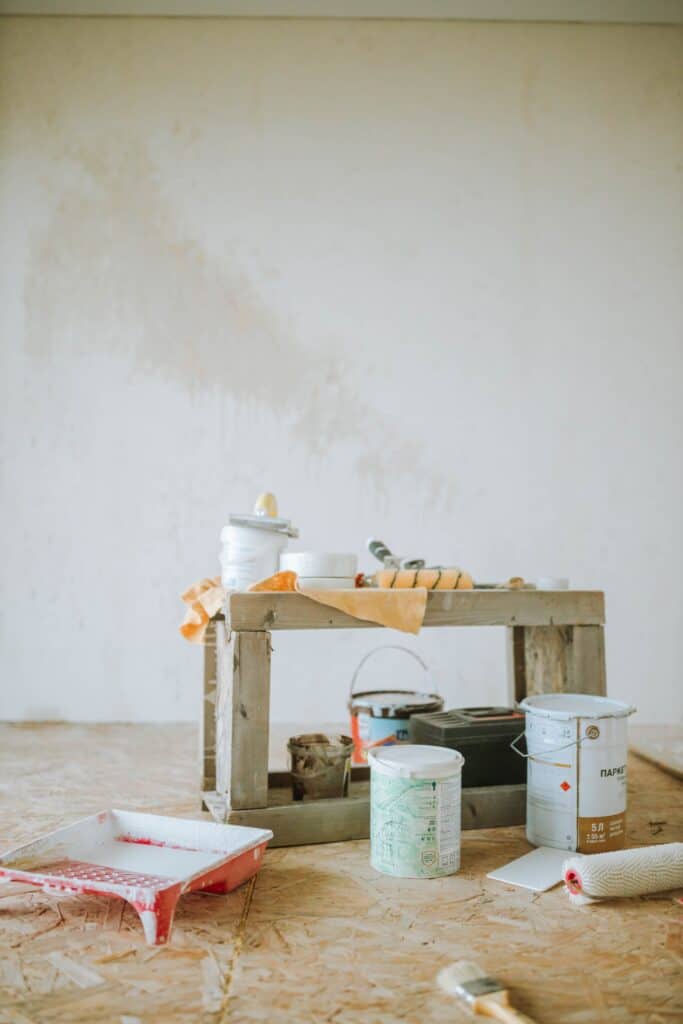 Get the exact tried-and-true paint colors that designers and bloggers love so you can ditch the overwhelm and just start painting!
The Ultimate Guide To Popular Paint Colors makes picking paint colors EASY.

You get everything you need to narrow down all the paint choices to a few manageable selections PLUS the tools you need to pick the right color.
Here's what you'll get for only $17 (total value $390)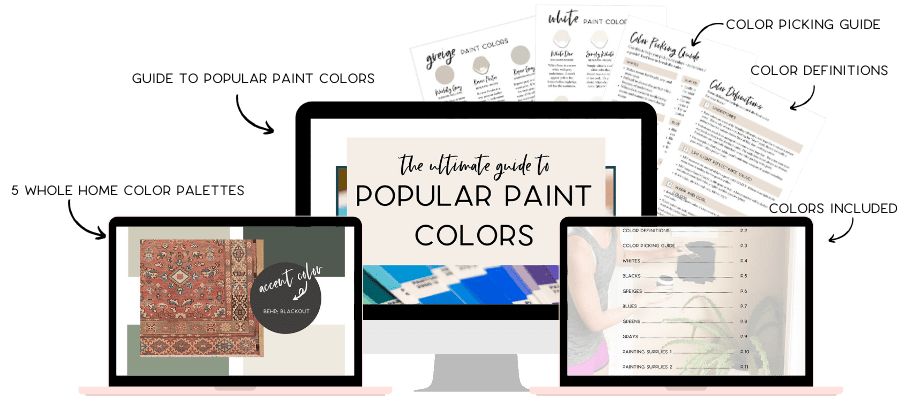 including…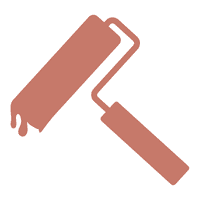 Ultimate Guide To Popular Paint Colors
Color definitions to help you pick the best color for your home
Color picking guide: a quick guide to color psychology
6 of each of the following: white, black, greige, blue, green and great popular (and reliable) paint colors that you can't go wrong with
Honorable mention paint colors
13 page PDF guide
BONUS: links to our tried and true painting supplies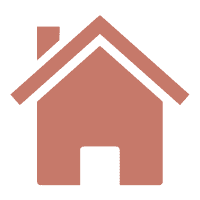 5 Whole Home Color Palettes
Five gorgeous whole home paint color palettes with 5 coordinating paint colors in each palette
Helpful hints for picking whole home paint colors
Guidelines for creating a palette
10 page PDF eBook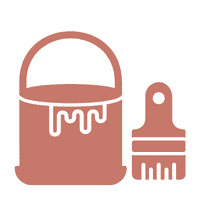 Paint Sheen Guide
Guide for choosing paint sheens for your home
Tips & tricks for selecting the right sheen in specific scenarios, such as in bathrooms, having kids/pets, blemishes on walls, etc.
6 page PDF guide
Ready to start painting?
One easy payment of $17
The Ultimate Guide To Popular Paint Colors narrows down the billion paint choices to a few manageable and PROVEN shades that are designer, blogger, and decorator approved.
The entire paint system, which includes 5 whole home color palettes and pages of tips and tricks to help you pick your paint colors, costs less than a consultation with a professional designer.
And these consultations don't even leave you with paint selections!
If you're like me and want to DIY your way to a beautiful home, the traditional interior design route is just not affordable for most people.
The Ultimate Guide to Popular Paint Colors is an AFFORDABLE ALTERNATIVE to hiring an interior designer for a paint consultation.
And the guide only includes proven paint colors (no matter your style).
Now you don't have to stare at 23875923 different shades of white and have no idea which to choose.
Ready to get started?
Turn those pins into reality

Real-life Reviews
Question for you… have you ever been to the paint store and gone cross-eyed staring at all the different colors?
Yeah…I've totally been there.
Really though, why are there 500 different shades of white??
THE ULTIMATE GUIDE TO POPULAR PAINT COLORS WILL HELP YOU NARROW DOWN ALL THOSE PAINT CHOICES SO YOU JUST HAVE A FEW TO CHOOSE FROM.
If that sounds about right, then you know…
THINGS NEED TO CHANGE…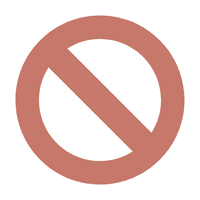 …you're tired of feeling overwhelmed with all the paint choices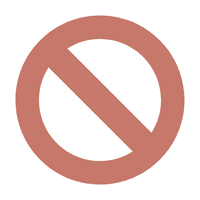 …you're done with not knowing where to start in choosing your paint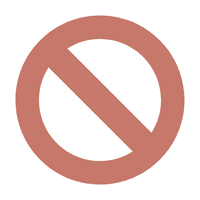 …you're frustrated with endless paint colors that all look the same
The struggle ends today!
Imagine how it would feel to only have a few *tried and true* colors to choose from instead.
How would it feel if you could remove the stress and overwhelm of a million paint colors and choose from just a few…rather than Googling, Pinning, and staring at the paint swatches at the store for 3 hours…
Just imagine if you could…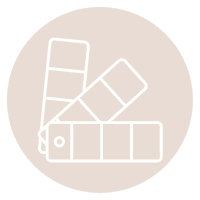 …confidently choose a paint color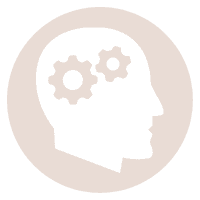 …know some of the science behind color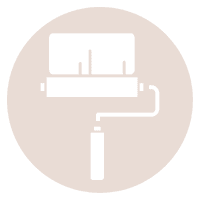 …finally get started painting your home
Have a question?
What will I learn?

This eBook is a way to help you narrow down the million paint choices to a few popular ones. I've also provided color-choosing tips and tricks, some quick color definitions to help you navigate your paint-picking journey, and a bonus list of our top painting supplies.
How is the information provided?

Once you purchase, you'll be automatically directed to a link to download the PDF guides. You will have immediate access to the eBook PDFs. It can be downloaded and printed an unlimited amount of times (for yourself).
Can I get a refund?

Due to the digital nature of the product and the immediate access, there will be no refunds given. I'm confident that you have all the information you need to pick the best paint color for your room.
What colors are included?

The Ultimate Guide to Popular Colors lists 6 colors for each of the following: whites, blacks, greiges, blues, greens, and grays.

The 5 Whole Home Paint Colors also include 5 paint colors in each color palette.
Who is this for?

The Ultimate Guide to Popular Paint Colors is for anyone who is overwhelmed by all of the paint color options for their home and doesn't know what colors to choose. It's for anyone that is ready to paint their home but needs help narrowing down the color choices.
Can I get a physical copy?

At this time, our materials are only available in digital format. You can print the PDFs and have them bound or keep them in a 3-ring binder, or just print out the pages as you need them. You can print the PDFs as many times as you'd like for yourself.

This is a DIGITAL PRODUCT and nothing will be physically delivered. You'll receive access to the PDFs eBooks to print out if you'd like, but nothing will be shipped to you.
Are you ready to start painting?
one time investment of just $17