See how I did an ugly, brown, old curtain rod update to match our white and bright farmhouse-style girl's nursery complete with new rose knobs!
Let's face it, a curtain rod update is probably the last thing on our minds because how often do you notice what's holding up the curtains? Well, get ready to do something about it!
This post contains affiliate links. Please, click here to read my disclosure policy.
It seems like ages since we finished up our farmhouse girl's nursery I've been very very very very slowly sharing all the DIYs we did for the room. I mean, the list IS pretty lengthy 🙂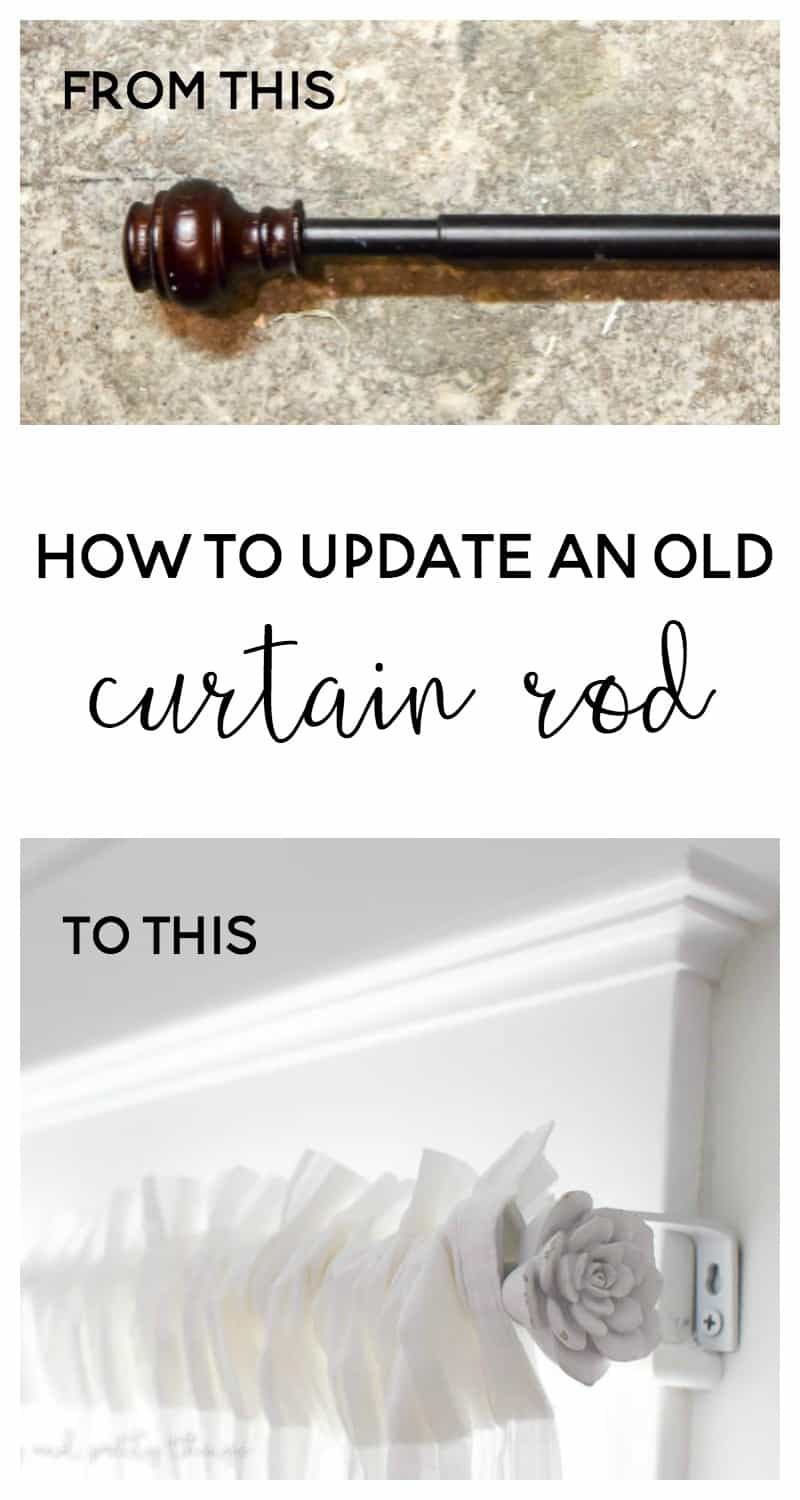 As the only room in our house that is ever remotely clean, I end up spending a lot of time rocking little Evie in it. I love this room just as much now as I did when we finished it!
Finishing Touches on a Nursery Renovation
I was rocking her the other day and realized I hadn't shared the easiest DIY project we did for the room: updating an old curtain rod! And, I'm not exactly sure why I haven't posted this yet. It's honestly SO easy.
Side note, are you often in sticker shock when you go to buy a new curtain rod? For a stick with two circles on the end, I can't imagine how they can justify the charge. But, I guess we all need curtain rods, right?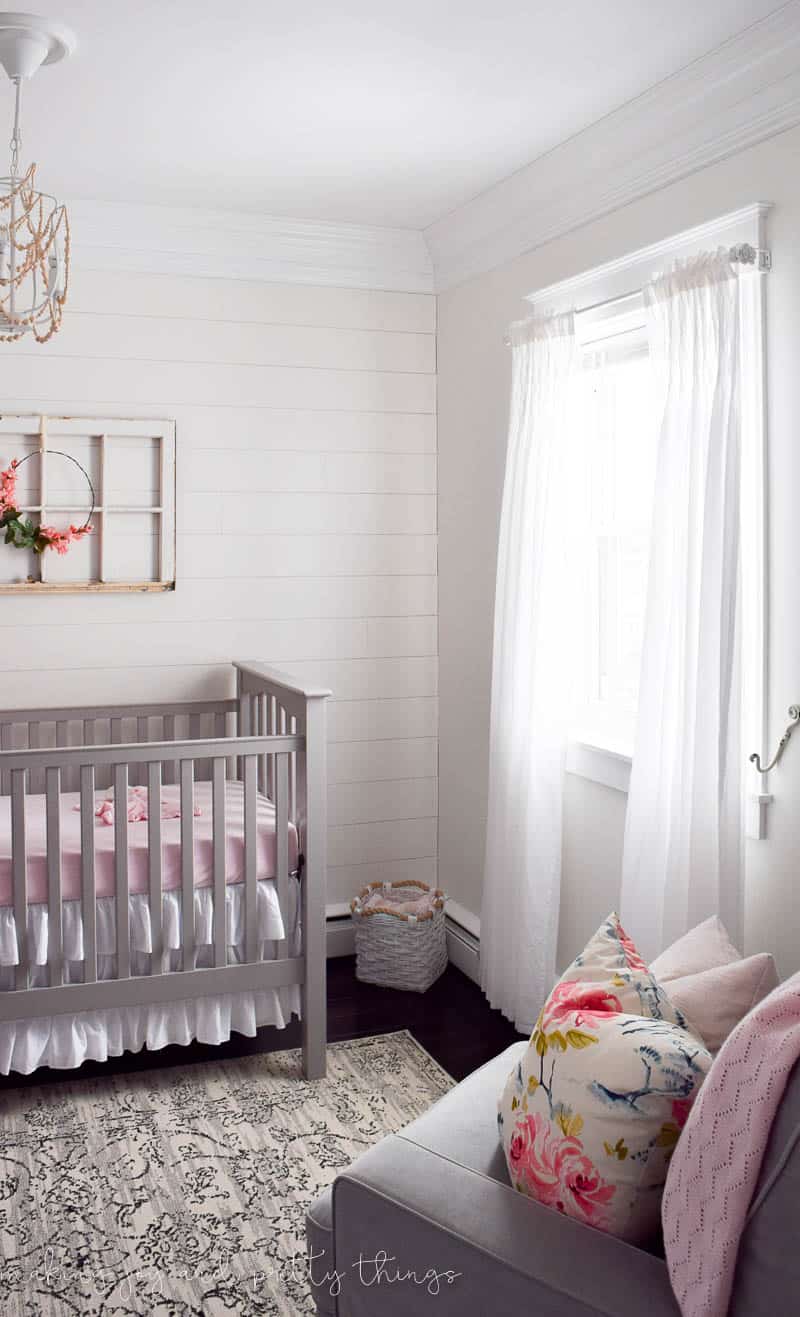 When I was looking for a new curtain rod for her nursery, I was experiencing said sticker shock. I just couldn't spend that much money on a stick with two circles 😉
But, for some reason, my husband had hoarded every single curtain rod we have ever owned, all the way back to his apartment in college (can't imagine what's on those ones). I decided to give one of those a mini makeover for her room!
Supplies:
Old ugly curtain rod (you know you have one)
Check out this ugly curtain rod: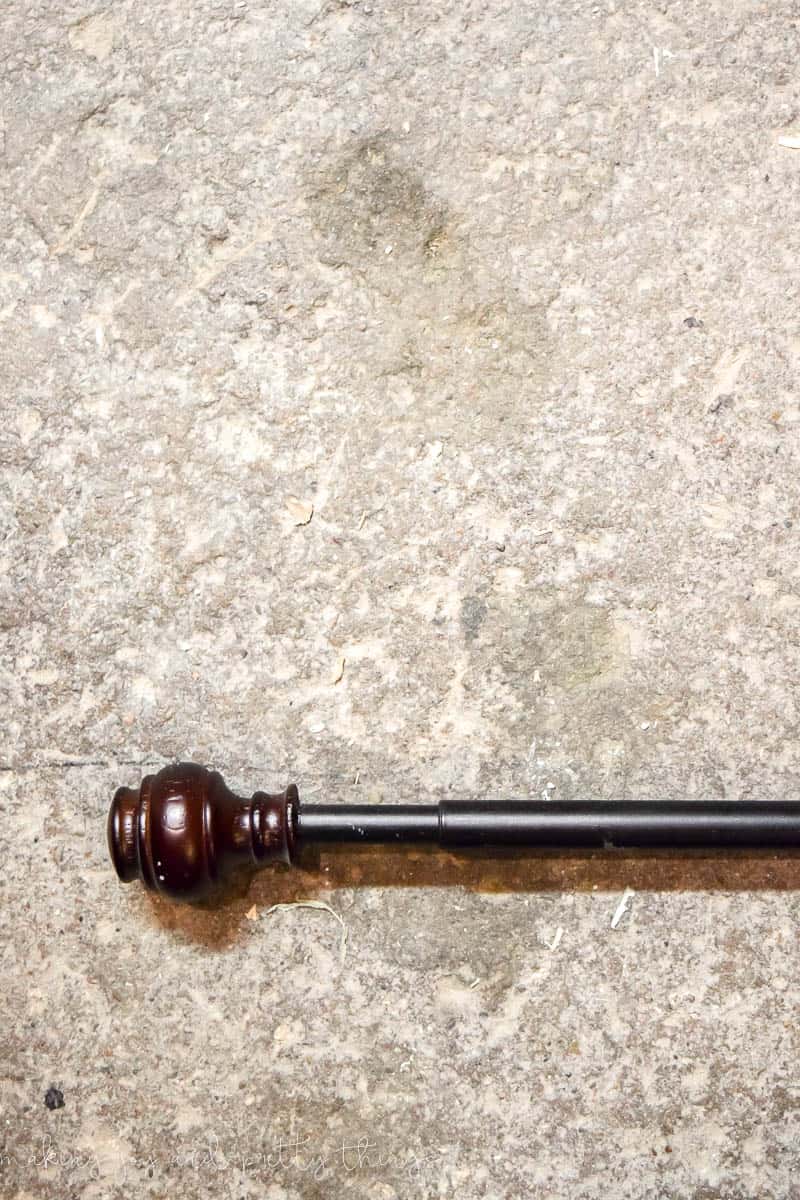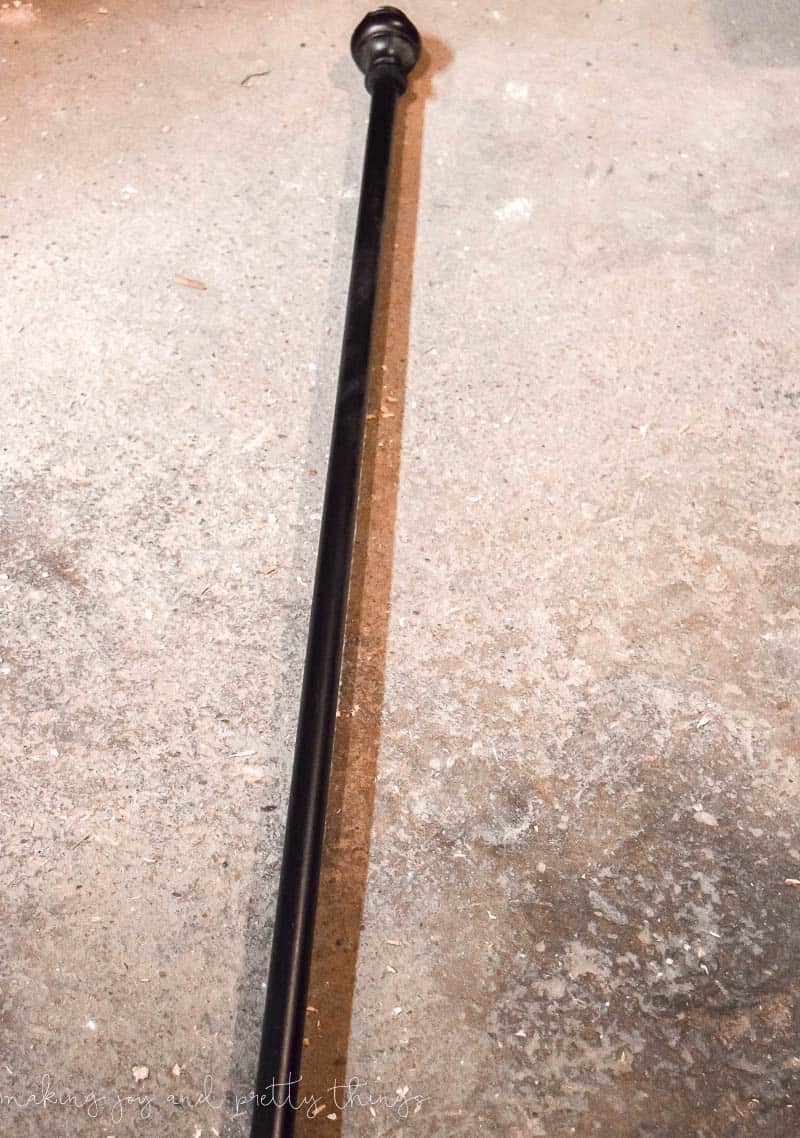 I mean honestly, it's not THAT bad. Just not my style. The dark wood had no place in her white and bright farmhouse-style nursery.
A simple spray-painted coat on the rod itself and that's the whole project! Easy, right?!
Step 1. Spray Paint the Old Curtain Rod
We only spray-painted the parts of the rod that would be showing.
I wouldn't use curtain hooks after spray painting the rod, just a curtain that goes onto the rod itself (like the one we used)
Remember to spray paint your curtain hanging hardware, too!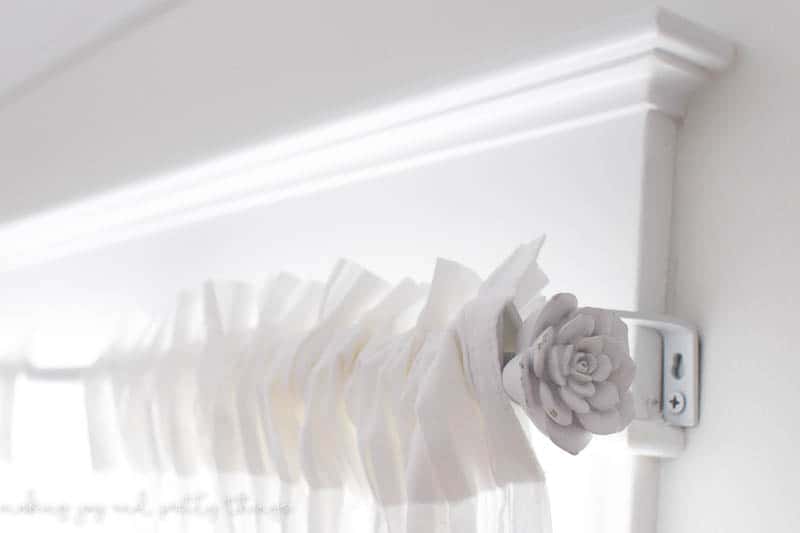 Step 2. Add Rose Knobs to the Curtain Rod Ends
We got rid of the ends and I picked up some amazing rose drawer knobs at Hobby Lobby (Hobby Lobby says they're cactus. I say rose). They fit right into the holes just like the big circle ends did. Perfect!
I mean that rose could not be more perfect. It's small and part of me wishes it was a bit bigger to make more of a statement but I do love it like it is!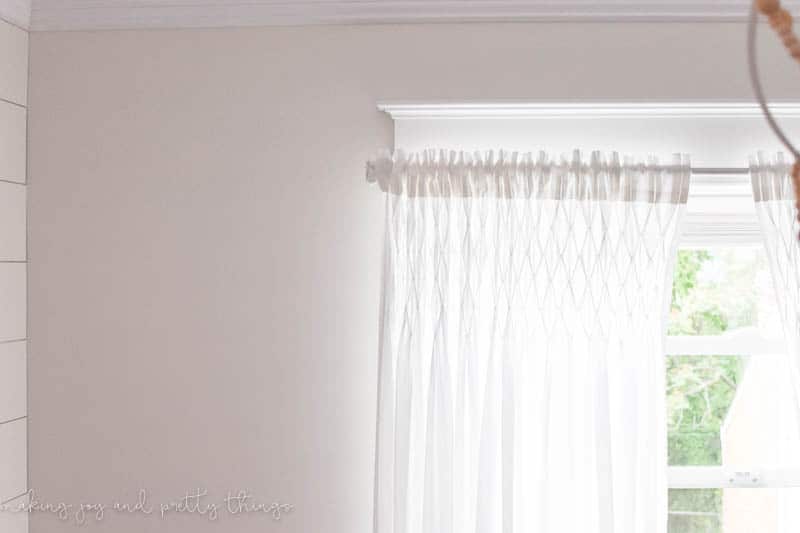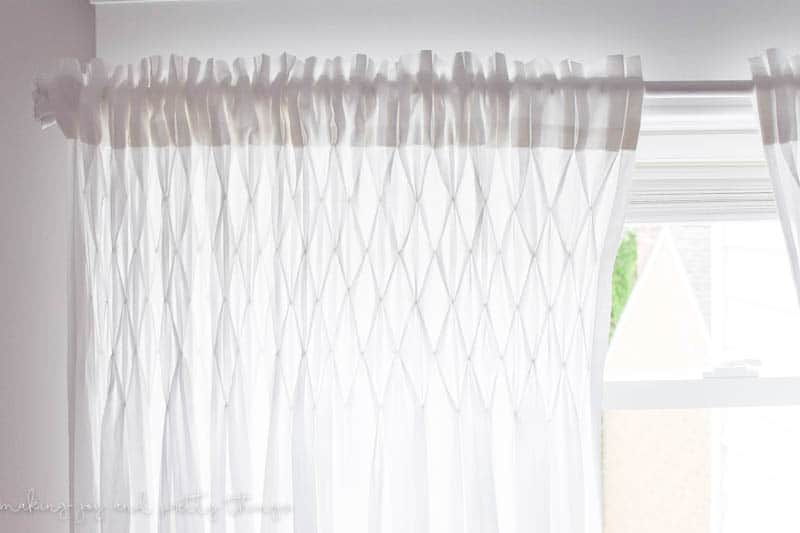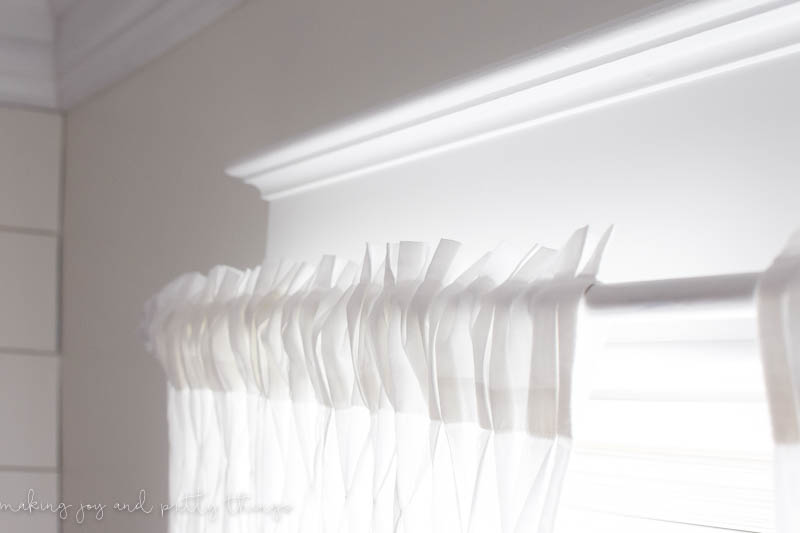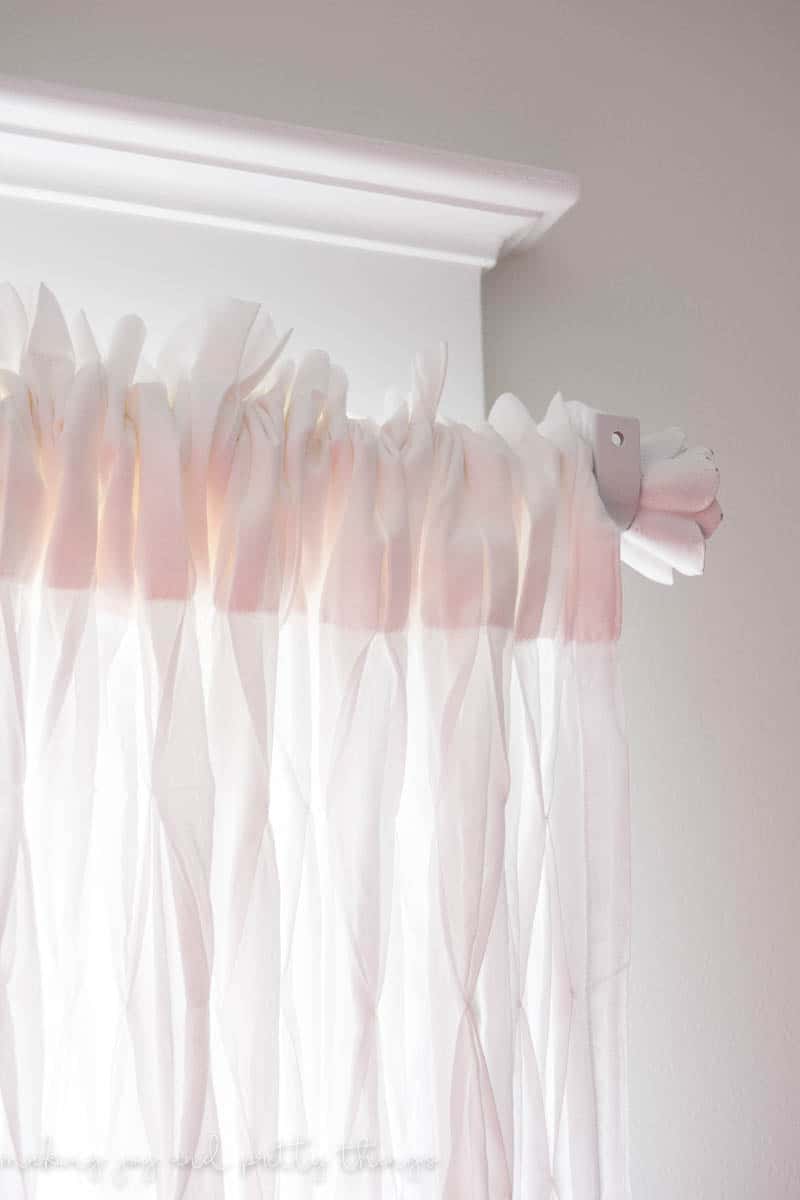 The curtain rod itself isn't really all that noticeable when you look at a shot of the entire room. But, imagine it was the original dark brown color. It would stick out horribly!
Updating a curtain rod is such a simple way to update any space. I'm always on the side of the power of paint. It can seriously transform anything.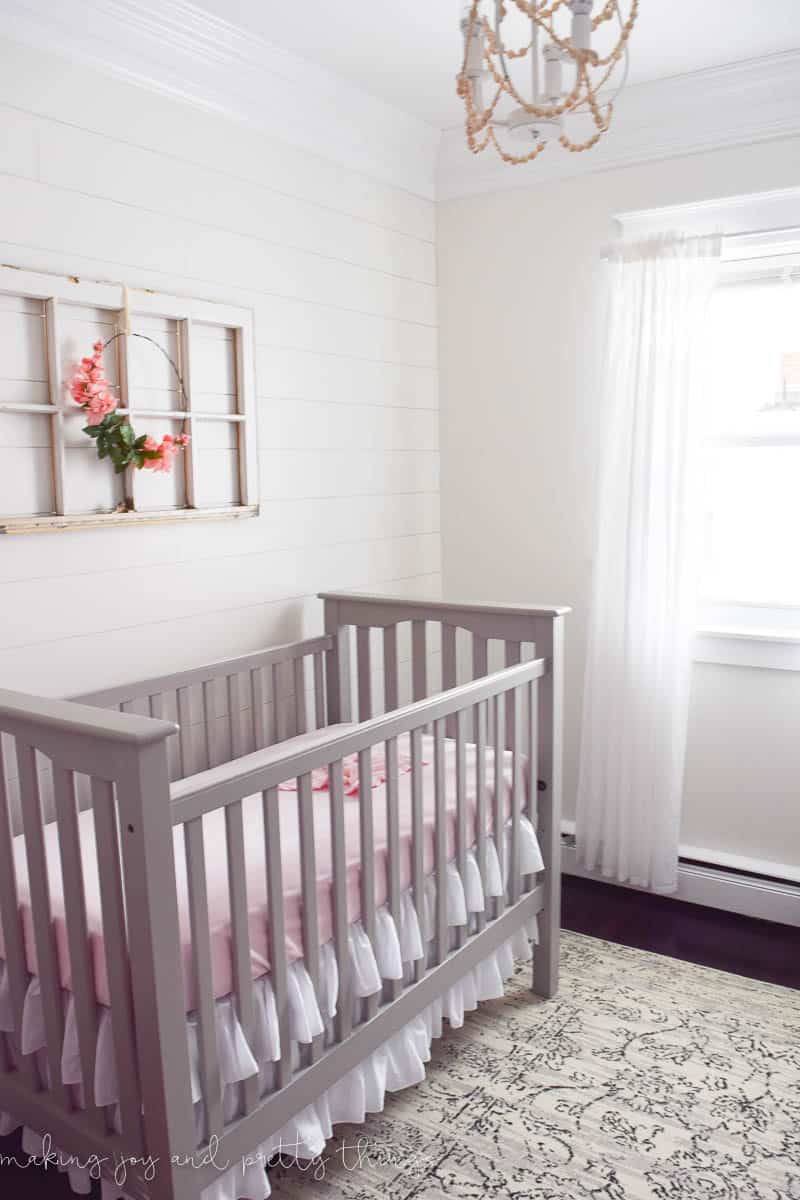 Hopefully, you feel inspired by this post and see how just a couple of inexpensive materials can really transform something. This took no time at all ad just look at what it did for our baby girls' nursery!
Well, that's all for today! If you want to see more of the DIYs from her nursery, check out this page! I'm slowly adding everything we did.
Looking for other nursery ideas hop over to these other reveals!
Wishing you a joyful day!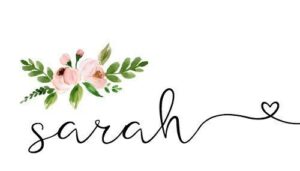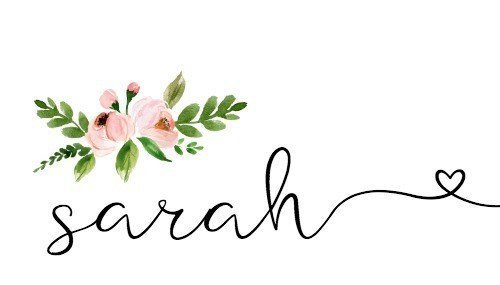 How to do an Old Curtain Rod Update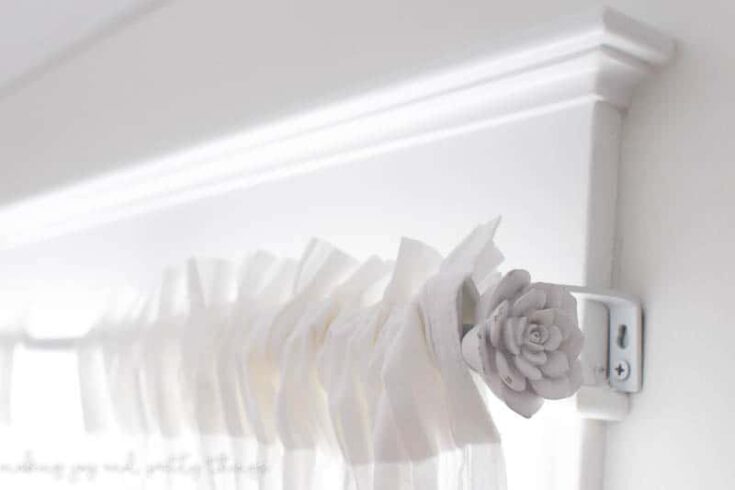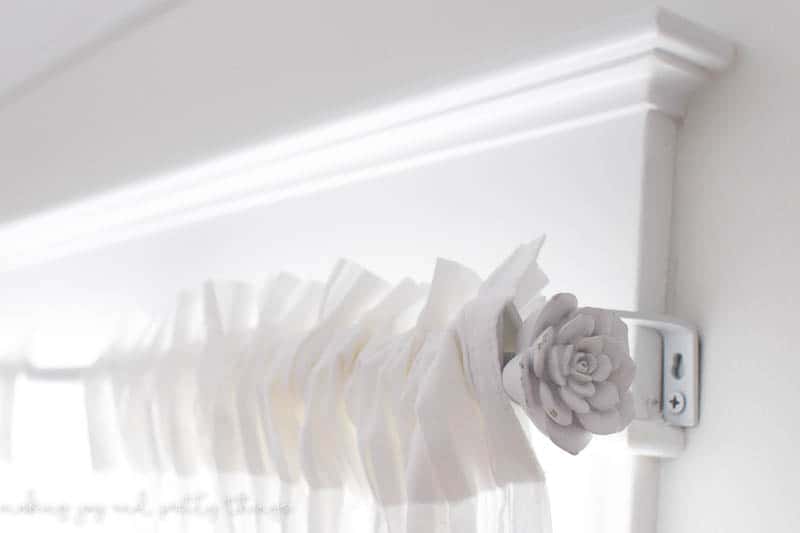 See how I did an ugly, brown, old curtain rod update to match our white and bright farmhouse-style girl's nursery complete with new rose knobs!
Active Time 10 minutes
Total Time 10 minutes
Difficulty Easy
Estimated Cost 20
Instructions
Step 1. Spray Paint the Old Curtain Rod
Step 2. Add Rose Knobs to the Curtain Rod Ends