Happy Wednesday and welcome back to Week 5 of the One Room Challenge hosted by Linda from Calling it Home.
A few short weeks ago, we started our second One Room Challenge transforming our garbage dump closet into a farmhouse industrial master bedroom closet.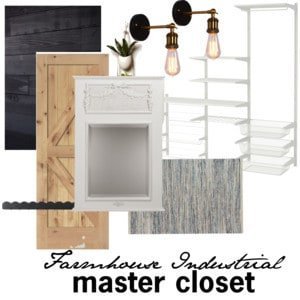 You can catch up on past weeks here:
week 1 | week 2 | week 3 | week 4
Though we have come a long way, we still have quite a bit of work to do before the big reveal next week (yikes!).
So, what have we been up to this past week?
Well, I finally gave birth to our third child and first little girl, Evelyn Rose! She has all the dark hair and blue eyes like my boys. She's not too fond of sleeping just yet 😉
I'll be sharing a whole other post with her birth story (hint: surprisingly my easiest birth yet, though that's not saying much) and sweet first moments as a family of 5.
I'm continually amazed by the ability to love another small human so instantly and completely. Being a mother is the greatest gift, something I truly cherish.
I can't get enough of her little squishy face. She has worn a headband every day, even if we weren't going out.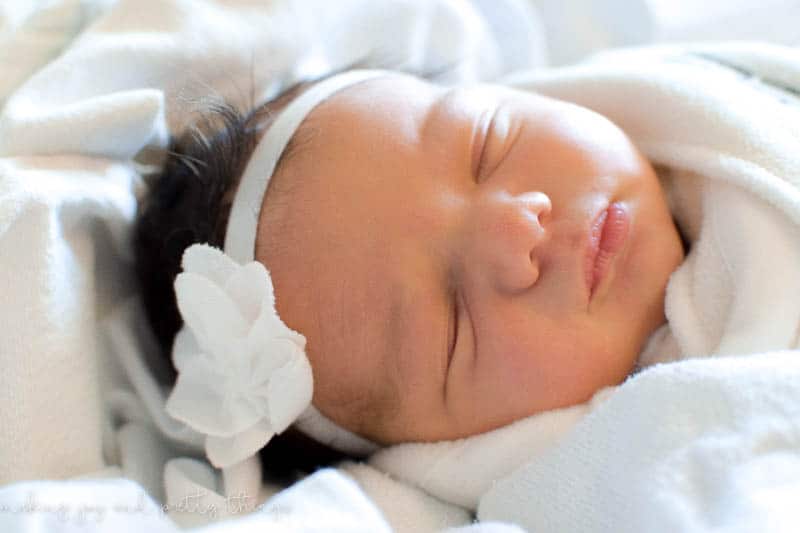 We have our work cut out for us this last week of the One Room Challenge.
But, my hubby (who is literally a life saver right now for my sanity) is off all week from work so here's hoping we get everything done!
I did change the design plan up a bit. I'm no longer doing the scalloped towel rack because I just didn't think we would have time. I've decided to make a macrame wall hanging which is going to look SO neat. Plus, I ordered custom art that I'm going to make a faux acrylic frame for.
– Clean out all the garbage
– Paint the walls and ceiling
– Add a shiplap feature wall to the sloped ceiling
– Design and install custom framing around the shiplap
– Design and install a custom closet system that works with the sloped ceiling
– Finish baseboards
– Find a rug
– Design and DIY an industrial lighting feature
– Add some character with DIY planters
– DIY a scalloped towel rack
– DIY a trumeau mirror (or something similar) clean up antique mirror
Alright, friends. Wish us luck for this last week of the One Room Challenge!
Wishing you a joyful day!