Welcome back for week 3 of the One Room Challenge hosted by Linda from Calling it Home.
We are halfway through our master bedroom closet renovation and I couldn't be more excited about the progress we my husband made this past week.
In case you missed the first two weeks of our master bedroom closet renovation (design plan, cleaning, painting, and shiplapping) check them out here:
With the closet cleaned out, painted, and shiplapped it was time to install the actual closet system!
I looked around for a while to try and find something that was both budget friendly and also functional/pretty in the space. Who knew closet systems were SO expensive?!
We also ran into problems with the size and shape of our closet. If you have a giant walk-in closet without a sloped ceiling, your options are pretty much endless. But, given our tight space AND the sloped ceiling, there was almost nothing that would fit!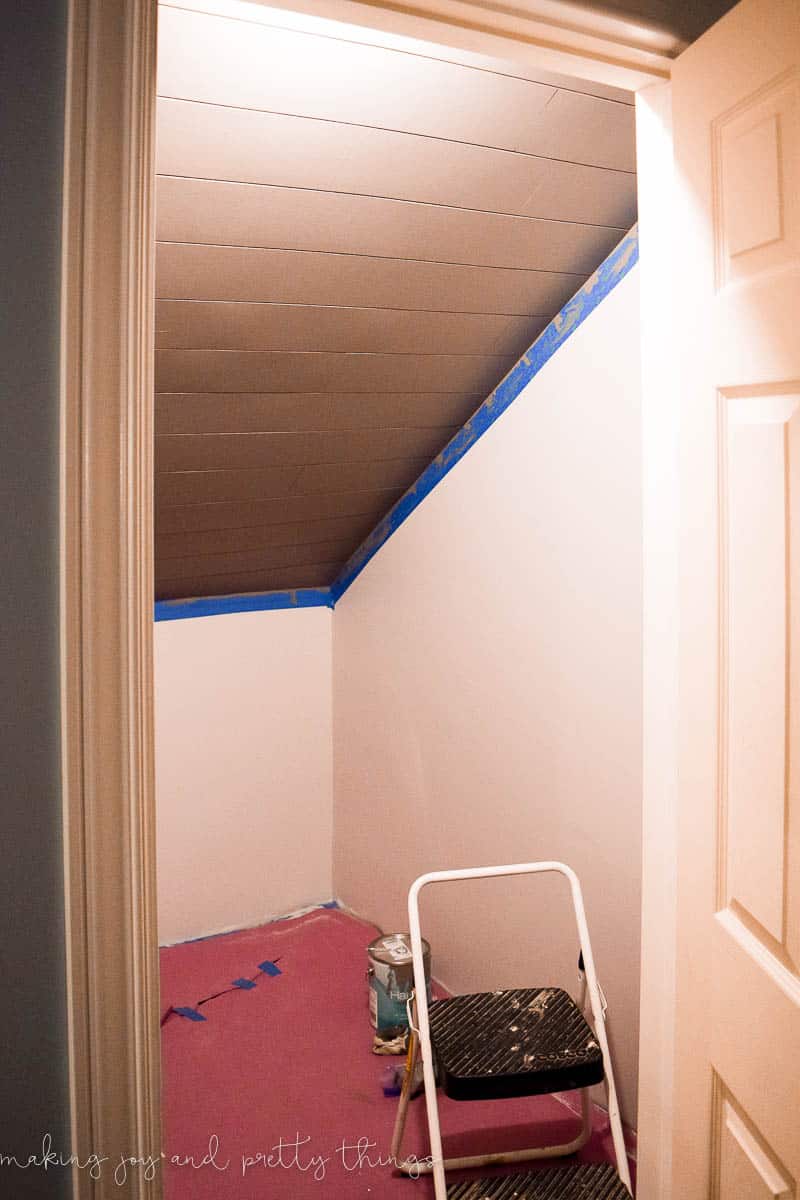 That's when I stumbled upon the IKEA Algot system. I loved all the customizable options, the price, and that it fit into our awkward space. IKEA also offers the PAX System which is a step up in looks (and price) but wouldn't fit in our closet because of that sloped ceiling.
I'm going to walk you through how I designed our closet system so that you can do it, too!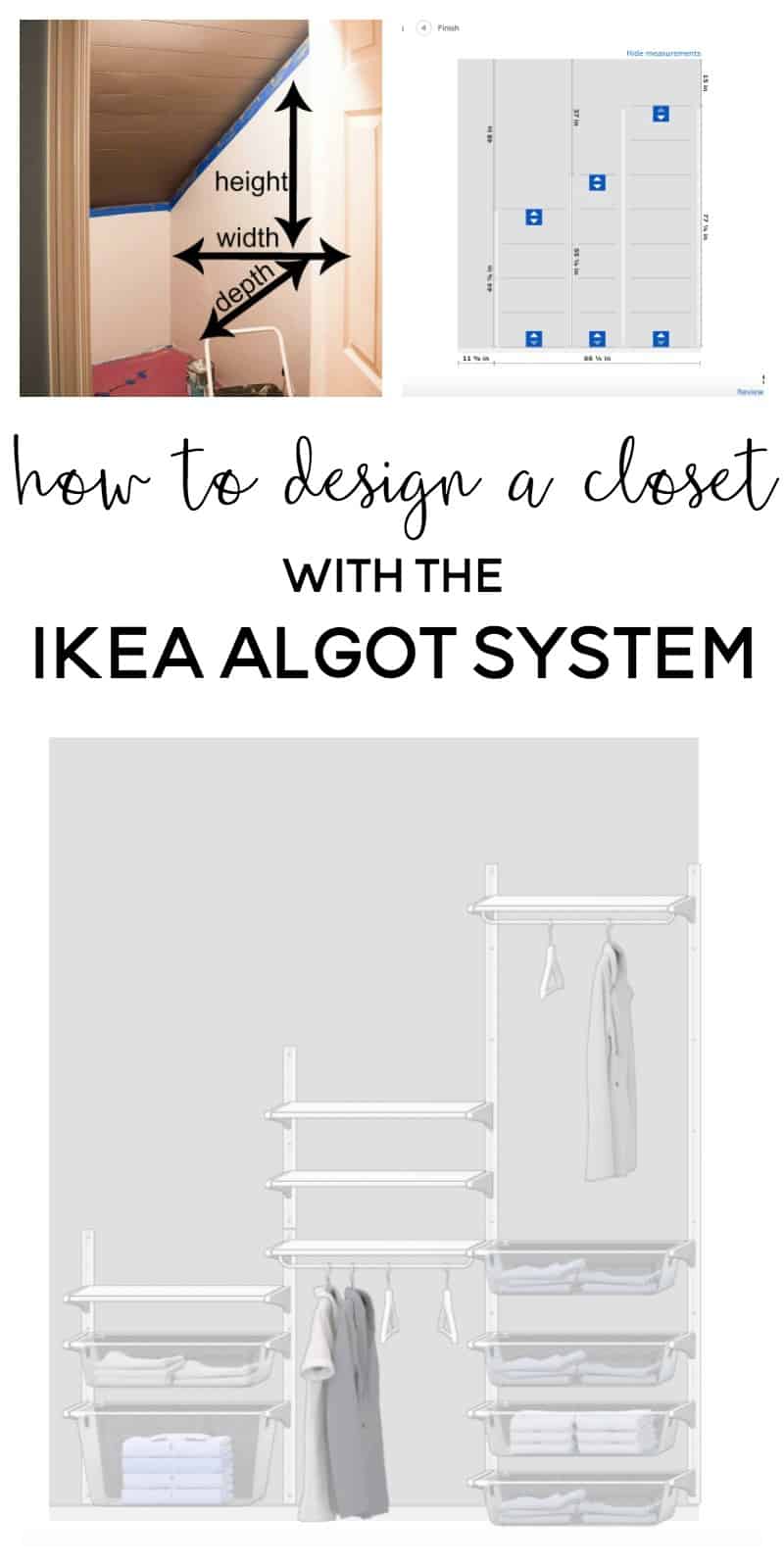 First, measure your space.
This is probably the most important part. You want to measure the width, height, and depth of your closet space. Since I planned on using two walls of our closet for the closet system, I had two separate measurements and two separate designs for the different walls.
The height should be measured from the floor to the ceiling and the width measured from wall to wall (or however wide you want the closet system to be). The depth refers to how deep your closet is (i.e. the back of the closet to the front of the closet). There are a few things to keep in mind:
What space can you actually use? For instance, if you don't have a walk-in closet, the actual width of your closet may be wider than the doorframe. But, is the space between the doorframe and the wall actually usable space?
IKEA has 3 different depths of products (7 1/8″, 15″ and 22 3/4″). When you measure the depth of your closet, keep those measurements in mind. We went with 15″ depth for ours because it's a walk-in closet and the 15″ goes basically from the back of the wall right to the door frame.
IKEA has 3 different widths for each of the closet sections (15 3/4″, 23 5/8″, and 31 1/2″). So, there are TONS of different combinations you can use in any space. I found that the best width for using the most products in 23 5/8. The bins/baskets can't be used in either the smaller or larger width.
When measuring, look our for crown moulding or baseboards. You don't want to include those in your measurements (measure in between any moulding).
(We will get more into the measurements in the next section!)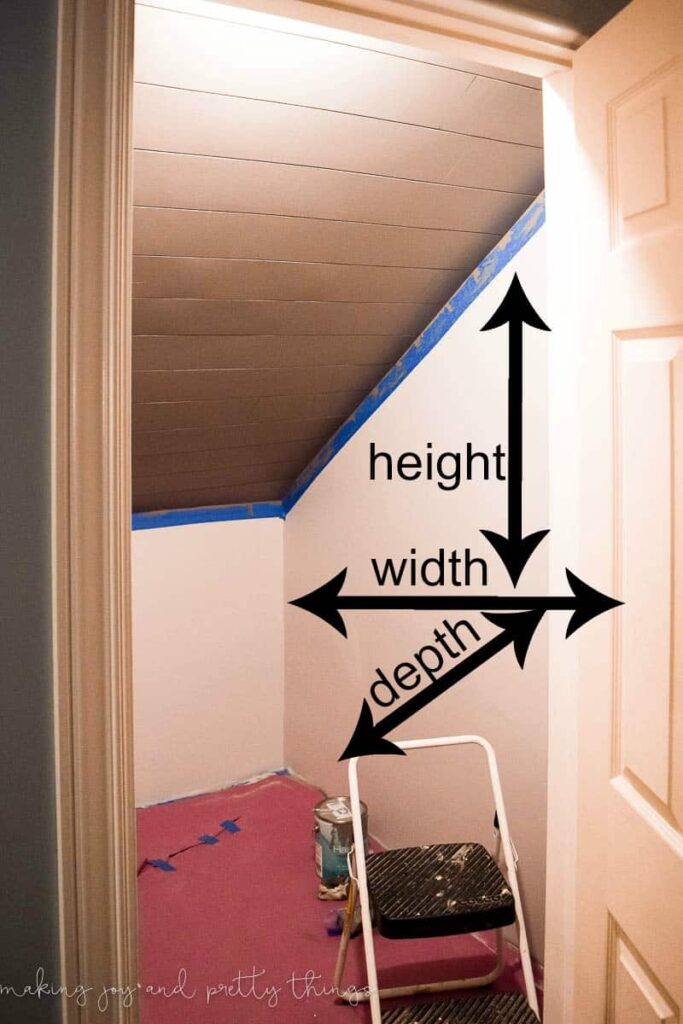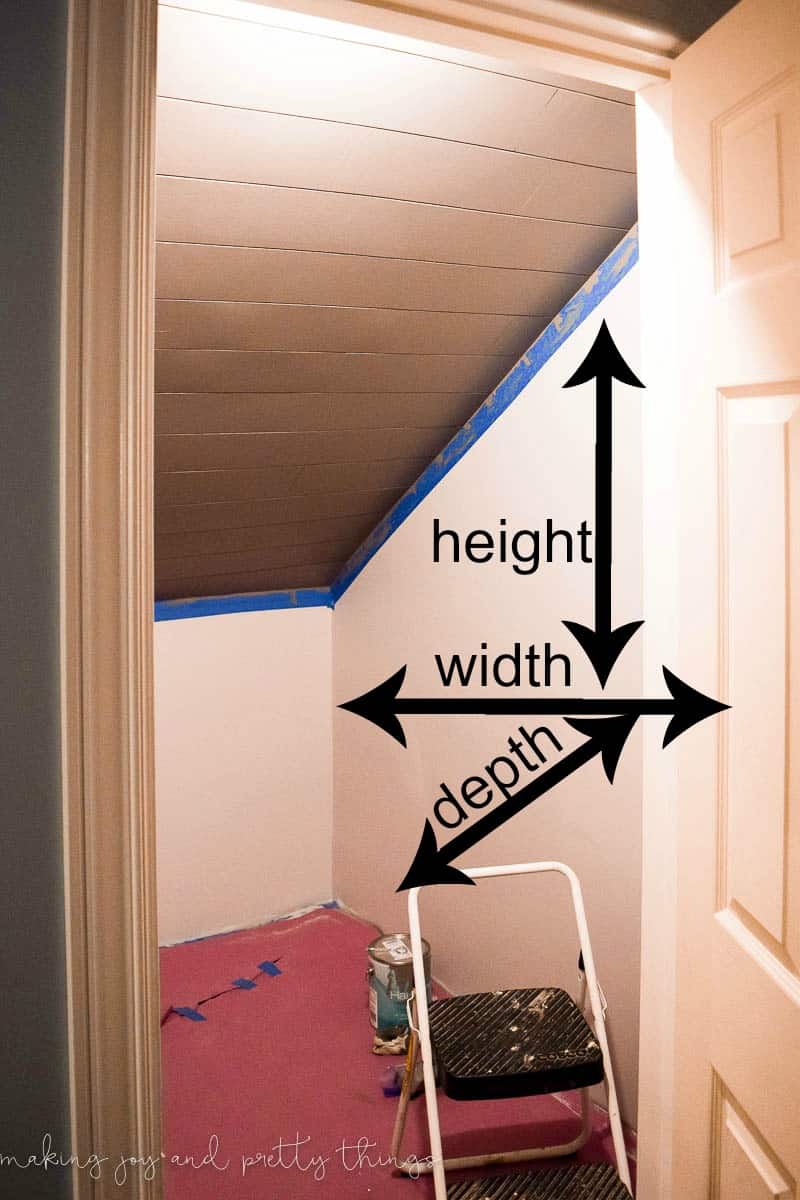 Design your IKEA Algot closet system on IKEA's website.
In true IKEA fashion, all of the "pieces" of the Algot system come sold separately. And there are 20 billion pieces, of course 😉 Rather than try to design the space in stores with the kids trying to find something to break, you can design the entire closet (seriously the whole thing) on IKEA's website.
Then, you can get a printable shopping list, go to the store and pick everything up! Amazing, right?!
Click on "Plan your own ALGOT solution".
At this point, they have you pick from one of their predesigned closet systems. Don't worry, you can change everything. I actually found one pre-made option for a sloped ceiling that I chose to customize! But, definitely search through their options because it's a good starting place.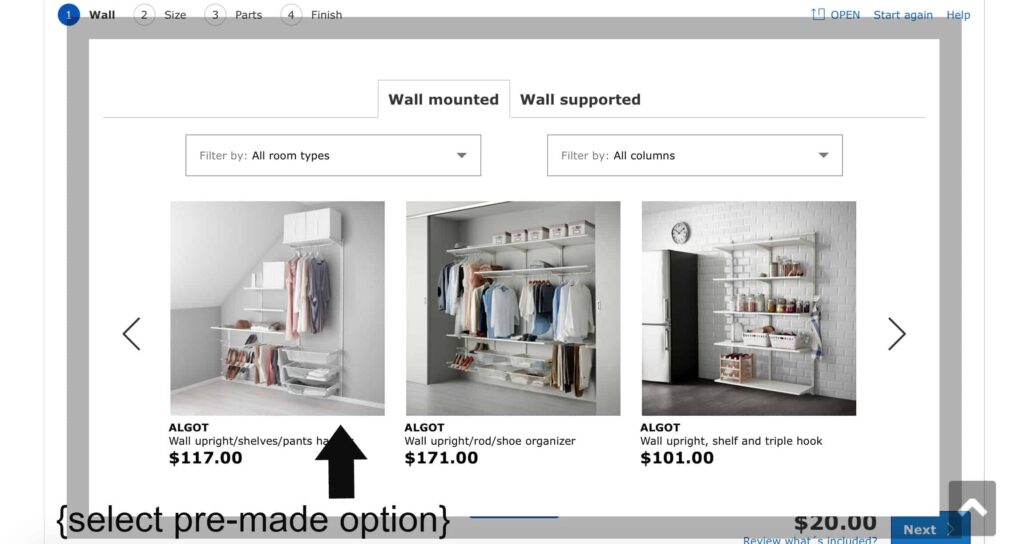 Once you select your option, you'll be taken to a screen that looks like this.
This is where you can add in your own dimensions for your closet space.
You tap your cursor in the blue area and can change both the feet and inches for width and height of your space. For our closet, I put our height as the highest point in the closet.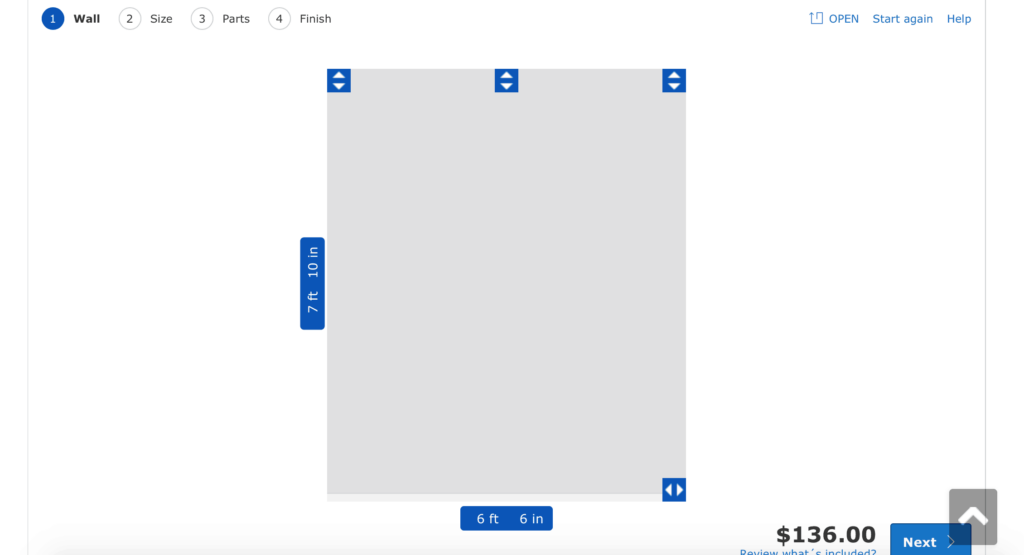 Hit the "next" button to begin customization.
Here's where the width of each section comes into play. Like I mentioned before, you can choose from 3 different widths for the sections of your closet.
However, not all of the pieces fit into each of the 3 widths. If you're just looking for shelves and/or shelves with clothing rod (no baskets), you can use any of the 3 widths.
But, if you want to add baskets, bins, or shoes racks you have to use the middle width (23 5/8″) only.
There's no right or wrong way to go about designing your space from this point.
For our closet (and the fact that we were having closet systems on two walls), I chose to do two widths of 23 5/8″ with a smaller section in the middle for just shelves.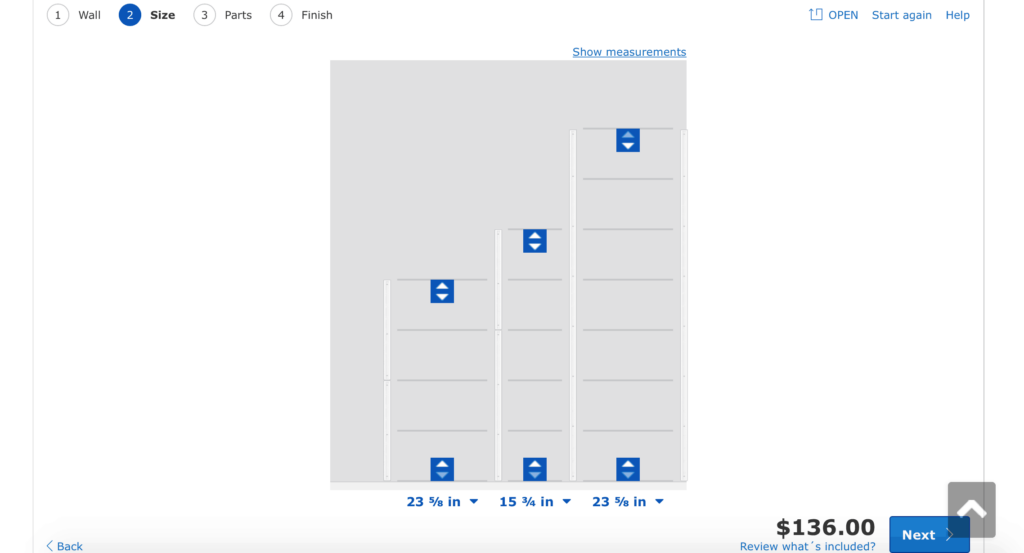 You'll notice I didn't take up the entire width we had. This is because the back wall was also going to be used for shoes. We couldn't have the shoes sticking out 15″ from the back next to a wall completely filled to the end. It simply wouldn't fit.
I LOVE how easy it is to visualize the space. You can see the gap that will be in place on the left hand side of the shelves AND you can get an exact measurement for that space.
Now, remember our sloped ceiling. (Can you tell if you don't have a sloped ceiling how much easier this would be?!).
The little up and down arrows in the blue with each column moves each section up or down as you need. I moved each section down and checked the measurements. (Click show measurements)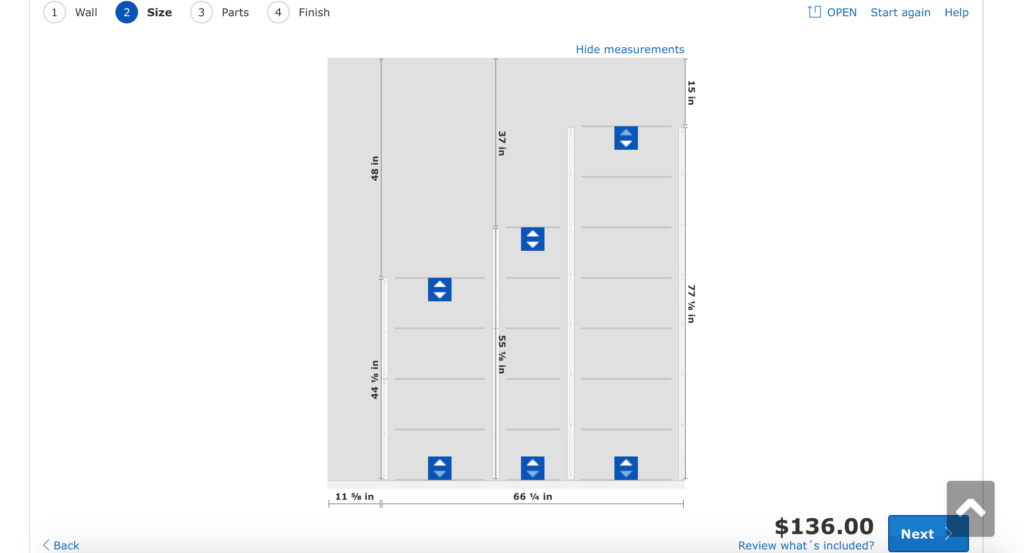 With the measurements shown, we were able to make sure each closet section would fit under the sloped ceiling.
Now comes the fun part: adding in the individual pieces.
Again, this is absolutely a personal preference. I don't have a ton of dressy clothes that need hung up so I didn't put a lot of hanging space. I do have 75 million pairs of leggings and workout clothes so I added a LOT of bins.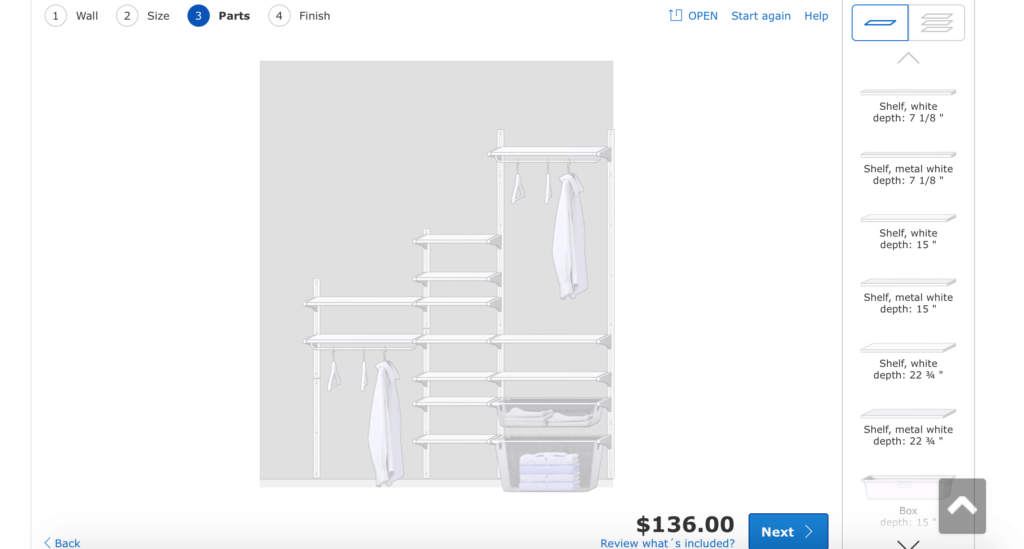 You just drag and drop the pieces from the right hand menu. Once you select a piece, the design you're working on automatically highlights open places where you can "drop" your piece.
Remember to pick the same depth!! (Hint: I wasn't paying attention and selected two different depth shelves!!)
If a piece won't fit or you don't like the layout, simply drag and drop pieces from your design back into the menu on the right hand side.
Hit "next" when you're satisfied and see the finished result!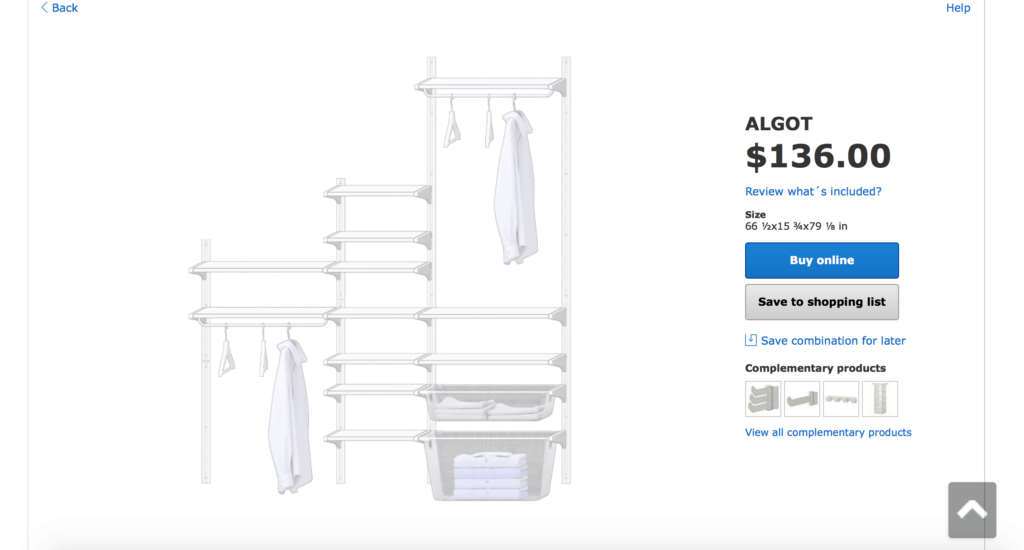 Hit "save to shopping list" and IKEA gives you your "Algot code". This code can be used in stores to on their computers in case you have any last minute tweaking to do before picking everything up!
Save this code. If you want to work on your design again at home you can use the code to start from where you left off instead of guessing what you had chosen (Hint: I made this mistake!).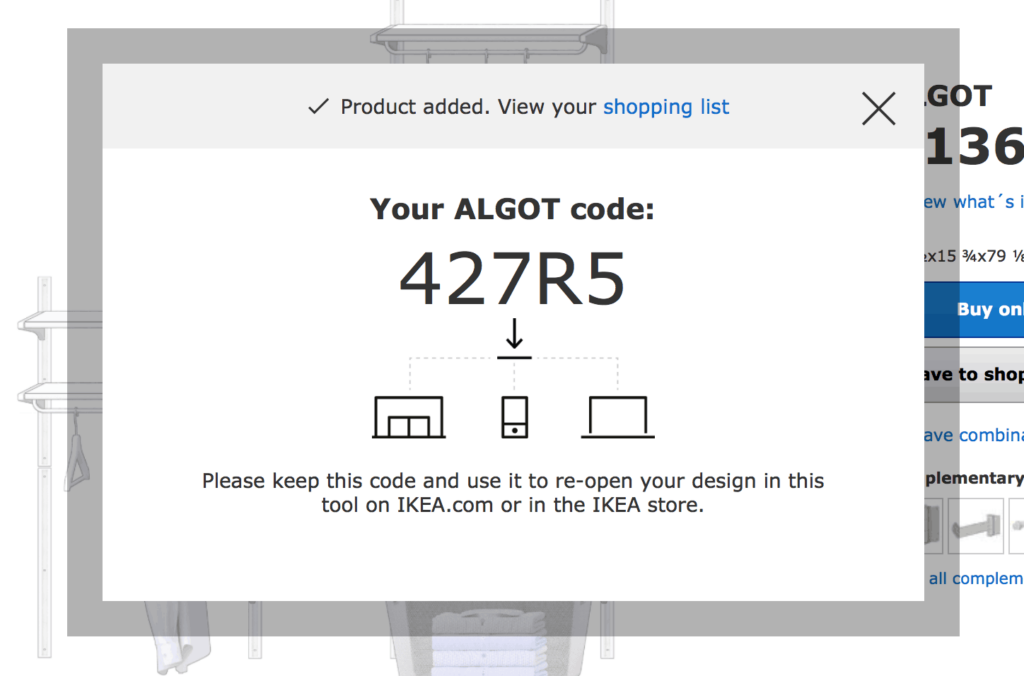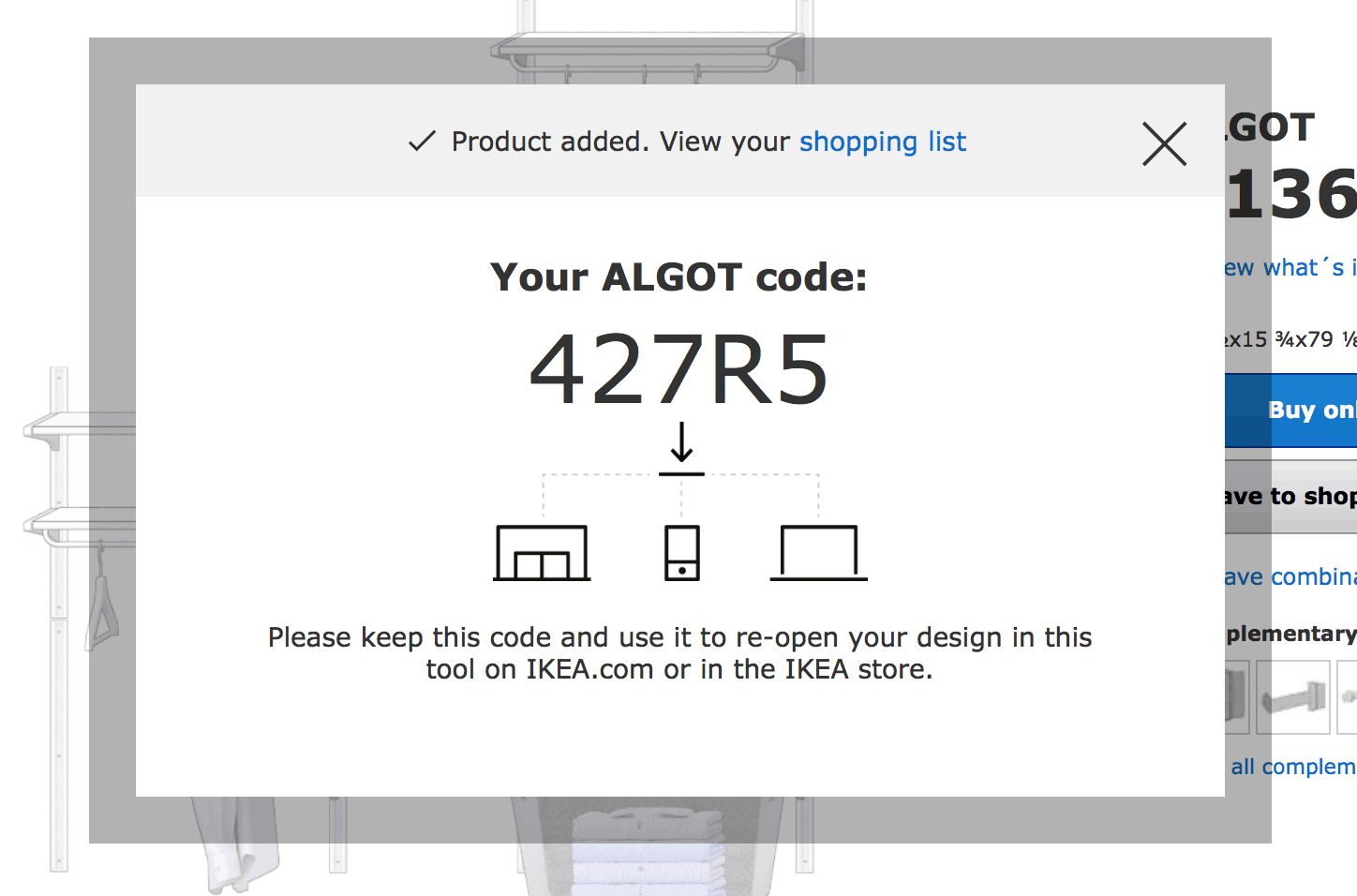 If you're satisfied with your design and ready to buy, click on "shopping list" above your code.
You will get an exact list of every single product you need to make your custom closet. If you print your shopping list, it gives you the exact Aisle and Bin for every.single.item at your local IKEA. I mean, it doesn't get much easier than that.
For the back wall, I followed the same produce as the sloped ceiling wall.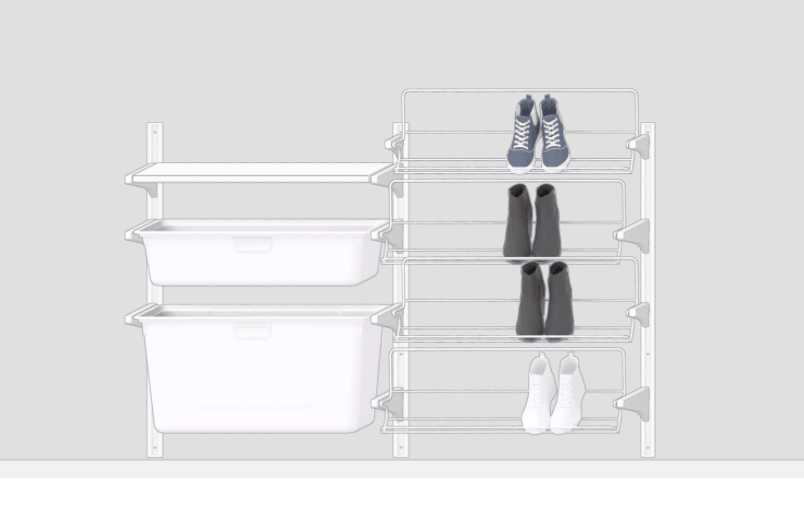 I'm so excited to have the ALGOT system installed in my closet! I'm going to do a separate post on just HOW to hang the ALGOT system because like I said before, everything comes as separate pieces and it can be pretty intimidating (so my husband says, I just watched).
Here's how it looks all installed!
(Sorry for the so-so pictures. Still trying to figure out how to photograph this tiny space with no natural light!!)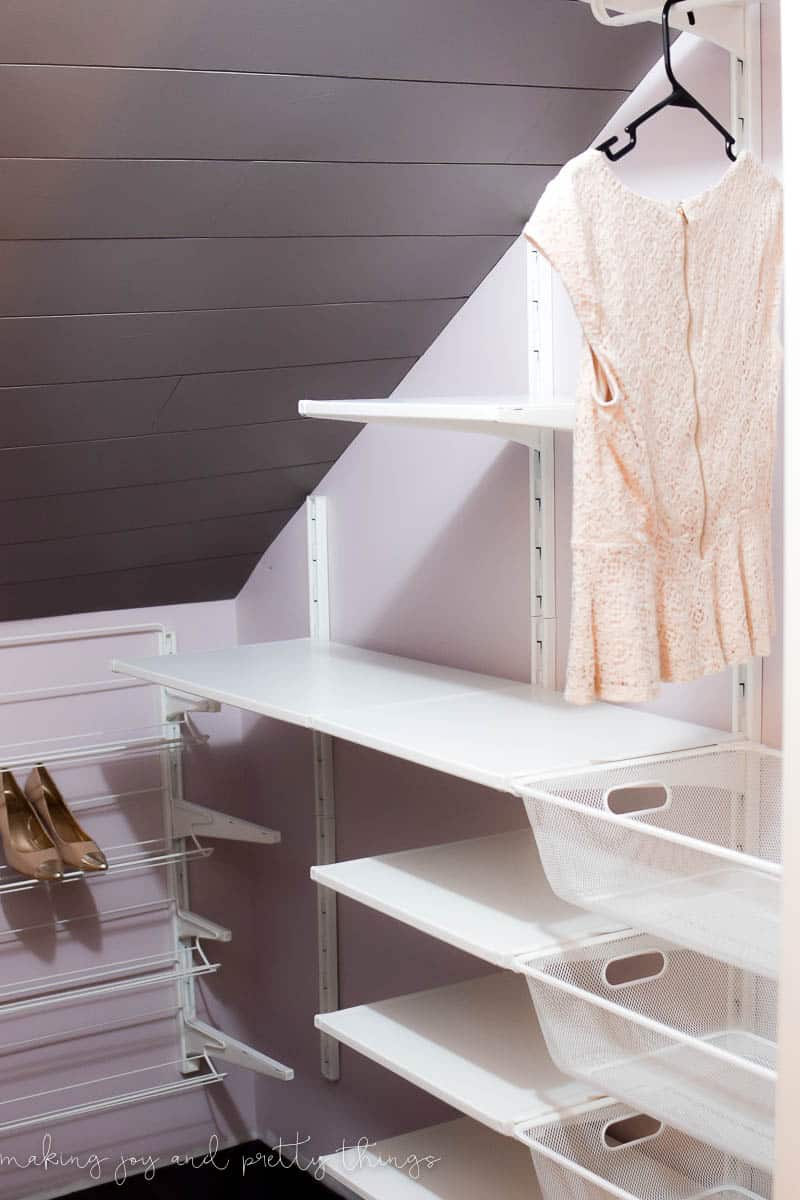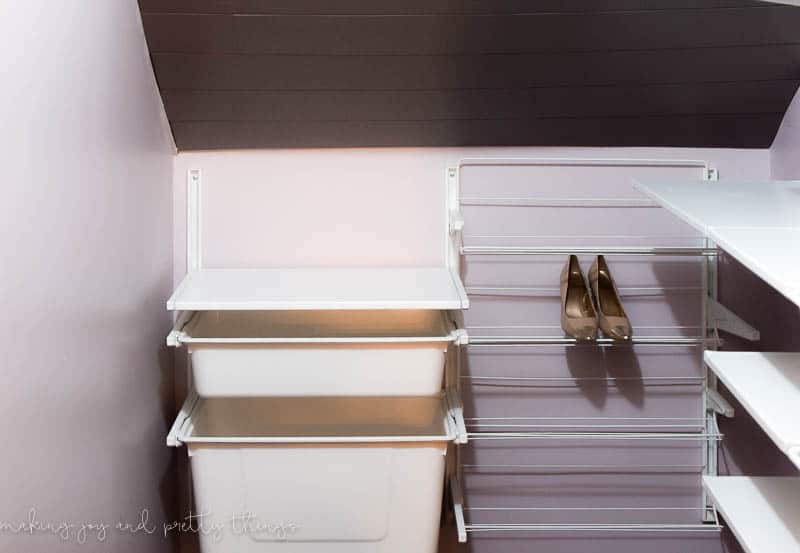 And as always, let's see how we progressed this past week on the to-do list:
– Clean out all the garbage
– Paint the walls and ceiling
– Add a shiplap feature wall to the sloped ceiling
– Design and install custom framing around the shiplap
– Design and install a custom closet system that works with the sloped ceiling
– Finish baseboards
– Find a rug
– Design and DIY an industrial lighting feature
– Add some character with DIY planters
– DIY a scalloped towel rack
– DIY a trumeau mirror (or something similar) clean up antique mirror
– Find and refinish an antique door or now cover the gross door with something DIY?
As you can see, we still have a long way to go! On the agenda this week is finishing up the baseboards and starting finding or DIYing lighting and the door! I think I found the rug (I talked about the rug more in this post) but I'm keeping that a surprise until the end!
A HUGE thank you to IKEA Pittsburgh for providing the closet system.
Wishing you a joyful day!