Best Accent Chairs On A Budget (Look for Less)
If you're shopping for furniture on a budget, it can be tough to find options that don't look cheap. Here are the best accent chairs when you're on a budget that look just like the high-end expensive ones.
I'm back today for another edition of Get The Look For Less, when I teach you how to get the high-end look for furniture and home products, even if you're on a budget.
You can catch up on past weeks here.
So far, I've shared look for less beds, lights, dining chairs, and rugs and it's been a huge hit! I love finding budget-friendly finds for stylish, but often expensive, home decor.
So far I've shared look-for less-ideas for:
This week, I'm sharing accent chairs! Looking to spruce up your living space without breaking the bank? We've got you covered!
From wooden legs to bouclé fabrics, there are so many different accent chair options for your home! They are the perfect spot to curl up with a good book.
Accent chairs (sometimes called occasional chairs) can get really pricey, totaling several thousand dollars. You can oftentimes find cheaper accent chairs that totally look like the more expensive ones. I'm a firm believer that great style doesn't have to come with a hefty price tag.
But, I wouldn't go super cheap with accent chairs. You don't want them falling apart if they get bumped and only last a year or two. A good, quality accent chair will stand the test of time. The trick is finding the right balance of price and quality.
Types of Accent Chairs
There are pretty much endless styles of accent chairs. Each of these five different options I'm sharing today has different features, but there are a lot of types outside of these examples that I wanted to quickly go over before we jump in.
Wingback Chair: These chairs feature very tall backs that curve around to the sides with "wings"
Club Chair: Known for their low backs and deep seats, club chairs are typically upholstered in leather or a rich fabric. They are usually a bit bigger with an oversized look.
Bergère Chair: Originating from France, bergère chairs have an exposed wooden frame and upholstered back and seat with curved lines and rounded corners and usually feature intricate detailing.
Slipper Chair: Characterized by their armless design and low profile, slipper chairs are great for small spaces or as additional seating in a room (pushed into the corner when not needed).
Chaise Lounge: This elongated chair allows you to kick your feet up, stretch out, and relax, thanks to its extended seat and supportive backrest. 
Barrel Chair: Resembling the shape of a barrel, these chairs have a rounded backrest that curves into armrests. Typically the entire chair is upholstered, including the back and sides.
Tuxedo Chair: Known for their sleek clean lines and geometric shape, tuxedo chairs have square arms that are the same height as the backrest, which is generally lower.
Rocking Chair: These chairs have curved legs that allow them to rock back and forth.
Papasan Chair: Originating from Southeast Asia, this chair has a large, round cushion on a sturdy base.
Egg Chair: Also may be known as a womb chair, these are round chairs with a roof to them that look like an egg. Sometimes they are suspended from a stand on the top, allowing them to sway like a hammock.
This post contains affiliate links. Please, click here to read my disclosure policy.
Accent Chair #1
Tufted Leather Chair: HIGH (now $2,099) | LOW (now $1,499)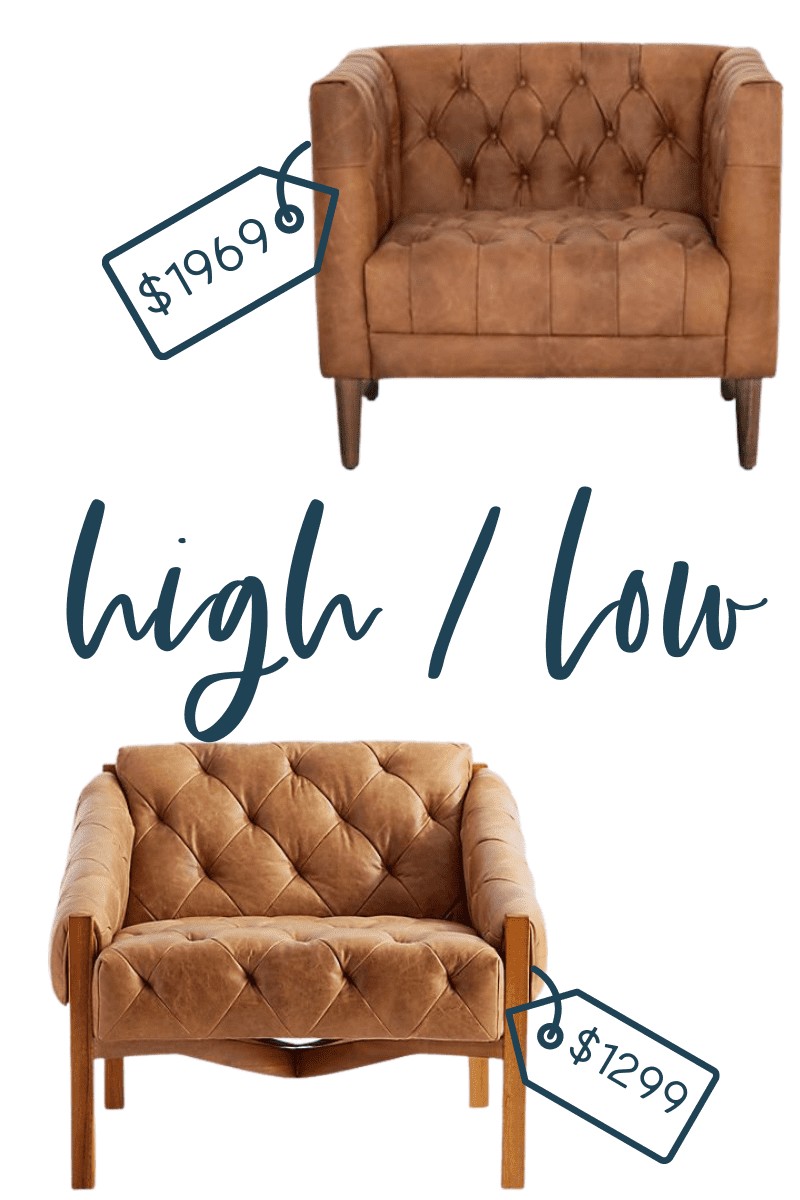 For the first option of accent chairs, we have something super classic tufted leather chairs with armrests. I love both of these chairs. They look super comfy and stylish at the same time. They are both on the more expensive side from more high-end retailers, over $1,000, but I truly love the low option here.
High: The high option for the tufted leather chair is over $2,000 from Crate & Barrel. It is made upon order (just for you), so you will have typically to wait a few months for it to be delivered. It is made with luxurious top-grain leather that has a bit of a distressed and washed look. The seat itself is deep. Several of the reviews mention how comfy it is. Keep in mind that made-to-order items cannot be canceled, returned, or exchanged.
Low: The low option is roughly $1,500 and from CB2, which is Crate & Barrel's sister brand that is slightly more affordable. It is made with full-grain leather (which is actually stronger and more durable than the top-grain leather you see on the more expensive option)! There are tons of great reviews for this accent chair, noting its high quality and comfortable. Although it is also very deep, so having a throw pillow or two can be helpful to add some lumbar support. I love the unique design! It would be the perfect accent chair to add to your home office or living space.
More affordable leather tufted chair options under $1,000
Because both of these options are still pretty expensive, I rounded up some additional ideas for those that want to keep the accent chair budget under $1,000.
---
Accent Chair #2
Modern Style Gray Upholstered Chair: HIGH (option pictured no longer sold, similar for $1,399) | LOW (now $699)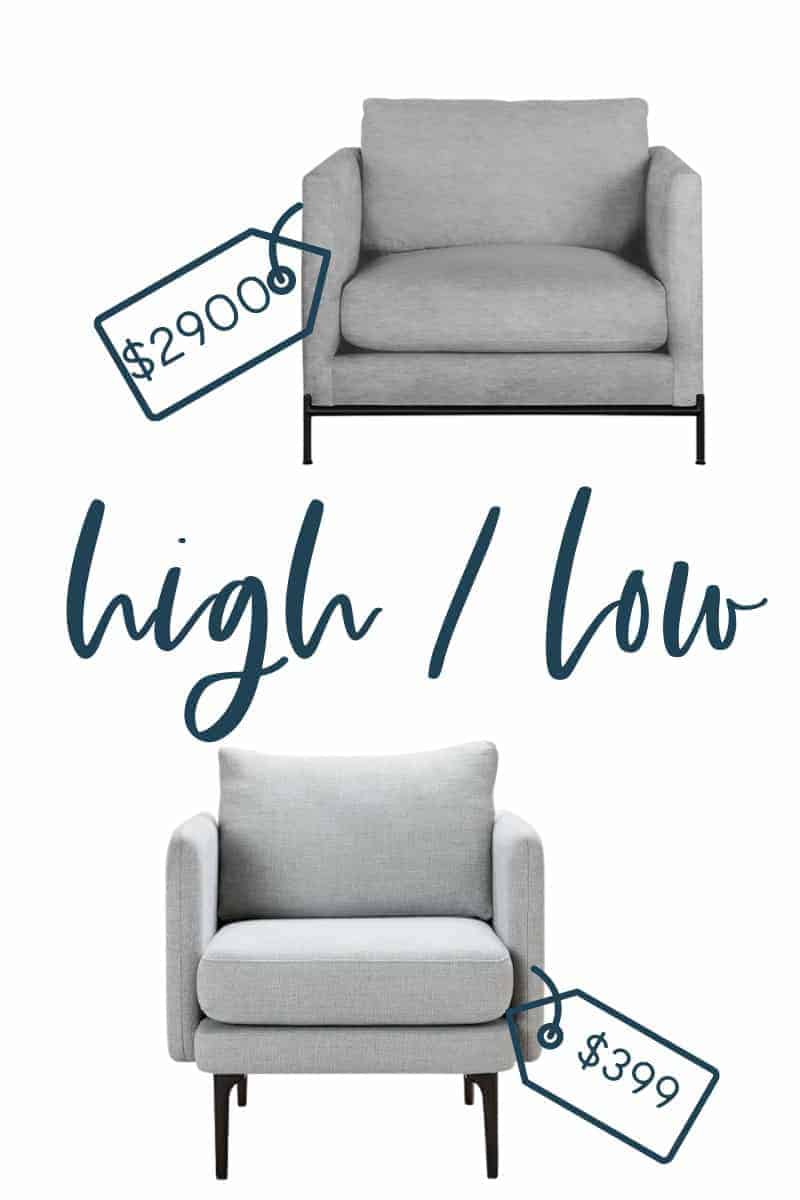 You can't go wrong with a simple, sleek upholstered accent chair. While I absolutely love the high option (both the one pictured, which is no longer sold, and the new one I found for $1,400), there is no way I would spend over $1,000 on a chair. The savings on the low option are insane.
High: Slightly different than the one shown in the photo above, this gray upholstered accent chair from West Elm is gorgeous! It has a wooden base, instead of the metal one shown in the photo. It is a firm chair and the cushions are filled with both feathers and fiber. The best part is that the cushions are reversible and the seat cushion has a zip-off cover.
Low: The less expensive option is actually also from West Elm, but is half the price of the other one. It is smaller than the high option, taking up less square footage which makes it a great option for small spaces. It is not as firm as the more expensive option, so it is bound to be a little more comfortable. The seat cushions aren't reversible on this one. It is really a beautiful chair that would look great in the living room next to the coffee table!
Best gray upholstered chairs under $500
Since both of these chairs are from a high-end retailer, I thought I would share some more affordable chairs that you can find that have a similar look, but are less than $500!
---
Accent Chair #3
Wooden Frame Upholstered Chair: HIGH (now $1,049) | LOW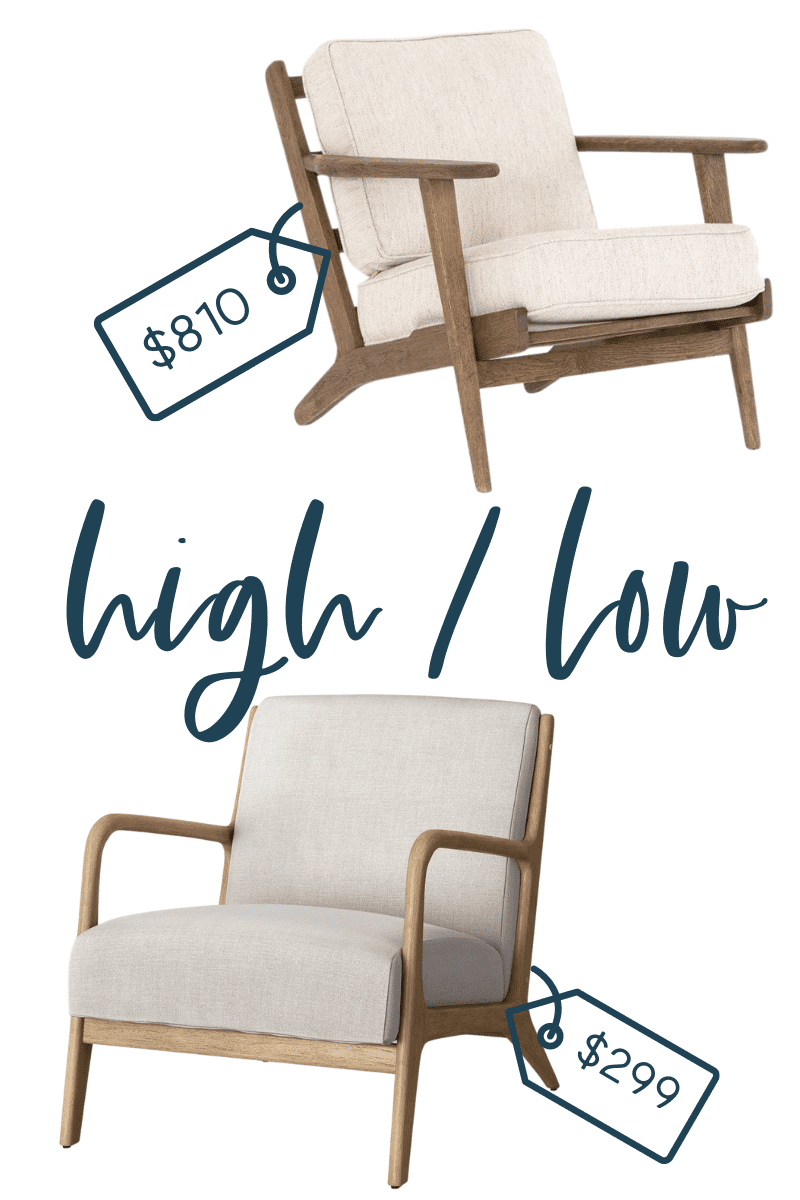 The wooden frame with upholstered cushions look of this accent chair is one that has been around for decades. It is one of those "if it ain't broke, don't fix it" type of things. I love the natural touch of the wood with the comfort of the upholstered cushions. These accent chairs can fit in virtually any type of interior design style.
High: This gorgeous option is pretty perfect, right? The wood frame has the perfect amount of rustic to the finish and the seats look plush and cozy. It has that timeless mid-century modern look.
Low: I actually have this budget-friendly accent chair in our office and I LOVE it. These chairs are low to the ground, which makes them a little tough to get in and out of. Otherwise, they are very comfy and seem to be high quality! They are the perfect reading chair that would be great for a cozy reading nook. I think they're perfect for a space where you're not going to be using them often. I don't know that they would function well in a heavy-use space.
Best accent chairs under $200 with wood frame and upholstered cushions
Although the low option here is very affordably priced, I thought I would give you a few other budget options under $200!
---
Accent Chair #4
Round Swivel Chair: HIGH | LOW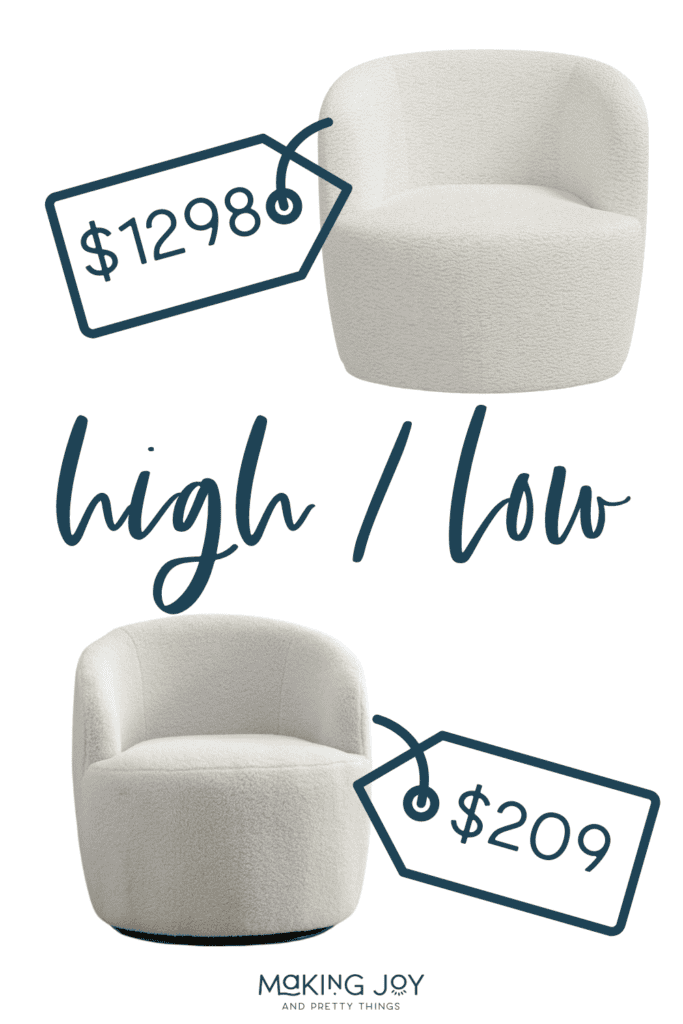 These round swivel chairs, also sometimes called barrel chairs, have become very popular over the last year or two. And I, for one, love the modern and streamlined look of the barrel-shaped design.
High: The higher-priced option from Lulu and Georgia (a very high-end store) comes in so many different neutral and vibrant colors and fun fabric options, which make it a little more unique than the typical white or beige swivel chairs. It definitely has tons of customizable options that can fit in with any color palette. It is made to order, so you will generally need to wait a few weeks to receive it.
Low: The lower-priced option is at such a great price point, do you agree? It has a solid metal swift base allowing for a full 360-degree smooth swivel. The reviews mention that the boucle accent chair is comfortable and the fabric is soft. It is also very easy to put together! I don't know why you'd ever pay tons of money for a barrel chair when there are budget-friendly options like this! Seems to be a great choice with a cozy texture!
Best barrel-style round accent chairs under $300
---
Accent Chair #5
Leather Chair: HIGH (now $3,420) | LOW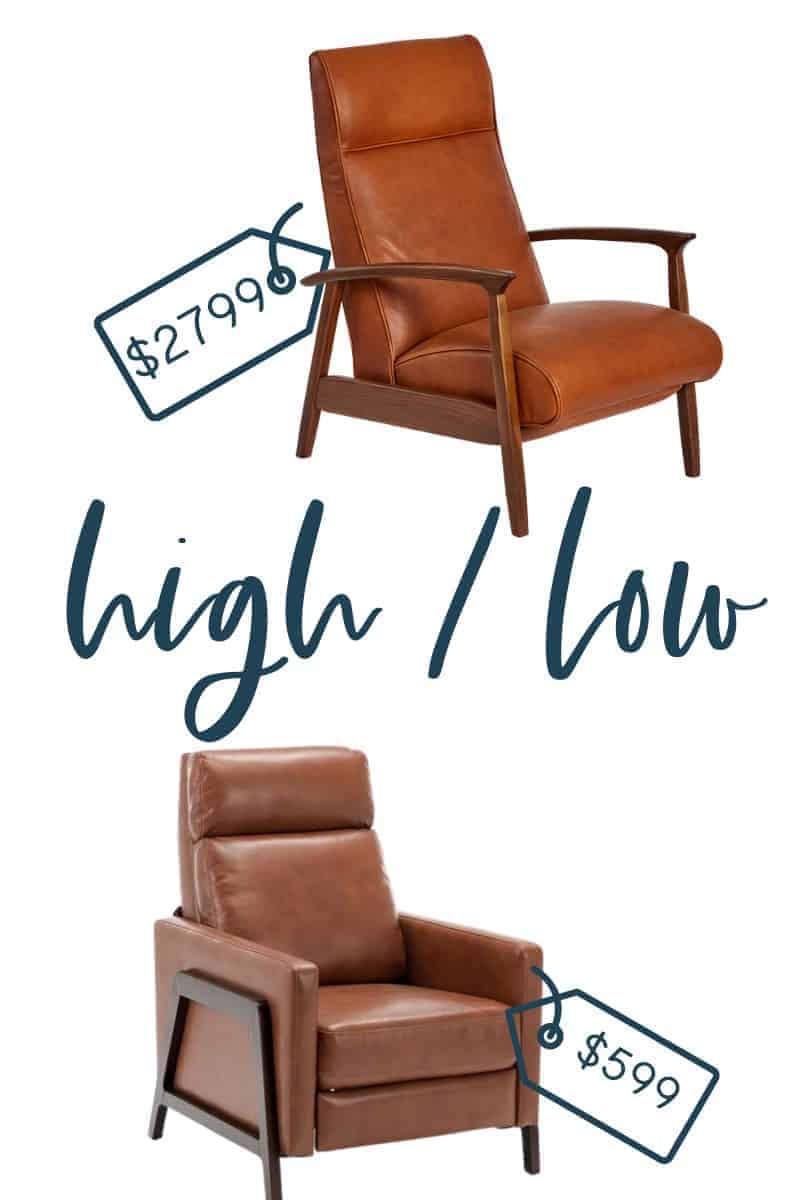 Ahh…leather chairs. I don't think they'll ever go out of style. The backs on both of these are on the taller side, which is comfy with great back support. I love the solid wood frame on both of these. But, you have to be careful how you use them as they can definitely give off an "old" vibe. Not in a good way. I typically like a lighter more neutral color on leather rather than black or dark brown, which tends to look old-fashioned. I adore the details on the low option!
High: This is the highest-priced item on this entire list of accent chairs. I think it cost more than my first car. But boy is it pretty! It is made out of a solid walnut frame (which is a very expensive type of wood) and has Italian-made leather upholstery. You may also be surprised to learn that it reclines!! It totally doesn't look like a recliner, but it actually has three different reclining positions.
Low: Surprise, the lower-priced option also reclines! I love the modern design of the exposed wood frame and the high back, which looks pretty comfy. However, this doesn't have the real leather but mentions that the faux leather is an innovative leather gel upholstery that provides the soft-touch of top grain leather but at a better price.
Best budget-friendly leather accent chairs with a wood frame under $300
Where do you put an accent chair?
You may love the idea of accent chairs, but are not really sure where to put them in your home! Here are some popular spots to consider:
Living Room: One of the most common places for an accent chair is in the living room, of course. Put it next to a sofa or across from it to create a cozy conversation area. Accent chairs also add an extra seating option for guests!
Bedroom: Placing a chair in your bedroom can instantly create a cozy reading nook or a spot to relax and unwind. Consider positioning it near a window or by a bookshelf.
Home Office: If you have a home office an accent chair can provide a stylish and comfortable seating option for clients or as a place to take a break from your desk.
Entryway: Make a good first impression as soon as someone steps into your home by placing an accent chair in your entryway. It also offers a convenient spot for putting on or taking off shoes!
Dining Area: If you have a spacious dining area, consider incorporating armchairs at the heads of the dining table, but be sure they are the right height to use at the table (18-23 inches).
Reading Corner: Transform a quiet corner of your home into a cozy reading spot by placing an accent chair, a small side table, and a floor lamp.
Feel free to experiment and move the chair around until you find the perfect spot that works for your space.
In conclusion, finding the perfect accent chair on a budget doesn't have to be hard. With a little creativity and some careful consideration as you shop, you can discover an affordable option that works for your home. Whether you choose to place it in the living room, bedroom, home office, entryway, dining area, or create a cozy reading nook, an accent chair adds a touch of charm, comfort, and personality to your home.
Remember, when shopping for budget-friendly accent chairs, keep an eye out for sales, thrift stores, online marketplaces, and even DIY projects that can help you score incredible deals. Don't be afraid to mix and match styles, colors, and patterns to find a chair that truly reflects your unique style.
Happy chair hunting!