Best Console Tables When You're On A Budget (Look for Less)
When you're on a budget, you have to get creative when you are looking for furniture. Learn how to get the high-end with these best console tables when you're on a budget. Your entryway will thank you.
I'm back today for another edition of Get The Look For Less, where I teach you how to get the high-end look, even when you're on a budget.
You can catch up on the past weeks here.
So far I've shared look for less ideas for:
It's been a huge hit! I love finding budget-friendly finds for stylish, but often expensive, home decor.
This week, I'm sharing the best console tables when you're shopping with a budget in mind!
Console tables can get really pricey and can range from a simple top with 4 legs to much more intricate detailing. You can oftentimes find look for less options. I personally believe that console tables are a home decor item that you can definitely save a lot of money on.
For one, console tables aren't furniture that you physically use. That's kind of my rule of thumb for whether you should splurge or save.
While you want something that isn't going to fall apart quickly, console tables are there to look pretty, and maybe hold your keys in the entryway.
We don't have any console tables in our home currently because we don't have a place for one. Console tables look so pretty in an entryway styled with a mirror on the wall, a lamp, and a basket underneath.
This post contains affiliate links. Please, click here to read my disclosure policy.
Console Table #1
Traditional Wooden Console Table: HIGH (now $3,000) | LOW (option pictured no longer sold, similar for $382)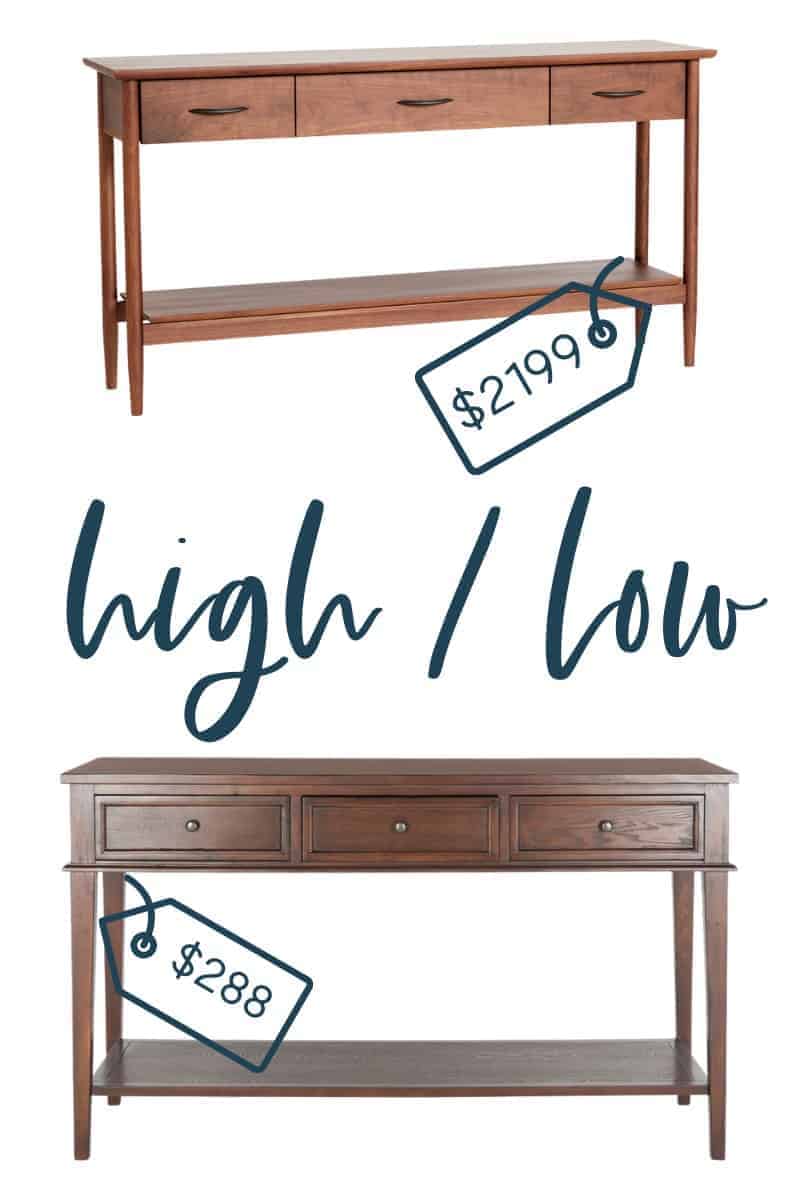 Let's start out with a traditional wooden console table with drawers. Having the drawers is a great little hack to quickly store your junk that seems to accumulate at your entryway.
High: The high option from Rejuvenation tops out at over $3,000 – that's a pretty penny! With tapered legs and smooth corners, the Shaw Walnut Console Table is made from solid walnut, which is one of the reasons why it is so expensive.
Low: The budget-friendly lower priced console table shown below in the photo has been discontinued. But I was able to find something pretty similar for $382, which I've linked above. The Harper Console Table from SimpliHome has mid-century modern tapered legs and three drawers and has a dark walnut brown finish. It is also reassuring that it has 4.5 out of 5 stars in the reviews!
---
Console Table #2
Waterfall Console Table: HIGH (now $1,398) | LOW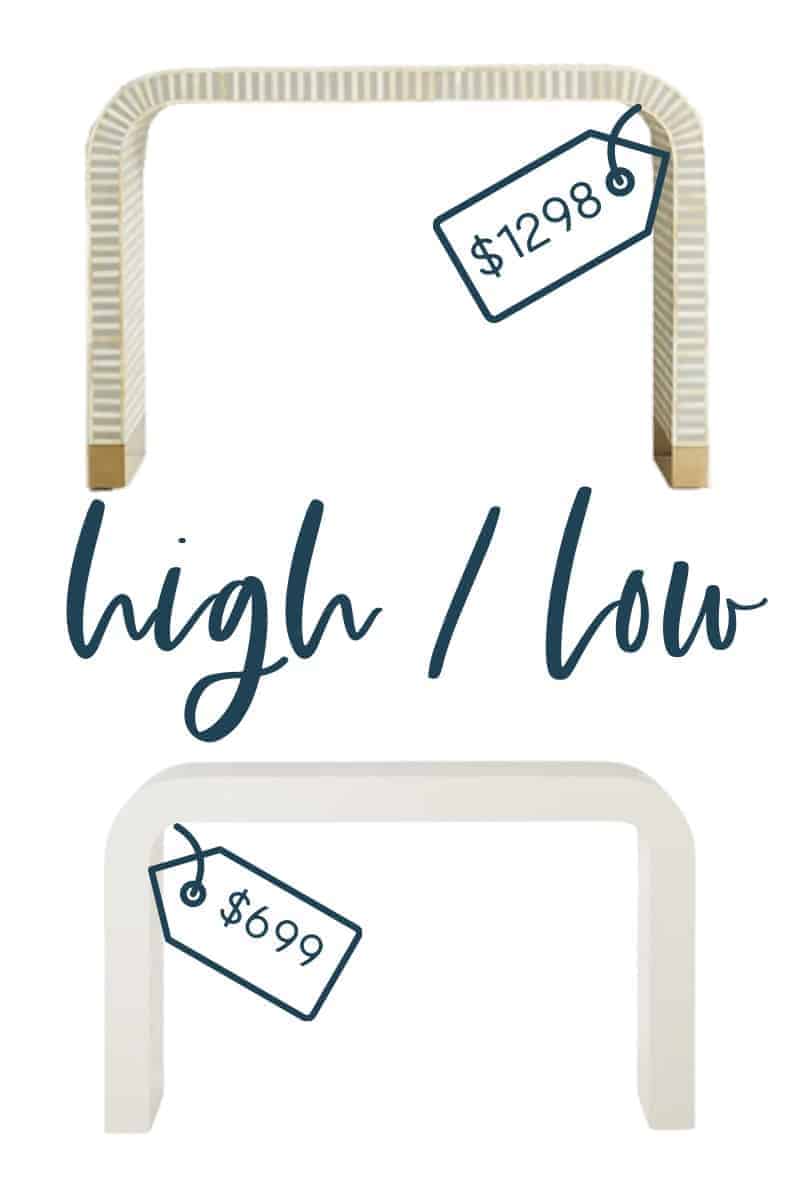 High: The waterfall console table is a classic look when it comes to modern furniture styles. This one from Anthropologie takes the ancient art of inlaid bone and puts it into practice. The Waterfall Inlay Console Table features brass capped legs and is available in grey & white (shown in the photo) or blue & white.
Low: As an alternative to the nearly $1,400 inlaid console table, the lower-priced waterfall console table has a beautiful linen-like texture that is very unique. Although it is the lower-priced option in this comparison, it is still fairly expensive when it comes to console tables. However, there are several raving reviews, like this one which states: "This table is a fortune – especially for just being a small console table, but it is truly a piece of art and makes a statement. I love it SO much. I will own this piece until I'm in the ground, literally."
---
Console Table #3
Marble and Gold Console Table: HIGH (now $1,279) | LOW (option pictured no longer sold, similar for just $99)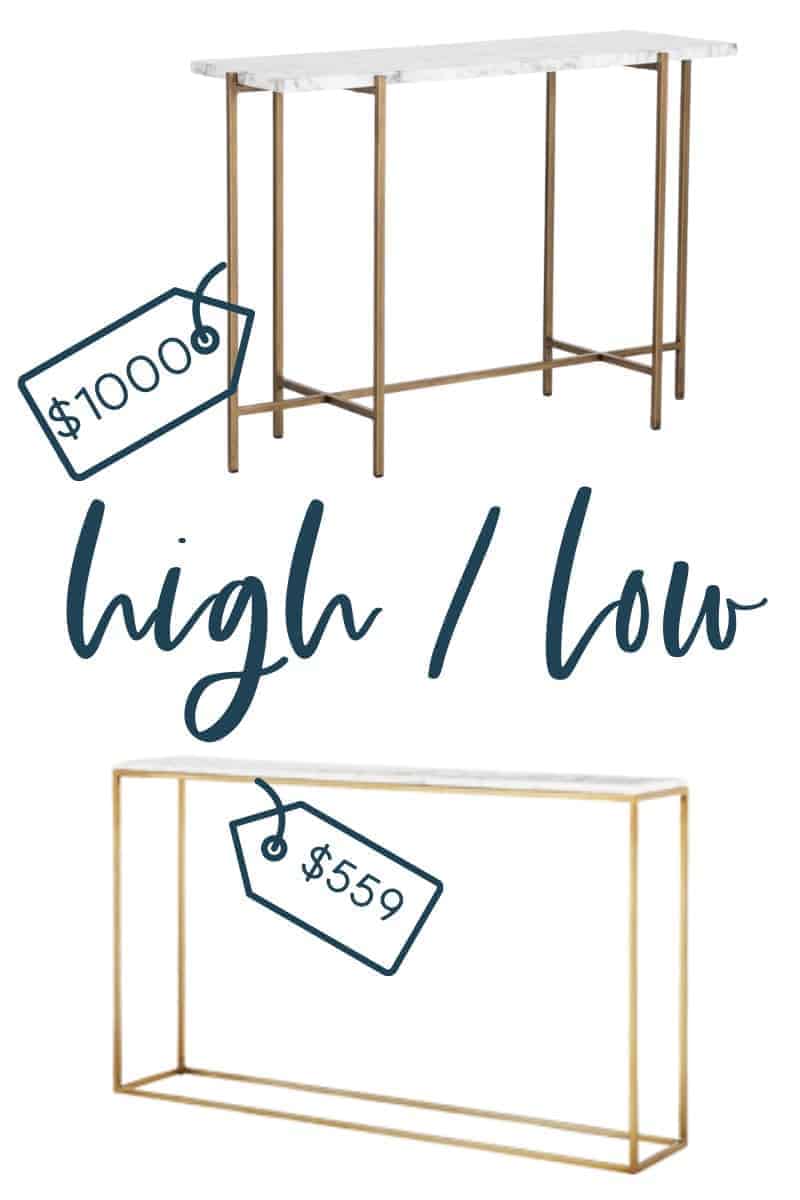 High: The marble and gold combination is something I can totally get behind. The higher priced option, Willa Arla Tynan Console Table, here has a modern base made from brushed antique brass steel and the top is made from genuine marble – which is probably why it is so expensive.
Low: This budget-friendly console table has a faux marble, instead. The Gold Coast table from Convenience Concepts also uses a powder-coated metal frame for the base. I love the slick modern design of the rectangular bottom. The smooth faux marble table top paired with clean lines creates a crisp look. The open breezy feel of this table completes the look.
---
Console Table #4
X Wooden Console Table: HIGH (now $1,498) | LOW (option pictured no longer sold, similar for $299)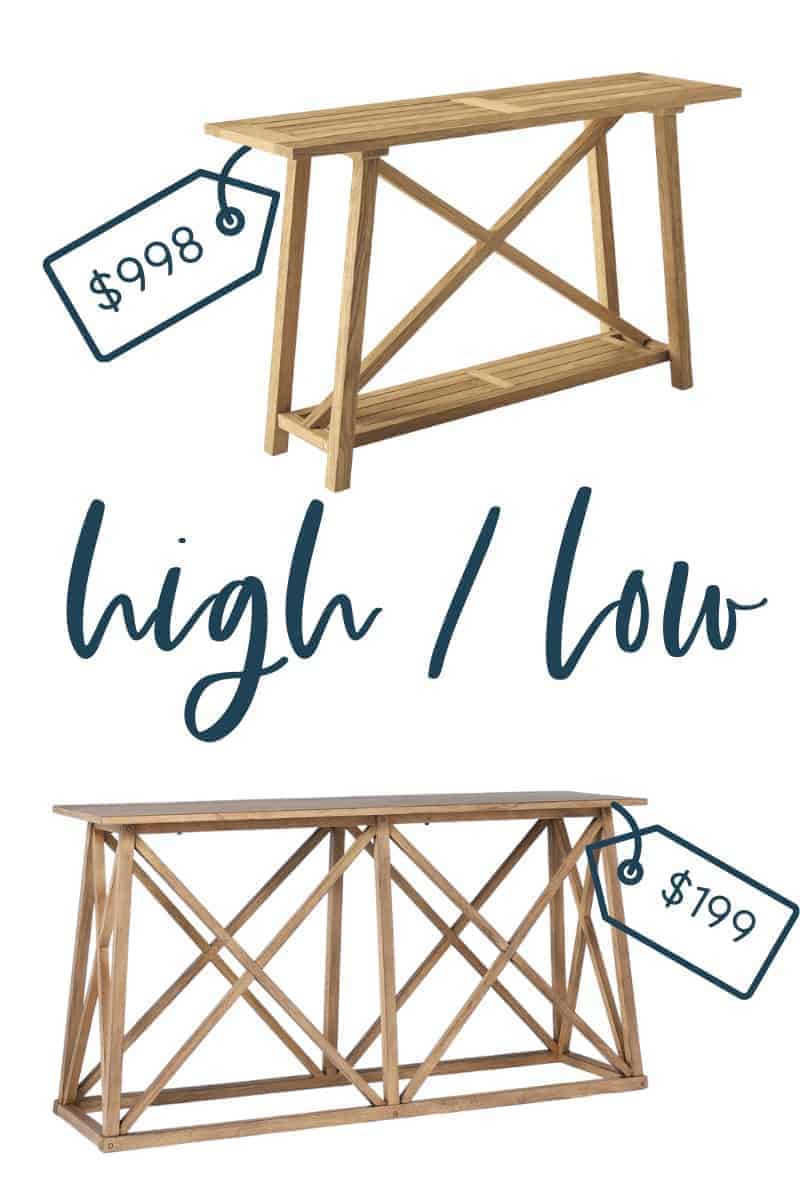 High: How gorgeous is this Crosby Teak Console from Serena & Lily? Made with Grade A teak and exceptional craftsmanship, it's built to last for years and offers plenty of space and style.
Low: The one in the photo is no longer sold, but I was able to find something pretty similar at a much lower price point. The inexpensive option (linked above) gives you that modern farmhouse look with an A-frame design. Although made from laminate & MDF, instead of real wood, it is a reasonable option for a console table that gets minimal use. The table is backed up by 4.7 out of 5 stars with over 2,300 reviews!
---
Console Table #5
Rattan Console Table: HIGH (now $1,900) | LOW (one pictured is no longer sold, similar for $209)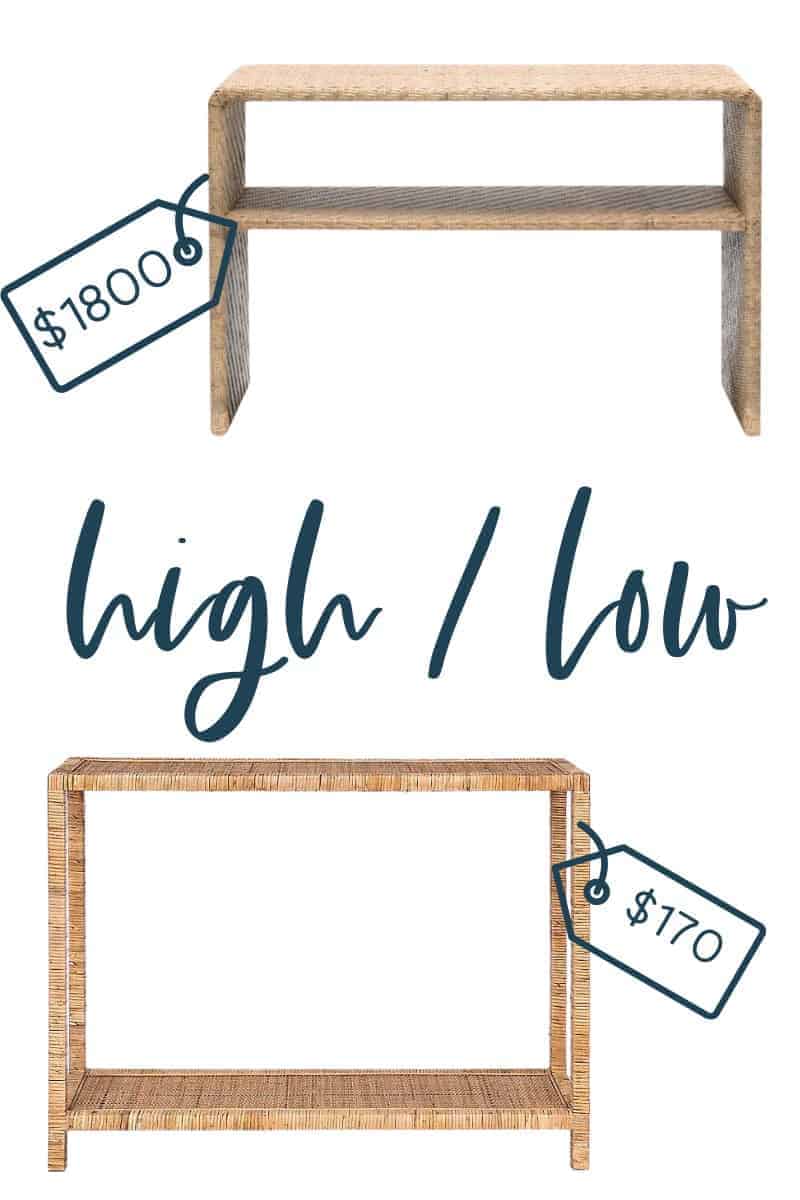 High: You know that I love me some rattan furniture. This Roman Console Table from McGee and Co is gorgeous. The woven texture of the rattan brings character to the table.
Low: Although the one shown in the photo below isn't available anymore, I think I love this one I found from Ballard Designs even more. It is called the Navio Console Table and features hand-woven all-weather wicker with a slatted wood top made from teak. The durable materials allow this table to be kept outdoors, which gives it extra versatility.
---
See! I told you that you could still get a high-end look even when you're shopping for console tables on a budget.
Which of these best budget console tables is your favorite?