Mixing Metals In The Bathroom
Mixing metals in the bathroom is so on trend and not a decorating faux pas anymore!  See which metals mix well together and how to use different toned metals to warm up a design.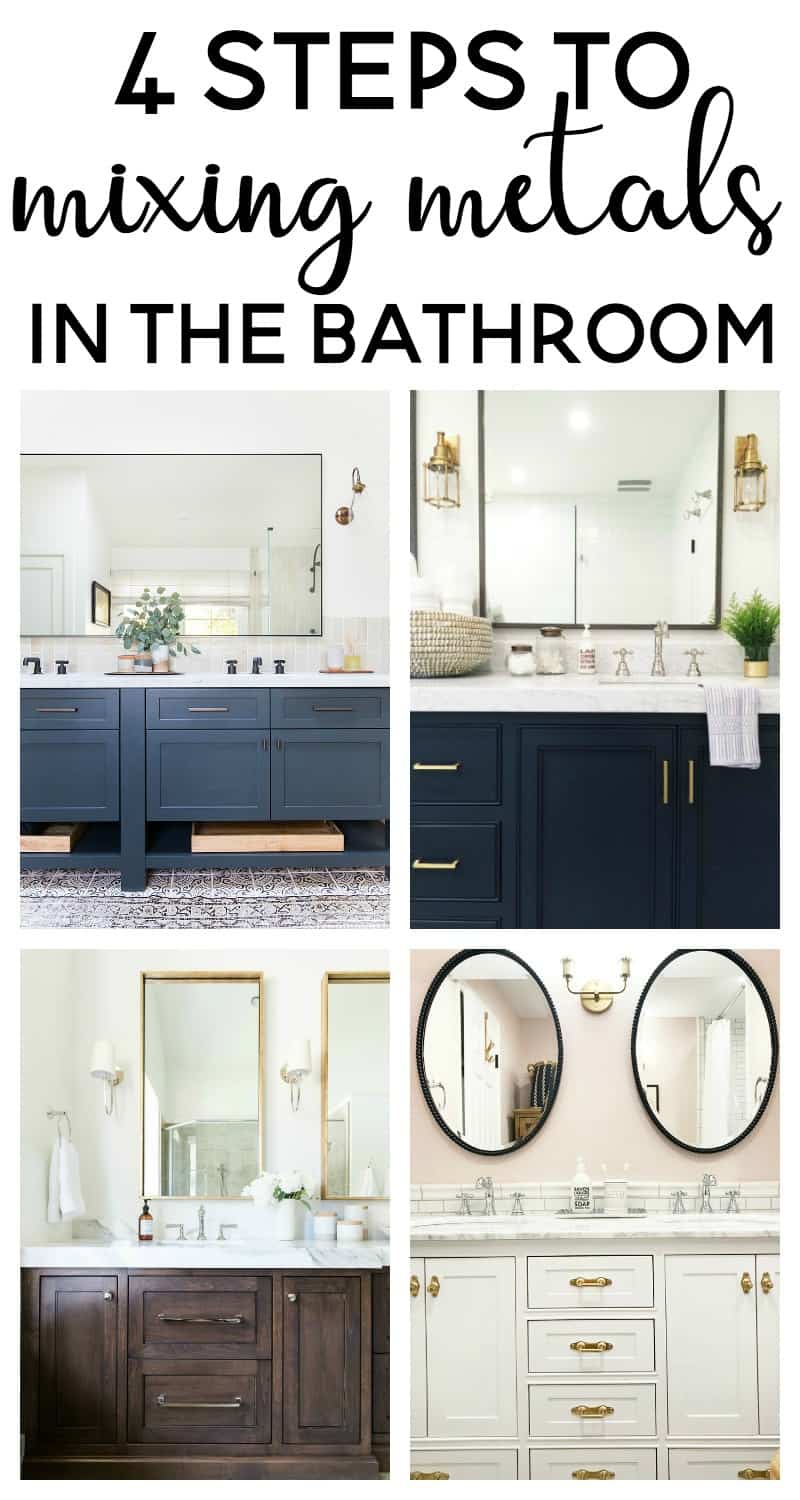 [wc_divider style="solid" line="single" margin_top="" margin_bottom="" class=""][/wc_divider]
One of my favorite design trends is mixing metals.
And, in particular, BRASS! I LOVEEEE that brass is back in style. It's not quite as blingy as gold but still adds SO much warmth to a space.
With brass (and gold and copper) coming back in style, there has really been a shift in metal finishes for room. I'm specifically focusing on bathrooms here, but, it applies to other spaces, too!
How to Mix Metals in Bathroom Decor
It used to be considered a design no-no to mix metals in a bathroom.  You had to have polished chrome or nickel everything.  Well, gone are the days where every single finish on everything at to be matchy matchy.  And boy, does it feel good to see that trend dying.  Combining different metal finishes creates depth and adds visual interest in any room.  And, it makes the room feel collected and made over time instead of builder-grade (not that there's anything wrong with builder-grade, necessarily).
Love the mixed metals in this bathroom from Amber Interiors.
As I was working on our master bathroom design, I really wanted to incorporate different metal finishes in our modern vintage bathroom. Not necessarily to be "trendy" but to really warm up the space. The thought of having everything be chrome just seemed boring to me.
Plus, as I scoured Pinterest for design inspiration, I realized that mixing metals doesn't stick out like a sore thumb. In fact, mixed metals can create a more sophisticated, complete look.
But don't take my word for it!  Take a look at some fabulous bathrooms that used mixed metals.  And we will dive into some ground rules for mixing metals.  Because you can't use every single metal in a single room 😉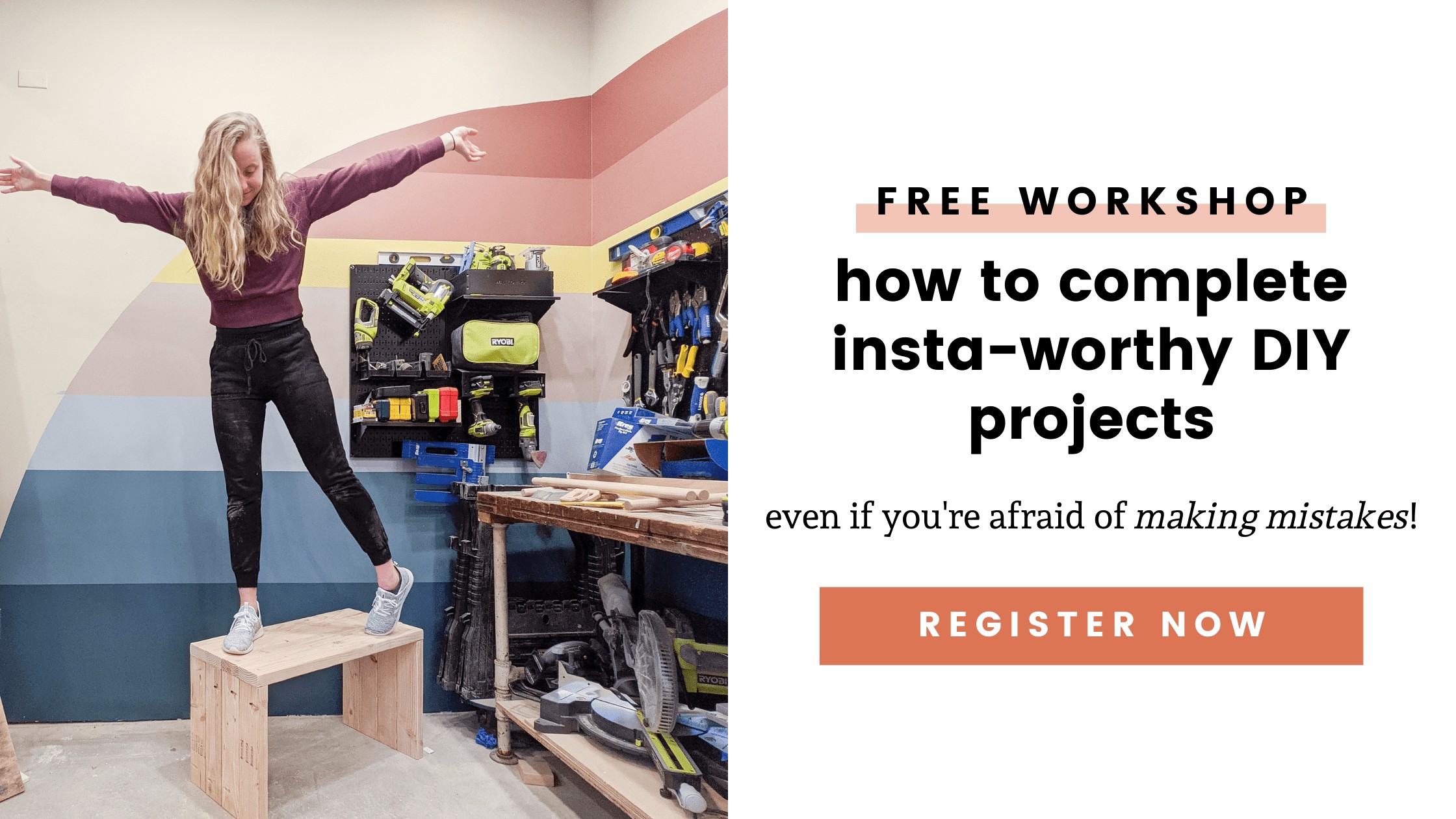 1.  Choose a dominant metal.
So, you can't just have all the metals in one room. Especially a small room like a bathroom.
For our bathroom, we had already purchased a chrome showerhead.  So, I knew I wanted to keep the chrome look going throughout the bathroom for the main fixtures.  I didn't want to have chrome in the shower and then brass for the tub.
Chrome is a simple, classic, and beautiful dominant metal. Unlike brass and warmer metals that can have twenty bajillion different finishes, polished chrome is polished chrome is polished chrome. No matter where you shop, all of the polished chrome pieces will match.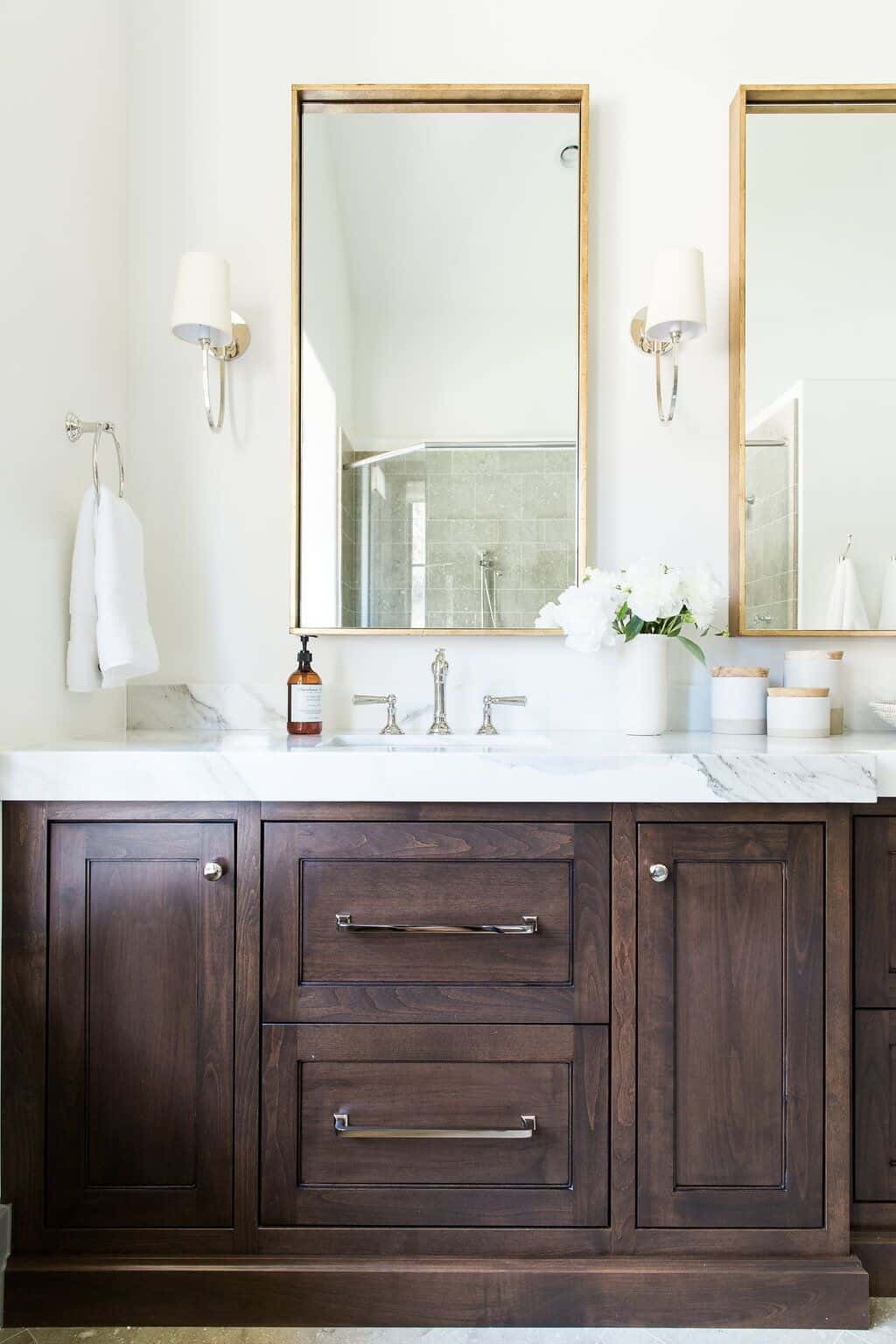 Studio Mcgee combined polished chrome with brass in this beautiful, timeless look.
2.  Add in one or two accent metals.
In general, you don't want to use more than 3 different metal finishes in any room.  With more than 3, you risk the room looking jumbled and not a unified space.  I think, ideally, mixing two metals creates a cohesive look but you can do up to 3.
You'll want to mix cool metals with warmer metals.
Cool metals include chrome and nickel (and, to a less extent – black).
Warmer metals include brass, oil-rubbed bronze, gold, and copper.
For our bathroom, I chose to mix my dominant metal (polished chrome) with, you guessed it! BRASS!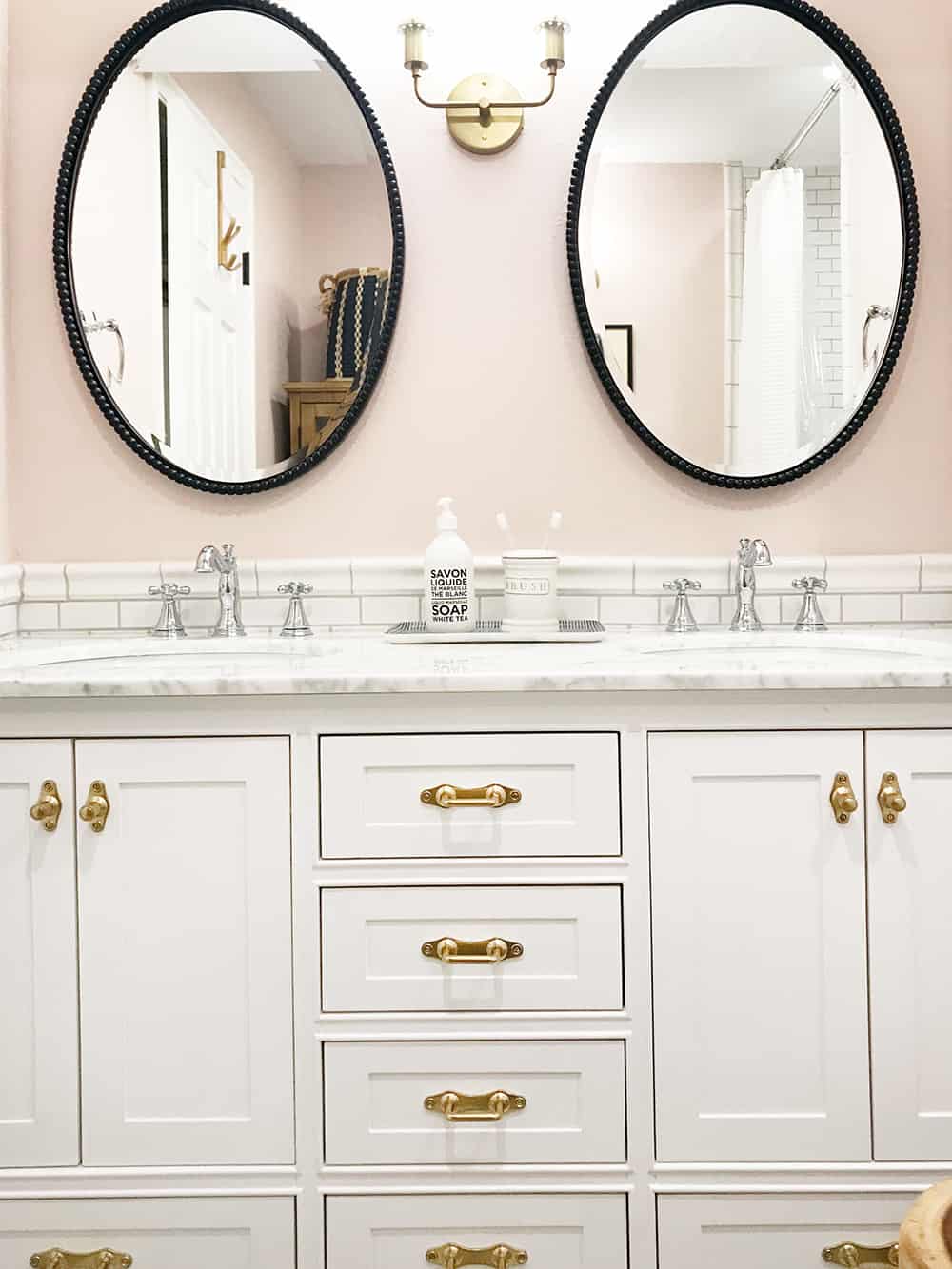 I love how Chris Loves Julia combined brass, chrome, and black mirror in their bathroom.
3.  Repeat each metal at least twice.
This is especially important for the dominant metal you picked in step 1. For me, I have chrome repeated 3 times in the bathroom. The shower head, tub filler, and sink faucet are all polished chrome. I'm probably also going to do towel bars, toilet paper holder, and hand towel hooks in polished chrome as well. That's a LOT of polished chrome. Enough that you will notice it's been repeated several times.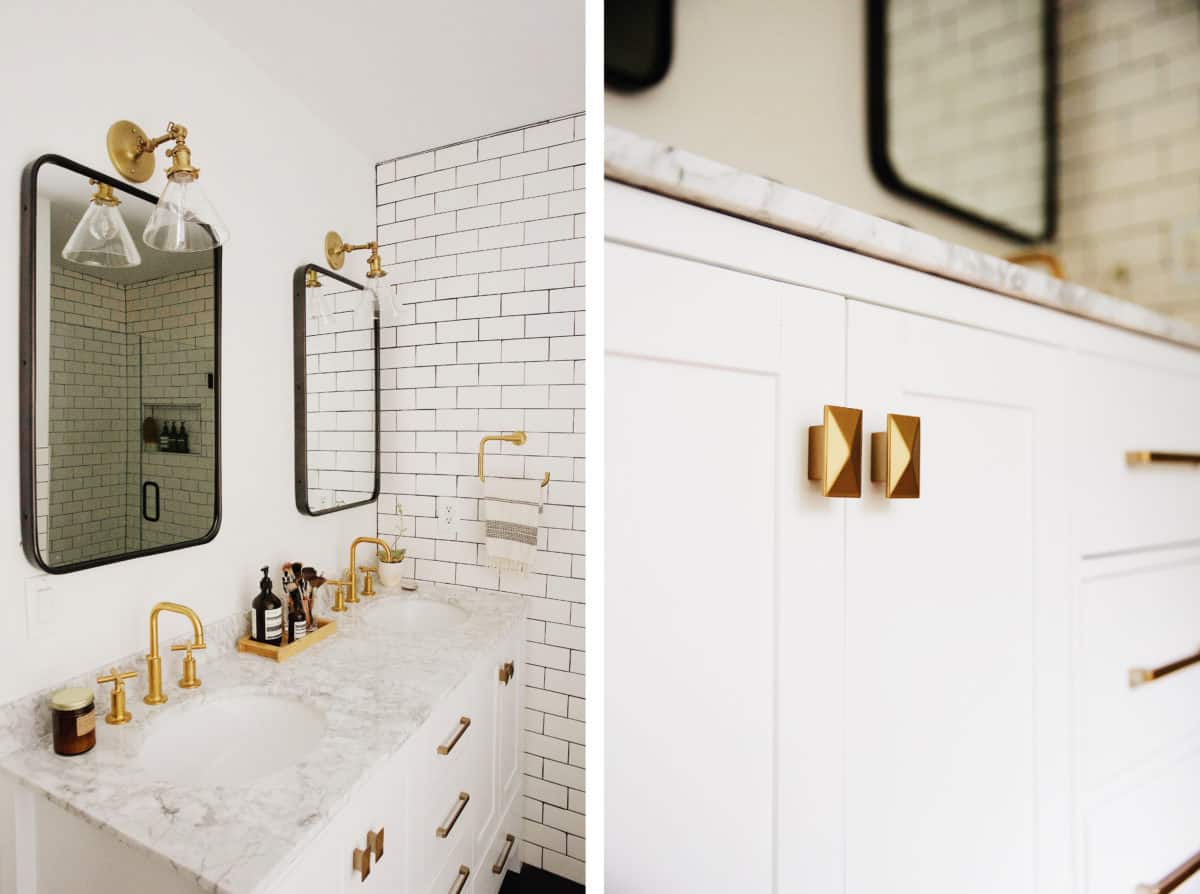 New Darlings mixed black and brass in this gorgeous bathroom!
For my accent metal (in my case, brass), I've decided to use that for sconces and vanity hardware.  The antique dresser we purchased already has beautiful old brass knobs and pulls.  I need to clean them up a bit, but honestly, they're beautiful and one of my favorite parts of the room.  I also purchased two brass wall sconces that are more of a shiny brass.  Gasp!  I'm mixing different brass finishes…. that leads me to the next point –>
4.  Consider the metal finish.
A brass fixture from Target may not look the same as a brass fixture from IKEA. In addition to brass (and other warm metals) looking different depending on the brand, there are different brass finishes. There's polished brass, unlacquered brass, and aged brass.
If you're already using chrome as your dominant metal in the bathroom, you probably don't want to add in a polished brass mirror with aged brass sconces and unlaquered brass vanity hardware.
You want to stick with the same brass finish. And this applies to the other warmer metal accents as well.
You CAN use different finishes for the same metal. But, I would try and separate them as much as possible so that the differences aren't at obvious. For example, using vanity hardware and sconces in two different finishes instead of a mirror and sconces. Which is exactly what I plan on doing with our bathroom!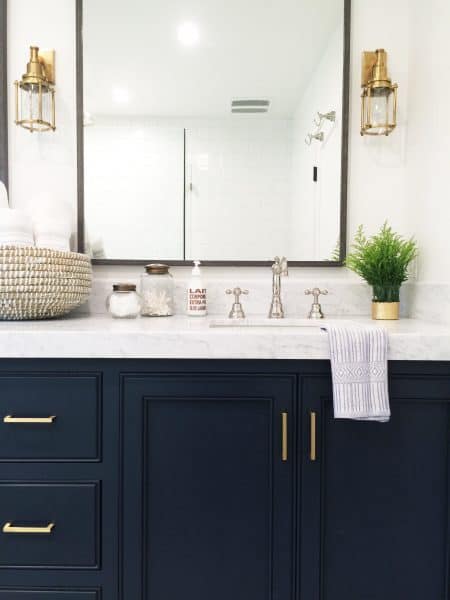 I can't get enough of this bathroom from Mandy Gayer. Black + brass + chrome = AMAZING!
So, are you convinced that mixing metal is a good idea? Or at least that it's an acceptable idea?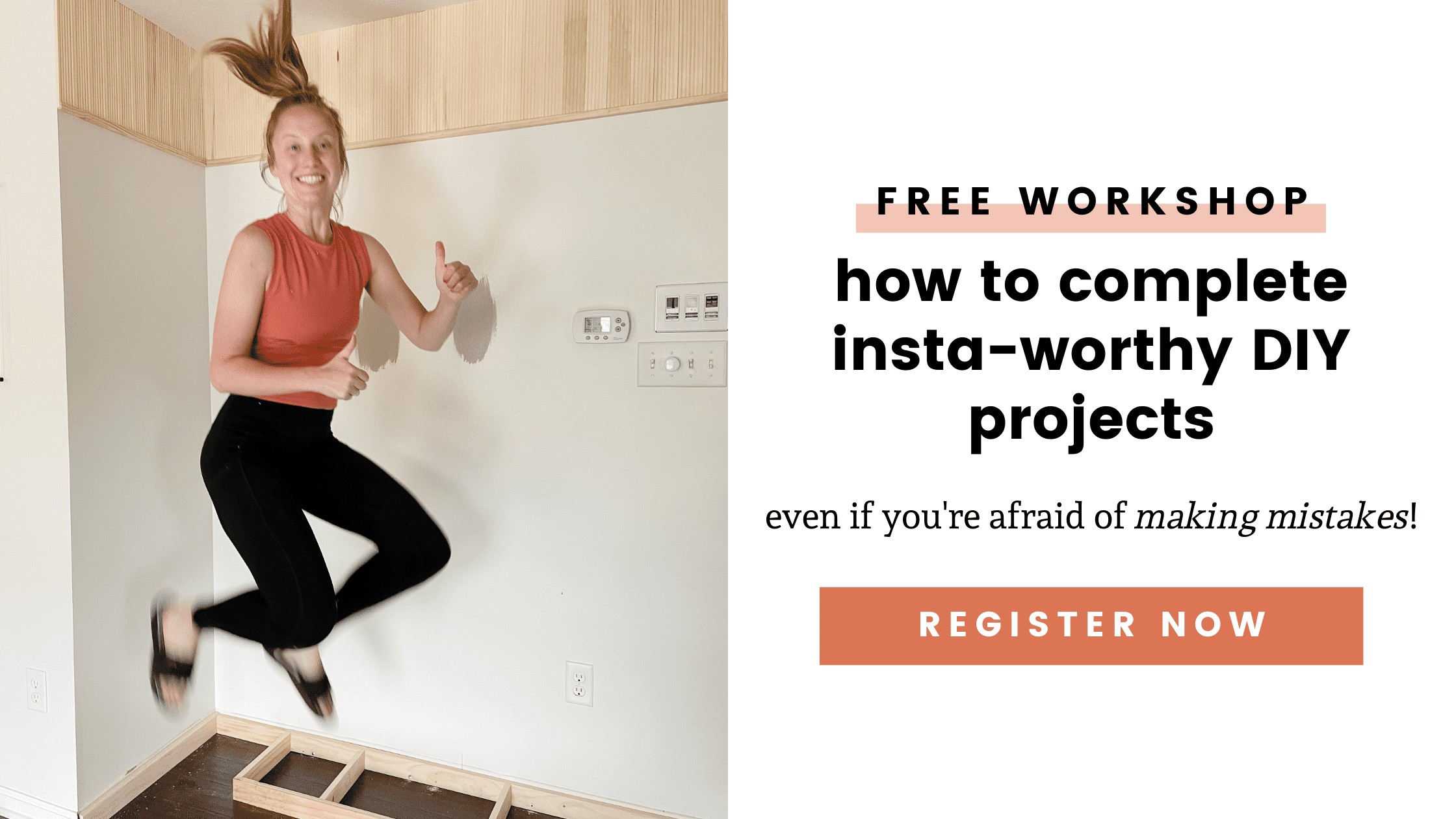 I've shared a bit more about our master bathroom design with you and I'm hoping (fingers crossed!) to have the full design plan up sometime in the next 2 weeks.  Hint: we are mixing metals 😉
More Modern Bathroom Design Inspo: