The 12 Best Magnolia Home Joanna Gaines Farmhouse Paint Colors
If you want to get that farmhouse look, why not turn to Joanna herself? Check out these 12 best Joanna Gaines farmhouse paint colors from her Magnolia Home paint line.
The first step to getting that signature farmhouse look starts with choosing the perfect farmhouse paint color. From neutrals to accent colors and SO MANY options, choosing paint colors can be super overwhelming.
In fact, I hear from our readers all of the time that many of you have problems choosing paint colors! Fresh paint is the best way to quickly and easily transform a room!
But, the actual process of choosing paint colors can be quite daunting. With so many (and I mean SO MANY) different colors available, how can you ever choose the perfect one?
If you need help choosing a paint color, be sure to check out my Ultimate Guide to Popular Paint Colors!
This post contains affiliate links. Please, click here to read my disclosure policy.
Who knows how to choose a farmhouse paint color better than Joanna Gaines?
So today we're breaking it all down for you and sharing some of the best farmhouse colors. Who knows how to choose the perfect farmhouse paint colors better than Joanna Gaines?
Joanna Gaines is really the person who really helped the farmhouse style take off years ago with the introduction of her and her husband's HGTV show called Fixer Upper. The TV show ran from 2013-2018.
During the same time, the farmhouse style took over one of the most popular types of interior design and is still incredibly popular today.
I originally wrote this article in 2017 all about choosing that perfect farmhouse neutral paint color, based on the Fixer Upper paint colors that Joanna was using in her designs shown on the TV show.
But since then, Joanna and Chip Gaines have left HGTV's Fixer Upper to expand the HUGE business, Magnolia, which includes:
Magnolia Silos in Waco, Texas, is a destination with shops like Magnolia Market, and eateries, like Magnolia Press coffee shop and Silos Baking Company
Magnolia Homes, their remodeling and design business
Magnolia Journal, their magazine
Magnolia Network, their own TV network — where they have relaunched their show Fixer Upper: Welcome Home (where, big shocker, she's using paint colors from her paint line)
Magnolia Realty, their real estate company
Magnolia Home wallpaper, their wallpaper line, which is sold at several retailers like the Home Depot, Lowe's, Anthropologie, and more
Magnolia Home paint, their own paint line crafted with KILZ
Why this article needed an update
So back in 2017, I rounded up 30 great neutral tones that fit in with the modern farmhouse style, which were based on studying Joanna's designs. I shared them in a blog post I wrote on Making it in the Mountains.
All of the paint colors were available from the most popular paint companies, like Benjamin Moore, Sherwin Williams, and Behr Paint. Some of my favorite paint colors from that list are Repose Gray, Sherwin Williams Alabaster, and Accessible Beige.
But now that Joanna Gaines herself has come out with HER OWN Magnolia Home paint line, I figured it was time to update this article with the new paint colors that she's developed and is now using in her design work!
And spoiler alert, they are gorgeous!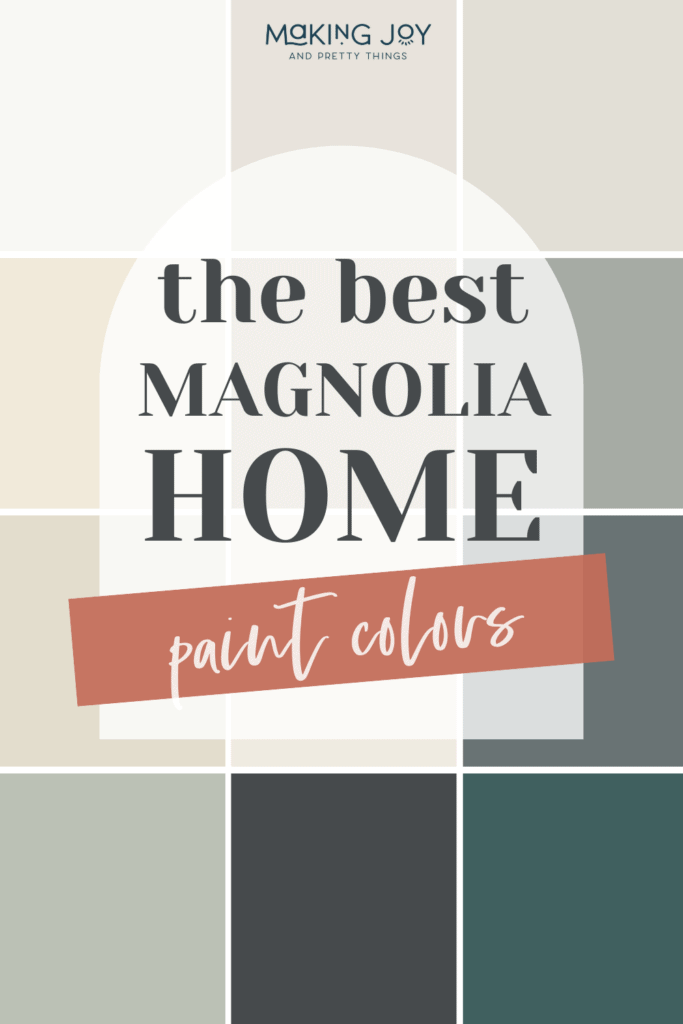 Where can you buy Magnolia Home paint?
You can buy any one of the 150+ colors from the Magnolia paint either online or in-store at Magnolia, ACE Hardware, or Lowe's. The paint line carries both interior and exterior paints as well as cabinet/furniture paint, spray paint, and chalk-style paint.
What paint colors does Joanna use in Fixer Upper: Welcome Home (Season 1)?
Fixer Upper: Welcome Home Season 1 was released on the Magnolia Network in 2021 with 9 episodes.
Joanna uses several of the paint colors from the Magnolia paint line in the renovations. They have all of the sources available on their website, which is super helpful if you want more info!
What are the best Magnolia Home Joanna Gaines paint colors?
8 Neutral Farmhouse Paint Colors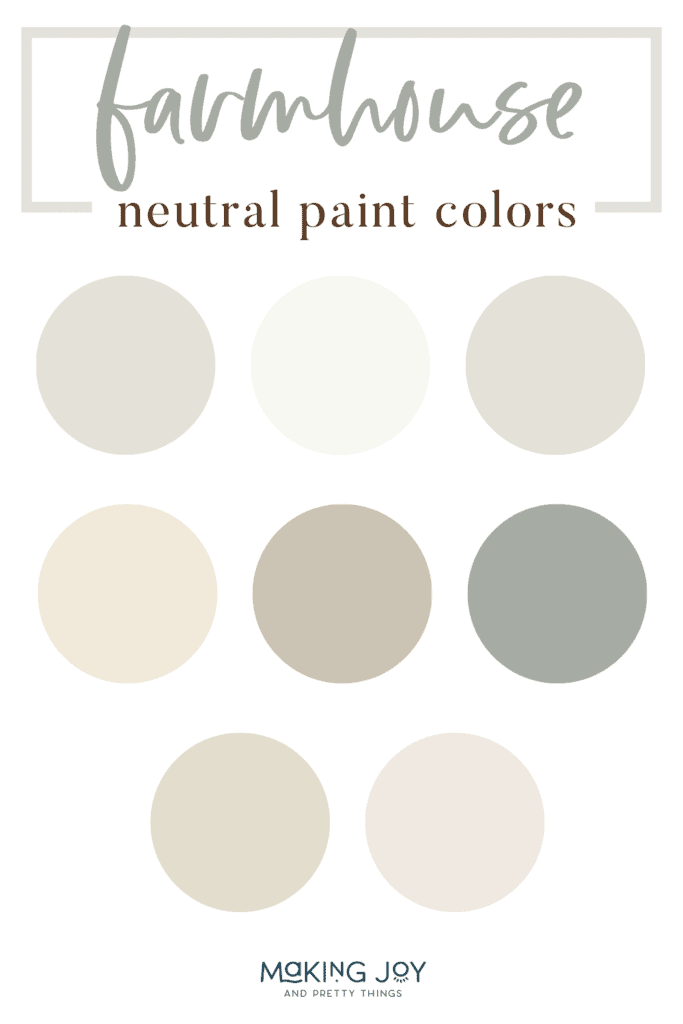 Let's kick things off with the best paint colors with a more neutral color palette. We're talking whites, creams, beige, gray, and greige colors.
These are great options if you're looking for a paint color for your entire house. We'll start by taking a look at a few different whites.
True White (MAG008)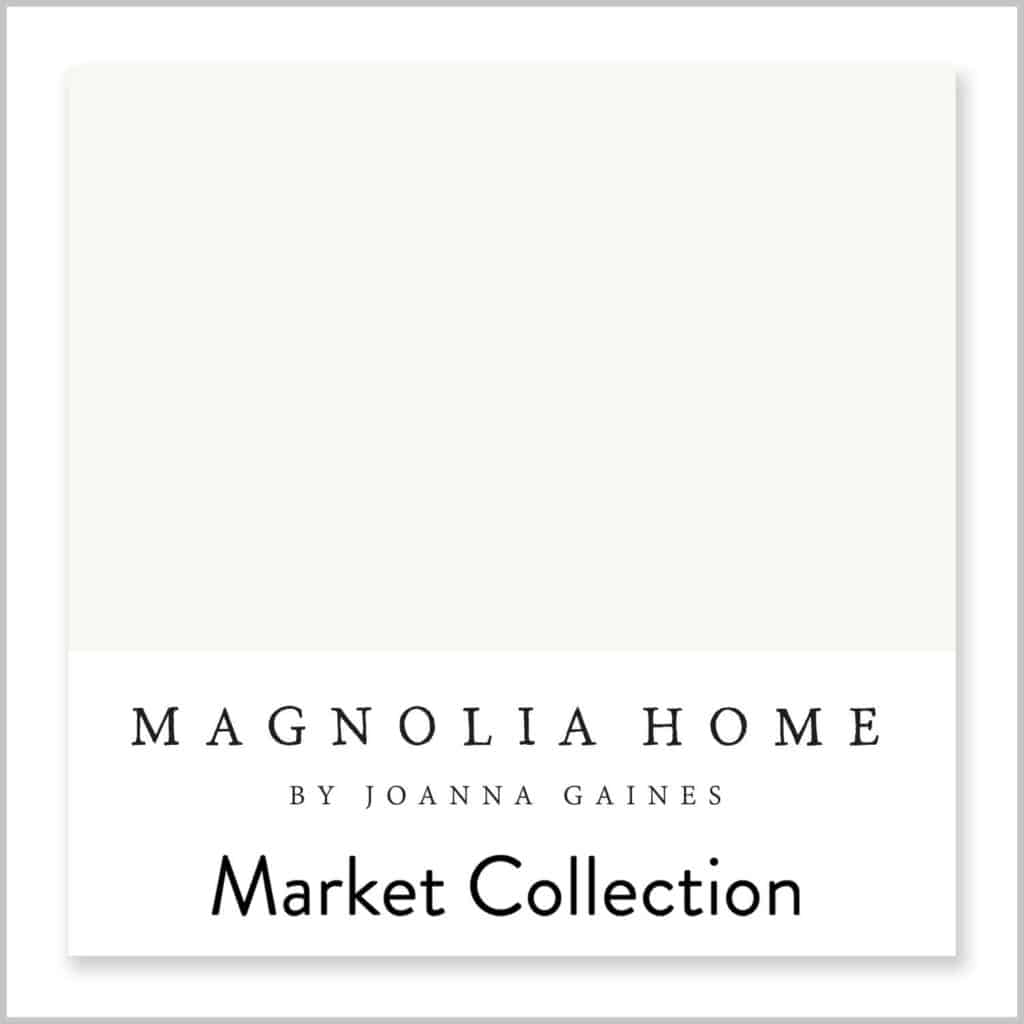 Magnolia describes True White as the purest of whites and Joanna said that she mainly designed this color for trim and molding, so it could be a great paint color to use on shiplap.
It is the brightest white of the 7 different colors that make up the white color family from Magnolia.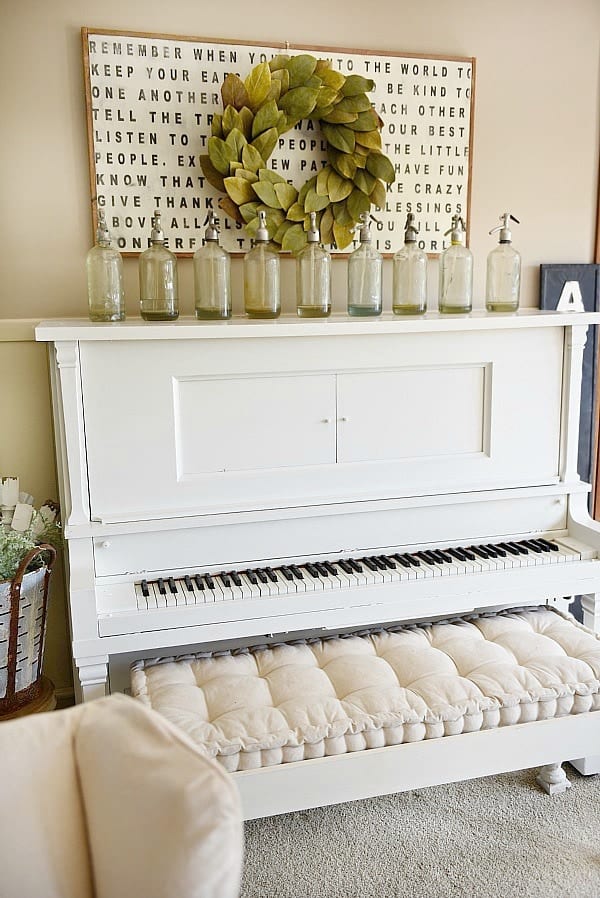 It looks great here painted on this antique piano by Liz Marie. Bringing in a lighter shade on the piano, when compared to the previous wood tones, really lightened up the room!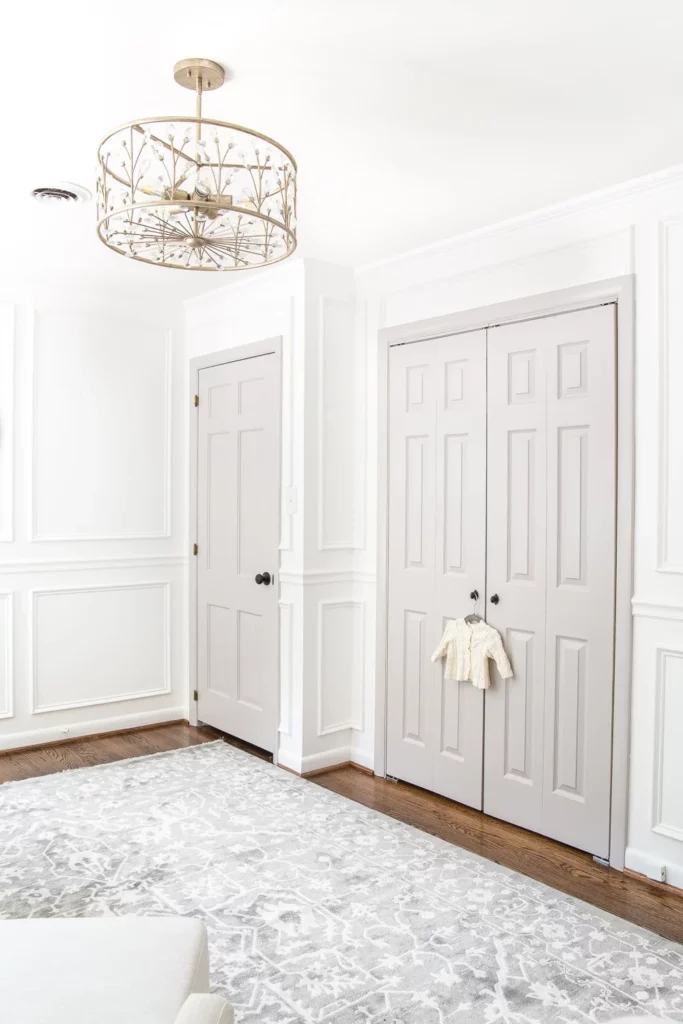 I also love True White as the wall color in this white floral nursery from Bless'er House. It looks great paired with a gray color for the doors and door trim. This is a great idea if you have white walls and want a little contrast!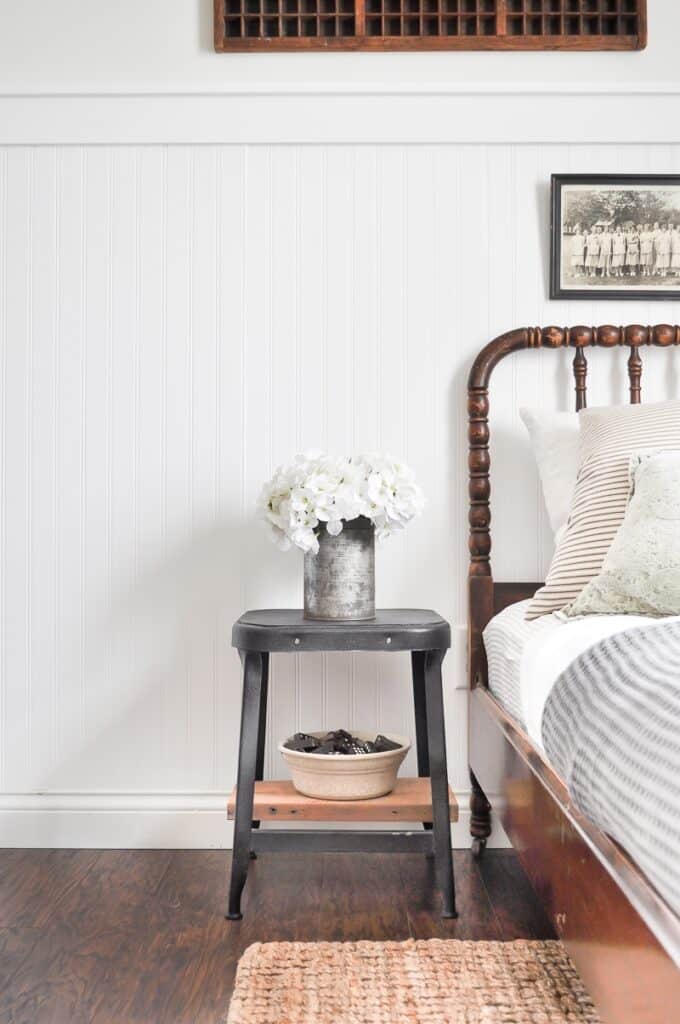 You can see both True White and Shiplap, the next color we're spotlighting, together in one room here from Little Glass Jar. She painted True White for the beadboard paneling and added Shiplap on the walls above. The True White really makes the wall treatment "pop" with a nice bright white.
Shiplap (MAG010)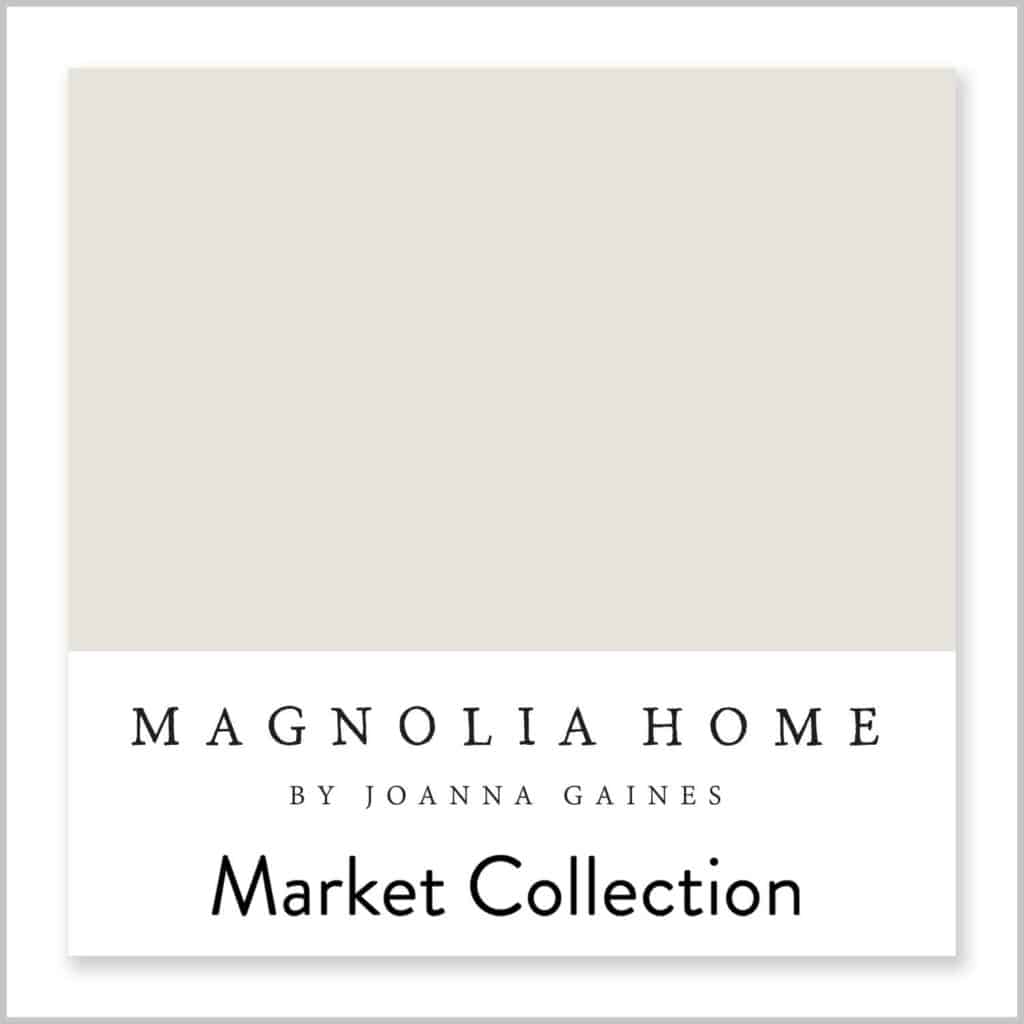 Shiplap is a white color that has, as Magnolia describes, weathered undertones and feels aged, comfortable, and organized. And that feels right.
It is a little creamier than True White if you're looking exclusively at the Magnolia paint colors.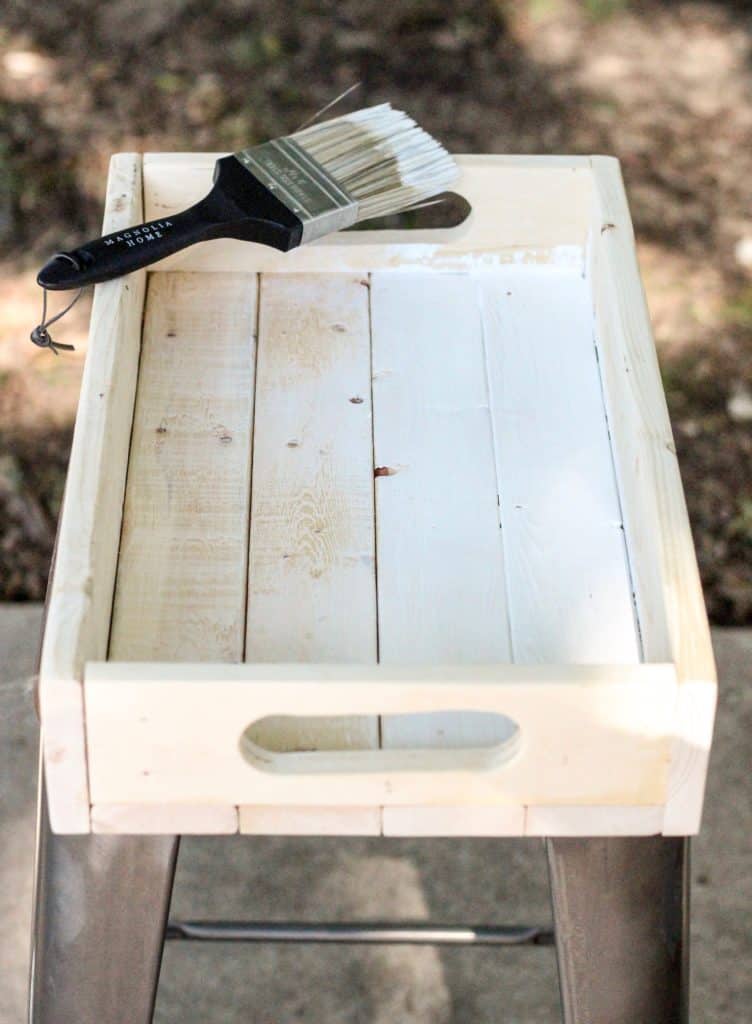 This wooden crate got a paint makeover with the Shiplap color, but this time in a chalky paint-style finish by Cotton Stem. I love that Magnolia offers colors in both regular interior and exterior paint as well as chalk paint, which is great for painting furniture.
One Horn White (MAG004)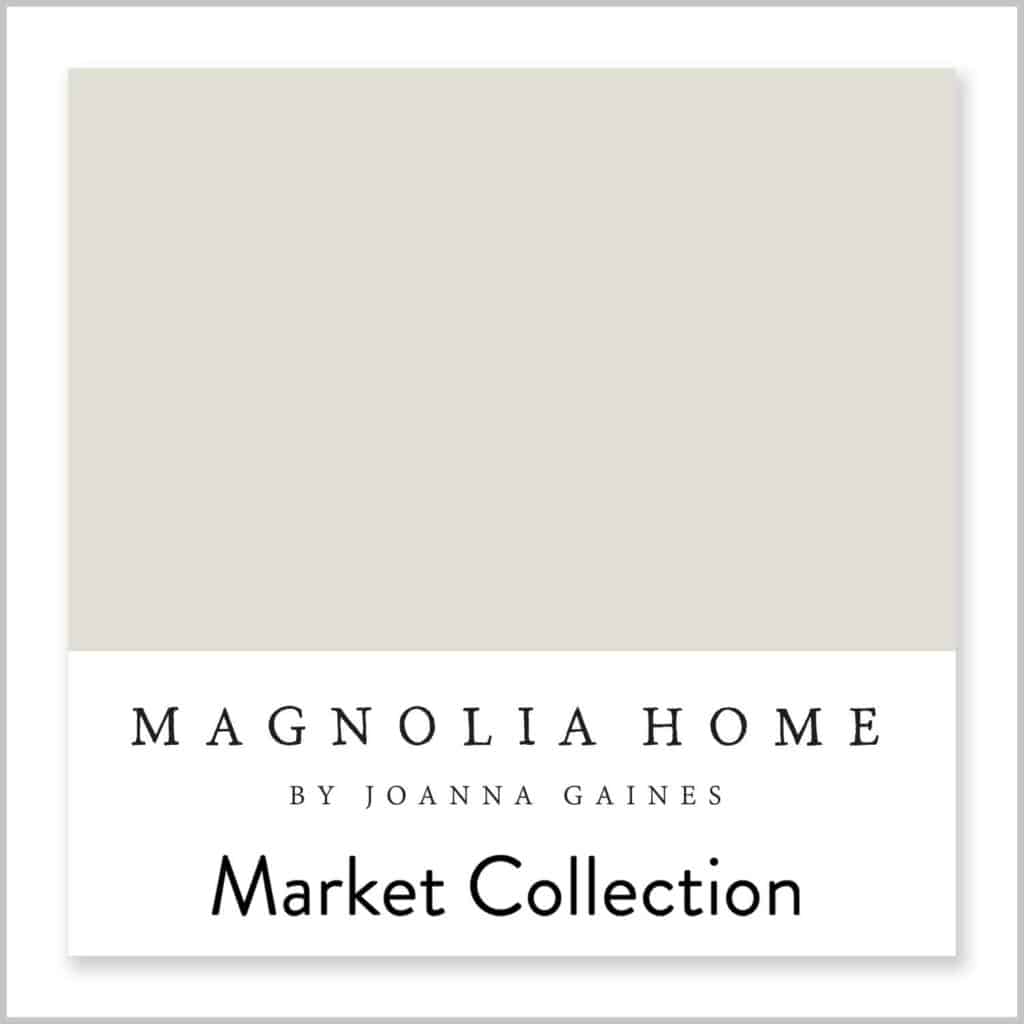 One Horn White is a warm white with a light beige tint. Named after Chip and Jo's first goat "One Horn", it's the perfect color that is right in between white and beige.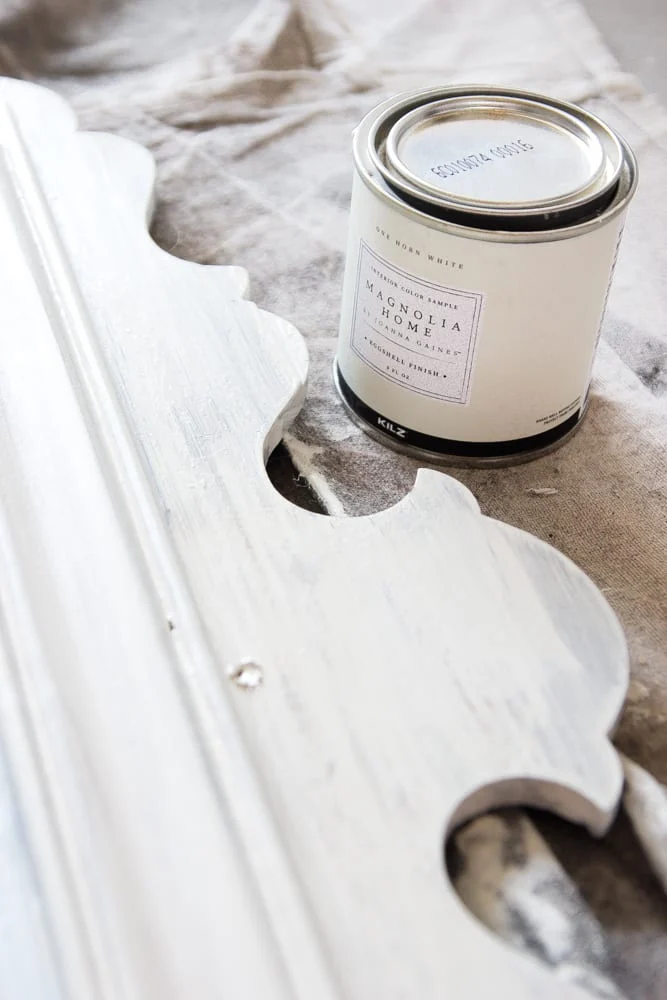 Bless'er House used One Horn White to paint this antique mirror frame that she turned into a picture frame. In her tutorial, she described One Horn White as "the perfect antique white – not too white, not too yellow, just a pretty cream".
Antique Rose (MAG005)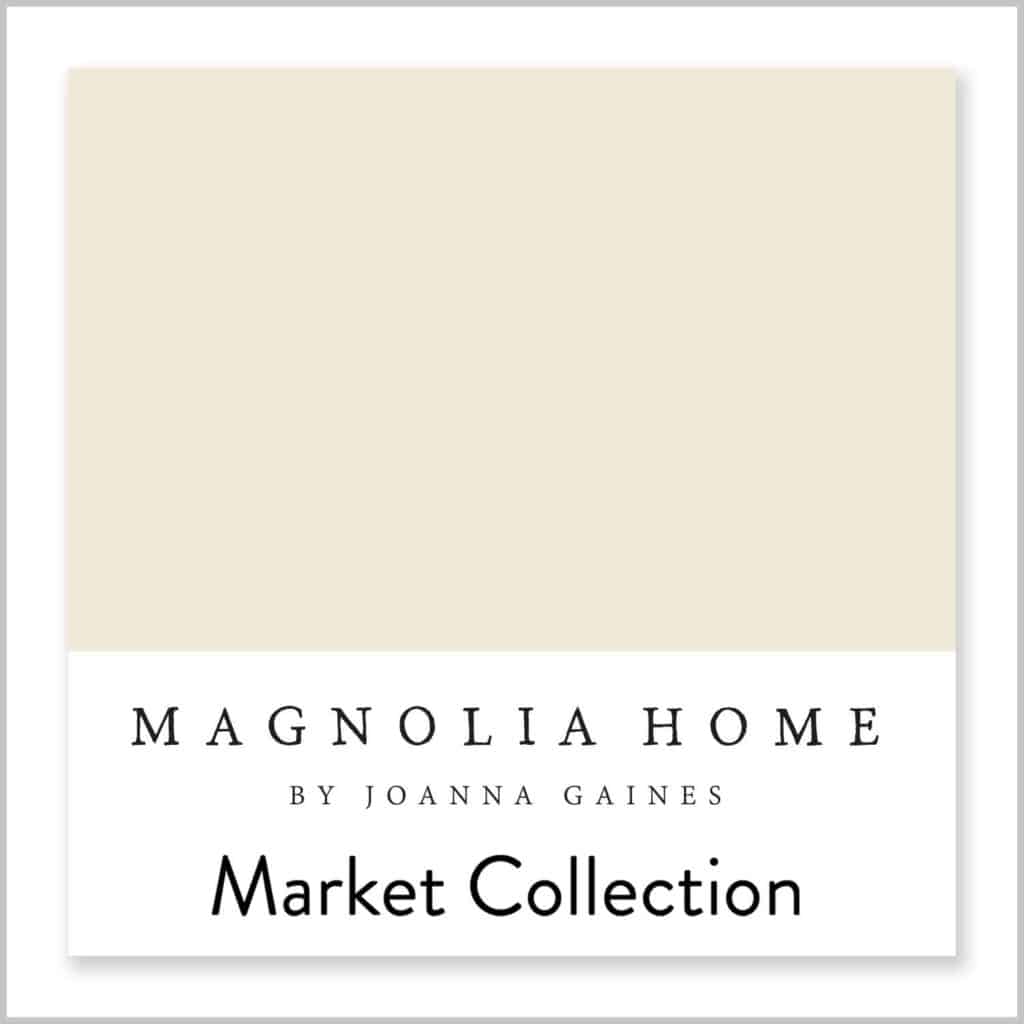 Antique Rose is a beautiful ivory paint color with undertones of soft pinks and yellows. It is a great option for a nursery or girl's bedroom room with just that perfect "whisper" of pink.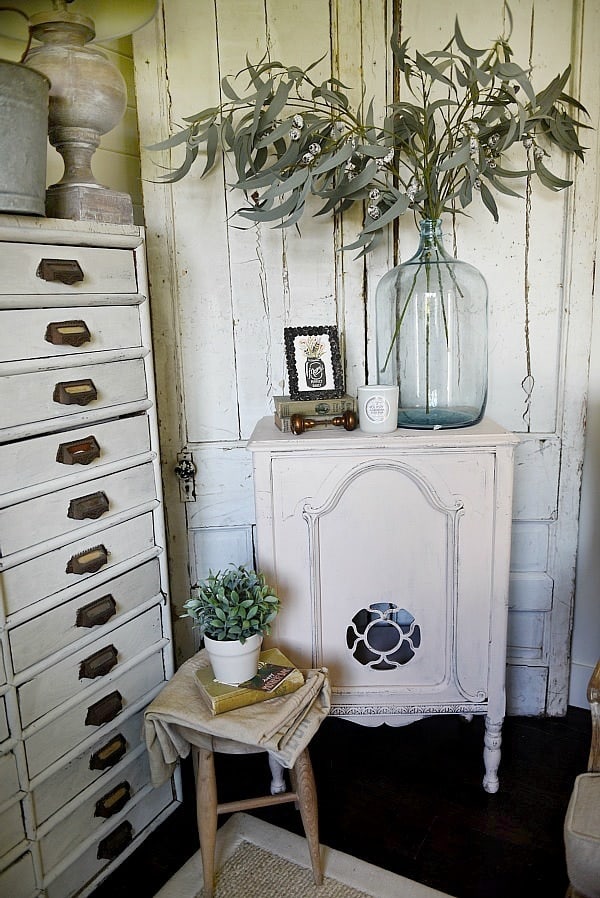 It looks great painted on this vintage bookshelf cabinet by Liz Marie. You can see how it compares to other cream and white colors where she has it styled here in her living room.
Gatherings (MAG006)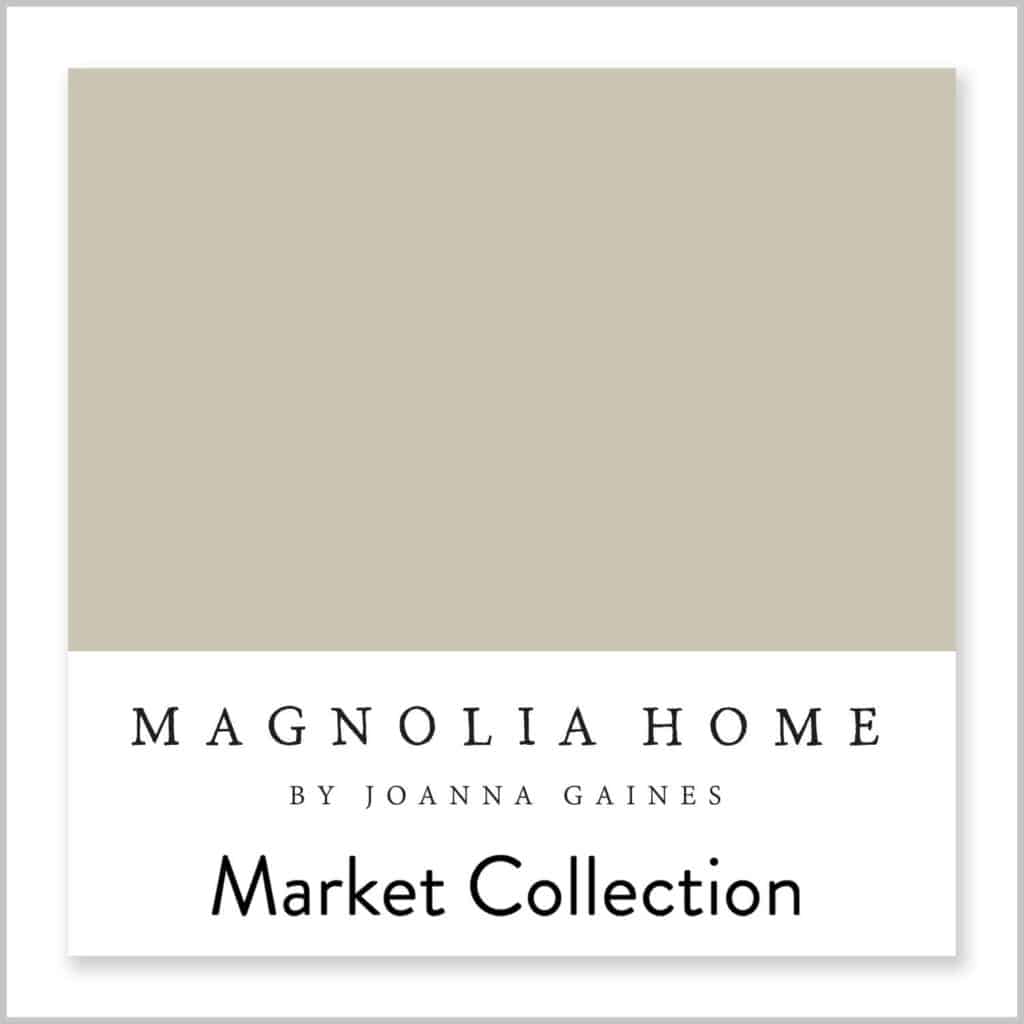 Gatherings is a golden gray with amber and tan undertones. It is a great option for a family room, master bedroom, guest room, or dining room where you want a neutral paint color, but not something that feels too stark.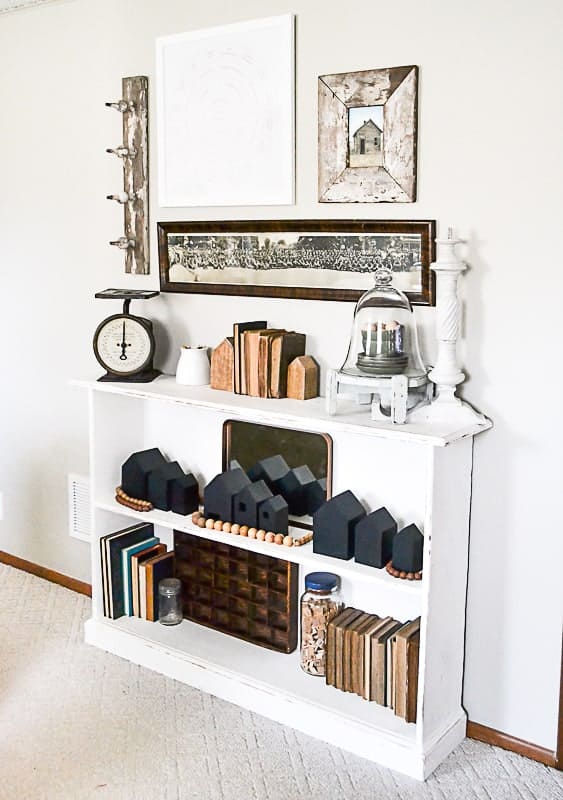 I love this living room painted from My Creative Days with Gatherings on the walls. Check out her blog post to see the dramatic before and after pictures of the room makeover!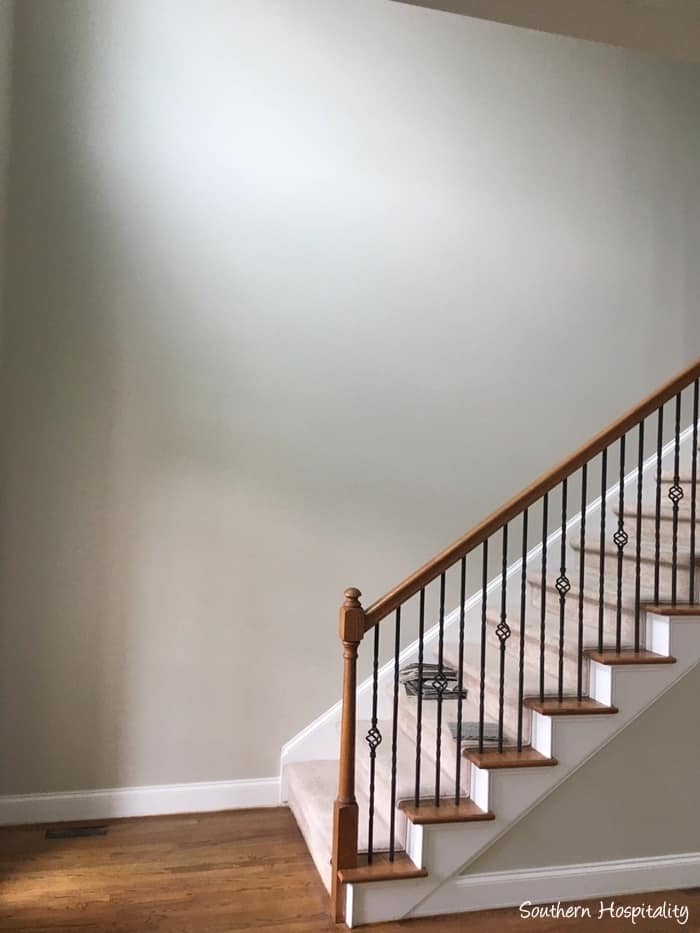 Here's another DIY blogger, Southern Hospitality, that went with Gatherings for the walls in her home. She mentioned that she was looking "for a nice neutral, but not white since we wanted the color to pop against the white trim color and came up with Gatherings, a really soft and pretty gray/beige shade or greige".
They used the color in their two-story foyer, their family room, kitchen, guest room, and hallways upstairs and downstairs, so be sure to hop over to her article to see the color in a lot of different spaces and lighting.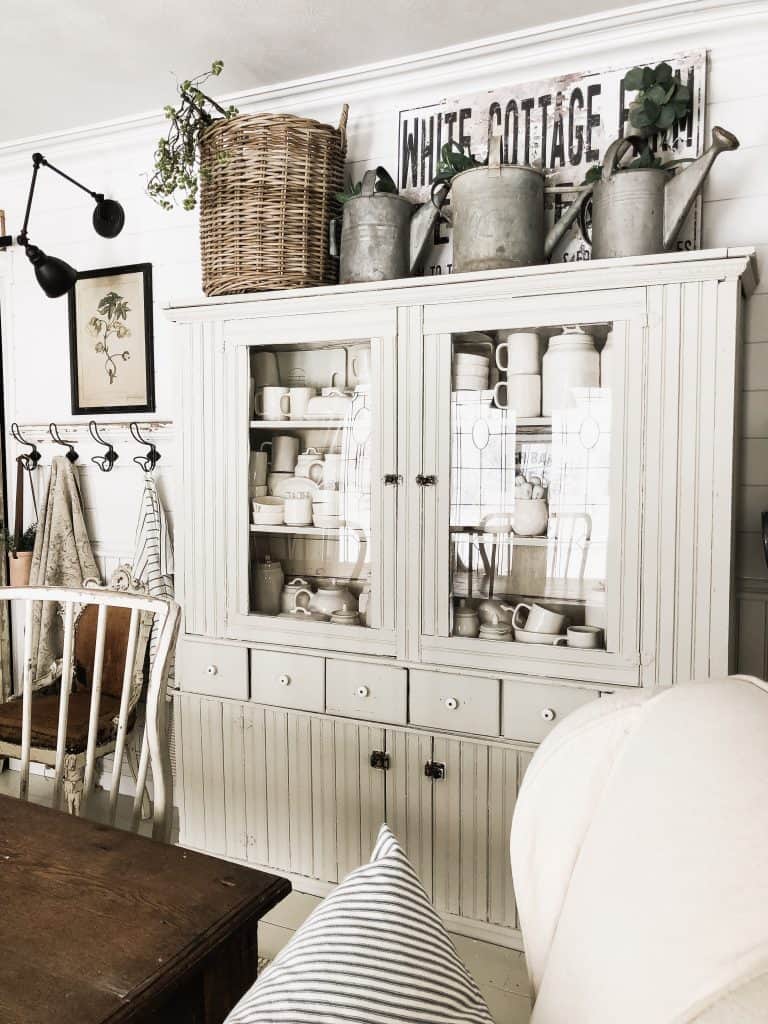 Here is one more look at the Gatherings paint color, but this time it was used as a fresh coat of paint on this cabinet by Liz Marie in her dining room.
Weathered Windmill (MAG002)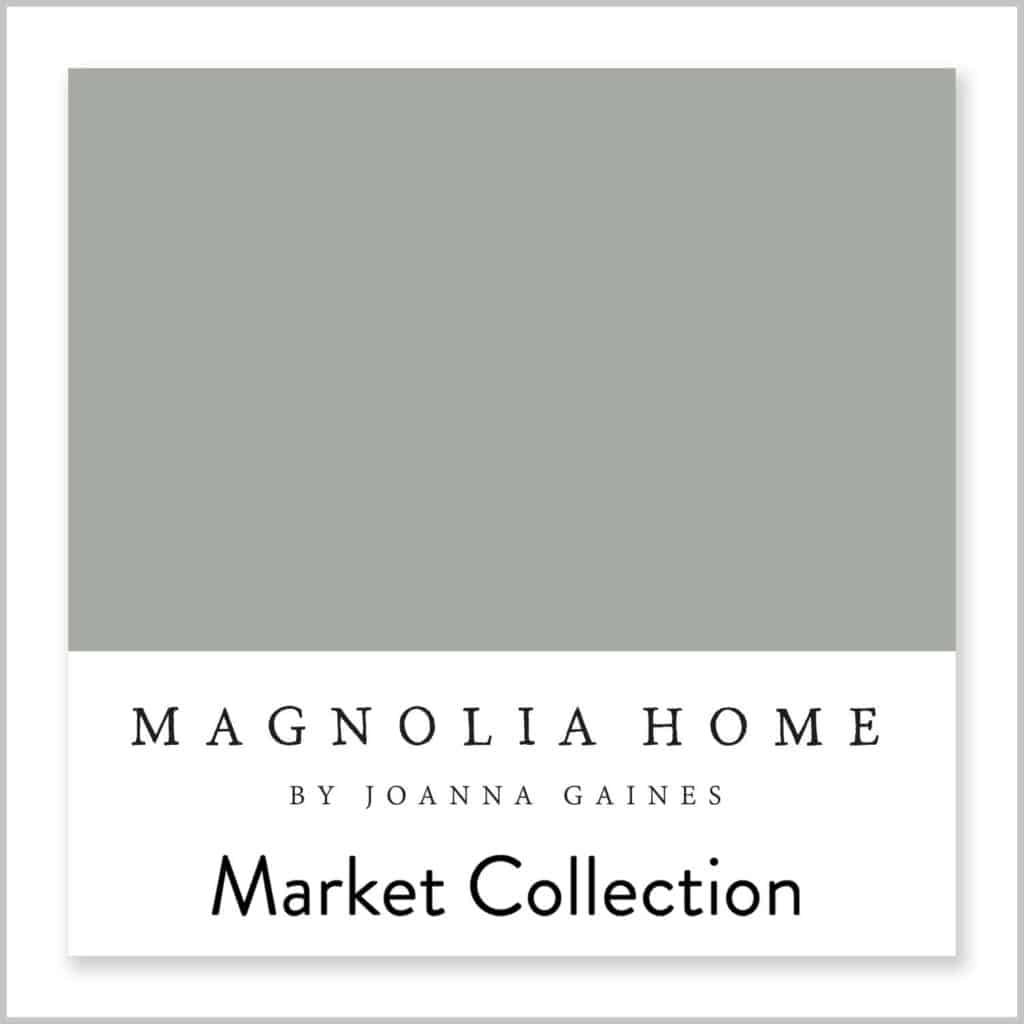 Here's the darkest color on the neutral paint colors list, Weathered Windmill. It is an overcast gray with the perfect blend of pale blue and green.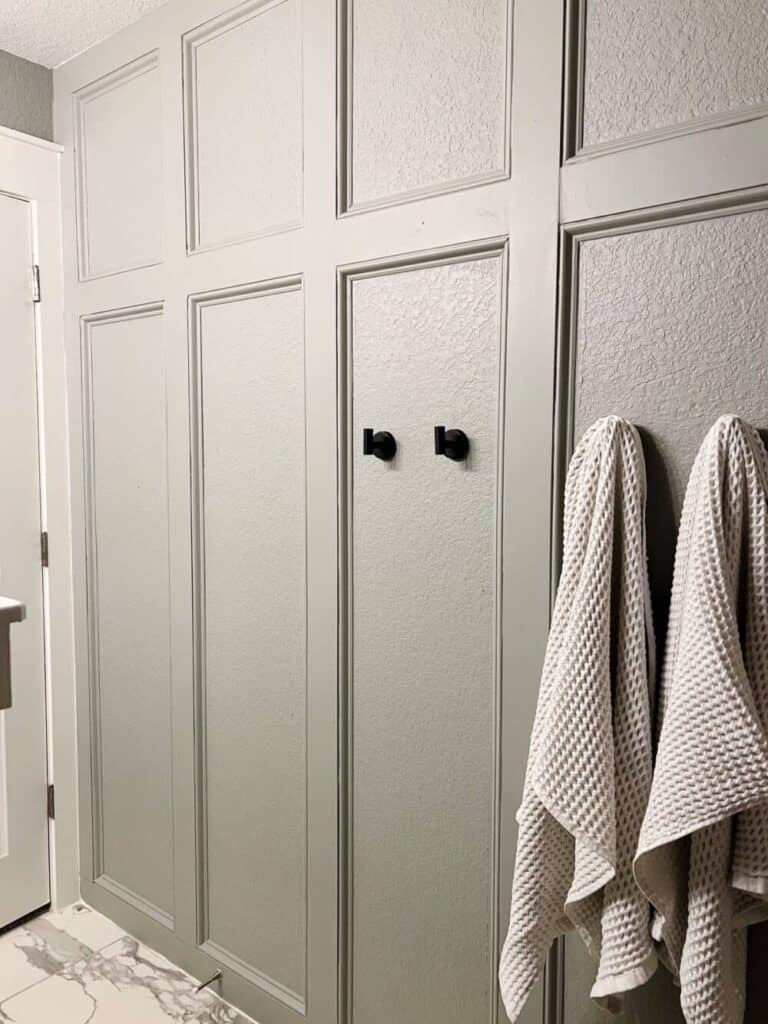 Love and Renovations used Weathered Windmill on this accent wall with trim in her bathroom and it is perfect! It's such a good option if you're looking for a slightly darker gray, but not too dark.
Blanched (MAG043)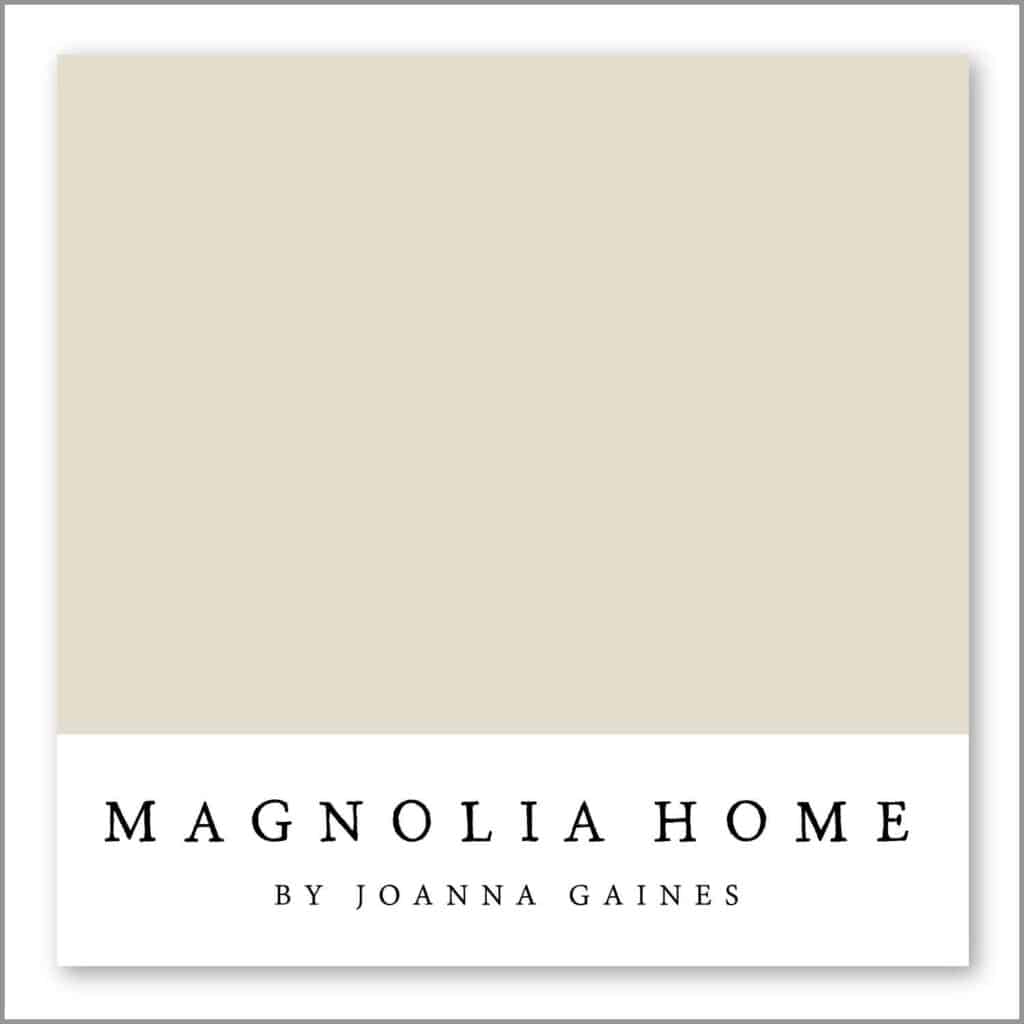 We can't let this list be finished without mentioning Blanched because Joanna seems to love it SO much.
She used this color in almost every renovation for Season 1 of Fixer Upper: Welcome Home. Blanched is a warm beige that would look good in any room.
Silos White (MAG040)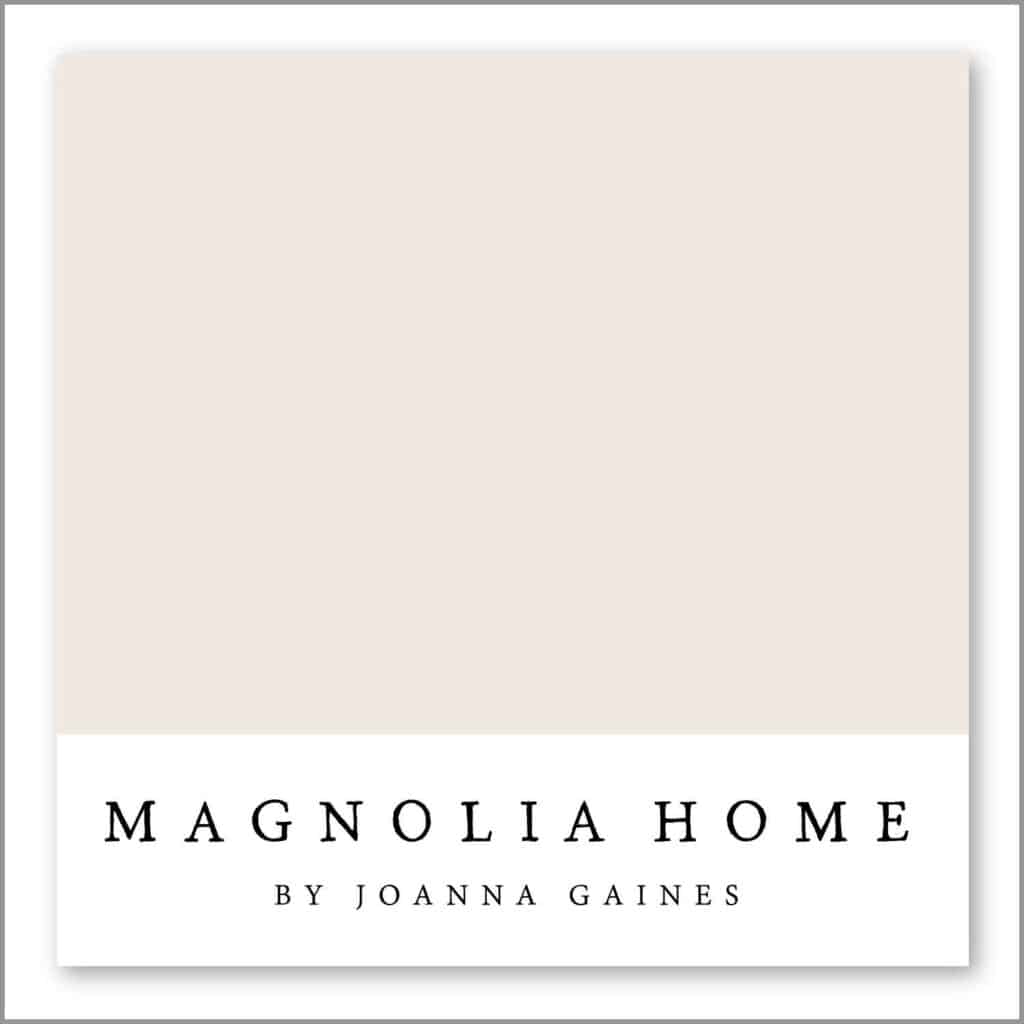 The other neutral color that Joanna definitely seems to be drawn towards is Silos White, which she used several times in her recent designs. It is a warm white with beige hues.
---
4 Accent Colors
But there's definitely more to Magnolia Home's paint line than just neutrals! Looking beyond the gray paint and white colors, here are some different shades that you may love!
Duke Gray (MAG023)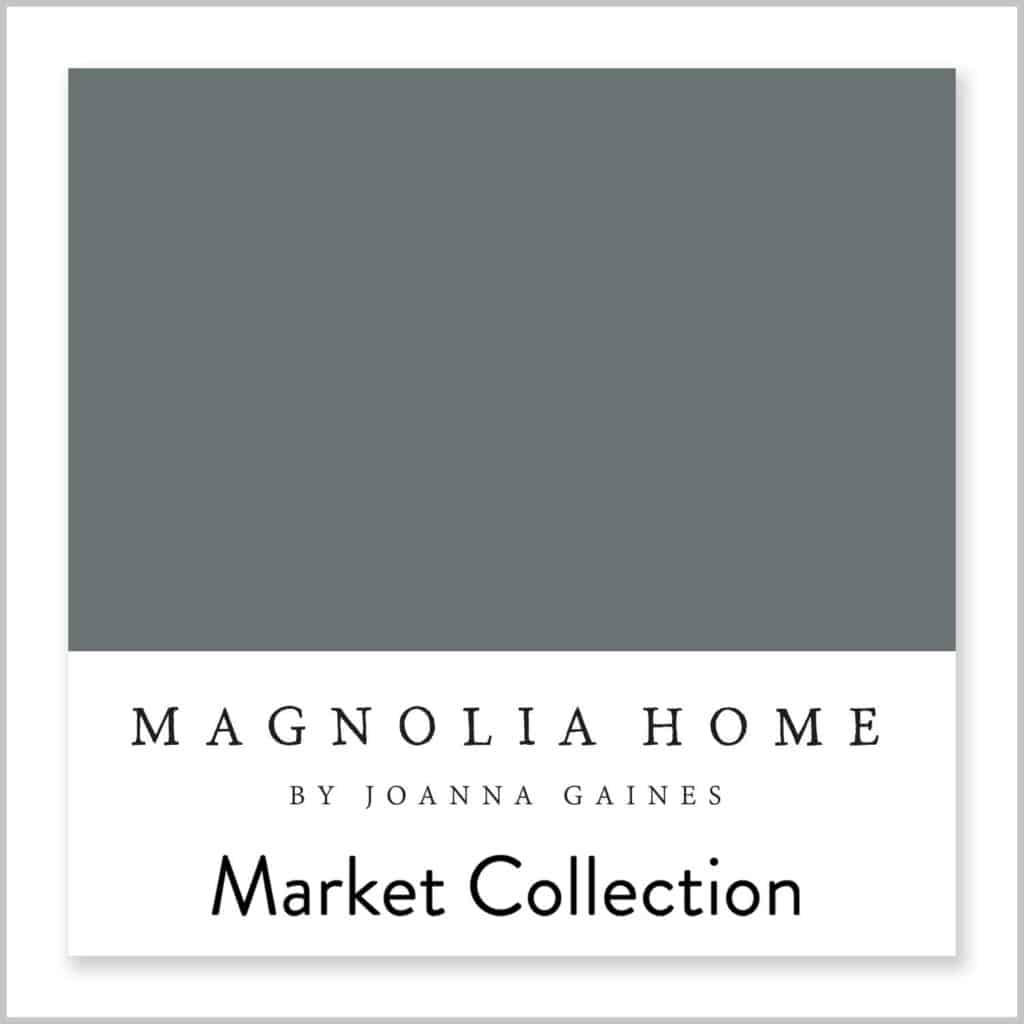 Duke Gray is a gorgeous stone gray with deep pale blue undertones. It is bold and rich, so it would work great as an accent wall or could be used on all walls for a more moody look.
This one reminds me a bit of Mount Etna from Sherwin Williams, but just a shade lighter. Do you agree?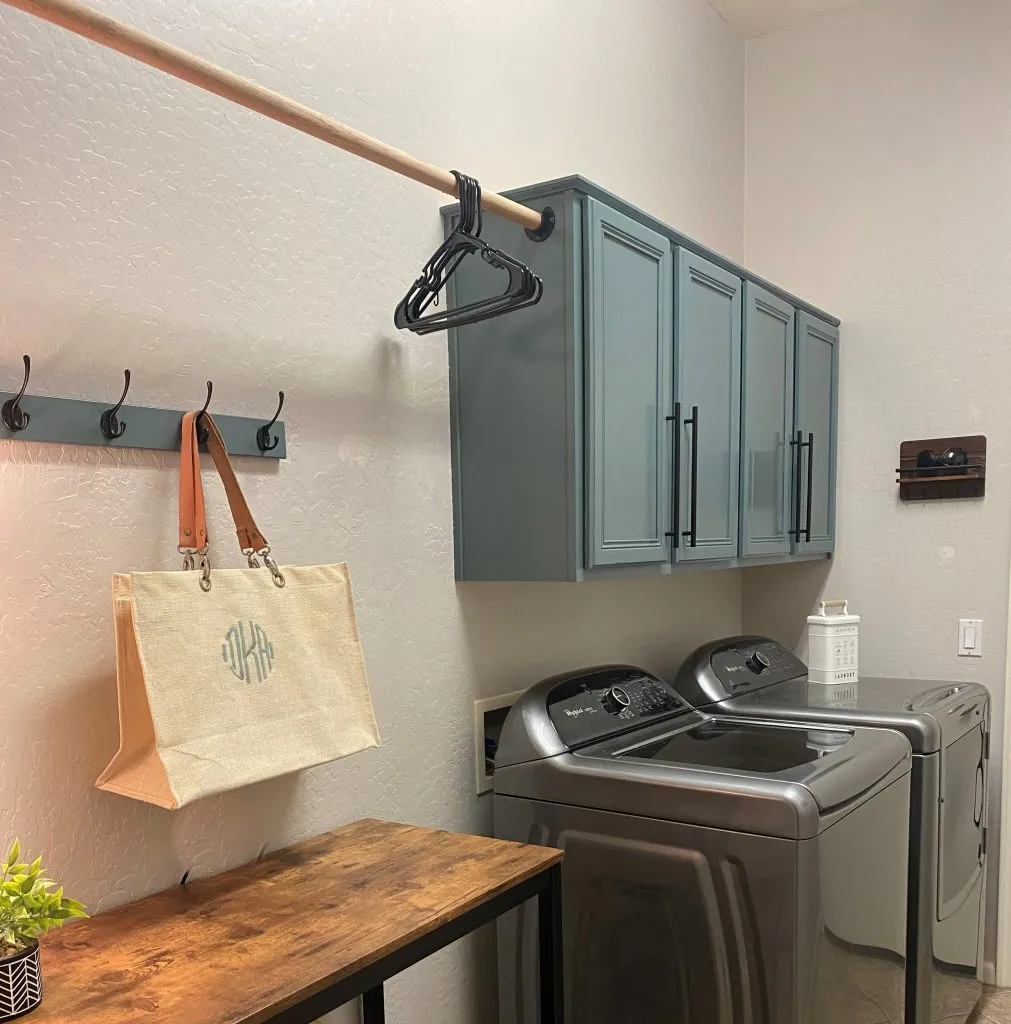 Faith & Farmhouse used Duke Gray on the cabinets over her washer and dryer in her laundry room. And it looks great!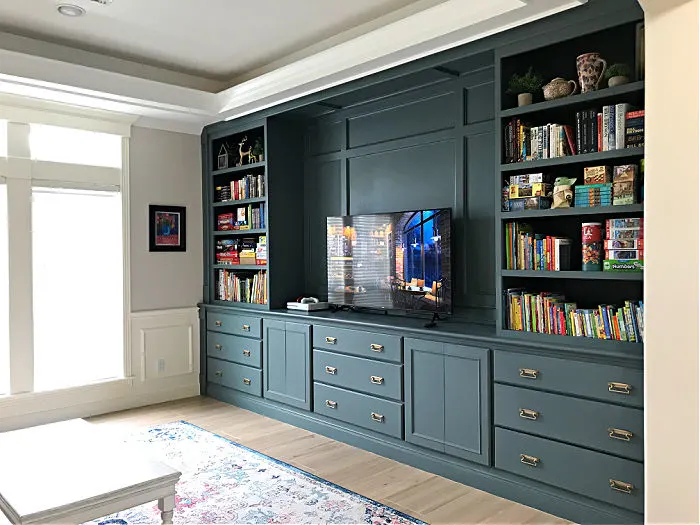 I love the look of Duke Gray used here on the built-in cabinets in this family room from Abbotts at Home. It is such a bold paint color and makes these built-in cabinets a true focal point in the room.
Americana Egg (MAG022)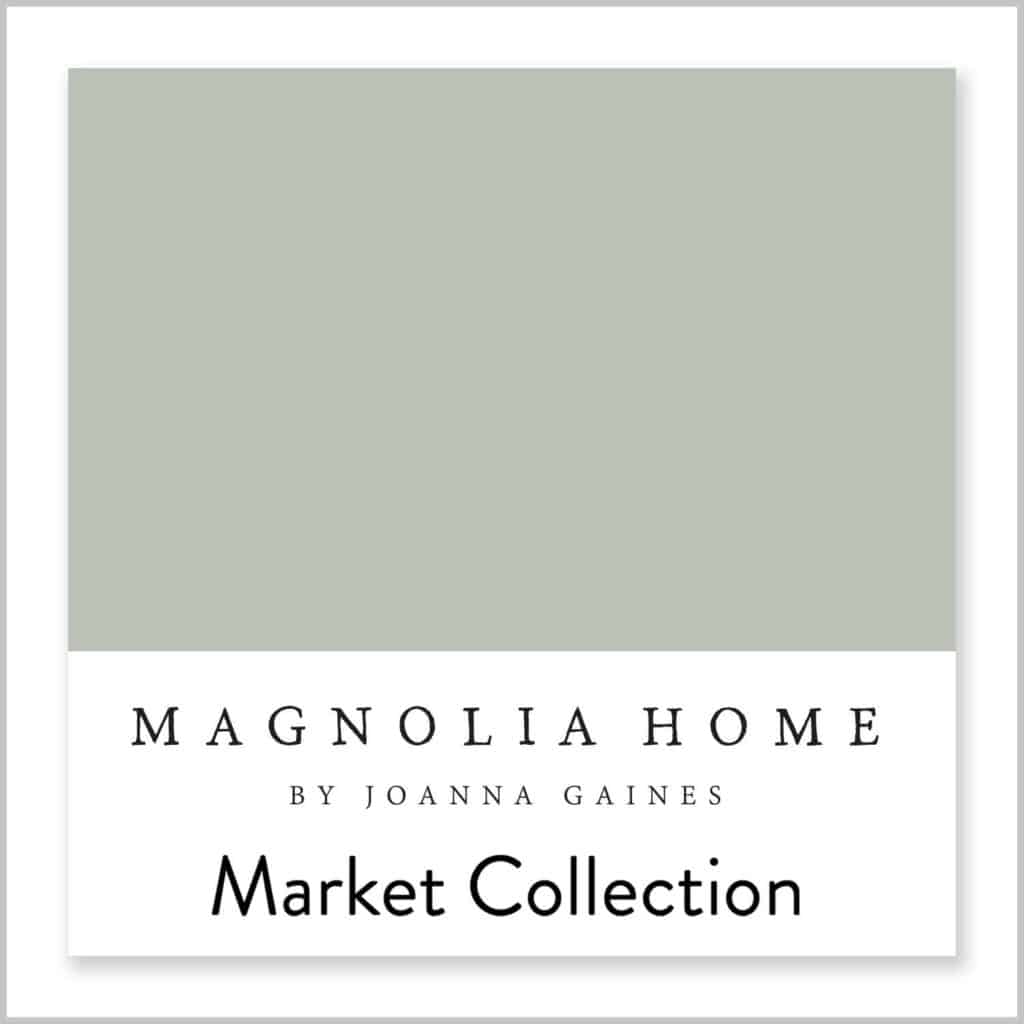 Americana Egg is a really cloudy gray color with mint green and sky blue undertones. To me, it reads like a pretty sage green color.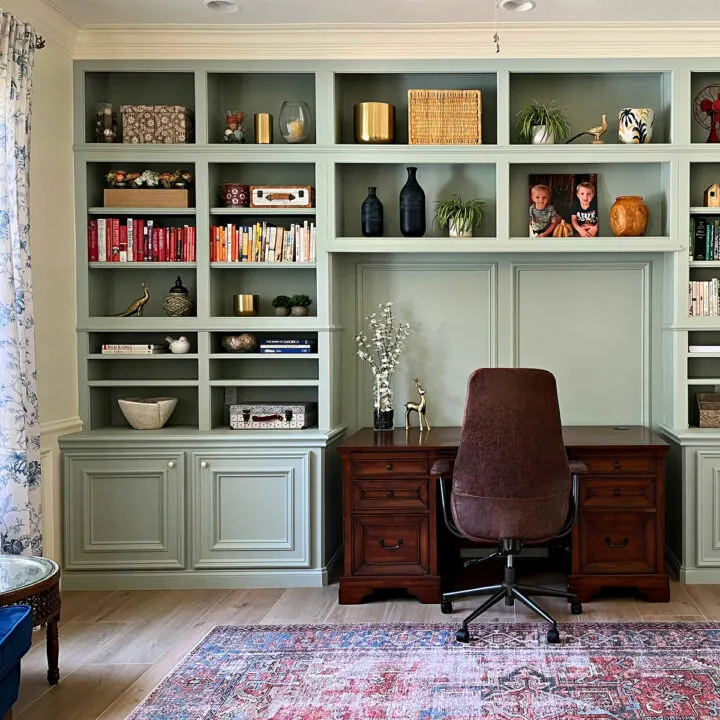 These office built-ins were totally transformed when Abbots at Home painted them with Americana Egg. Such a calming color that is perfect for a home office!
Kind of reminds me a bit of High Park by Benjamin Moore, but slightly bluer.
Weekend (MAG014)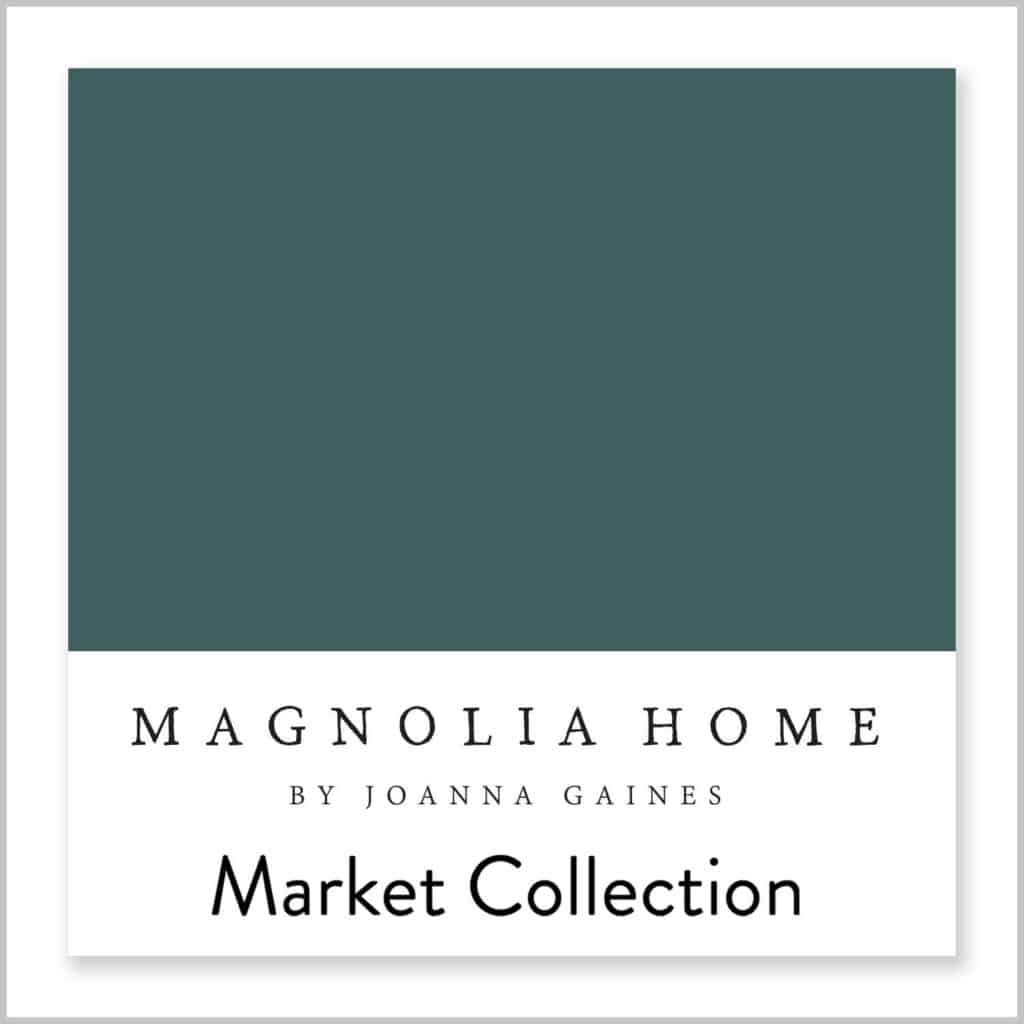 Weekend is described by Magnolia as a denim-inspired blue that remains vibrant and bold.
It is a much bolder color than others we've featured so far, so I thought I would include it as another option! Something to prove to you that the farmhouse style doesn't have to be all white and cream!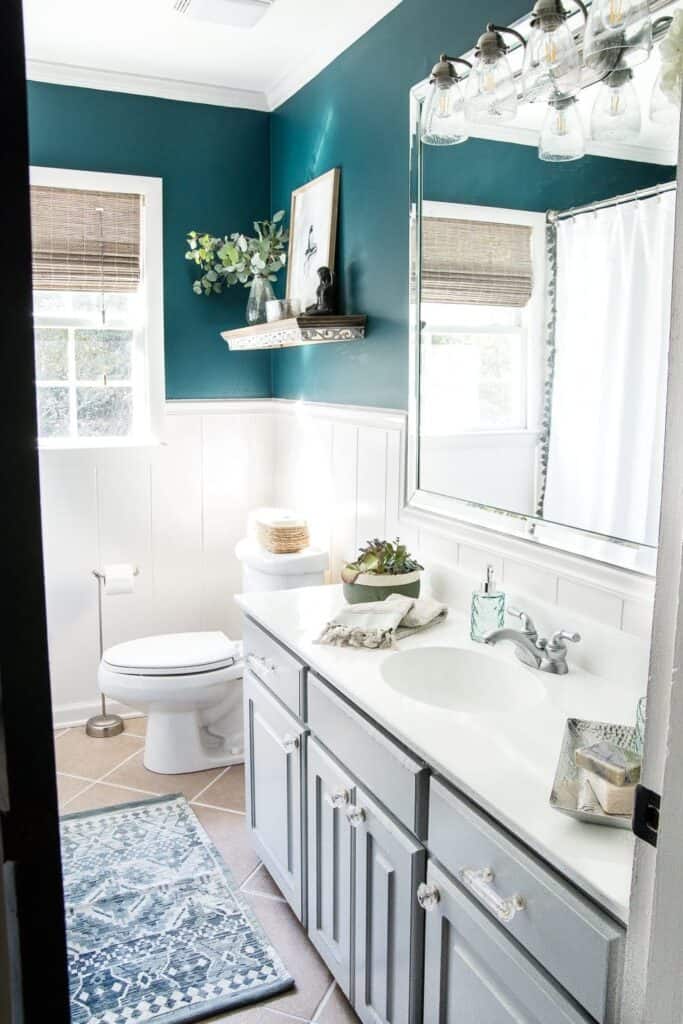 Bless'er House used Weekend on the top portion of the walls in this gorgeous bathroom makeover. It looks great here!
Blackboard (MAG017)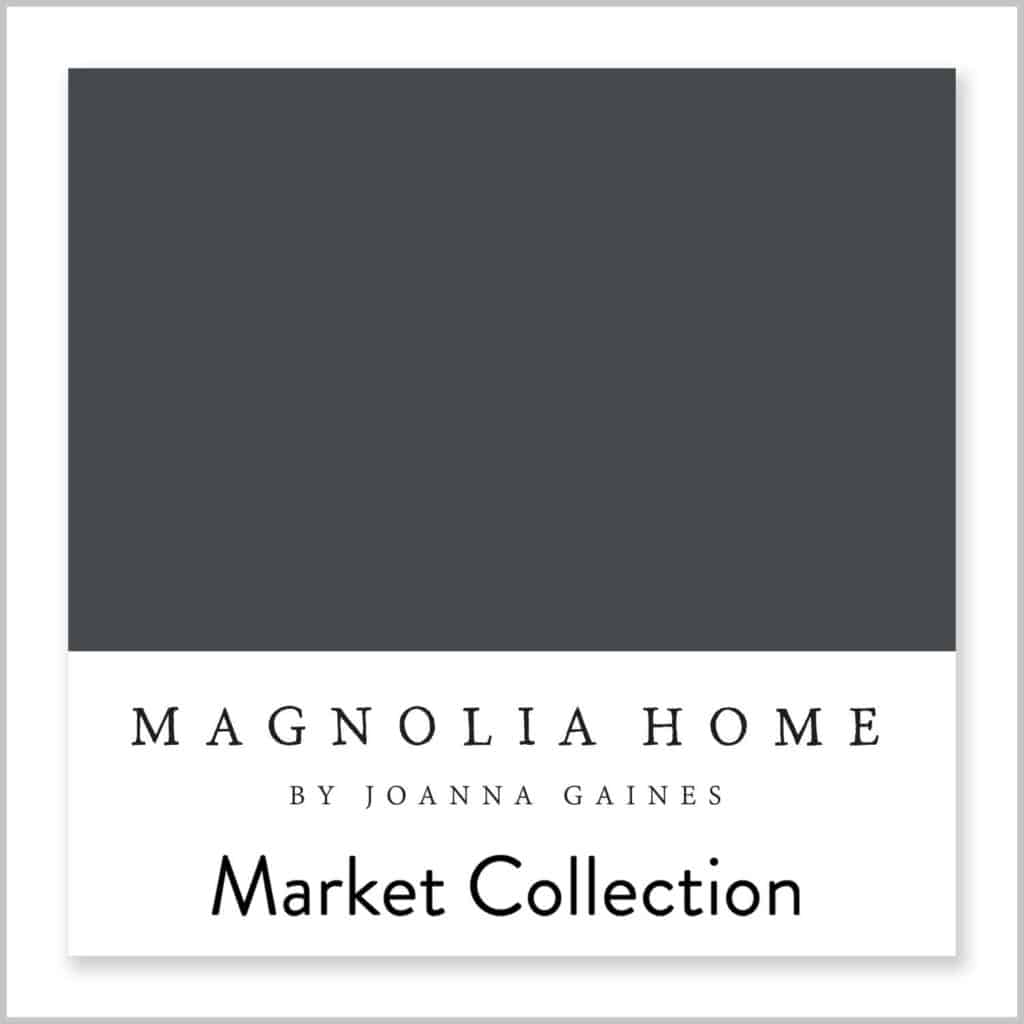 If you want to go dark, Blackboard is a great option for you. It is a dark black paint color with deep blue undertones.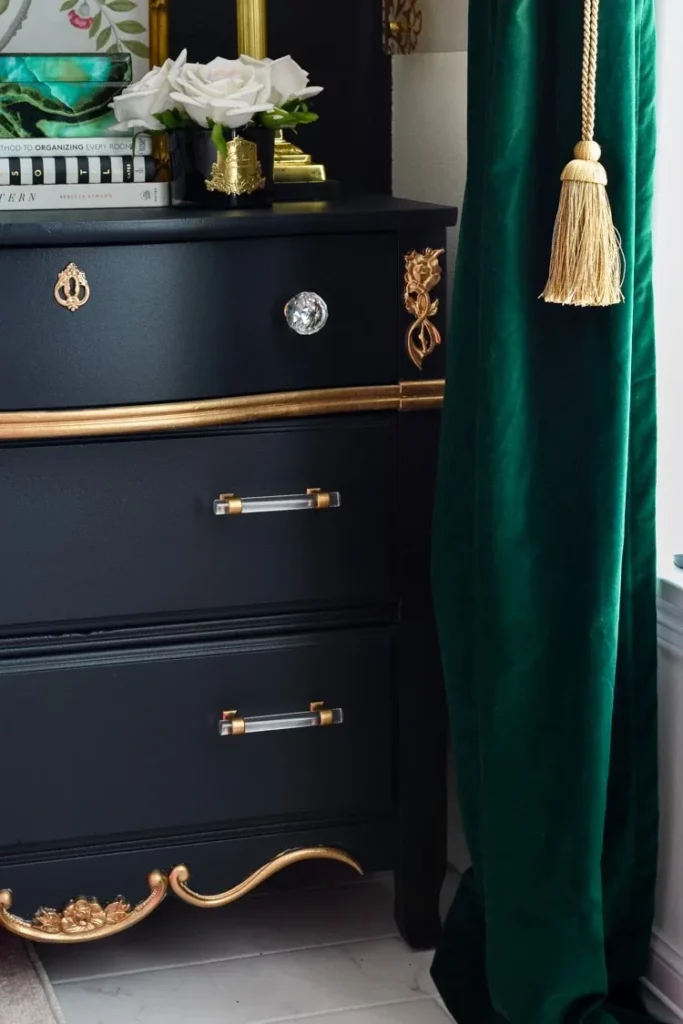 It looks so pretty used on this dresser from Monica Benavidez with gold accents for more of a romantic and glam style!
There you have it! The best colors from the Magnolia Home paint line by Joanna Gaines. Now do yourself a favor and go check out all of the colors for yourself and choose your favorite!
If you need help choosing a paint color, be sure to check out my Ultimate Guide to Popular Paint Colors!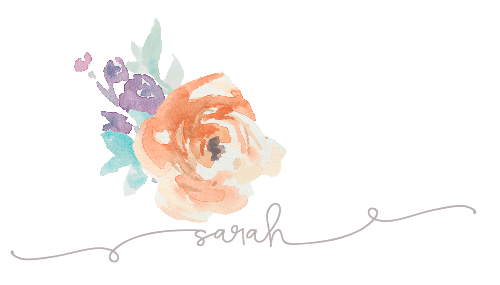 *This article was originally published in January 2017 and most recently updated in February 2023.*