30+ Pretty Painted Dresser Ideas
Do you have an old dresser you don't want to get rid of, but needs an update? Update that old or vintage dresser using paint! Check out these 30 painted dresser ideas to inspire you!
Painted dresser ideas are all over Pinterest. You can find them in any color, with patterns or without, and in any shape or size.
You can paint an old or vintage dresser you have to give it a fresh new look or you can pick one up at your local thrift store and give it a new life.
You can even paint a new dresser to customize it for your bedroom or anywhere else in your home you want to use it. Paint is one of the easiest ways to give furniture new life!
What type of paint can you use to paint a dresser?
Chalk Paint – won't leave brush marks
Acrylic or Acrylic Enamel Paint – adheres well
Milk Paint – soaks into raw wood similar to stain
Spray Paint – quick and easy to apply
You can use almost any type of paint to paint a dresser. Although you usually want to avoid using latex paint for painting furniture pieces because it doesn't adhere to the surface as well. It will almost always peel or chip in the future.
Do I have to sand the dresser first?
You don't necessarily have to sand before painting, but no matter what type of paint you use, it is recommended to at least do a light sanding. This helps to ensure the paint will adhere to the surface.
You'll also want to sand if the surface is uneven or if there is existing paint, stain, or sealer on the piece. You don't have to sand off all the paint, but at least the spots where it might be chipping.
Painting a dresser is a fun way to update an old piece of bedroom furniture and give it new life.
Check out these 30 painted dresser ideas for inspiration for your next furniture painting project.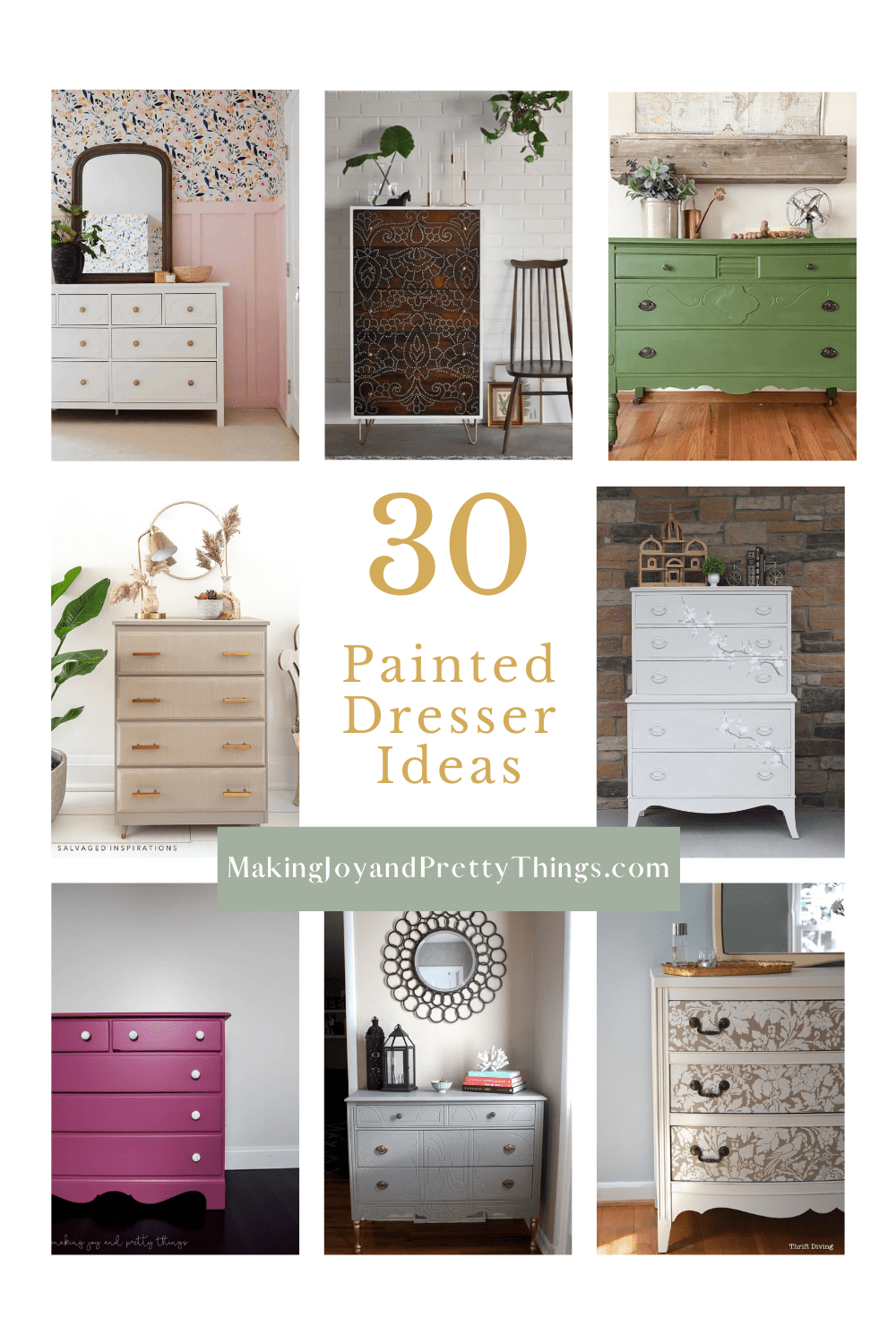 30 Ideas for Painting Dressers
I love these ideas and I hope you did too!
Which of these painted dresser makeover ideas was your favorite?
Tell us in the comments below.