Mount Etna Sherwin Williams Paint Color Review
A rich, jewel-toned blue-ish green shade is the perfect moody hue to kick up the style in any room. It's a strong choice for interior and exterior applications to complement just about any neutral paint color.
Deep, rich jewel tones are some of my favorite colors. Grays, greens, blues, and teals are seemingly mixed together to create Mount Etna by Sherwin Williams.
It's a stunning color choice for a monochromatic look (including the ceiling), as an accent wall, or as a shade for decorative pieces – like furniture.
Jewel tones can be rather challenging, but with the right accessories, you can create a timeless but trending atmosphere. This color will kick up the vibes in any room!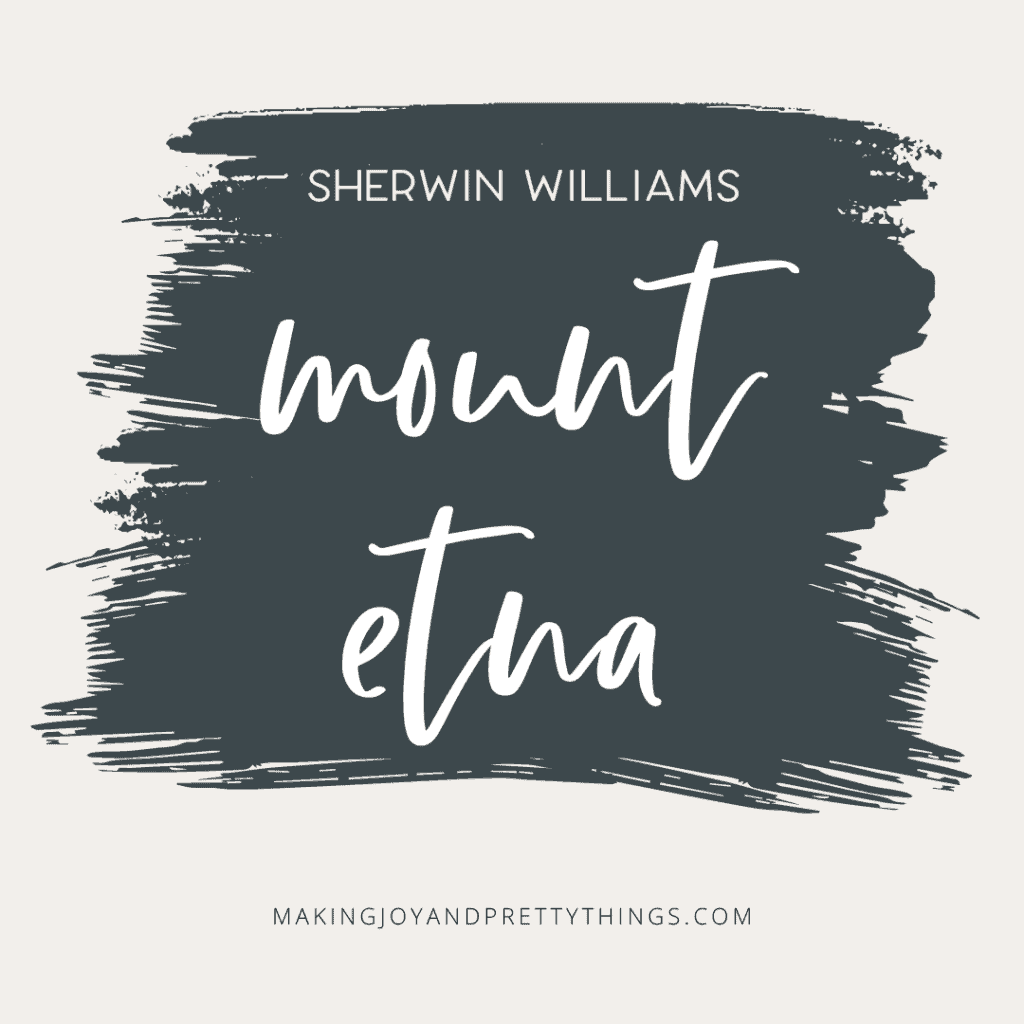 If you need help choosing a paint color, be sure to check out my Ultimate Guide to Popular Paint Colors!
This post contains affiliate links. Please, click here to read my disclosure policy.
Mount Etna Sherwin Williams Overview
This dark greenish-teal shade is just heavenly! We used this paint color on our modern vintage vanity in our bathroom. Because of the other colors in the room and the lack of natural light, this beautiful shade translated into dark green, which makes the space feel more tranquil and relaxing.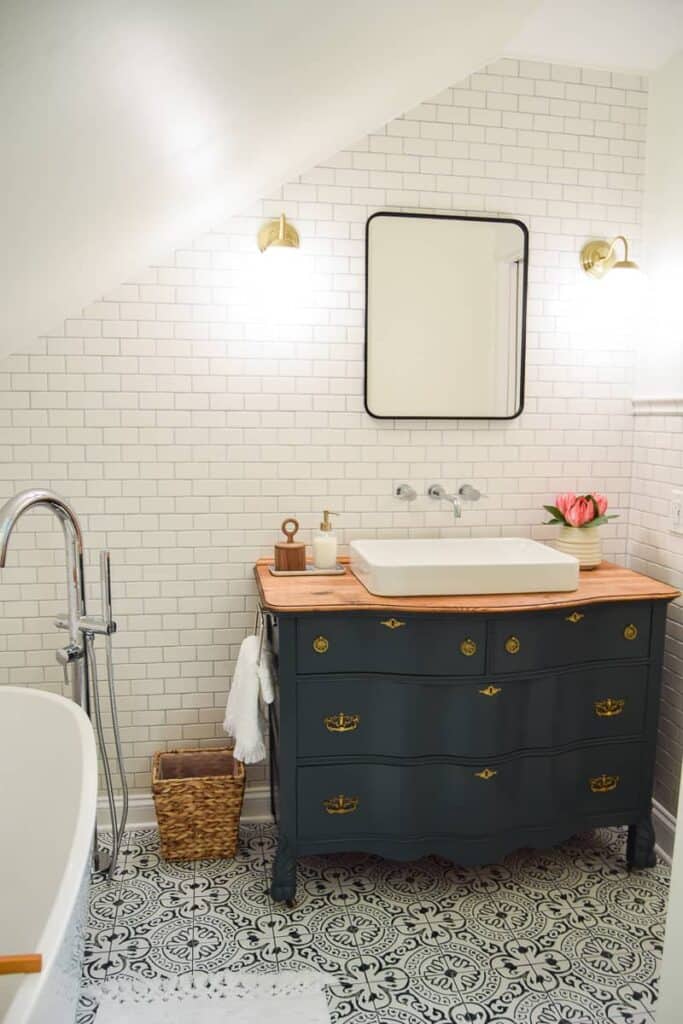 This moody hue would go well as an accent wall, office color, or master bedroom. Depending on the lighting and other elements in the room, this shade could also appear as gray or blue.
Paint color stats
Name: Mount Etna
Brand: Sherwin Williams
Paint Code: SW 7625
Hex Code: #3D484C
RGB: 61 / 72 / 76
LRV: 6
Color Family: Blue
Mount Etna Sherwin Williams Undertones
As an ashy blue shade, Mount Etna has gray and green undertones.
Working with undertones can be tricky. If you are planning on using Mount Etna paint color in your space, stick with this rule of thumb. As you are purchasing drapes, comforters, blankets, towels, pillows, etcetera, stick to colors that also have gray undertones. This will help create a harmonious flow through the room.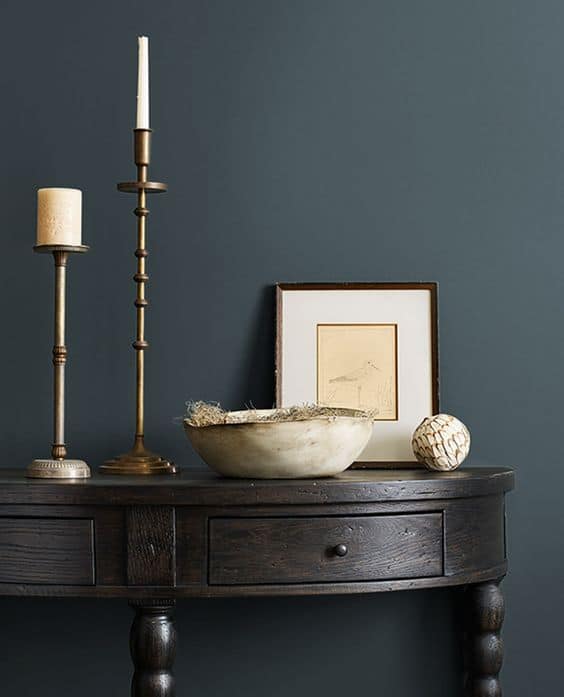 A word of advice when painting a room: A paint sample will look completely different in the store compared to your home. This is all because of the lighting and other decor items in the room. I recommend picking up a few paint samples and painting a few swatches on the walls as a test before fully committing to a paint color.
Observing the room at different times of the day will help you get a sense of how the color will change with the sunlight, lightbulb temperatures, and fabrics. All of these elements play a big part in how a paint color appears.
LRV of Mount Etna Sherwin Williams
Mount Etna Sherwin Williams has an LRV of 6, which means that it reflects a deep, dark color.
Light reflectance value is the amount of light that is reflected off of the paint color surface. The LRV scale ranges from 0-100, with 100 being pure white and pure black with an LRV of 0.
Similar Paint Colors from Other Brands
Here are other colors from other brands that you might want to try out that are similar to Mt Etna:
Abyss by Benjamin Moore
Railings by Farrow & Ball
Other Complementary Colors for Mount Etna Sherwin Williams
According to Sherwin Williams, these colors would go beautifully with Mount Etna:
Extra White: SW 7006
Natural Choice: SW 7011
Edgy Gold: SW6409
For a matching palette, try Extra White as a trim color.  Natural Choice is also a beautiful way to soften the richness of Mount Etna.
Edgy Gold would really up the ante for a trendy look. If adding another bold paint color is too much for your style, try accessories, like pillows or throw blankets, in a similar golden shade.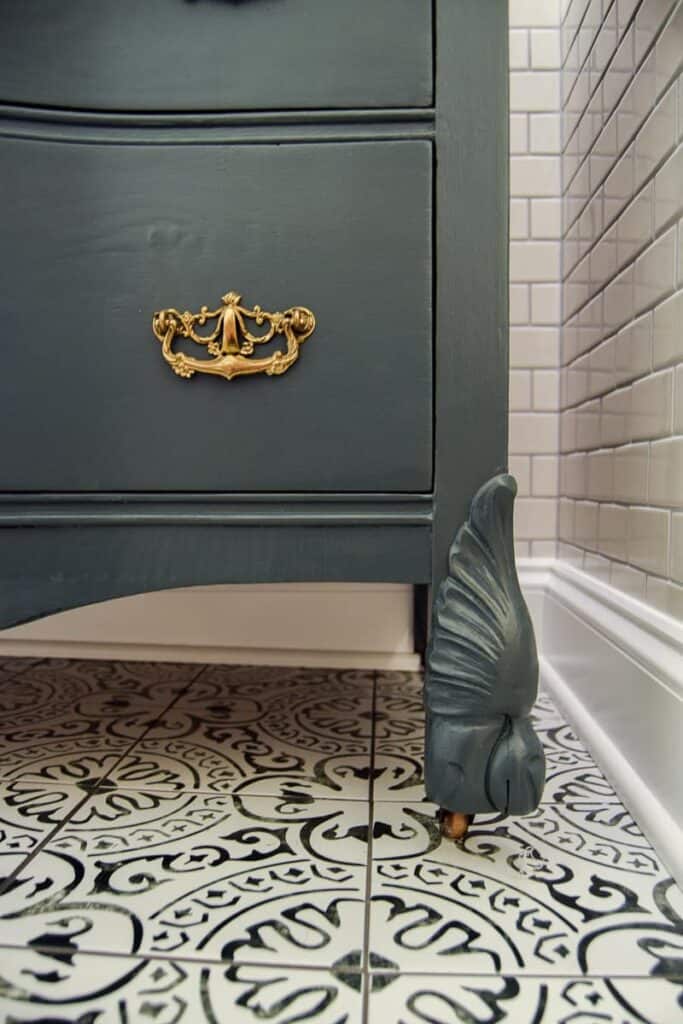 Do you have any other questions about this paint color?
Let me know in the comments below!
If you need help choosing a paint color, be sure to check out my Ultimate Guide to Popular Paint Colors!