Our Modern and Vintage Master Bathroom Reveal
A perfect mix of modern and vintage styles – this master bathroom reveal is a must-see!
HELLOOOOOO WORLD!!
Guess who's back? Back again.
Yes, I am quoting an Eminem song.
Wow. Has it been a loooong time since I've written a blog post! Since I've really done anything blogging related. And it feels so damn good to be back at it.
So much has happened since my last post (IN JANUARY – WHAT?!). We sold our house and moved into what can only be described as our dream home in the suburbs. We have a yard and friendly neighbors and a finished basement, and CENTRAL AIR! It's very cookie-cutter suburbia, but that's really ok for us. I truly never thought this moment would come. But that's a post for another day 😉
Today, I wanted to finally share our master bathroom reveal from our old house.
It was another project in that house that turned out exactly how I had envisioned. I feel like it really fits the home's 100+ year history and style. It's modern enough without being too sterile, with plenty of charm that feels like it belongs there.
If you remember, this is what it looked like before. The opening on the left there is the "bathroom." AKA, closet. AKA, a place where we threw a bunch of stuff that we didn't know what to do with.
The Modern Vintage Bathroom Makeover: Before Pictures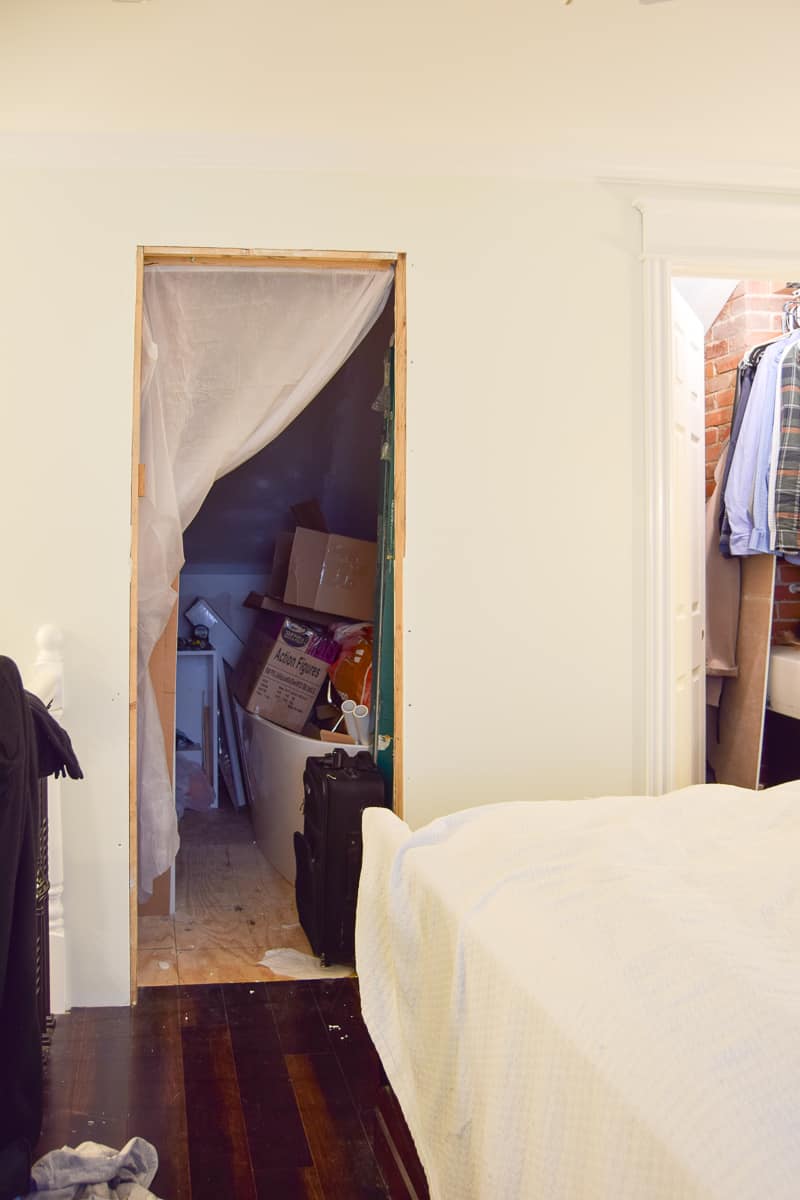 Once we cleared out all the stuff I should have just thrown away precious valuables, this is what we were left with.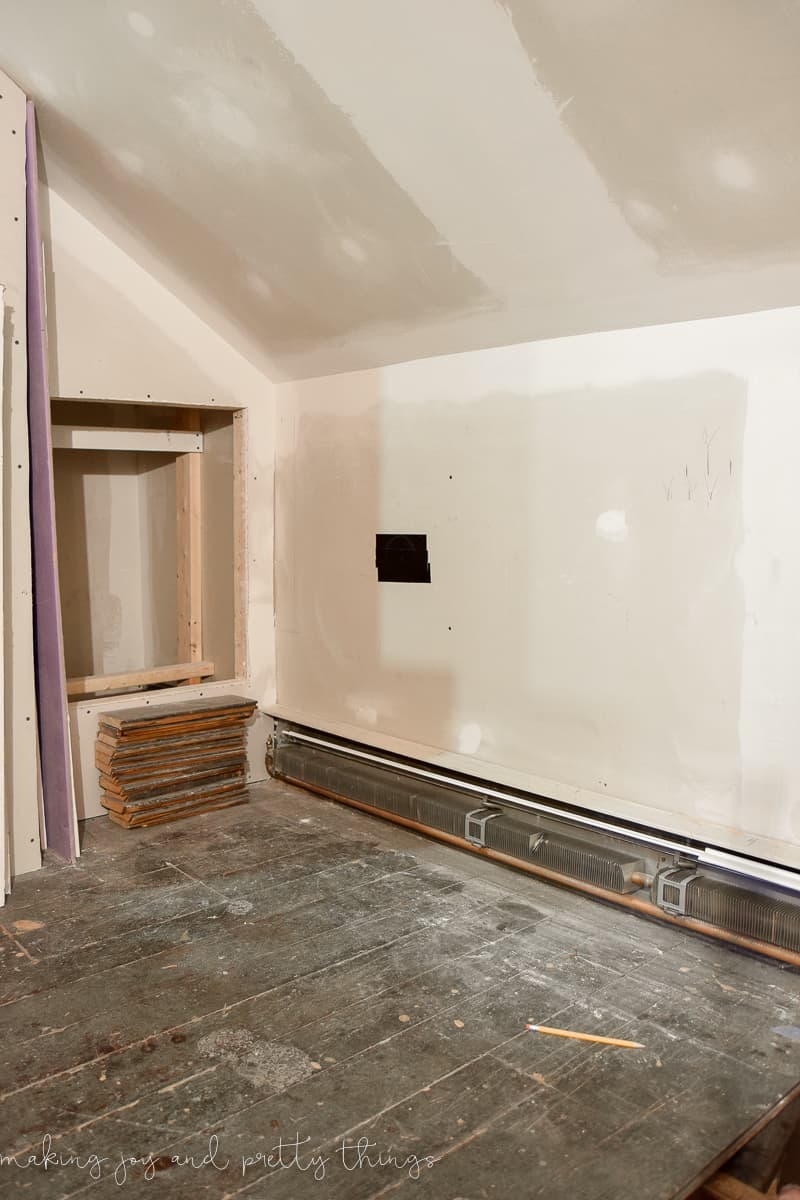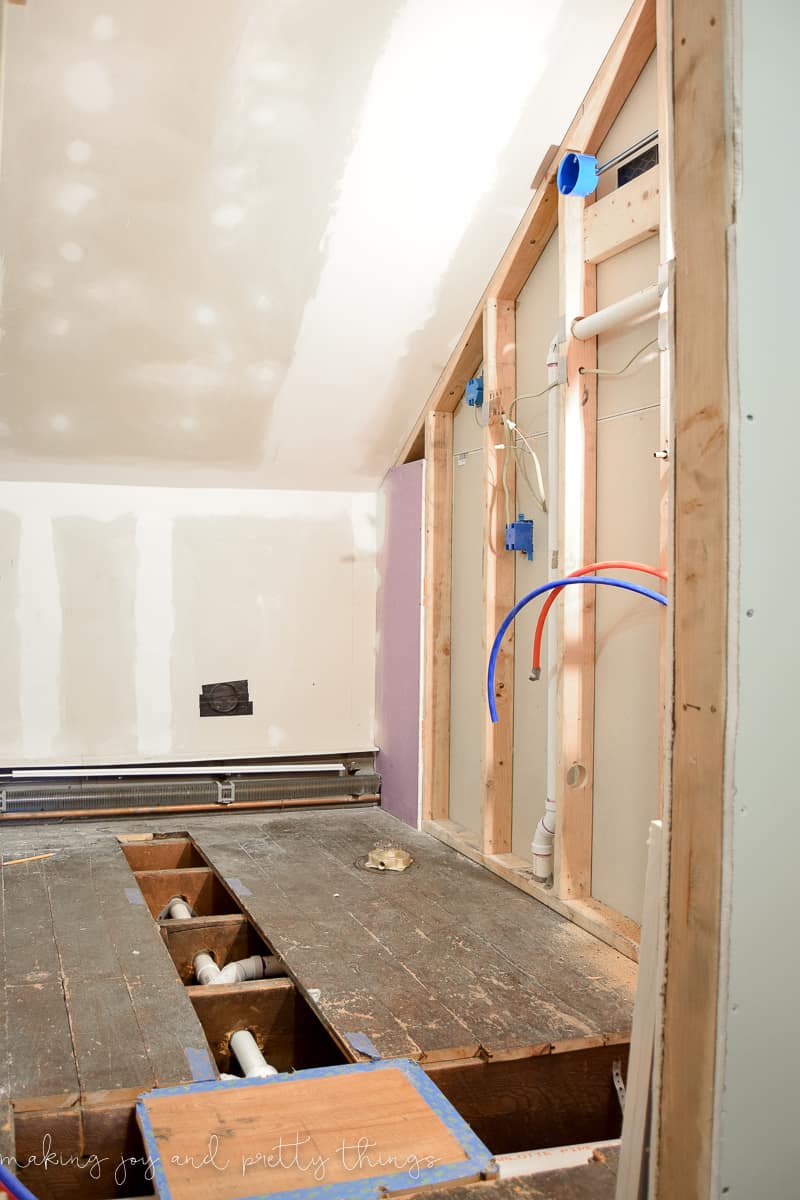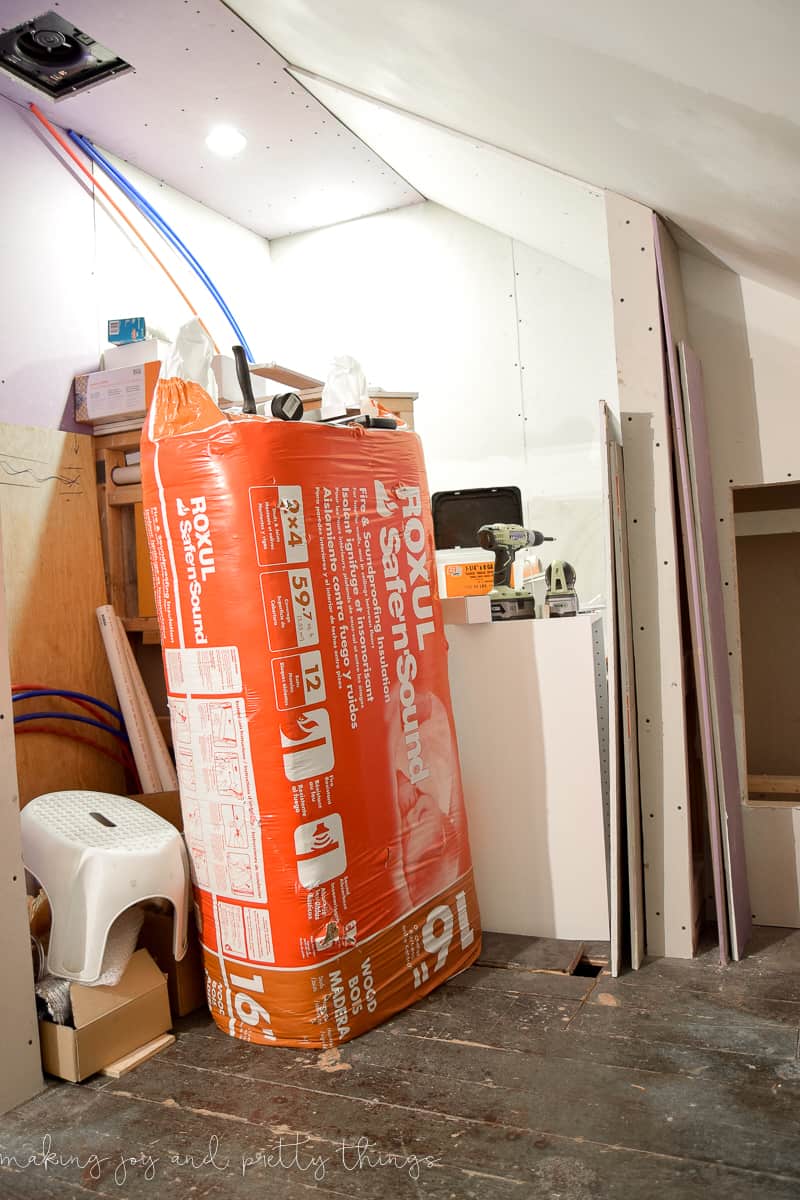 I shared all about my design plan for our master bathroom way back in 2017.
Design Inspiration for Our Modern Vintage Bathroom Makeover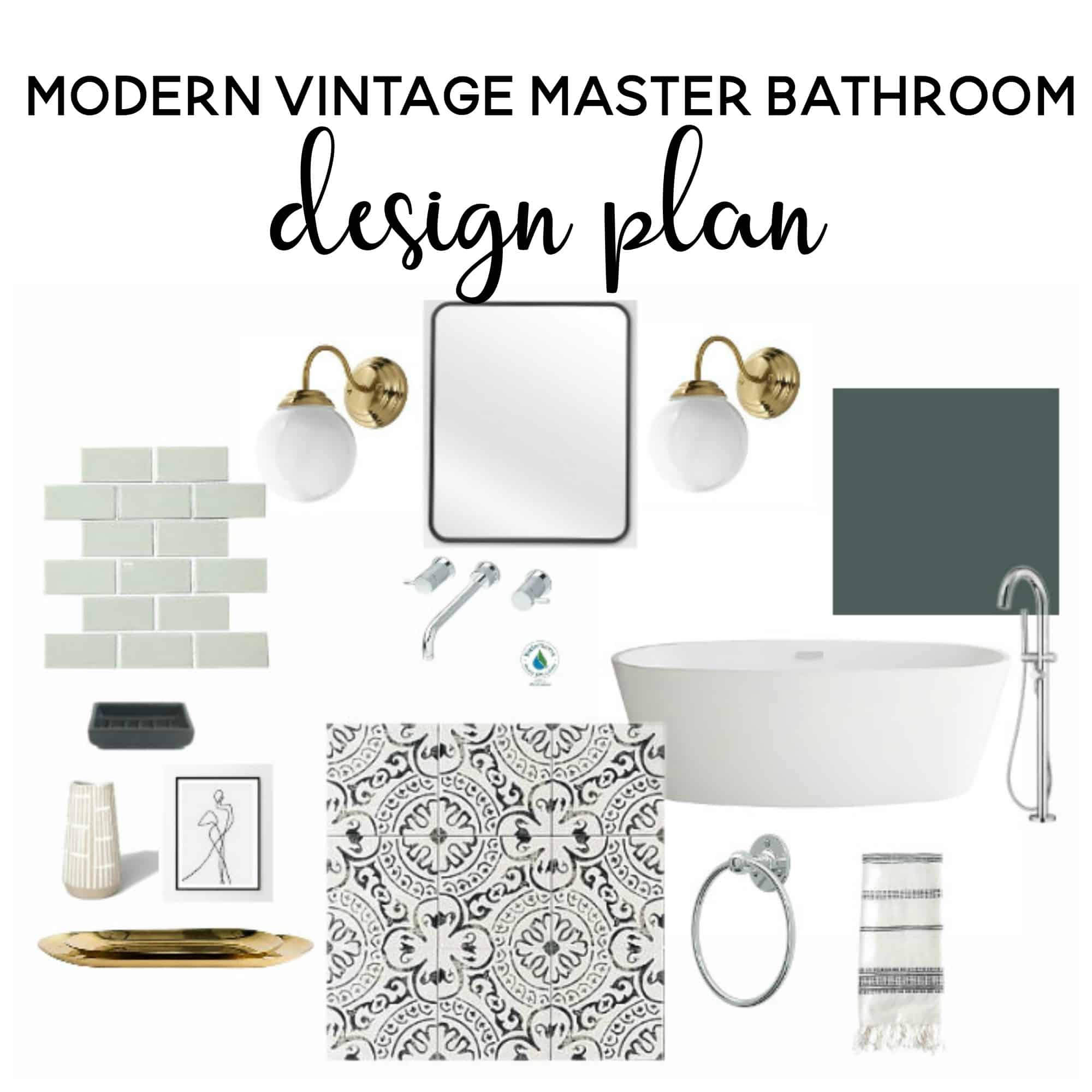 It took forever to finish it (as was the case with every.single.project.ever in that house) but it is seriously perfect.
Modern Vintage Bathroom Reveal: After Pictures!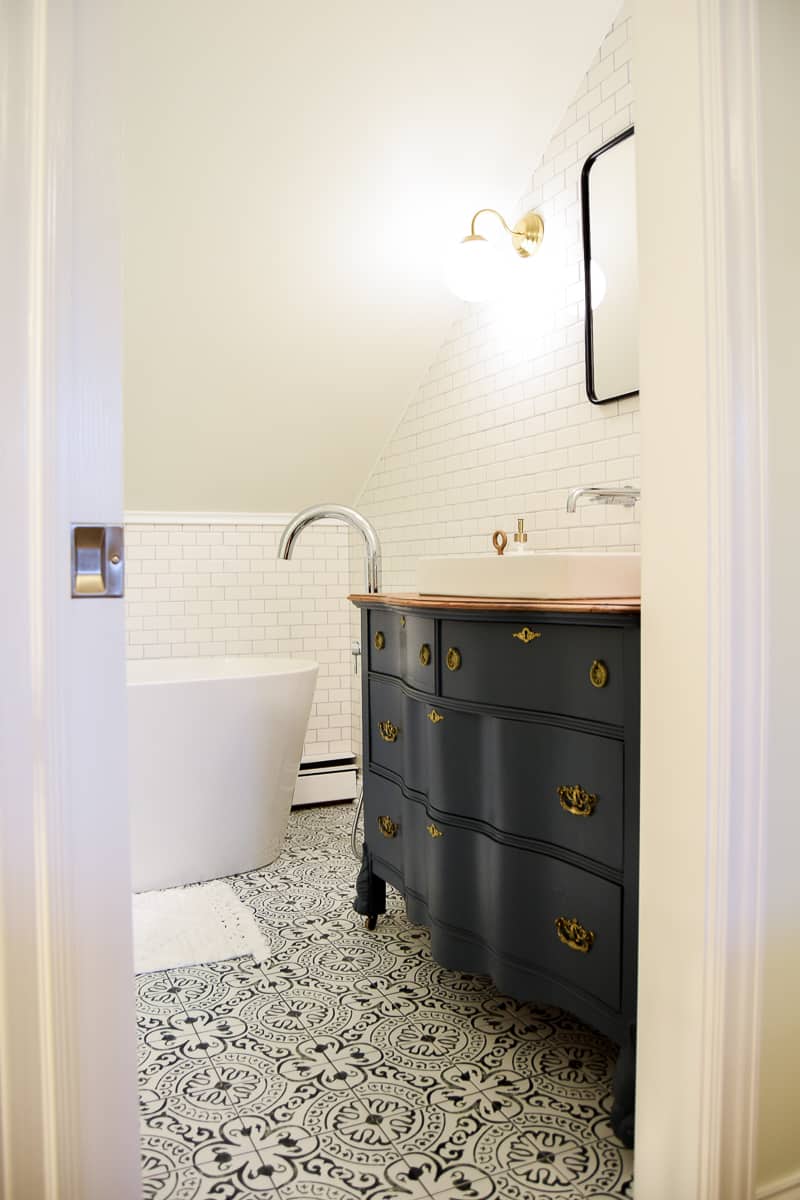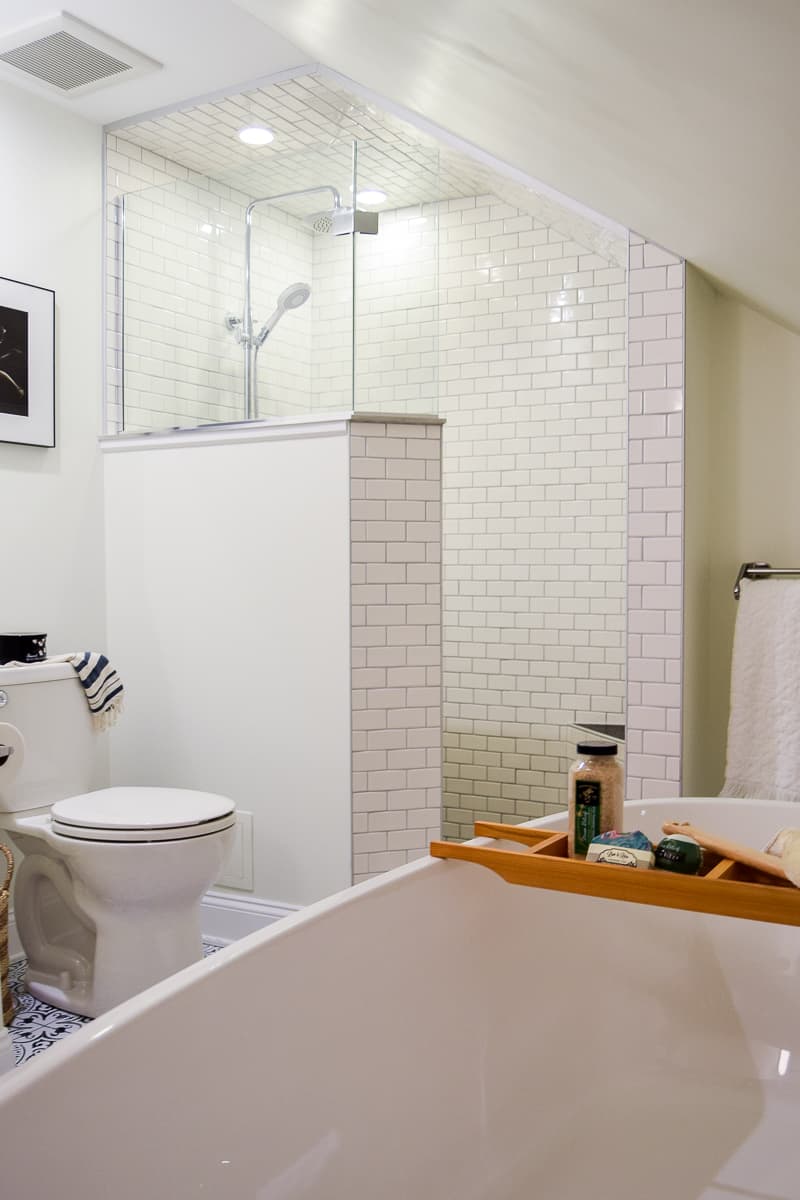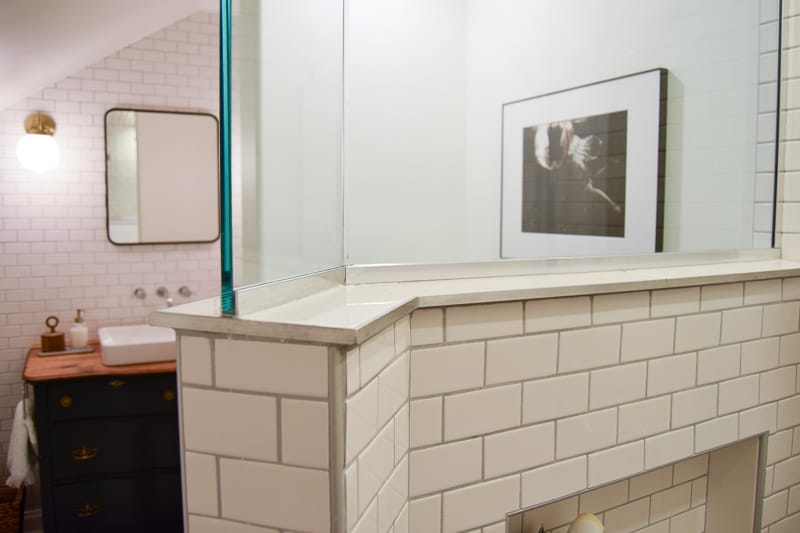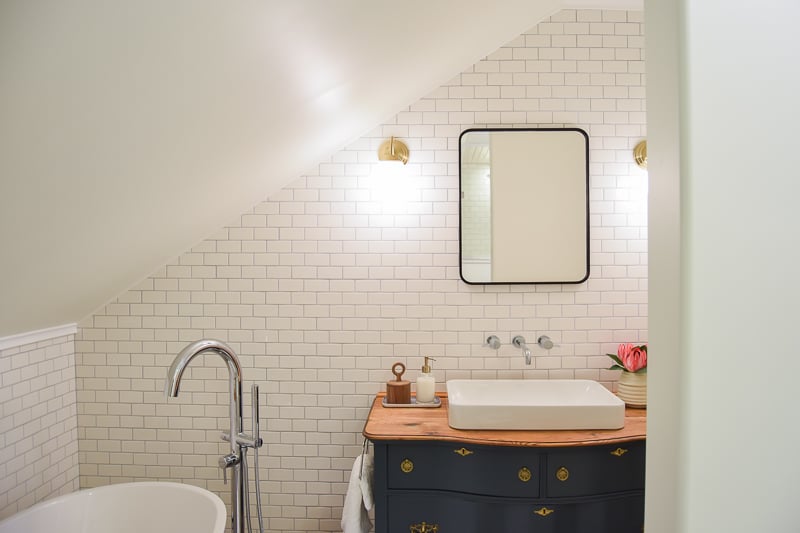 OMG. Love love love love.
I don't even know where to start! I have a feeling this is going to be a very wordy and picture-heavy post. It was so hard to narrow down the 438 (yes, seriously) pictures I took. So, if you want to skip over my rambling, there are plentyyyy of pictures to look at instead 🙂
Modern Vintage Bathroom Floor Tiles
I saw it while browsing Wayfair and knew I had to have it. It has a cement tile look without the cement tile price. I think it has a modern look to it (as cement tile is so trendy) but also feels very vintage-y. You could use it in a completely modern room or in an older, "charming" room as well.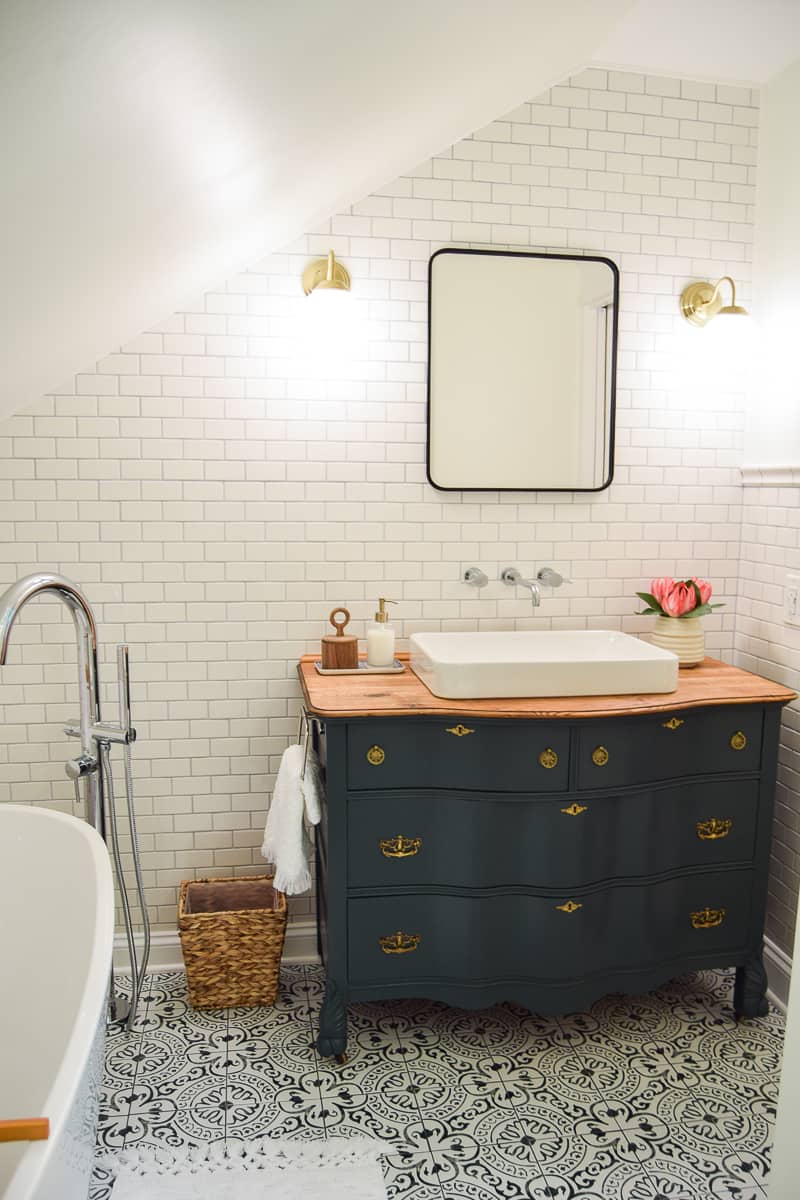 I absolutely LOVE the tile. Especially once it was paired with black grout, the whole design really popped.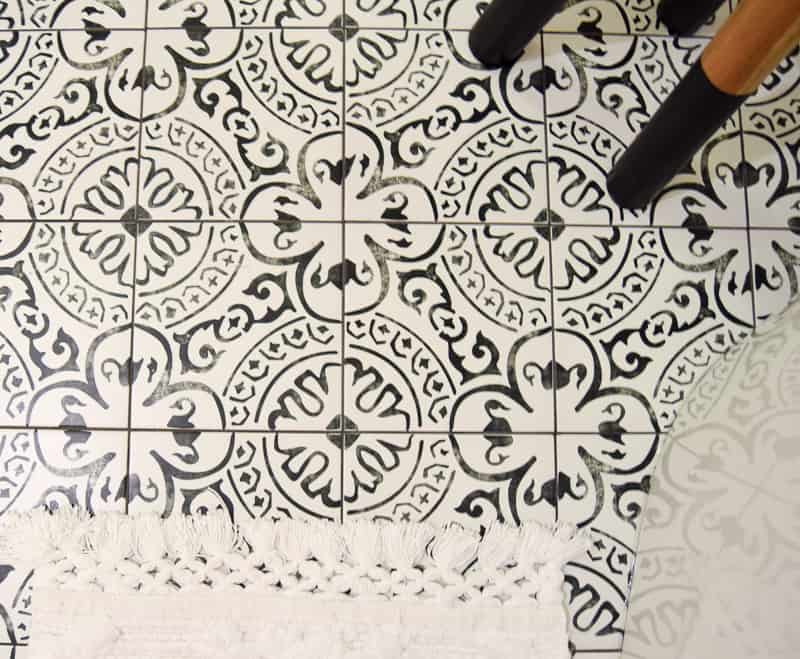 With the floor tile being so busy, I knew I had to keep it relatively subdued in the rest of the room.
I chose a neutral, creamy white paint on the walls and simple white subway tile throughout.  The hardest tile decision was definitely in the shower – the floor and bench top.  My initial gut feeling was to go with black penny tile and I'm so happy I did.  It's a bold choice but I think it compliments the room and other tiles perfectly.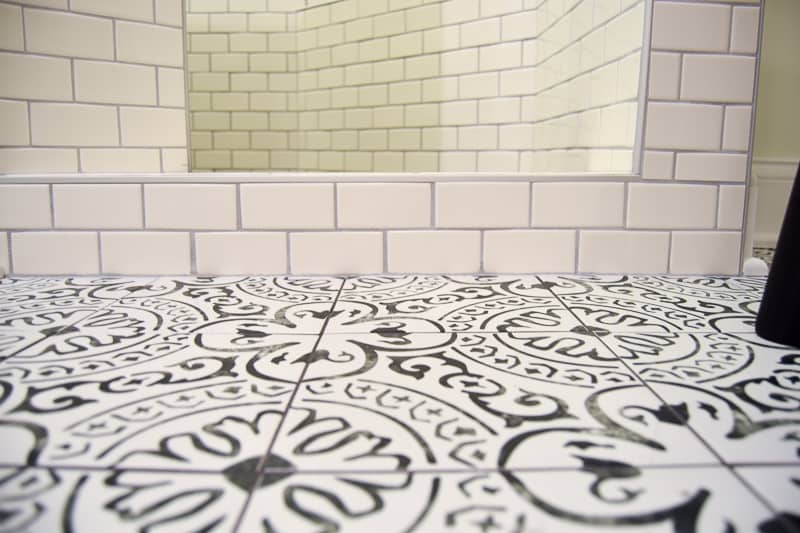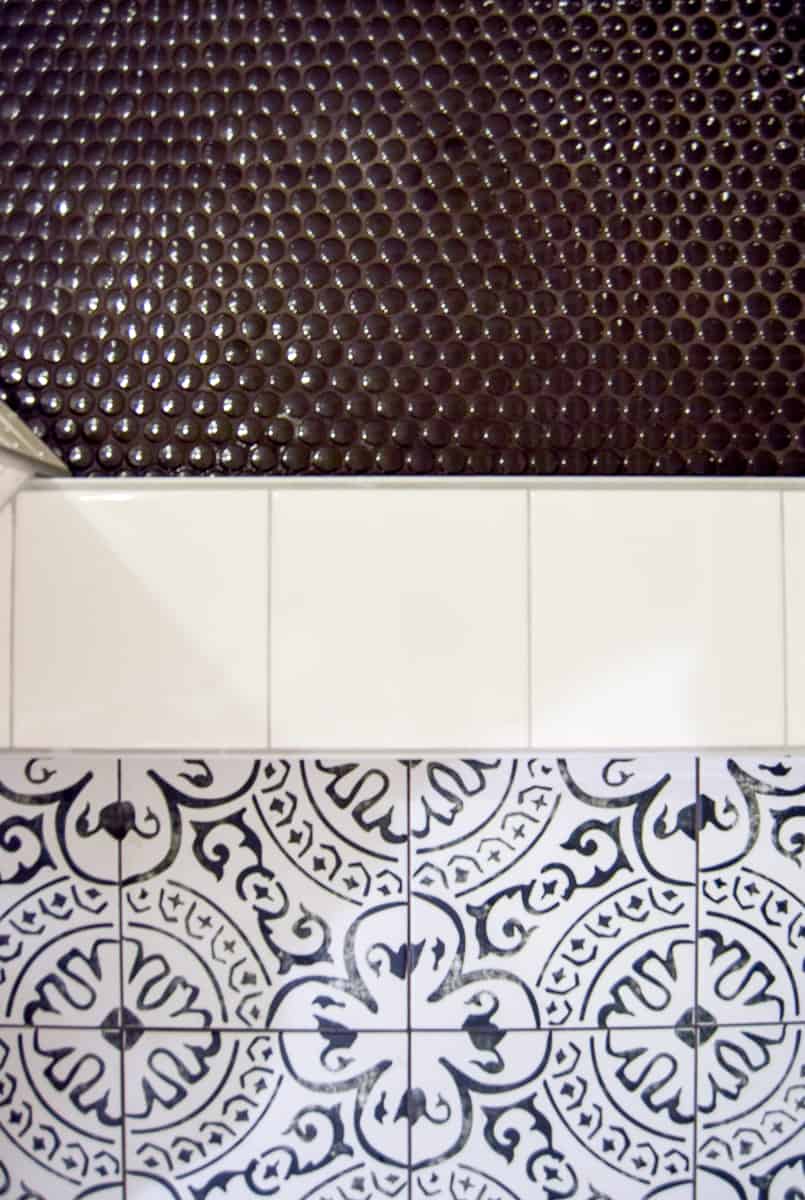 Modern Vintage Bathroom Vanity
With the tile picked, it was time to think about the rest of the bathroom.
I had my heart set on turning a vintage dresser into a vanity.  
When I found the absolute PERFECT dresser for just a few hundred dollars, I bought it that same day.  It may have stayed in our basement for months (and months and months) but I'm so glad I made that purchase last fall.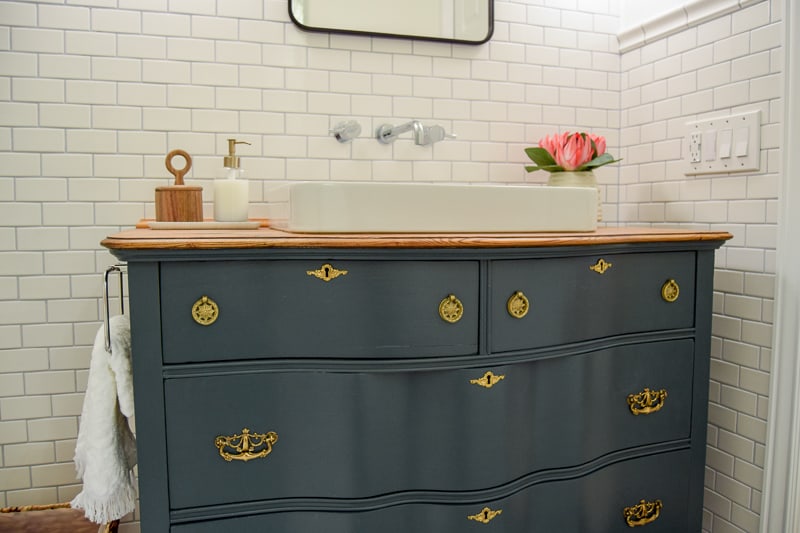 This baby was a lot of work.  We sanded down the whole thing, then primed and painted the entire dresser (minus the very top).  I chose a dark green (Mount Etna by Sherwin Williams) after buying 10 million samples.  
I couldn't decide between dark green or dark blue.  It had to be a dark color since everything else (besides the floor) was white white white.  It HAD to stand out without being busy.  
I opted for green over blue because I had sooooo much blue in our house that I needed a change.  And, apparently, green makes a space feel more tranquil and relaxing.  But, mostly that too-much-blue thing.
My husband and I didn't communicate exactly what were going to do for the top.  He thought he was supposed to sand the entire thing down, and I just wanted the sides and front sanded.  
But, this mistake actually revealed the beautiful wood grain on the vanity top that I decided to keep.  We finished it with some oil to seal it, and the grain really pops.
Even though it was a lot of work, it is absolutely perfect in the bathroom.  From the wavy wood in the front, to the beautiful details in the legs, to the hardware, to the tiny little wheels on the bottom, sighhhhh, I was head over heels in love with it.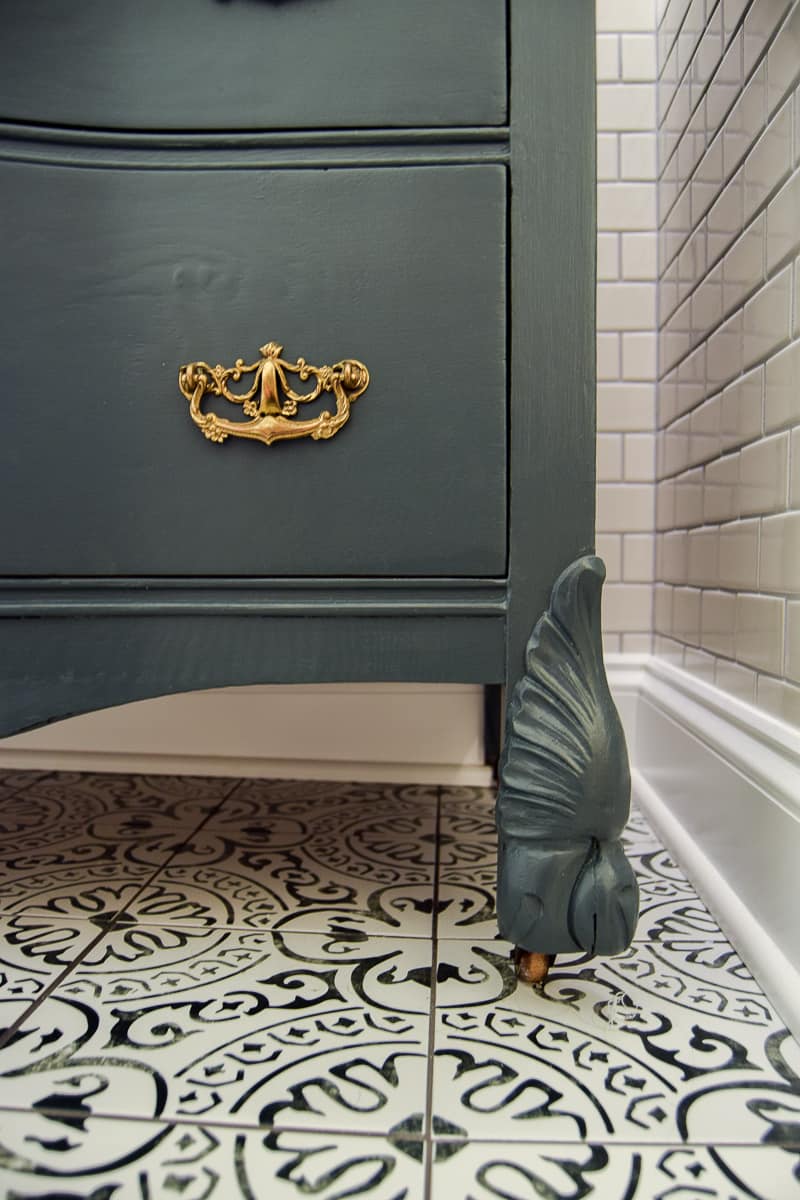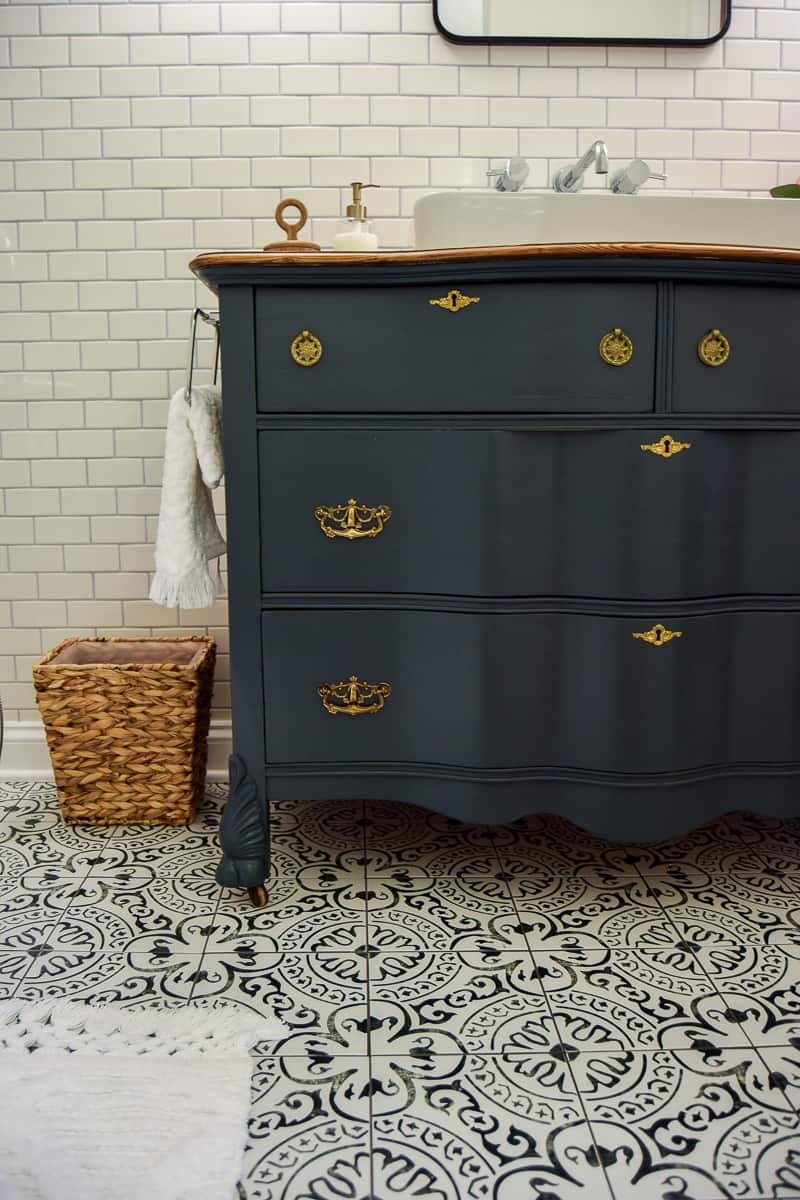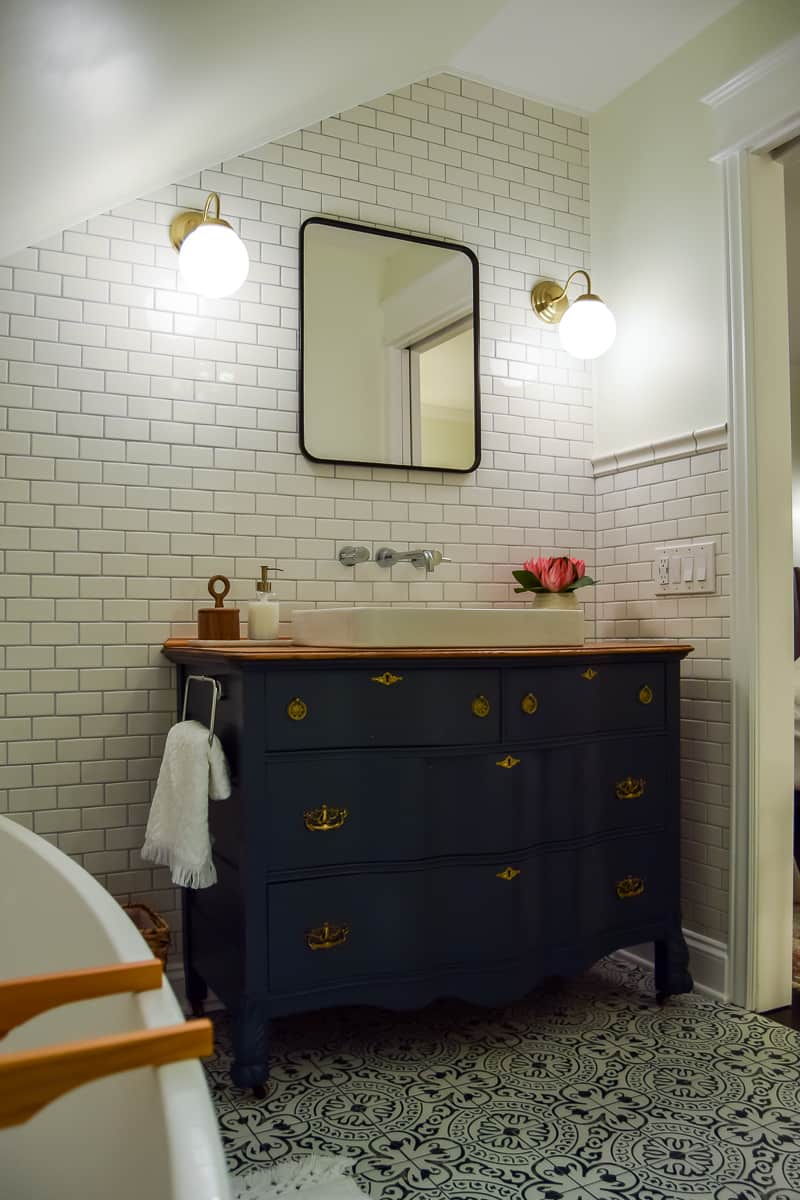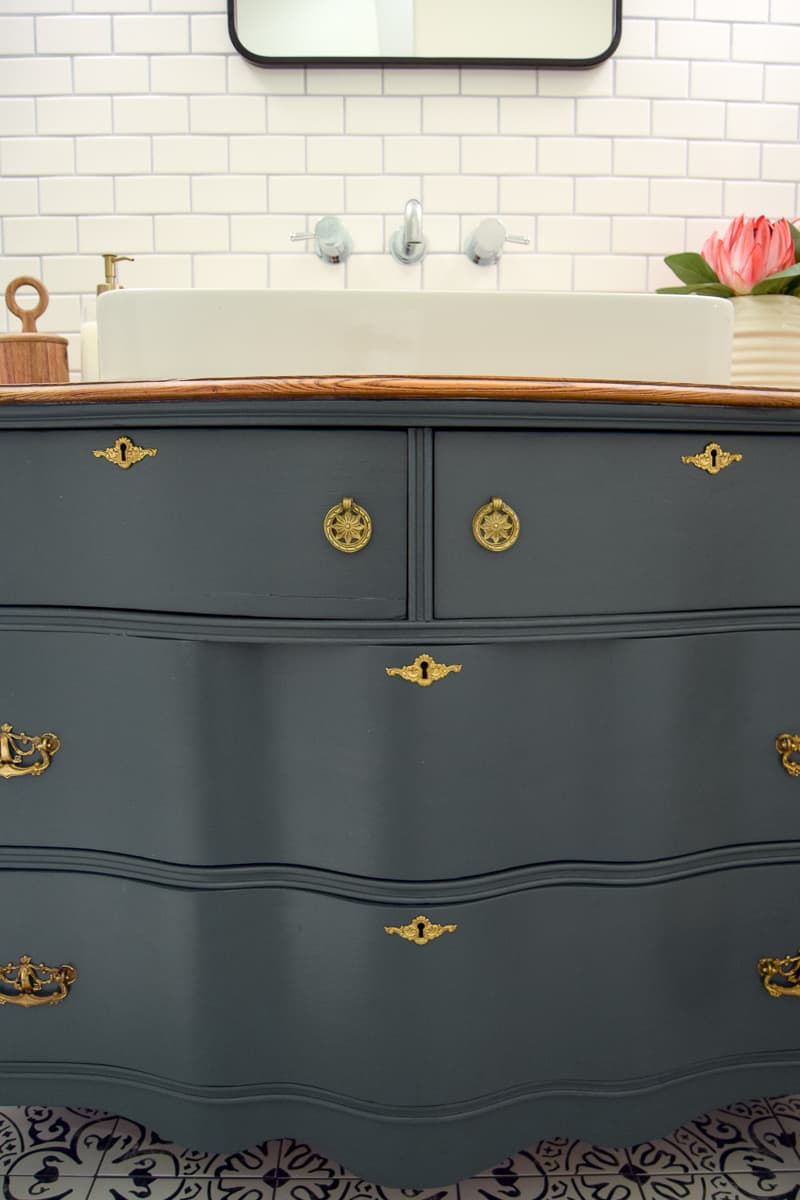 Modern Vintage Bathroom Fixtures: Sink, Faucet, and Wall Sconces
The sink we used came with a template to cut out a hole in the vanity for it.  This was surprisingly not as difficult as it sounds.  While it's only a single sink in a master bathroom (GASP!!!) the room wasn't big enough for a double vanity.  
Personally, I'd rather have a single sink with more room on the sides than two sinks and no countertop space.  Though, I'm not complaining about our current master bathroom which has both two sinks and a ton of counter space.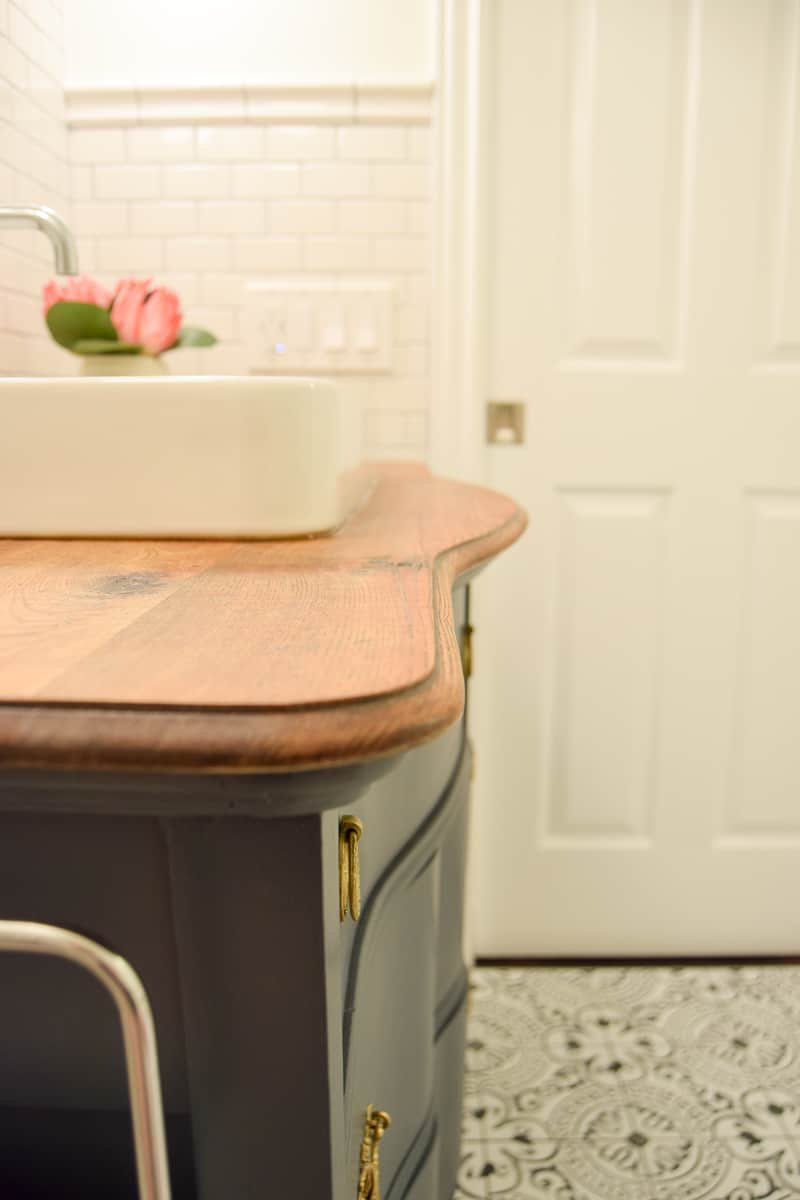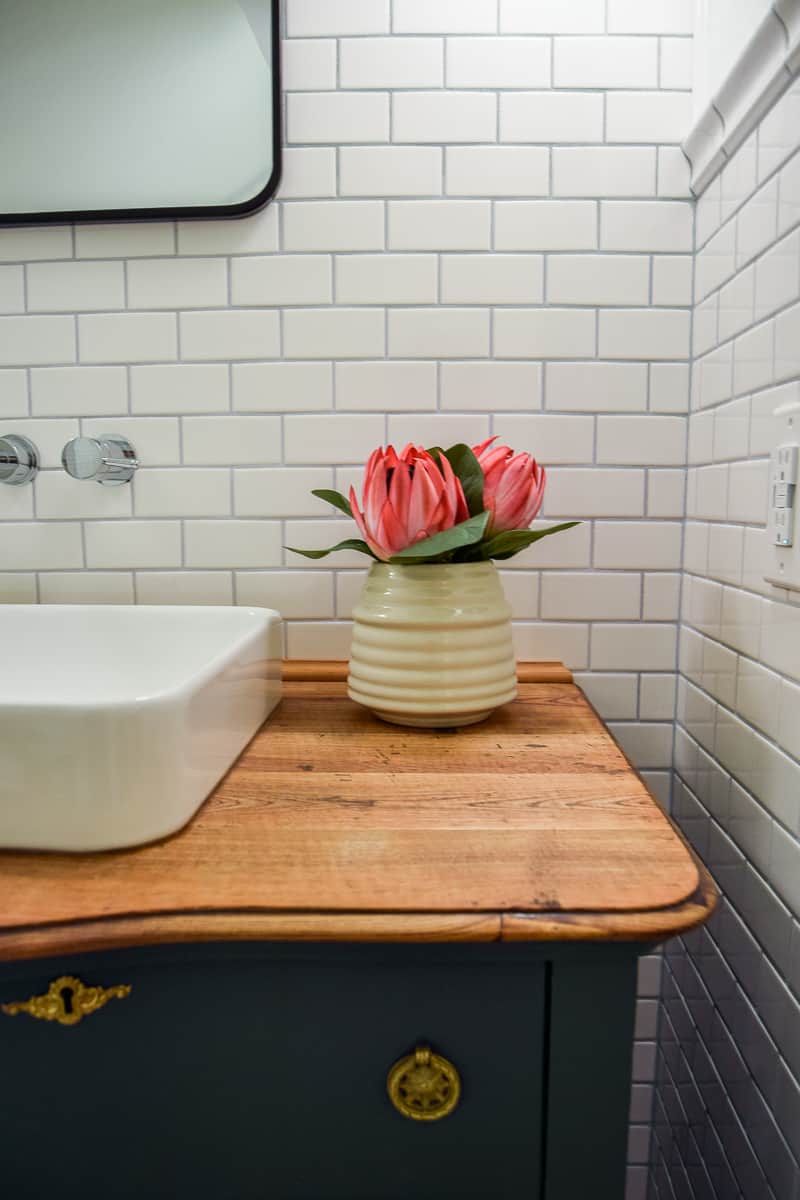 I just loooove the wall-mounted faucet, too!!  The perfect modern touch to compliment the modern subway tile and sink.
We opted for a chrome finish for the faucet.  Chrome is our main metal for the bathroom.  
We used chrome for all fixtures (faucet, tub filler, shower hardware, toilet paper holder, towel bar, and hand towel holder) and brass as an accent metal.  
I love the look of mixed metals.  It makes the room feel gathered, collected, and eclectic.  I wrote a whole post on mixing metals because I love it that much.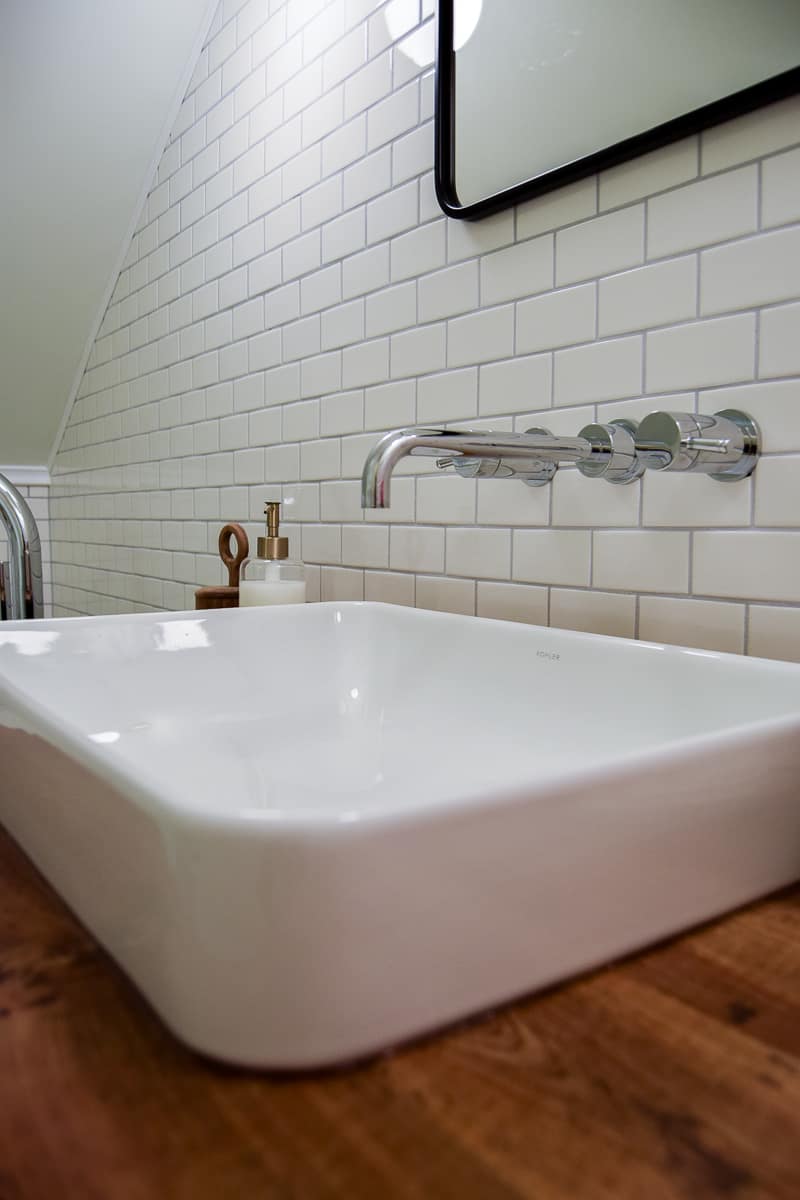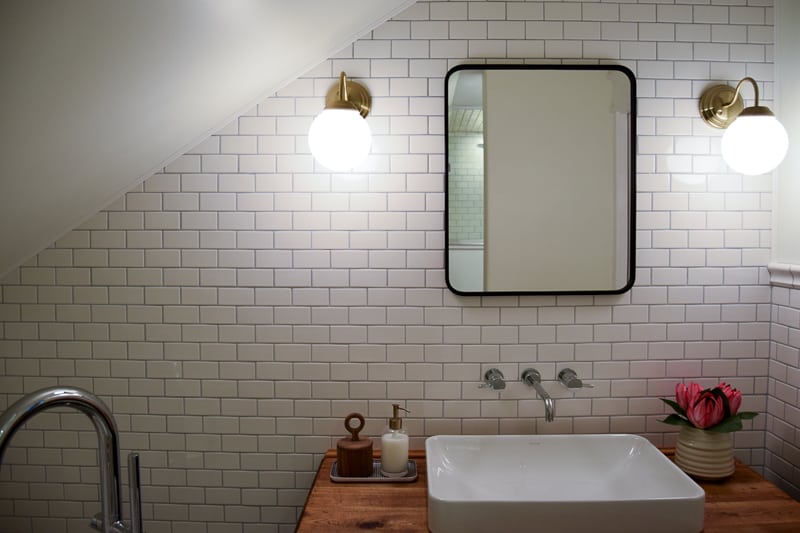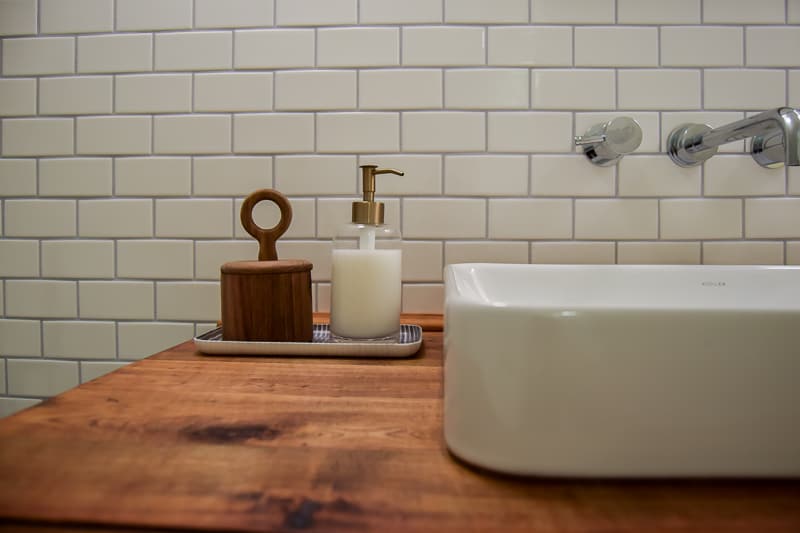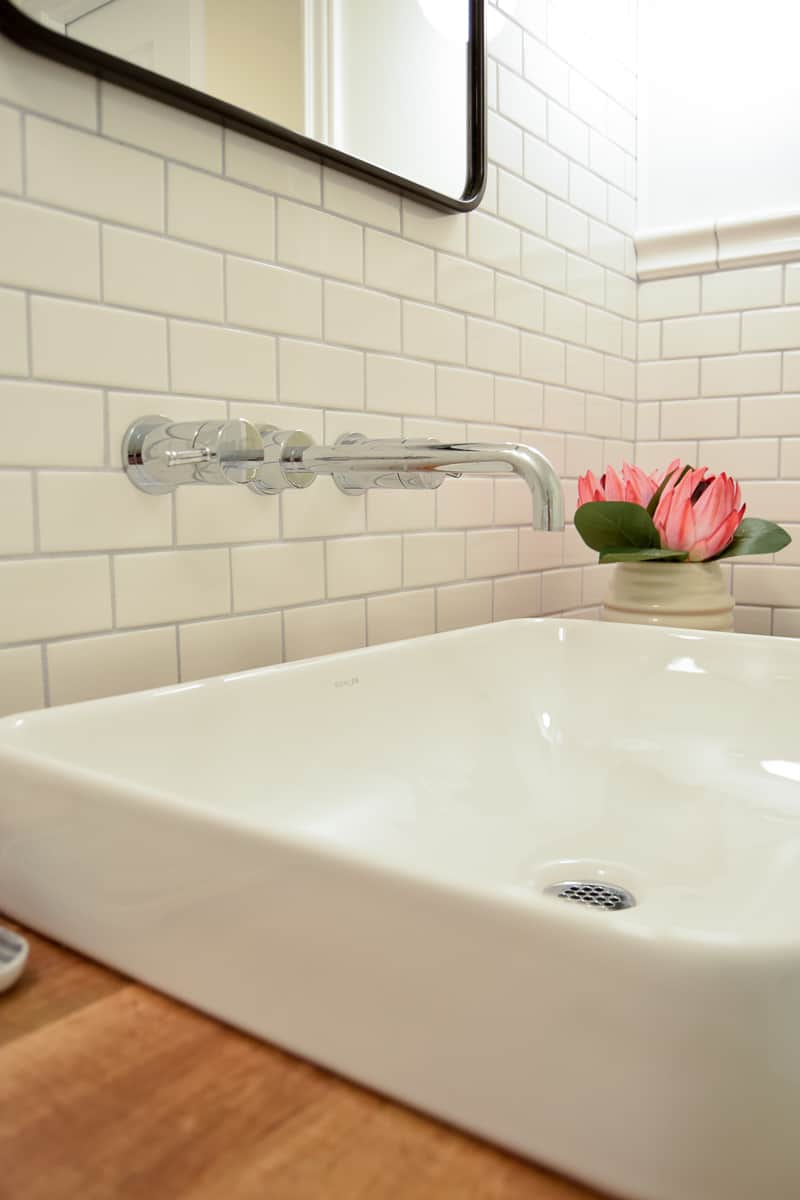 I kept the modern theme going by picking a matte black rounded rectangular mirror. That black really pops next to the tile and is repeated in the floor tile and shower penny tile. I felt like this side of the room needed some black, too.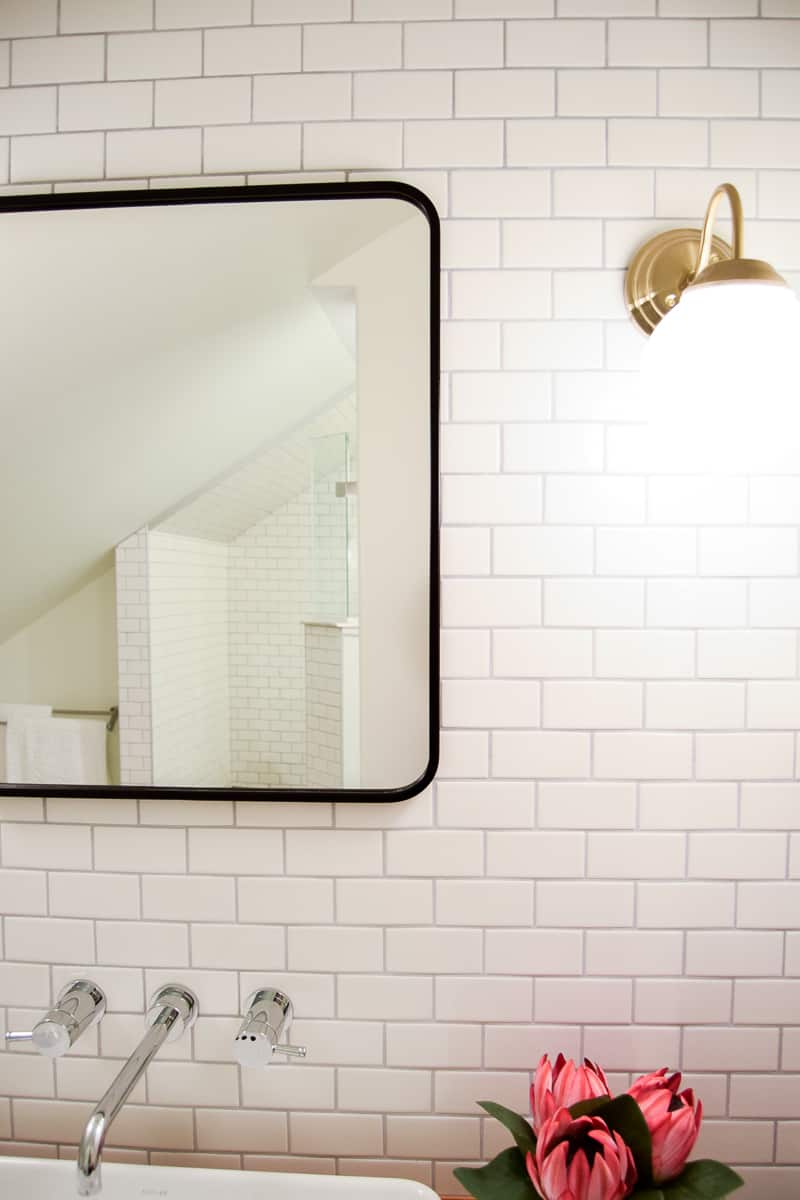 The sconces are brass (my accent color).  I couldn't replace those perfect pulls on the dresser so I needed to make sure the brass was repeated elsewhere.  
The sconces and soap dispenser (a more subtle brass) make the dresser hardware feel like they belong in the room.  As long as a metal is repeated more than once, I say GO FOR IT!  (But seriously, more details in this post about mixing metals)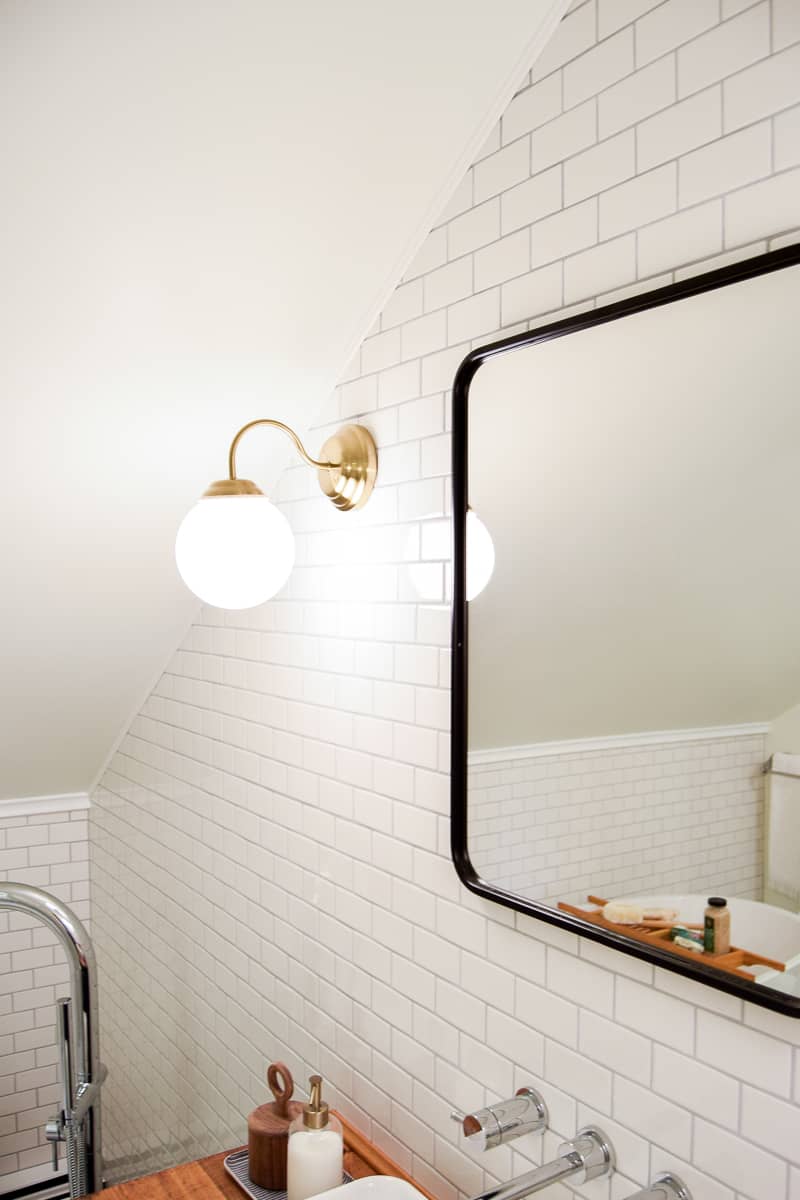 One final look at this part of the room:
Stunning White Porcelain Soaking Bathtub for a Modern Vintage Bathroom
When I saw this bathtub and filler from American Standard, it was love at first site.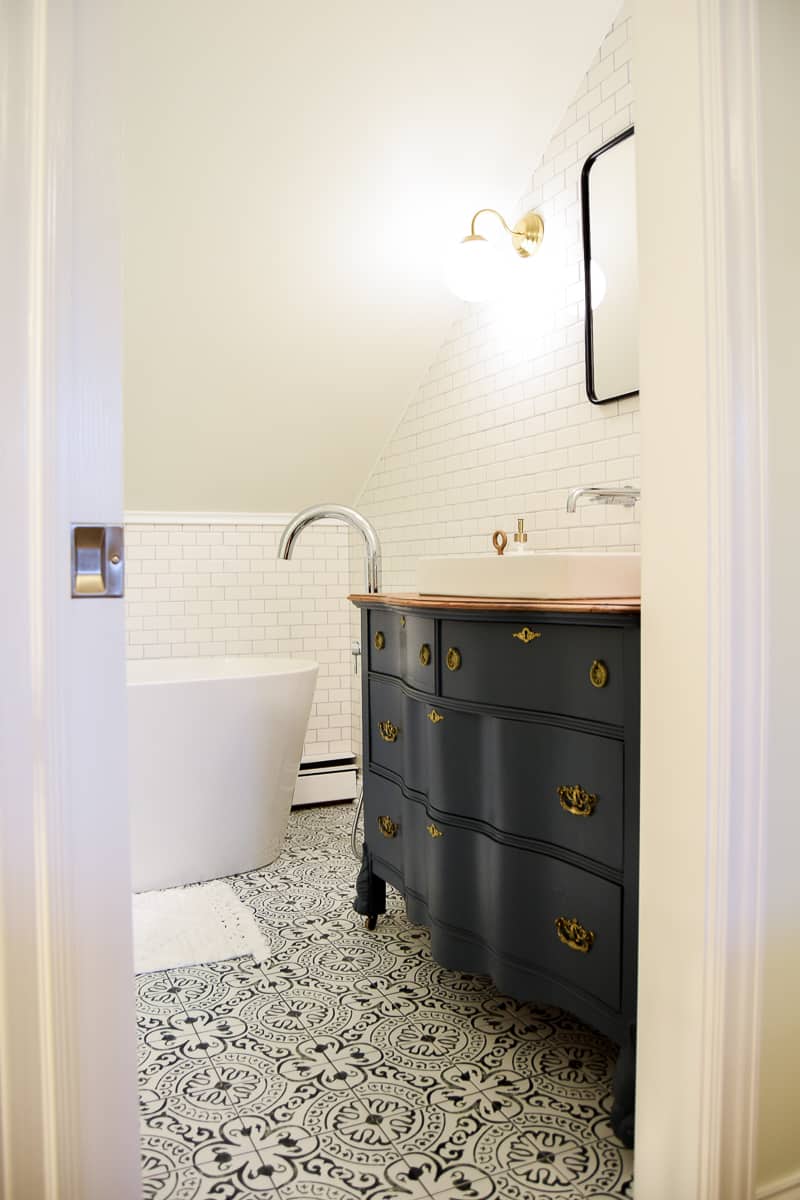 It's the soaking tub to end all soaking tubs. Seriously.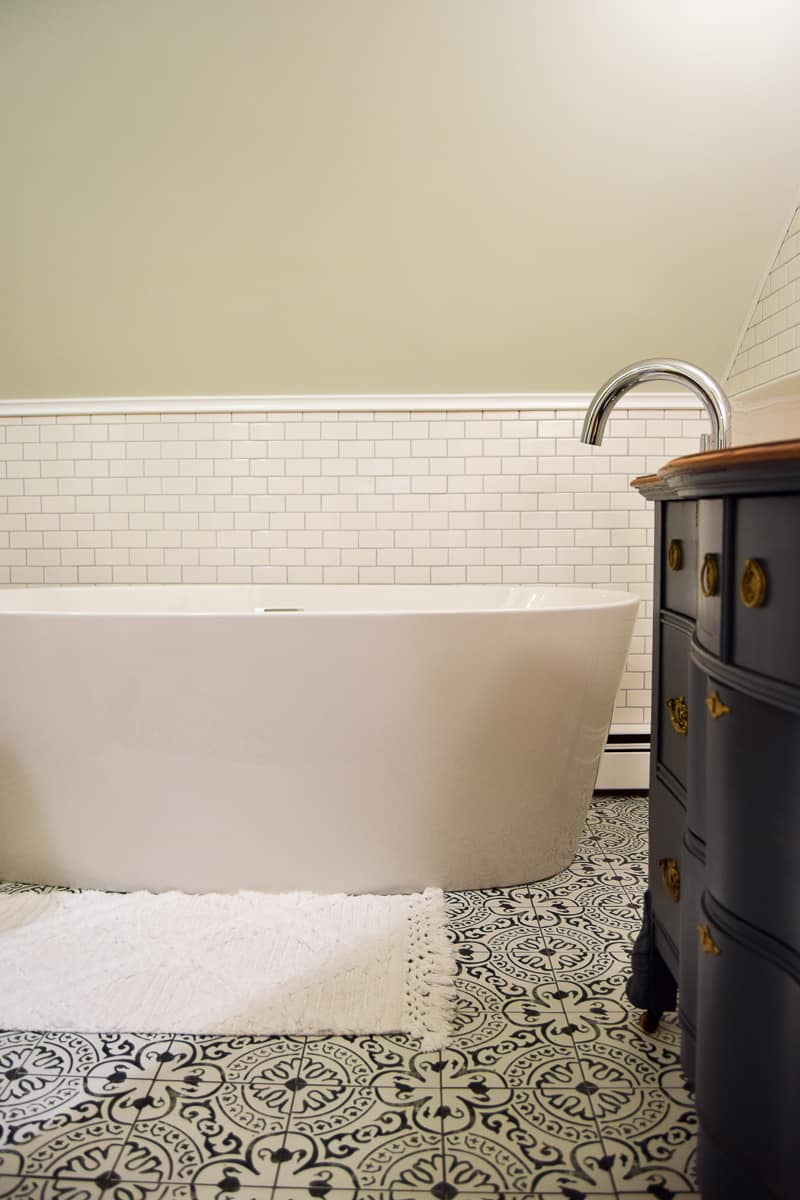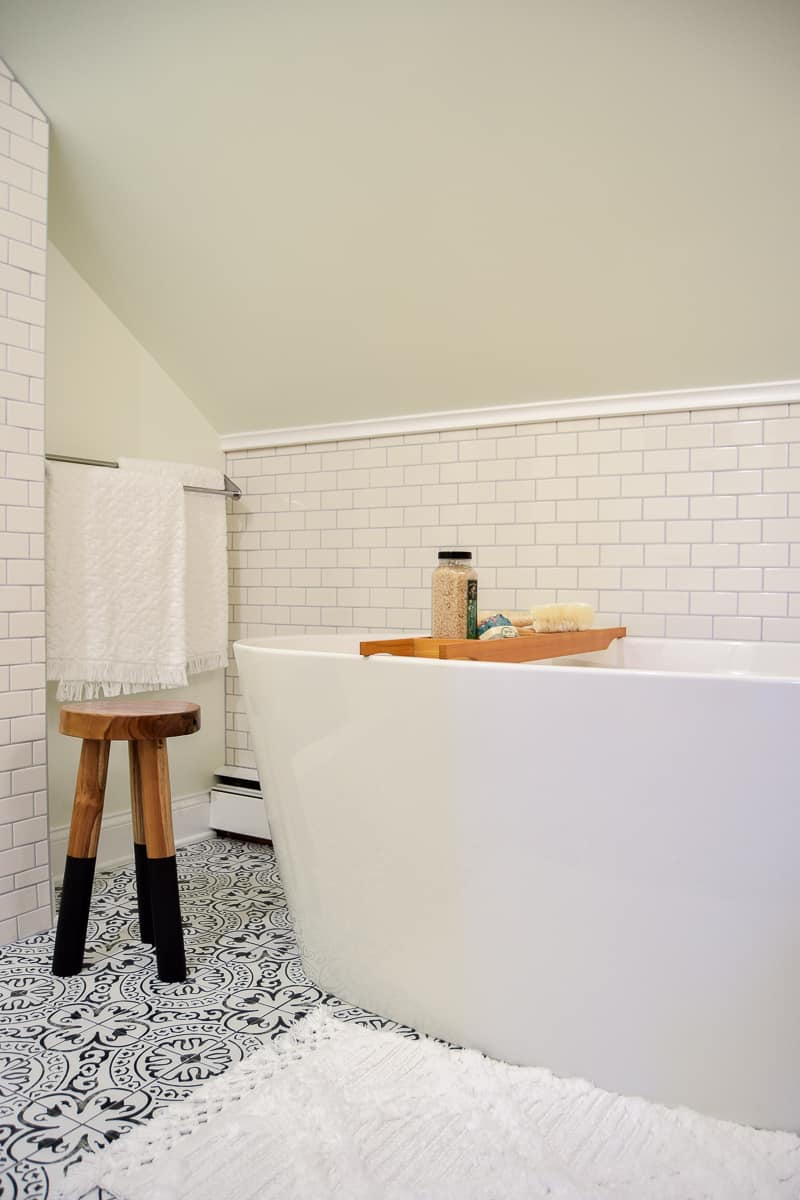 It's the perfect piece to fill in the awkward space beneath the sloped ceiling.
I think I love the tub filler even more than the tub itself.  It's SOLID, clearly well made.  I just love how it looks arching above the tub.  
Not only is it pretty and functional, it also has a little attachment that you can pull into the tub.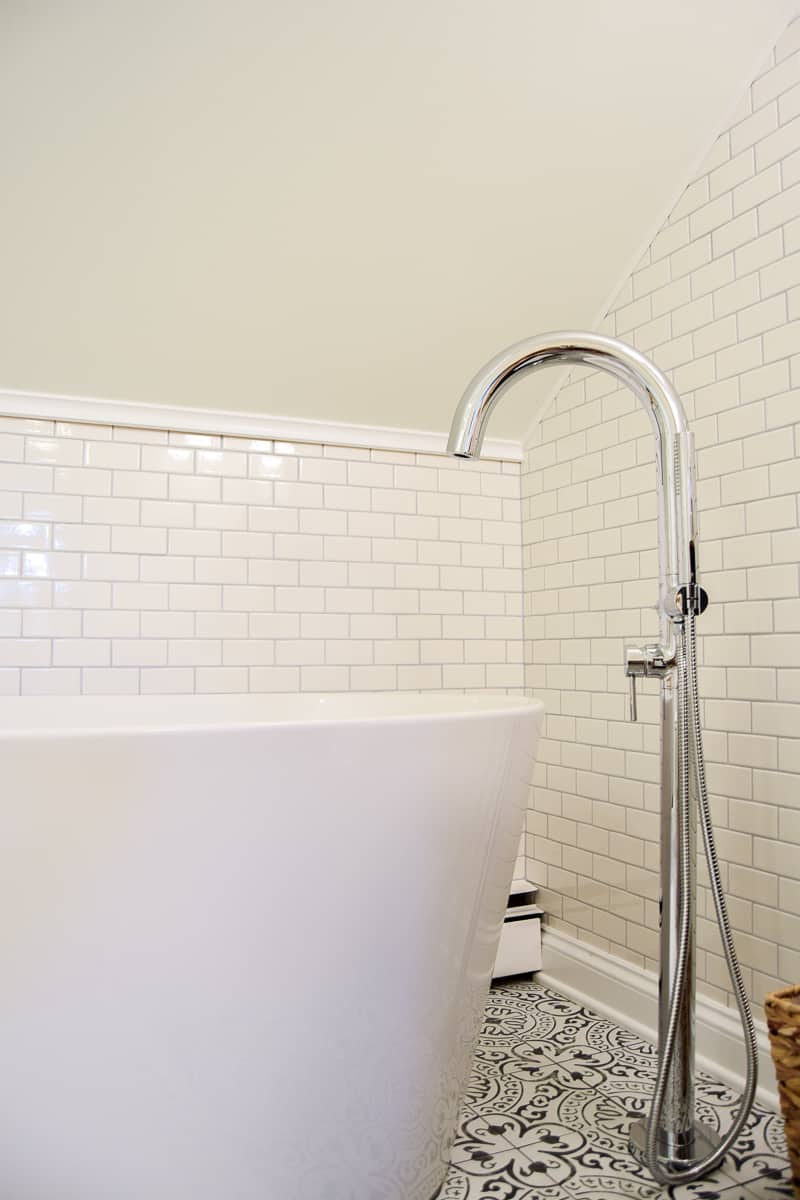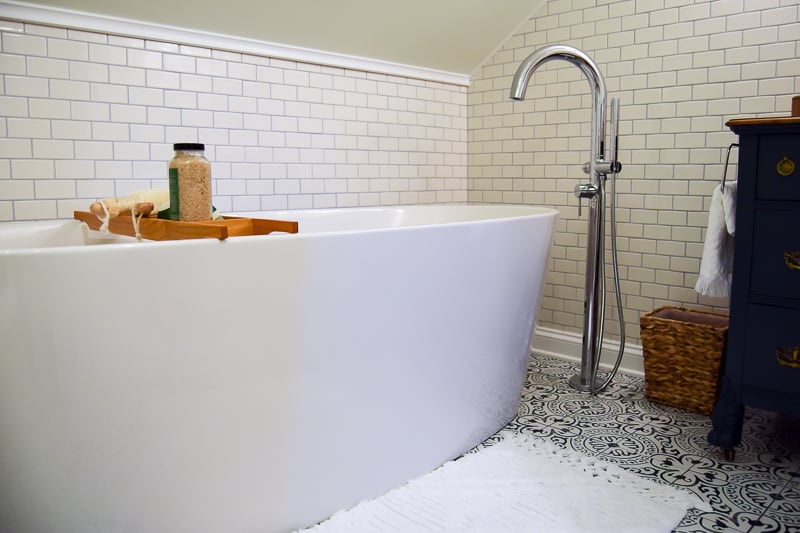 Modern Vintage Subway Tiled Walk-In Shower
I miss this shower SO much.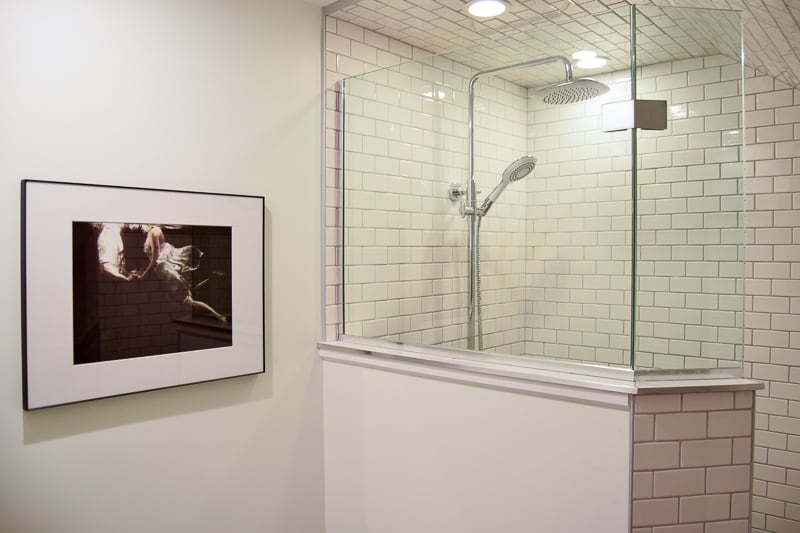 Ohh the rain shower head…..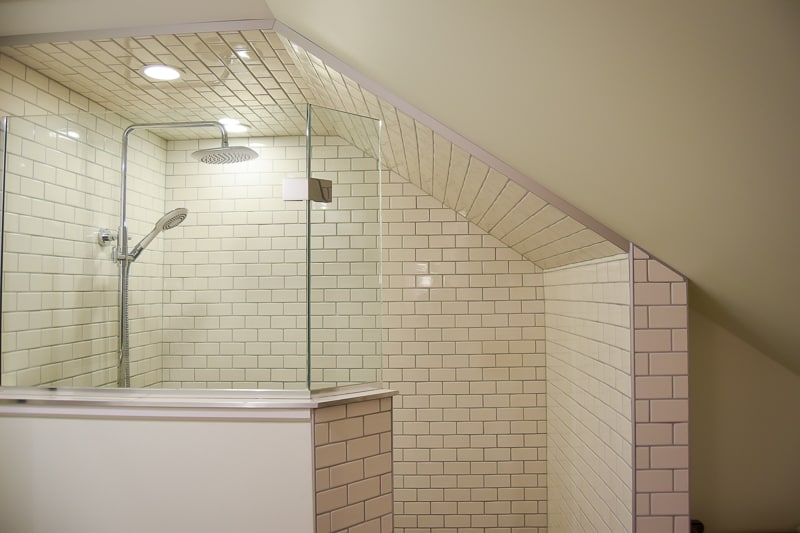 The bench and aforementioned black penny tile…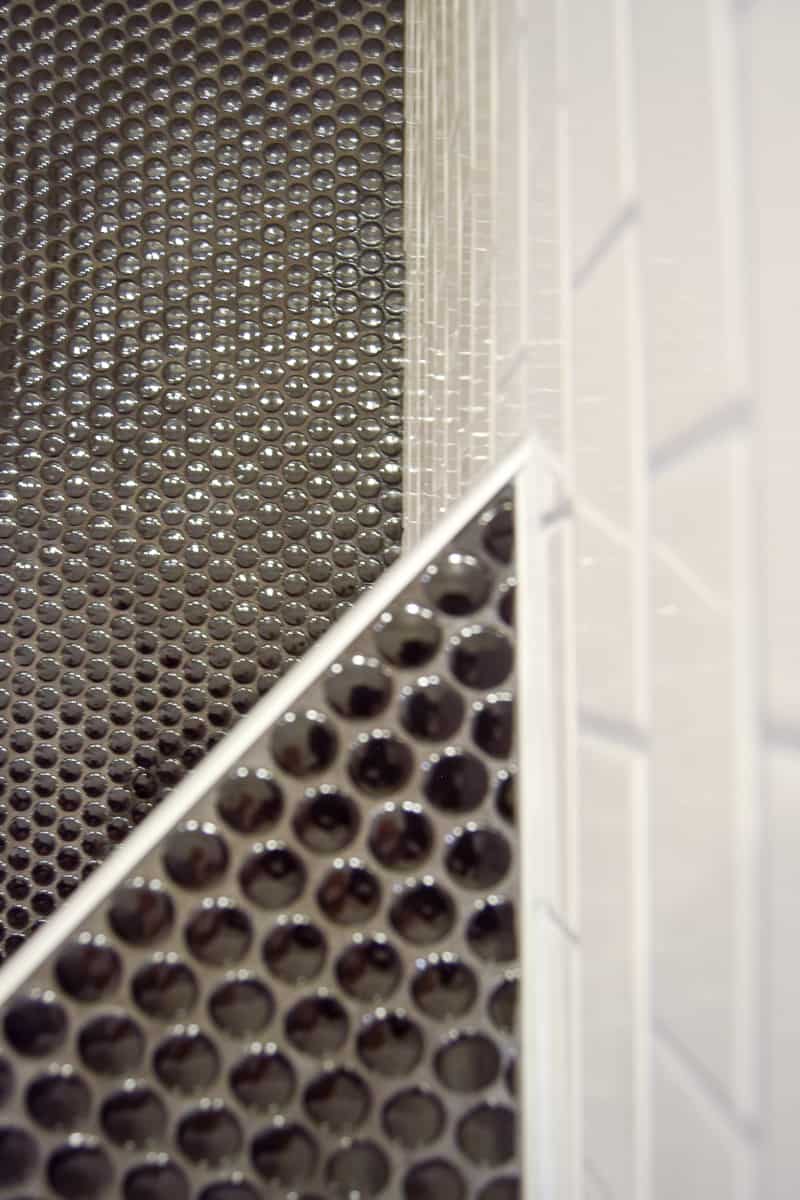 Sigh. It's beautiful. My FIL did all of the tile work. While he's not known for his speed (or ability to win bets), he did a fantastic job!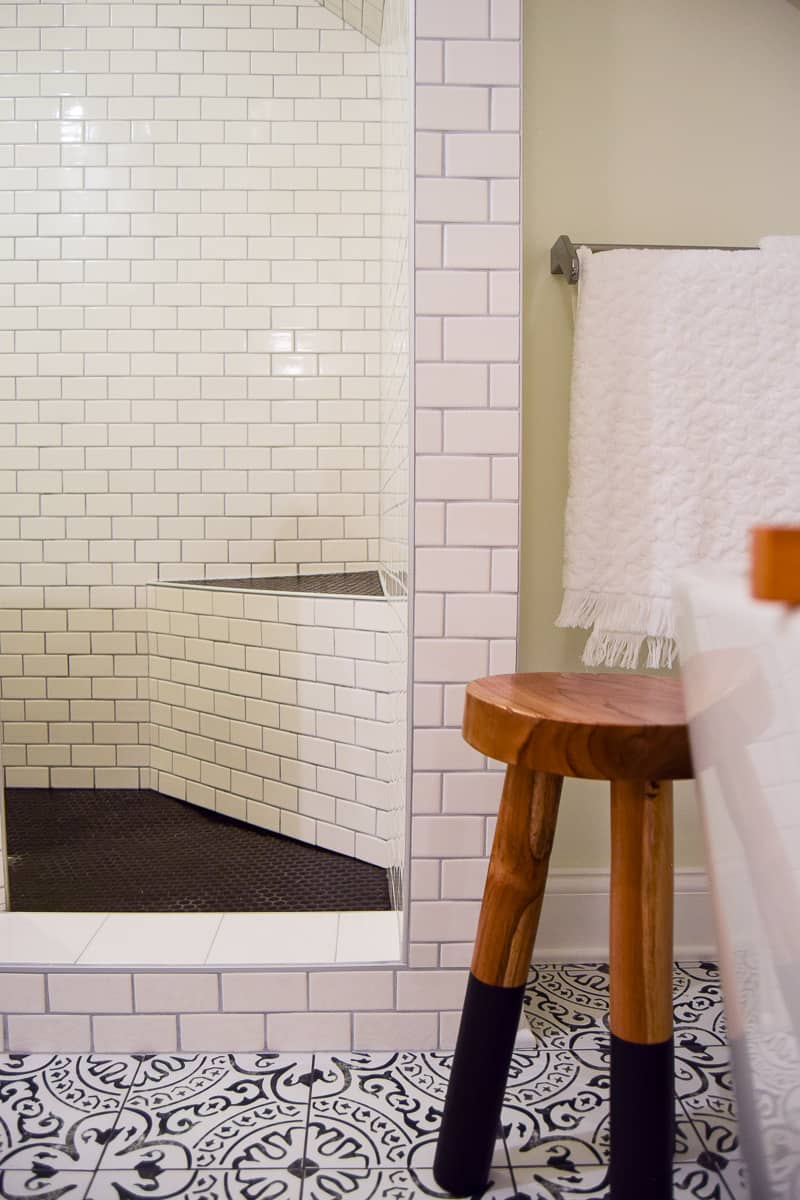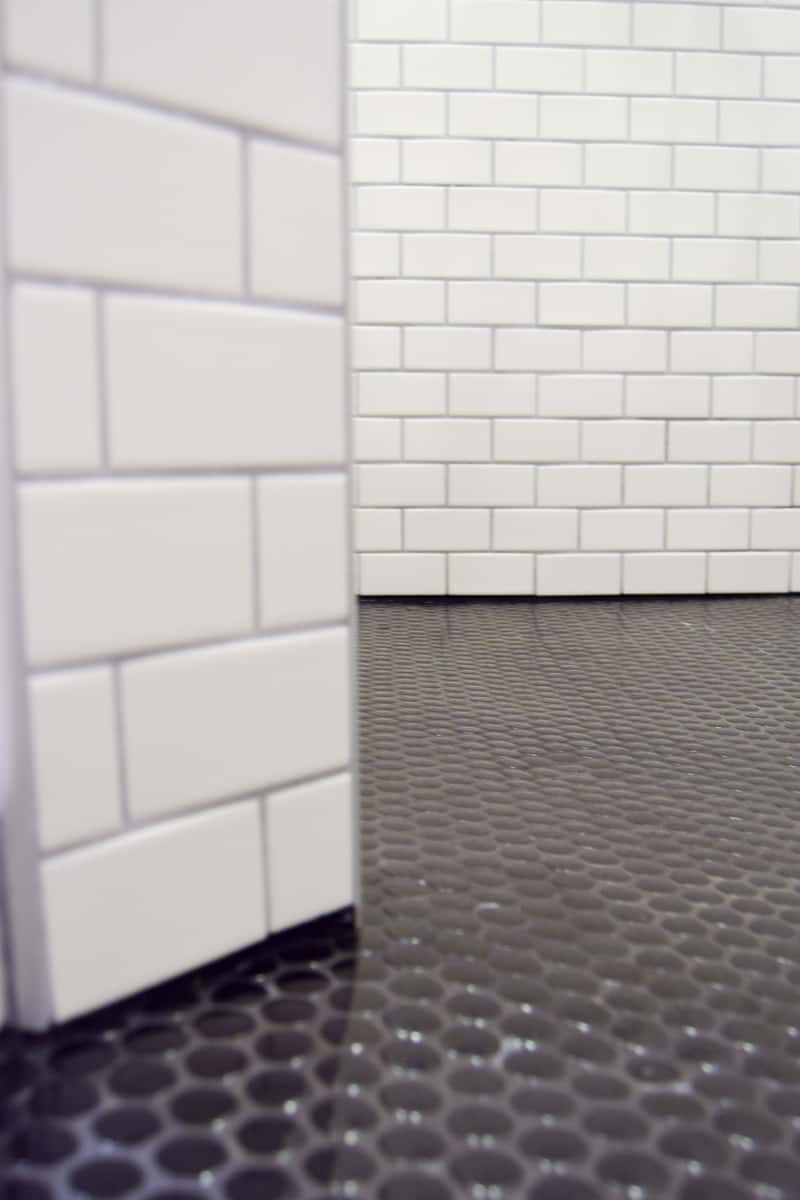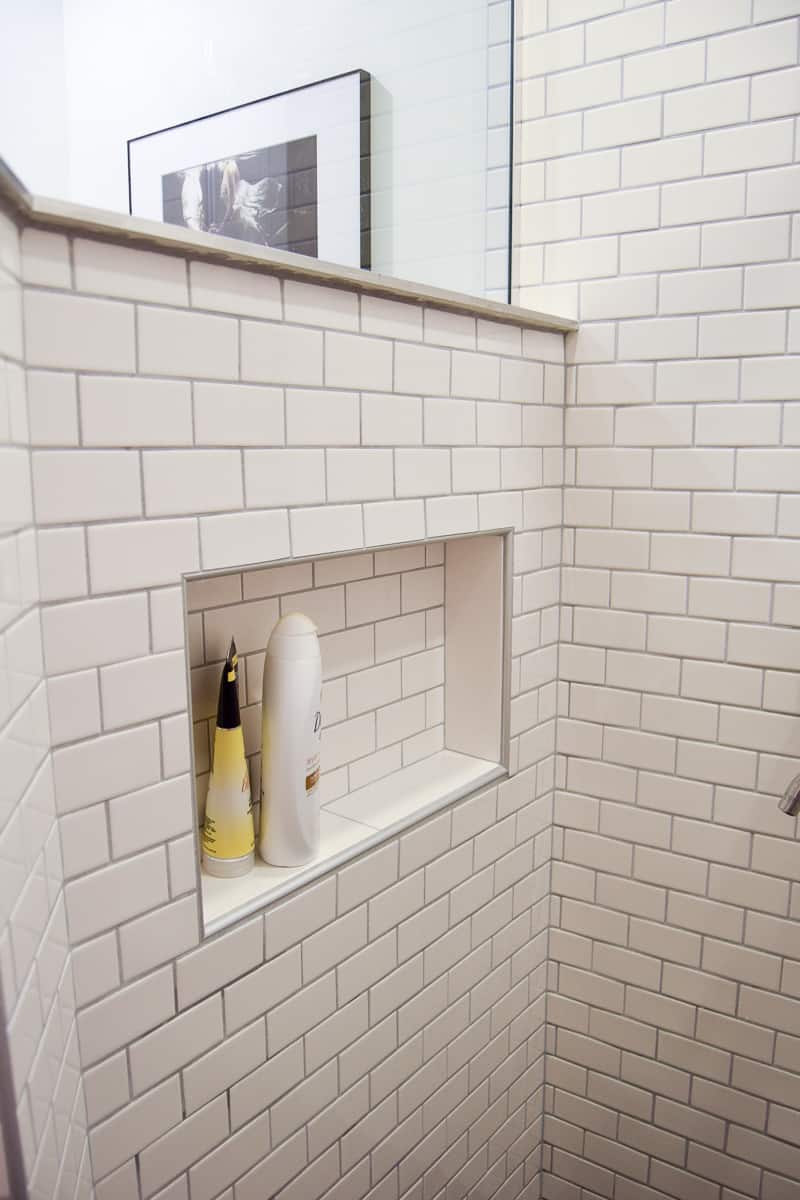 We had the glass custom-made to semi-enclose the shower.  Even though the shower is open, the steam and warmth really stay in the shower with you.  I picked up that cute dip-dyed teak stool to set a towel on for your bath and/or shower.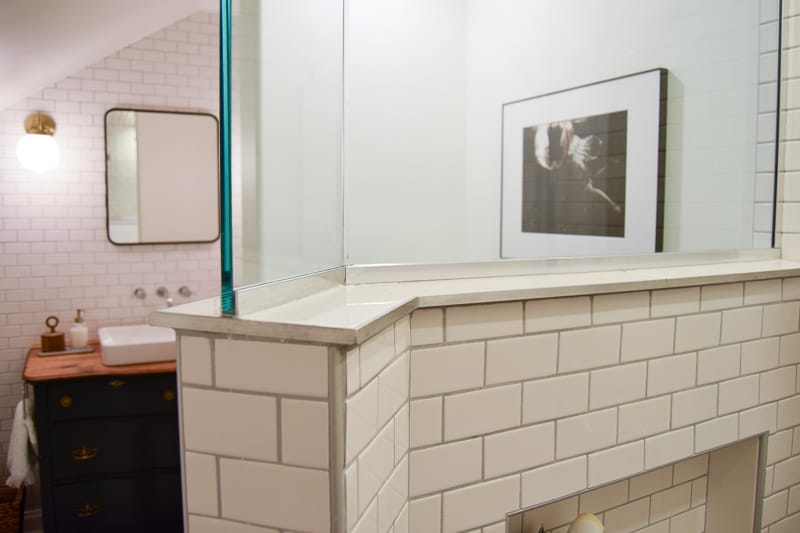 Finishing Touches: Modern Vintage Bathroom Decor, Toilet Nook and Source List
Last but not least, the toilet 😉
No one cares about the toilet. But, I have to show it in order to show the most amazing art I found for the bathroom. It is SO perfect for the room and for life in general.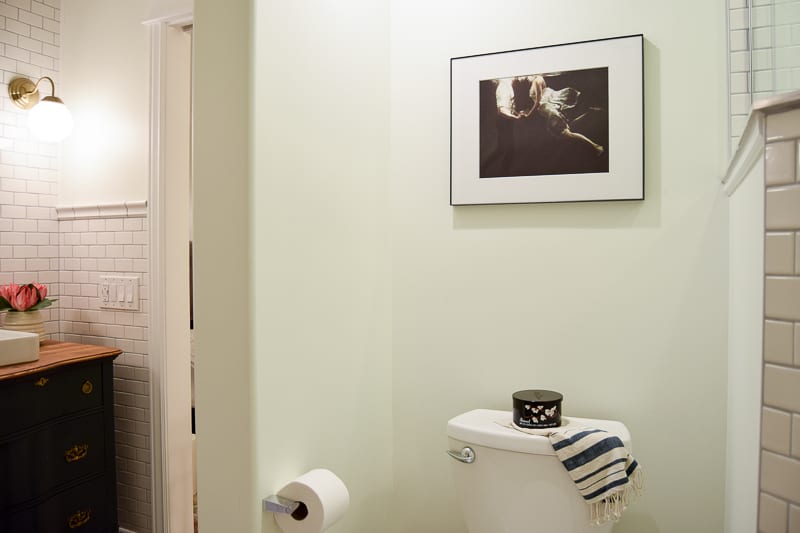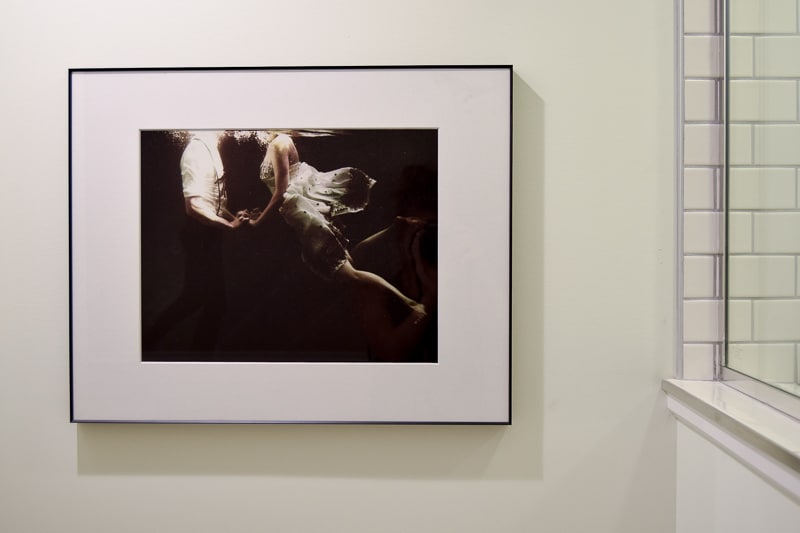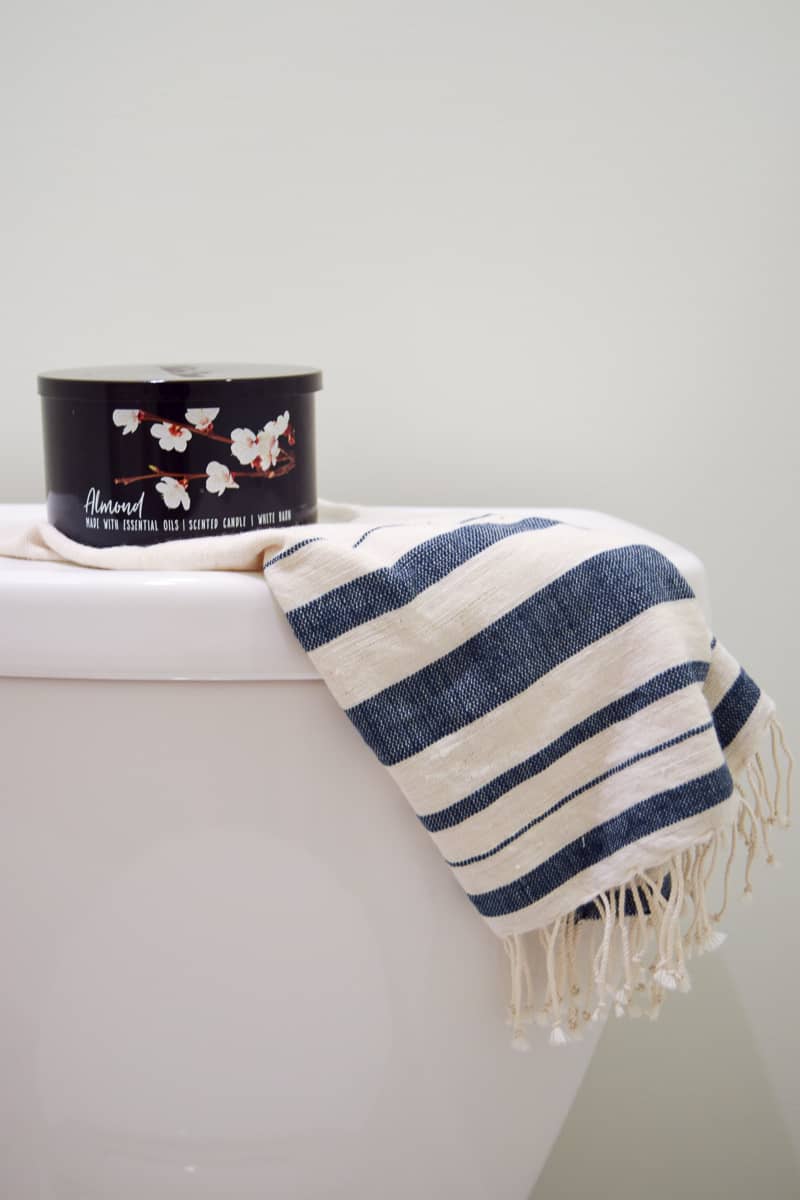 Sighhhhh.  Isn't it beautiful??  I worked really hard on the design and even though I was completely over it for a while, I'm very happy with how it turned out.  And I never ever ever ever want to do it again 😉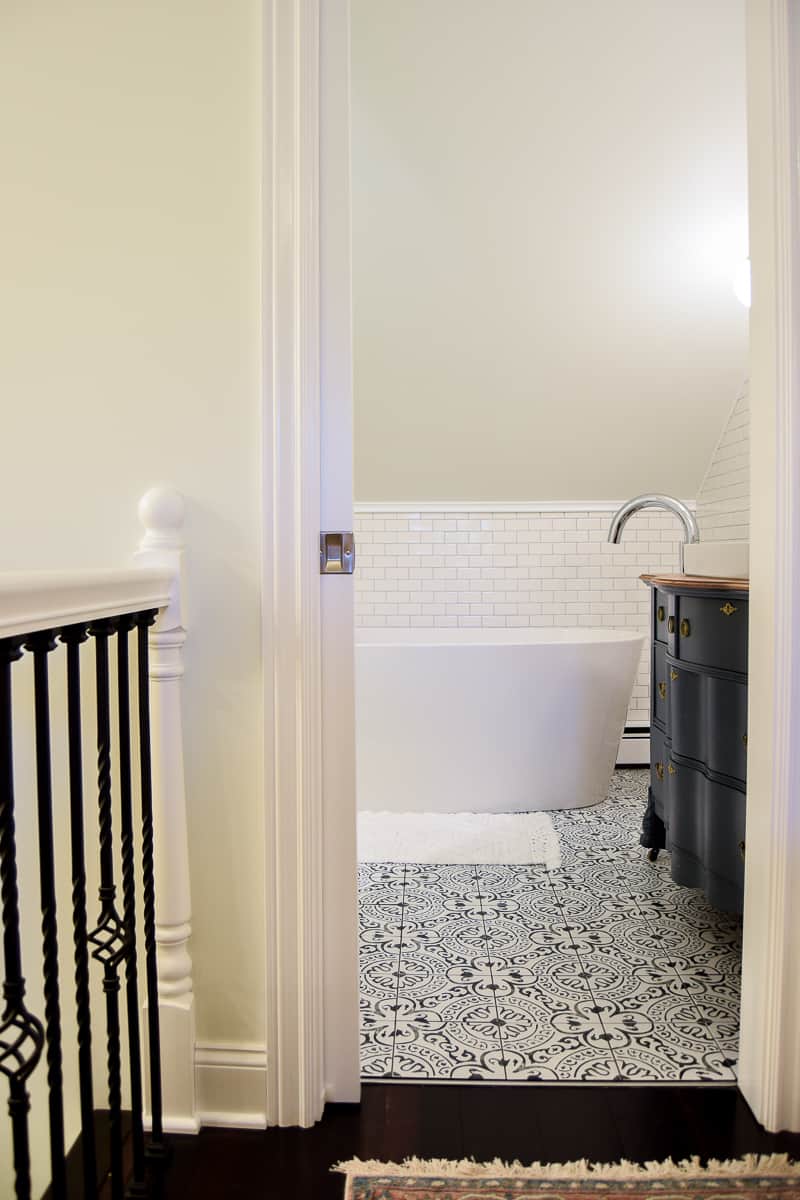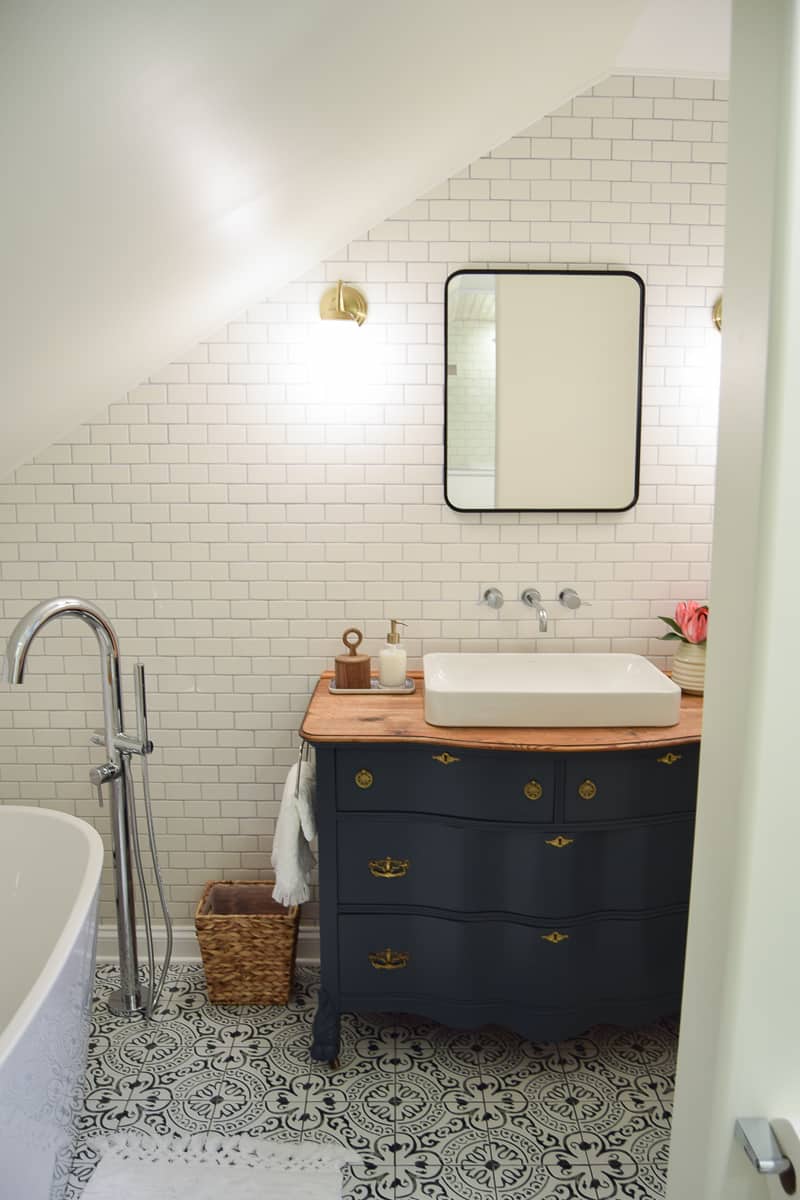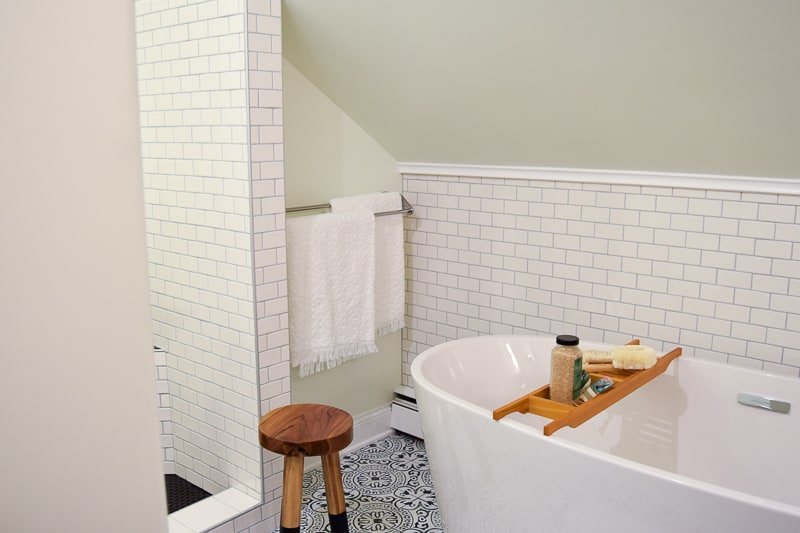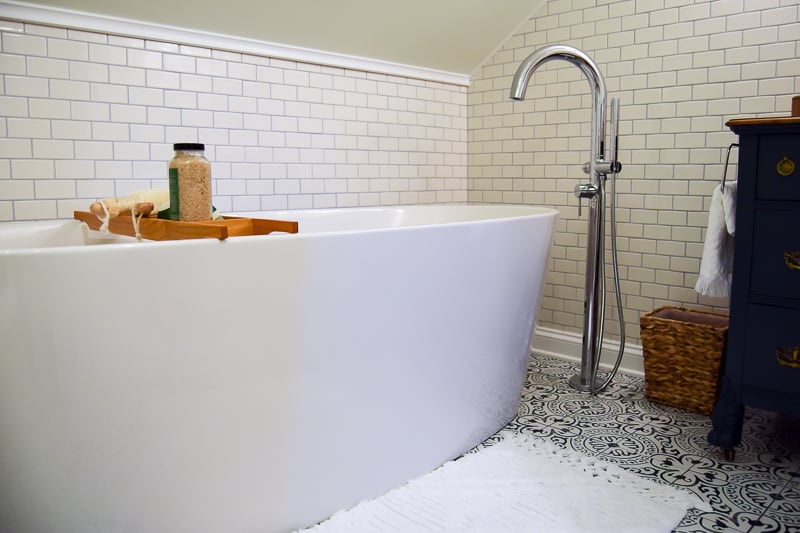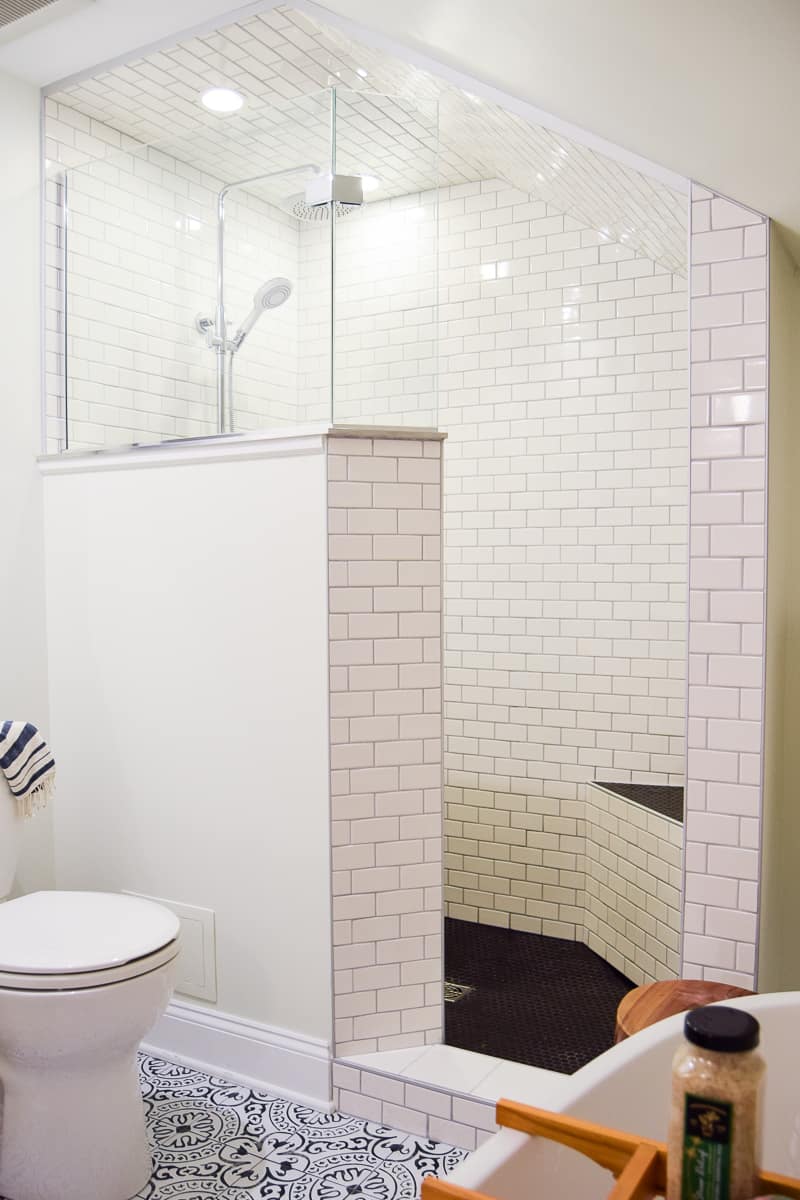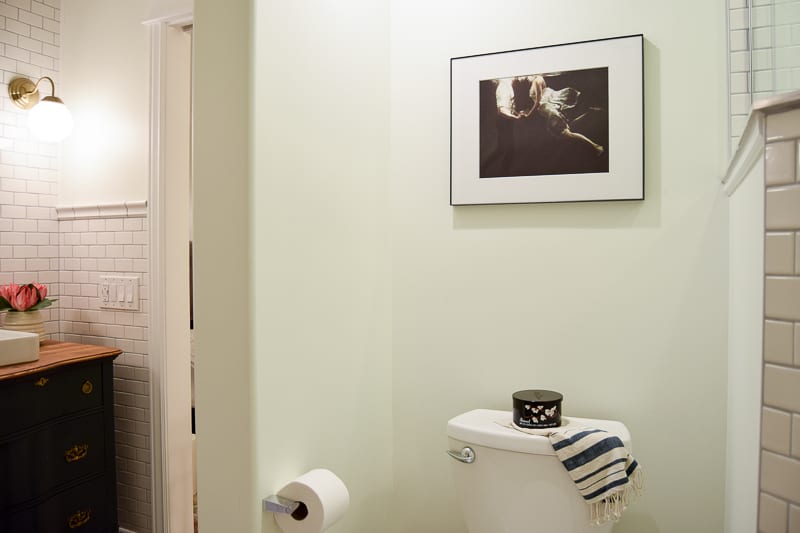 Huge shout out to my husband for listening to me complain about the bathroom for a little 6months and to my FIL for working tirelessly on everything.  
I may have almost killed them both by the end and the feeling was mutual I'm sure.  Renovations.  Not for the faint of heart.  (That should be my new blog title!)
*This post was sponsored by American Standard. All thoughts and opinions are my own. Please see my full disclosure policy for more details*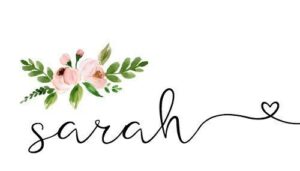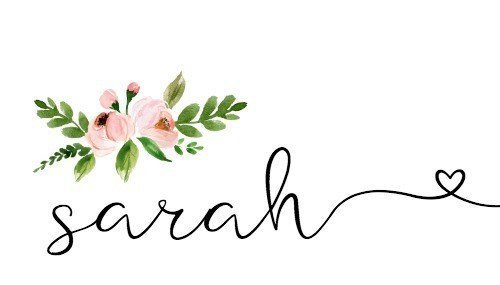 PIN FOR LATER: