It's time for another Create with Me DIY Challenge. For this month's challenge, see how I made a rustic DIY planter using book pages!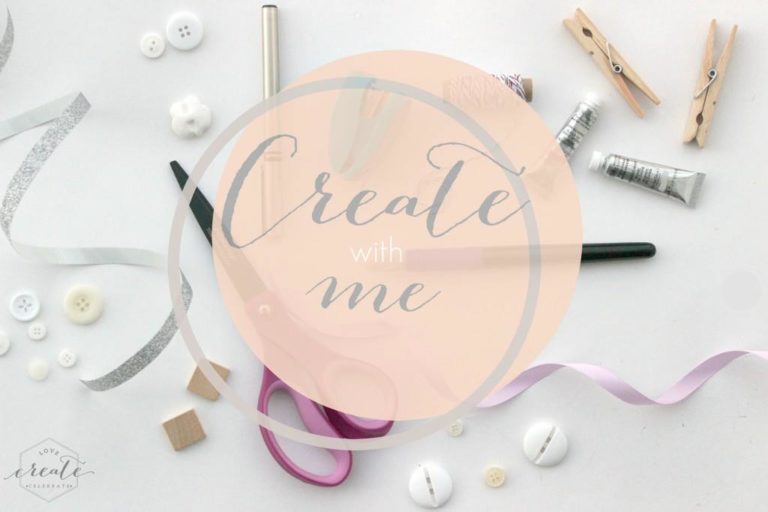 It's that time again – time for another Create With Me DIY Challenge. And you guys certainly aren't making this project easy!!
When I saw that book pages won the vote last month, I had no idea what I was going to make. So, I naturally searched Pinterest for ideas. There was pretty garland, DIY flowers and other various crafts. But, nothing really stuck out to me and I didn't want to make something that's been done before.
Since I have SPRING on my mind, along with the nursery project that seems never-ending at this point, I decided to make a planter using book pages. The perfect little planter that will look so cute on her farmhouse shelves!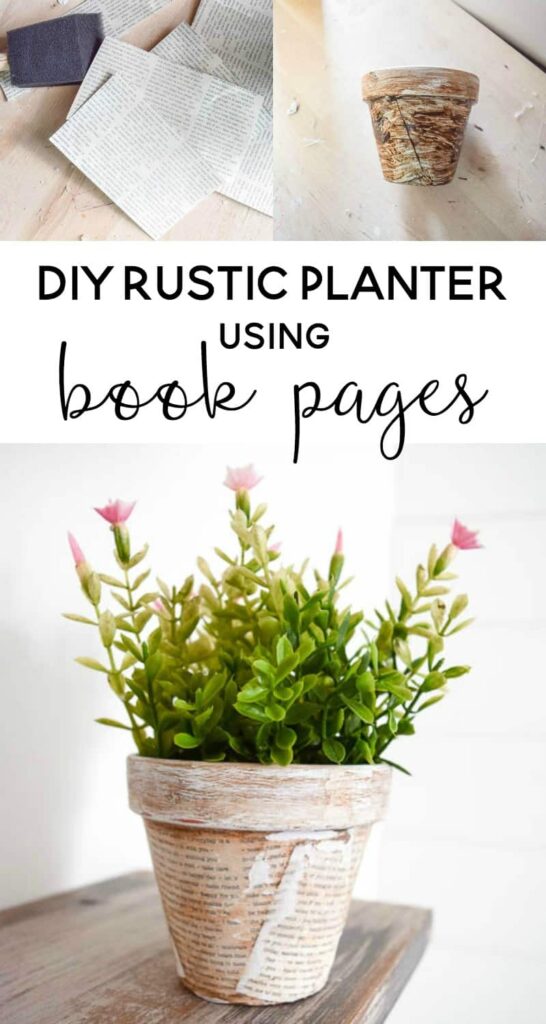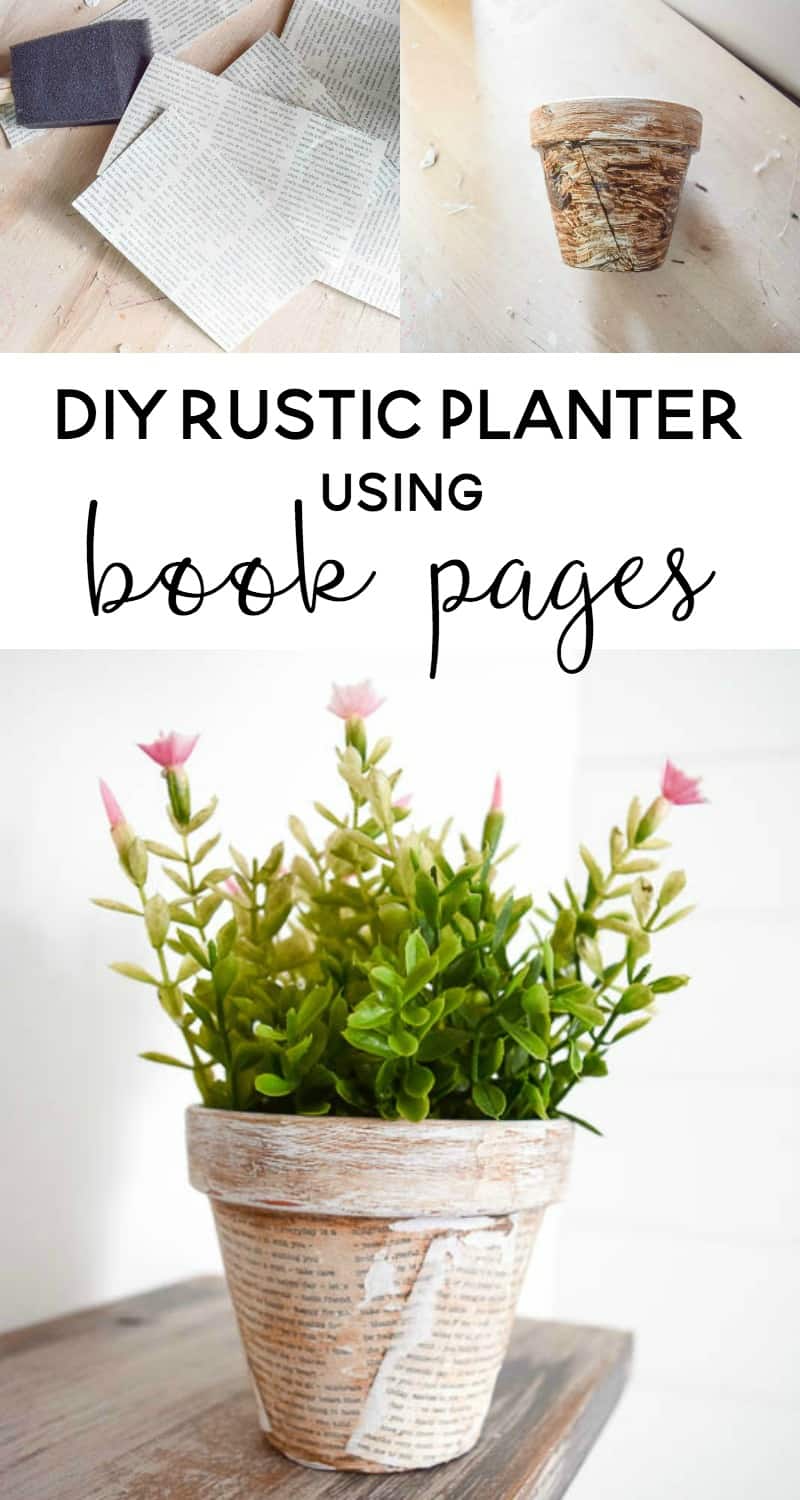 *This post contains affiliate links. Please see my full disclosure policy for more details*
Supplies:
First, I have to admit I totally cheated on using book pages. My favorite book ever is Pride and Prejudice. I've probably read it 1000 times and know it nearly line for line. My favorite quote from the book:
"In vain have I struggled, it will not do. You must allow me to tell you how ardently I admire and love you"
I was going to rip out the page with that quote on it to use for the planter but I just couldn't bring myself to do it!!
Then I thought about using a page from the Bible with a verse from our wedding. But, I'm pretty sure that's definitely not allowed.
With no spare book pages, I went to Michaels and found book page cardstock. It was 89 cents for one sheet, which was more than enough to cover the planter. You can't tell from the pictures it's not real, right?!
Okay, so after I cheated with the book pages, I cut up a few sections to the height of the planter.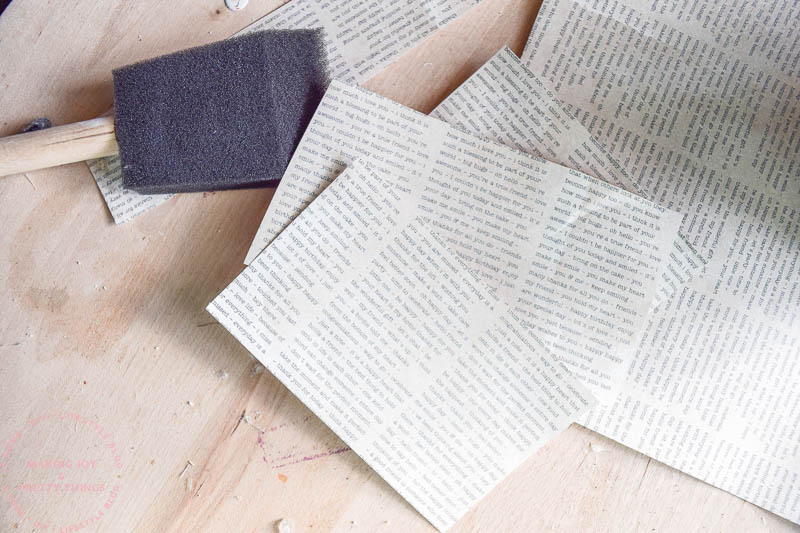 After painting the pot with chalked paint (my FAVORITE), I applied Mod Podge using the foam brush to the bottom part of the pot (under the upper rim).
Then, I placed the pieces of book pages over the Mod Podge. The pieces overlapped a bit and weren't completely straight. Once everything was covered, I applied another coat of Mod Podge over top of the book pages.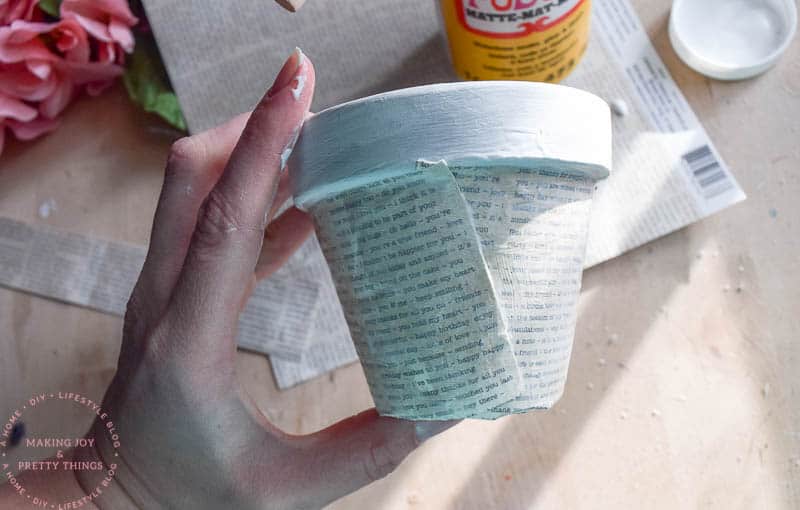 After that dried, I used a paper towel to liberally apply some antique wax all over the pot (including the upper rim).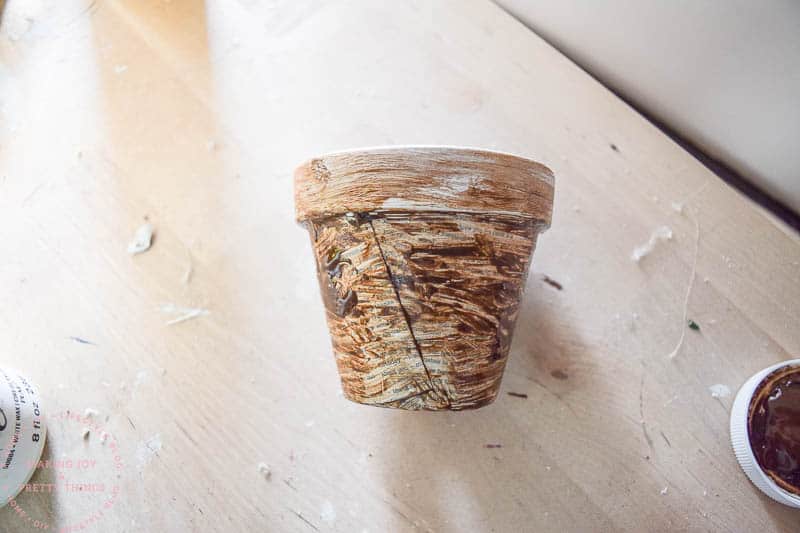 Then, I wiped off the excess with a clean paper towel. Don't leave it on too long! The wax dries really quickly.
Last, I gave the whole pot a quick sanding, focusing on the seams of the book pages to try and make it look a little more blended and rustic.
In the spirit of spring, I picked up some pretty pink blooms from Michaels and the little pot was complete! It's going to look perfect on the nursery's farmhouse shelves.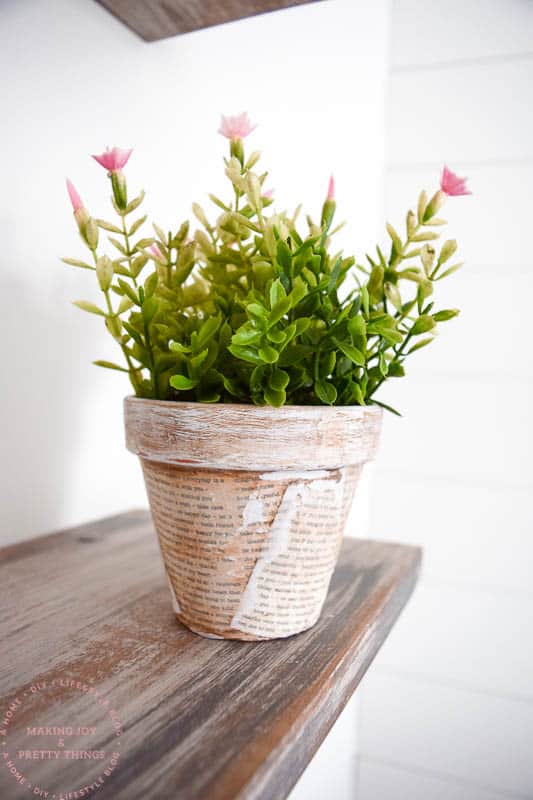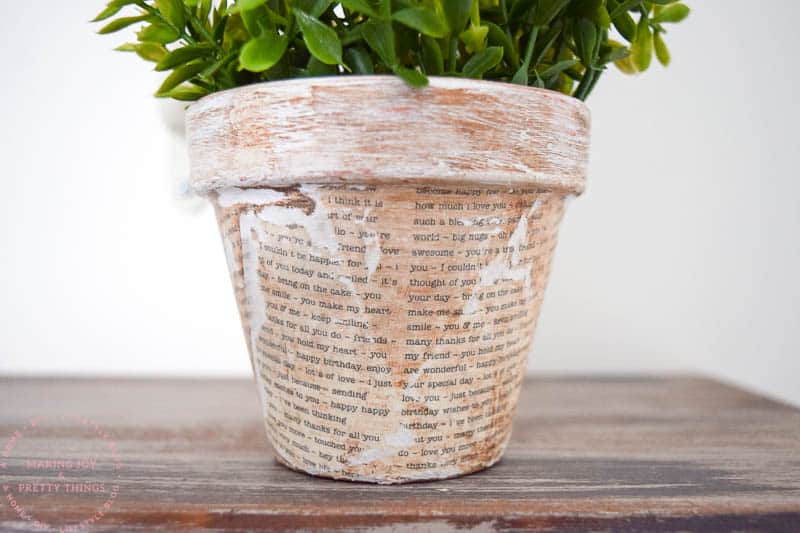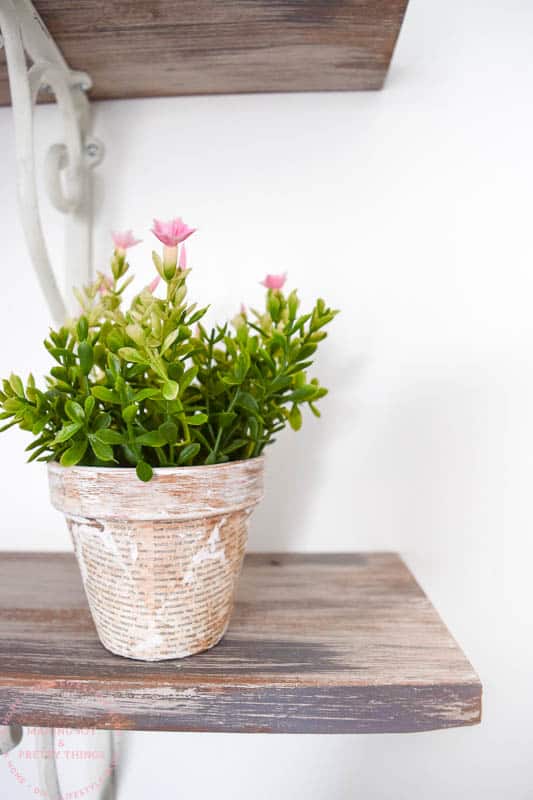 AND, check out what these other talented ladies came up with this month!! Who knew there was so much you could do with book pages?!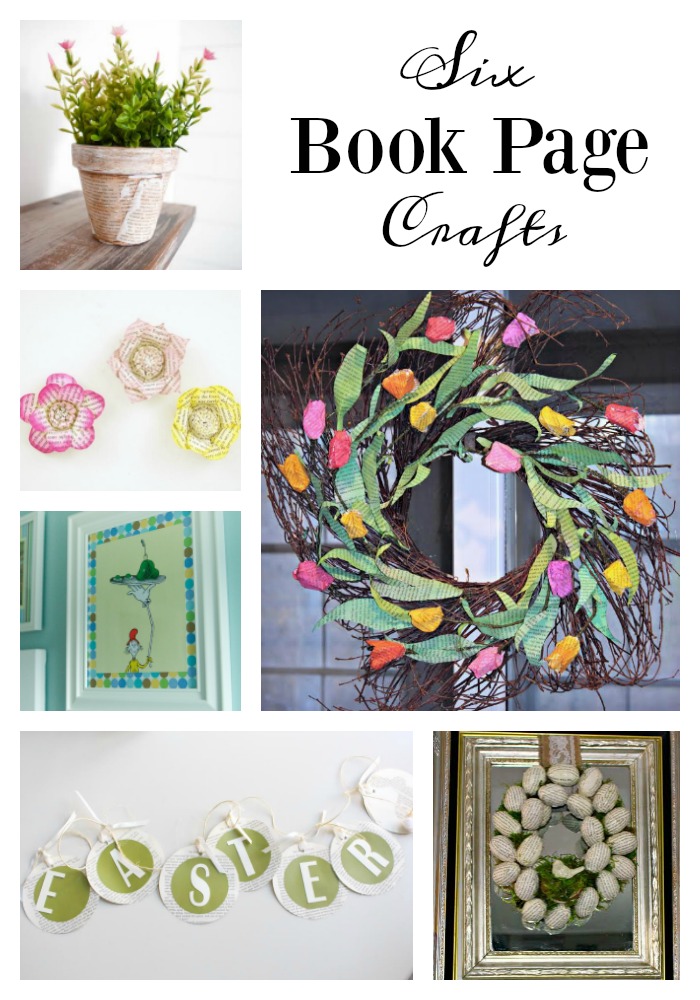 DIY Planter from Bookpages via Making Joy and Pretty Things (that's me!)
Easy Book Page Art via Little Bits of Home
Paper Tulip Wreath via Knock it Off Kim
Easter Book Page Banner via My Life from Home
Book Page Easter Egg Wreath via Our Crafty Mom
Wishing you a joyful day!