Modern Bathroom Mood Board
Come take a look at this modern bathroom mood board!  I'm sharing how to combine vintage items with mixed metals and modern lines to get that modern vintage look.
I have had both an amazing and terrifying time coming up with this modern bathroom mood board. I seriously can't wait to see it come to life but getting there is killing me!
Let's dive into all that went into this and figure out what this bathroom is going to look like!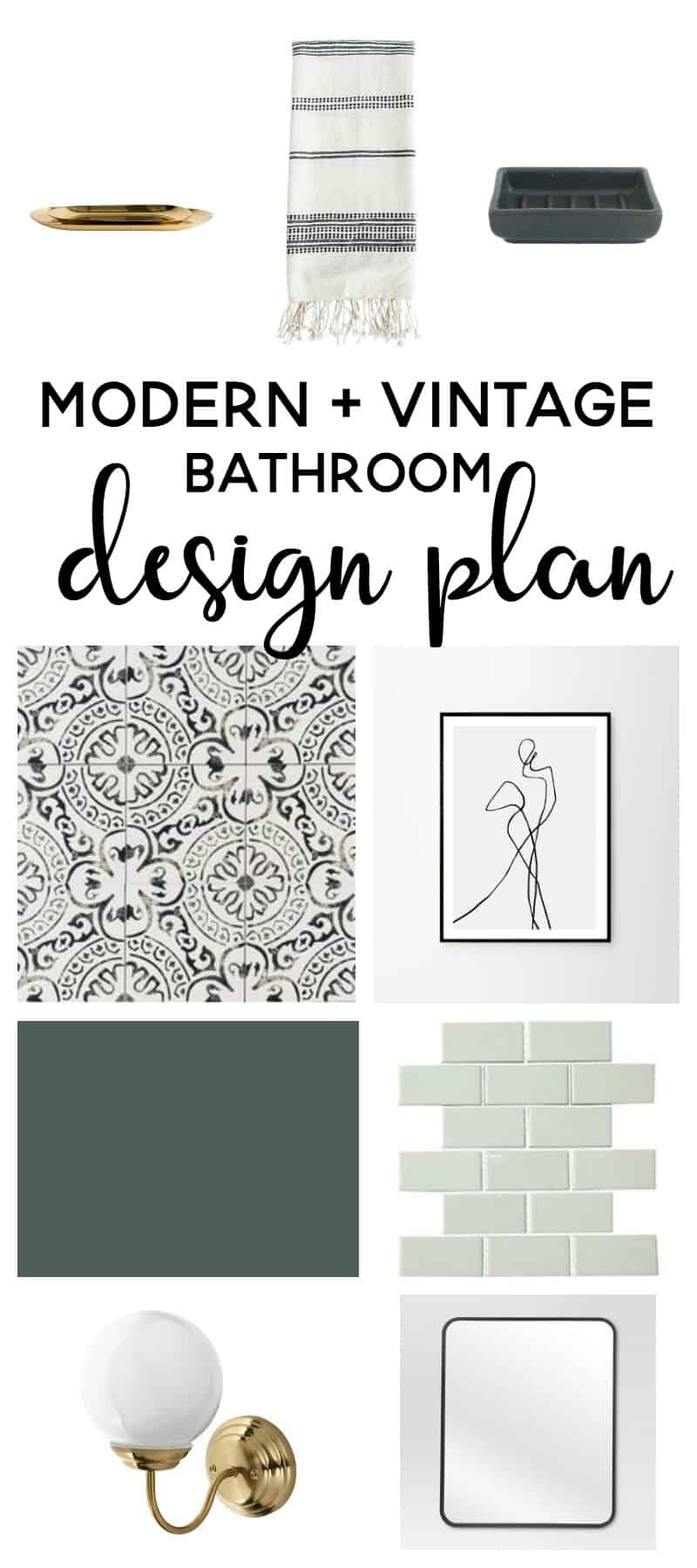 This post contains affiliate links. Please, click here to read my disclosure policy.
You guys, this bathroom is going to kill me.
It's not just a renovation. We are actually turning a closet into a bathroom. I sooooo wish we had the money to just pay someone to do this.
We were just at a wedding a few weeks ago and were told to write a little marriage advice on our place card setting for the bride and groom. Though we have only been married roughly 6 years, my advice is always the same.  
DO NOT RENOVATE A HOUSE.
So, because this is not just a small weekend project, I am SO nervous about undertaking such a huge renovation.  
We aren't necessarily on a timeline but we kinda are because we have a bunch of other things we have to get done before we move (hopefully in the Spring! YAY!!).
I'm so thankful for my husband (for SO many reasons) and the fact that he is even able to take on this project. It's going to just be him. And me. And I bring nothing to the table after coming up with the design.
Oh, right.  The modern bathroom mood board design.
That's what this post is about. (insert cry laughing emoji).
I have been mildly obsessing with the design plan for our master bathroom. Since I want to start this interior decorating business, I need to have a portfolio or at least a few examples of my "work". This bathroom will *hopefully* be a big part of that.
Then, there's this blog here and all the competition among bloggers.  And, there's just me, never settling for just an okay anything.
So, yes. It's been a process. Countless hours looking at finishes and designs and inspiration online. Shopping in stores. Ordering every tile sample ever made.
And finally, FINALLY, I have curated a complete design. I think (cry laughing emoji is also relevant here).
I shared a few weeks ago about our design inspiration for a modern vintage bathroom. You could also throw in "classic" or "timeless" but that's just too many words.
I guess it's a modern twist on a traditional bathroom featuring vintage elements. Huh?
Here's what the modern bathroom looks like now.
Please, don't be too jealous.
This area on the right-hand side will be where the vanity sits.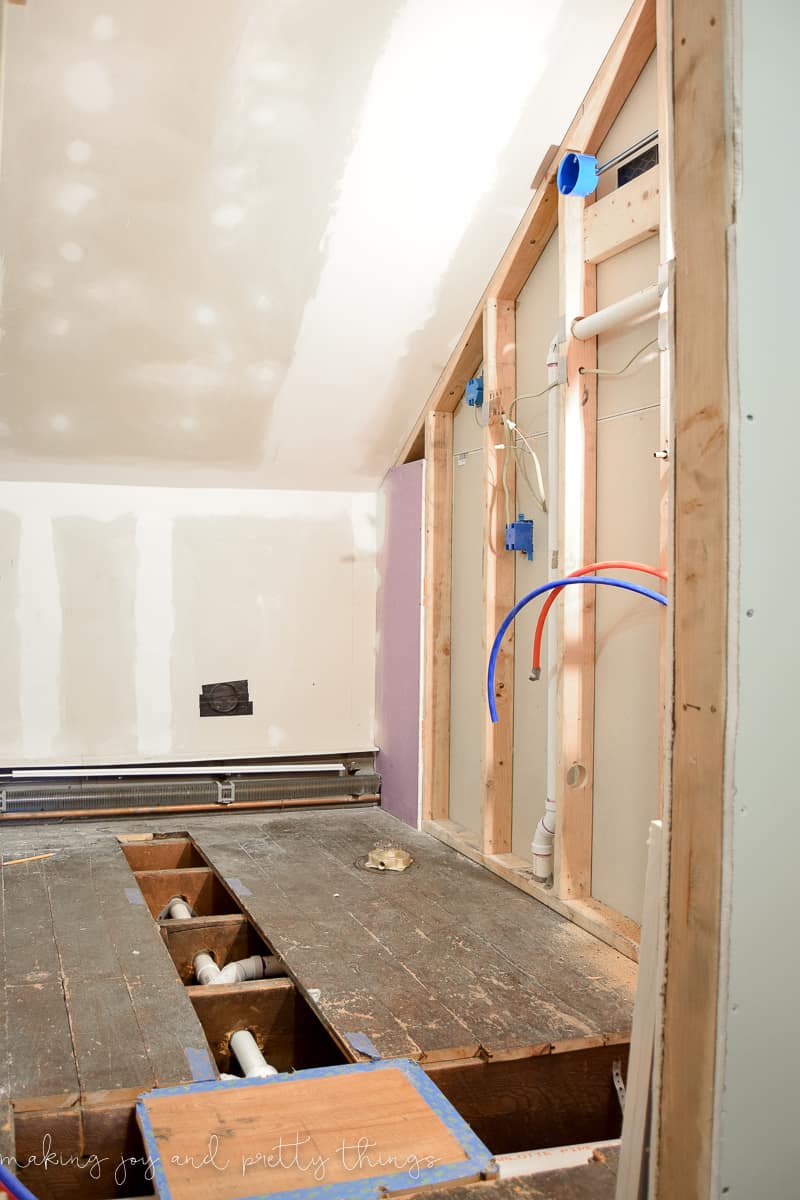 Along the back wall will be the standing tub and tub filler. Plus some open shelves. Still trying to figure out exactly what I want that corner to look like.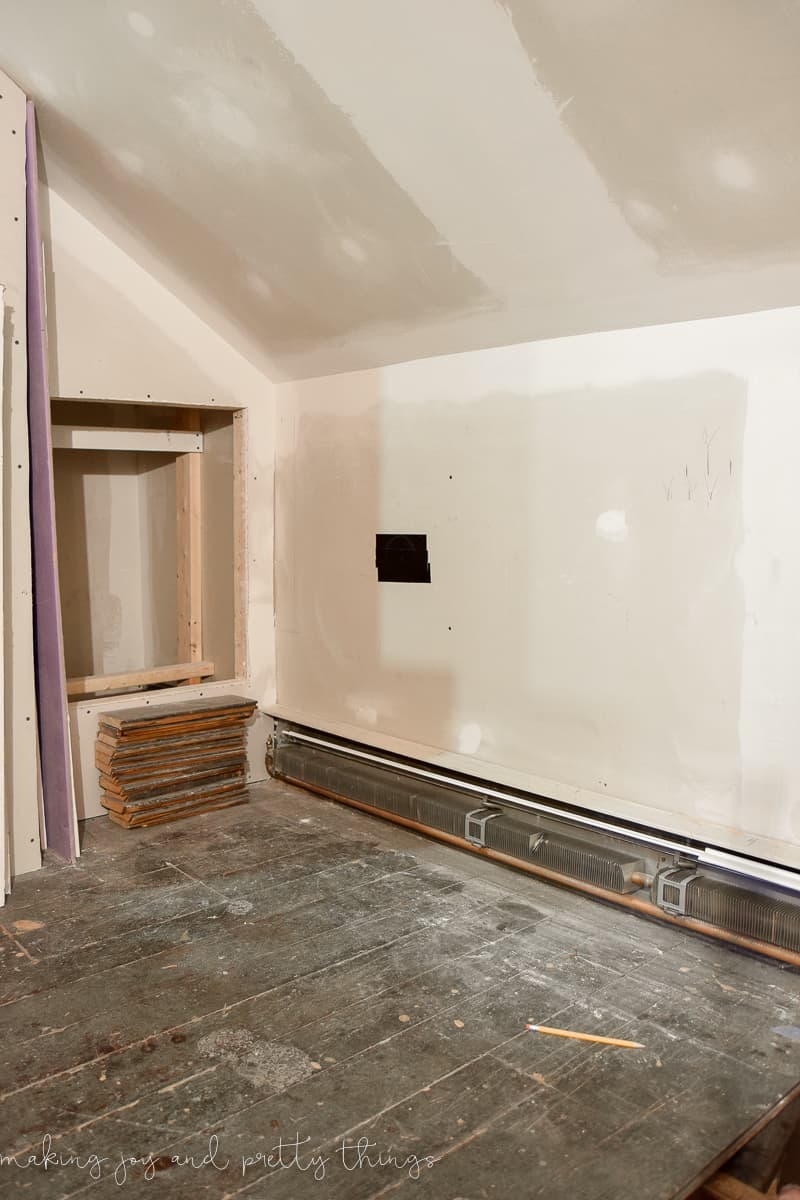 Here's a better look at the tub area.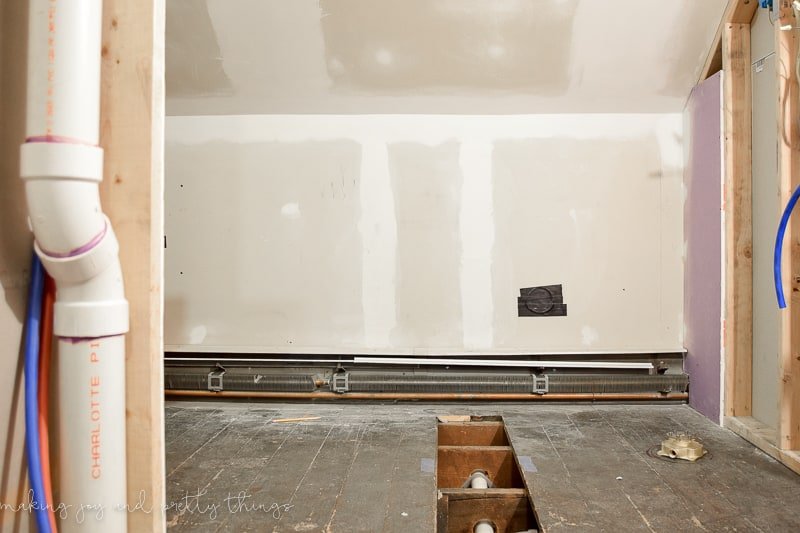 This hot mess will be where the toilet and shower go.  The shower is going to be kind of open I guess.  I'm looking into a custom glass piece for the little half-wall thing in the center.  
Since I saved a bunch with the fixtures I may be okay with splurging a bit on the glass.  We'll see.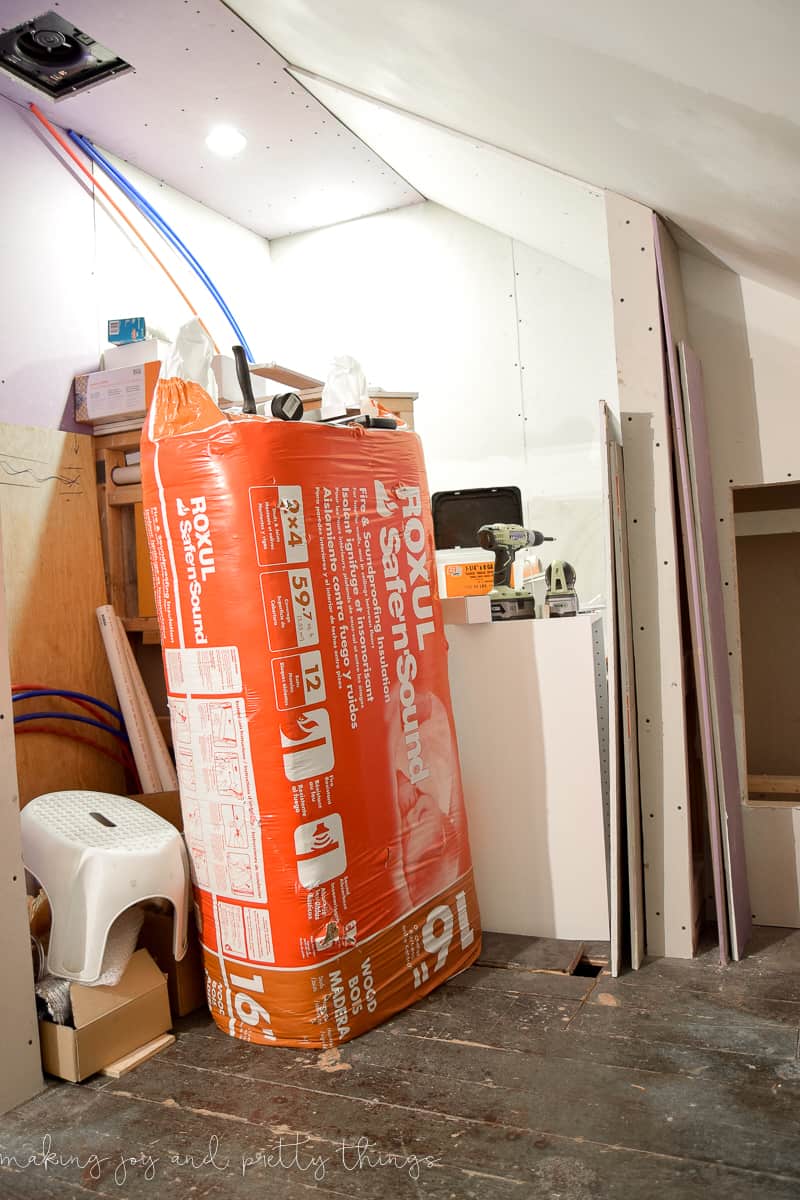 Looking right at the vanity, mirror, and sconce area here.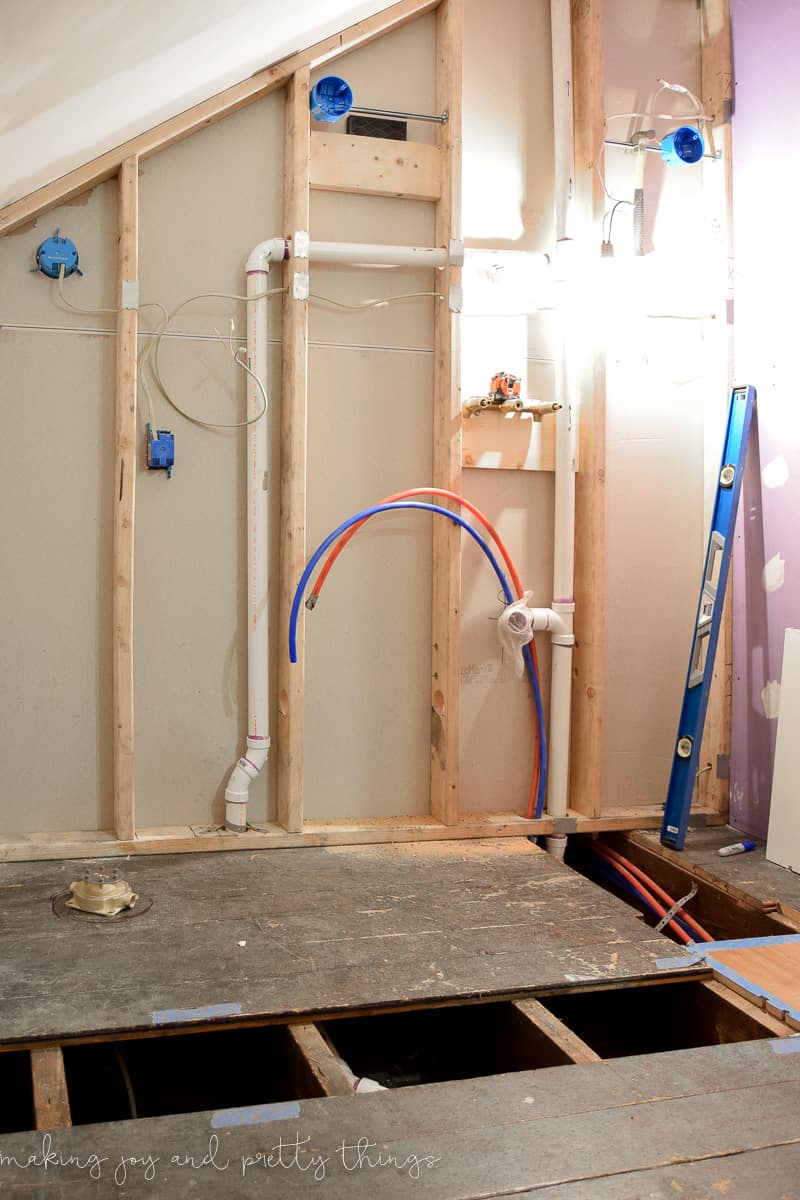 We have a long way to go.
Vanity for modern bathroom
The only thing I really knew I absolutely had to have in this bathroom was a dresser (or another old piece of furniture) turned into a vanity.
I even shared an entire post on dressers turned vanities.
Old dressers have a few advantages.  They are made of real wood (as opposed to many vanities now made of MDF, etc), they have pretty details, and they're unique (not builder-grade).  
The one-of-a-kind look is exactly what I'm going for.  I don't want our bathroom to look like just another builder-grade bathroom.
We found that absolutely perfect old dresser a few weeks ago and have already started the process of turning it into a vanity.
I'm envisioning something like this vanity from Wit & Delight except not pink and with its original brass knobs/handles.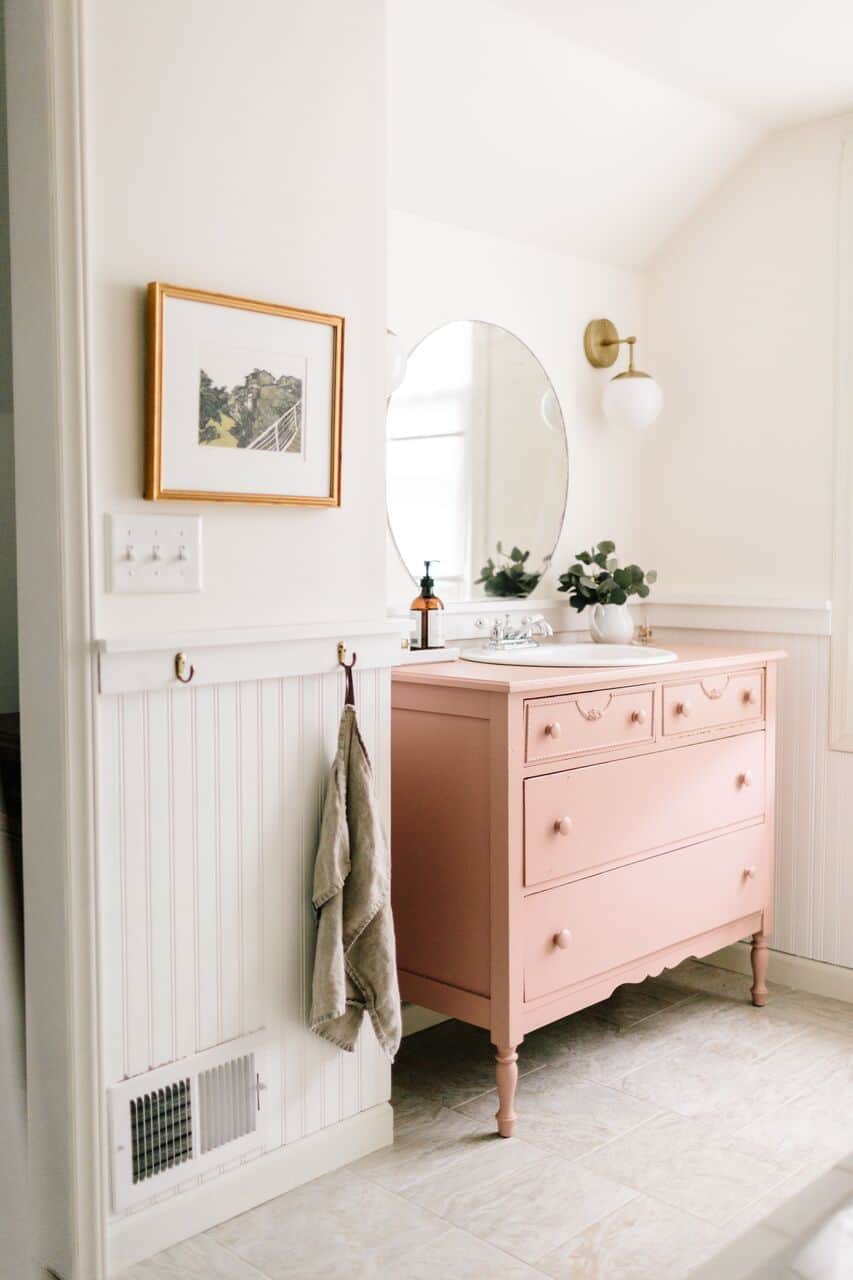 The dresser we found has the perfect look –  unique embellishments on its legs and drawers, wavy-looking drawers, old brass hardware, and a curved front (perfect for a sink).  
I realize I sound like an old lady when I say this BUT they really don't make furniture like this anymore.  Or, at least not within my budget.
Mood board paint colors
After picking out the dresser turned vanity, I started thinking about paint colors. There are few things I hate more than picking out paint colors. Talk about an overwhelming process!
For the walls, I'm going to keep them neutral with white.  I picked up a sample of Simply White by Benjamin Moore and I love it!  It's really a clean, crisp white that will really brighten up a windowless bathroom.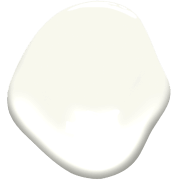 That was an easy choice.
Next came choosing the vanity paint color.  Do I keep the color as it is now?  Do I paint it white, black, blue, gray, green, turquoise, neon pink, or yellow?
I only considered a few of those choices but it really did seem like I looked at every/single/paint color ever invented.
I'm going, to be honest.  I still haven't 100% decided.
I've narrowed it down to these colors. Which would you choose?

Tile for the modern bathroom mood board
Oh, the tile.  Just like with the paint colors, there are entirely too many tile choices.
Picking the tile was probably the hardest part of the entire bathroom design.  I went back and forth between a more traditional marble tile, patterned cement tile, every shape tile, and different color tile.
I finally decided on this pretty patterned porcelain tile for the floors. Other options I considered were basketweave marble and large marble hexagons.
I ended up choosing the patterned porcelain tile because it felt unique and different. Since I decided earlier on to not just have a predictable, builder-grade bathroom, I knew I had to push the design a bit further.
Choosing a style for the modern bathroom
Of course, there's nothing wrong with a traditional bathroom.  There's a reason the same products are used in most bathrooms.  They're timeless and beautiful and liked by a wide variety of people across different design styles.
I wanted this bathroom to be unique (sick of that word yet?), to stand out, to push trendy, and to not look like "just another bathroom".  Most of all, I wanted it to be replicable and budget-friendly.  
Don't get me wrong, you can't completely gut a bathroom renovation (or in our case start from scratch) without spending a ton of money.  But, you don't have to spend all the money to get a beautiful bathroom.
Finding a beautiful patterned tile
That's where the patterned tile comes in.  I'd love to have included real patterned cement tile but I didn't want to pay for it.  I stumbled across this patterned porcelain tile from Wayfair.  
Kind of an aside here but ORDER SAMPLES.  I know I've joked about all the samples I ordered.  But, ordering all the samples and seeing them in my hands, in the bathroom, and what they ACTUALLY looked like, changed my mind about what I wanted.  I'm so glad I ordered samples!!!
I didn't even know Wayfair sold tile.  After chatting with a few fellow bloggers who had ordered tile from Wayfair, I decided to order the sample.
Note: The tile is currently sold out at Wayfair. You can also purchase it at Home Depot.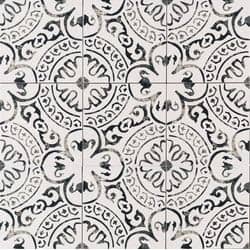 And, I instantly fell in love with it!!  It's fun and catches your eye without being too dramatic or overbearing.  It felt "old" which I thought would pair well with the old dresser vanity.
I liked that it was white and grayish black so it would go with anything else I decided on in the bathroom.
Remaining tile for the modern bathroom mood board
Since the floor tile would be so bold, I wanted the rest of the tile to compliment it AND be simple.  To me, there's nothing better than a simple subway tile.  
We didn't want to lay every single piece of tile so I found some subway mosaic tile!  It's nothing fancy but I think with dark grout it will mesh well with everything else.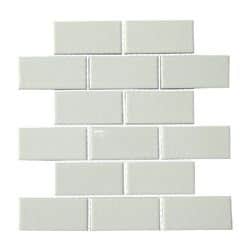 The floor of the shower (I think?) is going to be either porcelain penny tile or mini hexagons like this. After making the "big" tile decisions, I needed to take a break from decision-making.  So, it's still up in the air 😉
Tub, Shower, and Faucets
I knew from day one that I wanted a big soaking tub.
This one from American Standard is what dreams are made of.  If people dream of bathtubs?  Anyway, it looks huge but it actually fits perfectly in our awkwardly small and oddly shaped bathroom.  
It's clean and modern and white and amazing.   The best part though?  The FILLER!  LOOOVEEE the tub filler.
I can't wait to see everything installed. I'm not much of a bath person but you bet I'll sit in this tub.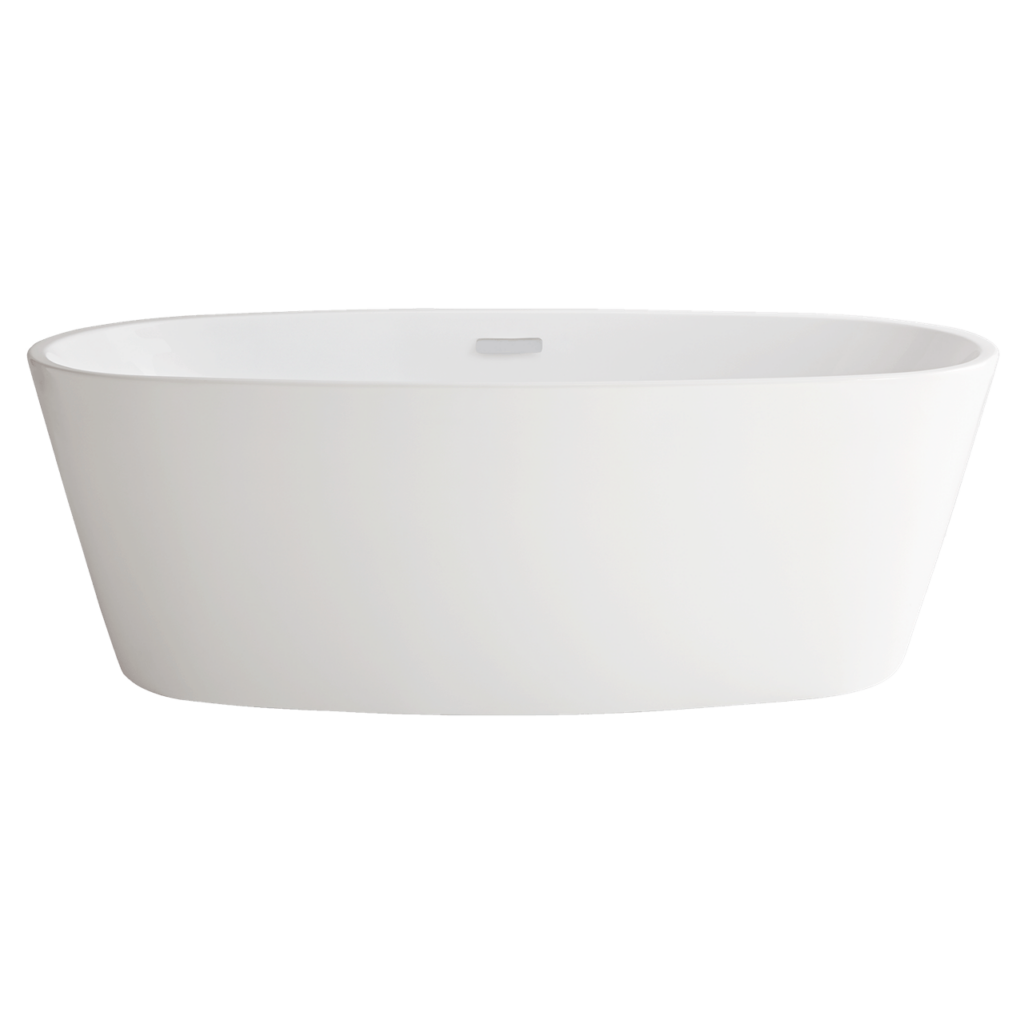 We are going to do a vessel sink. Not the bowl kind (ew). Something rectangular and simple and white.
To pair with the modern tub and tub filler, I chose a modern wall-mounted sink faucet.  I love the clean, modern lines of the faucet and how it pairs so well with the tub filler.  
Plus, I'm really liking the idea of having a modern faucet with the old dresser/vanity. Perfect combo!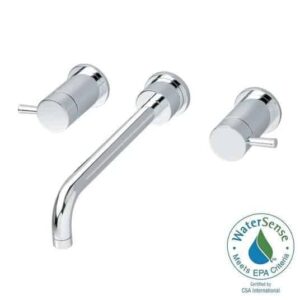 Finishing touches for the modern bathroom mood board
Lastly, the finishing touches and details.  AKA, my favorite part.
I talked a few weeks ago about mixing metals in the bathroom so it's not much of a surprise that I'm planning on mixing metals in our bathroom! Brass and chrome to be exact. With a hint of black 🙂
The dresser has beautiful brass knobs and pulls that just need a little polishing to bring them back to life.
I talked above about using polished chrome pretty much everywhere in the bathroom. There's a ton of it, so it will definitely feel cohesive.
The second accent metal is brass! I couldn't just have brass on the dresser vanity SO I scoured the internet for the perfect brass sconces.
Since we have the sloped ceiling by where the vanity will sit, it was really hard to find sconces that would fit that weren't $500 a piece.
When I found these ones at IKEA, I knew they would be perfect! And, they're only $20 a piece!! They look just as pretty in person as they do online. (They'll be flipped facing down in the bathroom).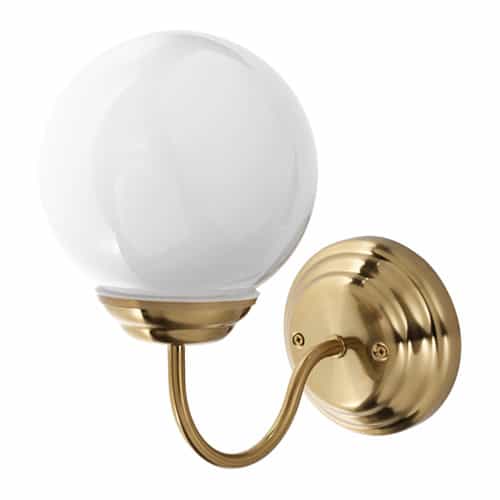 I had my eye on a mirror from Rejuvenation but I just couldn't justify that price.  This mirror from Target is almost identical and for a fraction of the price.  I'm not 100% convinced it's big enough.  I won't know for sure until the faucet and scones are up!
Aren't they so similar?! The price difference is just craziness.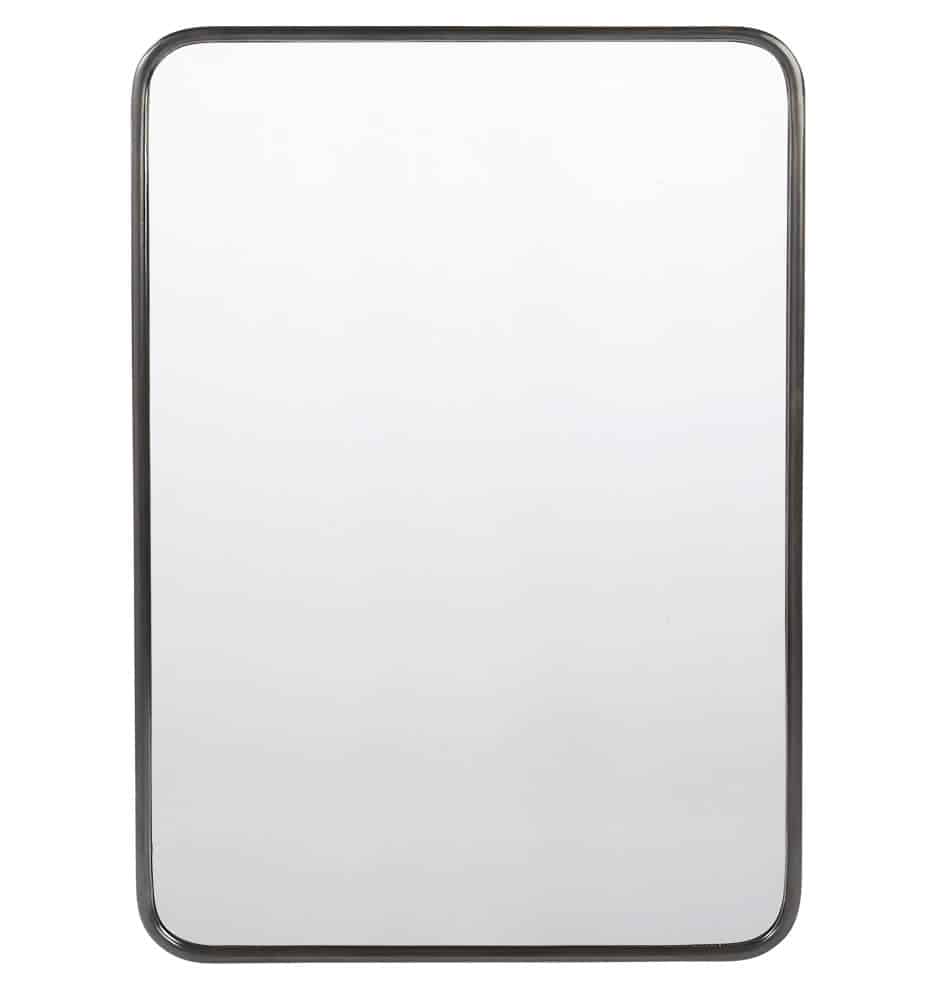 For the rest of the room, I'm still up in the air about a lot of things.
I need to figure out the open shelving next to the tub and behind the toilet.  I want to add an art piece somewhere.  Probably by the toilet.  
I love abstract or minimalistic art at the moment, especially anything about love and beauty.  This is one of my favorites right now.
Then, I get to add in all the little details. I could shop for things like this all day. Oh right, I pretty much already do.
This is where I get to tie it all together.  The modern, the vintage, and the different metals.
So many words in this modern bathroom mood board post.   When I'm nervous or excited or upset I tend to ramble.  So, sorry if this post is a bit of a long ramble. 🙂
We have already done a lot of work since I took the pictures of the bathroom.  Can't wait to share everything we've done soon!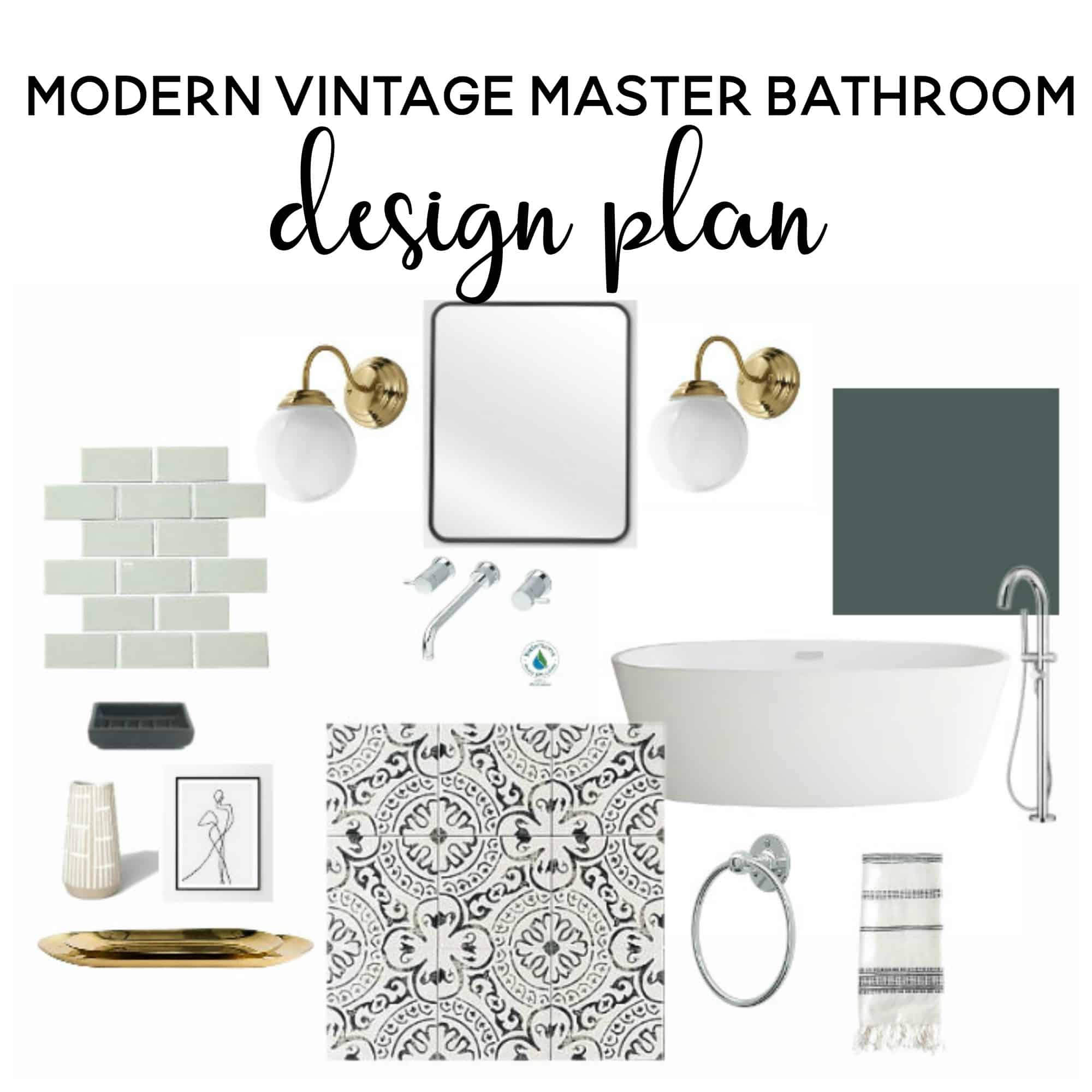 Completely unrelated to anything I just talked about – I am so inspired by strong people, strong words, and just strength in general.  I try to be strong when I can but lately have been feeling weak, and unlovable.
One of my favorite places to go to find strength and guidance and encouragement is through art and in poems or just words (which apparently I'm not good at "words" today).  
This is one of my absolute favorite quotes right now.  I hope we can all find our light.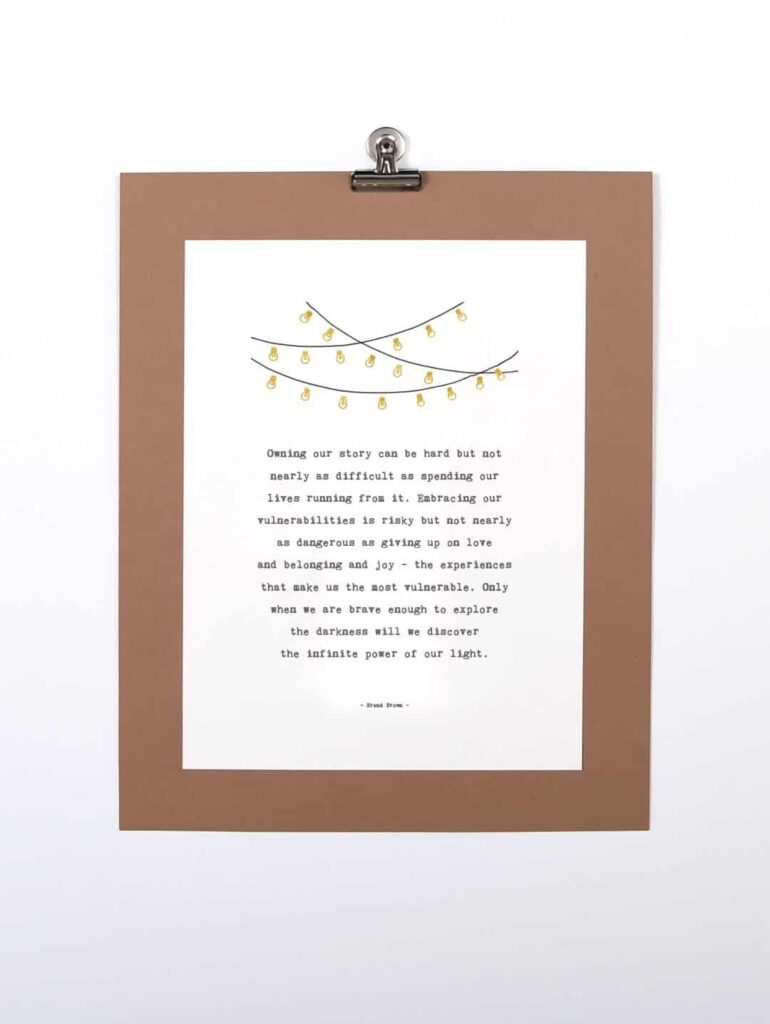 Wishing you a joyful day!