Floral Wallpaper Ideas for a Nursery or Little Girl's Bedroom
Designing a little girl's nursery and thinking about adding wallpaper? Get inspired with these beautiful floral wallpaper ideas for a nursery or girl's room! Bring in the beauty of nature by using wallpaper with flowers in your little girl's space.
We are knee-deep in dreaming up the design for Evie's big girl room as we move her into a new room and make room for our new baby girl in the room that Evie's been using. (More all about Evie's design plan later).
But if you're reading this article and saw that title, you probably already guessed one of the major things we're adding to her room as a focal point. Yep, that's right! Floral wallpaper!
Tips for choosing wallpaper for your nursery
Wallpaper is a great way to add more character or color to a baby's room or kid's room. But choosing the wallpaper can certainly be overwhelming. Heck, you'll even see that I looked through over 80 different wallpaper designs with floral patterns before narrowing things down.
I'm sharing all of the floral wallpaper ideas with you at the bottom of this article, so keep reading if that is what you're looking for!
If you're overwhelmed in choosing a good wallpaper for your nursery, here are some tips:
Think about your nursery's color scheme: What comes first – the color scheme or the wallpaper design? Well, it is up to you! You may have existing furniture or paint colors that you're keeping in the room, in that case, you'll want to choose a wallpaper design with colors that complement. If you're starting from complete scratch, you can start by choosing your favorite wallpaper and building the rest of the color palette and design for your daughter's nursery around that.
Determine the amount of light the room gets: If the nursery gets a lot of natural light, you may want to choose a lighter wallpaper, while a room with less light can handle a darker or bolder pattern. Keep in mind that you'll definitely want to invest in some blackout curtains no matter what so you can make it dark so your little one can have sweet dreams during nap time.
Consider the nursery's size: Large and busy wallpaper patterns can overwhelm small rooms, while a small pattern may get lost in a large room. If having wallpaper on all 4 walls is too much for you, you can do a statement wall or just install it on the top half or bottom half of the walls. There are so many fun wallpaper murals that are great for putting in a child's room!
Consider the wall's texture: If your walls have a lot of texture, you'll need to make a plan for how to smooth it out before installing wallpaper. Some wallpapers will work better than others on walls with a bit of texture, so be sure to read the instructions on the wallpaper you choose to know whether you need to completely smooth the walls first or not.
Don't forget about removal: Keep in mind that wallpaper can be difficult to remove, so choose a design that you can live with for a while and will grow with your daughter as she gets older and her tastes change.
Take your time: Picking wallpaper is like picking paint. It takes a while to get exactly what you're looking for. It isn't something that I would recommend rushing.
Order samples: Dreaming over wallpaper for your nursery design is fun online, but when it comes time to start making decisions and finalizing color palettes, you definitely need to order samples of your wallpaper. You'll be able to tell so much more by actually holding the wallpaper in your hands. You can touch and feel it to make sure it is good quality. You'll also be able to have a better idea of the true colors and how they look in your space with the lighting.
Check the production time: Some wallpapers will be ready to ship in as little as 2-3 business days, but others may take a couple of months…which can really put a damper on things when you're working with a timeline like having a baby! Before you get your heart set on a certain wallpaper for your floral nursery, make sure it fits your timing.
Types of wallpaper to choose from
There are so many different types of wallpaper, so if you've never purchased wallpaper before. From the type of wallpaper material to the application style, there are a lot of decisions to make.
Types of wallpaper material
The material that your wallpaper is made out of makes a big difference in its durability, price point, and installation. These are the most common types of wallpaper.
Each type has its own unique characteristics and benefits, so it's important to choose one that works best for your needs and preferences.
Vinyl wallpaper: This type of wallpaper is water-resistant, durable, and easy to clean (in fact you can even scrub it!). This makes it a great choice for a baby room, playrooms, kitchens, bathrooms, and any other high-moisture areas.
Fabric wallpaper: Made of natural or synthetic fibers, this type of wallpaper adds a soft, luxurious feel to a room and can be used to create a textured effect. Fabric wallpaper shouldn't be used in a space with high moisture, so it is a good choice for a bedroom.
Paper wallpaper: This is the most traditional wallpaper and is made from paper or pulp. It's usually inexpensive, but not as durable as vinyl or fabric options. Wallpaper made from paper can tear or scratch easily.
Grasscloth wallpaper: Made from natural fibers such as jute, bamboo, or hemp, grasscloth wallpaper adds a textured, natural, and organic feel to a room It is generally more expensive than the other wallpaper materials and can be harder for beginners to install. Grasscloth wallpaper is also not washable, so it may not be a great idea for a kid's room.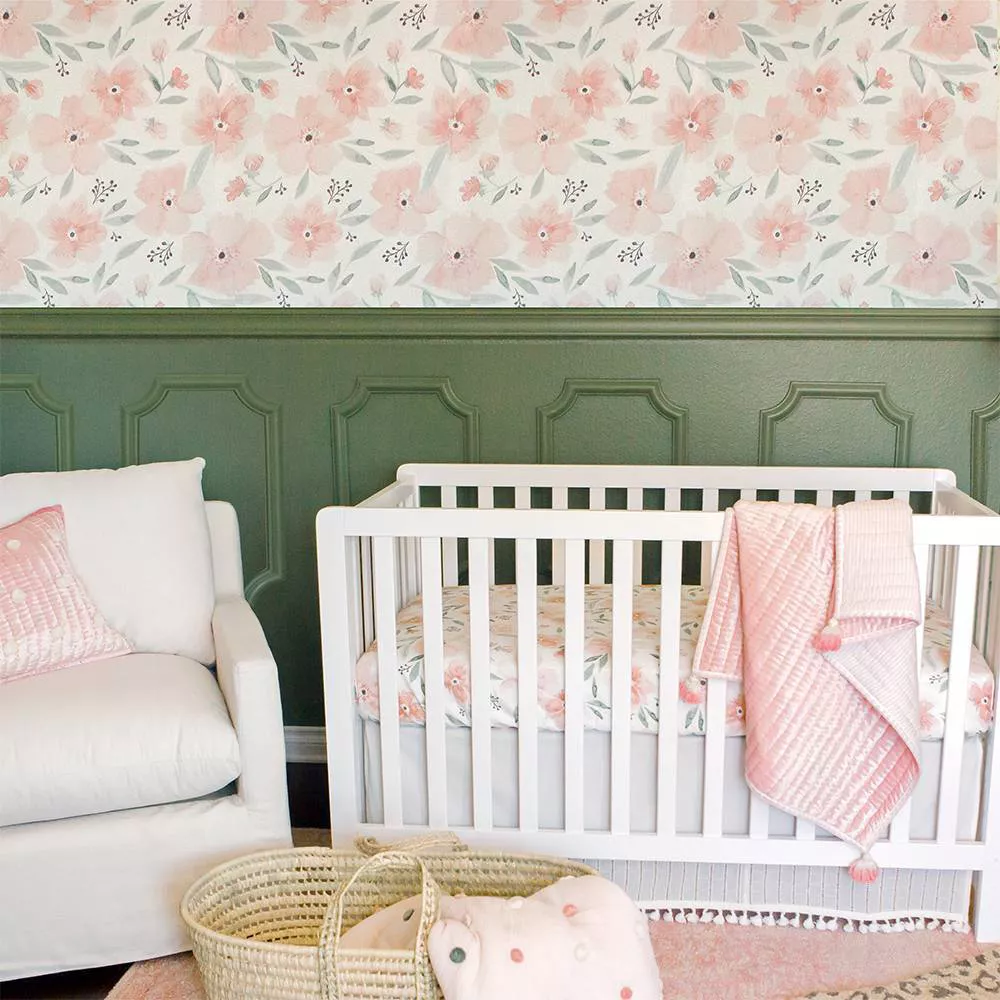 Application types of wallpaper
There are a few different styles of wallpaper applications. The differences are huge, especially if you're going to be installing it yourself.
Some wallpaper designs allow you to choose between peel-and-stick or paste wallpaper, which gives you a little more flexibility.
Self-adhesive wallpaper (aka peel and stick wallpaper): As the name suggests, this type of wallpaper has an adhesive backing (like a sticker), making it easy to apply without the need for paste. This removable type of wallpaper is designed to be easily replaced, making it a popular choice for renters or those who like to change up their décor frequently. Your little girl will probably start to have opinions about her room design as she gets older so this could be a good choice for a nursery room! However, a bit of a disclaimer here is that your little ones could discover a corner of the peel-and-stick wallpaper and have fun peeling it off the wall themselves if left unattended!
Non-pasted wallpaper: This wallpaper does not come prepared with adhesive so you'll need to buy wallpaper paste and use it to add the wallpaper to your walls. This process can be pretty messy and difficult to do yourself, but this type of wallpaper tends to be the most durable and long-lasting. However it is very hard to remove, so keep that in mind.
Pre-pasted wallpaper: This wallpaper has water-activated adhesive on the backside of the wallpaper. All you have to do is just add some water and the wallpaper is ready for application. No messy wallpaper paste is required. Though quick and easy, this application style, unfortunately, doesn't last quite as long as the others.
Wall decals vs wall murals vs wallpaper
When choosing a wall covering for your nursery, you can the option to do wall decals, wall murals, or wallpaper.
Wall decals are large stickers to be placed on a wall. Usually made out of vinyl and applied with a peel-and-stick method, they cover a small area with a design rather than covering the whole wall as with murals and wallpaper. A girl's nursery is a perfect place for floral wall decals! Just add a few large flowers to the wall for some extra character.
A wall mural is a large image that covers a wall and shows an entire picture, rather than a repeating pattern. A wall mural is often customized to fit the specific dimensions of a room or wall. They can be made from a variety of materials (vinyl, paper, or fabric) and may be applied like a peel-and-stick decal or pre-pasted or non-pasted wallpaper. A mural feature is usually just used on one wall in a room.
Wallpaper is designed as a repeating pattern. It is usually sold in rolls of standard width and length and must be trimmed to fit the dimensions of each wall. Wallpaper can be used as a feature on one wall as an accent or on all 4 walls of a space. Floral designs are one of the most popular patterns of wallpaper so you shouldn't have any trouble finding something that you love.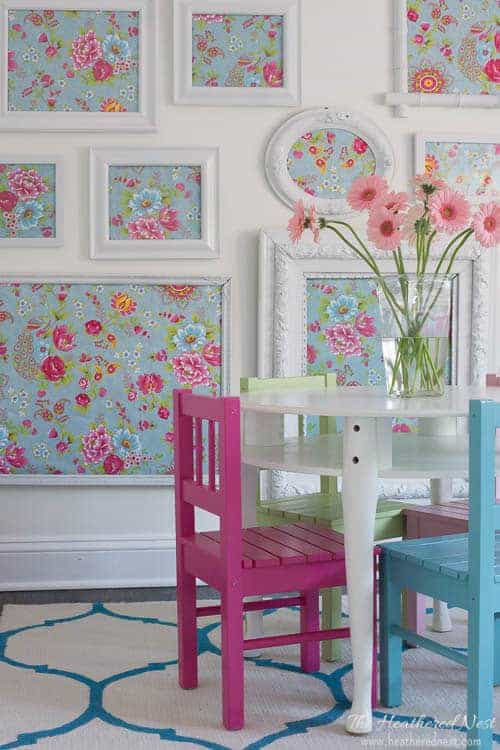 Wallpaper in our home
We've used wallpaper in a few of our past projects too!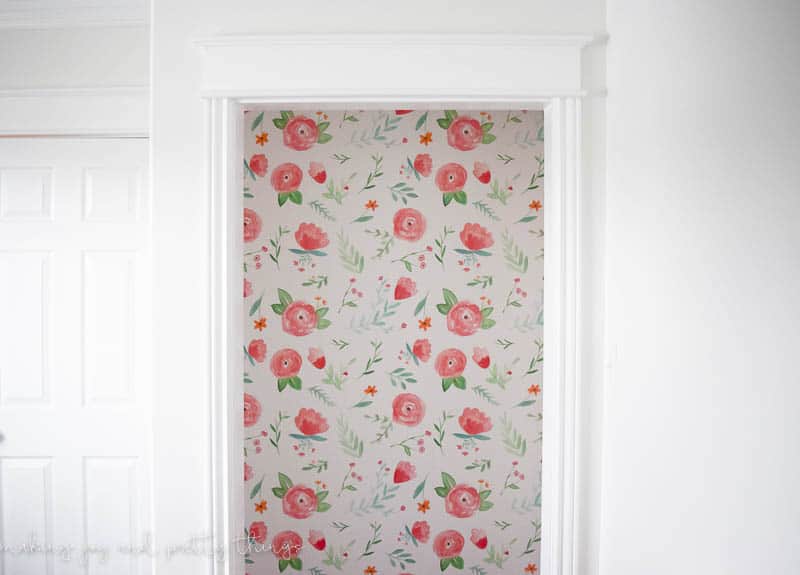 Why we're switching gears to Evie's big girl room
Since I had a mini breakdown over the fact that I'm due in 6 weeks, we decided to start working on Evie's big girl room and take a break from the living room renovation project.
Miss Evie currently sleeps in what will be her little sister's room. AND she is still in the crib. She's lasted the longest in the crib by far. Both the boys were climbing out of the crib ridiculously early.
Since we need that crib for the new baby, we need to transition Evie to a big girl bed AND a new room, all before the baby comes.
YIKES!
Before pictures: Evie's room
Here's what Evie's new room looked like for our new home tour last year.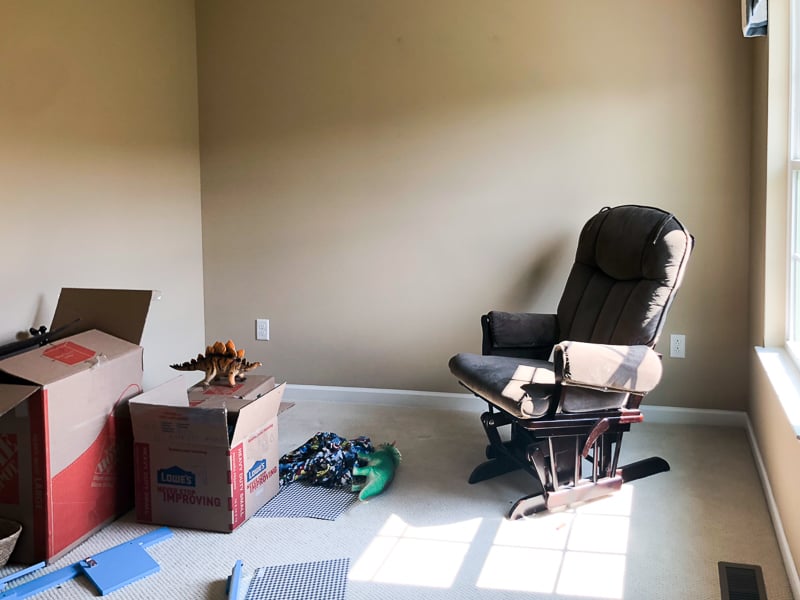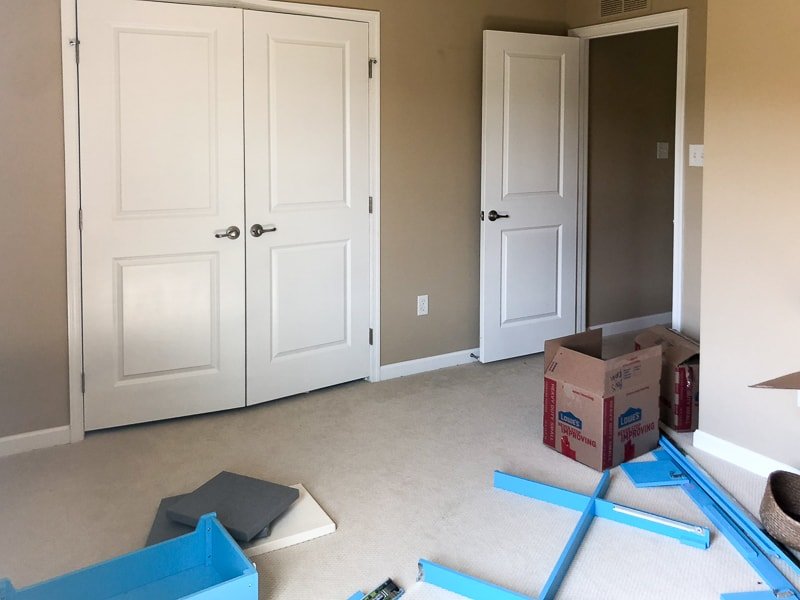 It basically looks the same now – maybe a little more cluttered!
We've been using it as a junk room, a room to throw stuff that we don't know what to do with, and a room to store my design paraphernalia (like paint swatches and fabric samples).
Big Girl Bedroom: The Plan
I know I want to do board and batten around the entire perimeter of the room. Then my plan is to add wallpaper on top of that. And we're going with a flower pattern for the wallpaper. After all, it is a little girl's room and nothing says "girl" more than flowers.
Evie has loved "helping" pick the floral wallpaper and the board and batten color, which we were going back and forth between pink and green.
We're on the hunt for everything from paint colors to curtains (can't quite decide between white or pink curtains). Once we got the paint color and wallpaper selected, the rest of the decisions came pretty easily. It is going to be such a special place for our little Evie!
Read more: We shared the whole design plan in this article (along with tons of big girl bedroom ideas!
Floral Wallpaper Ideas for Nursery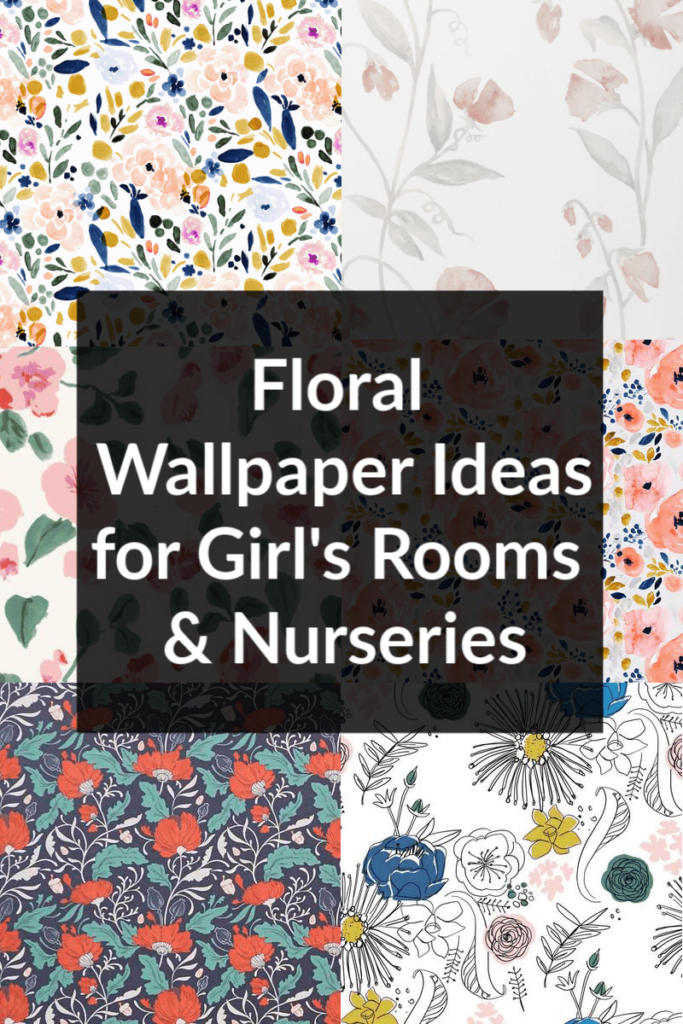 I've included TONS of floral wallpaper options for you below… In fact, there are over 80 here from a lot of different sources. Everything from Anthropologie to Walmart. I included both neutral tones and bright colors because you can really go either way you want in a nursery.
True story, I looked at ALL of these floral wallpaper ideas before narrowing our choices down. I ordered about 10 samples before further narrowing it down to just two options.
Let's take a look at some floral wallpaper options!
Are you ready to see what floral wallpaper design we landed on for Evie's room?
Ding ding ding…this Sierra Floral wallpaper from Spoonflower was the winner for us for Evie's new bedroom.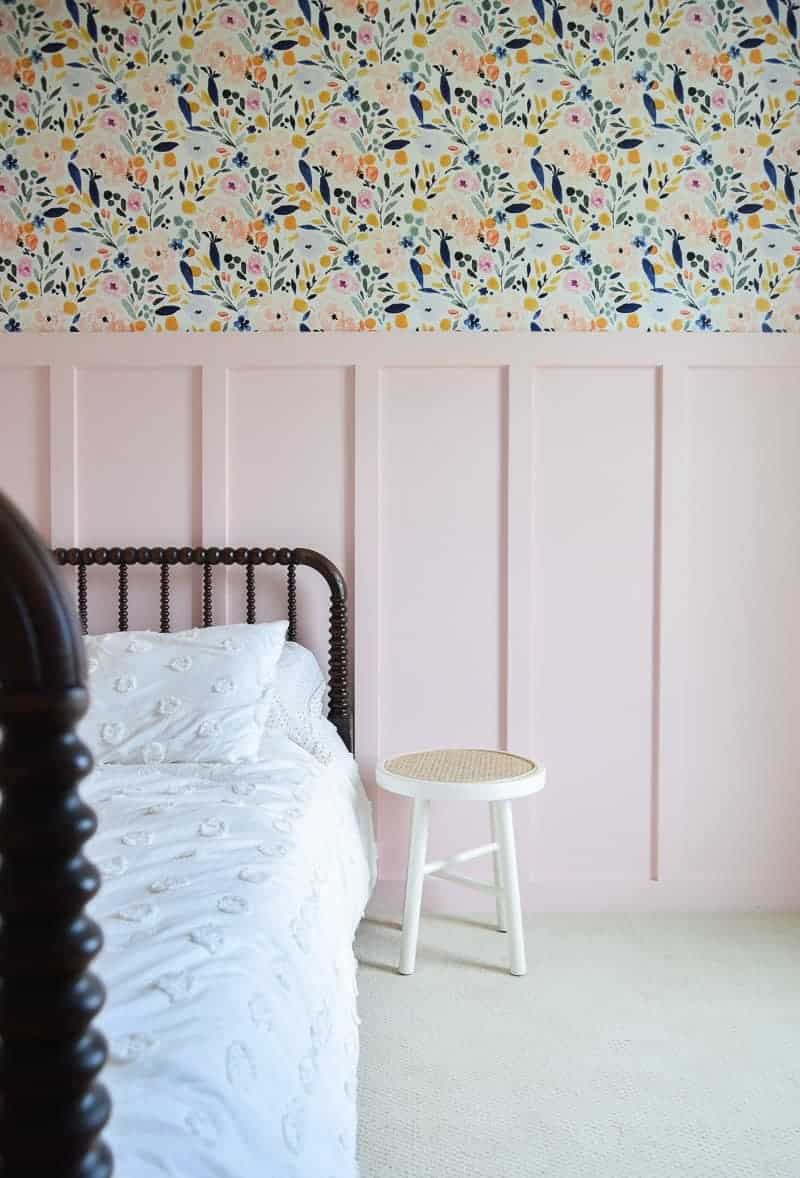 I love the subtle watercolor look of the flowers and all of the various colors used! It's a wonderful mix of pink, yellow, green, blue, and orange.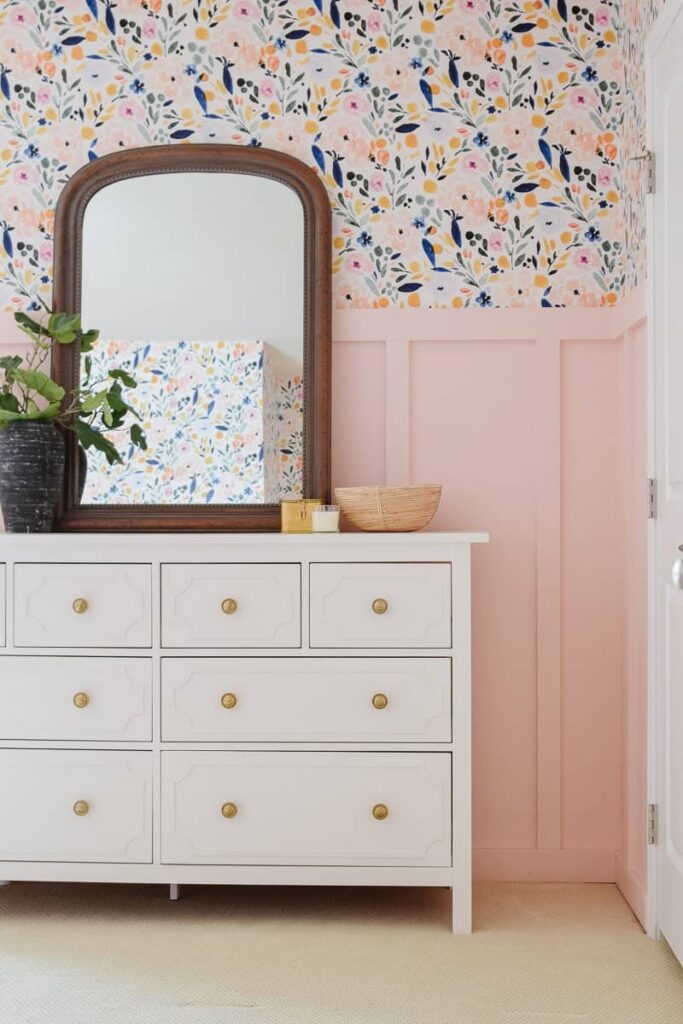 It matches so great with the color we used for the board and batten, which is called Dream Whip by Benjamin Moore.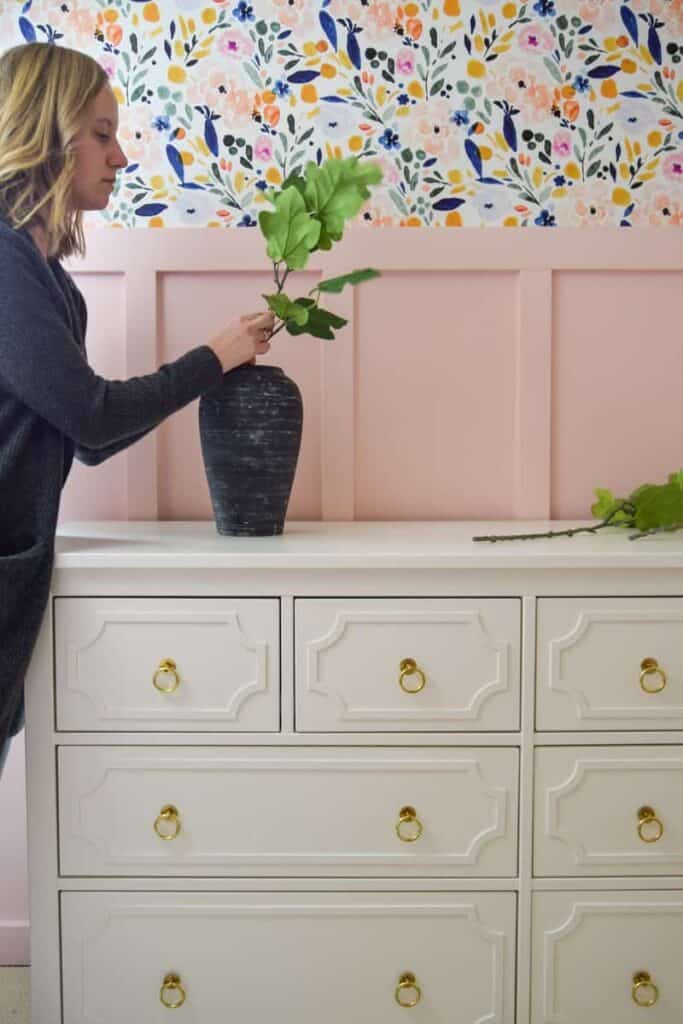 Which of these floral wallpaper ideas for a nursery is your favorite?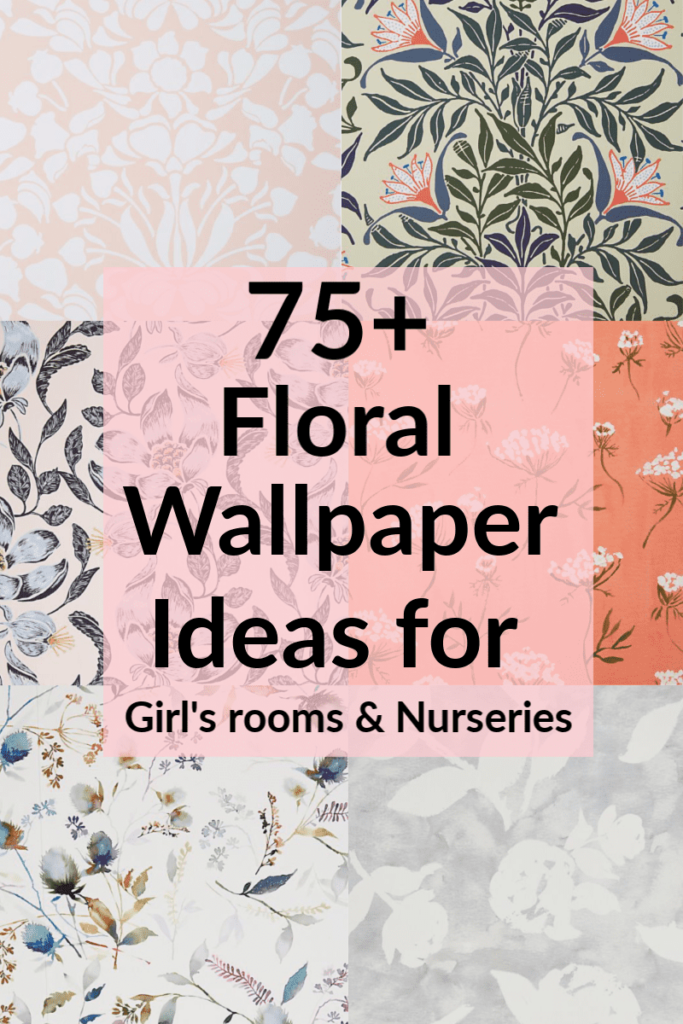 Want to see more of Evie's bedroom makeover?