39+ Big Girl Bedroom Ideas (And Evie's Big Girl Room Mood Board)
Are you working on updating your daughter's room? Check out these 30+ colorful, fun, and practical big girl bedroom ideas to get inspired! From little princess themed rooms for preschoolers to boho style girl's rooms for preteens and tweens, there's something here for everyone!
There comes a time for every kid's room to be transitioned from a nursery with a crib or toddler bed to a big kid room with a bigger bed. At this young age, your little one may or may not have any opinions about how they would like their bedroom decorated.
This post contains affiliate links. Please, click here to read my disclosure policy.
Here are some tips for designing a big girl bedroom that will last through the years:
Avoid designing an entire bedroom around a theme of something they are totally "into" right now – like Frozen. If they insist on an Elsa-themed room, find a simple way to incorporate it – like with a blue color scheme, for instance. You can also incorporate other types of themes through things that are easy and relatively inexpensive to change, like a gallery wall or accent pillows on the bed.
Go for adult-sized furniture instead of smaller furniture that will only last you a couple of years (or less).
Don't forget to think about plenty of storage! As your little girl matures, there will be more and more things that she needs to keep in her bedroom. A chest of drawers is the perfect place for all of her clothes, but don't forget to think about things like storing toys, books, and shoes. Incorporating a storage bed, like this, could be a good option for you.
Blackout curtains are a must! By simply closing the curtains, your daughter will be able to sleep soundly even when there is light outside. Yes, please to sleeping in on Saturday mornings!
To instantly make the room look like it is meant for older children, you can add simple things like changing out the bedding with different patterns, custom art, string lights, or a hanging chair.
Before we jump into sharing everything we have planned for Evie's big girl bedroom, let's get inspired with some beautiful big girl bedroom ideas!
---
Evie's Big Girl Bedroom: Design Plan and Mood Board
Since we put the living room project on hold, we've been full speed ahead with Evie's Big Girl Room plans!
We're moving her to our current spare (aka junk) room to make room for the new baby due in 4 weeks! I know the new baby will sleep in our room for a while. BUT, we need the crib that Evie still currently sleeps in for the new baby!
The transition from crib to bed is one of the most challenging things we've done as parents. At least with Liam. Charlie transitioned himself and also potty trained himself haha! Liam, that was a whole other story. We spent HOURS (literally, hours) every night getting him to go to sleep in his new big boy bed. Obviously, we were first-time parents with him and probably had a horrible plan, I don't even remember. But, I still remember that transition and dread it!!
So, our real urgency here is getting miss Evie transitioned to sleeping in a real bed and not her crib. Before the baby comes in 4 (or 6) weeks. No pressure, right?
Evie's Room: Before Pictures
Here is what Evie's room looked like for our new home tour!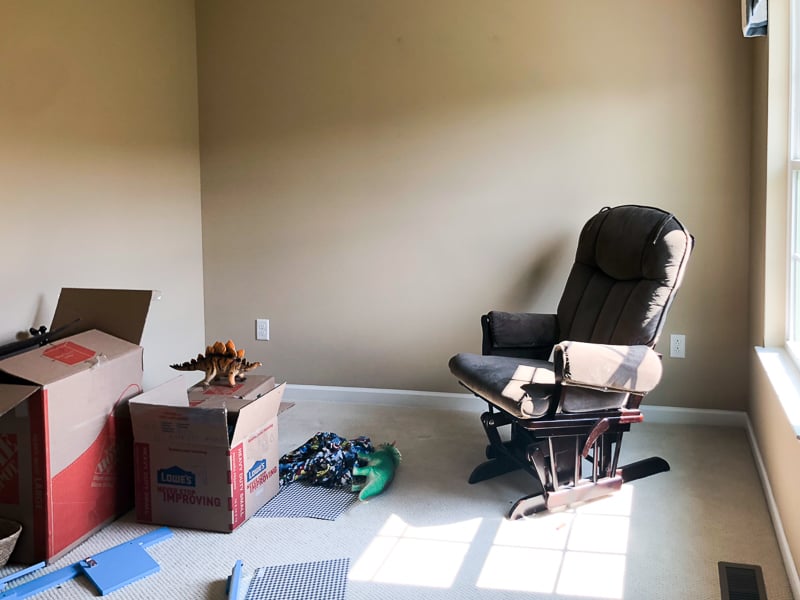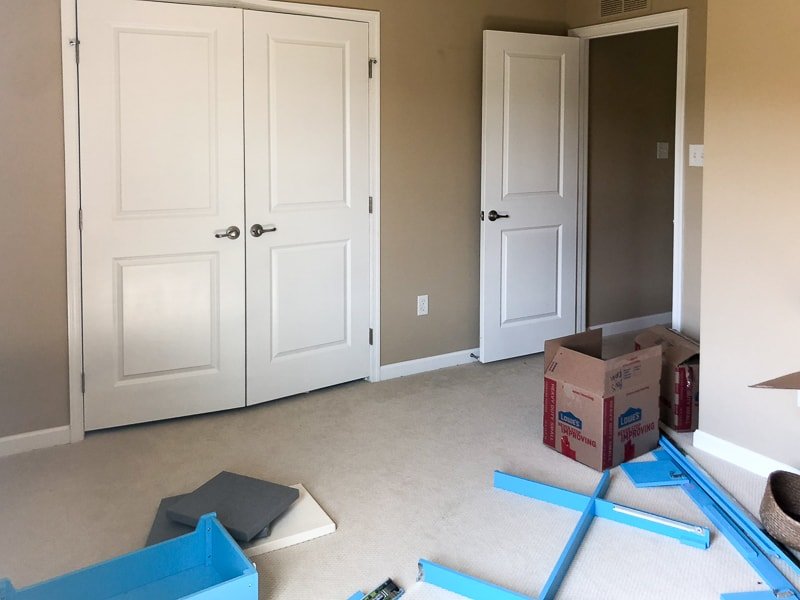 I'm definitely envisioning a fun, girly space for Evie. She LOVES pink. It's the only color she can accurately identify. Every other color is "blue" 🙂
Plus, I knew I wanted to add some wallpaper and some architectural interest to an otherwise boring room.
Evie's Big Girl Bedroom: Design Plan
Wallpaper
A few weeks ago, I shared some floral wallpaper ideas I was considering for her room plus a ton of my favorite floral wallpaper ideas perfect for girl's bedrooms!
We decided on this wallpaper from Spoonflower. We're going to use the water-activated wallpaper, the same kind we used in her nursery closet.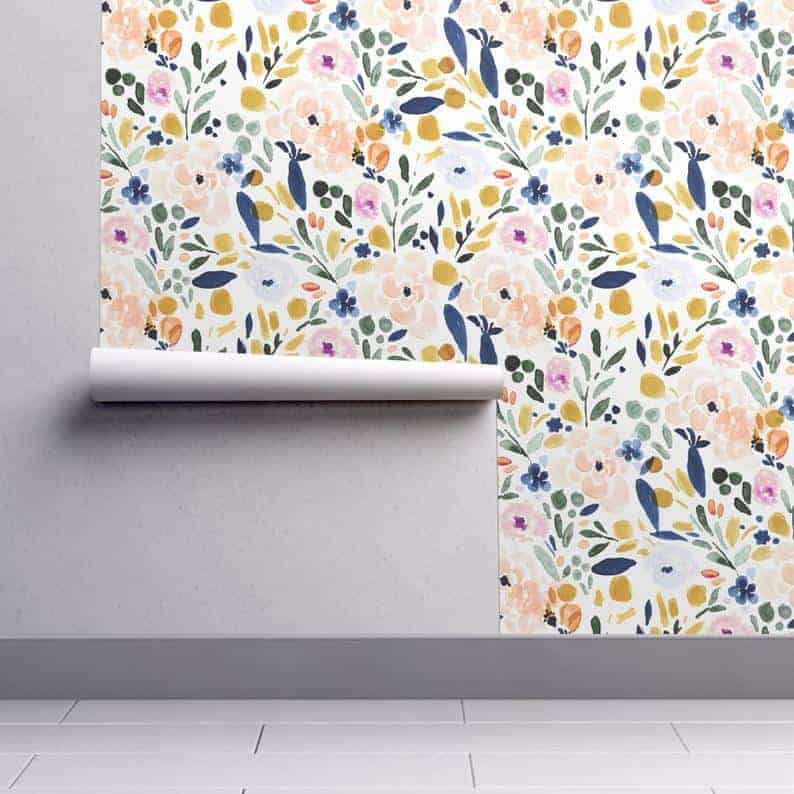 I decided to use water-activated as opposed to peel-and-stick because it was cheaper!
You can order custom lengths of wallpaper on Spoonflower which is really nice since we are only putting it above the board and batten in her room and don't need a 12ft long sheet.
Paint color for the board and batten
After picking out 500 samples of green and pink, we FINALLY decided on the perfect peachy pink called Dream Whip by Benjamin Moore.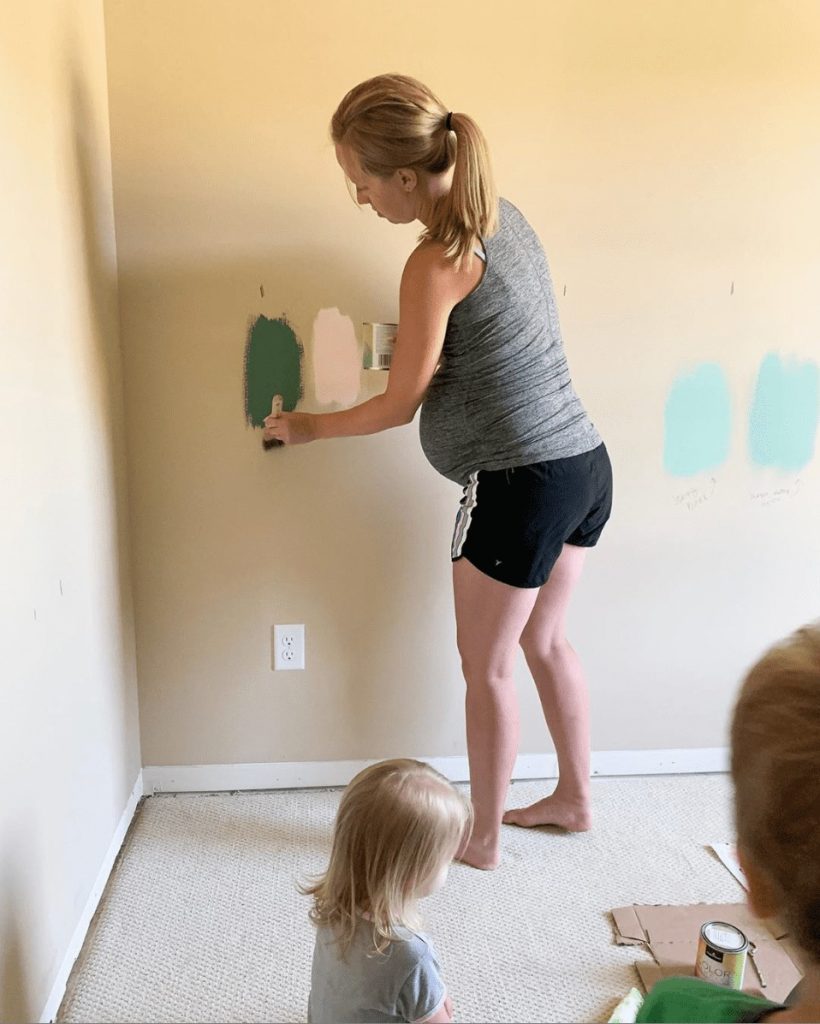 I really wanted the green color in general. But, Evie LOVES pink so much that I felt like pink was the best choice for her room.
From there it was just about picking the finishing pieces.
I just fell in love with the vintage Jenny Lind bed we found for her room. Here's something similar.
We don't want to hardwire sconces or a chandelier at this time because we just don't have time.  
I fell in love with this dresser but could not justify the price. So, we are going to IKEA hack our own for a fraction of the cost. Check out the finished IKEA Hemnes dresser hack with O'verlays here!
Originally I was digging this ottoman as a bedside table, but then I went a different direction and made this easy DIY cane nightstand!
I really want her bedding to be bright, just like she is.  I love this yellow quilt and how it compliments the wallpaper.
Last, I want to add an arched mirror above her dresser. I'm loving this one right now.
I can't decide if I want to get an area rug for her room or not.  It currently has a light-colored carpet that's *fine*.  I'm worried about finding something that doesn't overpower the board and batten + wallpaper.  I put this one into the mood board below, but I think I'll decide after the rest of the big girl room is finished!
Big Girl Bedroom Mood Board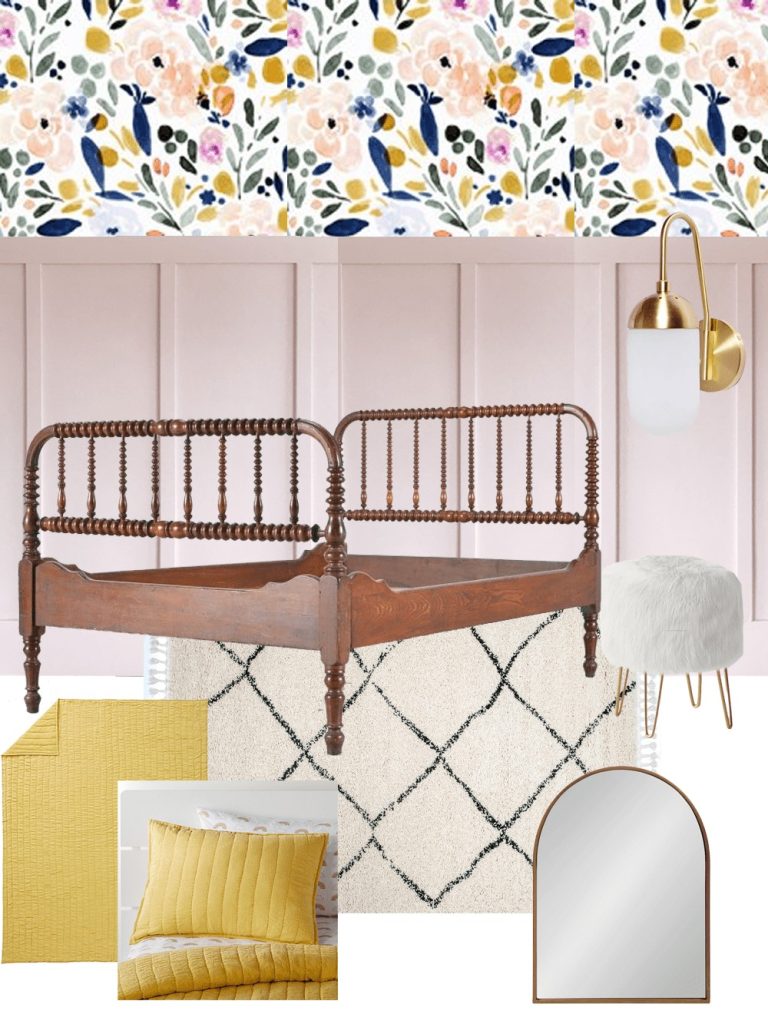 Big Girl Bedroom Mood Board Sources:
And a close-up of the dresser section: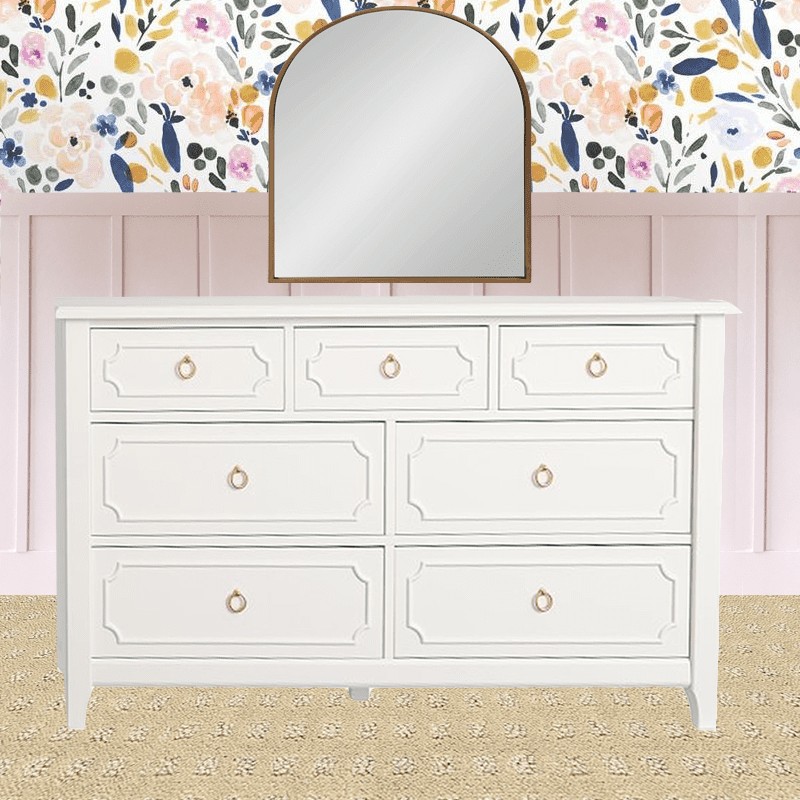 Big Girl Bedroom Floor Plan
Here's a general floor plan for her big girl room.  We decided to put the bed against the corner because it was her first time sleeping not in a crib, so that closes up one side.
And while she hardly moves at all, we want to minimize falling out of bed. We'll get one of those detachable rails for the other side of her bed!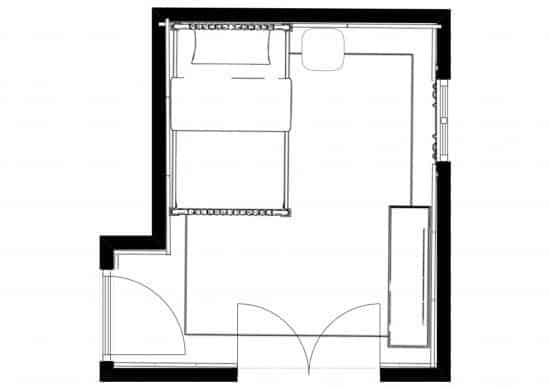 And finally, a 3D rendering of what her room will look like! EEEKKKK! I'm so excited!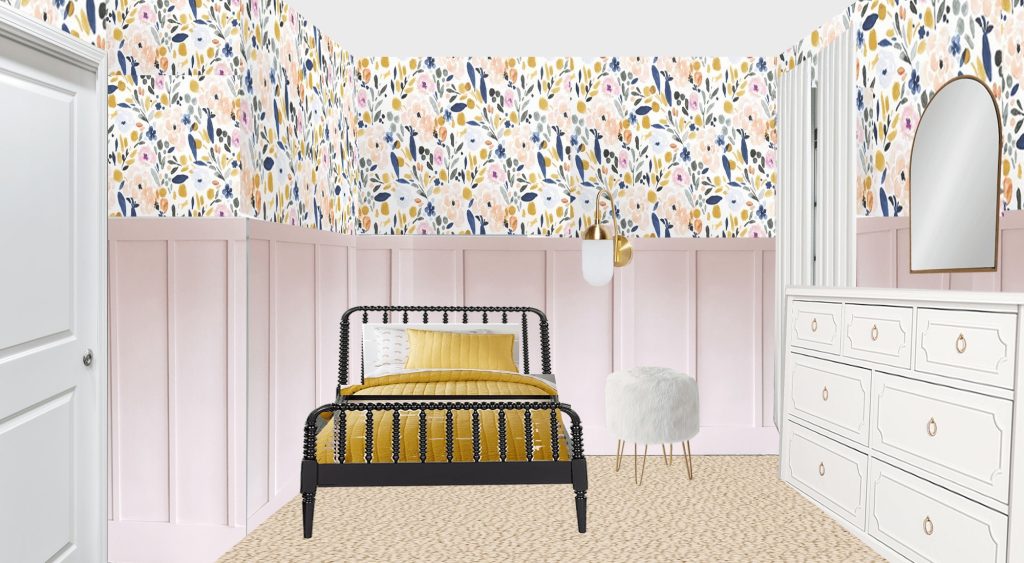 We're going to prime the room this weekend and start on the board and batten!
Shop The Post: Evie's Big Girl Room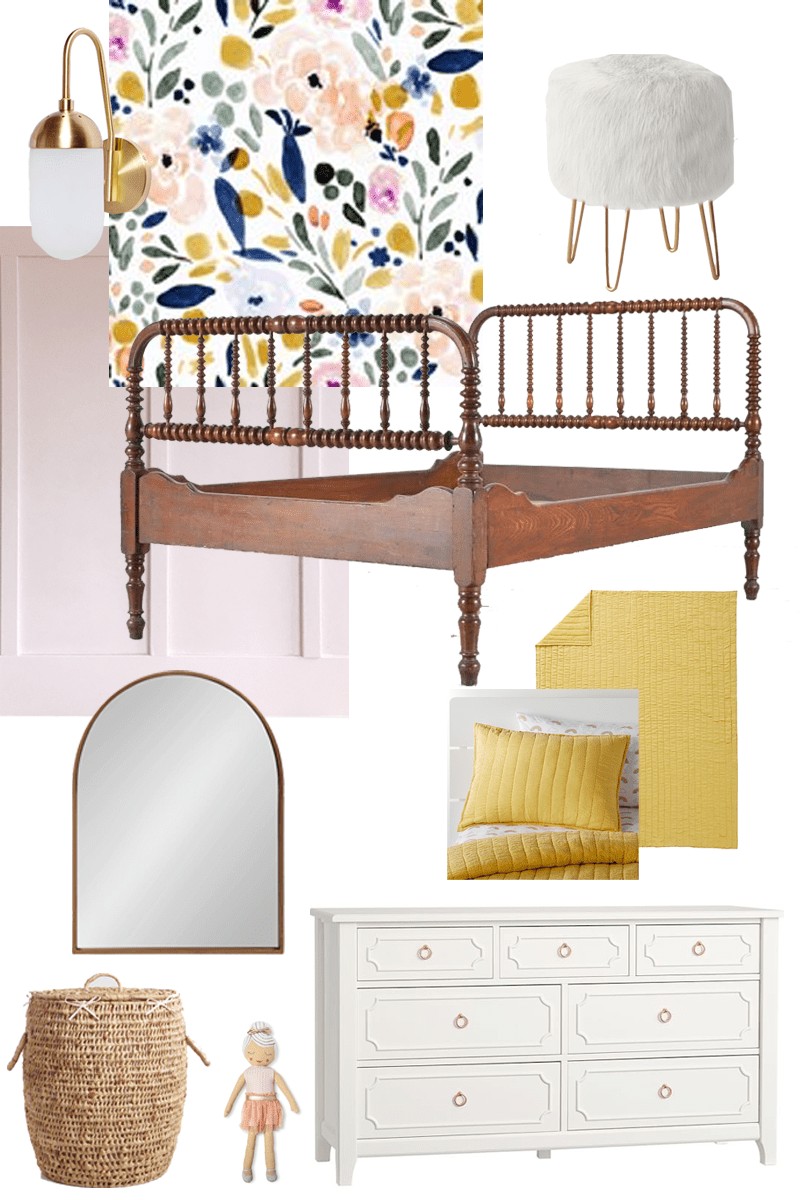 *This blog post was originally published in August 2019 and most recently updated in January 2023.*