Time to get started on Evie's Big Girl Room! It's going to be a fun and girly space – just like my big girl!
Since we put the living room project on hold, we've been full speed ahead with Evie's Big Girl Room plans!
We're moving her to our current spare (aka junk) room to make room for the new baby due in 4 weeks! I know the new baby will sleep in our room for a while. BUT, we need the crib that Evie still currently sleeps in for the new baby!
The transition from crib to bed is one of the most challenging things we've done as parents. At least with Liam. Charlie transitioned himself and also potty trained himself haha! Liam, that was a whole other story. We spent HOURS (literally, hours) every night getting him to go to sleep in his new big boy bed. Obviously we were first time parents with him and probably had a horrible plan, I don't even remember. But, I still remember that transition and dread it!!
So, our real urgency here is getting miss Evie transitioned to sleeping in a real bed and not her crib. Before the baby comes in 4 (or 6) weeks. No pressure, right?
Here is what the room looked like for our new home tour!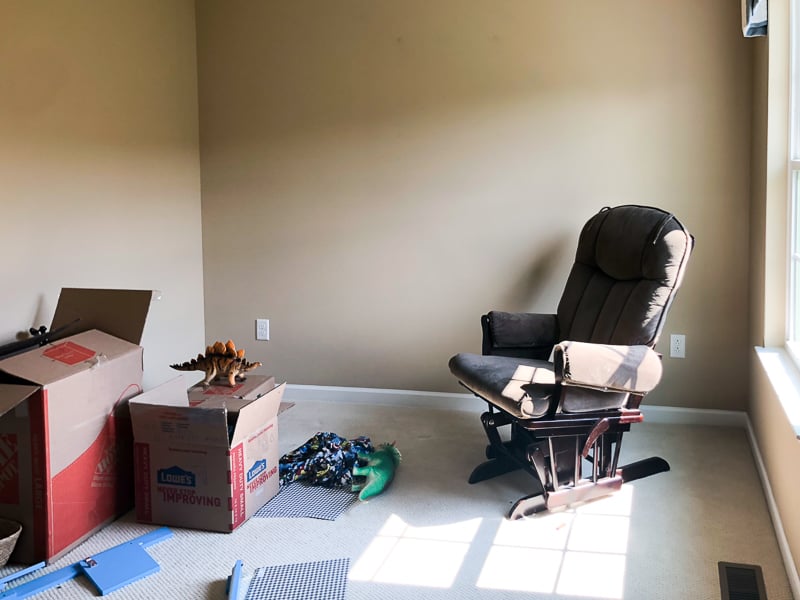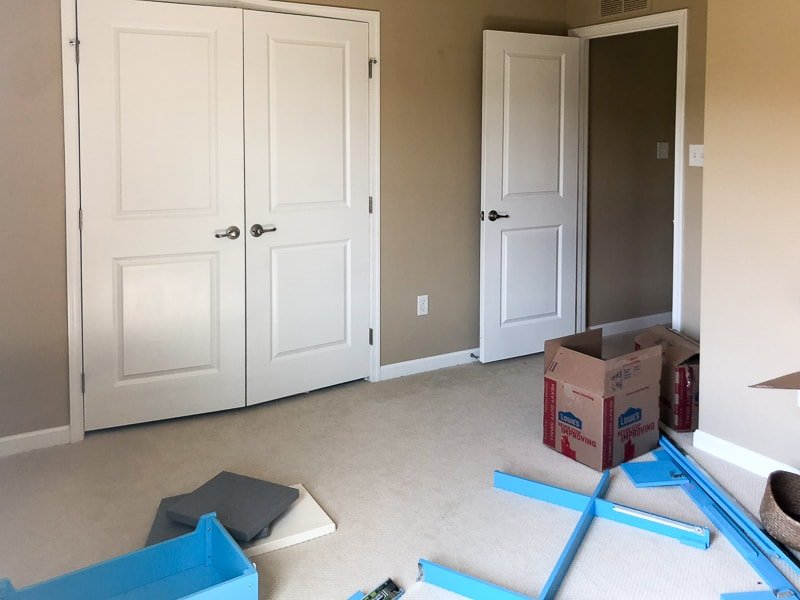 I'm definitely envisioning a fun, girly space for Evie. She LOVES pink. It's the only color she can accurately identify. Every other color is "blue" 🙂
Plus, I knew I wanted to add some wallpaper and some architectural interest to an otherwise boring room.
I've been over on Instagram, sharing some paint fails I had picking a paint color for her room.
We decided on this wallpaper from Spoonflower. We're going to use the water-activated wallpaper, the same kind we used in her nursery closet. I decided to use water-activated as opposed to peel and stick because it was cheaper! You can order custom lengths on Spoonflower which is really nice since we are only putting it above the board and batten in her room and don't need a 12ft long sheet.
Here's the wallpaper #hearteyes: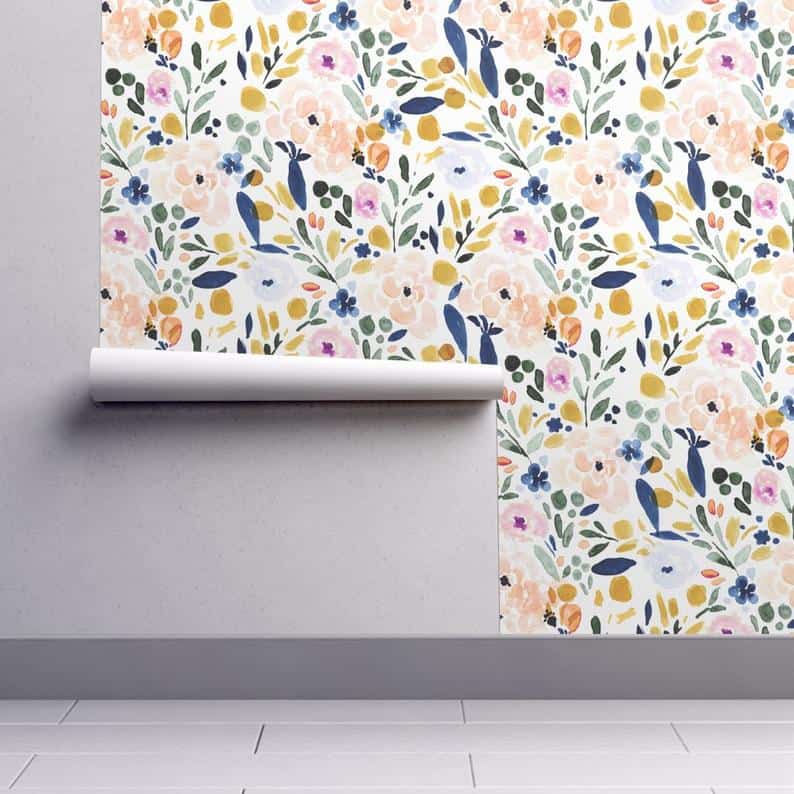 Next, it was on to choosing a paint color for the board and batten.
After picking out 500 samples of green and pink, we FINALLY decided on the perfect peachy pink called Dream Whip by Benjamin Moore.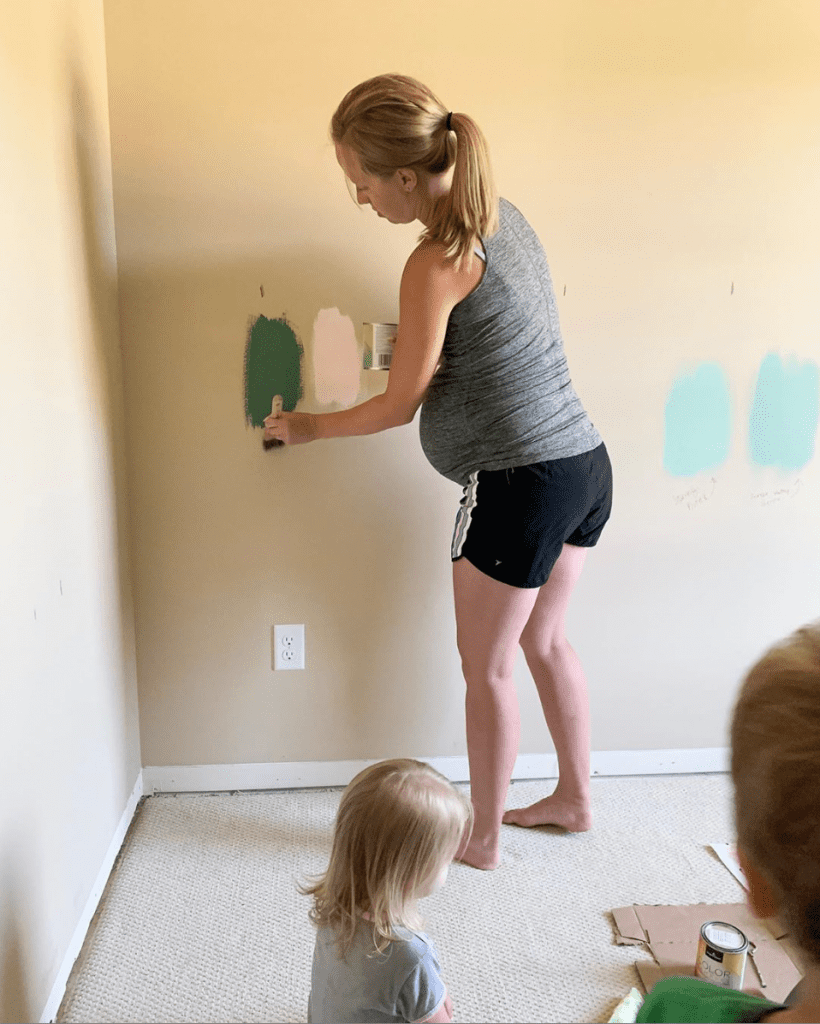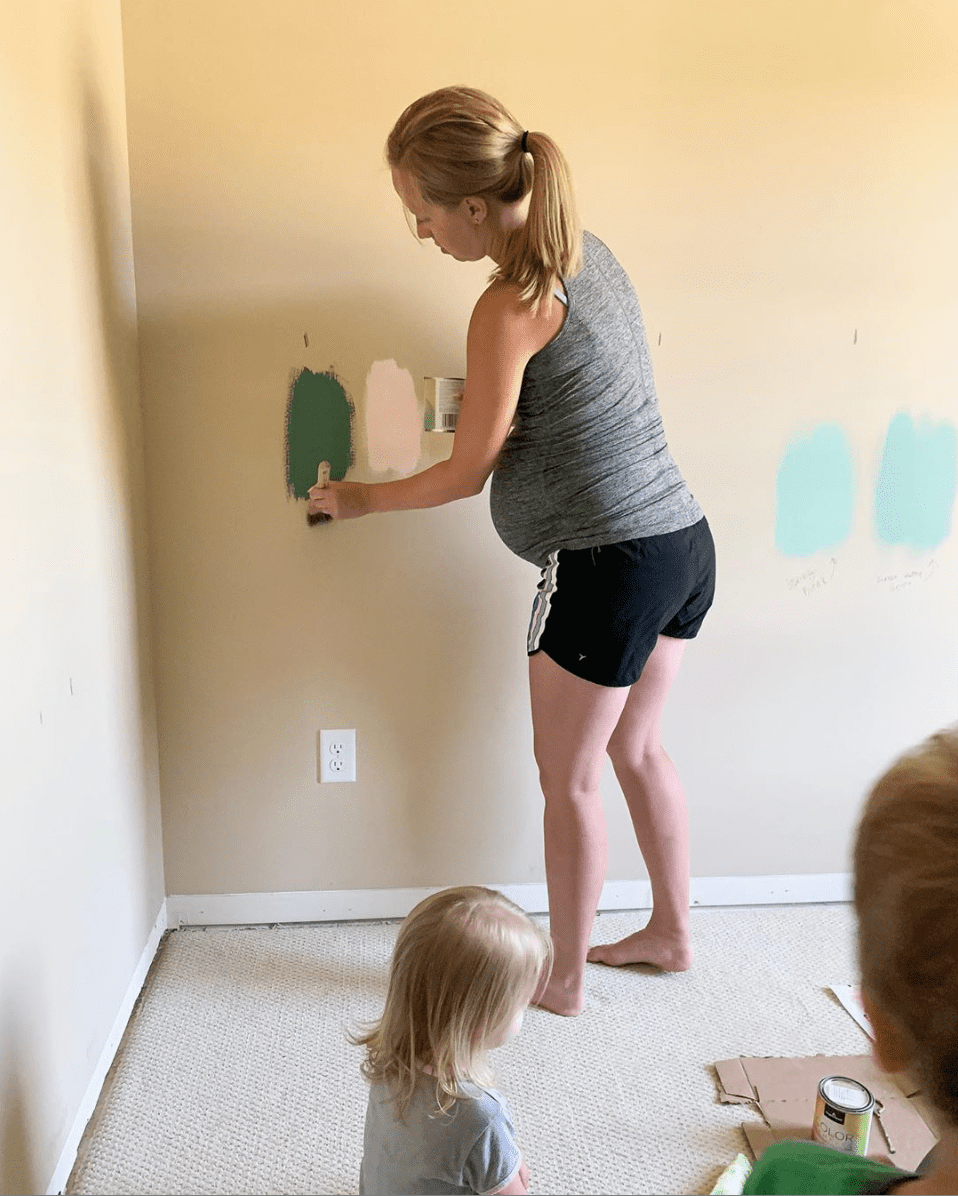 I really wanted the green color in general. But, Evie LOVES pink so much that I felt like pink was the best choice for her room.
From there it was just about picking the finishing pieces.
We don't want to hardwire sconces or a chandelier right now because we just don't have time. We figured out a really cool way to fake hardwired sconces, though so we'll be sharing that as part of the renovation!
I fell in love with this dresser but could not justify the price. So, we are going to IKEA hack our own for a fraction of the cost.
Adding this ottoman as a bedside table because I just had to!
I really want her bedding to be bright just like she is. I love this yellow quilt and how it compliments the wallpaper.
I can't decide if I want to get an area rug for her room or not. It currently has light carpet that's *fine*. I'm worried about finding something that doesn't overpower the board and batten + wallpaper. I think I'll decide after room is finished!
Here's the mood board for Evie's Big Girl Room!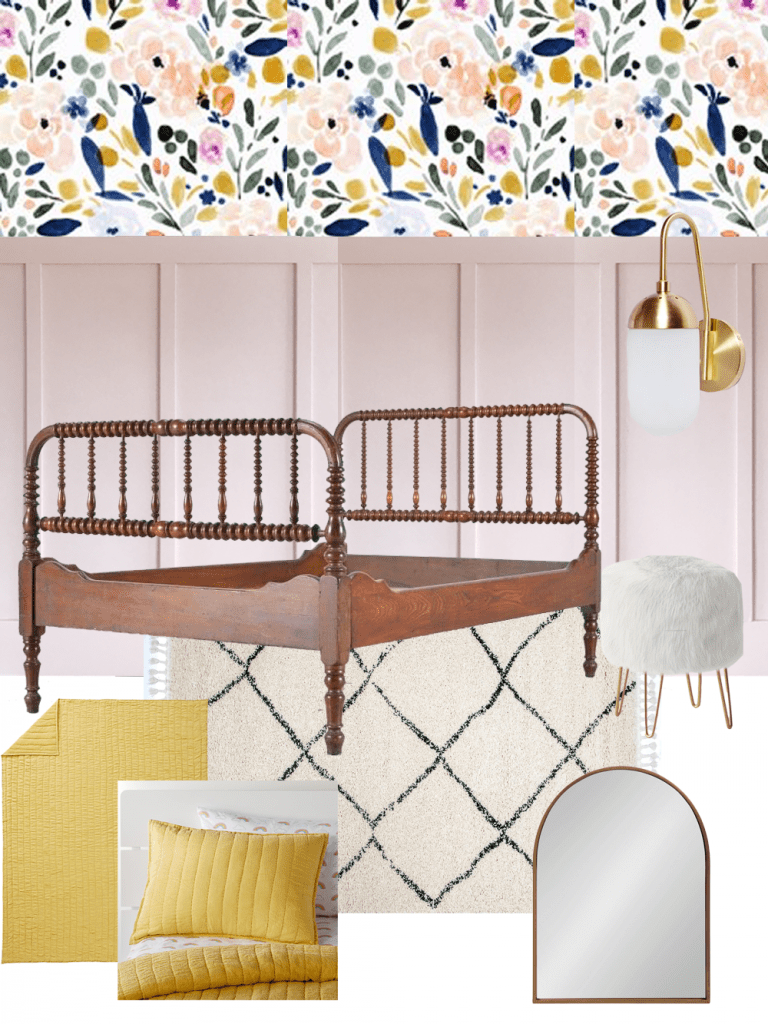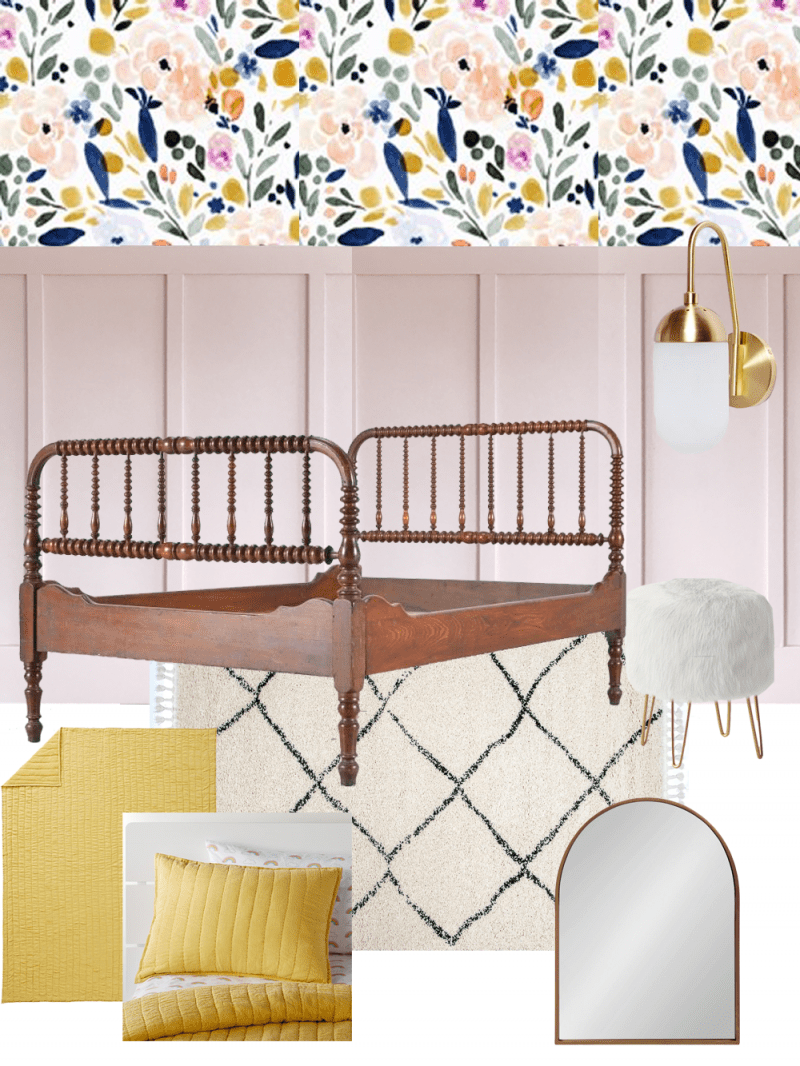 And a close up of the dresser section: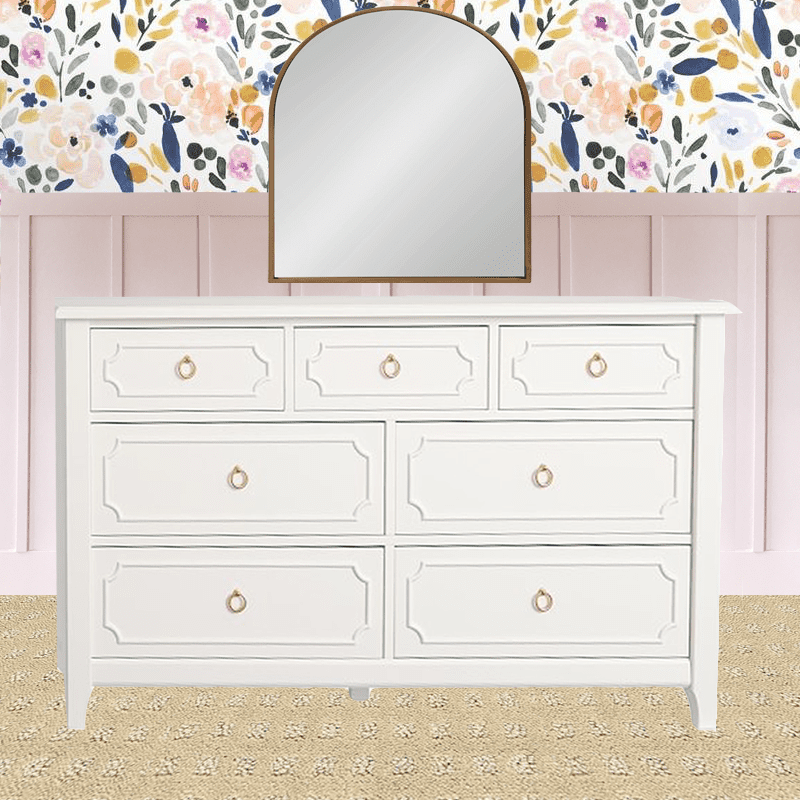 Here's a general floor plan for her big girl room. We have to put the bed against the wall because it's her first time sleeping not in a crib. And while she hardly moves at all, we want to minimize falling out of bed. We'll get one of those detachable rails for the other side of her bed!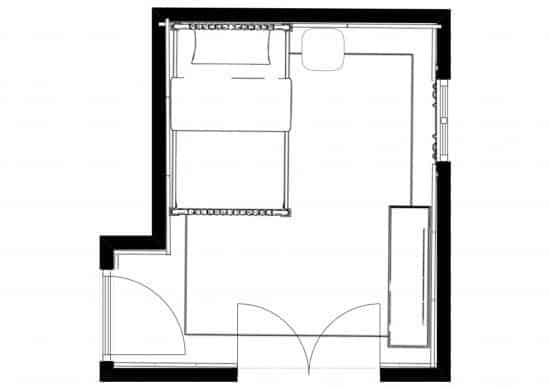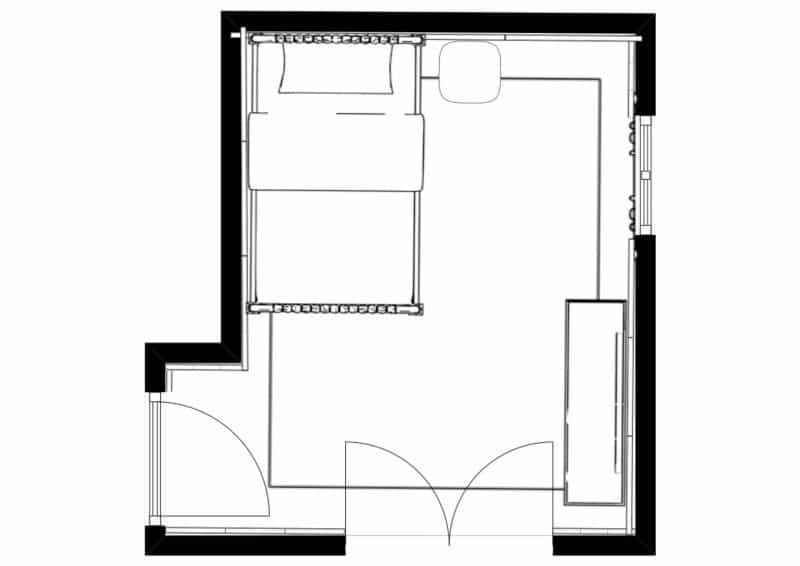 And finally, a 3D rendering of what her room will look like! EEEKKKK! I'm so excited!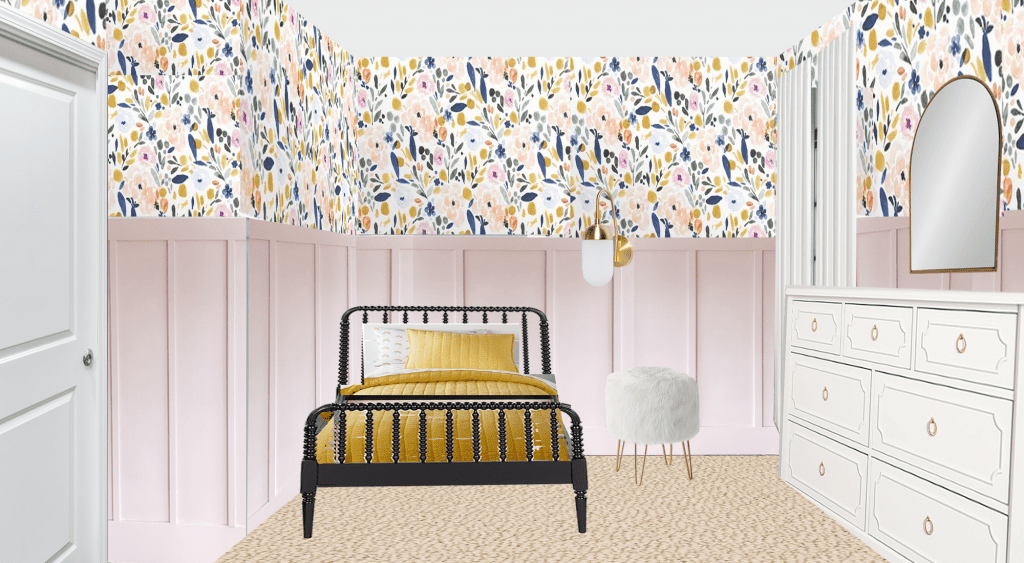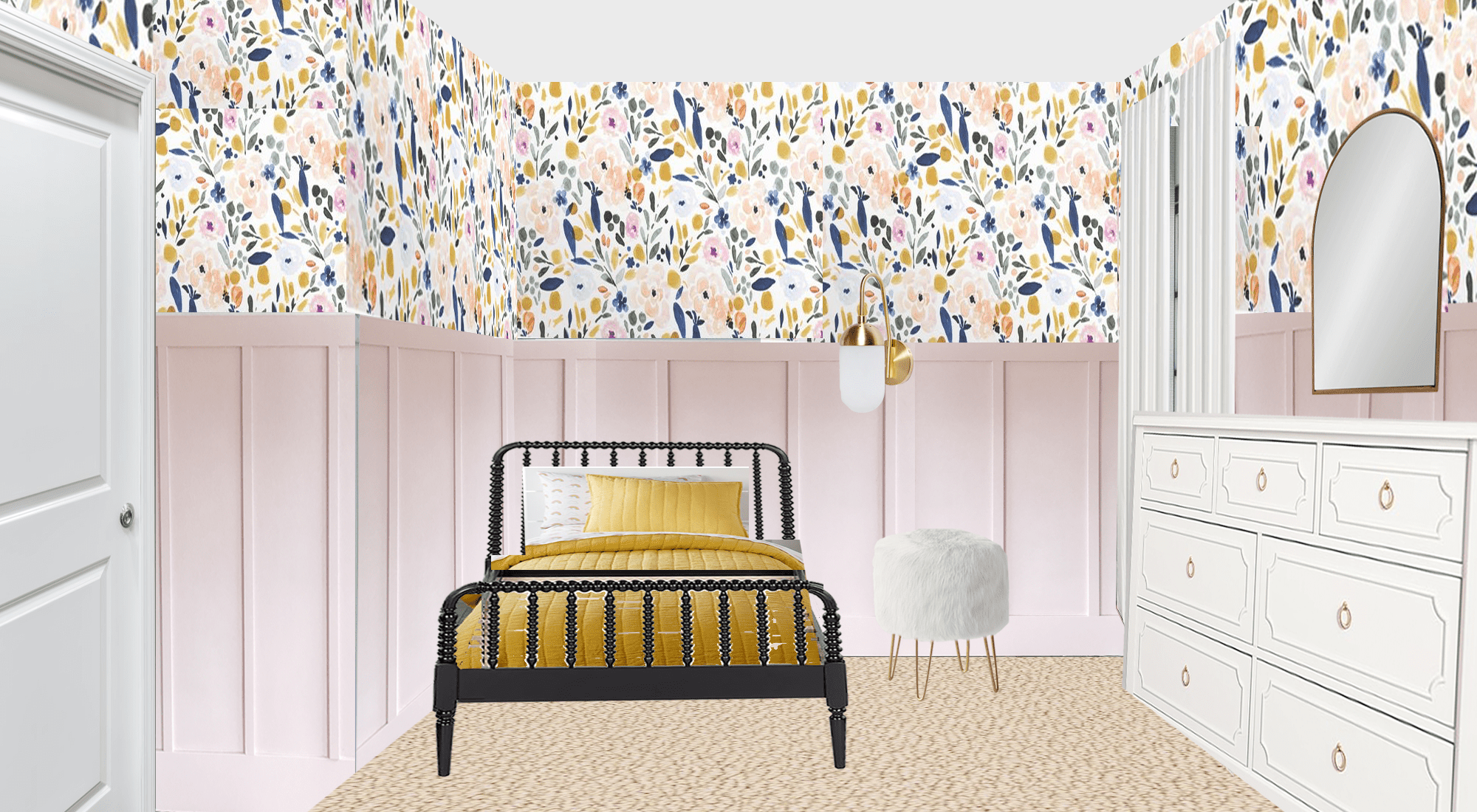 We're going to prime the room this weekend and start on the board and batten!
Shop The Post: Evie's Big Girl Room

Next week we'll be back to share some progress and update!