15 Ceiling Wallpaper Ideas To Steal For Your Next Room Makeover
Explore 15 beautiful ceiling wallpaper ideas to elevate your room design. Discover unique designs that bring elegance and creativity to any room. From geometric patterns to floral designs, find the perfect wallpaper for your ceiling!
They call it wallpaper, but that doesn't mean that it has to go on the wall! I wrote all about creative ways to use wallpaper before, but one that I want to dive into a little deeper today is putting wallpaper on the ceiling!
After all, the ceiling has been called by interior designers "the fifth wall", which means that you shouldn't forget about how to design your ceiling. The ceiling, often overlooked, makes a huge difference in how a room looks and feels. If you've ever seen the Sistine Chapel in person, you know what I mean.
Everything from the color of your ceiling, the addition of a tray or coffered ceiling, the light fixtures you install on the ceiling, the covers on your air vents, and the use of wallpaper on the ceiling are all ways to give your ceiling the love that it deserves.
Especially in smaller rooms, what color or design is on the ceiling makes a huge difference in the vibe of the room.
For a cozier feel or a dramatic look, you may want to add darker paint or dark wallpaper.
For a bright and cheerful feel, choose bright colors or floral patterns.
If you want something that feels light and airy, go with lighter colors with a subtle design.
Whatever vibe you're going for, wallpaper on the ceiling is a great way to add character to your room.
What type of wallpaper should you use on the ceiling?
One thing that almost every single one of these ceiling wallpaper ideas has in common is the type of wallpaper (really more the type of wallpaper application) recommended, which is a traditional wallpaper with paste. There is only one example below where they used peel-and-stick wallpaper.
Installing wallpaper on the ceiling may sound like back-breaking work, but the DIYers and bloggers all agree that if the wallpaper is installed with paste, there's a little give during application. This means that you can slide it around a bit to get the pattern to match up perfectly (which you can't do with peel-and-stick wallpaper).
Installation misalignments can make the whole job look unprofessional so I'd definitely agree that the right type of wallpaper for the ceiling is something that is installed with paste or is pre-pasted (and needs to be wet before installing).
What prep work is required before installing wallpaper on your ceiling?
It is best if your ceiling has minimal texture before adding wallpaper. This might mean that there is significant prep work for you that you need to do before installing wallpaper on the ceiling.
You can fix a heavily textured ceiling by doing a skim coat over the whole thing and then sanding lightly with a fine-grit sandpaper. Afterward, you would need to be sure all of the sanding dust is removed with a tack cloth and/or a shop vacuum.
If you have minimal texture or a flat ceiling, the process is much similar! You can simply make sure the ceiling is clean by attaching a damp rag to a long extension pole (or a Swiffer works great too).
If your ceiling is especially dirty, you can follow up by cleaning with TSP and rinsing with a wet rag. Once clean, follow up with a specialty primer made for wallpaper installation. It may seem like an unnecessary step, but the primer will help your wallpaper adhere to the ceiling.
Alright now that you're educated on what it takes to prep your ceiling for wallpaper and what type of wallpaper you should use, let's move on to the fun part! The inspiration and beautiful designs that I've rounded up!
15 Ceiling Wallpaper Ideas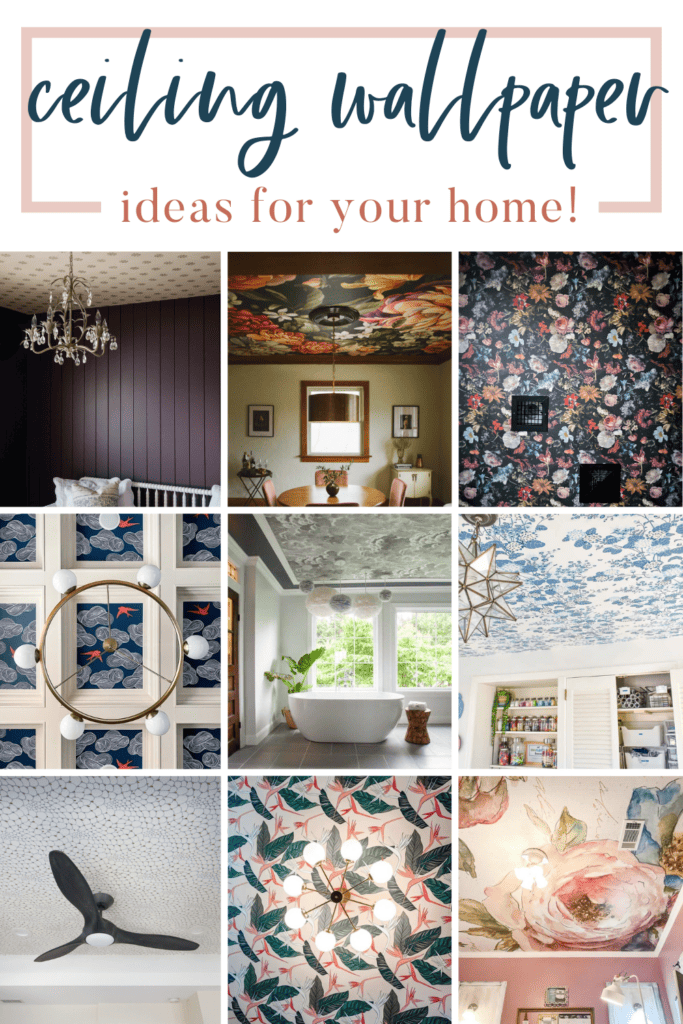 Which of these wallpaper ceiling ideas is your favorite?