13+ Pretty Dining Room Wallpaper Ideas
Elevate your dining room with trendy wallpaper! Discover unique designs to create a stylish and inviting space. From geometric patterns to vintage-inspired looks, get inspired with these pretty dining room wallpaper ideas. Say goodbye to boring walls and hello to a vibrant dining area!
Wallpaper has really taken the interior design world by storm in recent years. One of the most popular spaces to use wallpaper is the dining room.
Whether you're installing the wallpaper on all four walls of your dining room, on just one wall as an accent wall, or on the ceiling, adding wallpaper to your dining room is a great way to add more color, pattern, and character to the room.
There are so many different wallpaper patterns, so you can really infuse your personal style into the space.
Dining rooms are typically used for family dinners, formal dinner parties, and special occasions, and sometimes can just be used as a good homework spot for the kids. It is generally a room of the house that has more of a formal feel than the rest of your home, which makes it a great room to feature wallpaper.
With the rise of open-concept living and the move towards more casual dining options, the formal dining room may not be something you have if your home.
You may have an eat-in kitchen area or a small dining space that is also open to the living room and kitchen. In our home, we have a dining room that is separate but also open to the kitchen and living room.
Whatever layout you have in your home, you can still add wallpaper to your eating area. You'll see in the dining room wallpaper ideas below that they are not all formal dining rooms.
What to consider when choosing wallpaper for your dining room?
Style: The wallpaper you choose for your dining room should complement the overall style of the room and fit in cohesively with the style of your whole. Many times a dining room is adjacent to or open to a living space or living room, so the rooms should be designed so they flow nicely together. For more of a traditional home style, you can choose wallpaper with a classic design, like floral patterns or damask patterns. If you're going for a modern style in your dining room, look at modern wallpaper designs with bold geometric shapes or abstract prints.
Color: You want to choose a color that works with the rest of the room's decor. If the rest of your dining room has neutral tones, you may want to choose a wallpaper with a pop of color to add more interest. It's important to get wallpaper samples before installing to make sure it matches the other colors in the room, like the paint colors and furniture.
Maintenance: Don't forget to think about the maintenance of your wallpaper. Since the dining room is an eating area, it may be more prone to spills and stains. In that case, you may want to choose a durable wallpaper that has a protective coating over it, allowing it to be wiped down. If you have children or pets, you may want to avoid wallpapers that are easily scratched or torn. You'll see in many of the dining rooms below that there is a wall treatment on the lower portion of the walls, like beadboard, wainscoting, or shiplap. The wallpaper is installed only on the top portion of the walls. These are easy ways to use wallpaper but also ensure the lower portion of the walls that takes the biggest beating with stains and dings is protected.
Now let's jump right into the ideas. Here are my favorite dining room wallpaper ideas! I've included dining rooms of all different styles with a lot of different types of wallpaper patterns. I hope you get some inspiration here and find a look for your dining room!
This post contains affiliate links. Please, click here to read my disclosure policy.
13 Dining Room Wallpaper Ideas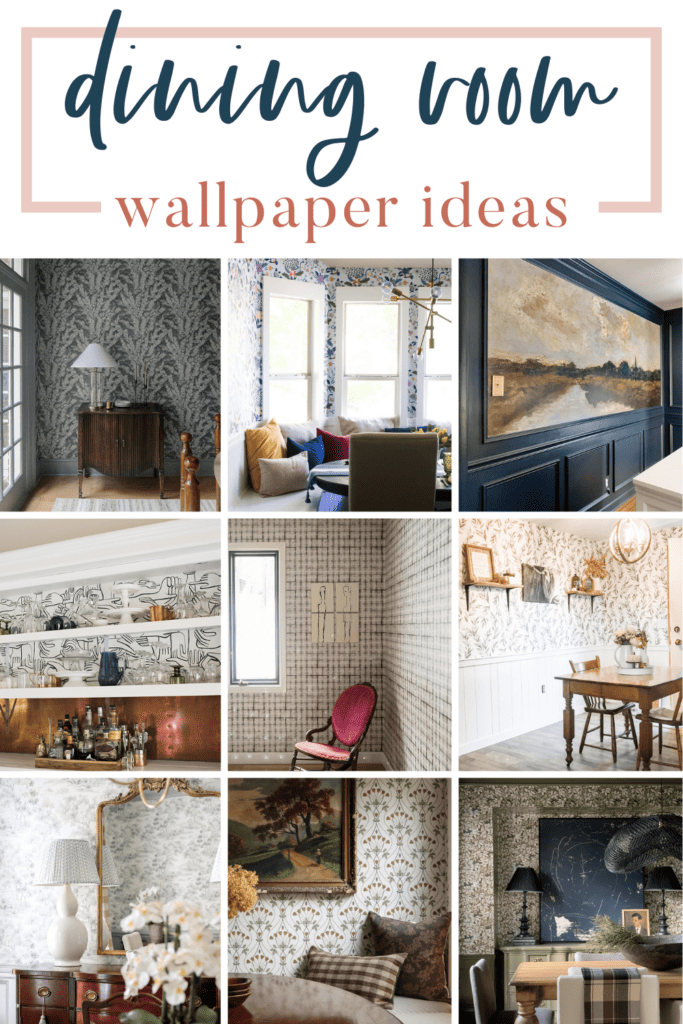 Dining Room Wallpaper Ideas
Which of these dining room wallpapers is your favorite?