Farmhouse Girl's Nursery Decor: The Design Plan
If you're looking for farmhouse nursery decor inspiration, I've got loads of it for you! We're sharing the design plans for our girl's farmhouse nursery makeover.
Good Morning friends!!
I cannot wait to show everyone how we're planning on making our youngest son's bedroom into a farmhouse girl's nursery!
I am so, so excited to get started on our first big renovation project of 2017. I have been dreaming of this farmhouse girl's nursery ever since we found out I was pregnant. We both had a feeling baby #3 was a girl from the beginning 🙂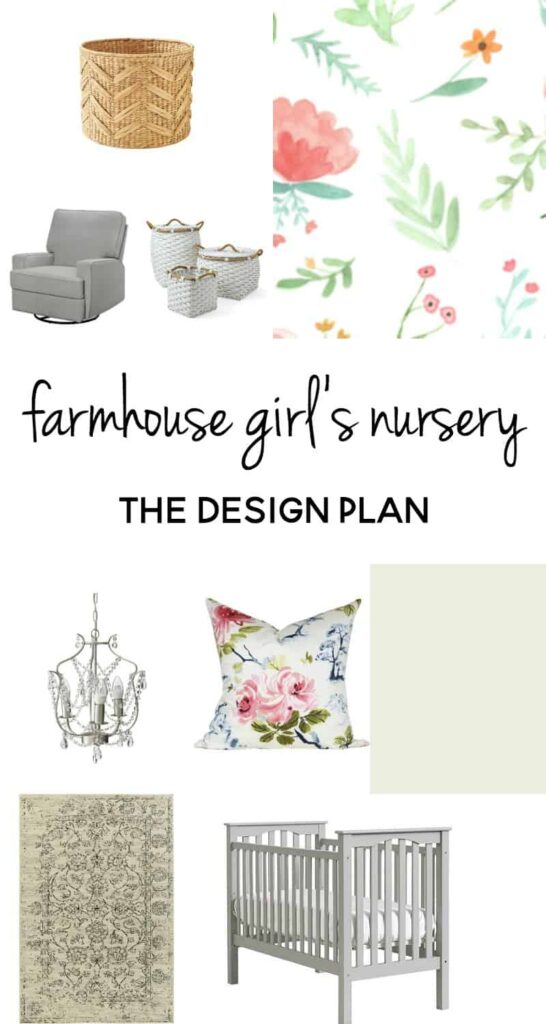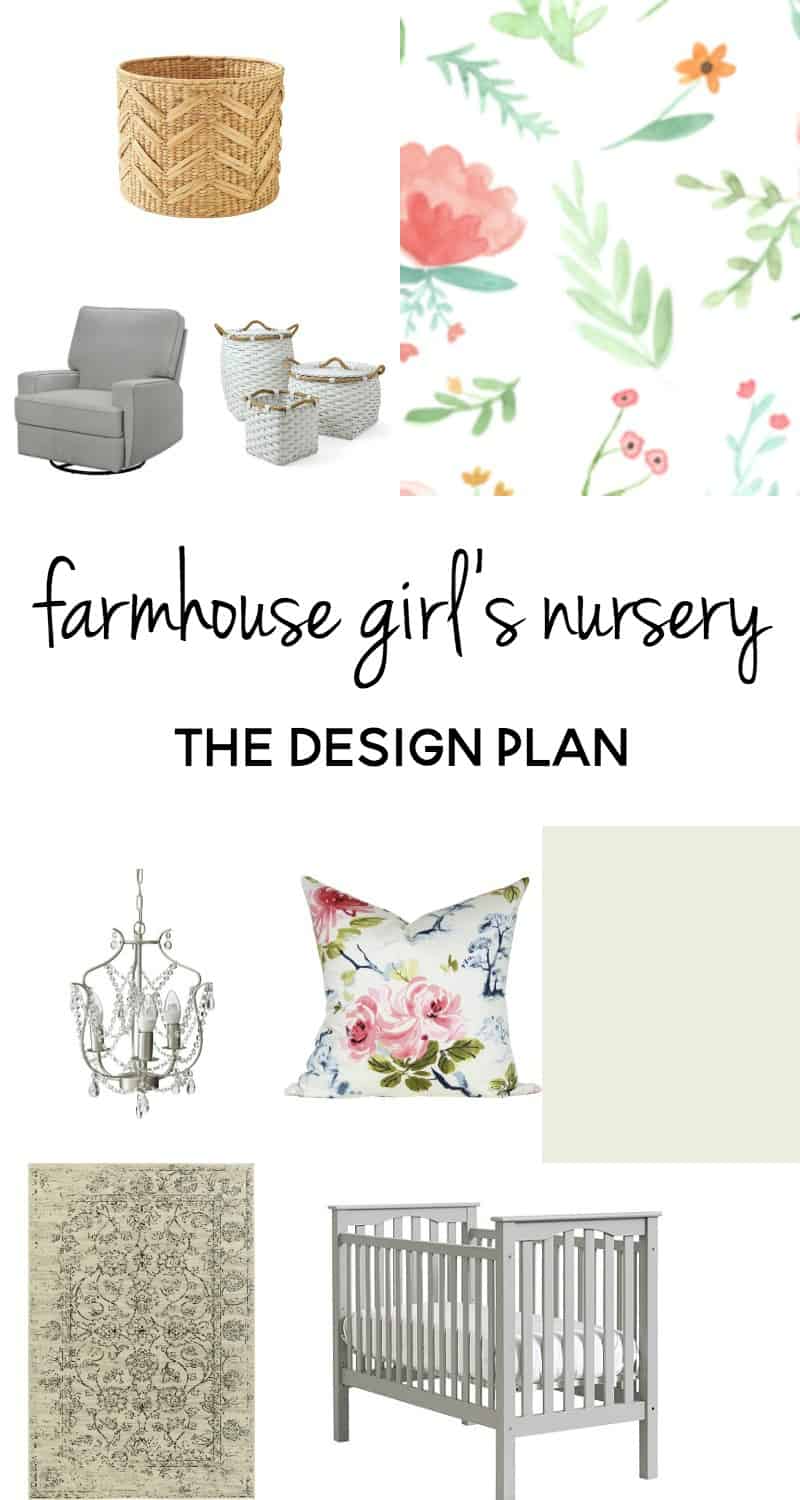 Last week, I shared some before pictures from the nursery, which was our youngest son's bedroom. The room is pretty small but has plenty of space for a crib, dresser, and rocker.
Like the ORC shared boys' bedroom, the nursery is filled to the brim with DIYs. I've been dreaming this space up in my head for months and can't wait for that to come to fruition! I'll be sure to share how we make everything in the space.
This post contains affiliate links. Please, click here to read my disclosure policy.
Design Plans for Our Girl's Farmhouse Nursery Decor
But, enough about that. Let's get to the good stuff – the design plan.
Shiplap Walls in the Farmhouse-Style Nursery
We are shiplapping a wall!! WOO!
Can I even contain my excitement?? Of course, like any good farmhouse-style lover, I've been obsessing with planked walls for quite some time.
But, seeing as how we JUST redid alllllll the drywall in our house only 2-3 (ish) years ago, I didn't think my hubby or FIL would really go for destroying all their hard work. I could just imagine the look on their faces if I mentioned shiplap last year 😉
Now, this is a budget-friendly faux shiplap wall. The "real" stuff is ~$9 USD PER BOARD! Insanity.
It's going to look something like this wall from Sincerely, Sara D.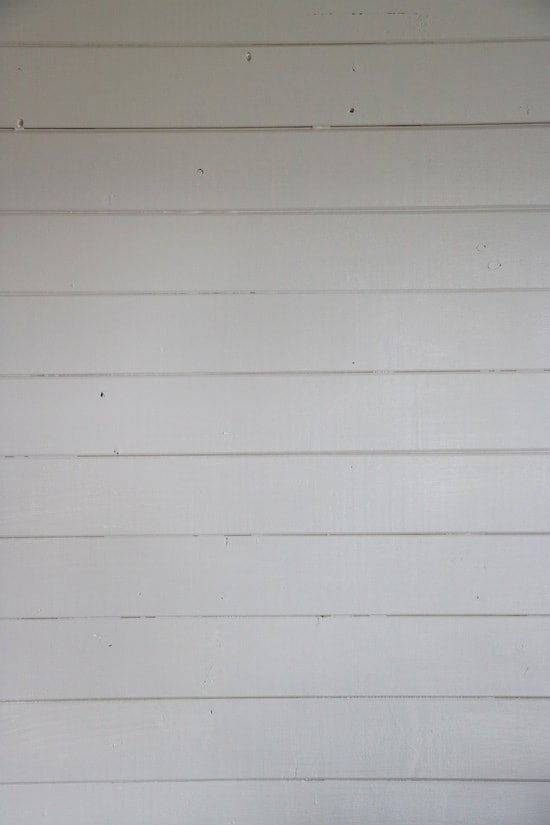 We are only shiplapping one wall of the room. I went back and forth on painting the shiplap wall a different color than the rest of the walls. I actually really like the trend of colored shiplap, but, after testing out some paint colors I decided to paint the room and shiplap the same color.
Absolutely in LOVE with this creamy white color from Sherwin Williams. I honestly looked at so.many. different shades of white in the store before deciding on Alabaster.
I actually shared my method for choosing farmhouse paint colors and it was such a help in narrowing down the endless shades of "white". Remember when white was just white? Yeah, me either.

UPDATE: Check out how our shiplap wall turned out here!
Lighting Options for the Farmhouse Nursery Decore
I went back and forth on what type of chandelier I wanted. On one hand, it's my first girl and a perfect excuse to get something over-the-top girly.
On the other hand, I'm not really a girly girl myself and it doesn't quite fit in with the whole farmhouse theme.
Then, I found this wood bead chandelier and fell in love.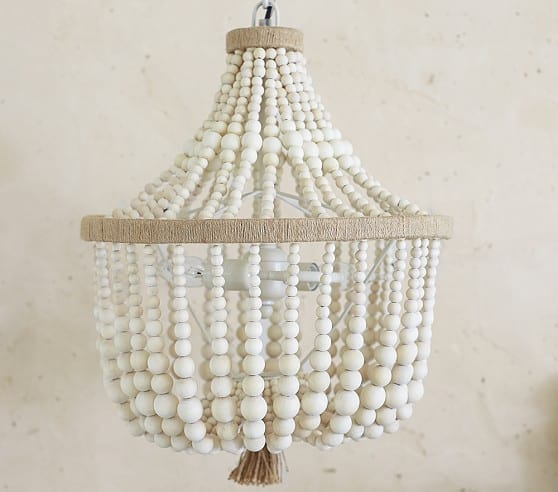 It's the perfect piece! Definitely has farmhouse style but is still girly! Awesome!
Then, I saw the price. $249 USD. WHAT?! I still seriously considered buying it but I just couldn't.
Instead, I picked up this chandelier from IKEA and I plan on changing out the "crystals" and replacing them with wood beads.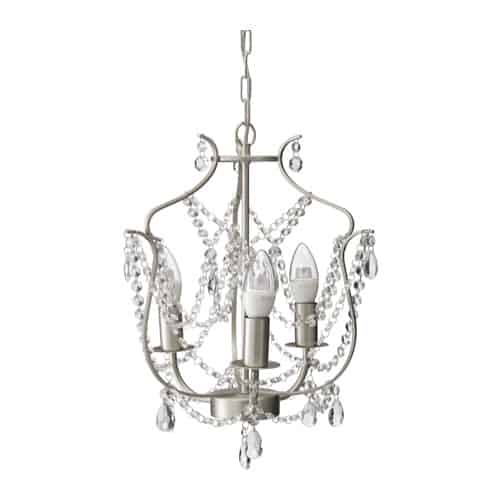 I'll probably end up spray-painting the base of the chandelier white, too. The whole project should be a fraction of the cost of the Pottery Barn Kids wood bead chandelier above. Yay!
UPDATE: Check out how the wood bead chandelier turned out here!
Farmhouse Nursery Furniture: Crib & Rocking Chair
As for the crib, we are using Charlie's old crib.  When I picked out his gray crib while preggo with him, I did so knowing a gray crib could be used for a boy or a girl.  
And, I'm SO glad I did. Not having to purchase a crib frees up some extra $$ for other projects in the room.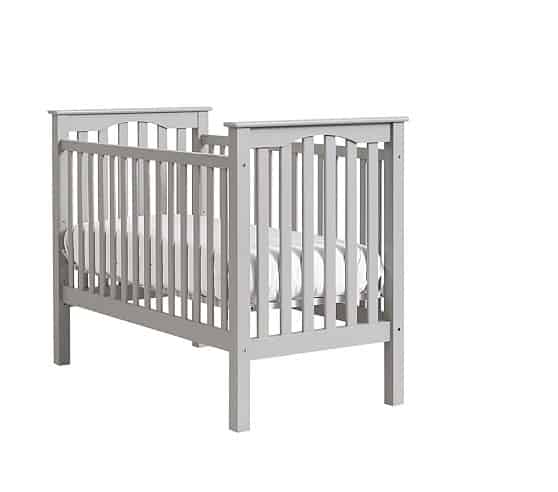 I decided to splurge on a new rocker. I nursed both my boys for over a year in the same rocker so, it has certainly seen better days. Also, I think my body is permanently molded into the cushions and while we could reupholster it, the actual mechanics of the rocker aren't what they used to be. In fact the other day it tipped over while I was reading to Charlie! What?!
I went to so many stores to try out rockers, gliders, and recliners and finally decided on this one.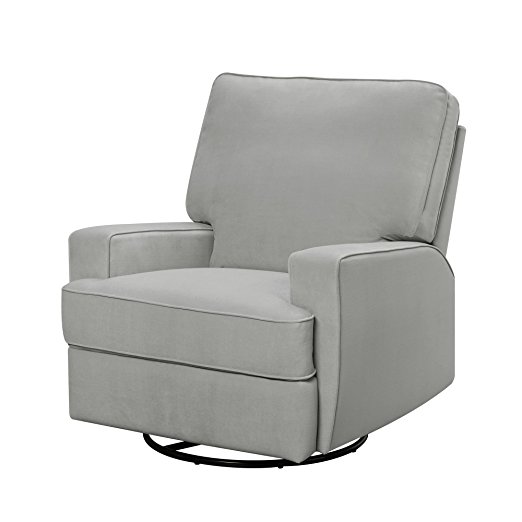 I'm a bit nervous because you never know exactly what the color is going to look like when you buy online. It's coming later this week so fingers crossed it works!
More Farmhouse Nursery Decor: accent pieces, DIY projects, paint colors, & more
To make that rocker even more comfortable and blend in with the rest of the room, I picked out this pillow and this pillow to bring some subtle color to the chair.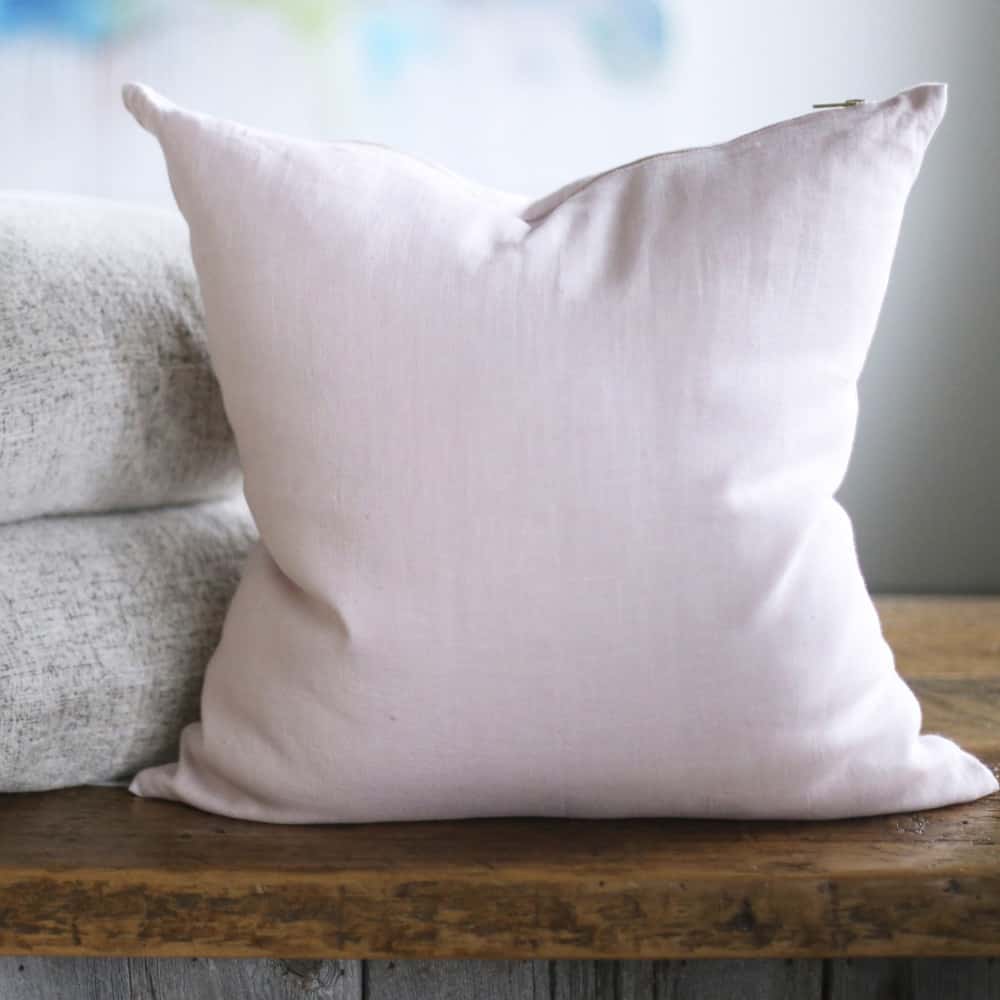 Another part of the room I kept changing my mind about was the rug. I love the look of vintage-washed rugs but felt the bold colors wouldn't look right in the space.
I ended up deciding on this rug (no longer sold, similar here) and I'm IN LOVE. I can't wait until it arrives!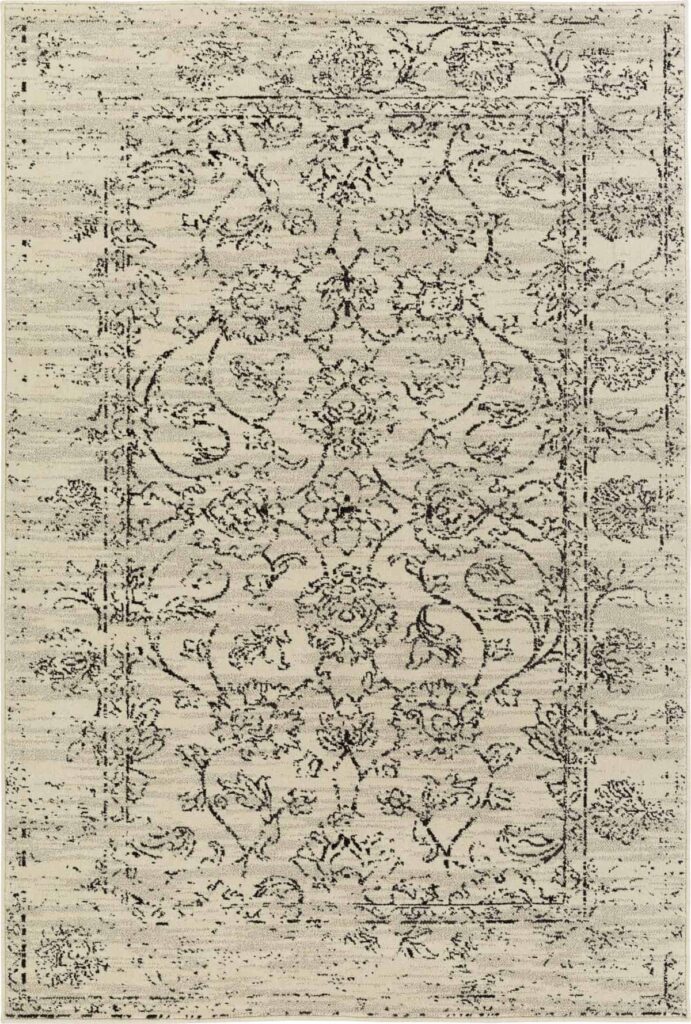 On my quest for girl decor, I've become completely smitten with floral designs. Pretty sure I picked up 10 outfits for her that are all flowers. I'm making sure to incorporate tons of florals into her nursery. Like this floral crib bedding.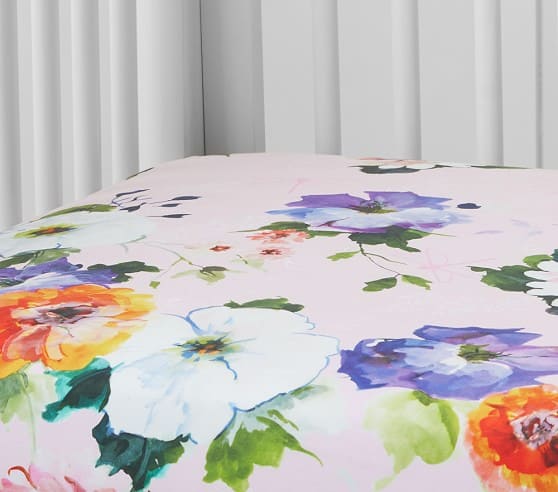 And this ahhhhmazing wallpaper for the inside of her closet. Check out these other floral wallpaper ideas for more inspiration!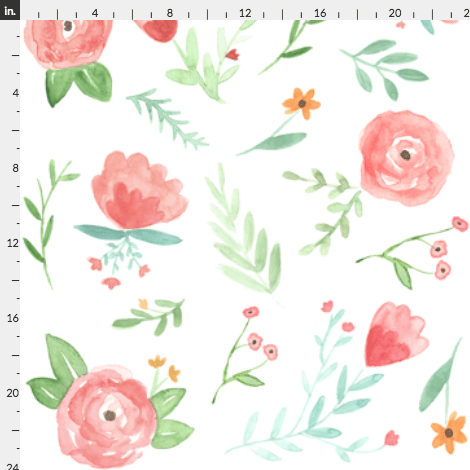 Speaking of her closet, what good room renovation wouldn't be complete without making your own closet system?? I've enlisted my hubby in building the PERFECT closet for her nursery. With that wallpaper as the backdrop, I don't think we can go wrong.
Now for the closet doors, arguably maybe my favorite project in the room. Shiplap doors. Similar to these closet doors from Bright Green Door.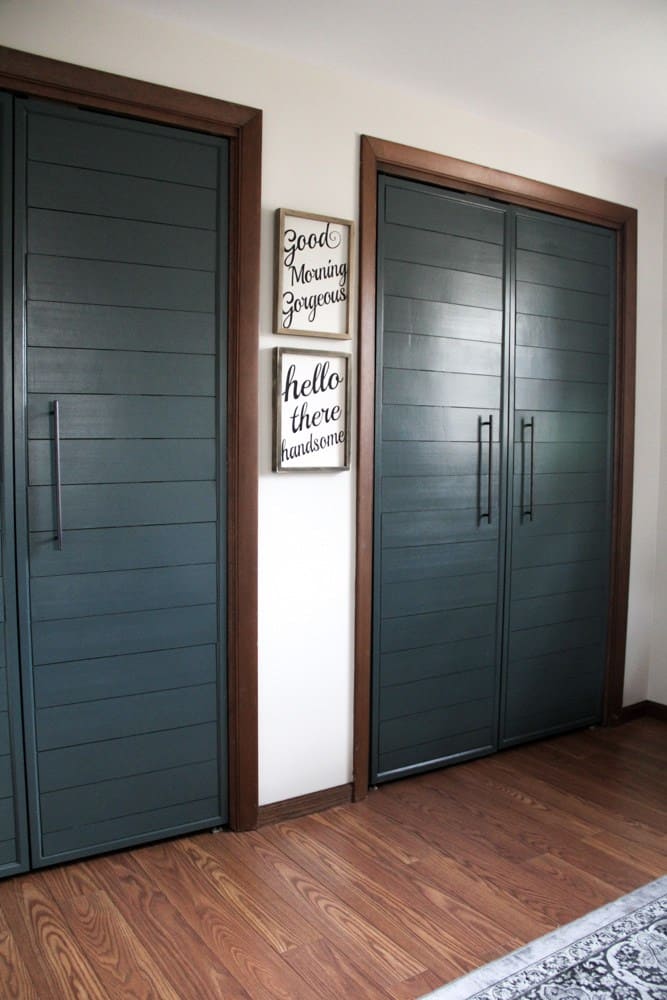 But, I want to do skinnylap (thinner shiplap) like my friend Nicole from The Inspired Hive did in her kitchen reno (seriously check out that space!).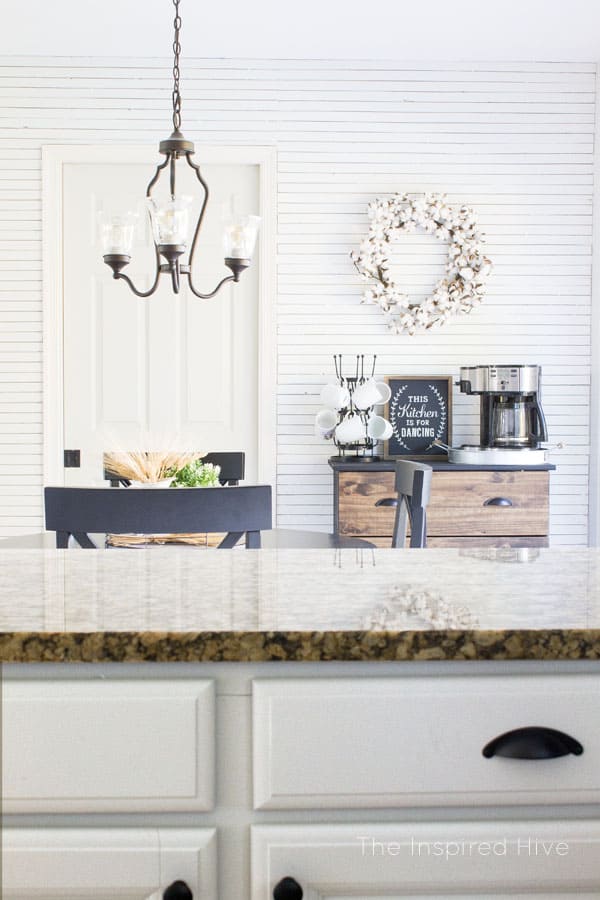 So, skinnylap bifold doors. Make sense?
Now, here's where I need your help.
What color should I paint the doors??? I truly can't decide. I've wasted an ungodly amount of time thinking about paint colors for these doors. Here are the choices:
-Alabaster (the same shade as the rest of the walls in the room)
-One of the two pink colors for the dresser (see below)
-Dark gray (to match the gray in the rug)
-Some other color (I've pretty much narrowed it down to a shade of anything)
Help a girl out!!!
Okay, back to what I do have picked 🙂
Obviously, I had to redo a dresser for her room, too. If you've been following on Instagram, you saw that I snagged a vintage dresser off of Craigslist. I was torn over which shade of rose pink to paint the dresser. Which would you pick?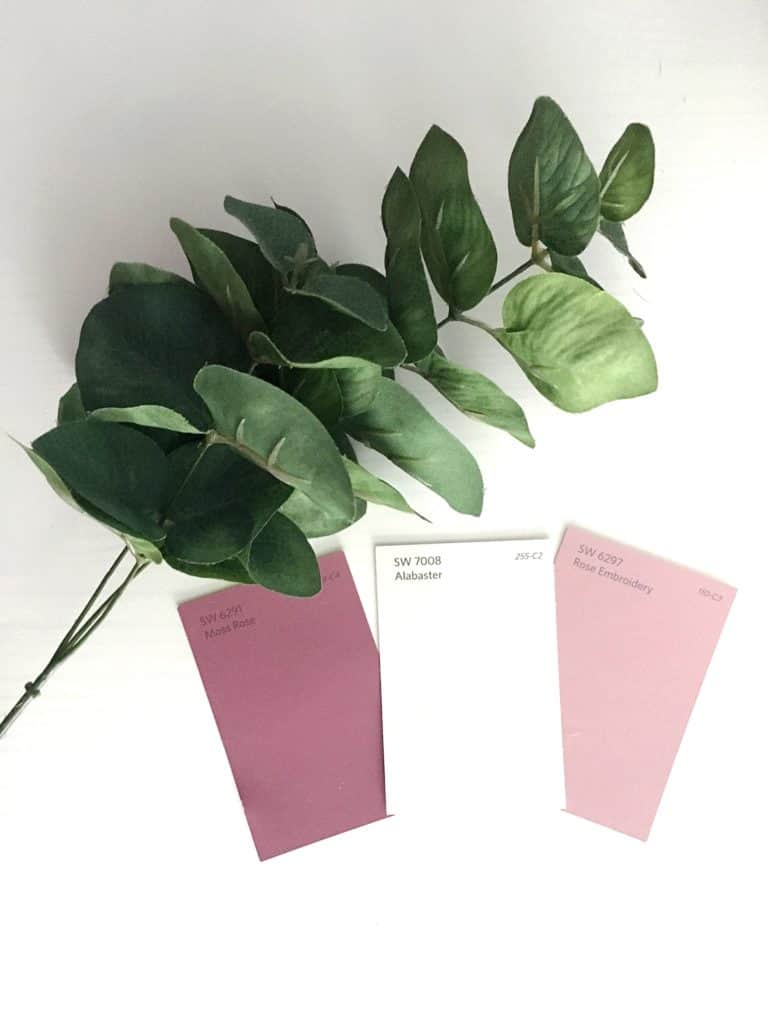 We are also going to add a vintage window with a pretty wreath above her crib.
UPDATE: Check out how the DIY flower wreath on the window turned out there!
Plus, some DIY farmhouse shelves, but done a bit differently than our dining room farmhouse shelves we did last year.
I have some smaller DIYs planned including mini wood bead hearts for the wall and a DIY shadow box of sorts, similar to this hand-carved display shelf that's out of budget.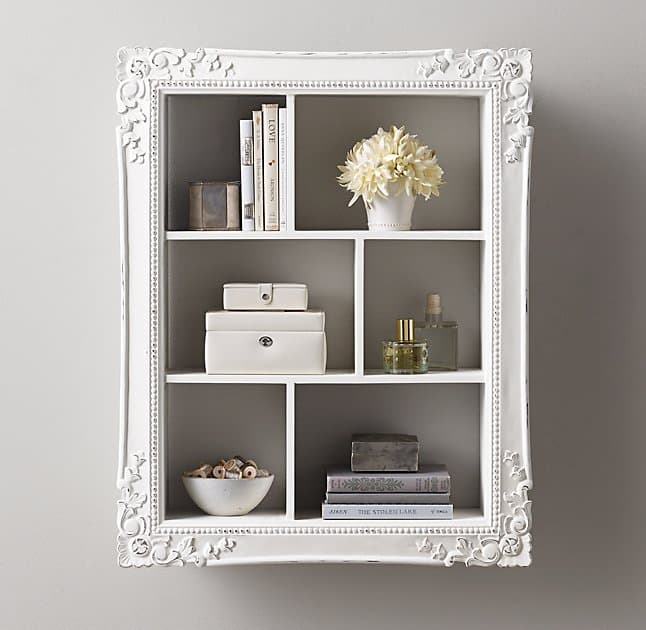 My favorite part of decorating any room is adding the pretty accents and focusing on the details.
I've been picking up little pieces here and there that I can't wait to show you in the space. I also have big plans to make our own curtain rod (well, kind of ) and make some pretty floral tie backs for the curtains.
Oh, the curtains! I picked up these white curtains from IKEA but I'm not 100% sure they're staying. What do you think? Yay or nay?
I also love decorating with bins and baskets. There are so many options available these days that everyone is bound to find something in their budget AND that fits their design aesthetic.
I picked this set of white rope baskets (the little cubby one) and these natural woven storage baskets so far. (Both of these are no longer sold, sorry!)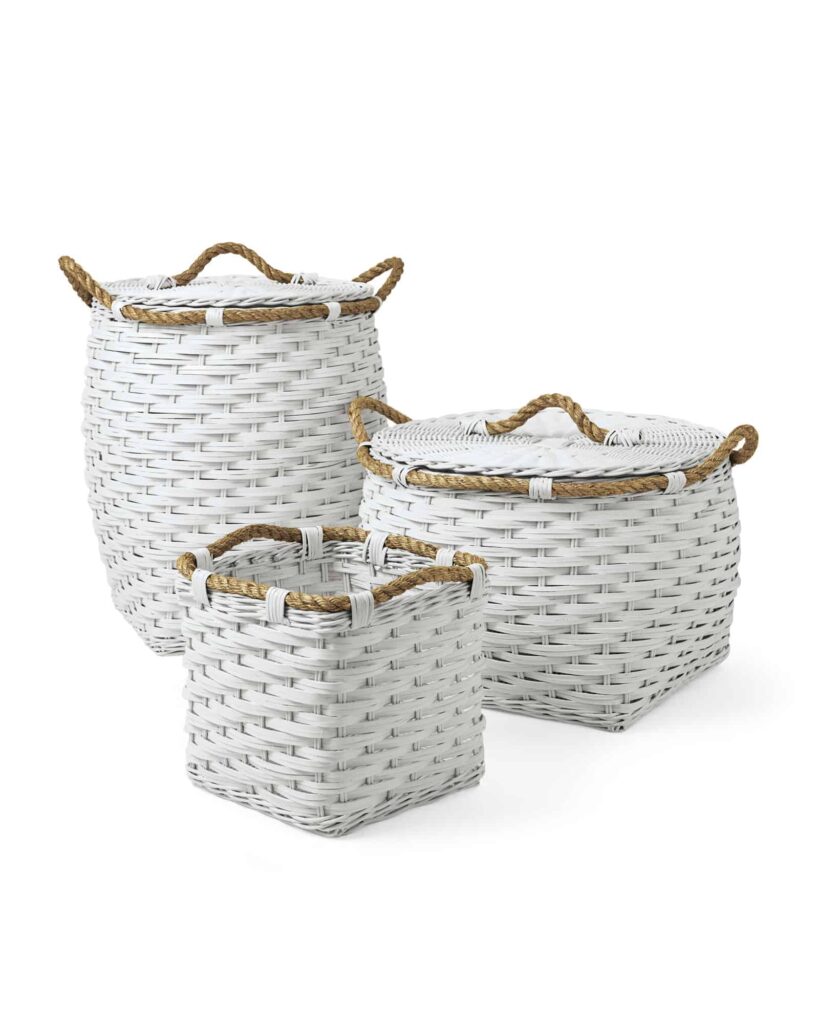 Now, as for what I am still deciding on (besides the color of the shiplap doors)
a throw for the rocker
crib skirt
changing pad cover
whether I should line the inside of the dresser drawers or not
finalizing farmhouse shelf decor
finalizing layout/design for custom closet
crib mobile
I think that's it for today! Expect an update next week on our progress in making a farmhouse girl's nursery.
Wishing you a joyful day!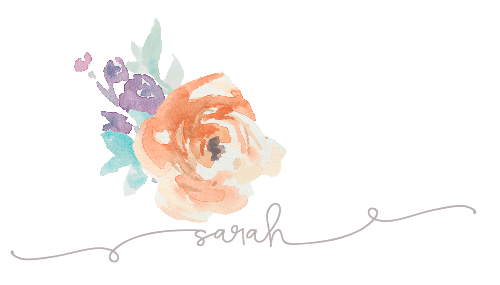 Want to see more of our farmhouse girl's nursery?