29 Easy String Art Ideas You Can Do Yourself
String art is such a great craft idea that you can have a lot of fun with! Get inspired with these 29 different easy string art ideas that you can make yourself!
Have you ever heard of string art? If you haven't, you're in for a treat today! I'm sharing tons of different ideas to get you started! Even if you've never tried this type of DIY project before, you can easily do it yourself.
What is string art?
The idea is pretty simple. You can either use nails in a piece of wood or holes in cardstock or canvas to make an outline of a shape.
Then you take a piece of string and attach it around the simple outlines. You can either just use the string to make a simple outline or also bring the string over the shape to fill it in. You can do something with an intricate design or keep it simple.
As you'll see below…there are SO many different ways to use string art techniques in your projects. I'm sharing 29 different string art ideas to inspire you!
But first, let's take a closer look at one of the string art projects that we created for our little girl's farmhouse nursery!
---
Barnwood String Art Heart
How cute is this adorable little string art heart that I whipped up for our little girl's farmhouse nursery? It is the perfect little filler to add to her shelves.
I'm also looking for pieces of different shapes and sizes when styling open shelves, so this just what I needed!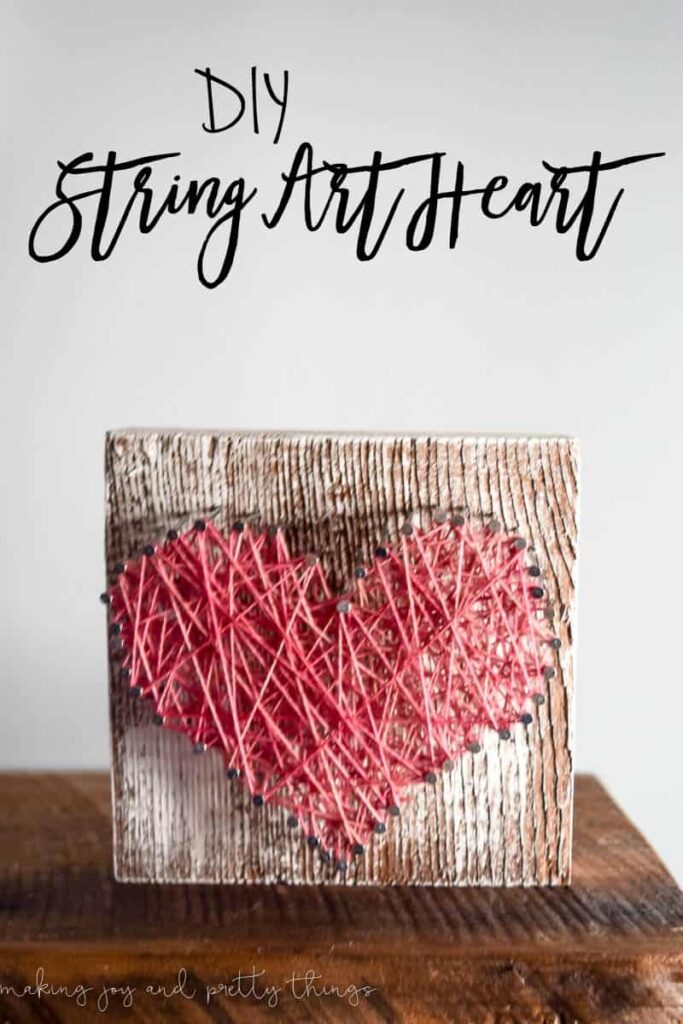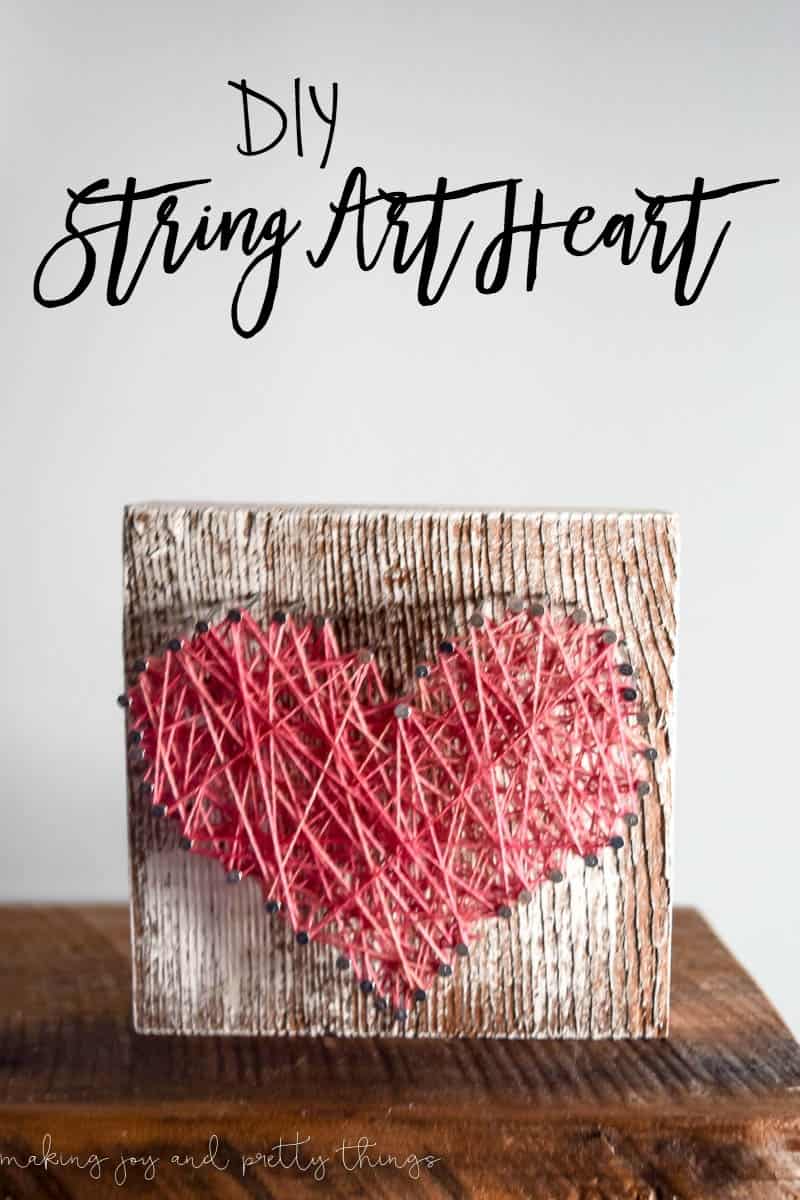 Even though we haven't made any big progress in the farmhouse nursery the past few weeks, I've been busy completing a couple of smaller projects. It is, after all, the tiniest details in a room that I love designing the most.
I posted over the last few weeks about a few of these smaller projects including the DIY wood bead hearts and the DIY fabric flower garland.
I've honestly loved working on the little projects for her room. While I adore all the bigger stuff we've done too (planked wall, dresser reno, closet wallpaper), it's the smaller details that really make the space.
I had a small piece of barn wood leftover from when we made the farmhouse shelves this past summer. And, a friend of mine had just done some cool string art that I myself was dying to try out. When she said I could use her leftover nails and ombre pink thread, I knew just what I was going to make.
I mean, you can't beat a DIY project that quite literally cost me $0.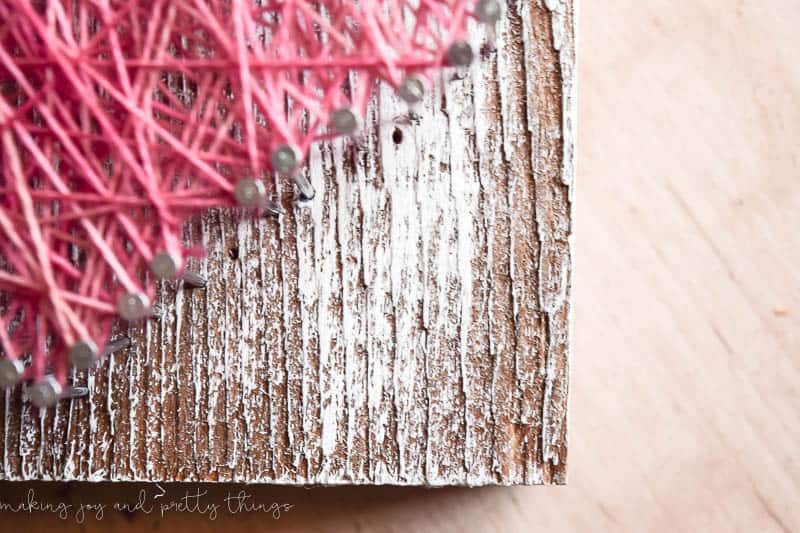 I completed the entire project in just one day, including waiting for the paint to dry. String art is not as difficult as I thought it would be and I'm SO happy with how the heart turned out.
The string art heart is either going to go on her farmhouse shelves or in the shadow box. I love continuing the general trend in her room of "pink" and "rustic". It's the perfect farmhouse girl's nursery! (UPDATE: Here's how the nursery turned out!)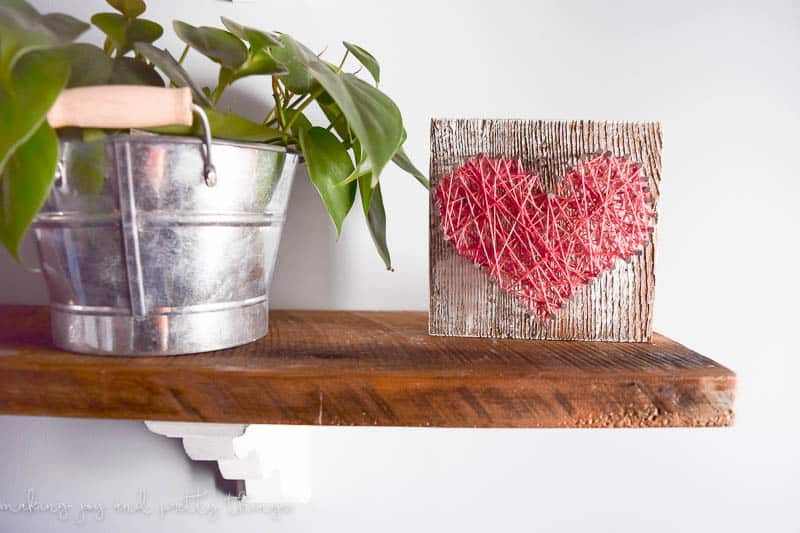 Hop over to Making it in the Mountains to see the full DIY tutorial!
---
Want to see more string art ideas??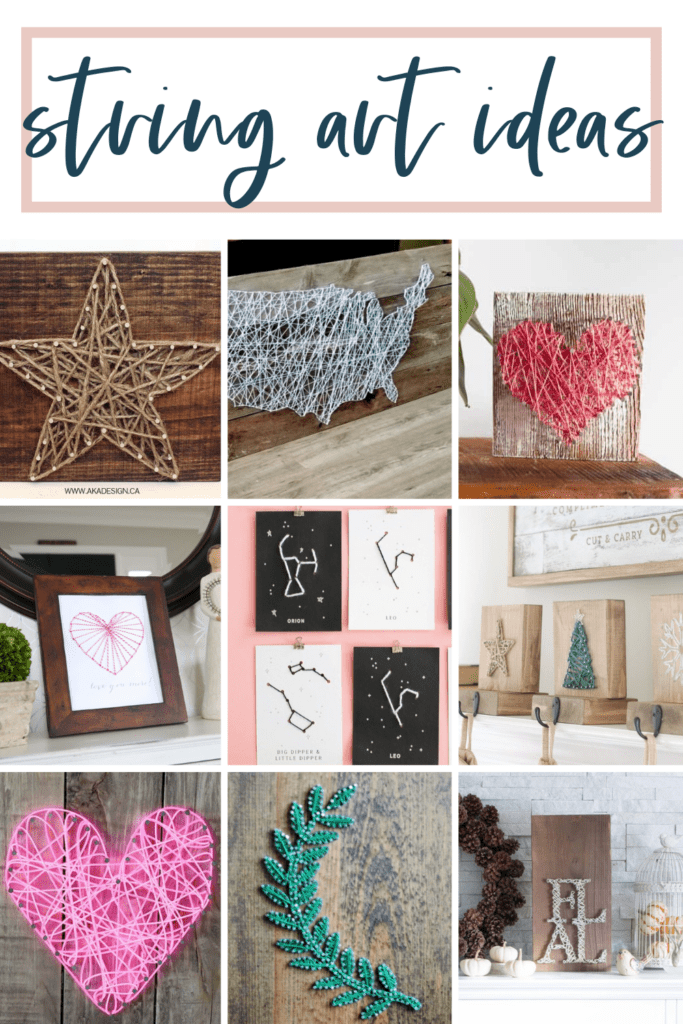 As promised, here's a tons more easy string art ideas that you can totally do yourself, even if you've never done string art before! It's so easy, I promise.
Which of these fun ideas was your favorite??
Wishing you a joyful day!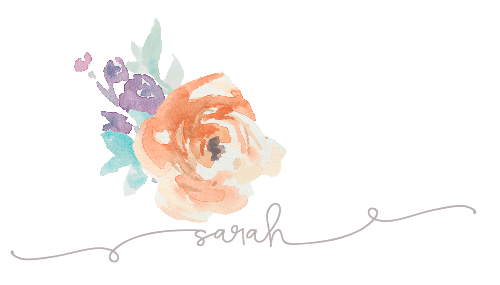 * This post was originally published in February 2017 and most recently updated in February 2023. *