20+ Pretty Decorating Ideas for Kitchen Island
Struggling with how to decorate your kitchen island countertop? Get inspired with these 20+ pretty decorating ideas for a kitchen island! From vases with greenery to fruit bowls, there's something for everyone!
Your kitchen is the heart of the home. And in the middle of most dream kitchens stands an island.
A kitchen island is possibly the most coveted feature when it comes to designing a kitchen. The addition of extra counter space, storage, and seating is a dream come true, but the floating fixture in your kitchen can pose a challenge to decorate.
Today I'm going to share tons of decorating ideas for your kitchen island to add your own design style while keeping it functional and practical.
Kitchen islands are known for their versatility and functionality. They can quickly change from a meal prep workstation or a homework area for the kids to a buffet-style setup for a dinner party. The sky is the limit for this fixture.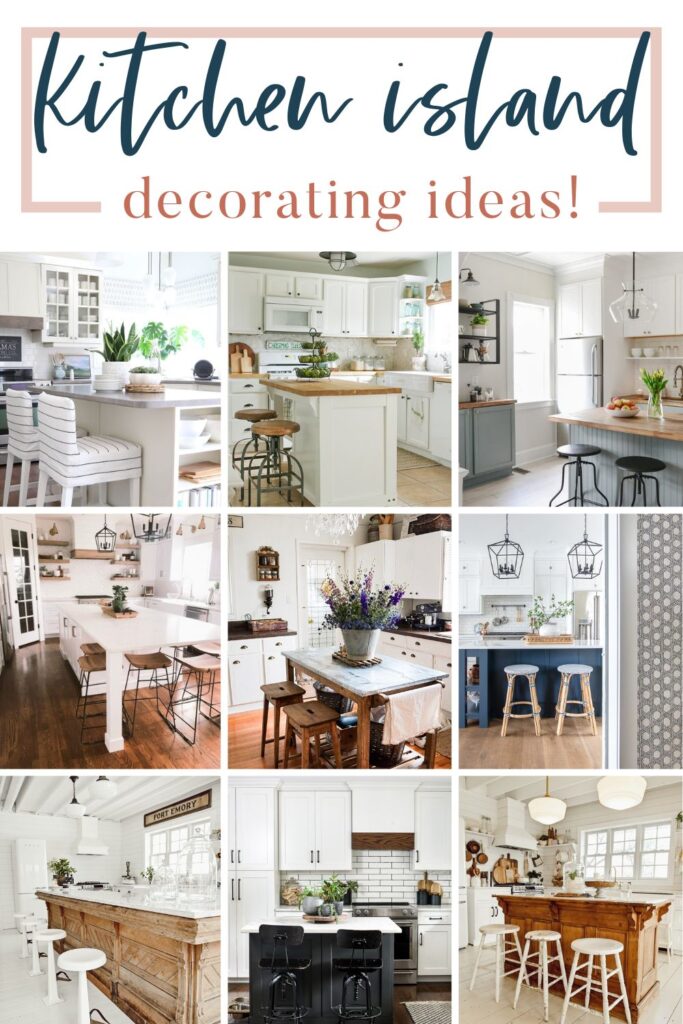 How to Decorate a Kitchen Island Countertop
The countertop of your kitchen island usually starts as a big blank slate, which can totally be overwhelming for some. When it comes to decorating your kitchen island countertop, there are a few things to consider to really make it work for you.
The goal here with your kitchen island decorations is to personalize your island and turn it into a statement that looks amazing.
Consider Your Space
First and foremost, your kitchen island needs to be functional, so think carefully about what you want it to do. This will differ from person to person, of course.
Do you need extra counter space for food preparation? Do you need extra storage space for pots and pans? Or perhaps you want a seating area where people can gather around and chat while you cook.
Think about how much space you have on your kitchen island countertop and make a plan from there. I don't know about you, but I certainly don't want to clutter the space that requires rearranging when the kids do homework. But you do want a warm and inviting feeling that is both functional and pretty.
There are so many different types of kitchen islands on the market today, such as models with built-in sinks or stovetops, or islands that have shelving or cabinets underneath for additional storage. Take this into consideration when planning your kitchen design or shopping for a new kitchen island.
Make it Functional
There are plenty of ways to incorporate functionality and style into the decor on your kitchen island, even if you have a small kitchen island. Dough bowls are a popular choice for corralling fruits and packaged snacks for easy access.
You can also gather salt cellars, spices, stacks of plates and bowls, and collections of cooking utensils for easy access at your extra prep station.
Try to choose items that serve a purpose versus just for show. Cookbooks, coasters, candles, and cutting boards are other decorative items that are also functional on your kitchen island.
Add Lighting
Lighting is an integral part of any interior design project, and it can make a significant impact on the look and feel of your kitchen island.
When it comes to lighting for your kitchen island, the most obvious choice is to add pendant lights. Pendant lights hanging above your island can create interest, draw the eye upward, and add a warm ambiance to your kitchen.
There is no limit to the variety of pendant lights you can choose from; rustic metal designs with exposed bulbs can create an industrial vibe while glass or crystal pendants offer a more elegant look. Consider the overall style of your kitchen when choosing pendant lights for your island. Check out these pendant light ideas for more inspiration!
If you want to add some extra flair to your lighting fixtures, consider adding dimmer switches for brightness adjustments as needed.
Incorporate Seating
Adding seating to your kitchen island is an excellent way to create a social hub in the heart of your home. A row of bar stools creates a casual dining area while providing extra seating during parties or gatherings with friends and family members.
Not only does seating enhance the functionality and beauty of your kitchen island but ensures that it becomes one cool hang-out area!
Choose Bold Colors
Your kitchen island is prime real estate for adding bold colors that pop against your cabinets and countertops. If you have neutral cabinets or counters, use bright shades like orange or turquoise on your island for an eye-catching focal point. The pop of color can add tons of character to your kitchen!
Or have fun playing around with graphic designs or even painting it all black for contrast!
When it comes to designing your dream kitchen, the perfect kitchen island can make all the difference. Not only does it provide ample counter space for cooking and prep work, but it also serves as a gathering spot for family and friends to socialize while you cook.
So go ahead and let your dream kitchen island bring in that extra style and functionality you've always wanted!
Decorating Ideas for Kitchen Island
There are so many different ways to decorate your kitchen island! Whether it's incorporating more seating or lighting, adding vibrant colors, or incorporating butcher block cutting boards, taking the time to make your kitchen island countertop look beautiful is worth it!
Here are some great decorating ideas for kitchen island countertops to get you inspired!
Which of these decorating ideas for your kitchen island is your fave?