Living Room Design Plan: A Modern Living Room Mood Board
I'm so excited to be sharing our living room renovation plans!! Here is our modern living room mood board, plus floor plans for our upcoming living room makeover.
It feels so good to be doing a new renovation project.  Specifically, our living room!  Time to share our living room design plan!
It's been a while since we updated anything in our home.  We did update the office and dining room but nothing since then!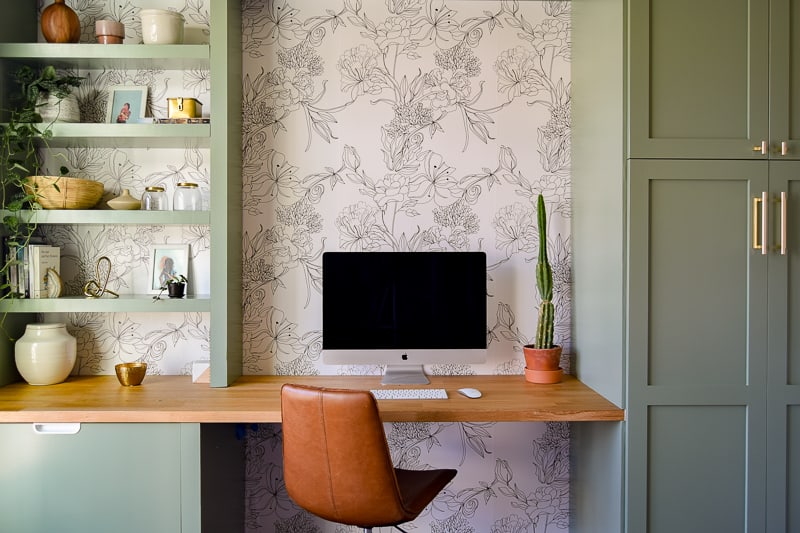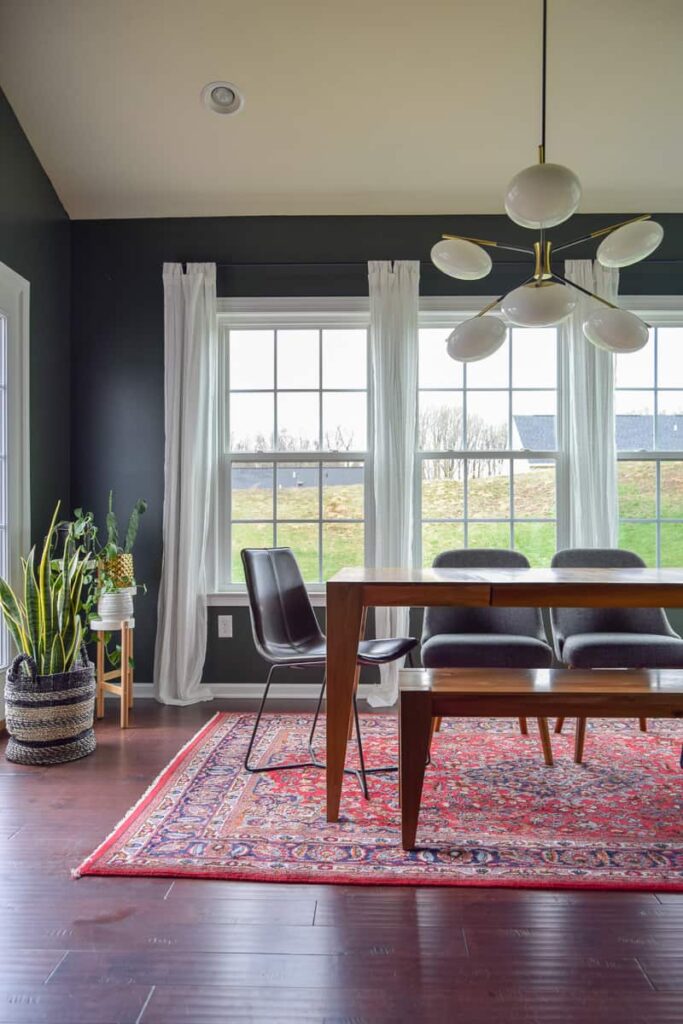 The living room has been a looooong time coming.  I threw out the rug one day and have been hating the living room ever since.  Oops!
It's beige and gross and builder-grade.  I don't know who makes the paint decisions for builders but they should be fired.
Modern Living Room Makeover: Before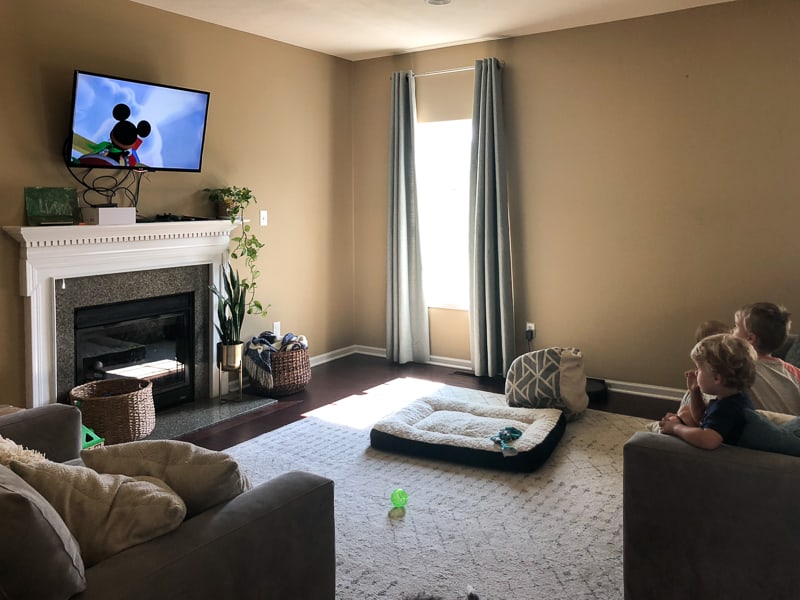 My least favorite part of the room (besides the beige paint) is the fireplace.
I've been on a focal point and fireplace updating crusade the past few weeks.  I think, after considering 193875392387 options, I finally came up with what I want.  And, it's not even one of the options I shared last week (*face palm*).
In case you missed it, check out these posts too!
Modern Living Room Fireplace Design Options
Last week, I shared the fireplace design options I was considering.  Thank you to everyone who commented!! Here were the top two favs:
Jewel tile + Shiplap + Dusk doors
Jewel tile + white cement + cove doors
Well, after considering all the options I listed, I decided to completely change my mind.
Instead of using either of the wood door options and risking having too many wood tones in the room, I decided to use the same green we painted the dining room for the doors!!
It's called "North Woods" by Behr.  It's dark and moody and I love it!  Plus, since we have an open floor plan, it makes the giant space feel more cohesive.
So, after changing the doors but keeping the jewel tile + shiplap, here's what it looks like!
I just love how it looks!!!
That's not the exact couch we picked but everything else is part of the design plan.
I also switched out the counter tops from a black color to wood.  I like the contrast and I think we're going to stick with them!
Speaking of which, let's take a closer look at the design plan!
Modern Living Room Floor Plans
You enter the room from the entry/office on the left hand side.
From there, it's open to the living room (shown) and the kitchen (the big space at the bottom).
The dining room is off the kitchen (not shown).
Basically, the whole area is open!
Now, the Modern Living Room Design Plan!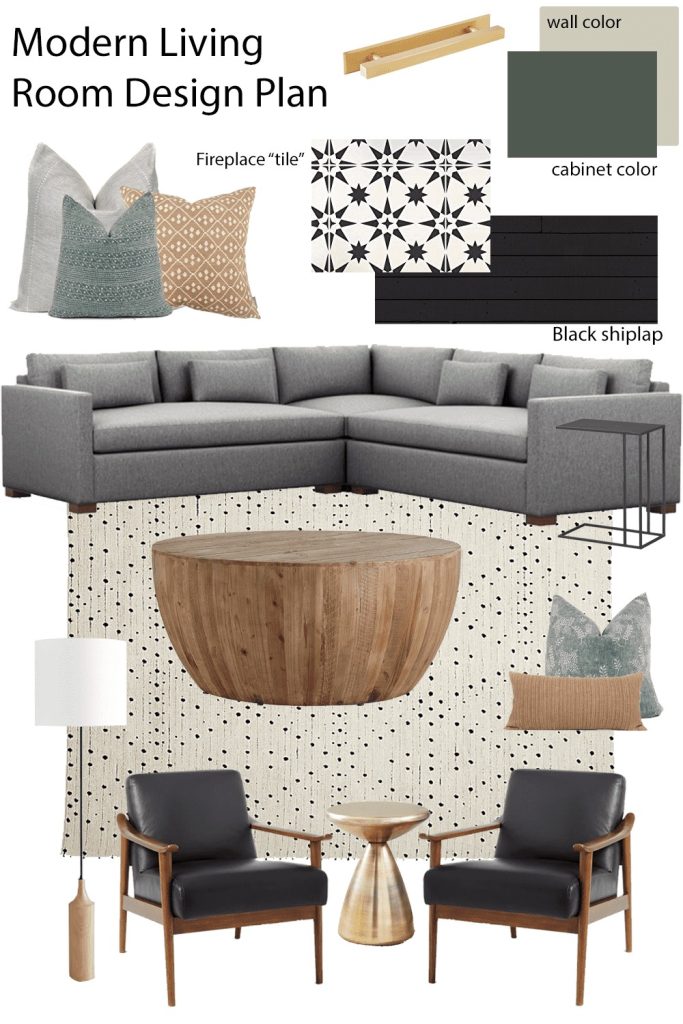 LOVE LOVE LOVE.
It's modern and clean, definitely my interior design style.
I'm worried it's a little too black and white.  I did add some color to the cabinets and pillows.  Plus, the shelves will be styled (can't wait for that).
We'll see how it starts to look once we begin the fireplace reno.  I may have to switch out the rug or chairs for something with a little more color.
I don't know.  I'm kinda obsessed with how it turned out!
What do you think??
Shop this modern living room design here:

I'm really excited to get started on the project.
But, I also had a realization that I'm giving birth in 7 weeks and have nowhere for the new baby to go!  Oops!  #fourthkidproblems
So, this project may be on hold for a bit while we work on Evie's big girl room!   We have to transition her out of the crib and her current room into a big girl bed and a new room so that we can do something to her current room for the new baby.