Fireplace Wall Design Options for our Living Room Makeover
It's time to start the living room renovation! I can't think of a better place to start than a fresh fireplace wall design.
It's hard to believe we moved into our home over a year ago and I've waited this long to share a fireplace wall design. I shared all about how beige and builder-grade it was on our home tour last summer.
I'm so excited to start our third room renovation in our not-so-new home!!
So far, we've completed 2 rooms – the office and dining room.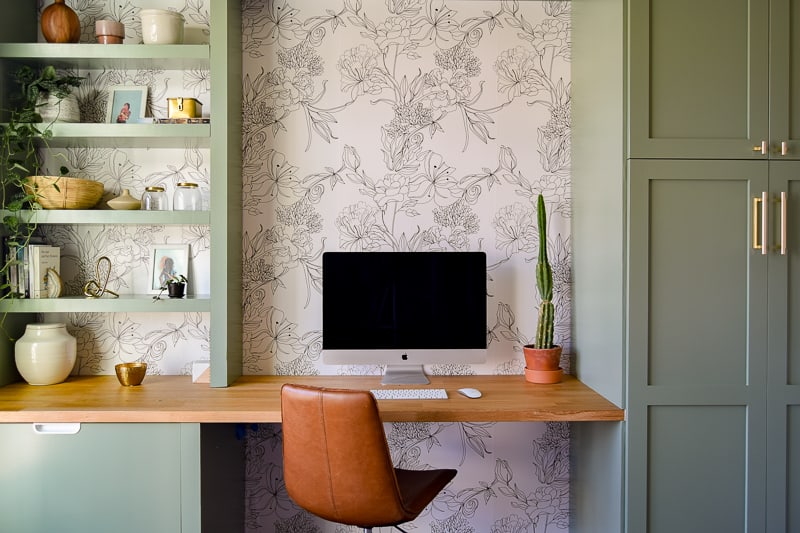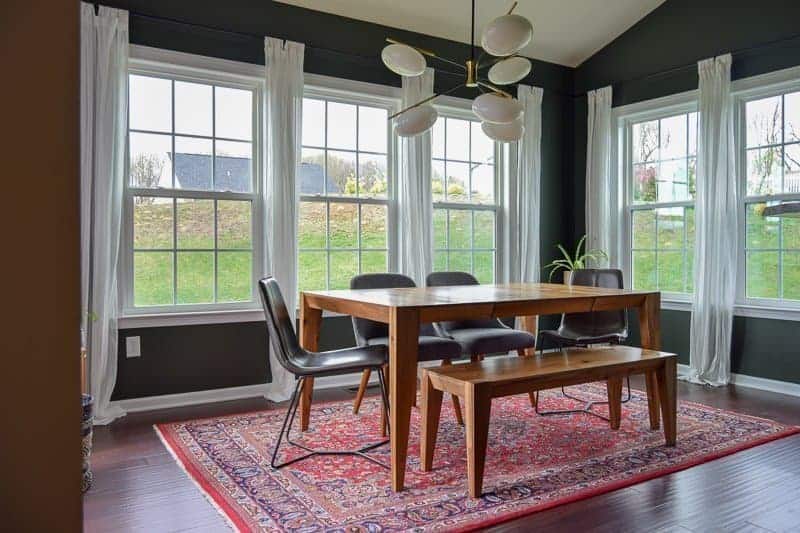 The living room has pretty much remained untouched since that home tour last summer. I can't say I like it any more than I did when we moved in.
Here are some pictures (WARNING: it's beige and boring):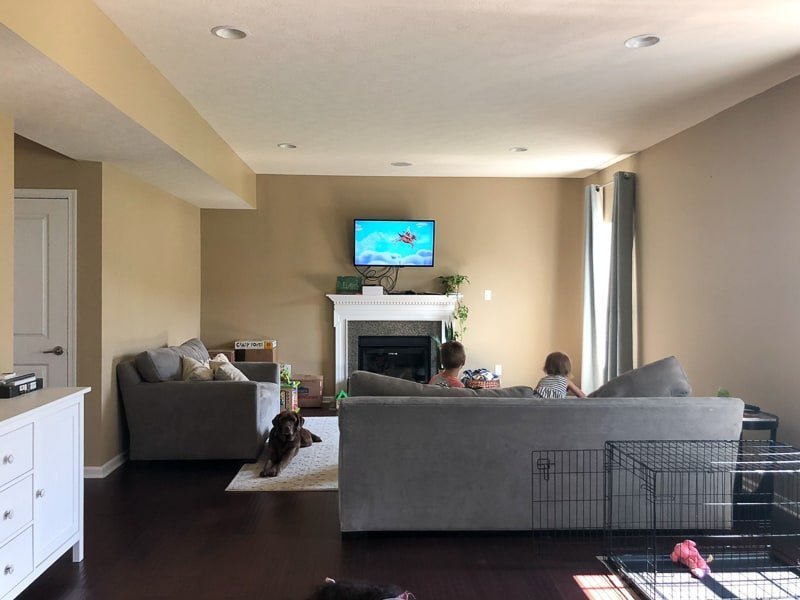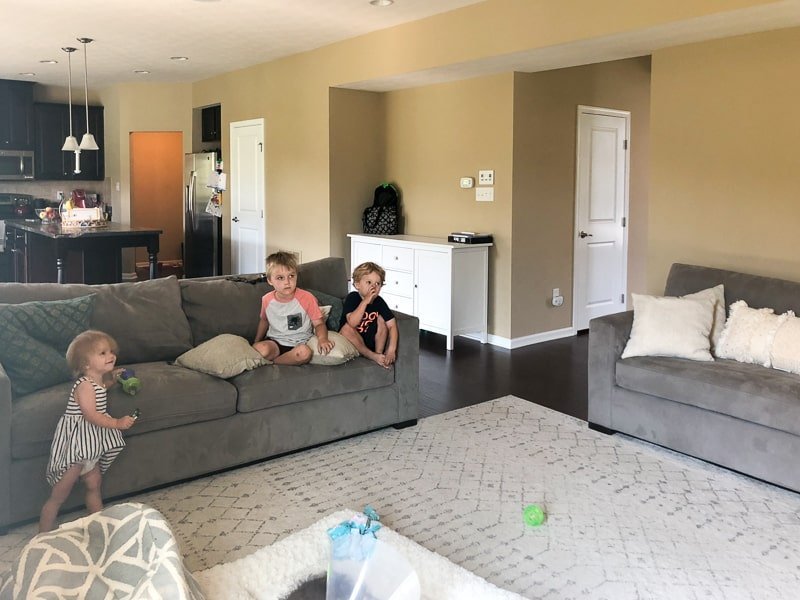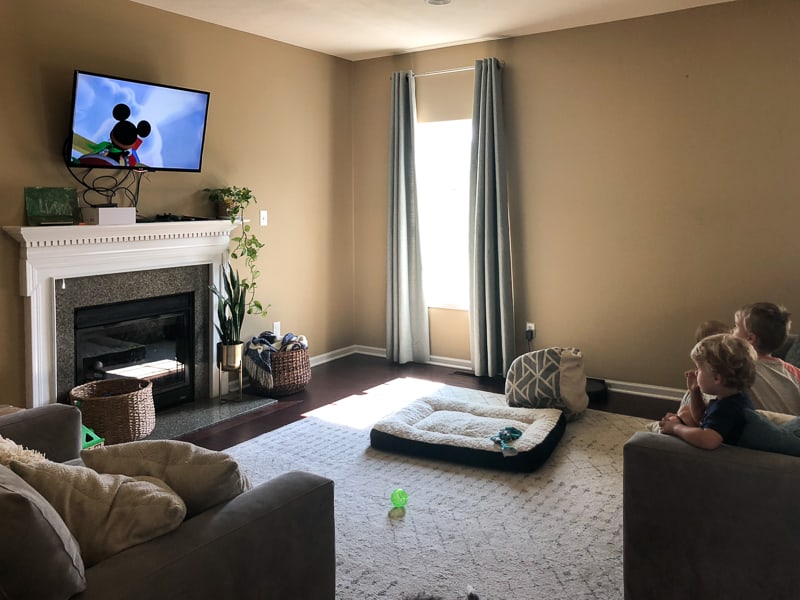 Eeekkk … right?!
For one, it lacks a focal point. I shared a few weeks ago about how to create a focal point in a room. It's SO important and one of the biggest design mistakes we DIYers can make.
A fireplace is such a natural, easy focal point to have in a room. It takes all the guesswork out of figuring out where to put a focal point or how to even make a focal point.
But, for some reason, our fireplace looks half finished. It's like they wanted to make it look more like a focal point but then just got lazy and stopped where they were.
Need fireplace update ideas?
Last week, I shared all about 5 different ways to update your fireplace.  It's been really helpful for us as we decide on our exact plans for our fireplace renovation.
Read About 5 Ways to Update Your Fireplace here!
When planning our living room renovation, I started with figuring out the fireplace situation. It helps to consider just one area at a time so that you don't get overwhelmed in the planning process.
From there, I wrote down all of our "must haves" for the living room and came up with a plan.
I'll be sharing the full design plan next week. For today, let's talk about what exactly we need with the fireplace design.
Here is the fireplace wall design plan:
Storage – we don't have any storage now. At our old house, we turned IKEA kitchen cabinets into custom built-ins, giving us SO much storage. So, we need to add IKEA cabinets next to the fireplace!
Extend the fireplace to the ceiling – I feel like I sound like a broken record but focal point, focal point, focal point
Update the granite surround – I heavily relied on my last post about fireplace update ideas when considering what to do here. But, I think I want to paint and stencil it!
Remove the white mantel thing that's there and build out the fireplace so it extends out from the wall
Add shelves above IKEA cabinets – obviously, I need open shelves!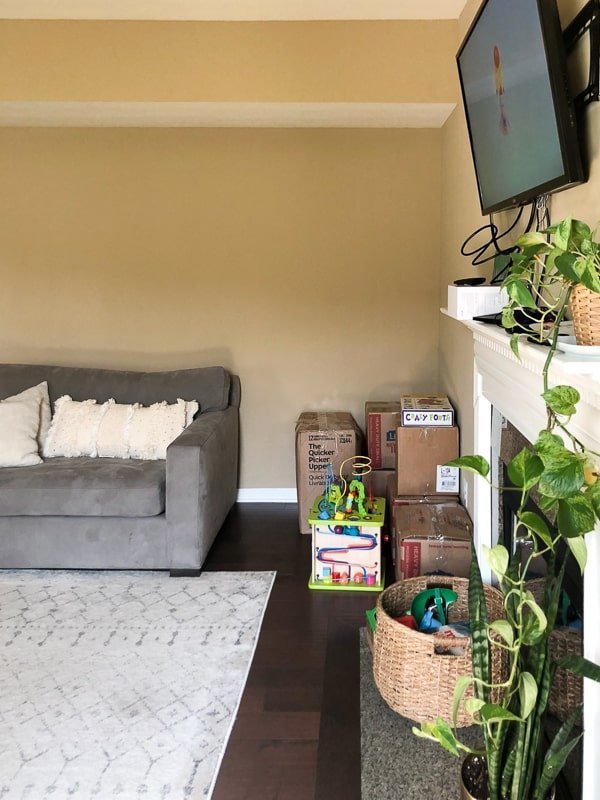 I have come up with a few (or way too many) options and I need your help narrowing down our decision!
There are basically 3 different things we're considering right now for the fireplace design:
What stencil to use for the granite
What Cabinet Doors to use for the IKEA Cabinets
What we want the new fireplace surround to look like
The General Idea of the Fireplace Wall Design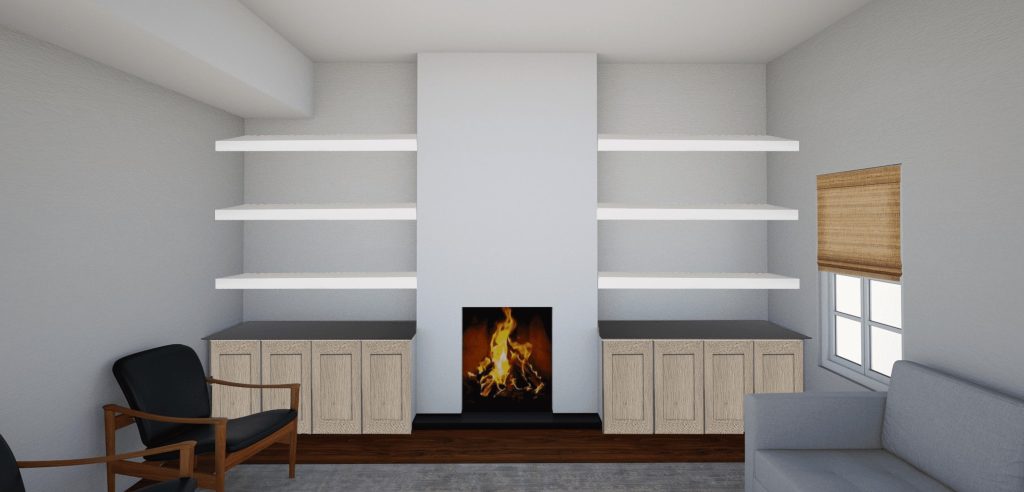 The basic layout has everything I discussed above.
We'll add IKEA cabinets to either side of the fireplace, build out the fireplace to its focal point, add open shelving above the cabinets, and do something with the fireplace granite.
Oh, one thing I forgot to discuss is the ugly bulkhead on the left-hand side.
Apparently, that's where the ductwork for the air conditioning runs and "needs to stay there". I mean, who designs a house with that in the living room?! I'm not an architect, obviously, but, COME ON!!!
Now, let's look at some options for the fireplace wall design!!
I'm going to try not to confuse you.
Remember, we're deciding between two different stencils, two different cabinet door fronts, and two different fireplace materials.
This post contains affiliate links. Please, click here to read my disclosure policy.
Stencil options:
I like either the Nola Tile Stencil or the Jewel Tile Stencil. The Nola stencil is the diamond-shaped one and the Jewel stencil looks more like stars.
Cabinets door options:
I really want to use a wood grain door. I'm having a hard time coordinating this with the other wood elements on our main floor. It would be easier to just do a white cabinet door or even black or another color.
But, I'm trying to make the wood grain doors work. So, I'm choosing between the Cove color (lighter wood) and Dusk color (dark, more gray wood).
Fireplace Options:
We're going to build out the fireplace, making it probably 12ish inches off the wall. Now, it's maybe 2 inches off the wall. Once it's built out, we're either going to do black shiplap (using our faux shiplap method) or white cement. Talk about two totally different options, right?!
Time for the photo rendering options!
I have them separated overall by Stencil Type. Then, within each stencil type, separated by type of fireplace and then type of doors! Yikes!!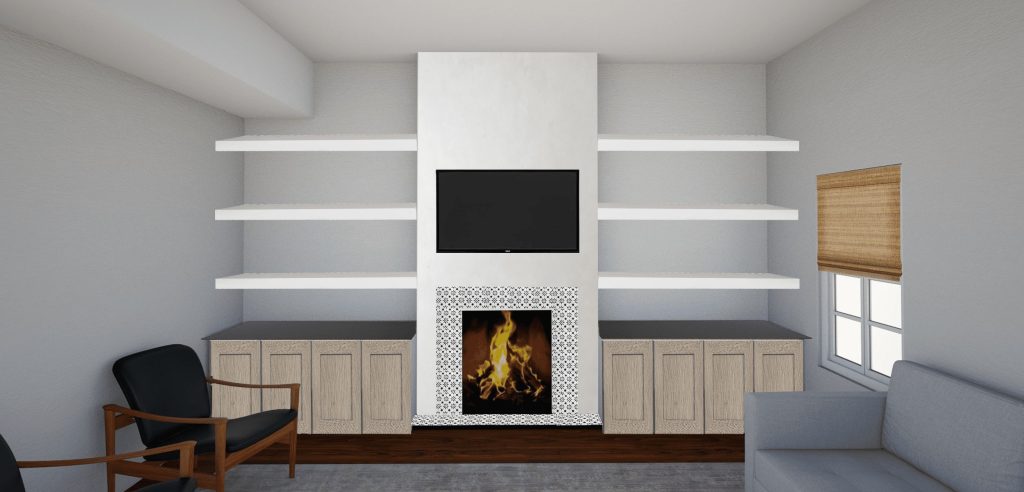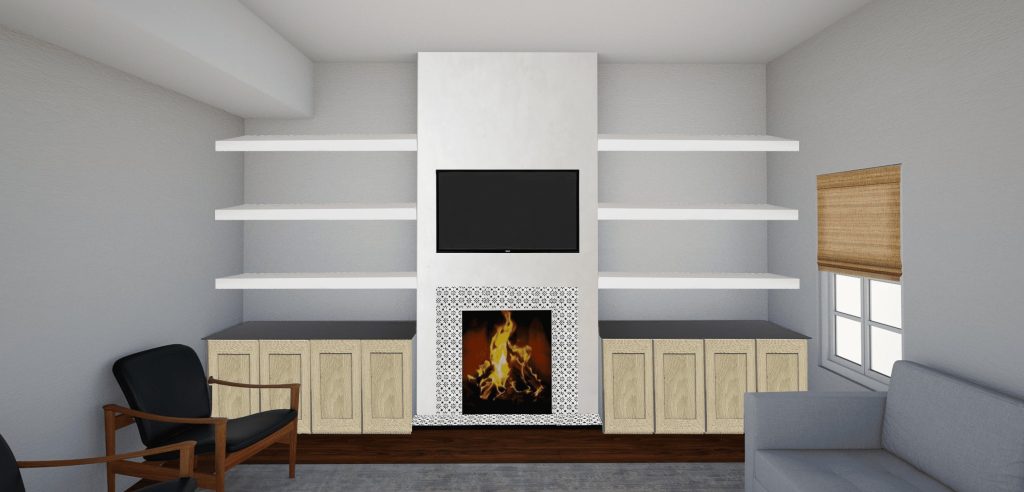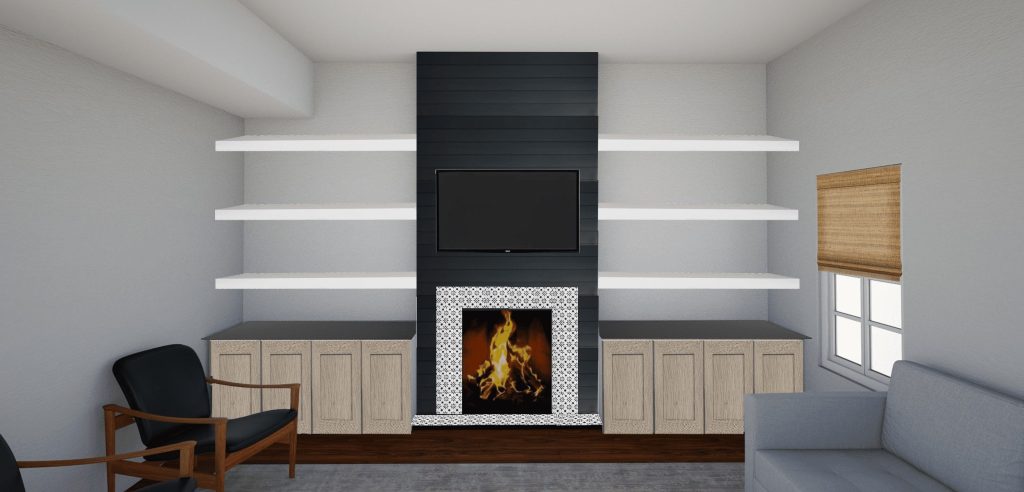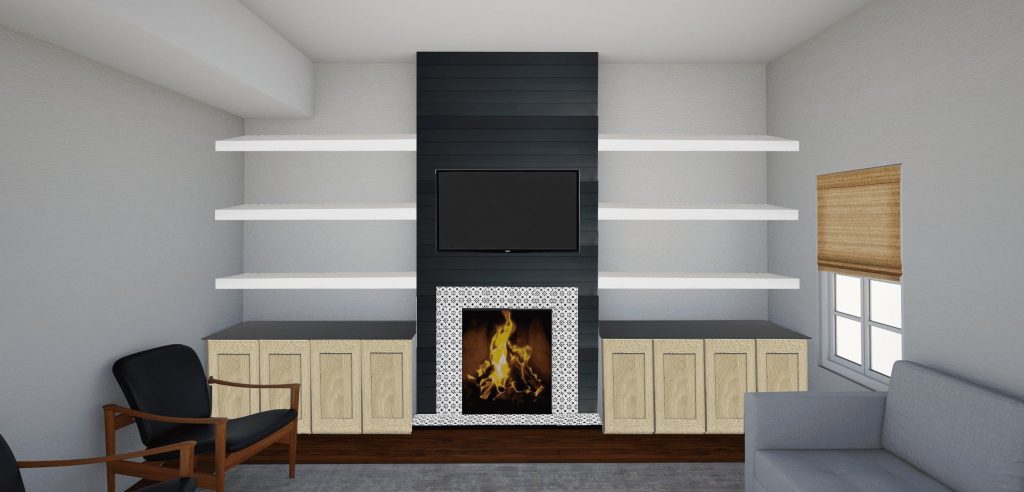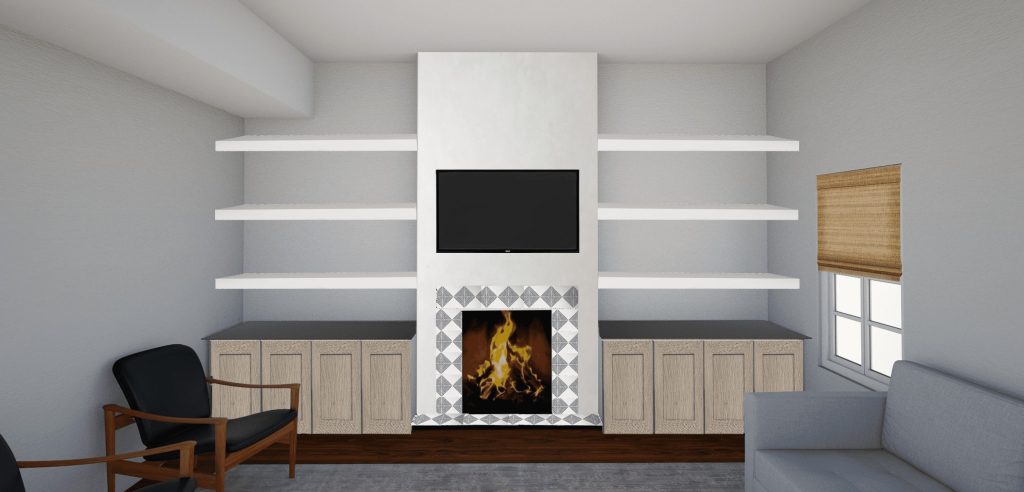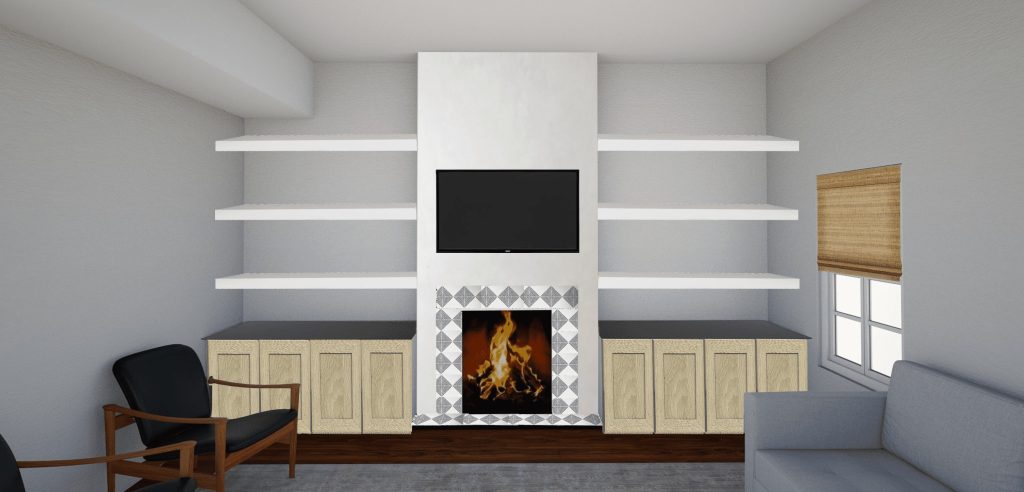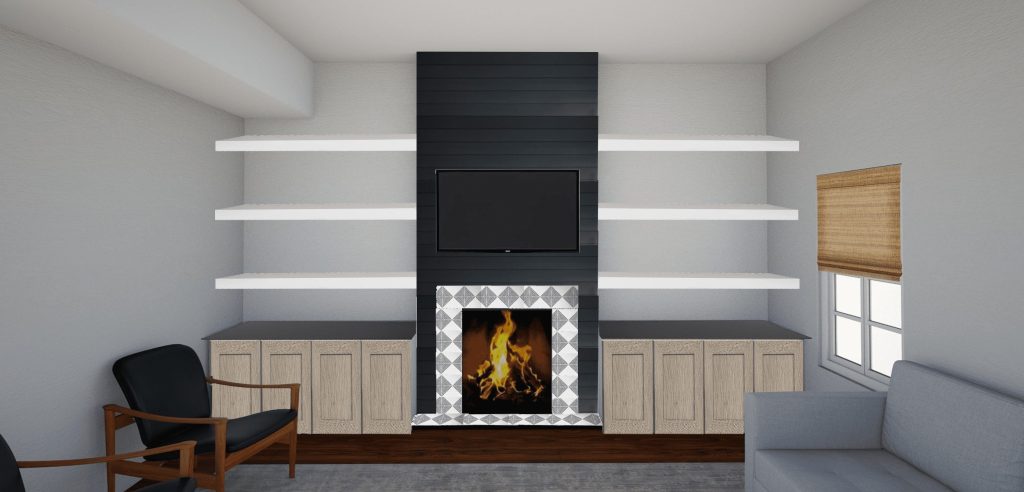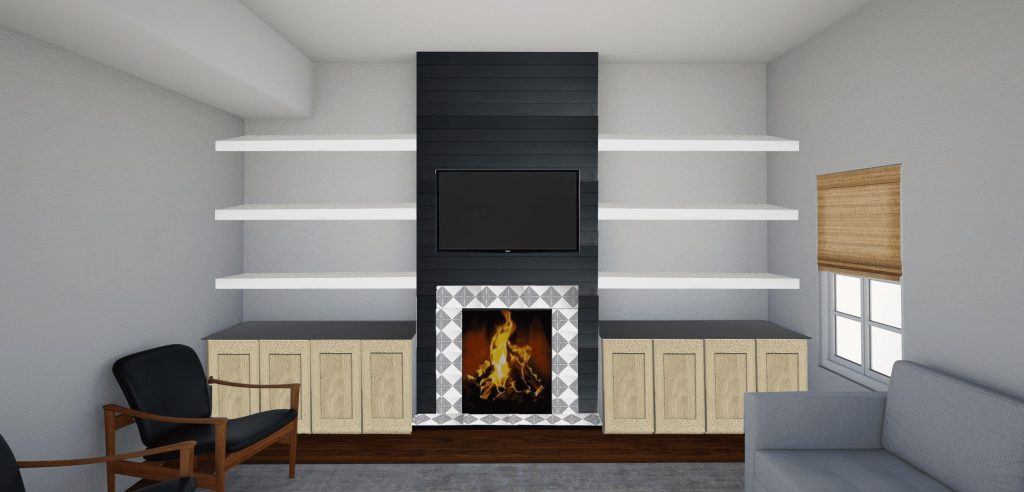 So many fireplace designs to choose from, right?!
I think right now I'm leaning towards DUSK doors, and JEWEL stencil. As far as the fireplace itself goes, I haven't decided!! TJ really likes the black shiplap and I'm split between shiplap and cement.
Either way, we need to make a decision soon! For now, check these other living room design ideas below.
Leave a comment below or send us an email with your favorite!
Next week, I'll share our full living room design plan!!!