Genius Toy Storage Ideas For Every Room of Your House
Are you struggling with toy clutter? I've rounded up the best toy storage ideas for you. Learn how to categorize your kid's toys and select the best storage containers for every room of your house (from your living spaces and your kid's bedroom to the playroom and even the backyard).
With a multitude of toy storage ideas now available, there's really no excuse for that pile of toys in the living room or the corner of your kid's bedroom. It's true that your kids' toys can wreak havoc on your home.
Now I wouldn't say it is one of the biggest challenges of parenthood or anything, let's not get ahead of ourselves. But if you try to keep a tidy home, kid's toy storage is definitely something you need to think about.
Even if you have a designated playroom in your house for all of your children's toys, you're most likely faced with the dilemma of how to organize everything – from the big toys to the small toys and everything in between.
For relatability, here's a little glimpse at one of the rooms in our home shortly after we moved in with ALL.THE.TOYS everywhere. We were in definite need of some good toy storage ideas. You're in good company, mamas.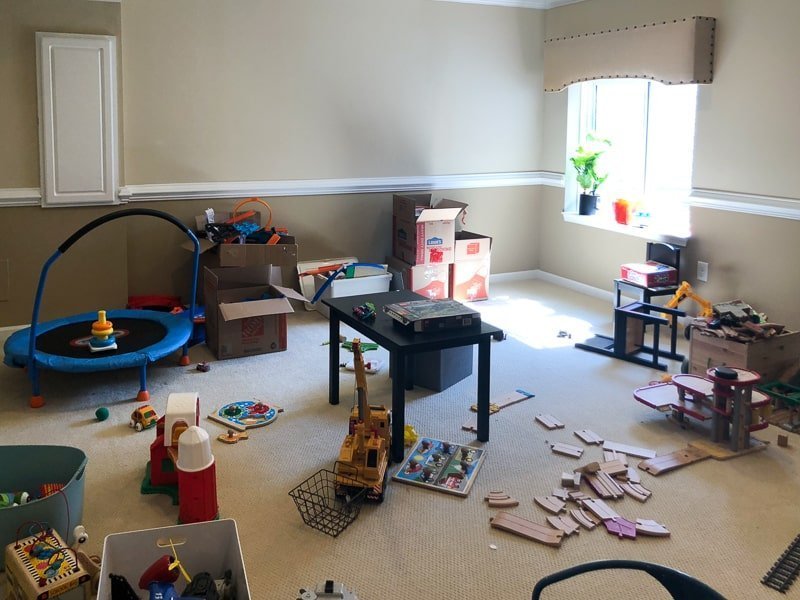 Keep reading if you're struggling with what to do with all those Barbies, Hot Wheels, Legos, board games, dress-up clothes, game pieces, and superhero action figures – not to mention, all the microscopic teeny-tiny pieces that go with them.
I mean seriously, why does Barbie need more clothes and accessories than I have? All of the little things can be really overwhelming if you don't have a good system for organizing toys in your home.
Parents know that clutter can be a worst enemy, especially if you're working from home or on a busy schedule. Keeping your home organized should start with toy organization. Here's my favorite toy storage ideas!
This post contains affiliate links. Please, click here to read my disclosure policy.
Divide and Conquer: Keep It Simple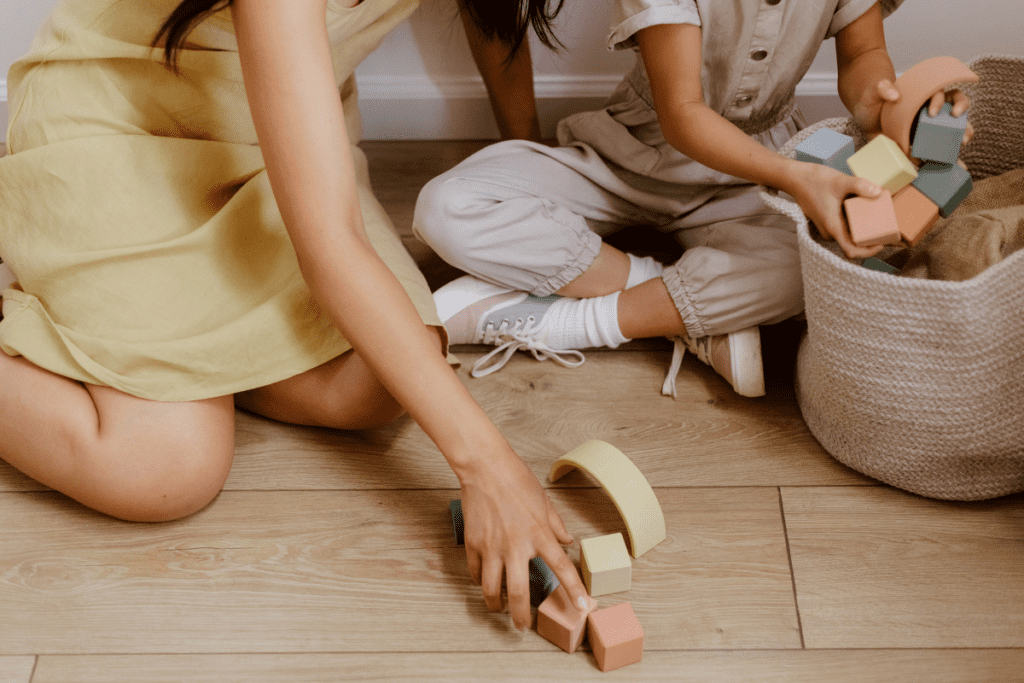 Parents and kids who like to know exactly where each Lego is at any given time will appreciate a toy storage organization that includes small individual drawers, bins, or containers for separate categories of toys.
That type of toy organization can be time-consuming when it comes time to put the toys away.
Somewhere between micromanaging each toy placement and dumping the whole lot into a closet is a middle ground where parents and children can feel comfortable knowing generally where the toys are and can put them in their place in a few minutes.
The best toy storage solution is one in which children as young as 3 years old can put away their own toys.
Children who are given some responsibility for household chores grow up to be more independent, and self-confident and feel good about contributing to the household.
Separating toys into broad categories with labeled bins that are easy for kids to understand is a good start.
Here are some examples of toy categories:
Stuffed animals
Toy cars
Barbies & accessories
Lego bricks
Play food
Art supplies
Board games and puzzles
Books
Toy Storage That Doesn't Look Like Toy Storage For Your Living Spaces
Who says toy boxes have to be in bright colors, shaped like a castle, or covered with pictures of zoo animals? At the risk of your entire house looking like a preschool, let me just tell you that you can go ahead and avoid those for your kid's toys.
You can totally find other ways to store and organized your child's toys so that it doesn't look like a bunch of toys and fits right in with the other room decor. It's like you're hiding them in plain sight!
A toy box is not the only way that you can store toys. There are many other creative toy storage ideas that can allow you to store your kiddo's things easily and conveniently. Try the following fun ideas for your kids.
Cube storage
Cube storage has been around forever. It's a great option for storing and organizing toys in your living spaces because the toys stay completely hidden. The square storage boxes are typically sold separately that the storage unit with the square shelves.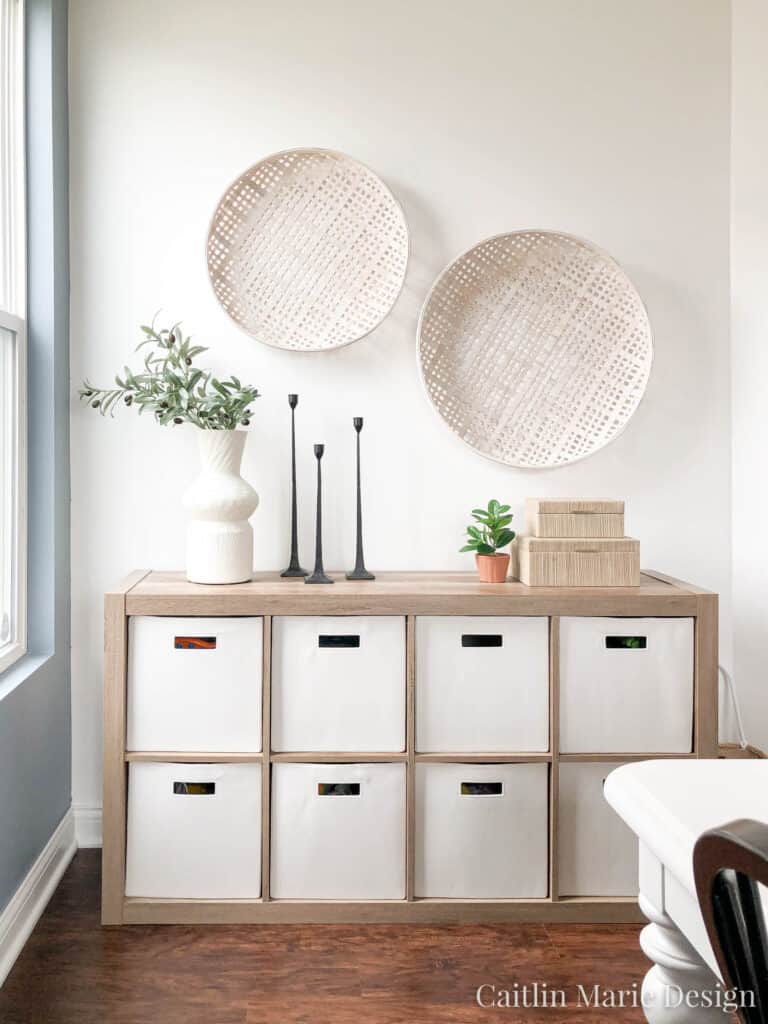 You can choose something that works well with the rest of your room's decor, like Caitlin Marie Design has done here. Can you believe this pretty storage unit is in her dining area and hiding a ton of toys?
Wooden toy box with lid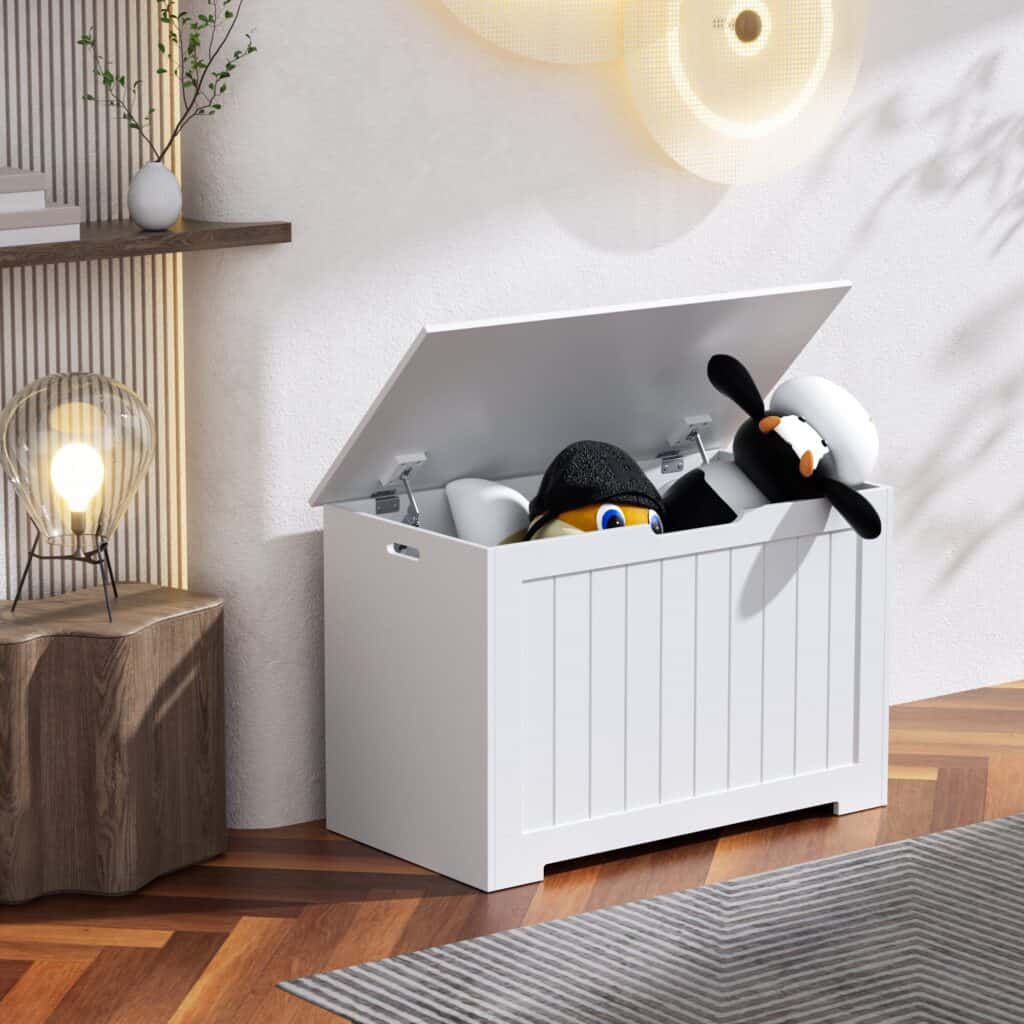 Stashing away toys in a nicely decorated family room may be as simple as buying a large wooden chest from a furniture store.
Hampers
Hampers are surprisingly perfect for storing toys! They are large baskets that are usually lightweight. They will sometimes have handles to make it easy to carry them.
Wicker baskets
Wicker baskets are very pretty and can be perfect for toy storage. You can buy these in all different shapes and sizes. Some of these have lids to cover the toys and handles as well so as to be portable.
Coffee table with storage
This coffee table not only has drawers on the bottom that slide out, but the top also lifts up for extra storage! Genius, right?
Living room built-ins with doors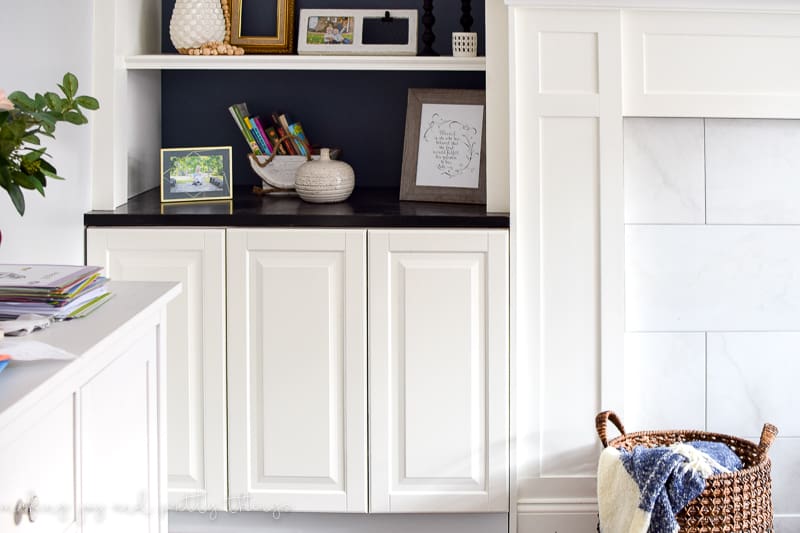 In our living room, we have IKEA built-ins around our fireplace using kitchen cabinets that not only look great, but also provide a ton of storage behind those closed doors!
Storage ottoman
Storage ottomans are a great addition to your living space. You can storage extra toys inside and then use it as extra seating when needed!
Bedroom or playroom storage ideas
In a kid's bedroom or designated playroom, I think you have a little more flexibility to keep the toys organized in a way that has easy access without feeling the need to hide everything away.
I'm sharing just a few ideas below, but I have an entire separate article all about kid's room organization where I dive a little deeper and include tips for storing clothes and more in a kid's bedroom!
Wood crates
Wooden crates are a great idea. The best part is that they are open bins so they are very easy for the kids to use themselves.
You can customize them to fit your space with paint or stain. Grab the crate and all the supplies you'll need at either the craft store or the hardware store.
You can even put them together to make a wooden crate bookshelf, which is totally genius!
Use labels on your bins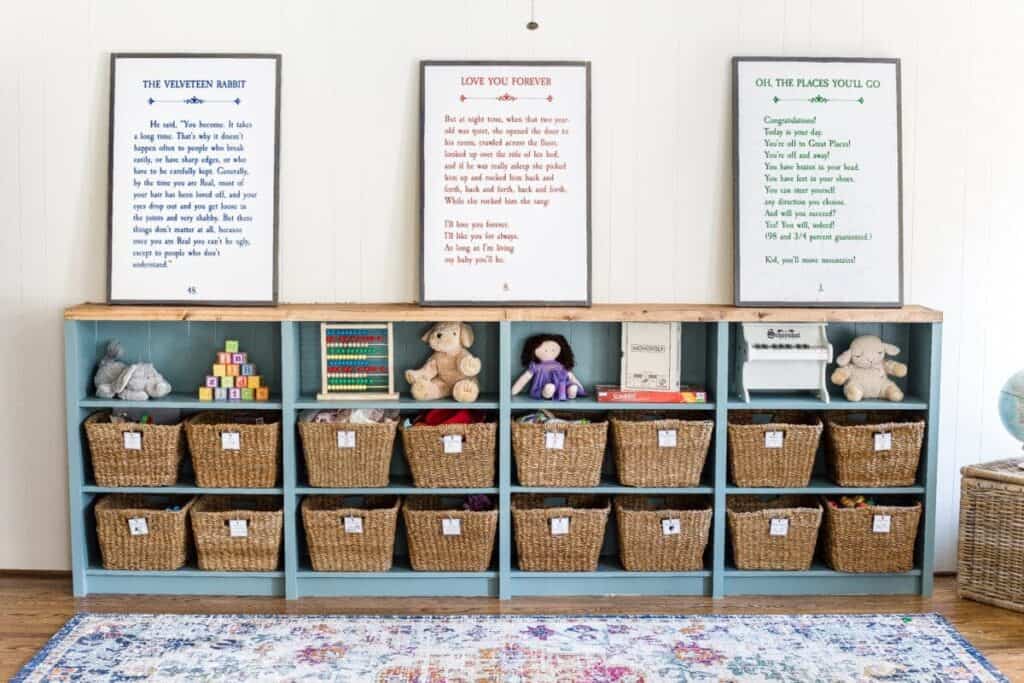 Using labels on your toy storage bins is a must if you want to set up a good organization system! I love these free printable labels from Lauren at Bless'er House because they have pictures on them, which is great for kids that don't read yet!
Toy organizer
Getting a toy organizer unit with a bunch of removable storage bins, like this, is a great option for a bedroom or playroom that houses a lot of toys.
Swap out cardboard boxes for zipper bags
You'll be shocked by how much room those bulky board game boxes and puzzle boxes are taking up. They definitely aren't a good use of space.
Instead, get rid of them and use strong zipper bags instead. These ones are definitely a popular choice that I found recommended by several moms on Instagram.
Hanging nets for soft toys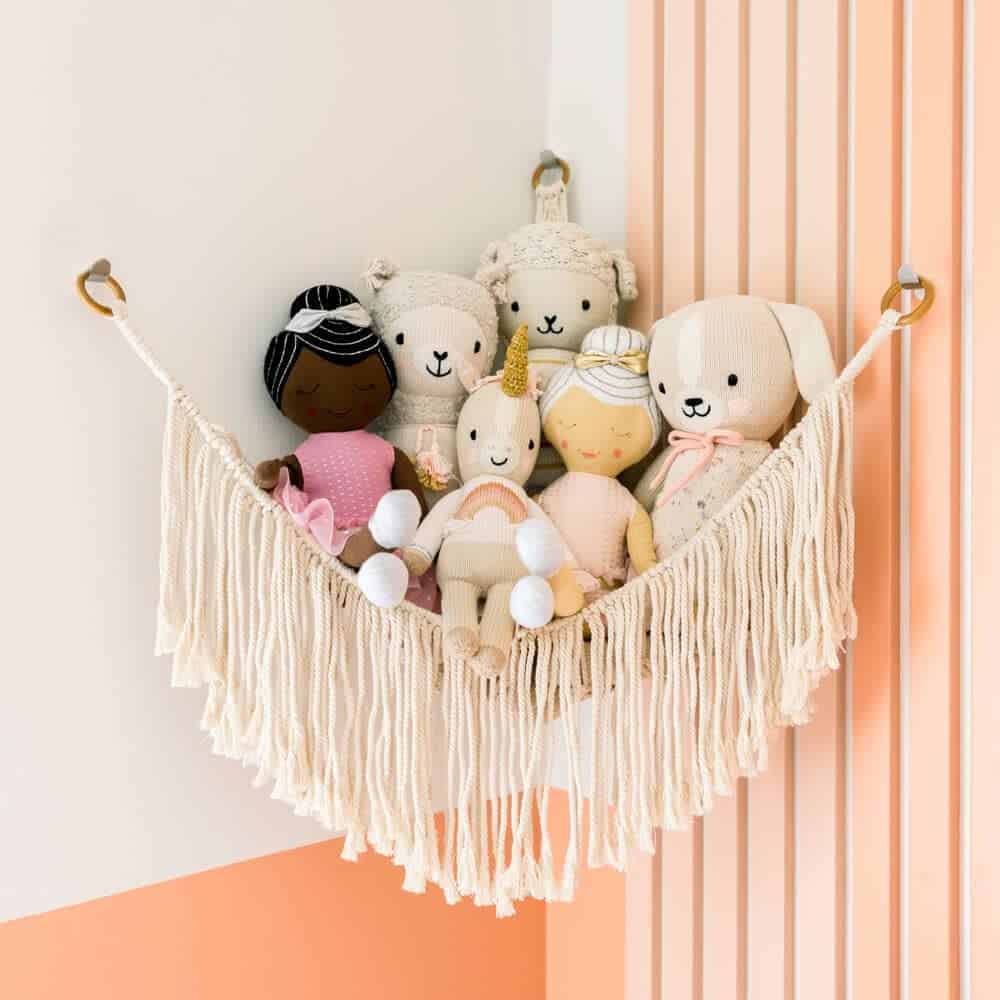 You can purchase hanging nets in order to store toys up in the corner of the room. They can get the toys off the floor and usually make them easy to see. You can also make your own easily with some netting and some nails for the walls.
Other places that may need to store toys
Toy storage ideas for the bathroom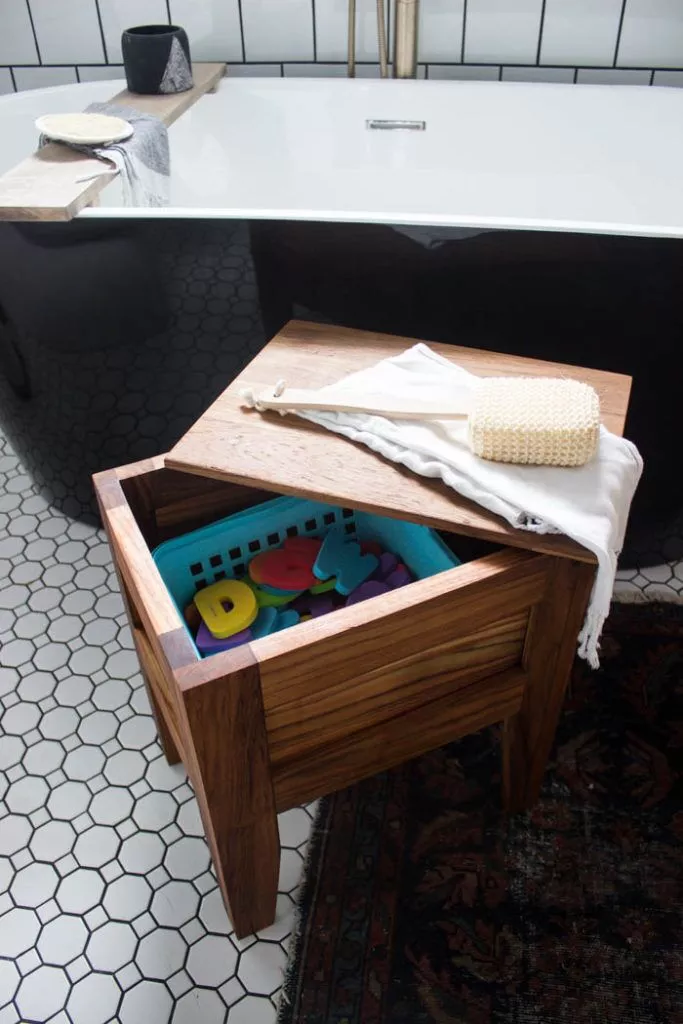 You also need think about how to store toys in your bathroom. I love this idea from Lindi & Russ with a DIY bathroom stool that perfectly hides the bath toys when they are not in use!
Outside toys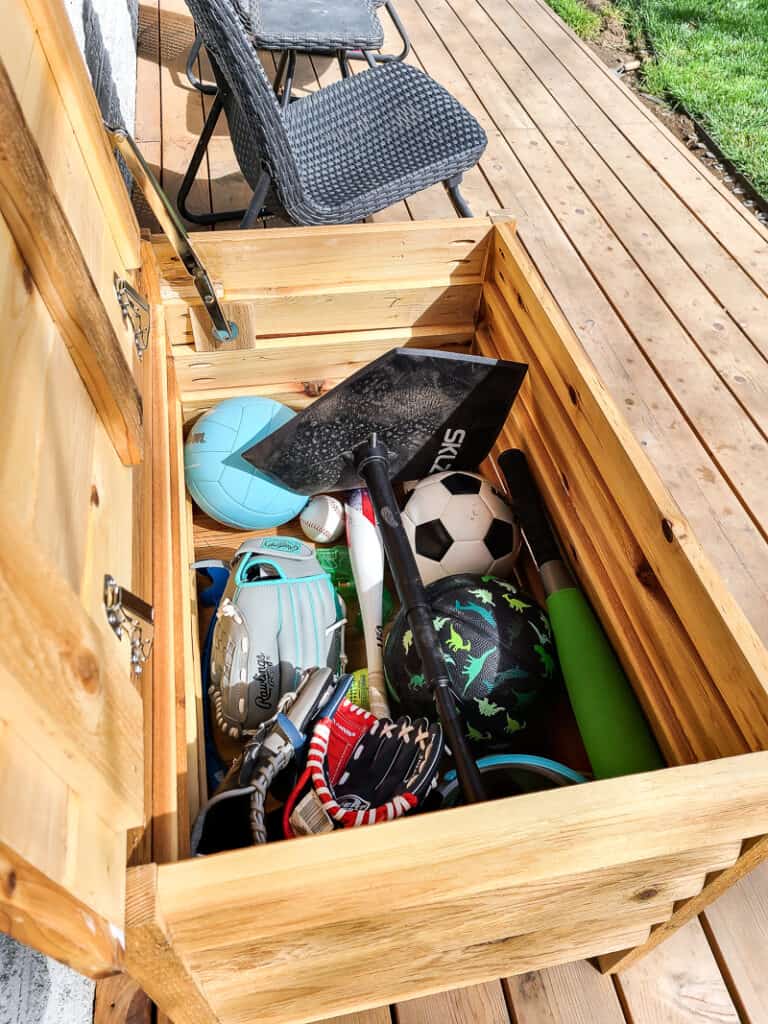 Lastly, you probably have a fair amount of toys that belong outside. All of those balls, bats, frisbees and more can safely get tucked away in a DIY deck box, like this one!
There are so many unique ways to store toys. Be creative and you can make something both attractive and practical for your child. Try a variety of ideas to give a pretty and eclectic look to your home.
No matter what style of toy storage you choose or whatever room you're struggling with, you can make it fit well into your home and your busy lifestyle.
Which of these great toy storage ideas is your favorite?