Kids Room Organization Tips
If you are struggling to get your child's bedroom organized and keep it that way, you'll love this article with kid's room organization tips. Even with a small amount of space, you can get your kid's bedroom organized by setting up practical storage areas and a functional system that even young children are capable of maintaining.
Keeping a child's room neat and orderly can be accomplished by creating a system that makes it easy for the child to put things away where they belong.
With a little effort and training on your part, as the parent, you will find yourself spending less and less time picking up after your child as they become more responsible for their own possessions and keeping their own room more organized. Keep reading for tons of kids' room organization tips and tricks!
This post contains affiliate links. Please, click here to read my disclosure policy.
Organizing and managing clutter in kids' rooms
In order to begin the process, conduct an assessment of the toys, clothes, books, and other items that are in your child's room. Discard those old toys and clothes that are broken, outgrown, or not used anymore in a large trash bag.
You might have to complete this step when your children are not present because if they were, you would not get rid of anything, even the glow-in-the-dark T-shirt from when they were three years old that doesn't fit anymore.
It is very ironic that every time I tell one of my kids that we're getting rid of something, it suddenly becomes their most prized possession. *insert eye roll*
If you are unsure if an item is really a treasure to your child, put it in a plastic bag and keep it for a month. If they miss it and ask for it, return it to the room; if not, go ahead and discard it.
Another way to encourage children to get rid of things they do not need is to allow them to have a garage sale and keep the money from the sale of their items.
To extend the life of toys, and to eliminate boredom (meaning fewer trips to the toystore) you can opt to alternate the toys that are left out, so your toddler or preschooler never gets tired of what he has to play with. An easy way to do this is to keep the other set of toys that aren't in use either in the garage, up on the top shelves of the closet, or under the bed.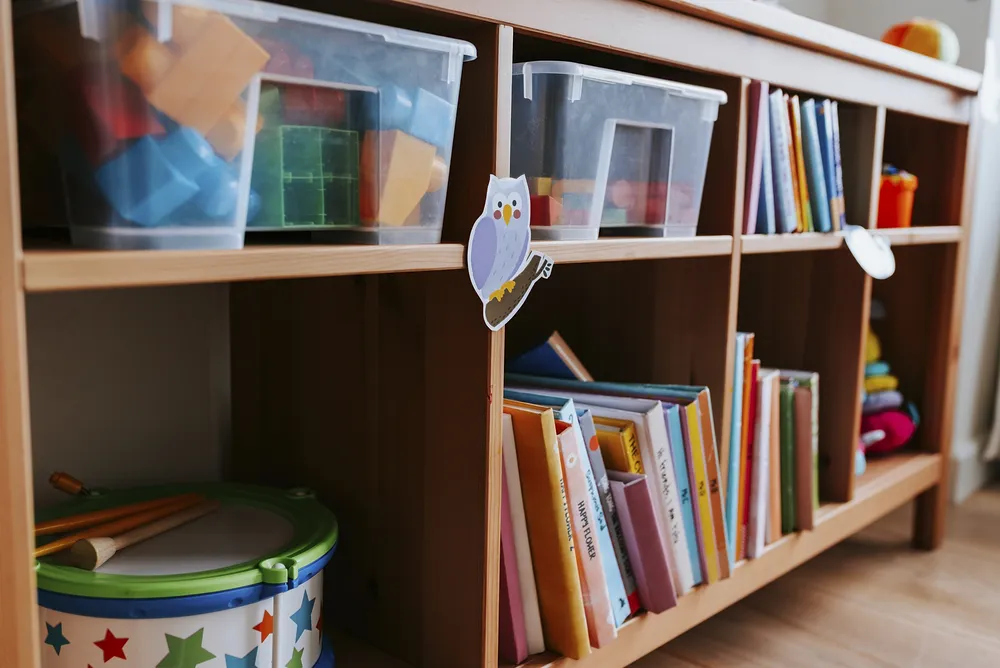 When designing bedrooms for children, I recommend keeping decorative items to a minimum. Instead, use your kids' toys as the decor!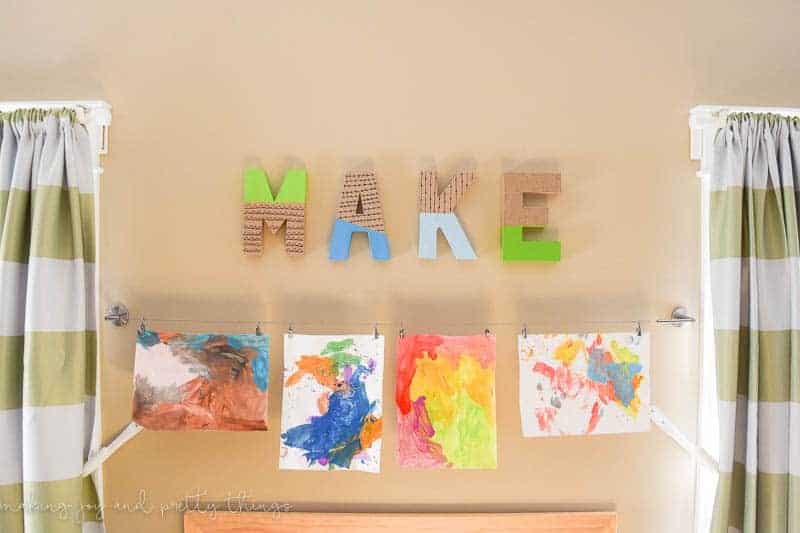 Add a personal touch by displaying their artwork or creations on shelves or on the wall.
Storage containers for kid's room organization
Once you have taken stock of all the items that need to be stored in the room, begin to gather storage containers. These can be plastic bins, woven baskets, wire baskets, or dresser drawers. A dollar store, like Dollar Tree, is a great place to find storage bins of all sizes and shapes.
When you have all your containers handy, simply begin to sort things according to category.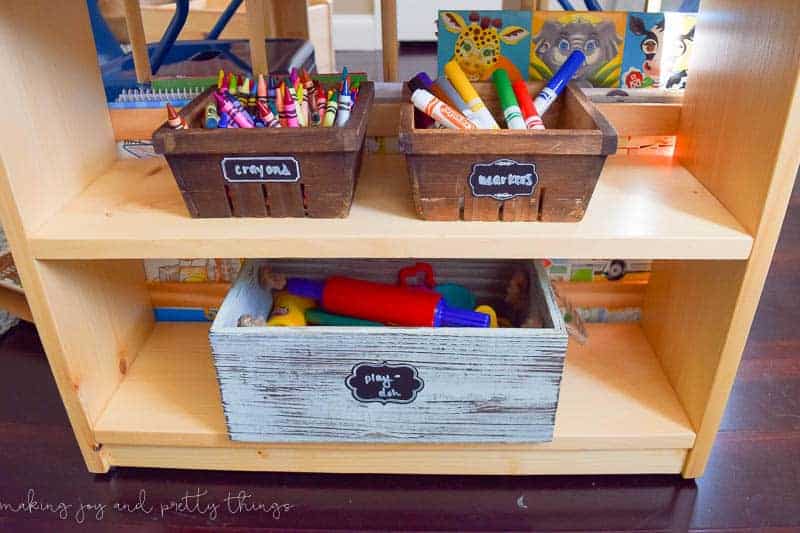 Blocks, dolls, board games, craft supplies, toy cars, jars of play-doh – all of these kinds of things belong together in storage baskets. Instead of a large toybox that needs to be dug through (and inevitably dumped out), you can use shelves (a closet with shelves or a bookshelf will do) with clear plastic tubs to house your little one's small toys.
By using clear bins that are easy to see through, kids can find things easier and the small boxes are gentler on their favorite toys.
These clear bins are great because they can be stacked up and have a small area in the front to allow for easy reach, so you can grab what you need quickly and easily.
Organizing even smaller toys, like Legos, can also be done with clear storage bins. These ones are great because they have hinged lids to keep everything contained. Great for organizing Legos by color or corraling crayons, small farm animals, craft supplies, and more.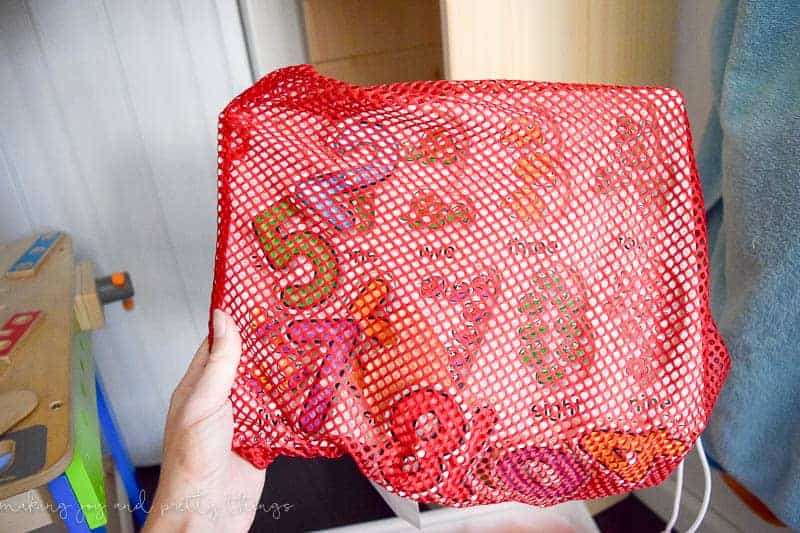 Mesh sports bags are great for organizing puzzles or games with small pieces. They are see-through so the kids can still see them, but they don't fall out.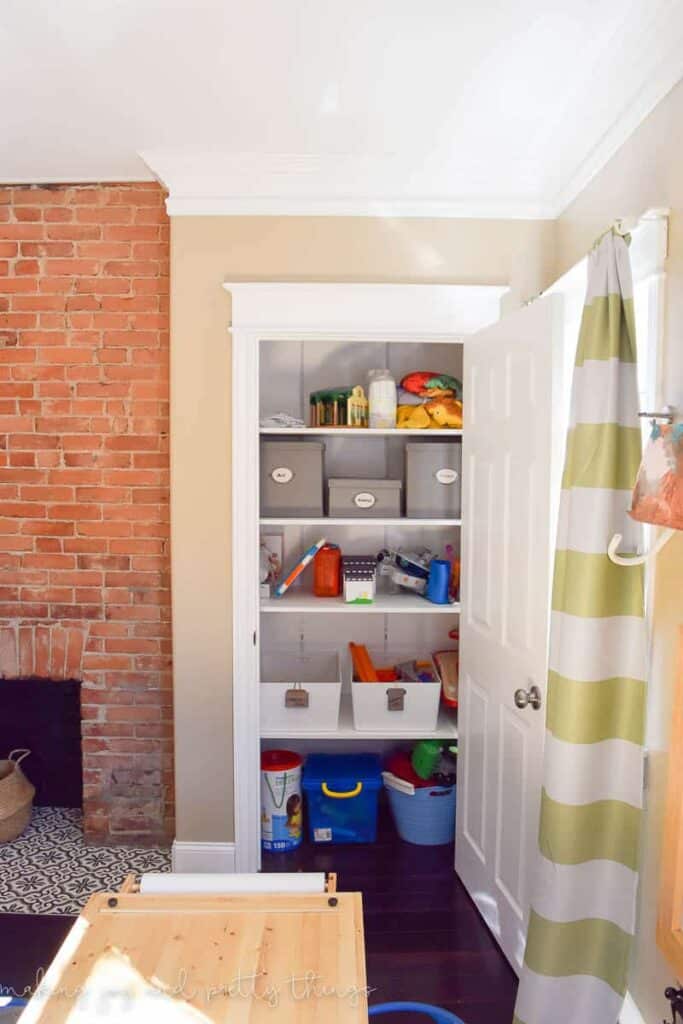 For example, in our shared boy's room in their toy storage space (which is a closet, shown in the photo above), we have a bin or baskets for each of the following categories: blocks, Legos, trucks, matchbox cars, tools, and trains. One thing we did not do when we organized this toy closet was to use clear bins and I regretted it!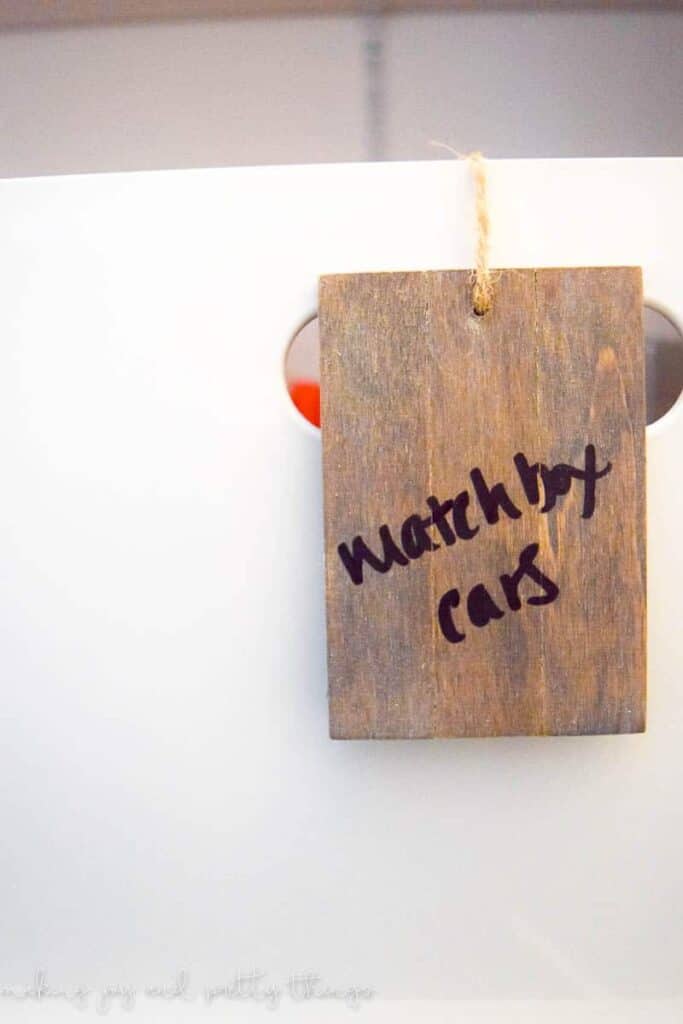 Be sure to label your baskets and bins. We created these mini DIY basket labels using pallet wood signs.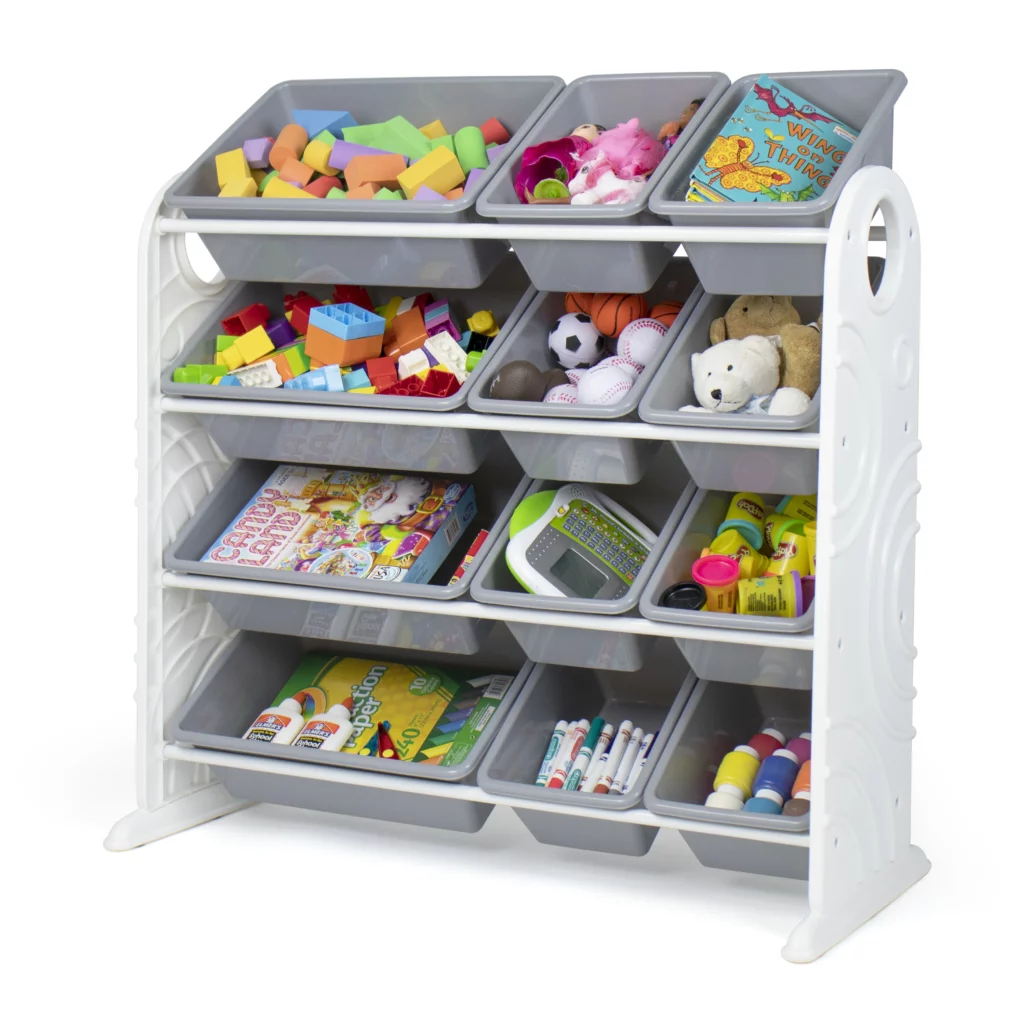 Toy storage racks, like this, with tilted baskets, are great for organizing toys, books, art supplies, and board games in kid's spaces. The items in the baskets are very easy to see and access. You can either grab the toy you want or pull it up to easily grab the entire bin out to play.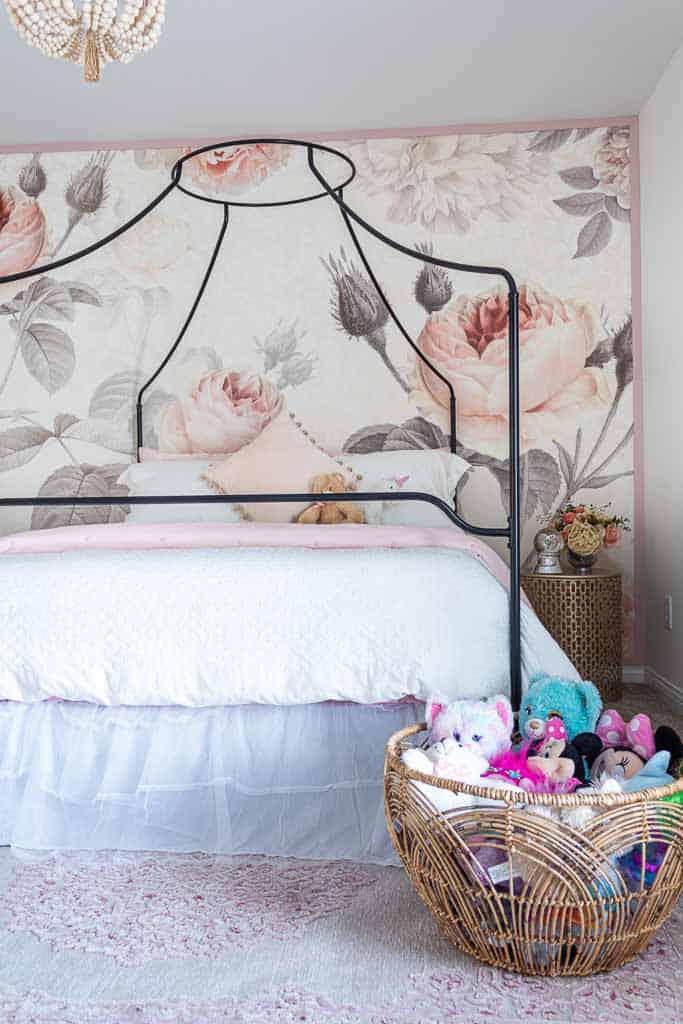 Stuffed animals can easily be rounded up in a basket and placed at the end of the bed, like in this toddler bedroom from The Lived-In Look.
Organizing clothes in a kid's room
Closet space organization tips
Closet chaos is a pretty common complaint by many parents when they are tackling their kid's room organization. To make it easier for your child, make it quick and easy to organize their closet. He or she will be more likely to clean up than toss things aside where they don't belong.
A great way to use labels even if they are too little to read is to use pictures for the labels, like these ones. This will make it accessible for even young children to put things away with no or little help.
Seasonal bins are a great idea to incorporate into your kid's closet space. We have storage bins for out-of-season items, which we store at the top of the closet. In the summer the seasonal bin holds gloves, hats, and snow gear. In the winter, it holds goggles, swim shoes, and swimsuits. A Halloween bin contains costumes and trick-or-treat bags.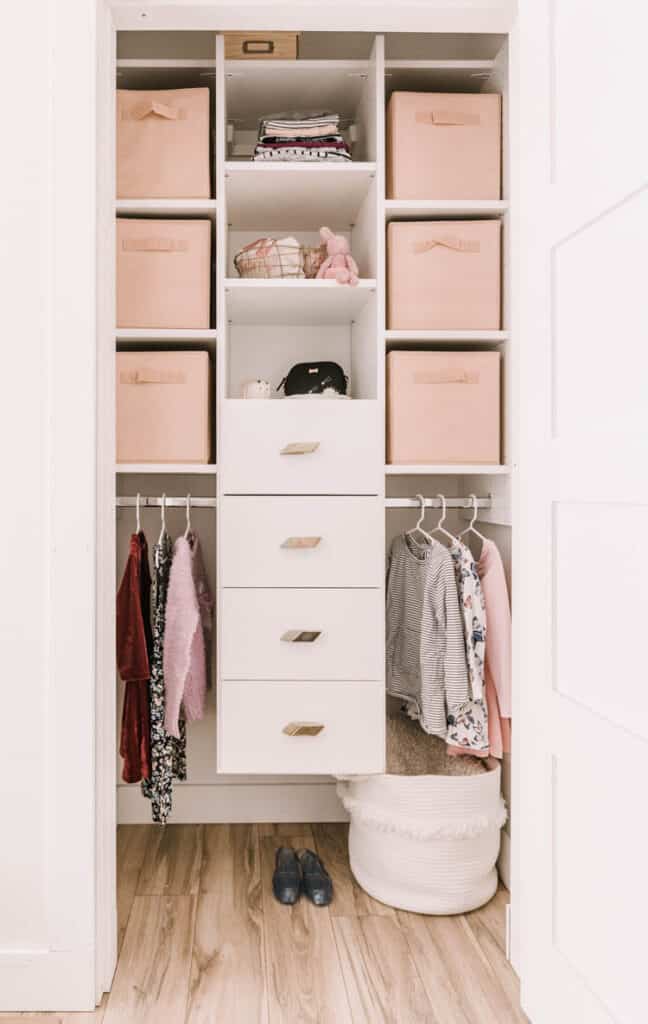 I love this kid's closet from Lemon Thistle with hanging racks that are lower so they can be reached and plenty of space above on the shelves for storage baskets for things that aren't used every day.
The top shelves of the closet are also a great spot for a bin containing clothes that are too small and need to be donated and another, separate, bit for clothes that are too big and not yet in rotation.
Over-the-door hangers can be hung on the inside of closet doors for coats and backpacks.
Plastic crates work well for stacking bulky items such as winter sweaters or can be even used to house sports equipment like roller blades and bike helmets.
Shoe racks, like this foldable one, are also an added bonus if you want your child's closet to be organized. Not only does it increase the chance that your child will put his shoes where they belong after taking them off, but you'll always be able to find matching pairs in the morning when you're in a hurry!
Kid's dresser organizing
Don't forget about the dresser when you are overhauling your kid's room organization. If there is no clear system for the dresser drawers, things will inevitably end up stuffed in and it will be impossible to find anything.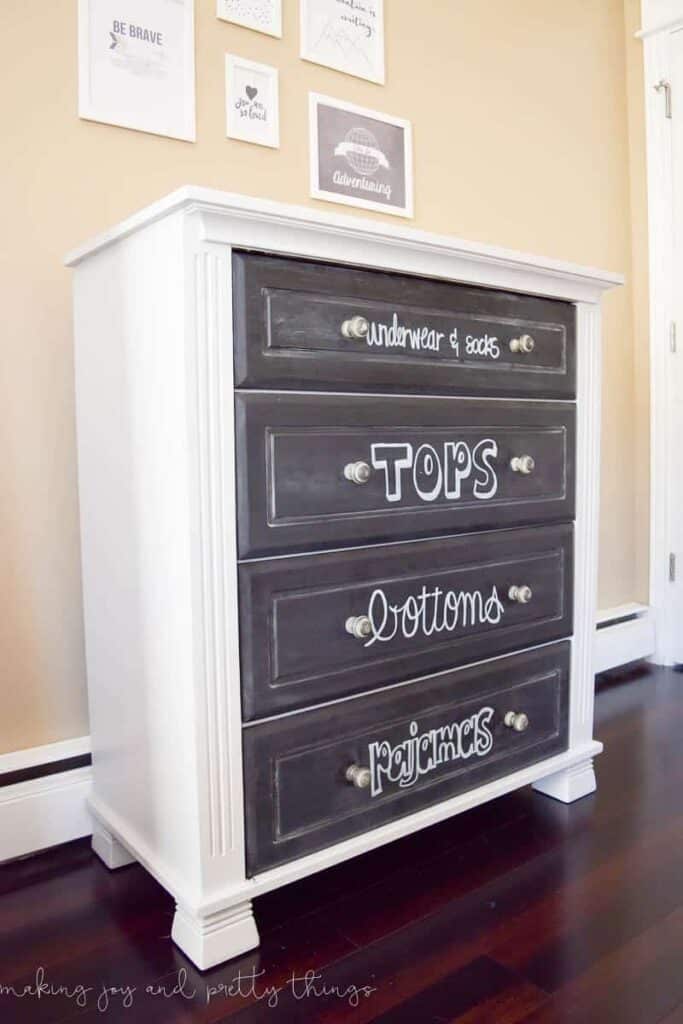 The dresser drawers are arranged according to the type of clothing: underwear & socks, tops, bottoms, and PJs. We were able to very easily create labeled drawers with chalkboard paint and hand-lettered words on the front of the dresser.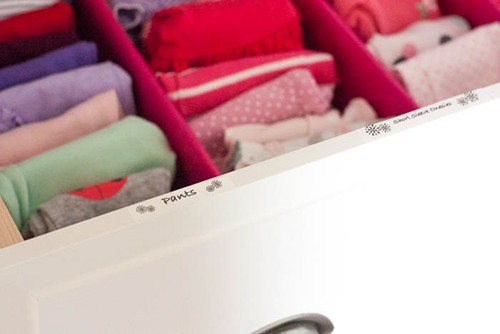 Using drawer dividers and labels on the front ledge of the dresser drawer is a great idea! Check out these other dresser organization tips from Small Stuff Counts!
You may need to still do the folding of the kid's clothing because folding requires quite a bit of coordination, but if you set. up your child's dresser and/or closet so that they know where everything goes, they can be responsible for putting the folded clothes away. Simply stack them up on their bed and they will do the rest.
If folding clothes and storing a dresser isn't working for you, switching the dresser out for only hanging racks in your closet could be the way to go for you. But be sure they are low enough that your kid can reach them.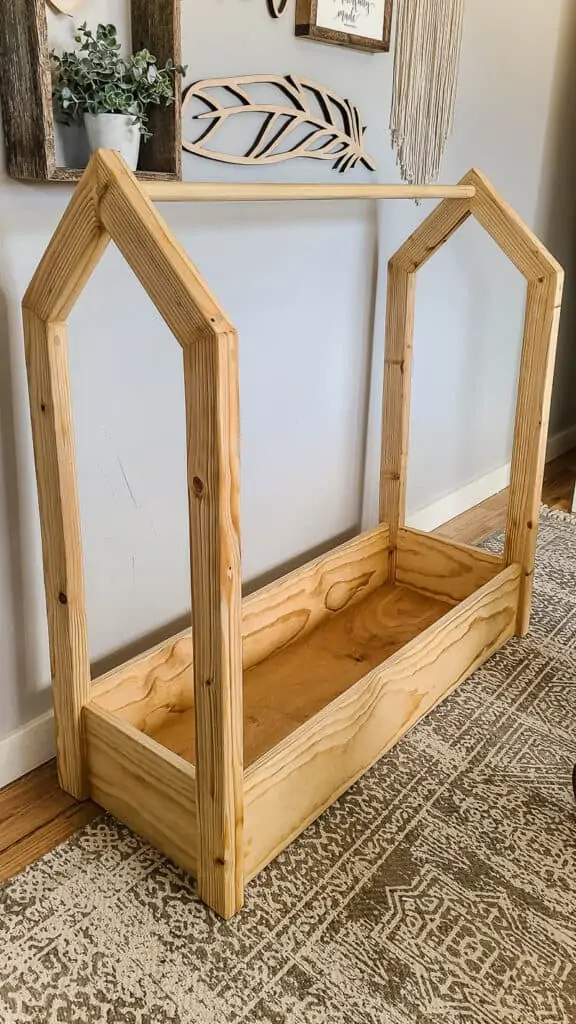 You could also build a DIY clothing rack that is kid-size, like this. This article has free woodworking plans for the clothing rack so you can easily make it, even if you're a beginner.
Utilizing under-the-bed space for storage
Be sure to take advantage of space under the bed for storage as well by using boxes that can slide underneath.
Flat, under-the-bed storage boxes, like these, are wonderful for out-of-season clothing and toys.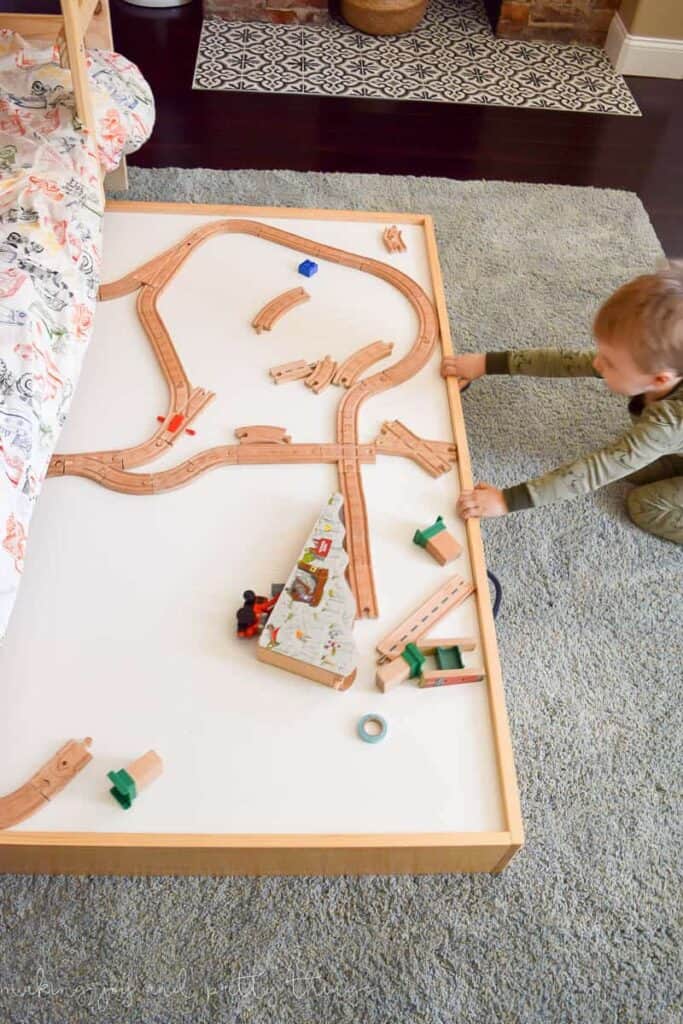 But don't let it stop there! We even built a slide-out train play table to go under the bunk bed in our boys' room! This way, we can simply slide it away when they aren't playing with it and it instantly opens up a ton of floor space for other activities.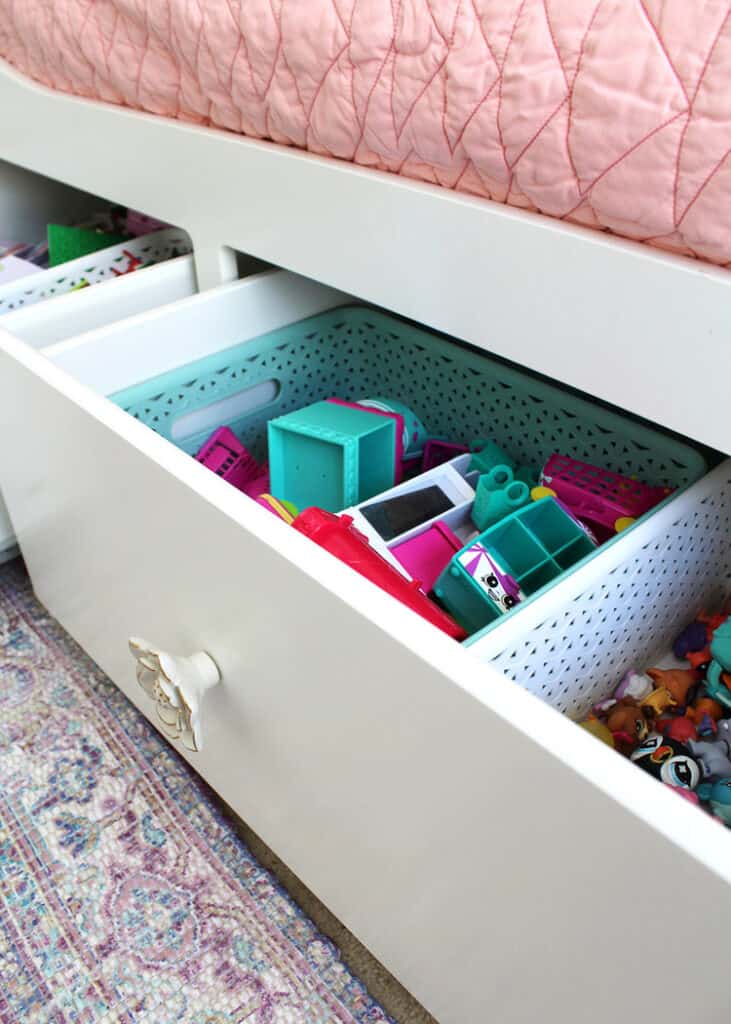 Another way to take advantage of the space under the bed is to buy (or build) a storage bed. This day bed is perfect in this girl's bedroom from Tag and Tibby. The drawers hold baskets, perfect for small toys. Shoes and clothes could also be stored in the under-the-bed drawers.
Make your own shelves with crates
Another easy and cost-conscious shelving idea is to buy a few plastic or wooden crates to make your own shelves. You can find them at any craft store or discount store, and they often come in a variety of colors. The wooden ones can easily be painted to match your room decor.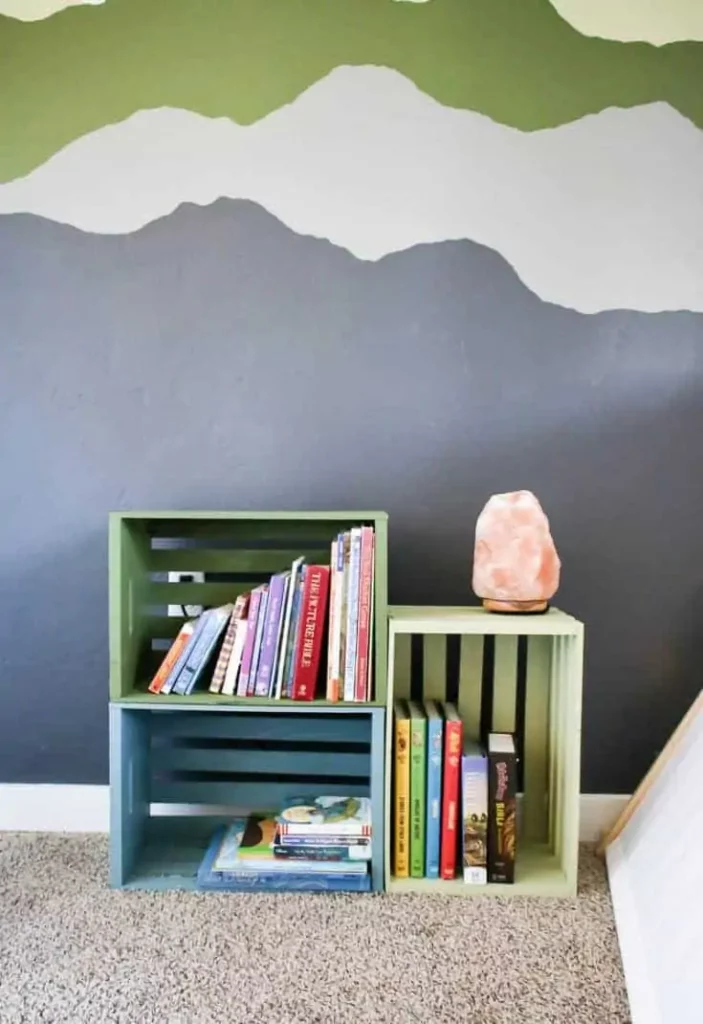 The crate bookshelf in this kid's room matches the mountain mural painted on the wall. She used leftover paint from the mural to paint the wooden crates to match.
They can be stacked on top of one another, or in a specific shape or design (such as a triangle or pyramid). Toys or books can be stored inside, or for an even tidier appearance, you can put a plastic bin or box inside each crate. This is the perfect solution if you don't want to spend a bunch of money on new toy organizers or furniture.
Hooks and racks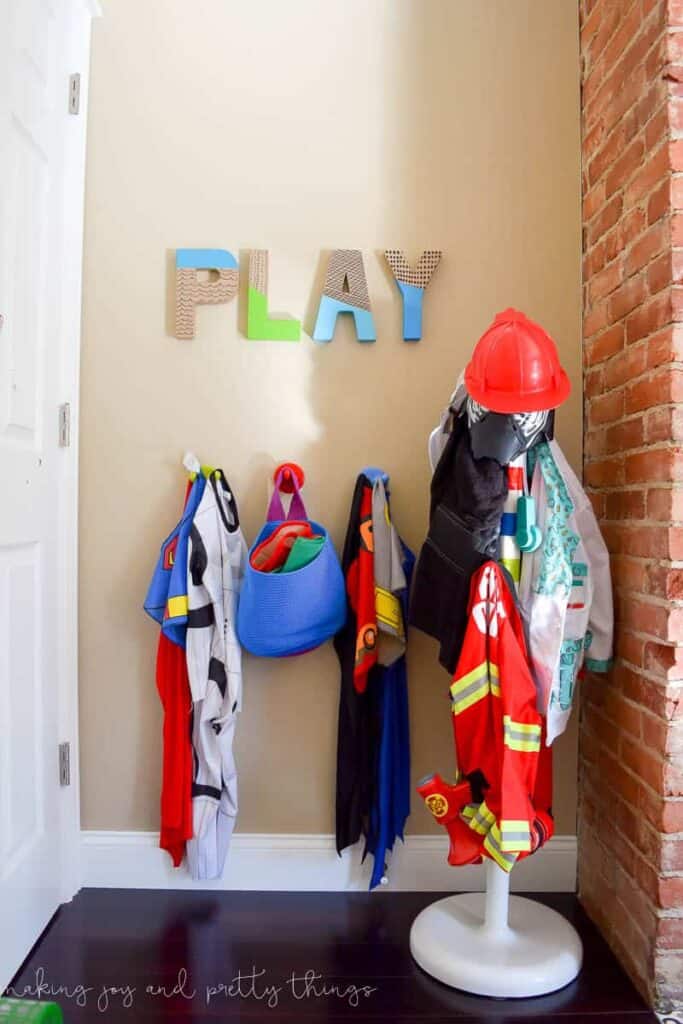 Hat racks and pegged shelves can not only add a lot of decorating "oomph" to a room, but they are also wonderful places with easy access for backpacks, stuffed animals, jackets, dress-up clothes, and…hats! Coat racks work well for this function, too, and can be easily painted to match any room decor or child's personality.
Toy hammocks
Toy hammocks (also called "pet nets"), like this macrame one, can also be used when you have an abundance of stuffed animals.
Organizing books in your kid's bedroom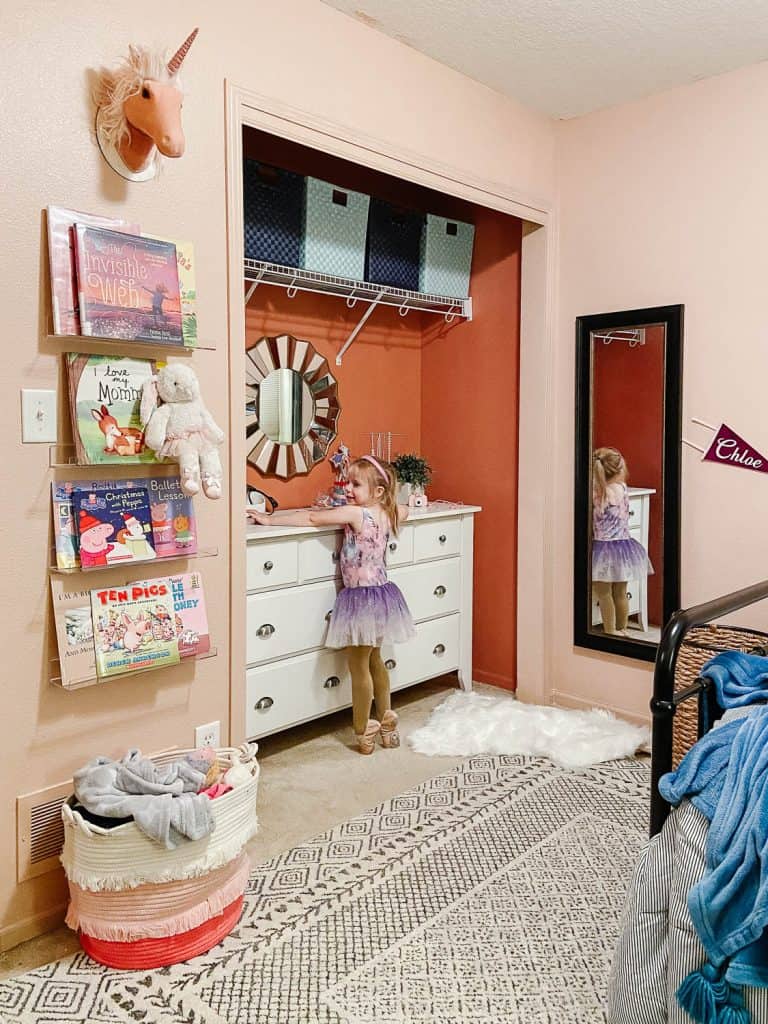 One thing that kids definitely love to keep in their room is books, so it is crucial that you make a plan for books in your kid's room organization. I love this idea from Small Stuff Counts of using acrylic picture ledges on the wall to display and organize the books.
This is great because your little ones can see the front of the book, rather than just the spine of the book, like on a standard bookshelf.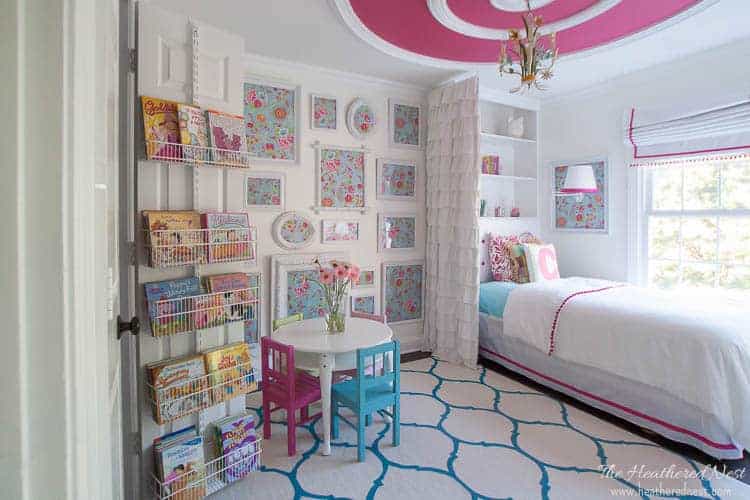 Another way to organize your kid's books in their bedroom is by utilizing the back of the bedroom door or closet door, as Heather from the Heather Nest has done here. The wire shelving rack is perfect here!
Keeping your kid's bedroom organized: maintain your system
Once things are sorted according to a category, the majority of the work is done, and all that remains is to maintain your storage systems. This can be done by encouraging your child to place toys and clothes in the designated place each day after use.
After a little practice, your child will be a pro at keeping his or her room neat and orderly. If you are organizing a space for older children, involve them in the process and allow them to come up with new ideas for how to organize new groups of toys, clothes, or other belongings.
And last but not least, use the opportunity to get your child involved in the organizational process by suggesting that he or she donate any old or unused toys to a local charity, or learn a lesson in money management by hosting a garage sale (and donating a portion of the profits, of course).
A final suggestion to help with kid's room organization is one that we have adopted at our house: whenever a new toy is bought or received as a gift, an old one must be removed. This encourages children not to buy excessively and also to give generously of things that they might still enjoy using.
Kids will learn to enjoy taking ownership of their own spaces, and we as parents will benefit from their attitude of responsibility!
Which of these kid's room organization tips is your favorite? Do you have anything else that you do in your kid's bedroom? Let me know in the comments!