Farmhouse Girl's Nursery: Weeks 2 and 3 Progress
Good morning!!
I hope you had a wonderful weekend!!  It was unseasonably warm here in Pittsburgh and we spent every possible minute outdoors enjoying the sunshine and blue skies.
The boys were in heaven playing in dirt, pushing around their trucks and running freely.  We spend most of our days outside in the spring, summer and fall so this little preview of the months to come was very welcome and refreshing.
Along with enjoying the weather, we got ALL of the things done.  It feels so nice to sit down on Sunday night and reflect on a productive weekend.  So often we have lofty goals and feel defeated when seemingly nothing gets accomplished.  Or, it could be that I just keep adding more to-do's on our checklist.
Either way, since we finally got a few things crossed off the list, I'm so happy to be able to share a little update on our farmhouse girl's nursery progress!!
A few weeks back, I shared our full design plan.  You can read more about that here.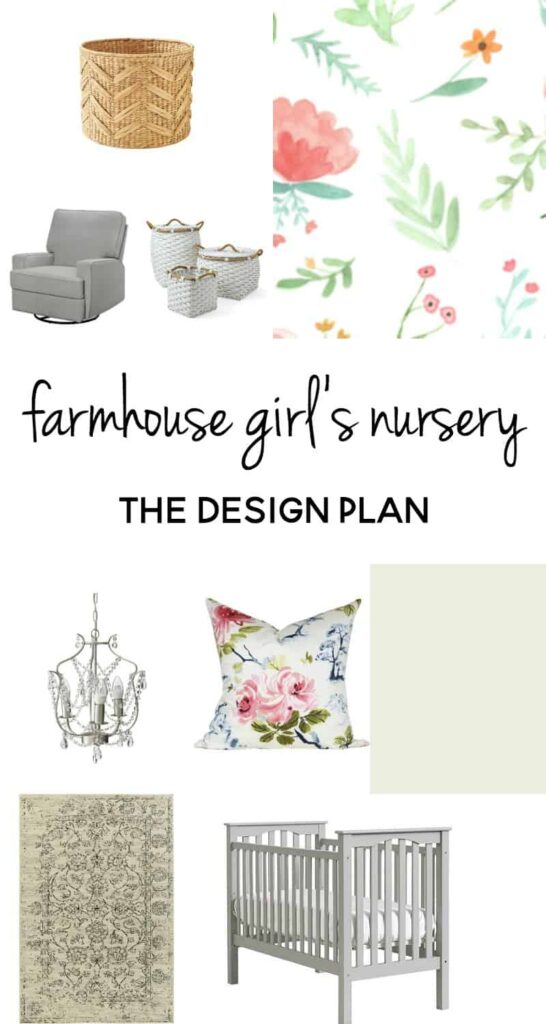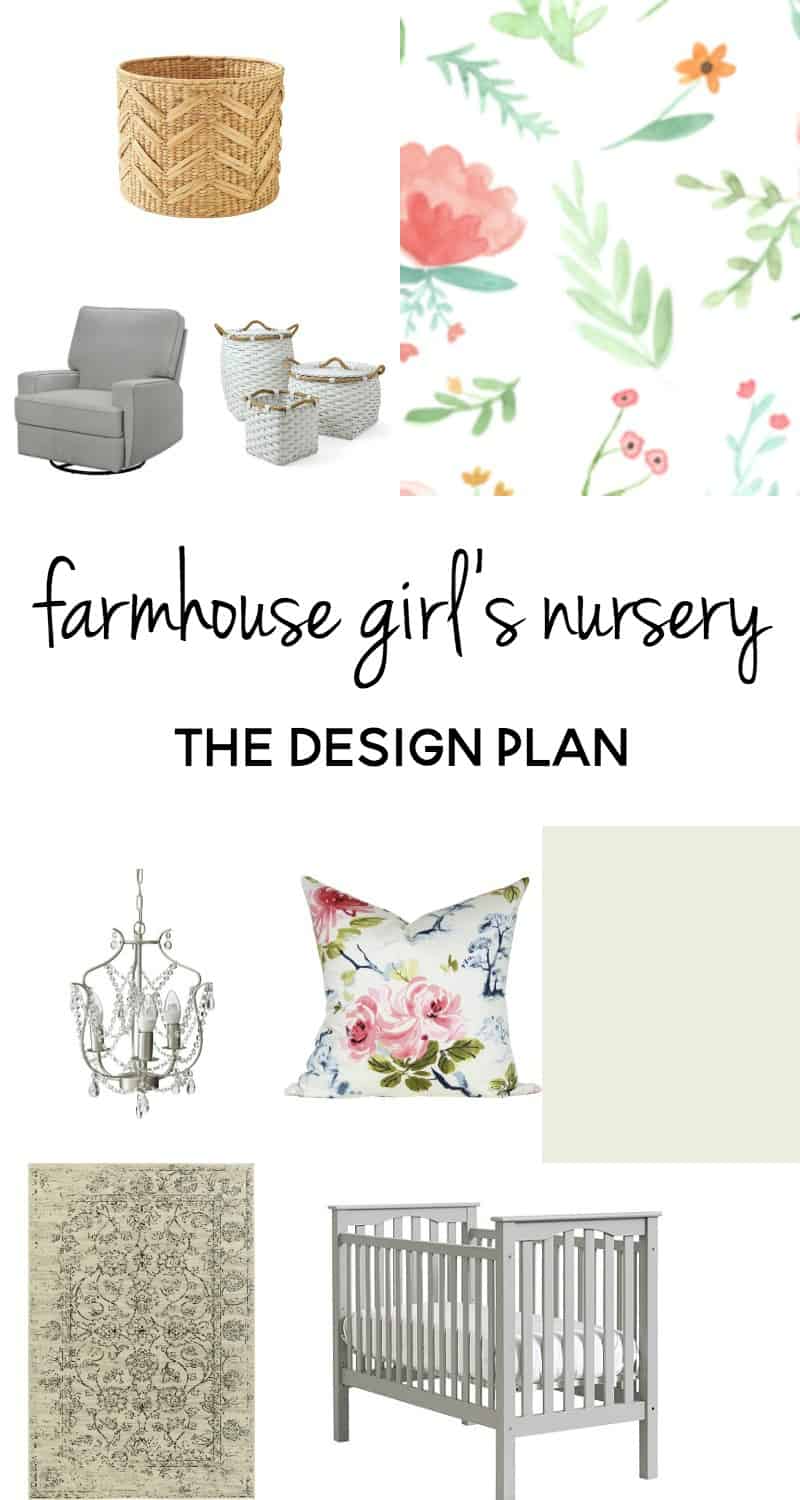 We really got off to a great start getting tons of things done in just a few short weeks.
We planked a wall, painted the whole room,  installed the most gorgeous wallpaper (tutorial on that coming soon!) and redid an old dresser.
I shared more details about all of those projects in my week 1 progress update.
Then things kinda slowed down for a bit.  Some of the products I had ordered arrived (which is always fun!) and I worked on some of the smaller details for the room.
I made a fabric flower garland for her shelves, some rustic wood bead hearts to hang on a wall in her room, and a string art heart using old barn wood.
If you've been following on Instagram, you know I found an old 8 pane window for just a few dollars.  I can't wait to take the glass out, sand it down and figure out how I want to finish it.  I'm going to make a wreath to hang over the window, too.
The rocker arrived!!  This guy is BIG.  Like really big.  But, it fits in the space and is so, so comfortable.
Even better, the prettiest pillows from Tonic Living.came that are absolutely perfect.  They look beautiful on the rocker, they're SO comfortable and the soft, pink florals are just what I was looking for in the room.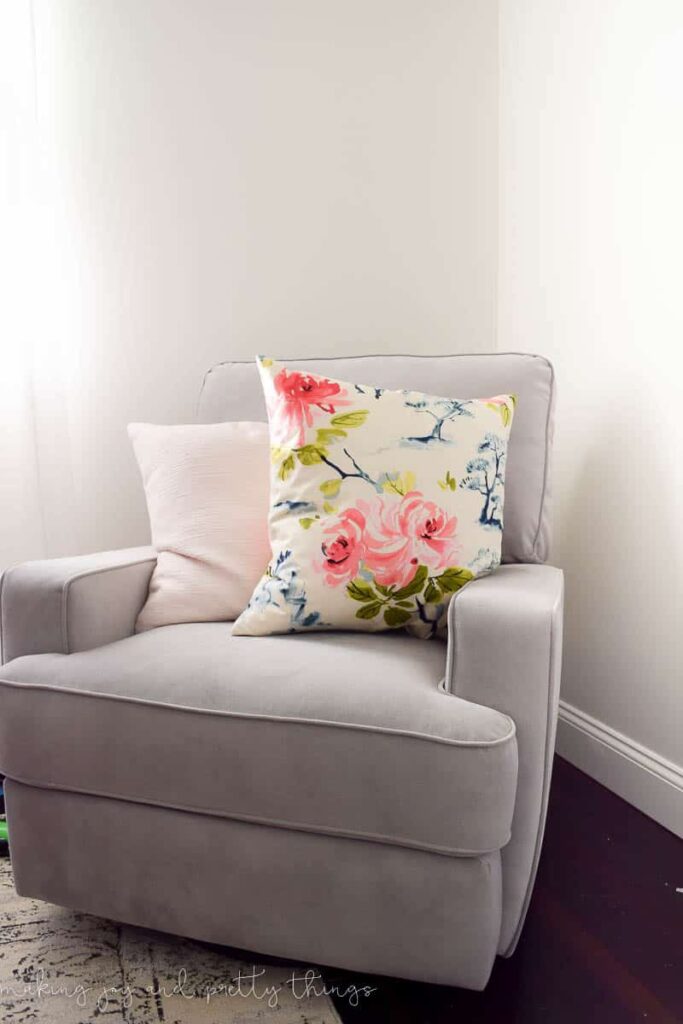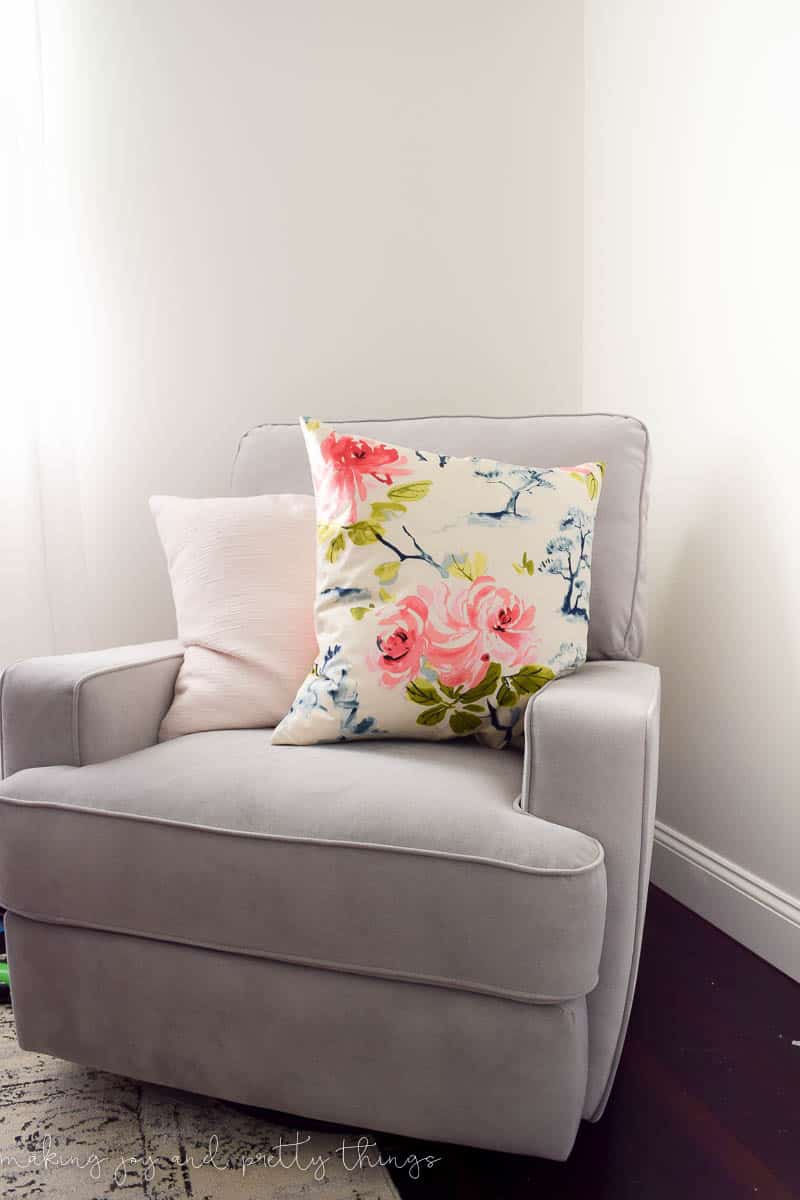 I was up in the air about the exact rug I wanted for the room.  I actually changed my mind probably 10 times before deciding on this one from Plush Rugs.
The whole vintage washed look really fits in with my rustic yet girly theme for the room.  Plus, somehow the actual off-white color in the rug is nearly an exact match to the wall color, which I have to admit was a completely awesome accident.
(Ignore the dirty floor and random puzzle piece on the rug)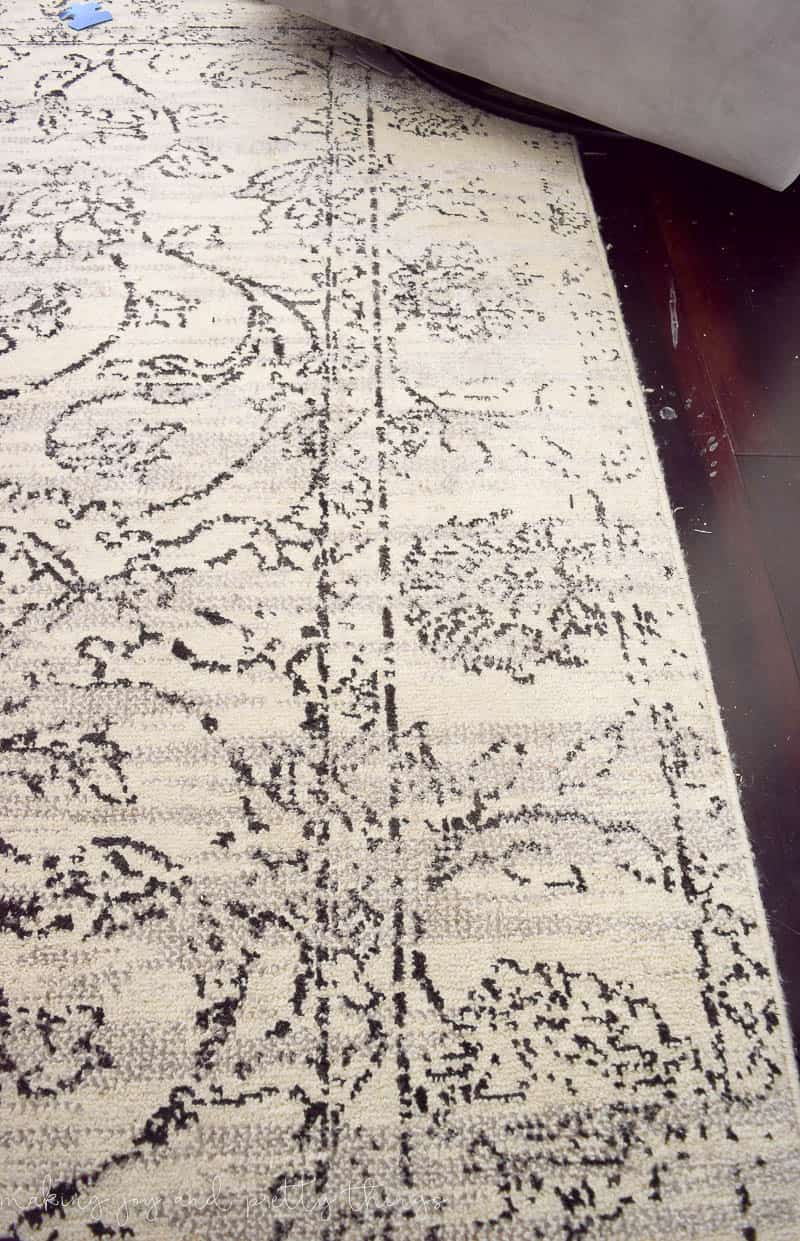 My husband has been hard at work making the custom closet I want.  We actually just assembled it a few nights ago and it's exactly what I had pictured.  I'm pretty sure he's never going to make something like this again BUT I'm happy with how it turned out.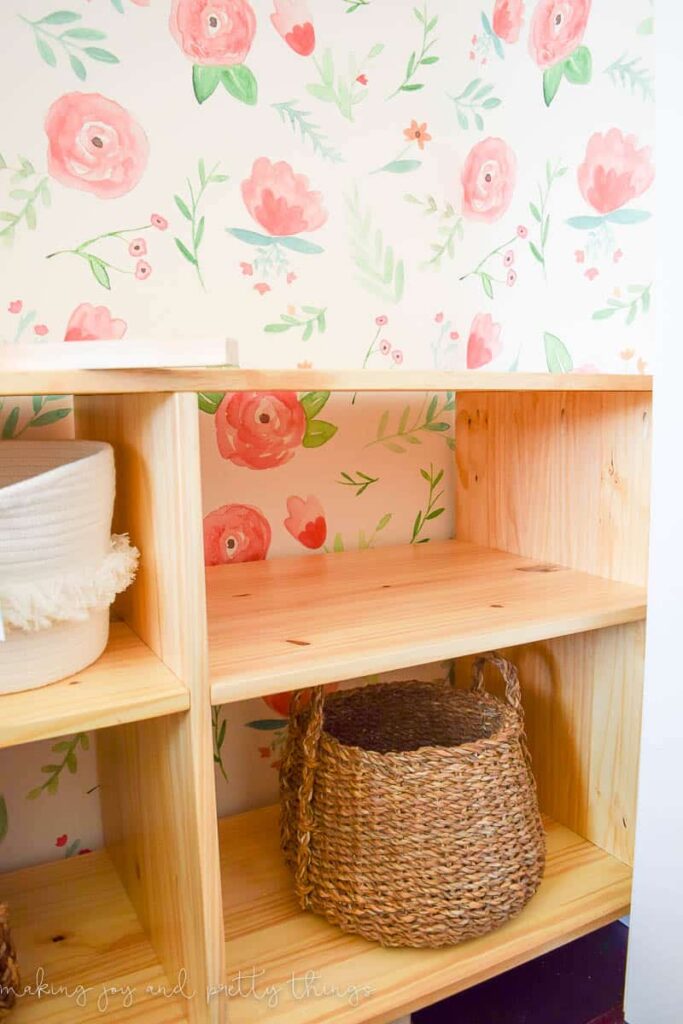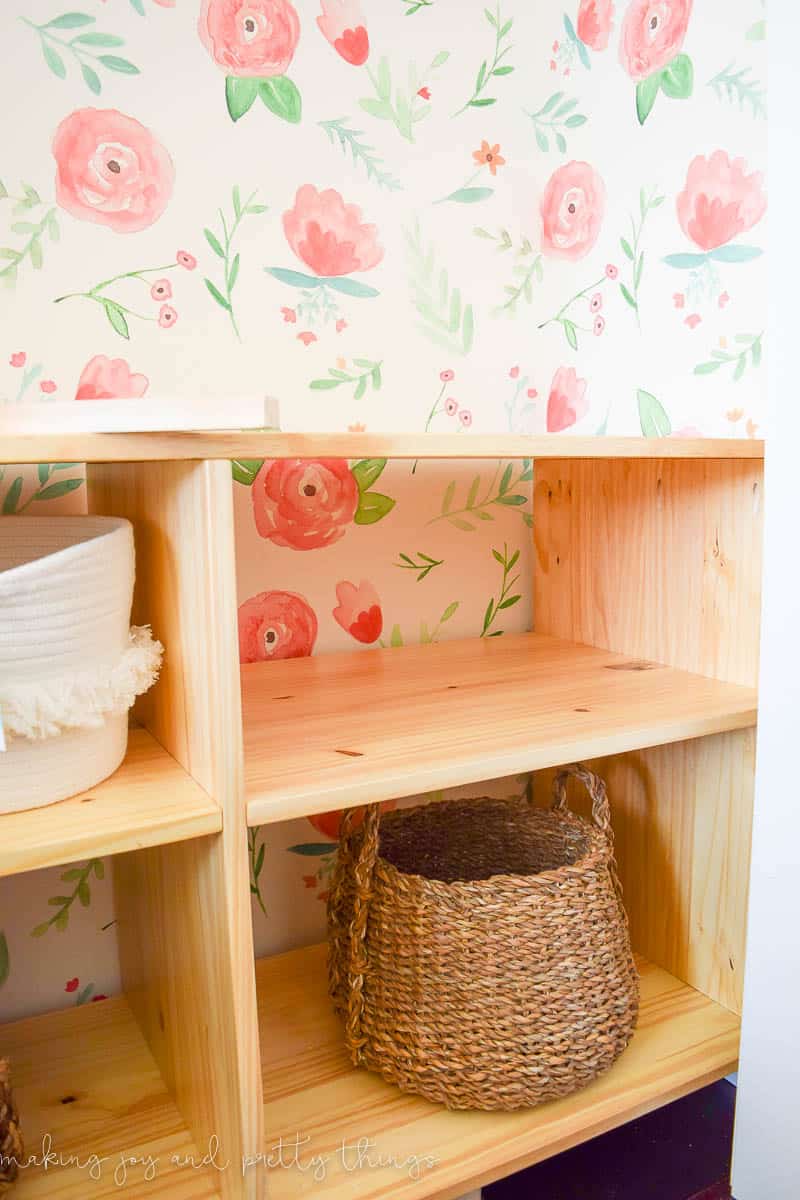 I've been playing around with the basket I want to use in the cubbies.  I'm thinking a wide wire basket for the top two cubbies.  What do you think?
We still need to install the top shelf and the clothing rod (is that what it's called?).  OH and the rod is going to be made out of pipe!!  Can't wait to share all about that soon.
Speaking of the closet, my FIL apparently did steroids this weekend and built both doors for the closet, from scratch.  They're amazingggg.  The skinnylap is cut and just needs to be sanded, painted and assembled.  I have a feeling these doors may end up being one of my favorite parts of the room.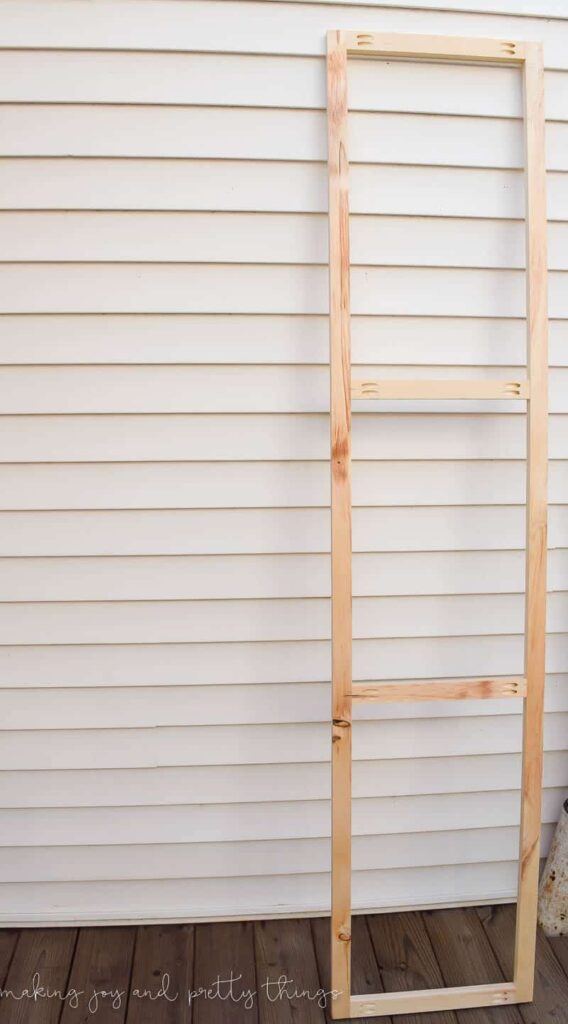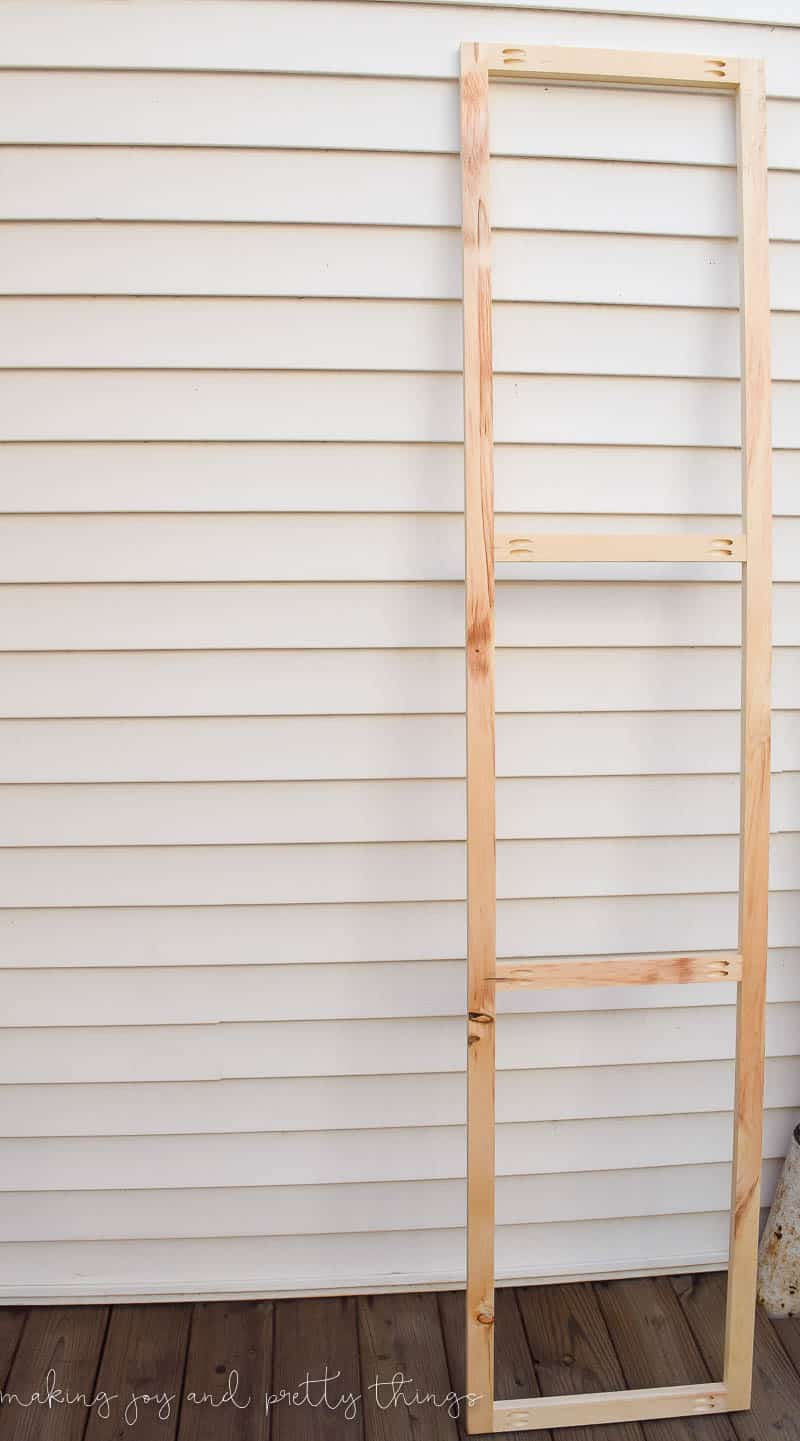 AND, after much anticipation and laziness on my part, I finally finished the wood bead chandelier.  I can't wait to share the full tutorial on this guy.  It looks completely custom and expensive when in reality cost me maybe $60.  Maybe.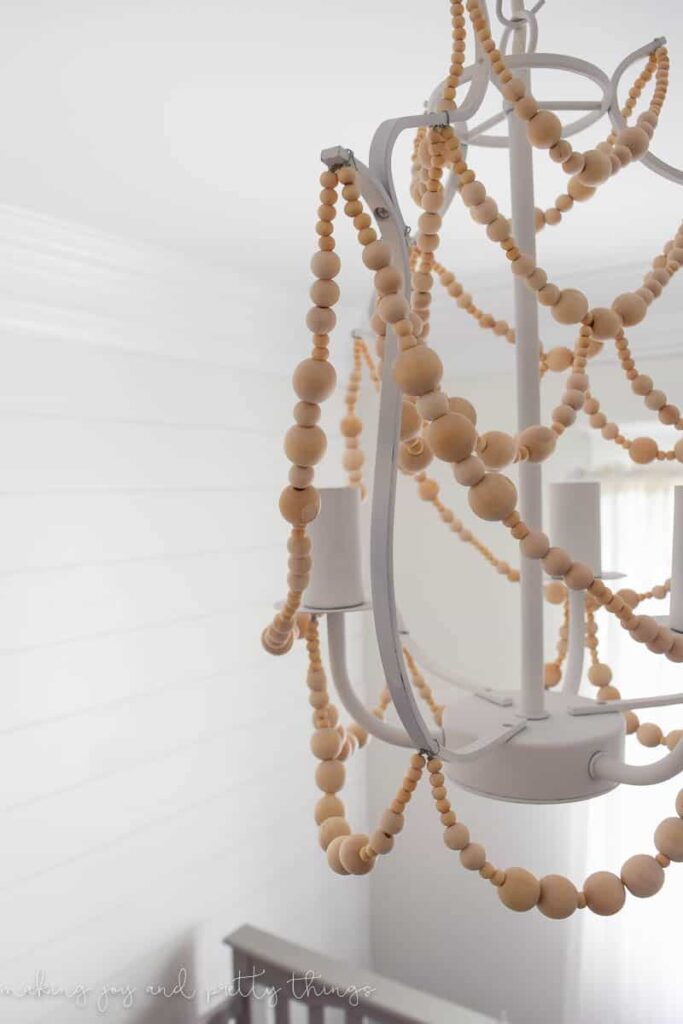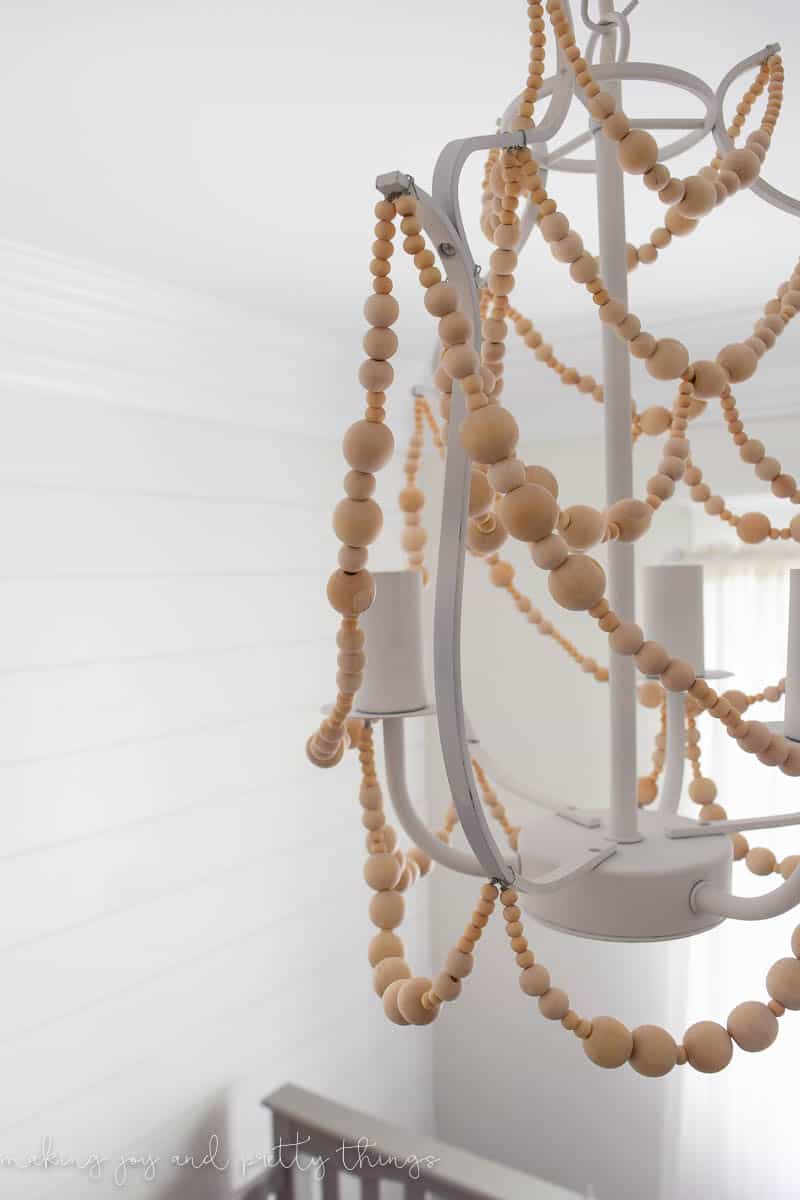 I also painted and sanded the farmhouse shelves for her room this past weekend.  I need to put one light coat of stain over top and they'll be ready to hang!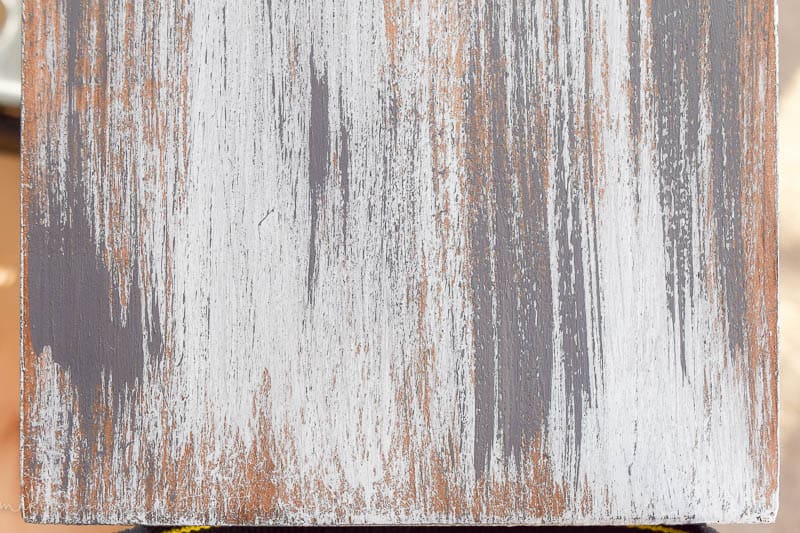 Other smaller projects in the works include the shadow box (which is cut, and painted).  Also, we spray painted an old curtain rod and updated the hardware (shown below).  Lastly, I'm working on the pull back for the curtains.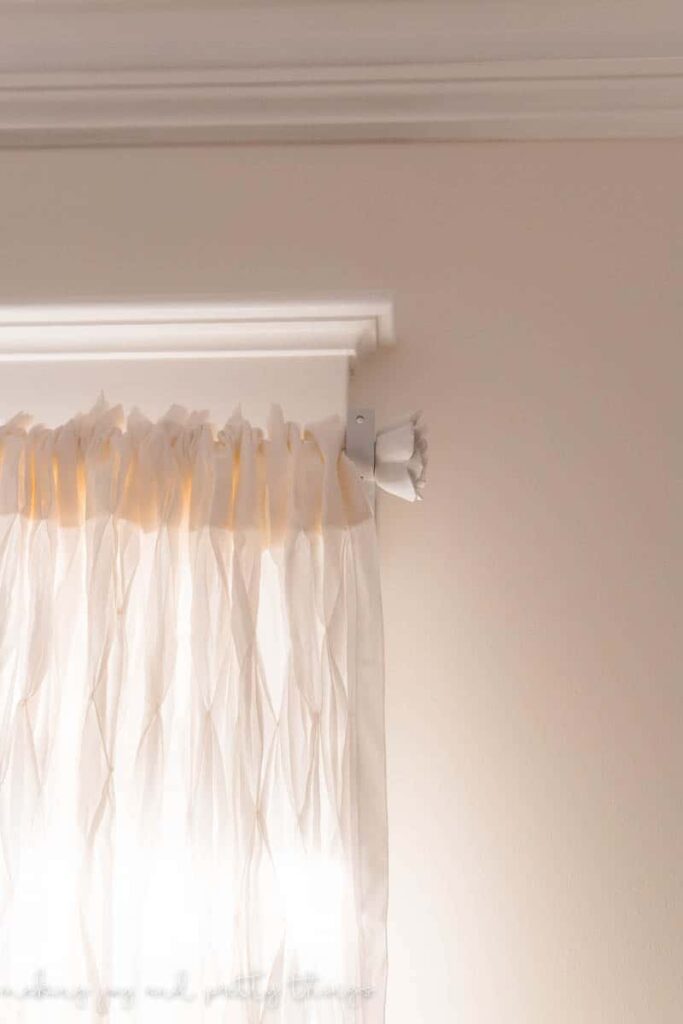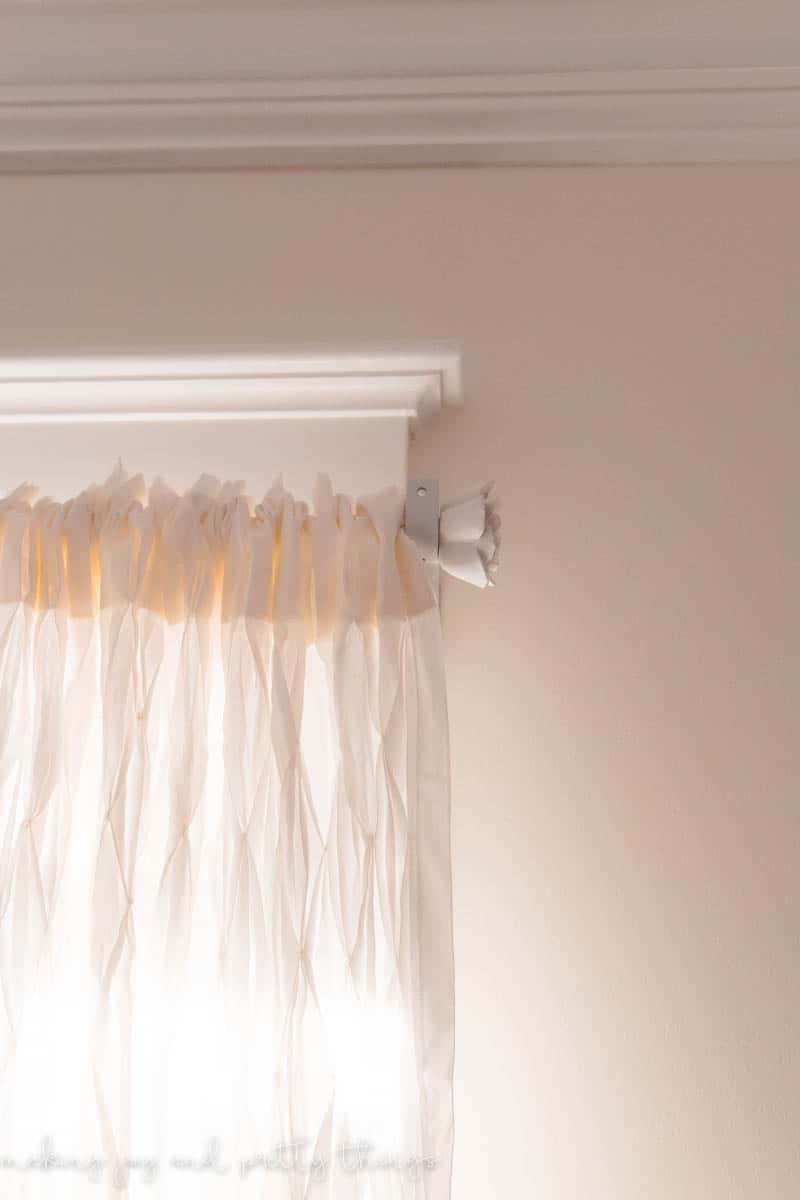 All in all the room is coming together so nicely.  I'm incredibly happy with how everything looks.  I honestly can't believe this is going to be HER nursery and that sweet little girl of mine will be here in just 8 weeks.
A HUGE thank you to Plush Rugs, Tonic Living, Serena and Lilly and Sherwin-Williams for sponsoring our nursery renovation!!
Wishing you a joyful day!