Design Inspiration: Wallpaper Is in Style Again!
Adding wallpaper to a room or wall is sure to add style to any space.  See some of my favorite rooms with wallpaper for design inspiration and get help finding wallpaper for you!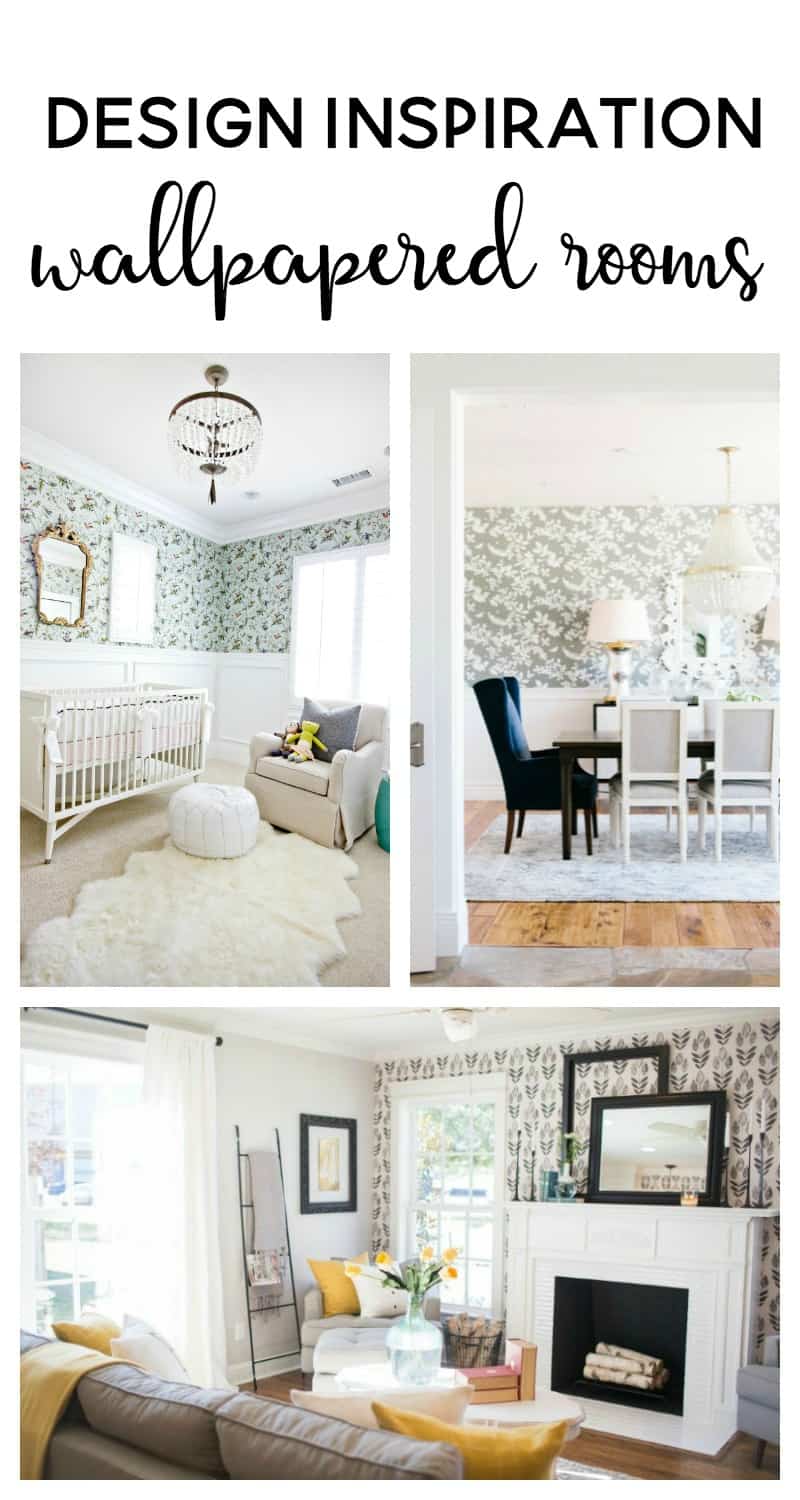 Hello, friends!
I have a small secret I've been keeping from you.  Okay, more of a BIG secret.
I've been really thinking about where I want to take the blog.  What is its purpose?  What direction am I going with it?  And, what am I really passionate about?
And that's when it hit me.  Something that's really been in the back of my head for some time but that I hadn't truly explored as an option.
I love the little DIYs and crafts I share here.  I do.  But, what I love even more is design.  Interior designing.  I really believe it's my passion and what I'm "supposed" to be doing.  And, do we ever really know what we're meant to do, to be?  I don't know.
The more I thought about it, the more I wanted to pursue at least trying to become an interior designer.  So, I went totally out of my introverted comfort zone and reached out to a local interior designer to ask if she could teach me, help me, and if I could help her and she said YES!  It was an amazing feeling.  I'm going to do an interview with her on the blog hopefully sometime soon to pick her brain about interior designing and just designing your home in general.  I think it's a hot topic even among non designers.  I've had people tell me they don't even know where to start when it comes to designing their space!  So, hopefully she will be able to help with that.
SO ANYWAY.  That's what's happening in my life.  Expect lots more design inspiration posts around here 🙂
Back to the post…
I'm talking about wallpaper.  Yes, again.
If you remember, a couple months ago  I chatted about using wallpaper in unique ways throughout your home.  And I'm still all about that!
But, I'm making the push for wallpaper to be used  on a (gasp) wall!  A feature wall or even ALL THE WALLS in a room.  Craziness.
Still not so sure about wallpaper?  Take a look at some of my favorite wallpapered rooms: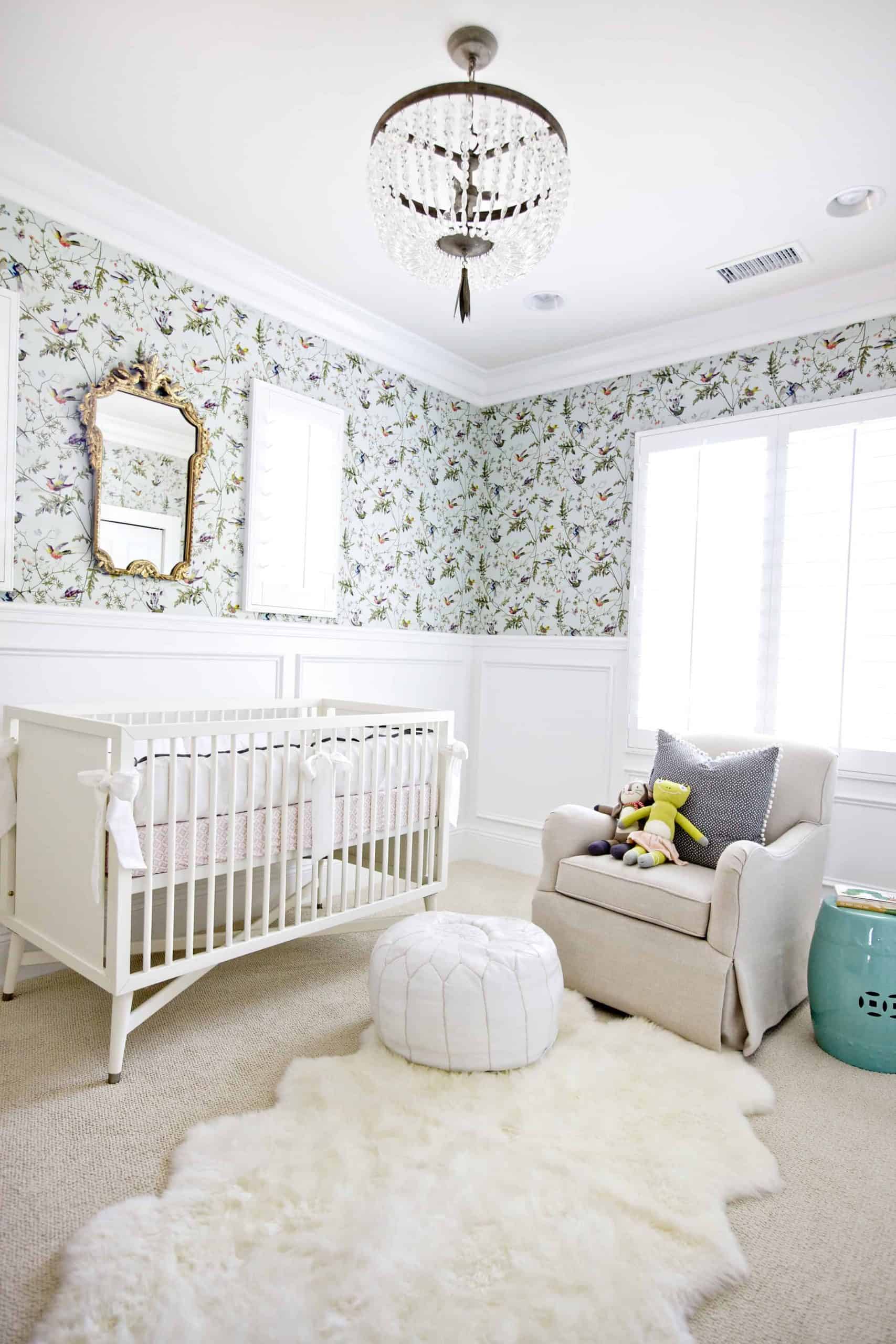 Siiiiigh. I have all the heart eyes for this nursery from Studio Mcgee. The wallpaper just completes the design of the space.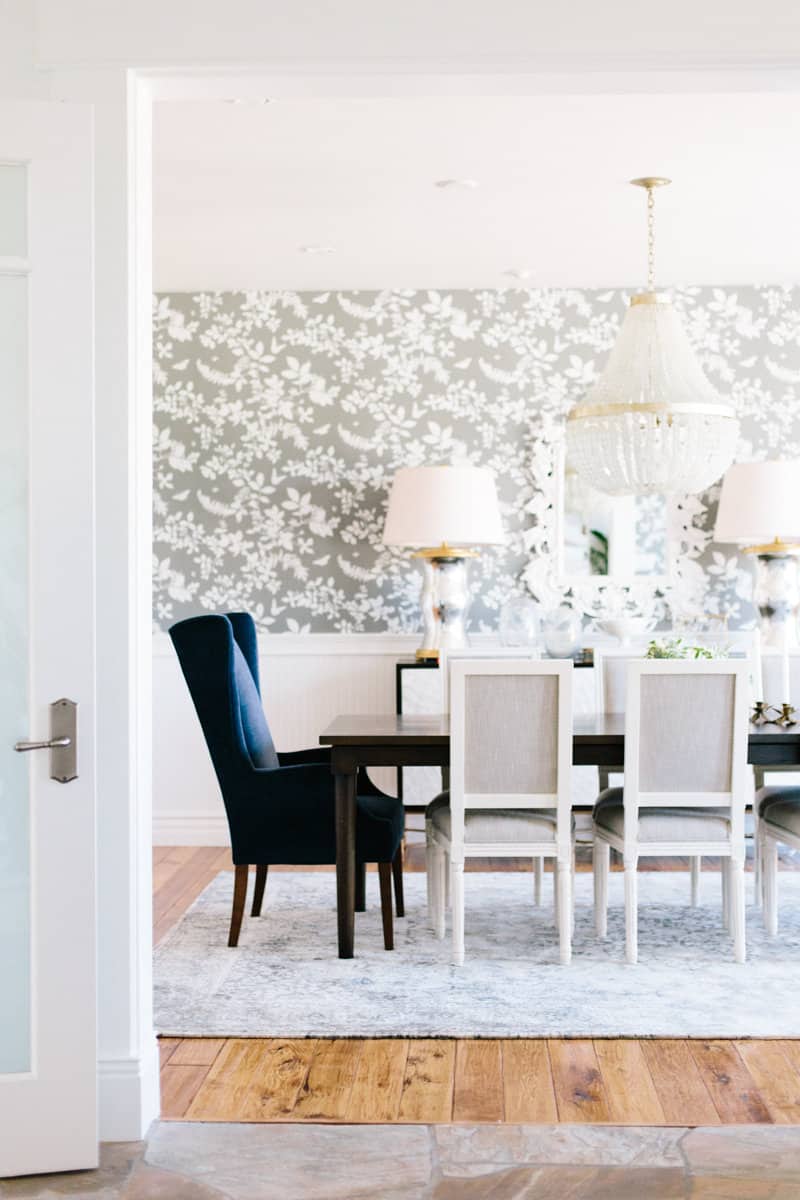 Big surprise I'm referencing another Studio Mcgee project here.  BUT, I love the wallpaper they chose, the pretty gray color, and how that color is seen throughout the dining room.  The wallpaper tied the room together!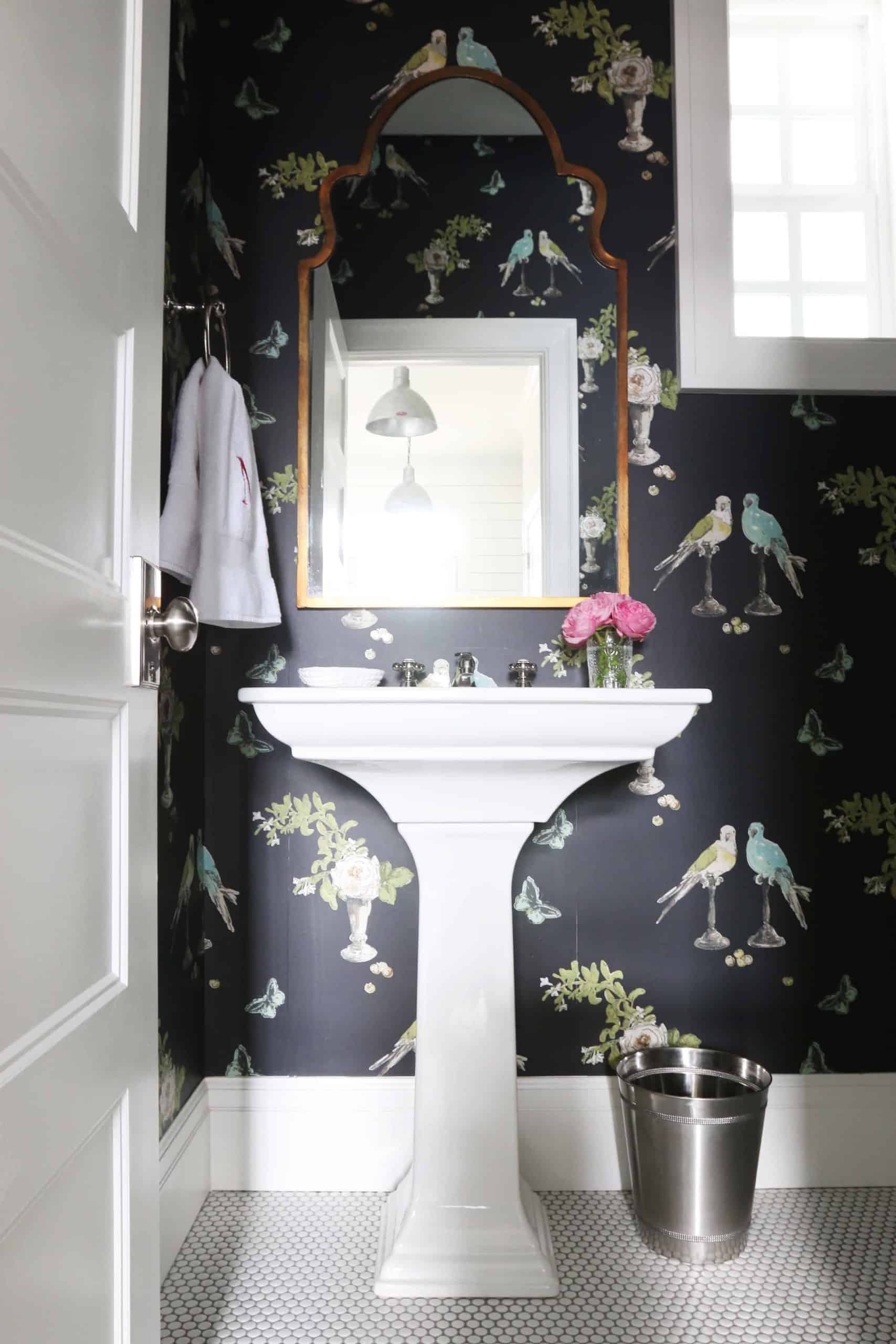 Go bold or go home!  I don't know that I could EVER be this brave and use a dark wallpaper with birds and butterflies on it.  I do like the idea of using a dark wallpaper, though.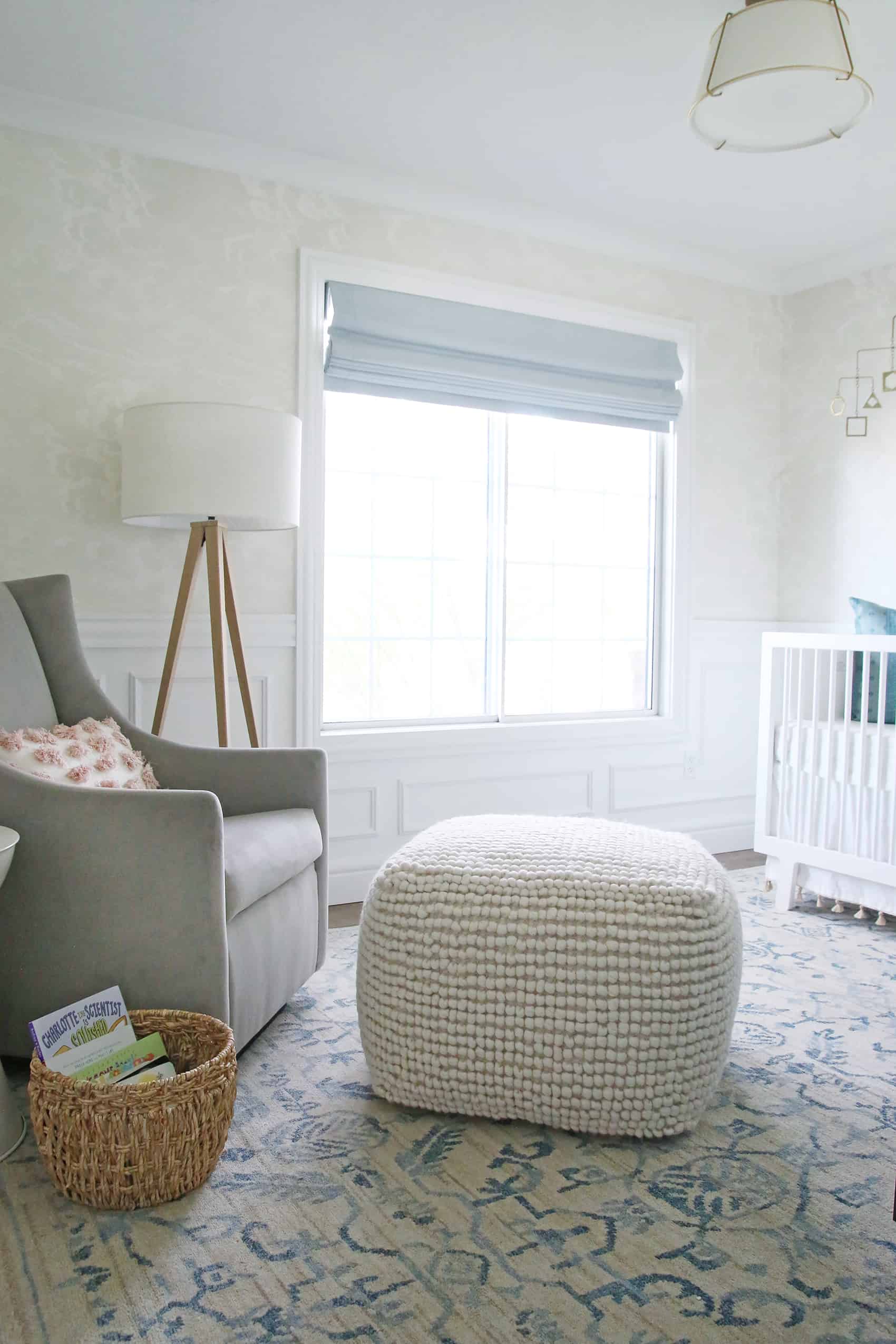 Chris Loves Julia is one of my absolute favorite blogs to follow.  If they use something in a space, people will listen!  The complete opposite of going bold is going subtle.  And this soft wallpaper they used in their nursery is beautiful!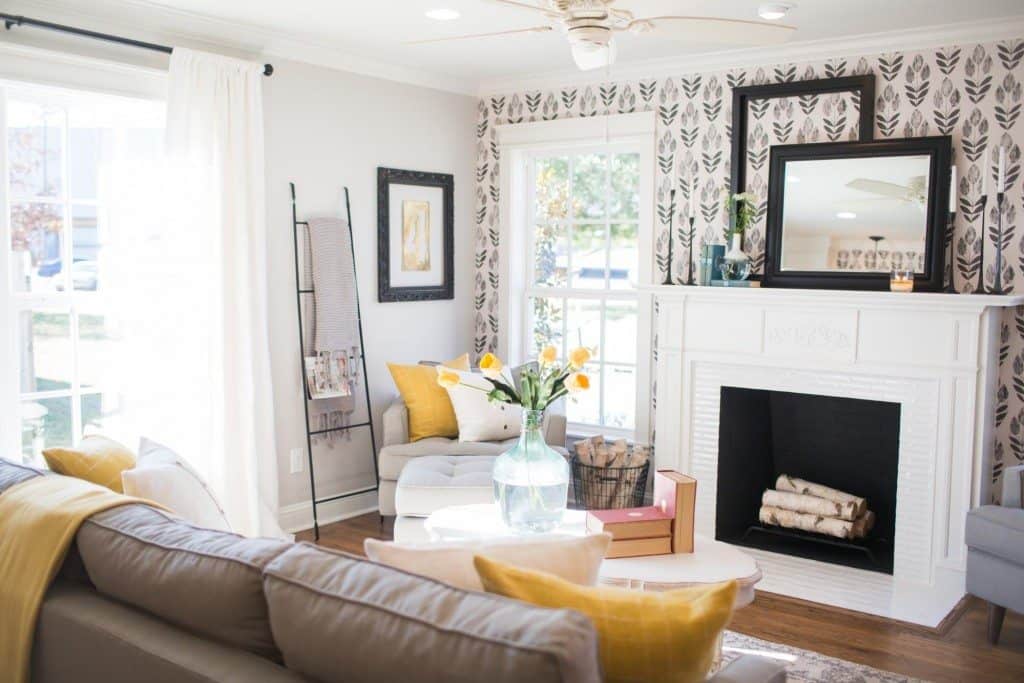 It wouldn't be a round up without mentioning my girl Joanna Gaines.  She used some wallpaper for a feature wall and I'm loving the look.
Have a great day!