Benjamin Moore Smoke Paint Color Overview
Smoke by Benjamin Moore is a versatile, soft medium-gray paint color that instantly adds a tranquil touch to any room. This color looks beautiful in bathrooms, bedrooms, and even on furniture pieces!
​Smoke paint color was named one of Benjamin Moore's best-selling colors, and it's not hard to see why. It's super versatile and is a chameleon of sorts when it comes to pairing with other paint colors and textures in a room.
As the light shifts from morning to night, you'll see this shade transform from a bluish-gray to a blue-beige to a neutral beige and back to a bluish hue – all in a matter of hours! It has a great depth of color.
Of course, this largely depends on the other elements within the room, so keep that in mind as you are planning the decor. Let's dive in more and learn more about this interior paint color. 
If you need help choosing a paint color, be sure to check out my Ultimate Guide to Popular Paint Colors!
This post contains affiliate links. Please, click here to read my disclosure policy.
Smoke Benjamin Moore Overview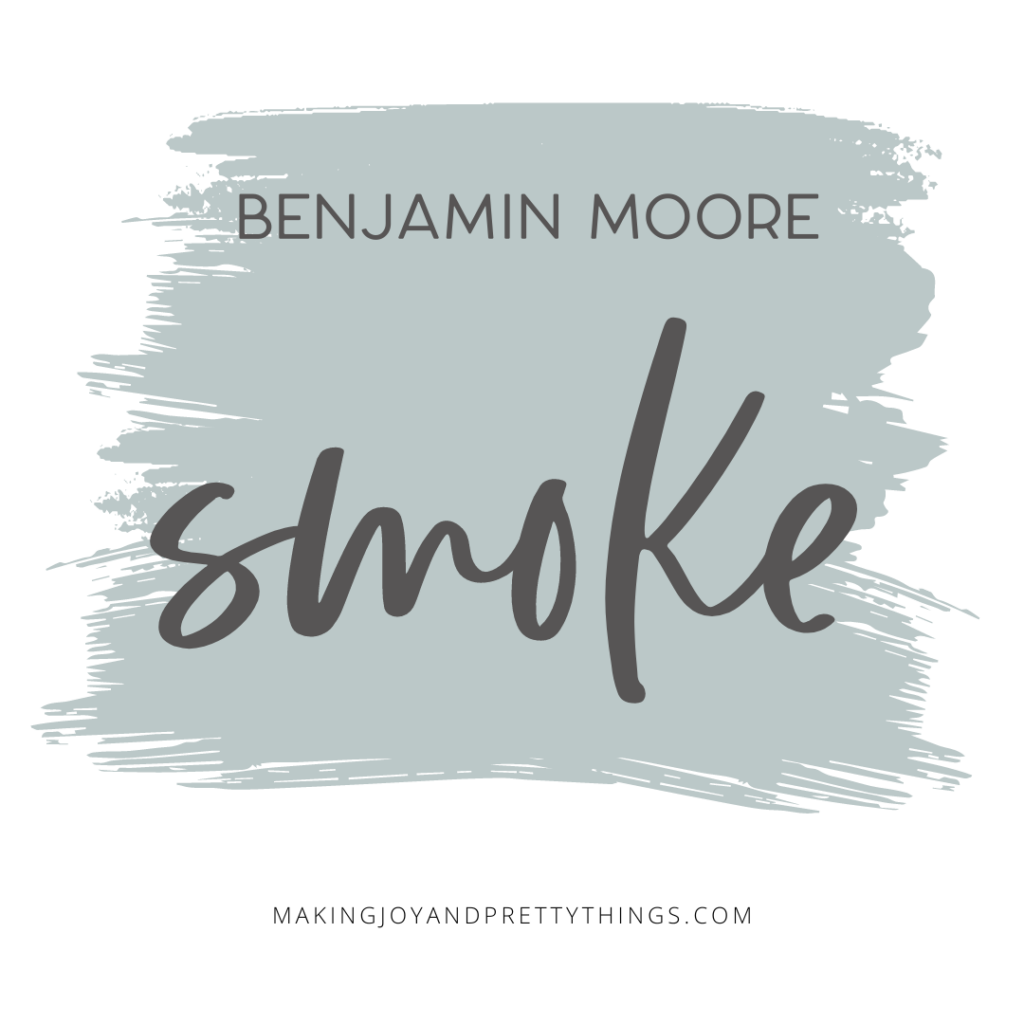 Smoke by Benjamin Moore is far from the color you would expect with a name like "smoke", but we love the way this bluish color looks! 
We used this on our IKEA Pax Closet System and in our master bedroom closet, so we can attest that this color looks great on furniture pieces as well as walls. It gives everything a fresh look.
​This is actually the 2nd paint color we used in the closet. First, we painted the walls with something darker and I sat with it for a while before determining that I just didn't like the color in a room, like a closet, that doesn't get a lot of natural light.
So that's when we found Smoke by BM. It was lighter, which is just what I was looking for in our closet. I found that after we painted it on the walls and the closet built-ins, it was just perfect! 
I love the smokey-blue hue and the tranquil vibes this paint color gives off. It will instantly set a relaxing mood in any room.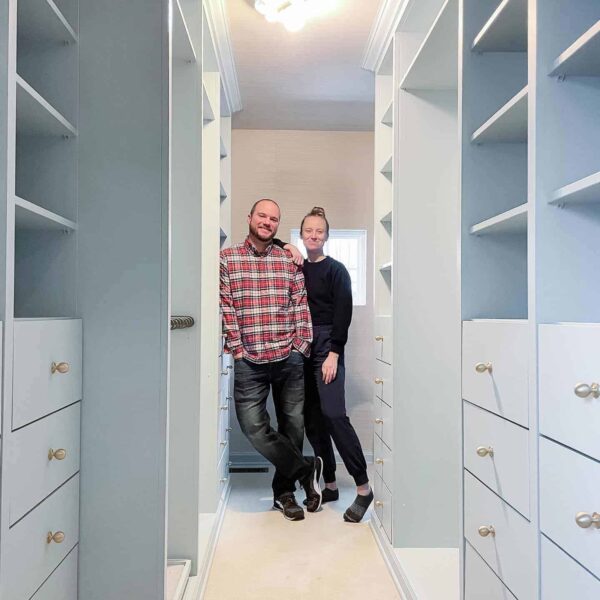 Paint Color Stats
Brand: Benjamin Moore
Paint Color Name: Smoke
Paint Color Code: 2122-40
LRV: 56.39
Hex Code: #BBC8C8
RBG Values: R 187 G 200 B 200
Smoke Benjamin Moore Undertones
Benjamin Moore Smoke has beautiful blue-green undertones.
Working with blue undertones can be tricky. As you are purchasing drapes, comforters, blankets, towels, pillows, etc., stick to colors that share similar undertones. This will help create a harmonious flow through the room.
A word of advice when painting a room: A paint sample will look completely different in the store compared to your home. All design professionals will tell you this. This is all because of the lighting and other decor items in the room.
I recommend picking up a few paint samples and painting a few swatches on the walls as a test before fully committing to a paint color. Specifically for Smoke, I would say that it does look a bit more blue-green in person than it does in videos and photos online.
The best way to figure out if it is the right color for your space is to paint real paint samples on the walls before painting everything. And sometimes, even after you do that, you still may change your mind (like I did in the closet). And that is OK too! 
Observing the room at different times of the day will help you get a sense of how the color will change with the sunlight, lightbulb temperatures, and fabrics. All of these elements play a big part in how a paint color appears.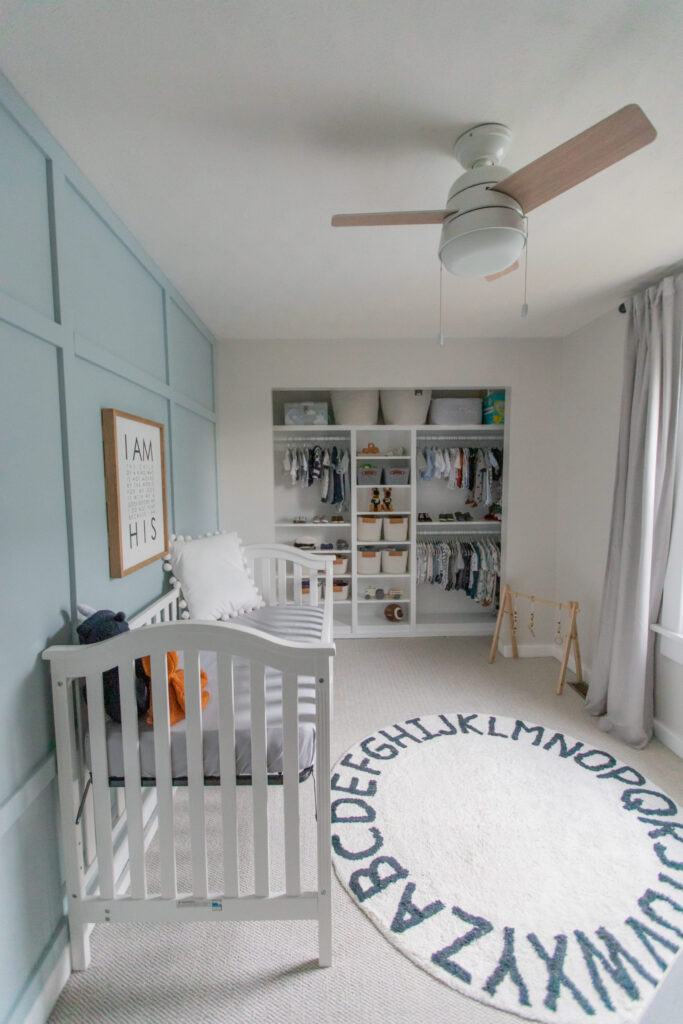 LRV of Smoke by Benjamin Moore
BM Smoke has an LRV of 56, which means that it reflects a medium-depth color.
Light Reflectance Value (LRV) in paint measures how much light a color reflects between 0-100. Higher LRVs indicate lighter colors that reflect more light, making a space feel brighter, while lower LRVs mean darker colors that absorb more light, creating a cozier atmosphere. When choosing paint, consider LRV to achieve the desired ambiance in your home.
What type of Benjamin Moore paint should you use?
Choosing Benjamin Moore paint? Here's what you need to know:
Budget Consideration:

Benjamin Moore offers various paint types to fit your budget.

Quality Matters:

Aim for the highest quality you can afford; it pays off.

Top Pick: Benjamin Moore Aura Paint:

Aura is Benjamin Moore's top-of-the-line option.
It's thicker and offers excellent coverage (fewer coats needed).
Great color vitality with more pigments for vibrant colors.
Great for easy-to-clean surfaces and splatter resistance.

Aura Bath for Humid Areas:

Consider Aura Bath with the latest technology made for high-humidity environments like bathrooms.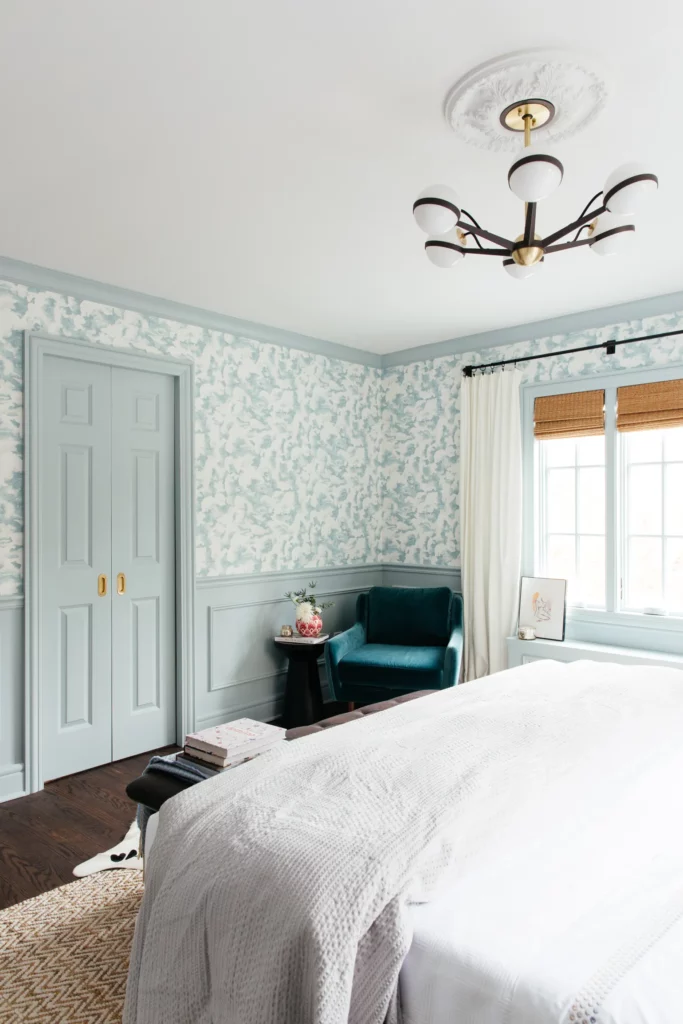 Where should you use Benjamin Moore Smoke color?
This pretty paint color would literally look great in any room. From dining rooms and bathrooms to closets and bedrooms, I don't think you'll be disappointed.
The only thing I would do is use it as the only wall paint color for your entire home. I like to use a variety of colors that work well together throughout your home so things don't start looking too predictable. If you need help finding your perfect color palette, check out our Ultimate Guide to Popular Paint Colors, which comes with 5 gorgeous whole-home color palettes!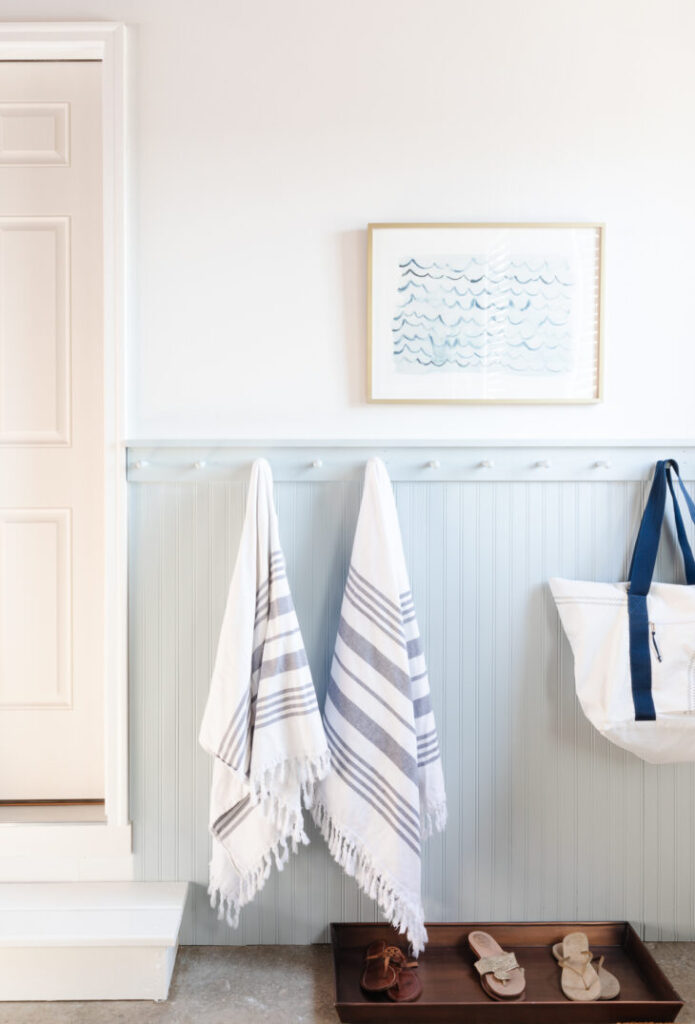 How much paint will I need?
This depends largely on how many square feet you'll be painting. For a rough estimate of the number of gallons, start by calculating the actual amount of wall area by measuring the wall height and length of each wall you'll be painting.
Multiply these two numbers together to determine your total wall area. Then add all of the walls together to come up with your total square footage. 
Note: If you're using Benjamin Moore's Aura line of paint (which is a great product btw), you will need fewer coats of paint than if you're using other paint types because it has better paint coverage. Each gallon of Auro BM paint covers 350-400 square feet, whereas Regal Select paint covers 400-450 square feet. 
You can also use Benjamin Moore's paint calculator to determine how much paint to buy. All you do is enter your length, width, and height and then type in how many doors and windows you have.
This will give you a rough estimate, but not an exact one. Your precise paint needs depend on the type of paint and how many coats you'll need. The calculators online usually assume you'll do 2 coats.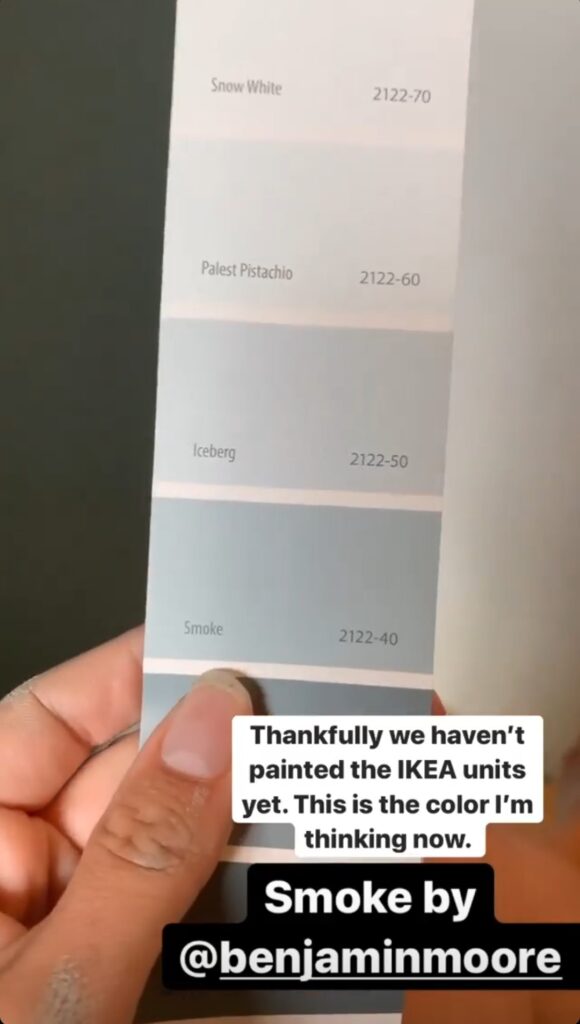 Different Shades of Smoke from Benjamin Moore
If you love this Benjamin Moore color but want something slightly lighter or darker for your space – consider one of these different shades on the same paint chip (listed from lightest to darkest):
Snow White 2122-70
Palest Pistachio 2122-60
Iceberg 2122-50
This is where Smoke falls on the paint chip, right in the middle. Everything listed above is lighter than Smoke and everything listed below is darker.
Cloudy Sky 2122-30
Steep Cliff Gray 2122-20
Dark Pewter 2122-10
Similar Paint Colors from Benjamin Moore
These colors are very similar to Smoke and are also made by Benjamin Moore. If you're set on a blue-green paint color, try these out when testing paint samples:
Wales Gray 1585 (seems to be the closest match I think)
Yarmouth Blue HC-150 (more vibrant)
Brittany Blue 1633 (slightly lighter and more blue)
Silvery Blue 1647 (not as much gray)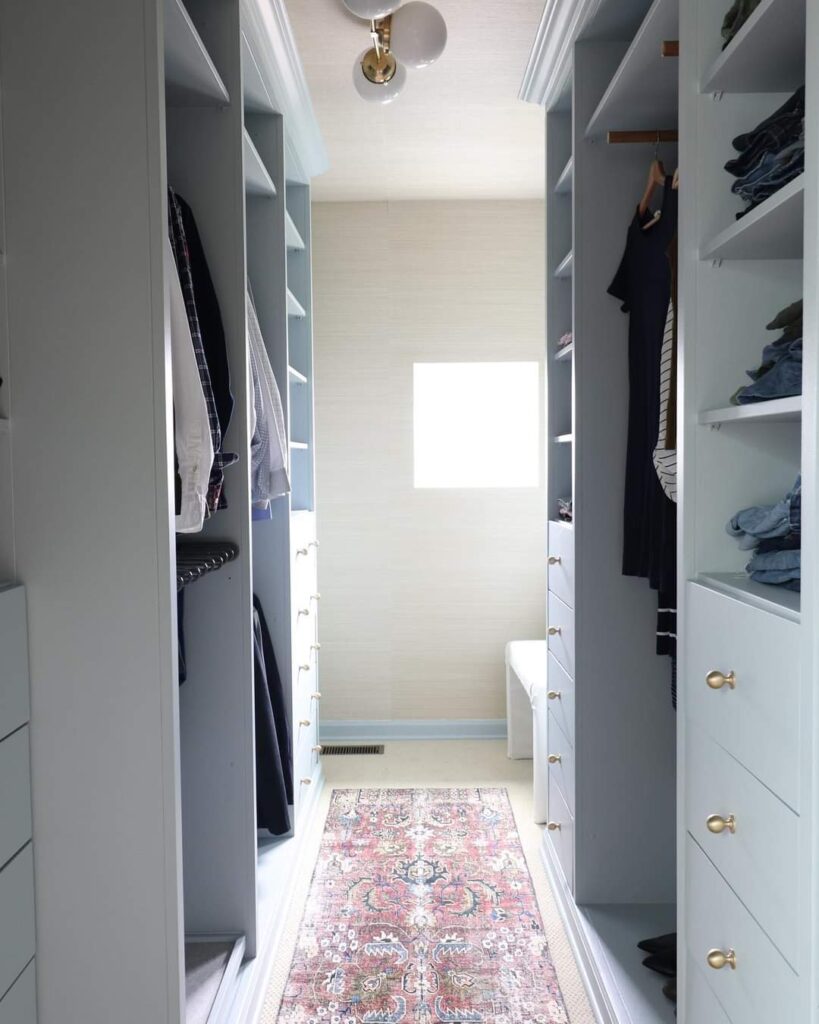 Similar Paint Colors from Other Brands
Here are other colors from other brands that you might want to try out for your interior paint job that are very similar to Benjamin Moore Smoke:
Teresa's Green by Farrow & Ball
Sleepy Blue by Sherwin Williams
Elliot Bay by Valspar
Other Complementary Colors for Smoke by Benjamin Moore
From Benjamin Moore, these neutrals and shades of gray would go beautifully with this Smoke paint color:
Chantilly Lace
Steel Wool
Cloud Cover
Wind's Breath
For a matching palette with beautiful results, try Chantilly Lace as the trim color around windows and doors and on your base moldings and trim details with the neutral Cloud Cover and Wind's Breath as a gentle accent.
So what do you think of 2122-40 Smoke from Benjamin Moore? Whether you are going with bold hues airy pastels, or even neutrals, Smoke is sure to be a great addition to your home's color scheme.
Do you have any other questions about this paint color?
Let me know in the comments below!
If you need help choosing a paint color, be sure to check out my Ultimate Guide to Popular Paint Colors!