One Room Challenge Week 4 : : All the Nitty Gritty Work
Welcome back for week four of the One Room Challenge hosted by Linda from Calling it Home!!!
It's been such a busy week around here. I think week 4 is always the most stressful, but also probably the most productive. It's hard to believe that in just two short weeks we'll have a brand new office space. And I mean that literally. I LITERALLY find it hard to believe….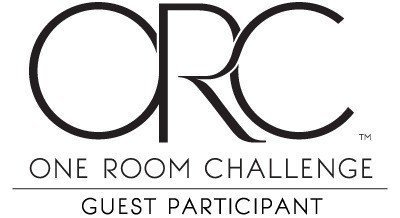 If you missed it, here's the before shot of the current "office":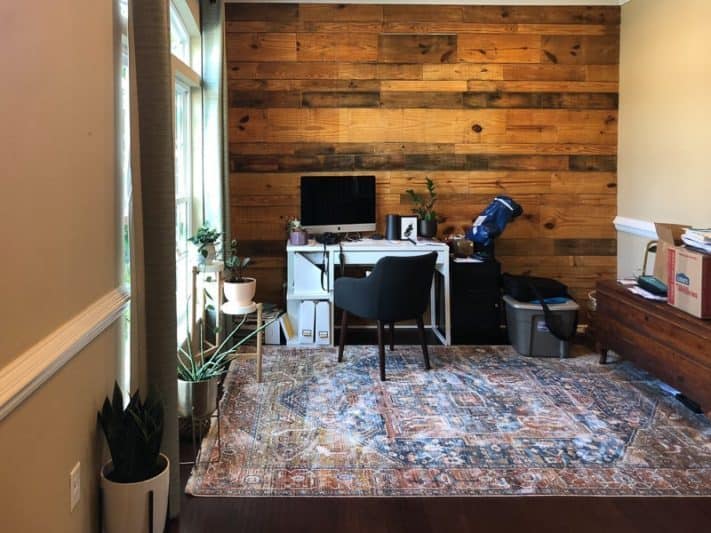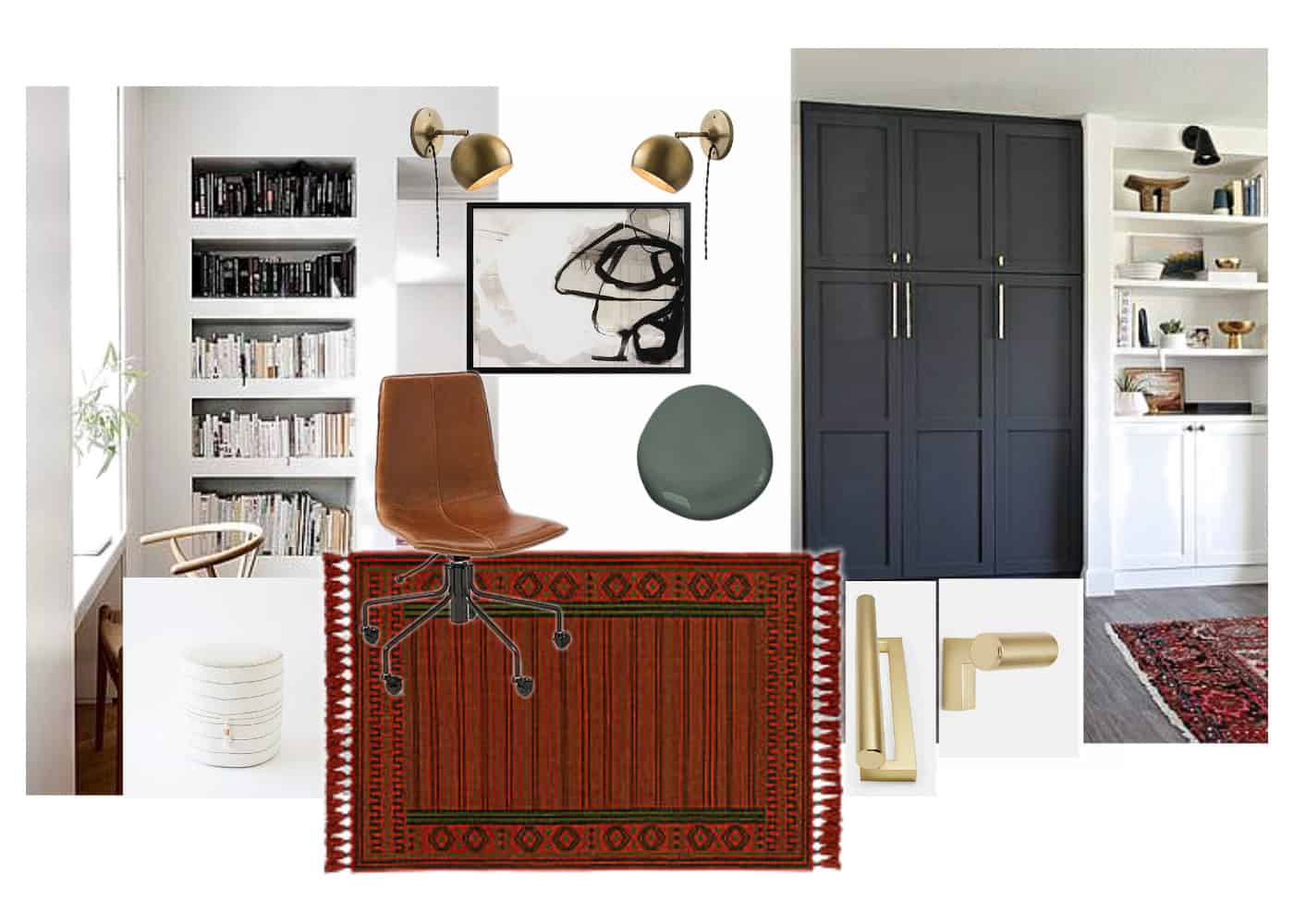 CATCH UP HERE:
WEEK 1 | WEEK 2 | WEEK 3 | You're Here | WEEK 6 (Reveal)
I feel like we really accomplished a lot this past week.
You're really going to have to use your imagination with these pictures…I promise I can see the end result and it's going to be amazing.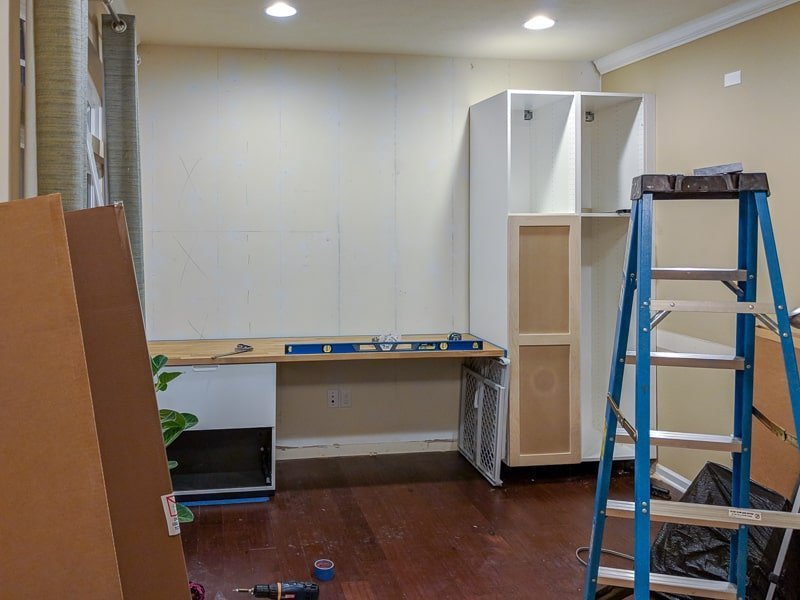 We have the SEKTION pantry units built and installed on the wall. Getting them onto the wall anchors was basically exactly like Ross and Chandler trying to get the couch up the stairs (PIVOT!!!). Friends reference for anyone wondering what I'm talking about.
On the far left we have a filing cabinet that the butcher block counter is resting on. It's also from IKEA though it's really good quality and looks a lot more expensive.
You can see that I finally got to filling and sanding all 20 million nail holes left behind by the wood wall. And, the wallpaper is HERE!! That will be installed this weekend hopefully.
In order to get the "builtin" look, we have to keep the filing cabinet off the wall a little. We're going to disguise this with paneling on either side, really giving us the builtin look!
Just because we live in a new house doesn't mean everything is straight. Nothing is as bad as the floors in our old house where nothing on wheels ever was still. My husband is really proud of himself for leveling the counter top so let me brag for him —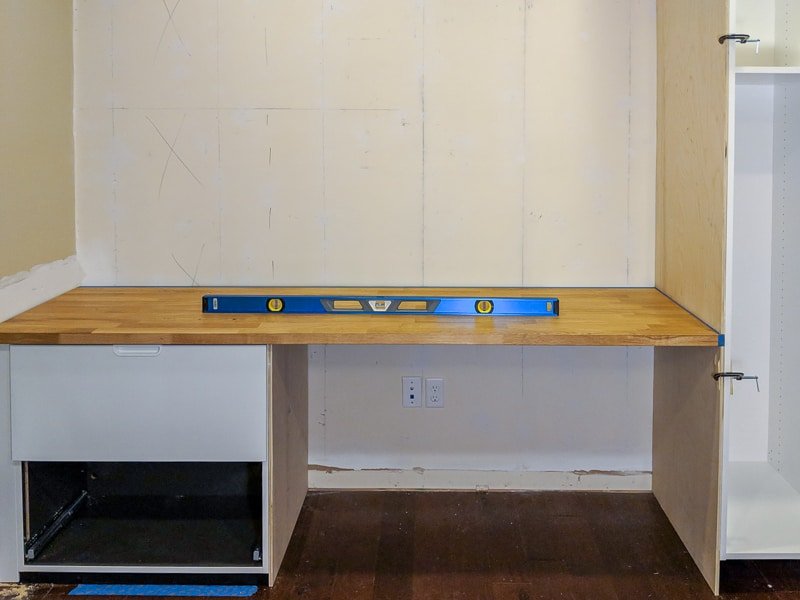 You can also see that paneling I was talking about there. Remember, this will ALL be painted green.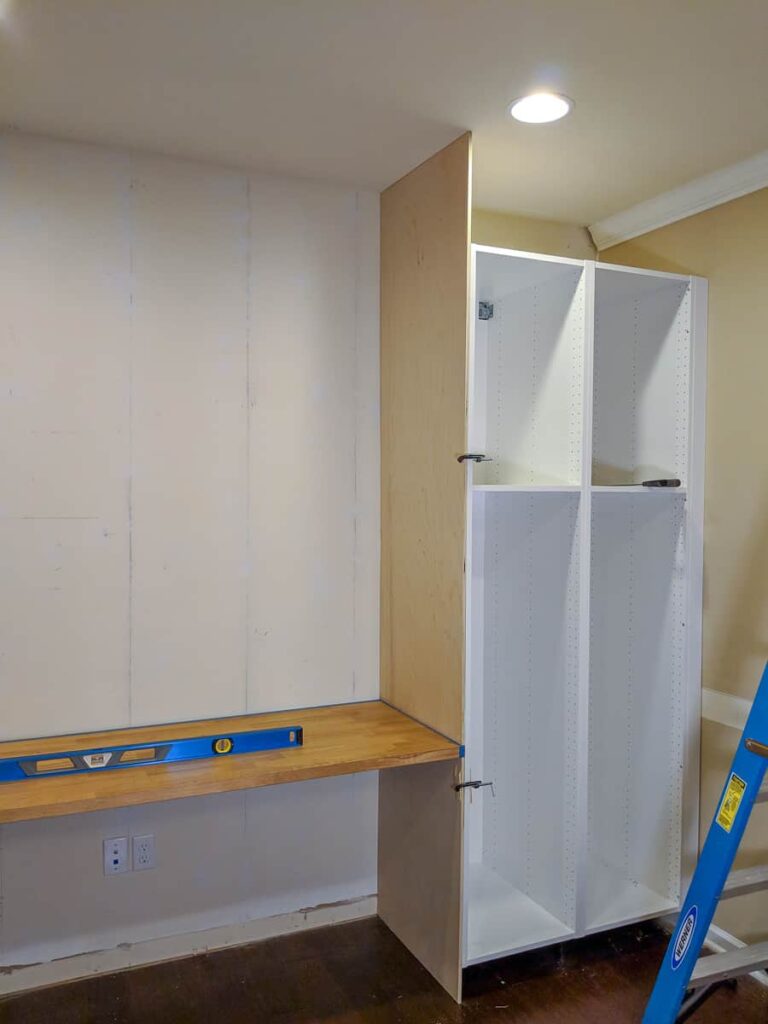 Do you see the finished product? We still have a long way to go. A lot of painting to do. But, I feel really good about the progress we've made. There's no more talking about details and working out every like inch. It's all about DOING now.
Let's check out the to do list!
TO DO:
Remove wood plank walland fix whatever it underneath it

Again, I'm sorry. It's pretty just not my style.

Remove certain sections of moulding
Paint
Design and build built in cabinets
Design and build open shelving
Select art
Design and build floating desk
Find vintage rug
Hunt for the perfect comfy chair, modern side table, and fun lamp for reading area
Source new curtains – no longer doing – just doing roman shades!
Find desk chair
DIY Room Separator
Accessorize!!
Remember to hop over to the One Room Challenge link up to follow everyone's progress!
Until next week….
Want to see more of our modern office renovation?