Where To Buy Wallpaper Online
Do you want to use wallpaper in your home, but don't know where to get it? Check out my favorite resources for where to buy wallpaper online. These are the best affordable online modern wallpaper sources.
As we continue with our modern office renovation for the One Room Challenge, I've spent a ton of time surfing the internet for the best affordable online modern wallpaper sources. Today, I'm sharing some of my favorites!
Okay, so I've written about wallpaper a few times…Apparently, I have a thing for wallpaper.
What to consider before buying wallpaper online
When buying wallpaper online, there are a few things that you need to consider.
Quality: Before making a purchase online, quality is always a concern. You can get an idea of the quality of the wallpaper by reading product descriptions and reviews and checking the materials used. You want to make sure the wallpaper is durable and will last long.
Size: Determine the size of the wall you're going to cover with wallpaper and make sure you buy enough wallpaper to cover the space. Double-check the dimensions of the rolls of wallpaper to make sure they will work.
Design: Choose a wallpaper design that matches your interior design style and will complement the rest of the decor in the room. Consider the color, pattern, and texture to make sure it is cohesive.
Samples: I can't stress this enough…. when buying wallpaper online it is CRUCIAL that you order samples of the wallpaper you're interested in before making a purchase. This will give you a chance to see the quality, color, and texture of the product in person. You'll be able to tell so much more by actually holding the wallpaper in your hands. You can touch and feel it to make sure it is good quality. You'll also be able to have a better idea of the true colors and how they look in your space with the lighting.
Installation: Make sure you have the necessary tools and materials to install the wallpaper properly. If you're not comfortable doing it yourself, consider hiring someone to install it for you.
Return Policy: Check the return policy of the online store before buying wallpaper online. Make sure that you can return the wallpaper if it doesn't work for you.
Check the production time: Some wallpapers will be ready to ship in as little as 2-3 business days, but others may take a couple of months…which can really put a damper on things when you're working with a timeline! Before you get your heart set on a certain wallpaper, make sure it fits your timing.
Shipping: Find out about the shipping options costs and delivery times before you make a wallpaper purchase. Check to see if the retailer offers free shipping (many times they do!)
This post contains affiliate links. Please, click here to read my disclosure policy.
Where to Buy Wallpaper Online: My Favorite Sources
I've rounded up some of my favorite (affordable) online retailers of modern wallpaper and included a few favorite picks from each one. Happy shopping!
Anthropologie
Anthro has some of my favorite picks for wallpaper. They have a little bit more bold and beautiful wallpaper options, which fit in with the rest of the Anthropologie vibe, of course. They have a large selection with many different options, everything from traditional design to modern designs.
Because they have so many options, they really offer a full spectrum of options…everything from unpasted wallpaper that requires a paste to pre-pasted wallpaper that is activated with water on the back. They also have the DIY favorite of removable peel-and-stick wallpaper. You can sort your search by application type, which is convenient.
Although Anthro doesn't technically make any wallpaper, they sell some of the most well-known wallpaper brands, like York Wallcoverings.
Shipping: Free Shipping on orders over $50
Return Policy: Within 30 days, in original packaging
Samples: Some wallpapers are available to order swatches, but not all of them
CB2
CB2 has a great selection of modern wallpaper, which can be purchased online. Although the options are smaller than what Anthro and other larger retailers have, it is a more curated selection that is only available exclusively at CB2. So many beautiful designs if you're going for a modern look!
Shipping: Shipping costs are calculated based on the merchandise total (10% of anything over $250)
Return Policy: Wallpaper is NOT eligible for return (due to the unique printing process)
Samples: Not available
Chasing Paper
Chasing Paper is one of the leading online wallpaper retailers. They sell, almost exclusively, wallpaper (they recently started selling some decor as well). So it is their specialty! All of their materials are sourced and products are in the USA, which is great.
They originally only sold peel-and-stick wallpaper, but now they offer traditional wallpaper as well.
Shipping: Shipping costs are calculated at checkout.
Return Policy: No returns because their products are printed on-demand…however, they do offer exchanges on items within 14 days.
Samples: YAY! You can order samples for all of their wallpapers.
Etsy
Etsy is a treasure trove of wallpaper options! However, since the wallpaper comes for each individual Etsy seller, it is harder to predict the quality, and the policies of each store will vary.
You find tons of beautiful design options. One of my favorite ways to narrow down the options is to type in exactly what you're looking for in the search bar (ie: wallpaper with animal prints for kids' room or wallpaper with floral motifs for powder rooms).
Some bigger wallpaper companies, like Spoonflower and Wallpaperie, sell their wallpaper on Etsy.
Shipping: Each wallpaper shop will vary.
Return Policy: Each shop will vary, but most shops do not offer returns because the wallpaper is custom printed for your order.
Samples: Each shop will vary, but most shops offer sample sizes.
Spoonflower is a great place to shop for wallpaper online! More than just wallpaper, they also offer print-on-demand home decor and fabric designed by independent artists around the world. What began as a fabric-by-the-yard store, has expanded into wallpaper and home decor (including table linens, bedding, and home goods!)
The best part is that the artists receive royalties when their designs are purchased, so you can feel good that your wallpaper order supports creatives.
You can sort wallpaper by the artist's name, style or theme, and colors. Once you select a wallpaper design, you can also look at other items that come in the same pattern. So if you want to order matching throw pillows, you can totally do that!
Spoonflower also sells wallpaper on Etsy!
Shipping: Shipping costs are calculated based on the product and amount ordered, destination, and delivery option.
Return Policy: No returns or exchanges are offered because your wallpaper is printed on demand just for you (however, if the items are damaged or flawed they will replace it or refund it).
Samples: Yay! Samples are available for all wallpapers.
Target
Target is, of course, a HUGE retailer. But they have some awesome wallpaper options so I couldn't help to include them.
They sell wallpaper from RoomMates, Tempaper, NuWallpaper, and gorgeous designs from Rifle Paper Co. Also, they have exclusive Target brands that have wallpaper, like Pillowfort, Threshold, Opalhouse, and Project62.
Most of the options available are peel-and-stick removable wallpaper only so if you're looking for a pasted wallpaper, Target isn't worth your time to browse.
Shipping: Free 2-day shipping within you spend $35 or use your RedCard.
Return Policy: Free and easy returns within 90 days for most items.
Samples: Not offered.
The Home Depot
Although you may think of The Home Depot primarily for renovation supplies and tools, they have a surprising amount of decor and furniture and WALLPAPER!
With a wide range of products, you'll see a lot of different popular wallpaper brands (like NuWallpaper, Brewster, NextWall, Magnolia Home, York Wallcoverings, and more), you can sort by design, color, wallpaper material, and application type to narrow things down.
Shipping: Free for most wallpaper orders!
Return Policy: Free and easy returns within 90 days for most items.
Samples: You can order sample sizes for several of the wallpaper choices.
Walls Need Love
Walls Need Love has SO many pretty prints for wallpaper and wall murals. Their wallpaper is custom-made and offered in both peel-and-stick and paste-on-the-wall types.
Shipping: Shipping is calculated based on the quantity in your order, weight, and shipping location.
Return Policy: Because the wallpaper is custom printed, refunds or exchanges aren't offered.
Samples: Yay! Samples are available for all of their wallpaper.
Modern and Electic Wallpaper Inspiration
So, don't take my word for it. Look at some of the amazing modern + eclectic wallpaper choices others have made!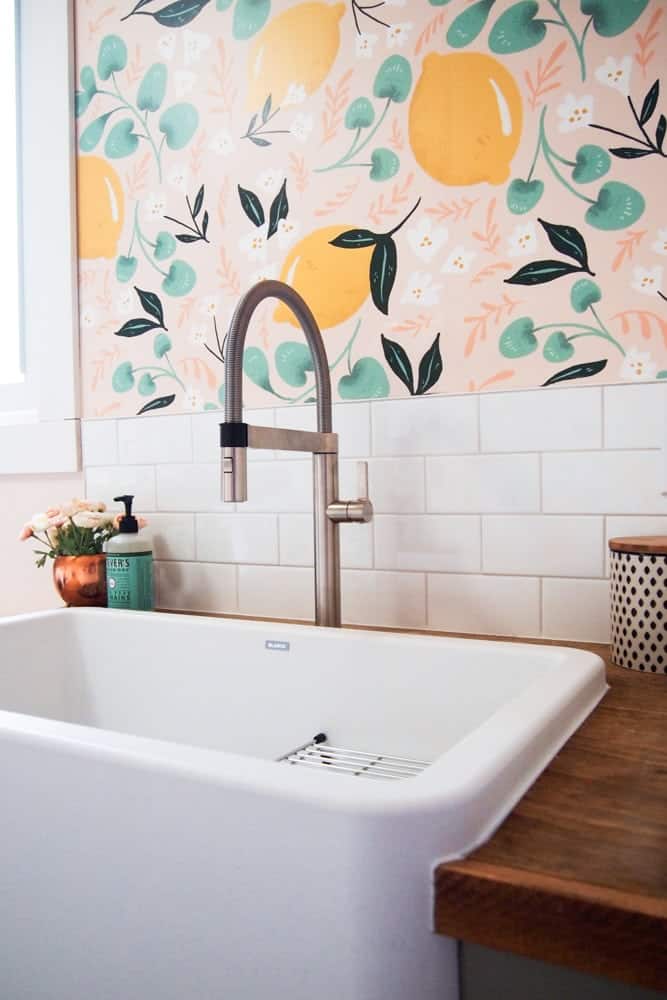 This bright and cheery citrus-patterned wallpaper with a bold statement is from Walls Need Love!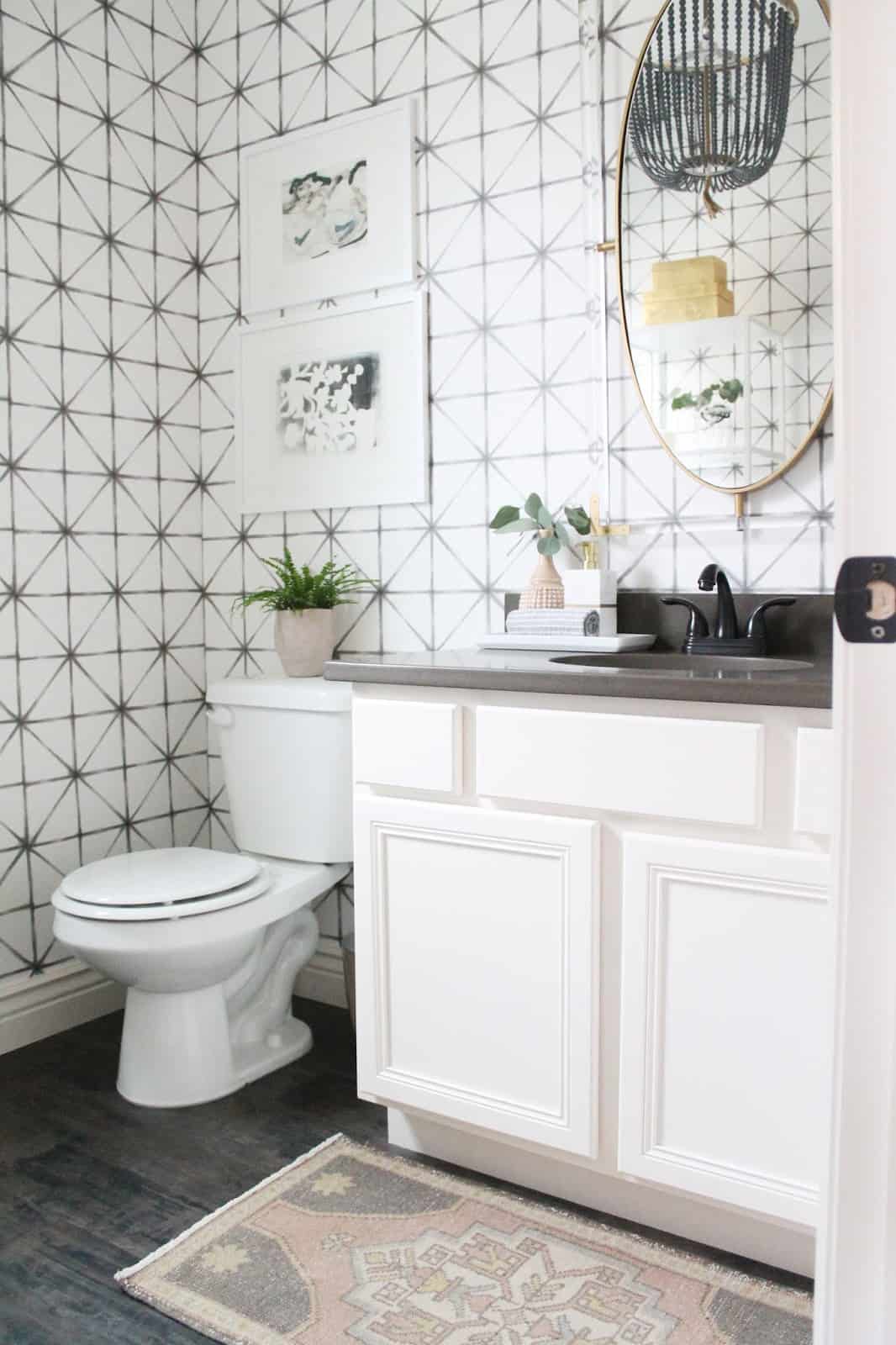 This black and white wallpaper with geometric patterns is from Wayfair.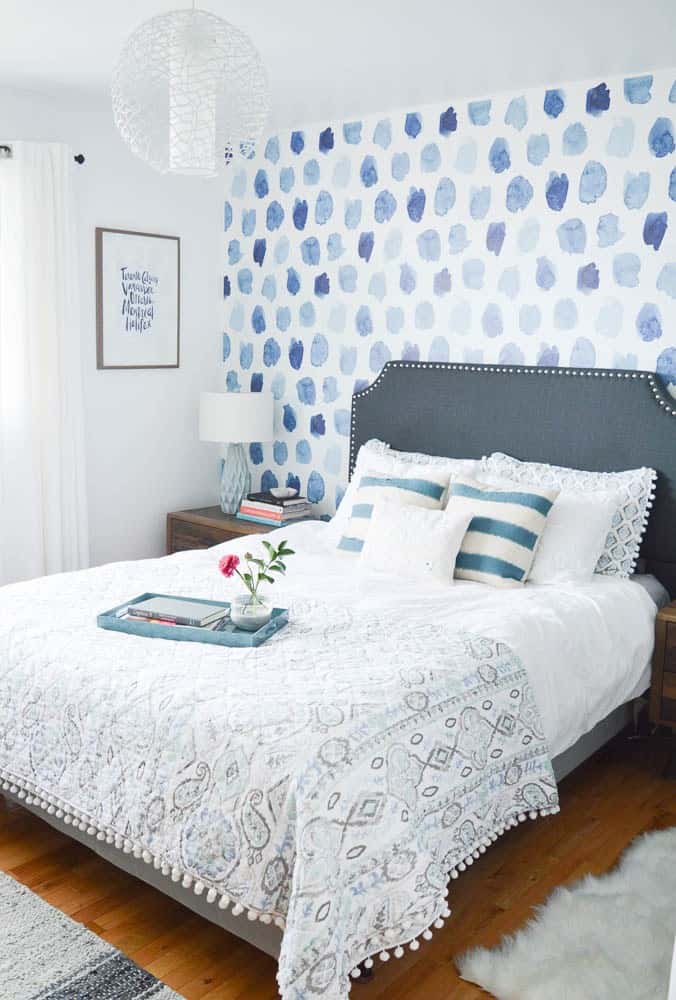 The pretty blue watercolor dots wallpaper is from Walls Need Love.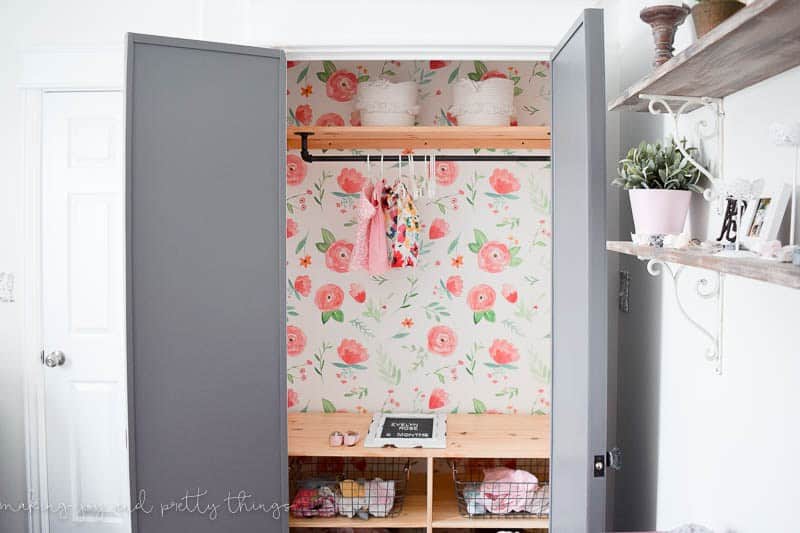 The floral wallpaper in this closet is from Spoonflower.
Leaning towards a modern design for wallpaper in the office
As my style has evolved, I've been leaning towards a modern home decor style. So I've been looking for wallpaper that fits that style.
Modern, clean lines, and clean patterns, with some unique ideas thrown in that maybe break the mold a bit. That's what I'm going to share today.
As far as our office renovation is concerned, I've been sharing a TON on Instagram… from progress pictures to help with design choices to me ripping that wood off the wall!
Yesterday, I shared this graphic with the four wallpaper choices I've narrowed it down to. Keep in mind the office built-ins will be a sage green (this color called High Park from Benjamin Moore, to be exact) with brass accents.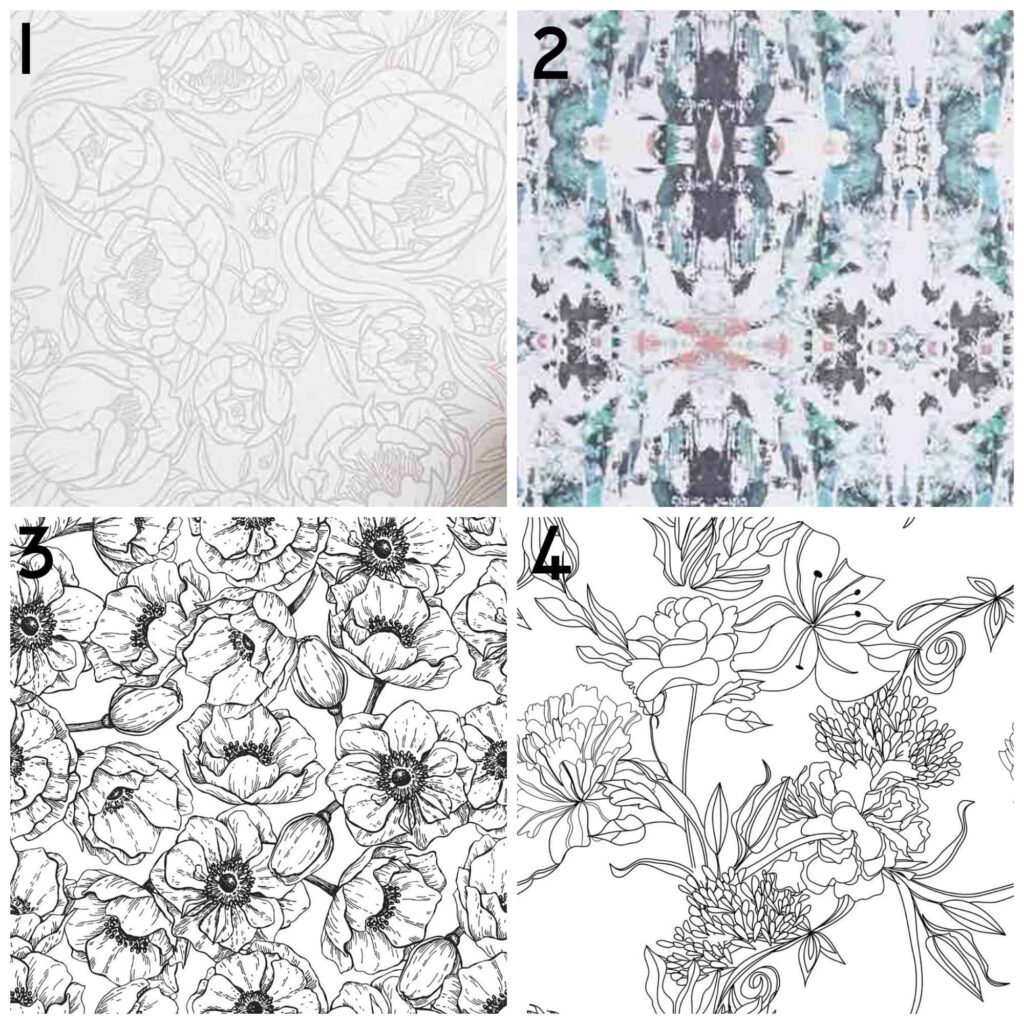 I had a favorite before I posted it but nearly everyone else picked a different one! Which do you like??
Want to see more of our modern office renovation?