My Favorite Sage Green Paint Colors
Sage green is currently my favorite color for walls! It is warm and inviting, calm and soothing, and looks pretty too! Here are my favorite sage green paint colors from all of the major popular paint brands – like Behr, Benjamin Moore, Sherwin-Williams, and Farrow & Ball.
We are knee-deep in the middle of our office renovation for One Room Challenge. Scroll down to the bottom of this article for an update on how things are going for Week 3 of the renovation.
Since I don't have any fun pictures to show office renovation progress this week, I thought I'd break down my current favorite sage green paint colors! This is related to the One Room Challenge because we're going to paint the built-in cabinets sage green!
A few other times we've used green paint in our home.
We used a blue-green for the vintage dresser turned vanity at our old house.  The color is Mount Etna by Sherwin Williams. Learn more about Mount Etna paint color here!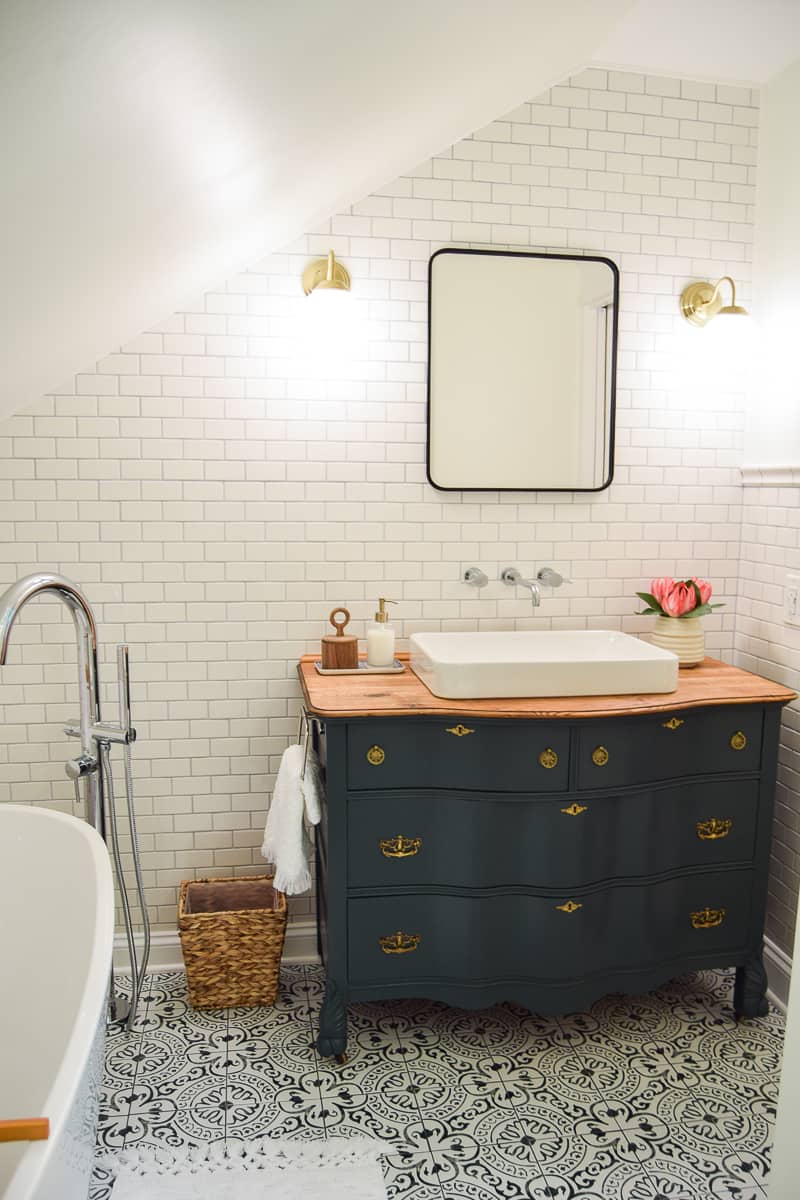 Our dining room just got painted a beautiful, dark green color. See the design plan for our modern dining room here and more about the dark green paint color here. The color is North Woods by Behr.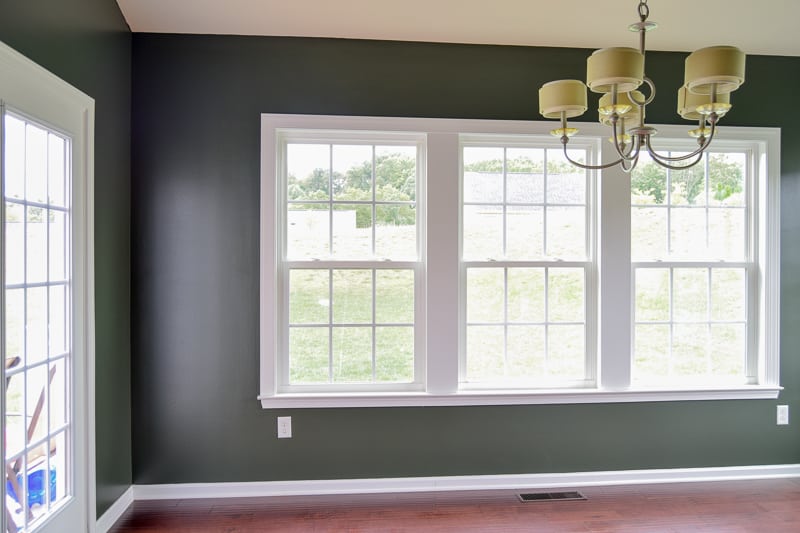 Sage Color Options from Benjamin Moore
Most recently, I've been trying to decide on a sage green paint color for the built-ins for our office.
I'm debating between these green paint colors all from Benjamin Moore (the wall color will be Hazy Skies by Benjamin Moore):

They really look so similar. I'm really drawn to Herb Bouquet I think. Which is your favorite?
High Park (learn more about High Park paint color here)
Grenadier Park
Rosepine
Herb Bouquet
Greenwich Village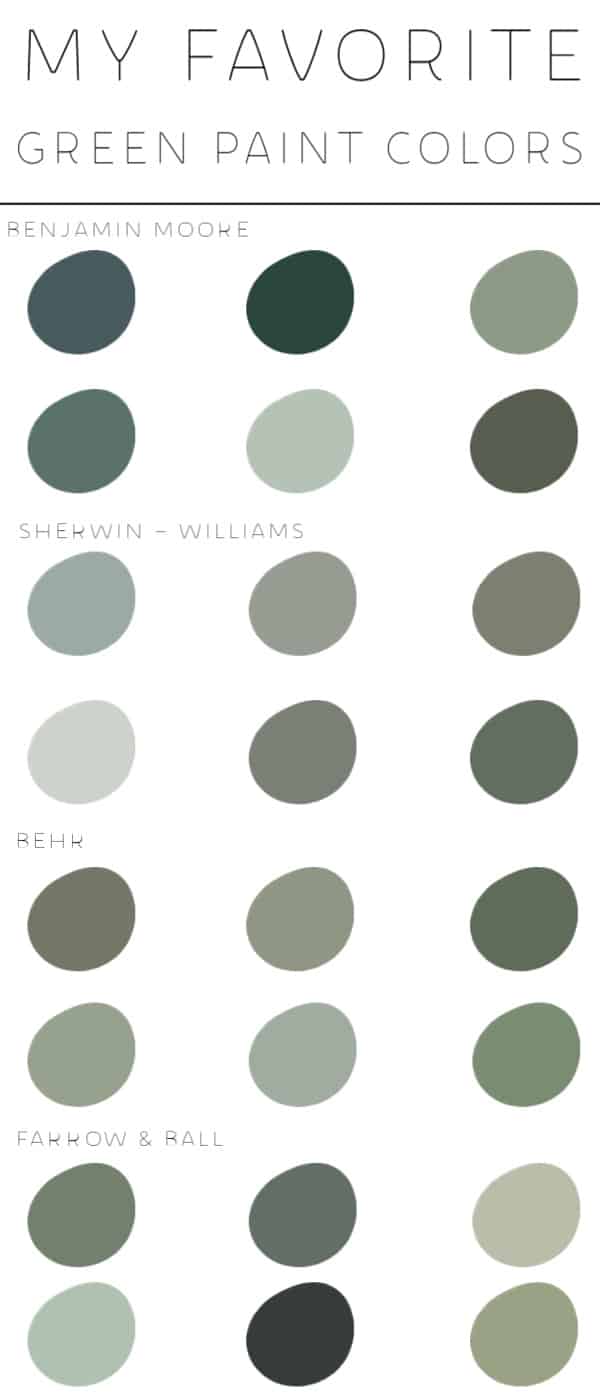 Let's take a look at some of my other favorite dark green and sage green paint colors: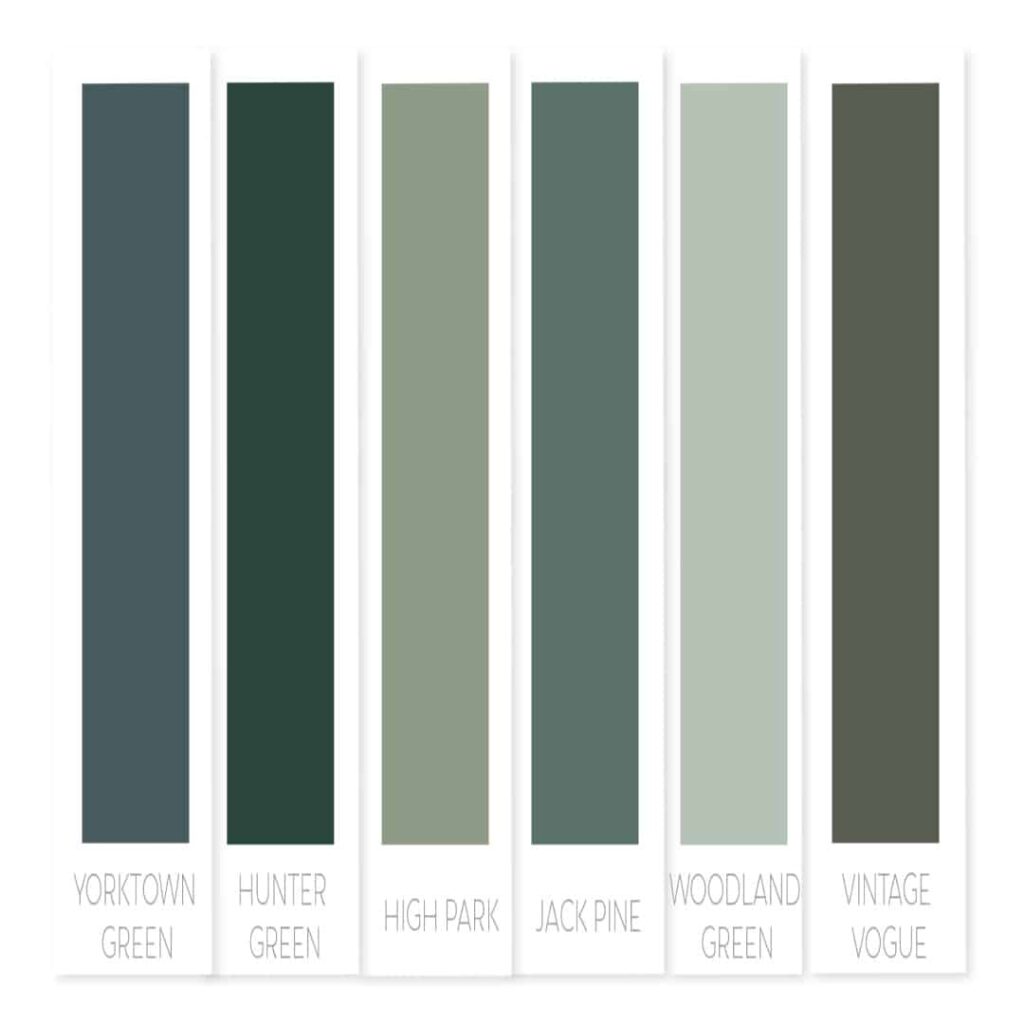 Yorktown Green: Definitely more of a teal-green that the other sage green paint colors on this list, but it is so pretty. It is dark and sophisticated and would make a big statement in any space. This color is also part of the Benjamin Moore Historical Collection. Inspired by America's historic landmarks, the collection contains 191 colors. The Historical Collection has become a favorite palette.
Hunter Green: This is a very deep saturated shade of hunter green that is timeless and elegant.
High Park: Ding, ding, ding! This sage green paint color was the winner for us. Check out how it turned out painted on our office built-ins in the full room reveal here. This is a gorgeous shade of sage green with gray undertones. High Park is part of the Benjamin Moore Classic collection, which is full of timeless colors.
Jack Pine: Jack Pine certainly has a bit more teal than the other colors here, which gives it almost an emerald green appearance. This color is also a part of the Classic collection from BM.
Woodland Green: This beautiful sage color is a bit lighter than everything else and almost looks more like a gray with green and blue undertones.
Vintage Vogue: Last, but not least on the list of my favorite green colors from Benjamin Moore is Vintage Vogue. It is an ultra-dark smoky green shade that is dignified and modern with olive tones. If you are looking for a dark and moody sage green color, you'll love this one!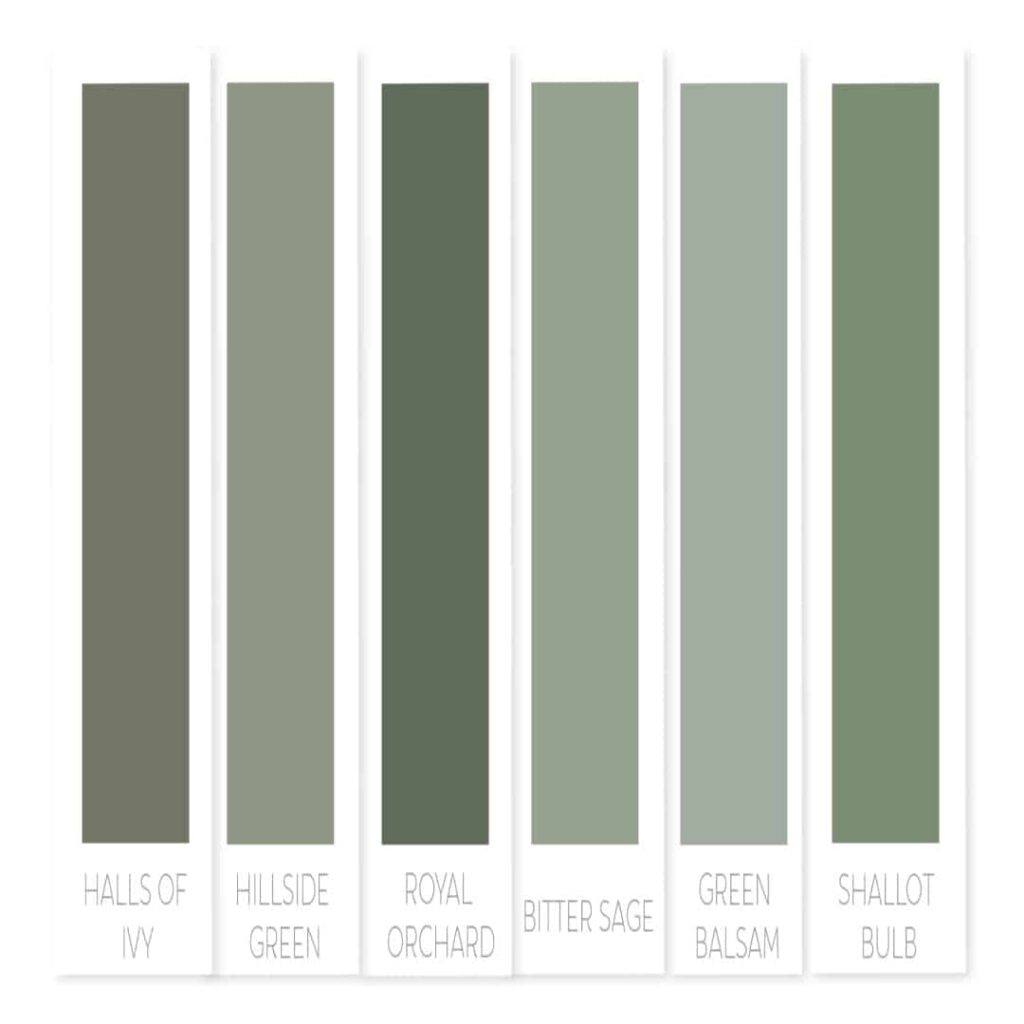 Halls of Ivy: This color is very similar to Behr North Woods, which we painted in our dining room recently, but it is a shade lighter.
Hillside Green: This pretty sage green color is probably the closest match from Behr to BM High Park, which is what we ended up choosing for our office cabinets.
Royal Orchard: This color was a part of the color trends palette in 2021 from Behr Paint and rightfully so. It is so pretty!
Bitter Sage: Truly looks to be the color of sage leaves from the garden, I love this option!
Green Balsam: This color has a cool and relaxed feel with a little more blue tones than the other paint color options.
Shallot Bulb: Shallot Bulb is more saturated and bright, but still a beautiful shade of green. It would make a great accent color!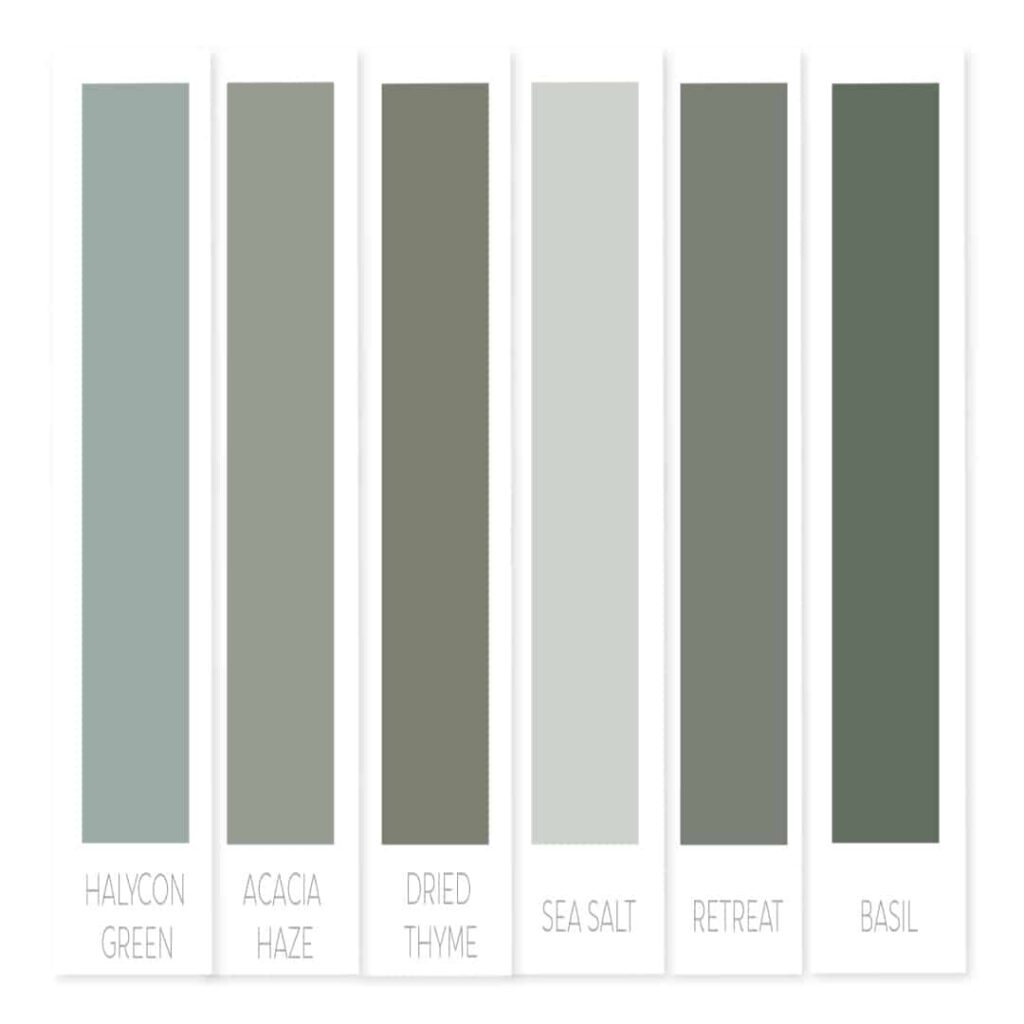 Halcyon Green: This color has a bit more blue undertones than the other sage green colors here, but I love it.
Acacia Haze: This paint color has smoky gray tones, which would look great in any space where you wanted a bit more of a subdued look.
Dried Thyme: This is a dark sagey green color that is peaceful and calm.
Sea Salt: Seal Salt by SW is a very popular neutral color that is used by many bloggers and interior designers. It has a coastal feel with pale blue, green, and gray tones. This is a great option if you love sage greens, but you're not looking for something dark!
Retreat: This is a darker-toned green paint color that has some gray undertones.
Basil: This darkest and most saturated color on this list of sage greens from Sherwin Williams, I love this option. It would look great painted on kitchen cabinets, don't you think?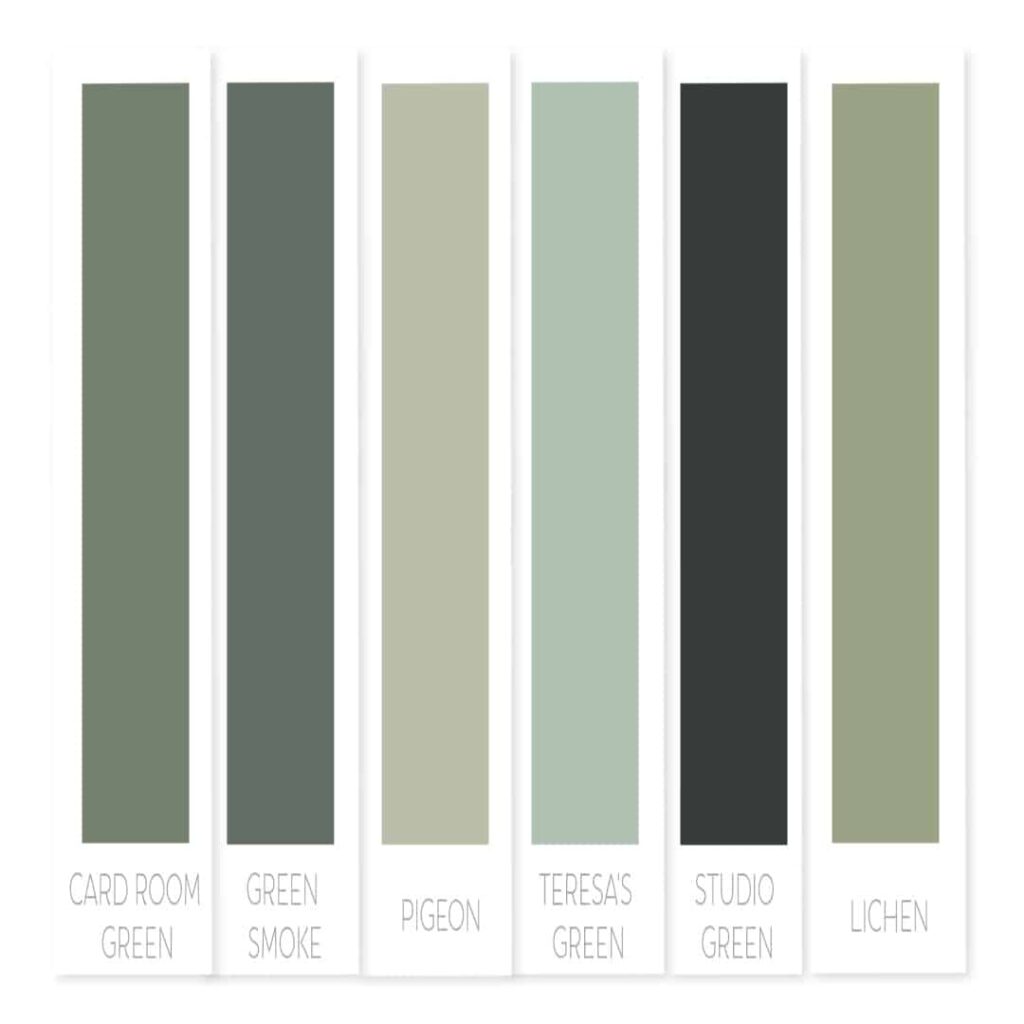 Card Room Green: This is a dark grayish green color that is great if you want a more masculine feel to your space.
Green Smoke: As the name suggests, this is a smoky green color with blue undertones.
Pigeon: This color is a bit more tan than any of the other sage green paint colors on this roundup. That means that it would be great to use as a neutral color to bring in hits of sage without being too overpowering.
Teresa's Green: According to Farrow & Ball this mid aqua is named after a much valued, early member of their creative team. Teresa's Green owes its freshness to a rich blue base and its warmth to soft green undertones. In the middle of our range of aquas, Teresa's Green has a calming and therapeutic effect.
Studio Green: This deep and dark shade is gorgeous when used as an accent or the main color in a dark and moody palette. It is the darkest green shade from Farrow & Ballow.
Lichen: This calm and muted green color is so pretty!
Do you love sage green, too? I just can't get enough green in my life.
I'm going to pick a sage green paint color this week and hopefully convince my BIL to spray all this stuff.
---
One Room Challenge: Week 3 Update
Welcome back for week three of the One Room Challenge hosted by Linda from Calling it Home. I can't believe we're halfway through the 6 week challenge already. And, we are definitely not halfway done with the work.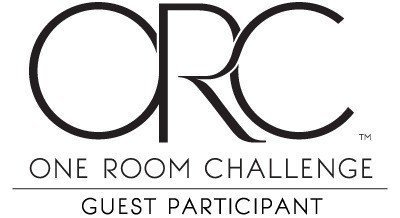 If you missed it, here's the before shot of the current "office":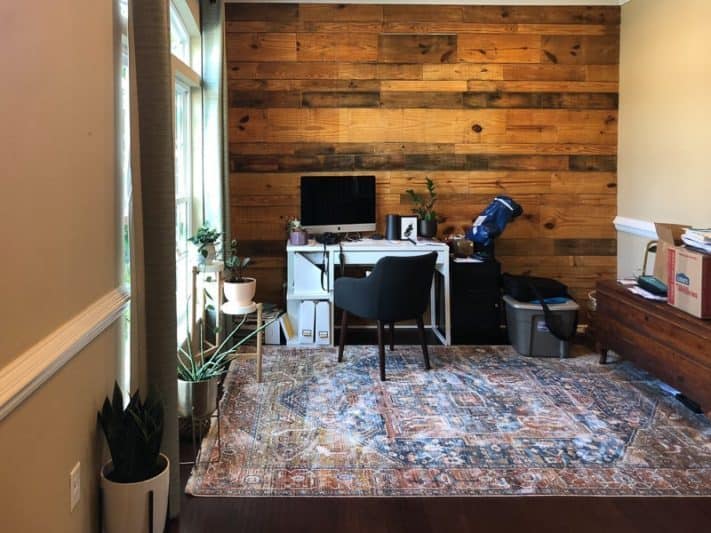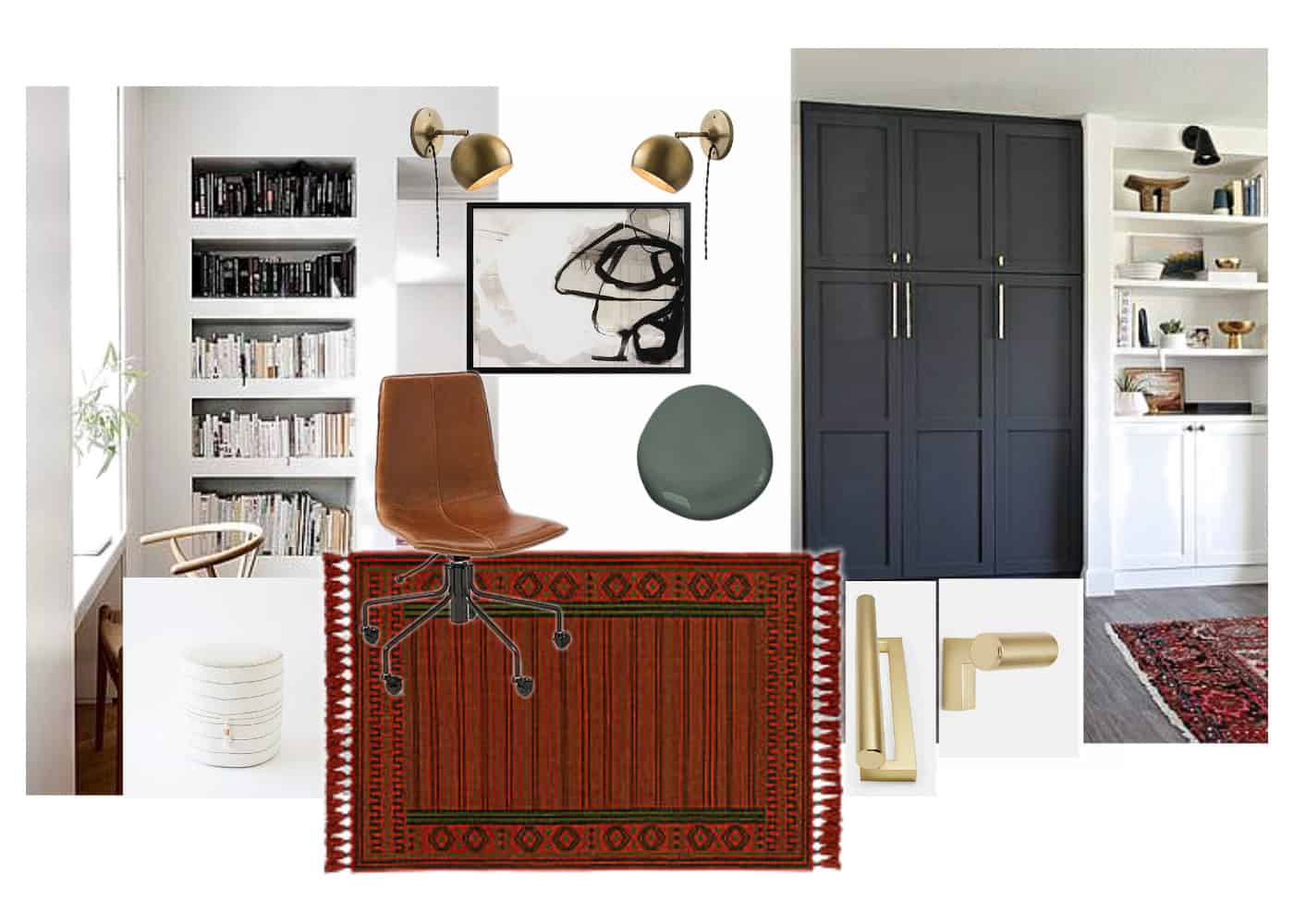 CATCH UP HERE:
WEEK 1 | WEEK 2 | You're Here | WEEK 4 | WEEK 6 (Reveal)
This past week we really got to work on all the nitty gritty details. I drew out a giant plan with exact measurements, we made another run to IKEA, and we actually finalized everything.
Now, it's on to the building phase!
I don't have much in the way of pictures to show any progress. We're still working on getting the wall ready for wallpaper (which I did order!! Yay!! – thanks for all your help and input in choosing which one!) and are now prepping to paint everything.
I did fill all 27 billion nail holes in the wall. It was so very annoying.
We assembled all the IKEA stuff we're using. Which is a LOT! The hard part is making all of these individual pieces actually look like a custom built-in. We're working on that as I type this 🙂
Let's check that ever-important to-do list 😉
Office Renovation TO DO List:
Remove wood plank wall and fix whatever is underneath it

Again, I'm sorry. It's pretty just not my style.

Remove certain sections of moulding
Paint
Design and build built in cabinets
Design and build open shelving
Select art
Design and build floating desk
Find vintage rug
Hunt for the perfect comfy chair, modern side table, and fun lamp for reading area
Source new curtains – no longer doing – just doing roman shades!
Find desk chair
DIY Room Separator
Accessorize!!
Remember to hop over to the One Room Challenge link up to follow everyone's progress!
Until next week….
Want to see more of our modern office renovation?