Welcome back for week three of the One Room Challenge hosted by Linda from Calling it Home. I can't believe we're halfway through the 6 week challenge already. And, we are definitely not halfway done with the work.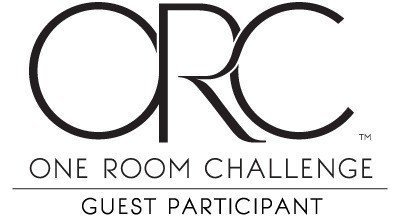 If you missed it, here's the before shot of the current "office":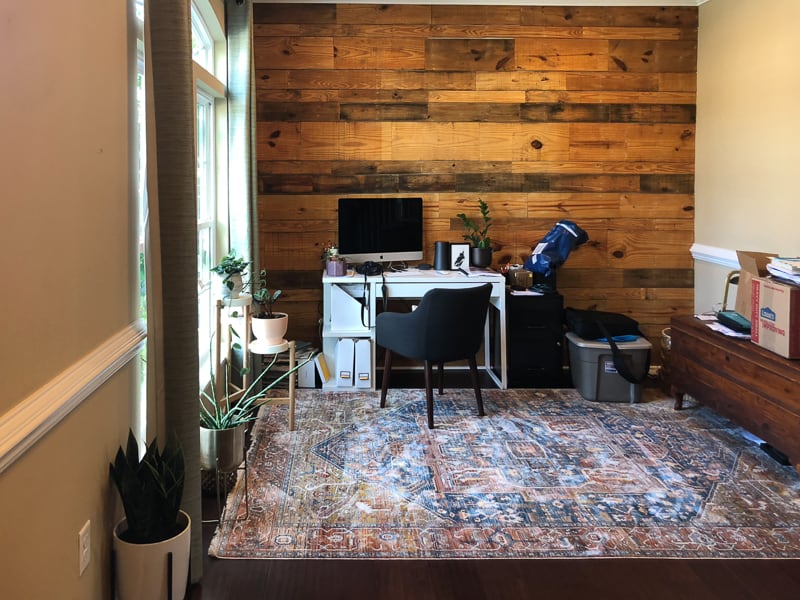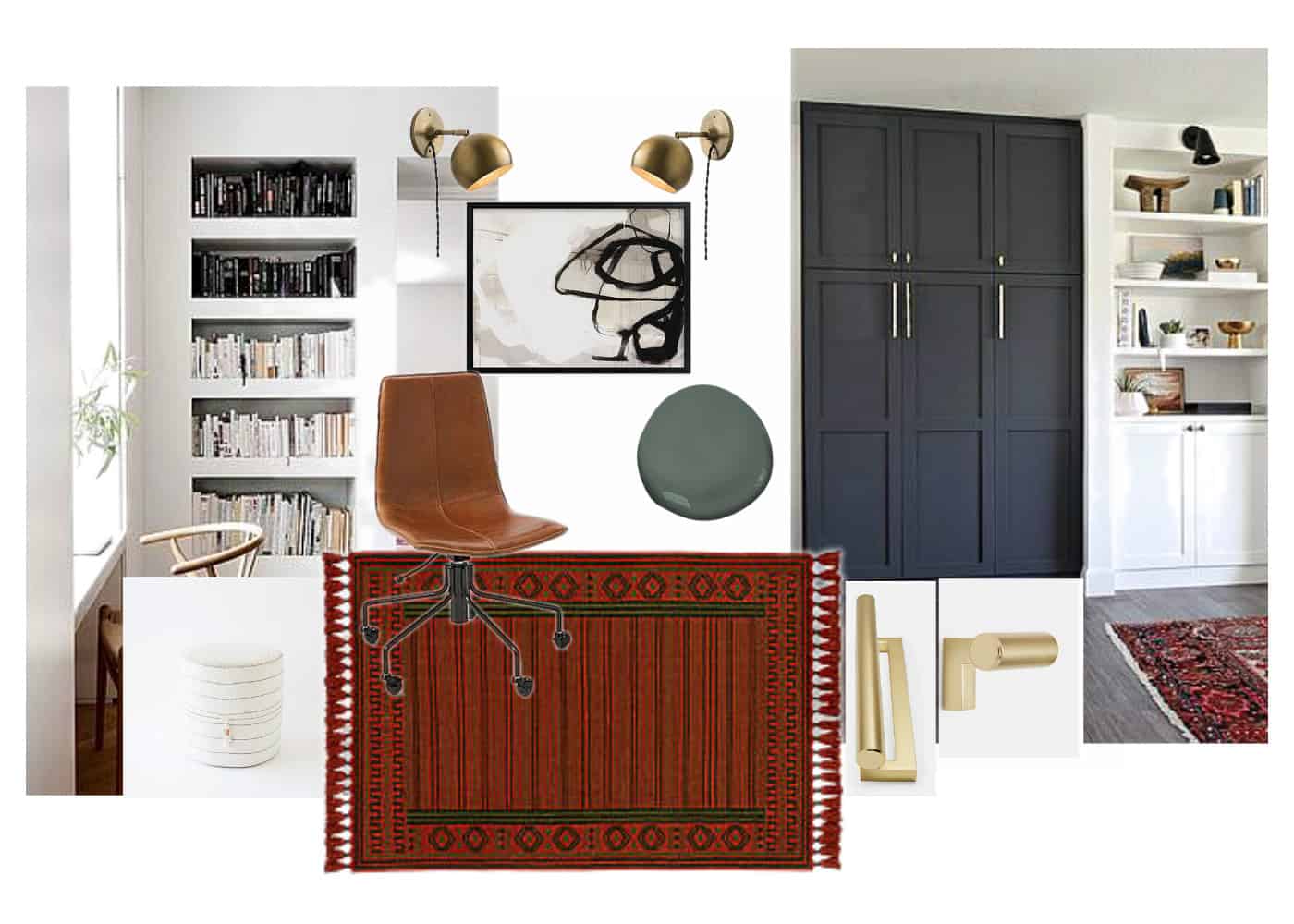 CATCH UP HERE:
WEEK 1 | WEEK 2 | You're Here | WEEK 4 | WEEK 5 | WEEK 6
This past week we really got to work on all the nitty gritty details. I drew out a giant plan with exact measurements, we made another run to IKEA, and we actually finalized everything.
Now, it's on to the building phase!
I don't have much in the way of pictures to show any progress. We're still working on the getting the wall ready for wallpaper (which I did order!! Yay!! – thanks for all your help and input in choosing which one!) and are now prepping to paint everything.
I did fill all 27 billion nail holes in the wall. It was so very annoying.
We assembled all the IKEA stuff we're using. Which is a LOT! The hard part is making all of these individual pieces actually look like a custom builtin. We're working on that as I type this 🙂
Since I don't have any fun pictures to show progress, I thought I'd break down my current favorite green paint colors! This is related to the One Room Challenge because we're going to paint the "builtins" green!
Green is currently my favorite color for walls. It's warm and inviting, calm and soothing, oh and it looks pretty, too!
We used green for the dresser turned vanity at our old house. The color is Mount Etna by Sherwin Williams.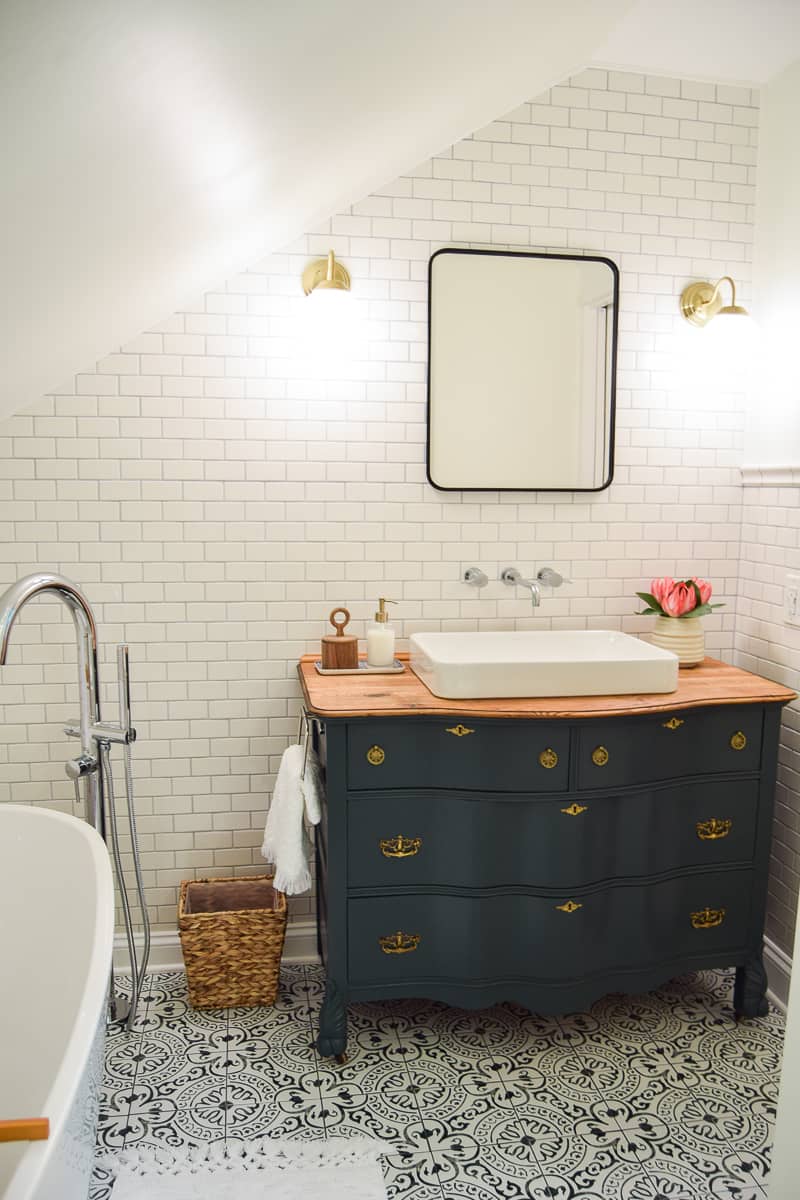 Our dining room just got painted a beautiful, dark green color. See the design plan for our modern dining room here. The color is North Woods by Behr.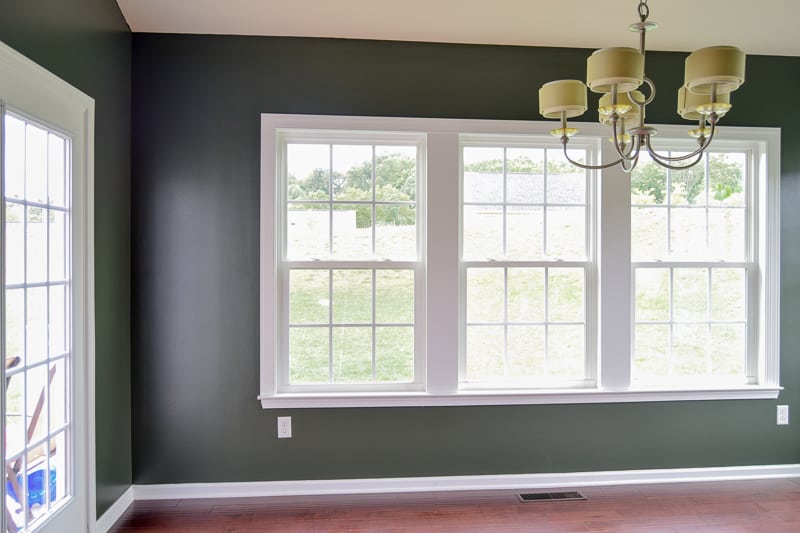 Most recently, I've been trying to decide on a sage-y green color for the builtins for our office.
I'm debating between these green paint colors all from Benjamin Moore (wall color will be Hazy Skies by Benjamin Moore):

They really look so similar. I'm really drawn to Herb Bouquet I think. Which is your favorite?
Take a look at some of my other favorite green paint colors: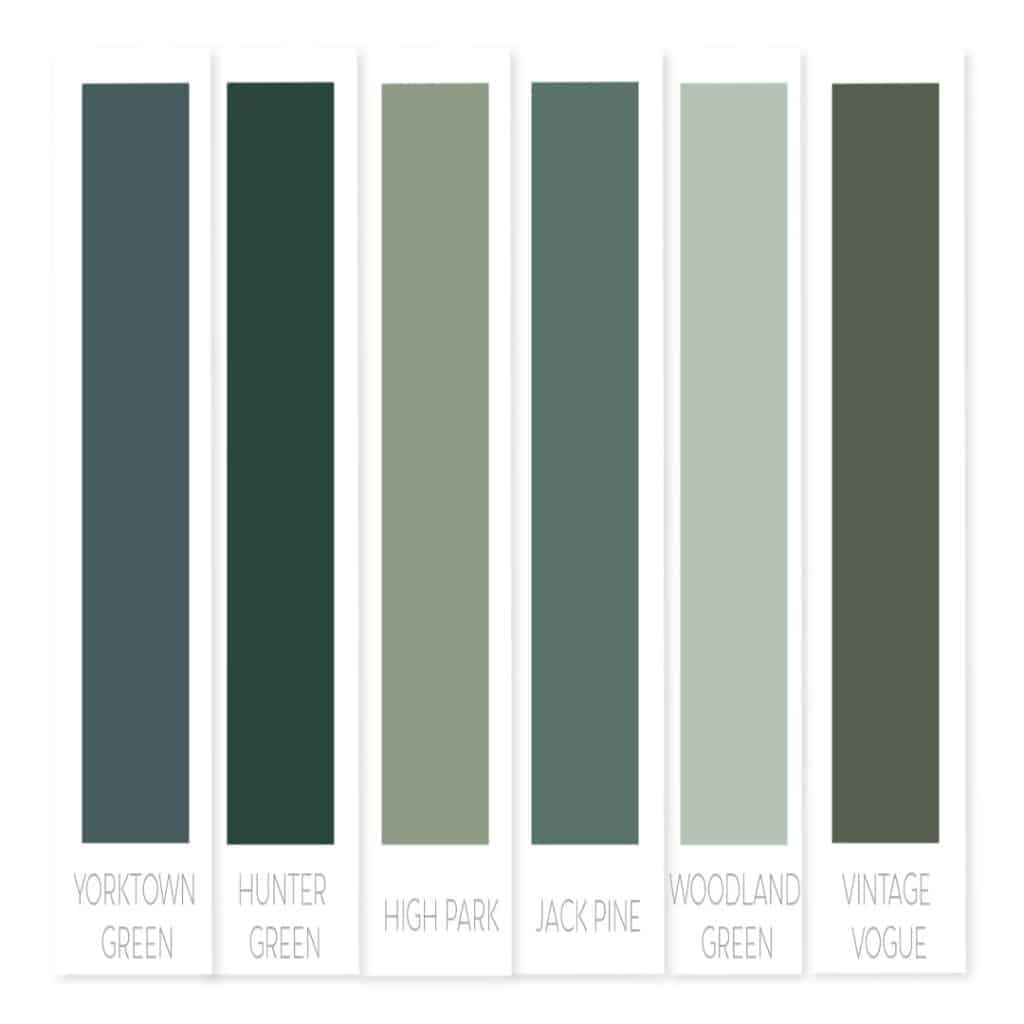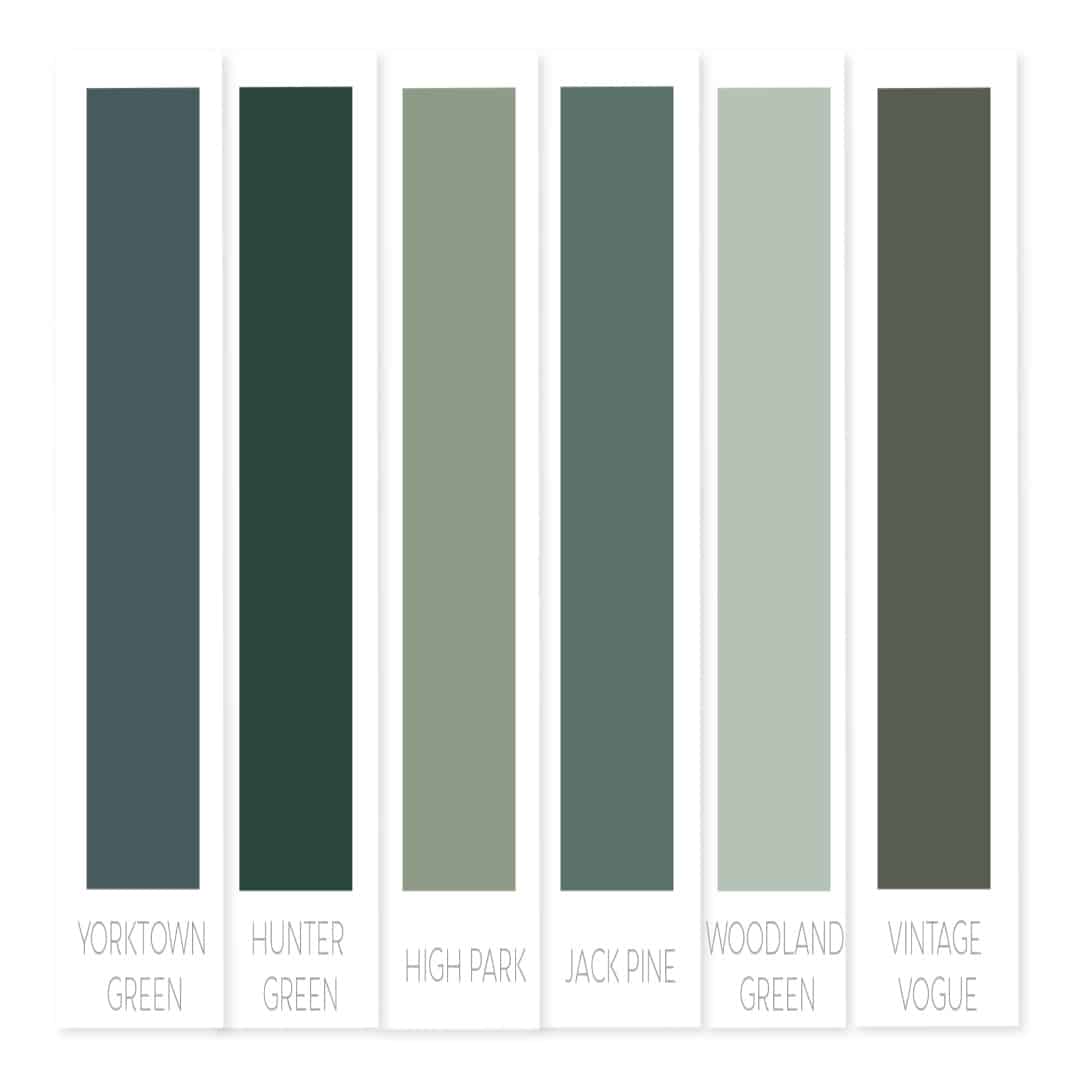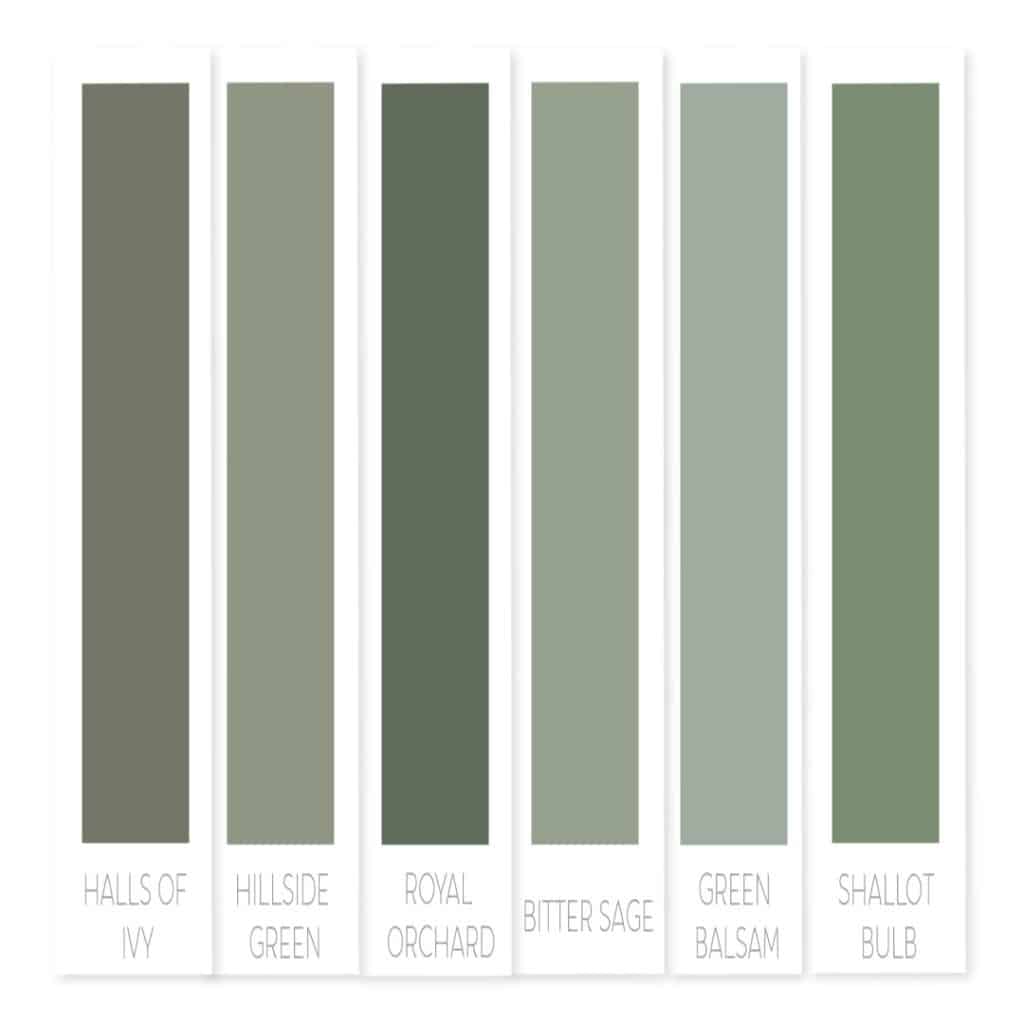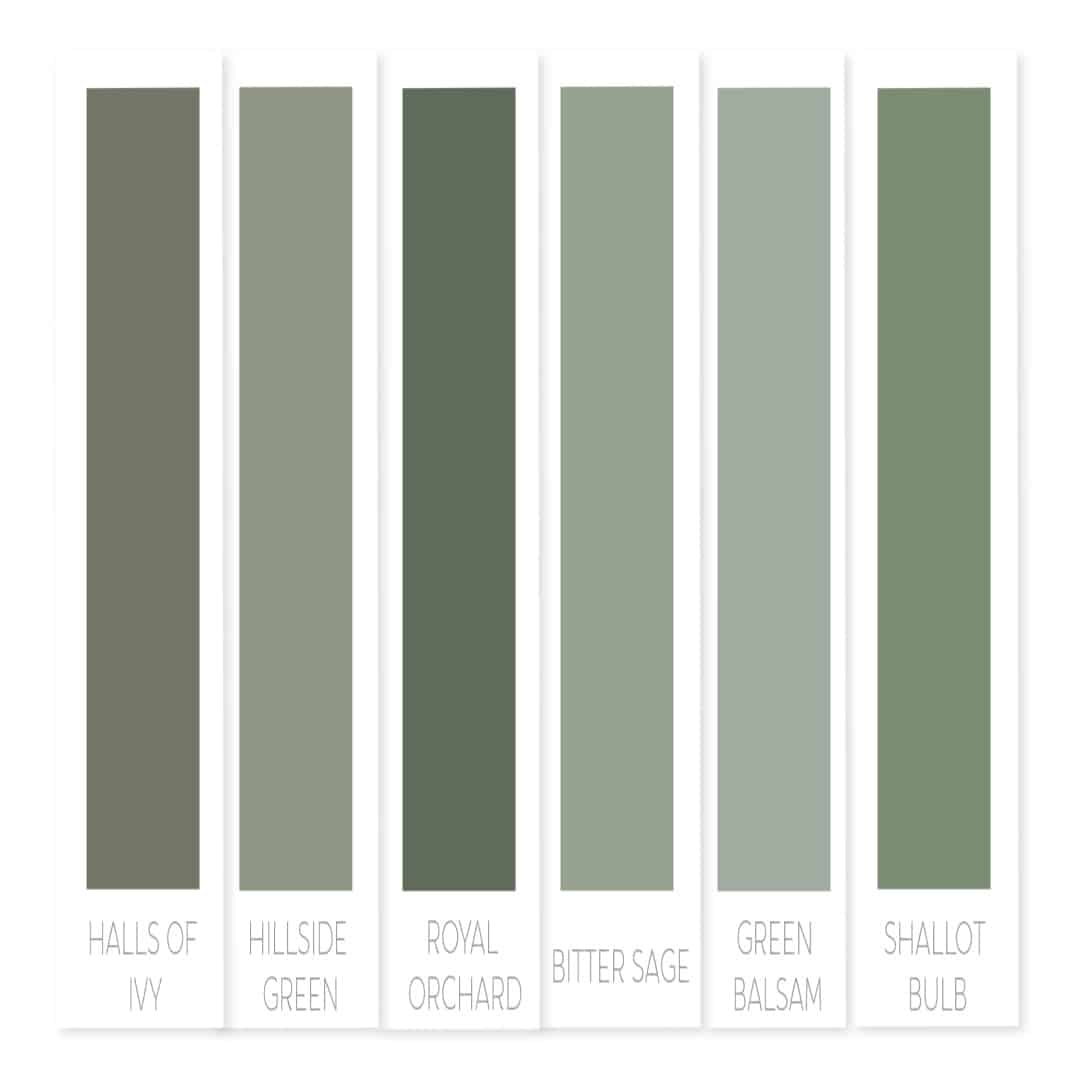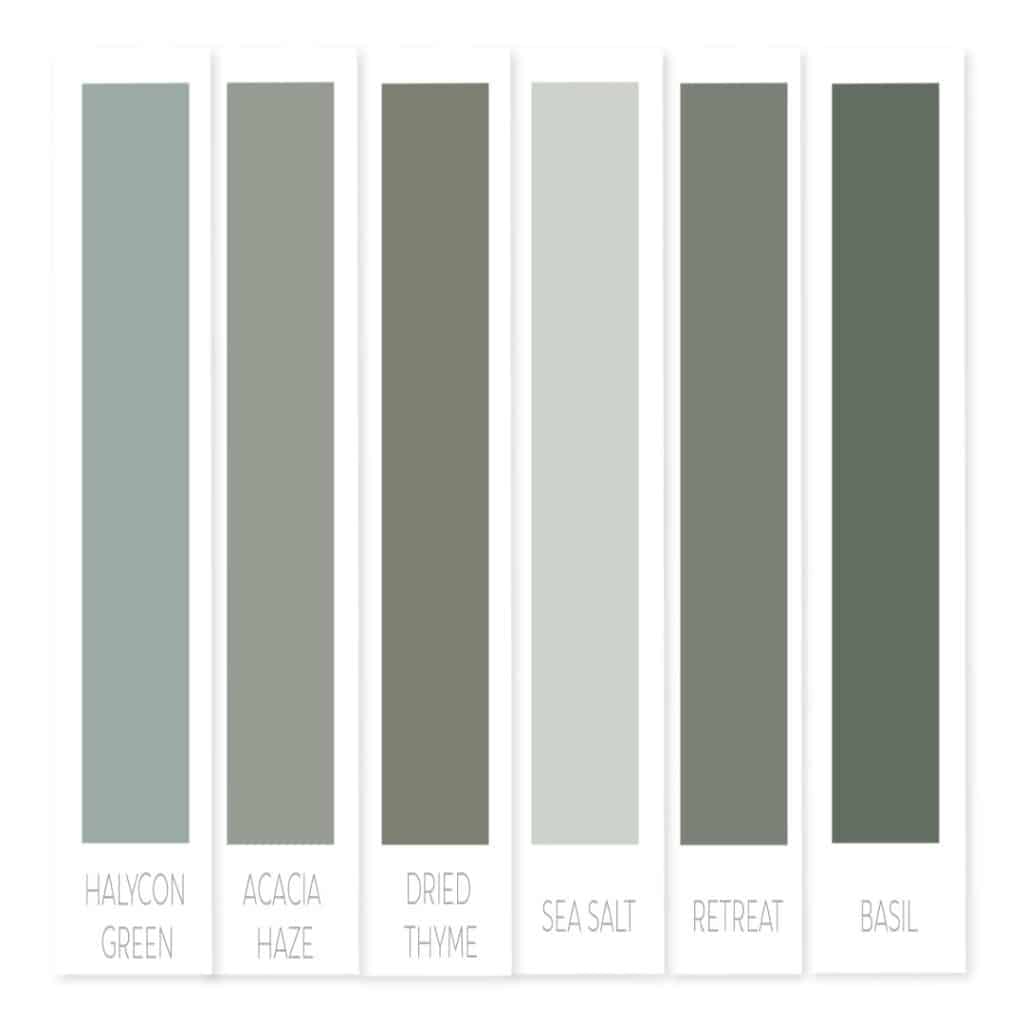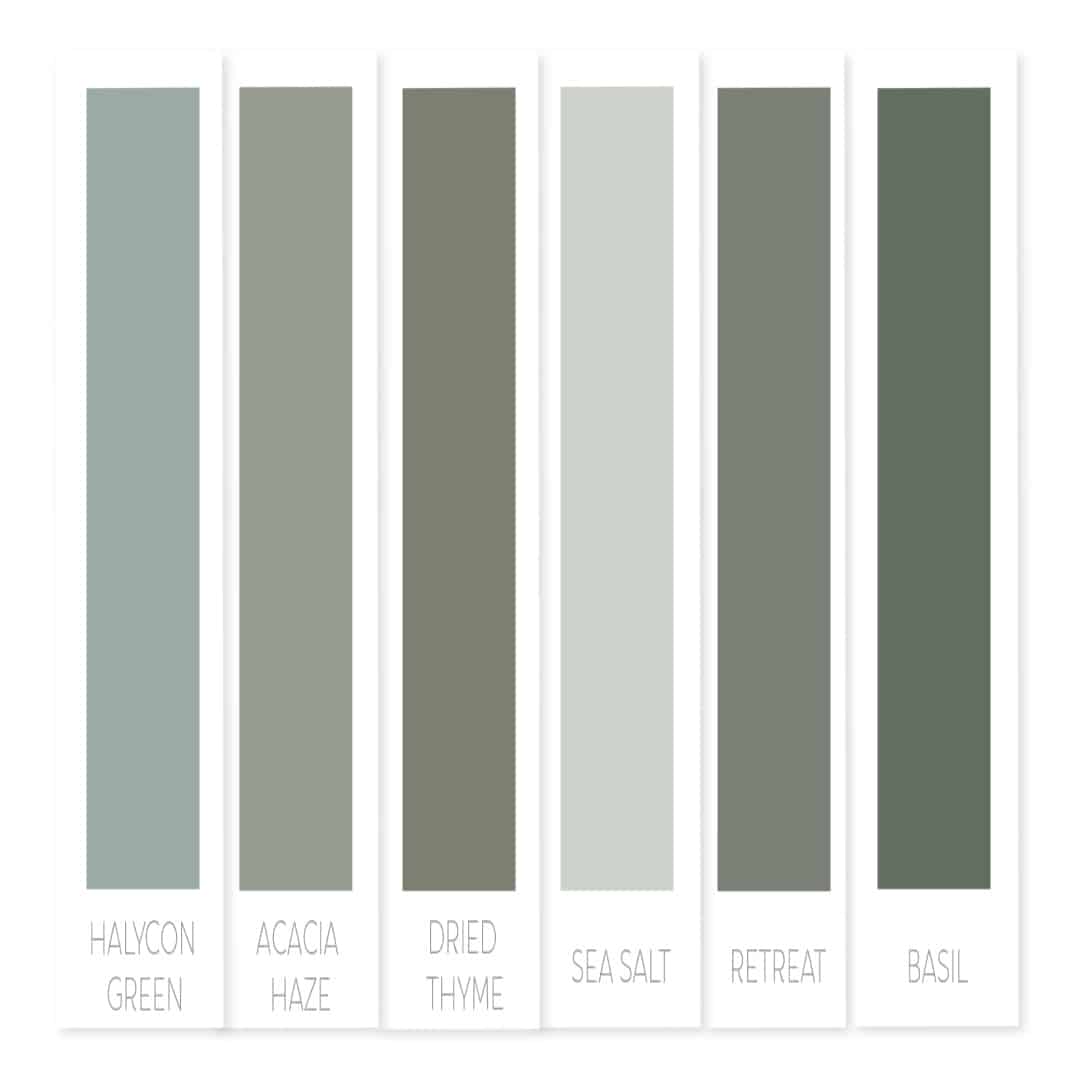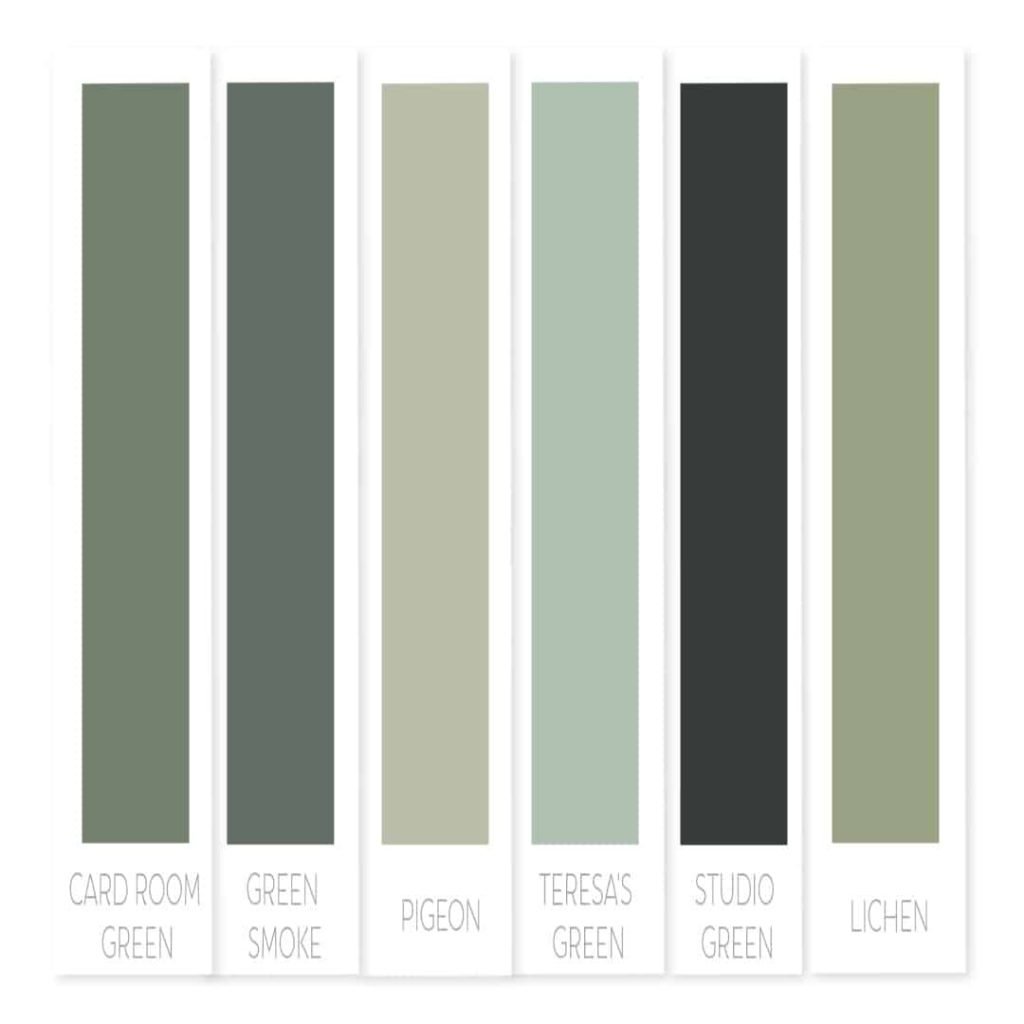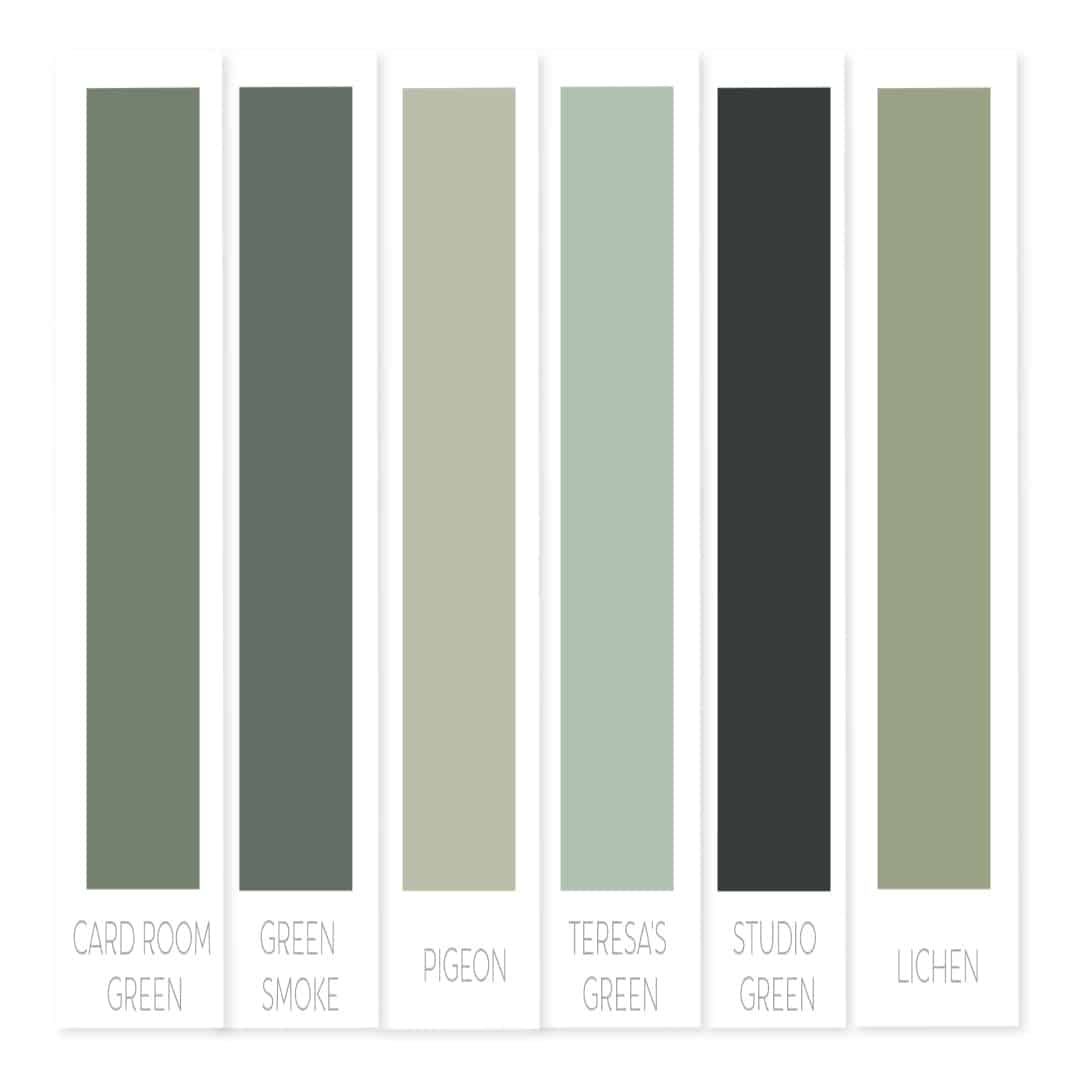 Do you love green, too? I just can't get enough green in my life.
I'm going to pick a green this week and hopefully convince my BIL to spray all this stuffff.
Let's check that ever important to-do list 😉
TO DO:
Remove wood plank wall and fix whatever it underneath it

Again, I'm sorry. It's pretty just not my style.

Remove certain sections of moulding
Paint
Design and build built in cabinets
Design and build open shelving
Select art
Design and build floating desk
Find vintage rug
Hunt for the perfect comfy chair, modern side table, and fun lamp for reading area
Source new curtains – no longer doing – just doing roman shades!
Find desk chair
DIY Room Separator
Accessorize!!
Remember to hop over to the One Room Challenge link up to follow everyone's progress!
Until next week….
PIN FOR LATER: