Modern Dining Room Makeover Design Plan
Today, we're sharing our dining room mood board! Our dining room makeover is in full swing. Here's a look at our dining room design plans and inspiration.
Finally sharing a long overdue post about our modern dining room makeover design plan!
I'm not going to lie, we're a lot farther along than this post would indicate.  As in, we're almost done. But half the fun is suspense, right?!?
We moved into our new house at the beginning of June.  One of the reasons we fell in love with this house is because of the "morning room".  It's basically just an extension of the house from the kitchen for the dining room (or, I guess, whatever room you want it to be) that's filled with windows.  It's just such a bright and happy room.
Except for all the beige and outdated fixtures.
Our Dining Room "Before" Pictures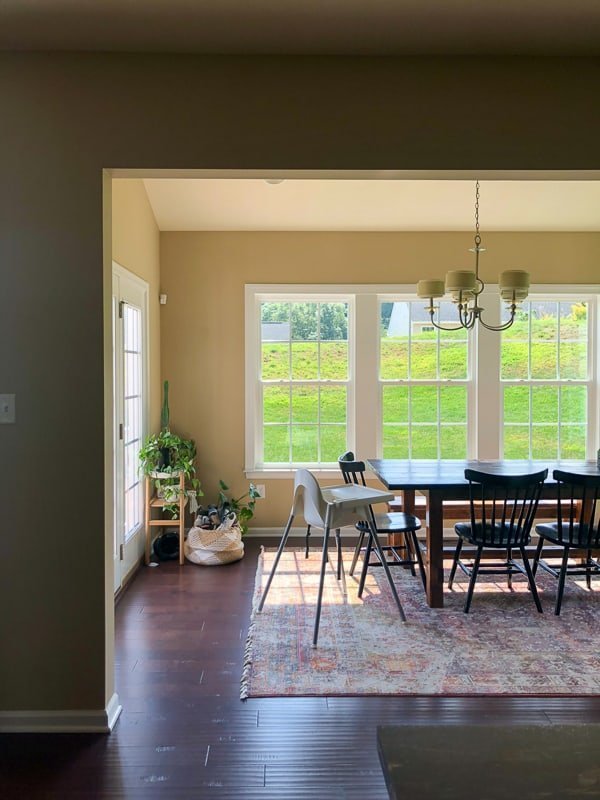 I mean seriously, what is this chandelier?!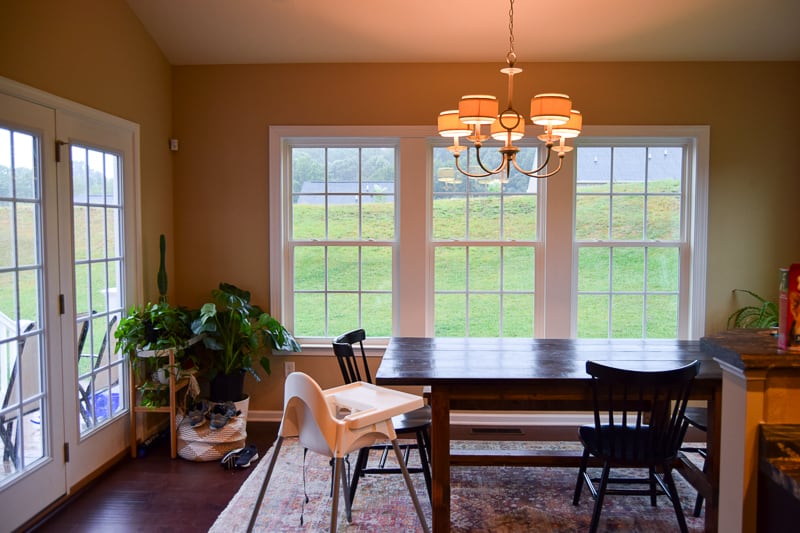 It's awful awful awful.
Here's the room from a few different angles: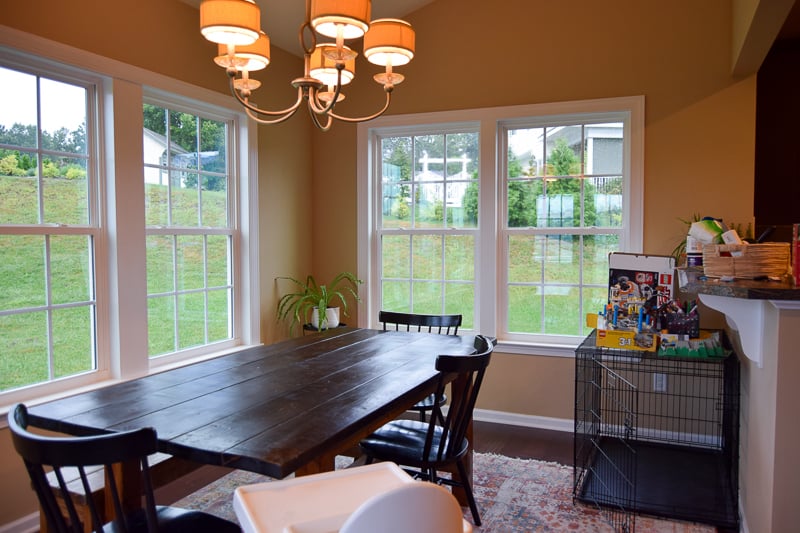 Yes, we do have a giant dog crate in our dining room. Oh and YES, we do store legos on top of the dog's crate. Doesn't everyone?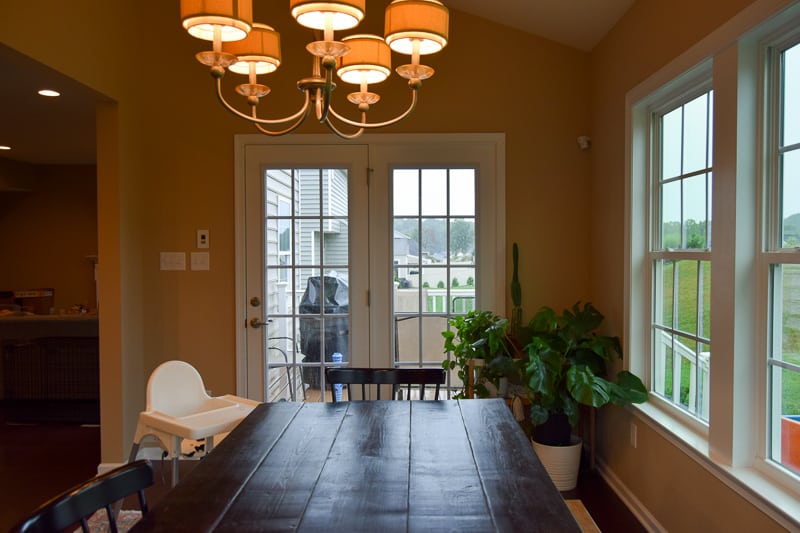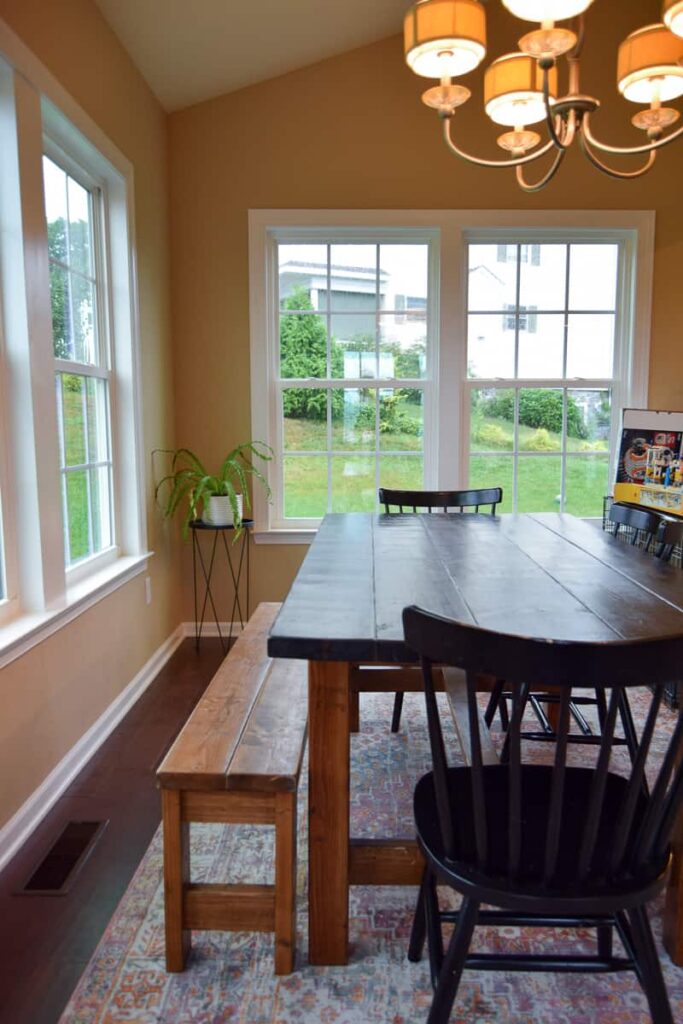 Dining Room Mood Board & Design Plans!
First things first. GOODBYE BEIGE!
I can't wait to see it go. I think truly ANY color would look nice in this room.
It gets a ton of natural light in the afternoon. So much light that my mother actually wore sunglasses while we were eating dinner in here before (eye roll).
Because of all the windows and guaranteed light, I decided to go with a dark paint color. And no, not just one dark wall like everyone keeps asking 😉
THE.WHOLE.ROOM. Dark.
And, I'm stepping out of my blue/gray color comfort zone and using GREEEEEN!  Ever since we painted the dresser-turned-vanity a deep, dark green color for our master bathroom, I've been dying to add more green somewhere.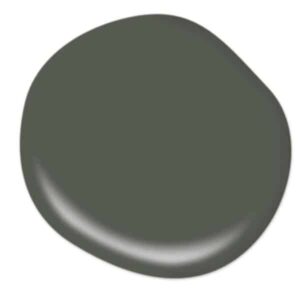 It's such a beautiful deep green shade with just the perfect hint of gray.
With such a dark paint color, I knew I had to lighten up the rest of the room, so it didn't feel like a cave.
Dining Room Furniture from West Elm
I knew I wanted a sleek, modern table and an assortment of chairs.  It may seem strange, but I wanted to have two sets of two different chairs and a bench for the kids to sit on.  I would prefer to have all chairs, but the kids will ruin upholstered chairs in 3 seconds flat, so bench it is!
I fell in love with this table from West Elm! Coupled with these chairs I knew I had to have and these chairs that really spoke to me in the store. Plus, we snagged all of this at 30% off when they were having a sale. Score!
I really like this mix-and-match look.  It feels collected and different.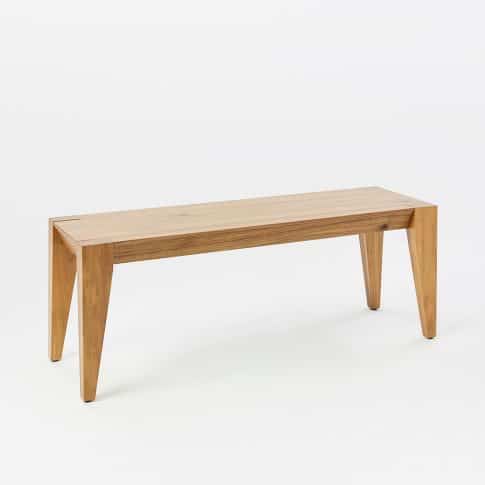 I really wanted to anchor all of this together with a fun and multi-colored vintage rug.  I found a local guy on Facebook Marketplace who gets rugs directly from Iran (which is kinda crazy to me).  Though I was half convinced he was going to kidnap us, we ended up getting a seriously amazinggg rug for a great price.
Dining Room Lighting: Natural & Artificial Light
I didn't know what chandelier I wanted in the room, just that I wanted to it be anything else than what was there.
While we were in West Elm, we saw this one and fell in love! It really wasn't what I initially had in mind but it worked out great.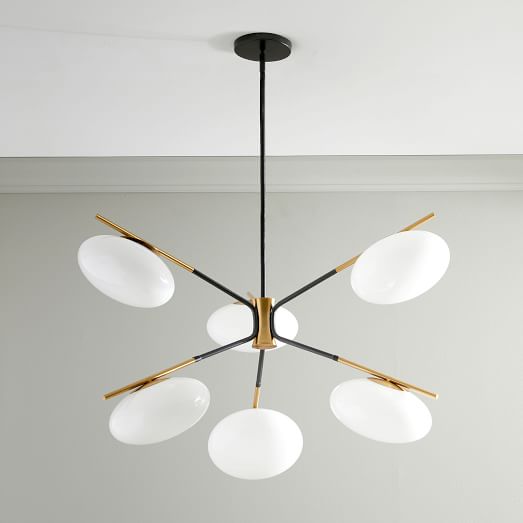 Last were the windows!  I wanted to get some simple rods that would connect the windows together.  Basically, it would look like one long rod from one side of the windows all the way around the room to the end of the other set of windows.  Hard to explain but easier to show in pictures soon.
Pottery Barn sells the perfect stuff, so I snagged that up during a sale, too!  Here's a link to the cool connector piece we're using to connect the two window rods.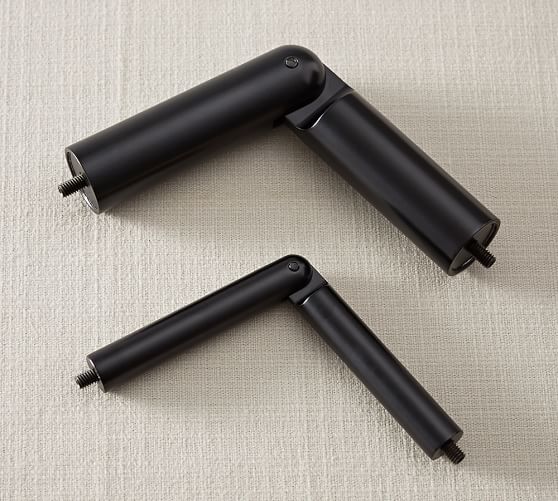 For the curtains, I kept it simple with these from IKEA.  I needed a lot of panels and didn't want to spend a ton on them.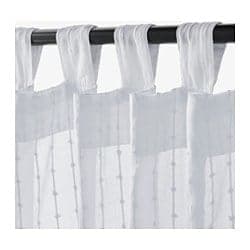 We also need to get around to getting some roman shades, too.  Still haven't quite decided on those…
Dining Room Mood Board: Design Plan Visuals!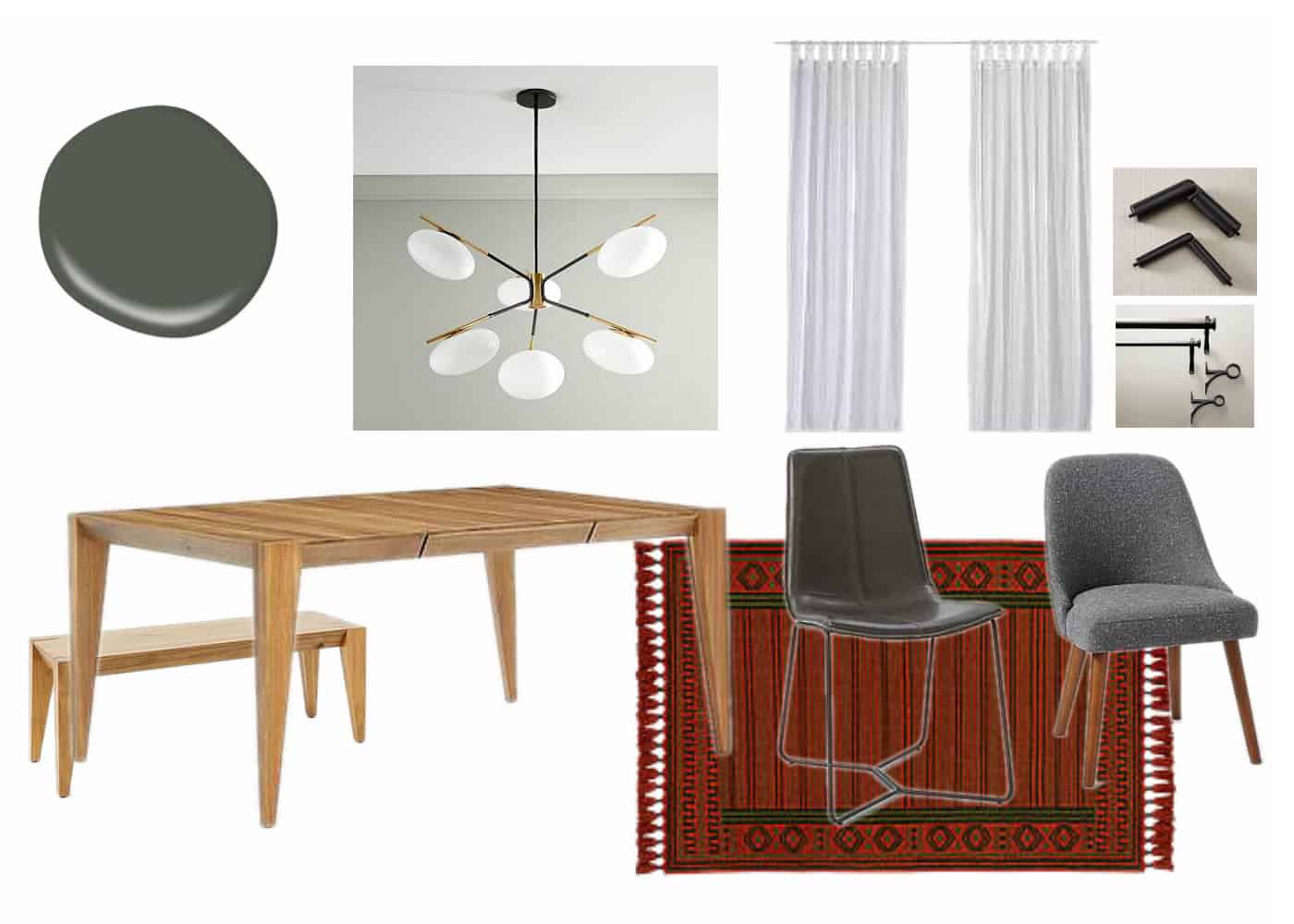 Shop Our Dining Room Mood Board Below

Don't Forget to PIN THIS POST for Dining Room Inspiration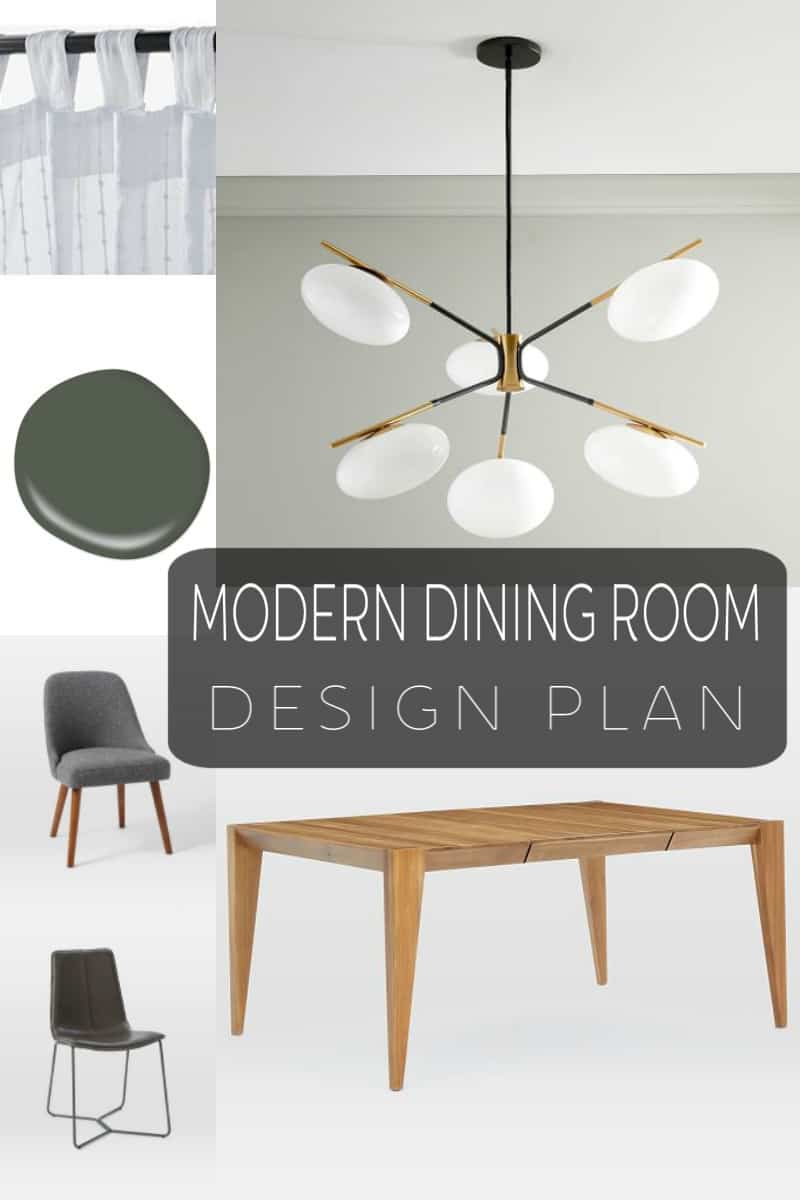 *This post contains affiliate links. Please see my full disclosure policy for more details*
Find More Home Design Inspiration Below!