Behr North Woods Paint Color Overview
Behr North Woods is a versatile and elegant choice for transforming your home. Inspired by nature, this dark green paint color brings a sense of tranquility and sophistication to any room. Whether you have a small or large space, Behr North Woods can create a cozy and inviting atmosphere.
There's no better way to revamp your space than with a fresh coat of paint. The right color can make all the difference, creating a warm and inviting atmosphere or adding a touch of sophistication to any room.
Today, we're diving into North Woods by Behr and exploring how this stunning hue can transform your living space into a natural oasis.
If you need help choosing a paint color, be sure to check out my Ultimate Guide to Popular Paint Colors!
This post contains affiliate links. Please, click here to read my disclosure policy.
Behr North Woods Paint Color Overview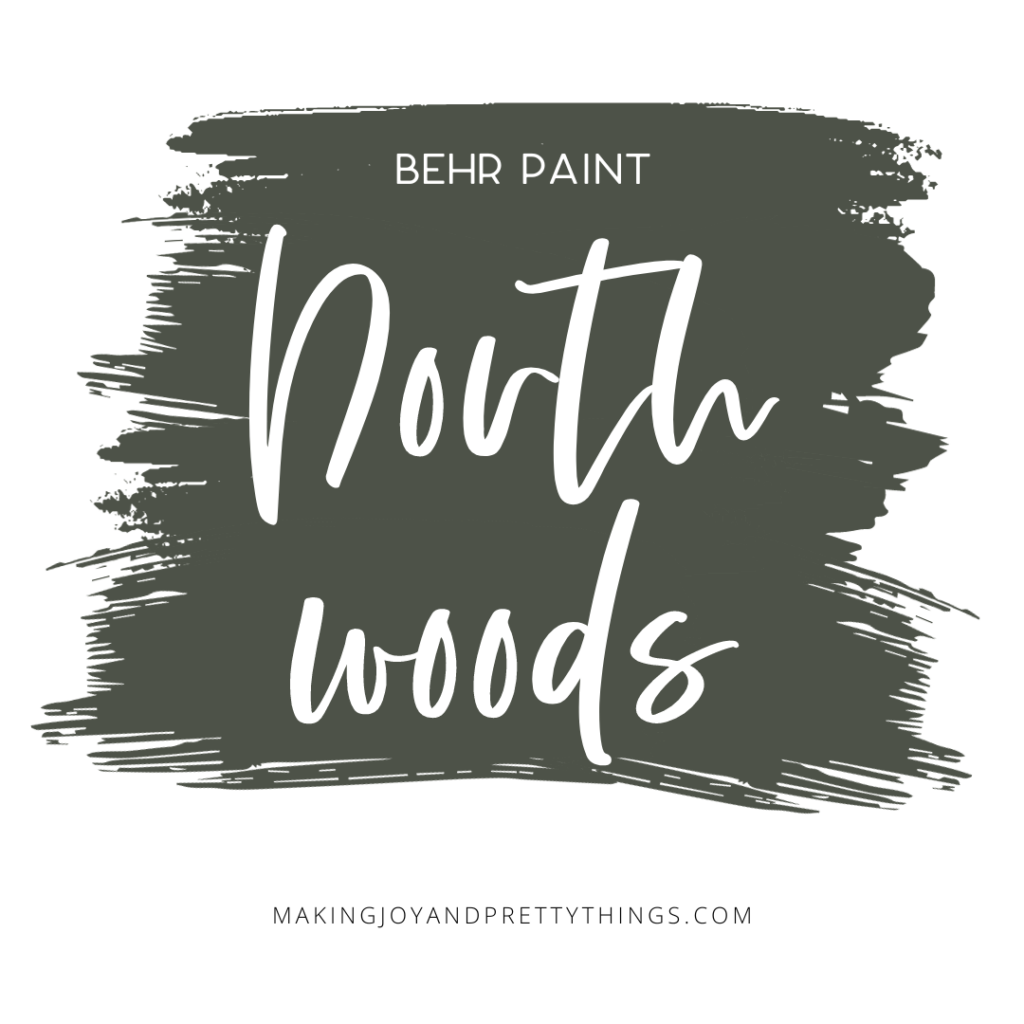 Behr North Woods paint color is a masterful blend of calm and captivating, inspired by the tranquility of the great outdoors. It's one of my favorite dark green paint colors! It's almost sage and evergreen combined.
This enchanting color captures the essence of lush forests, offering a sense of tranquility and harmony within your home. Its earthy tones bring a touch of elegance and sophistication while maintaining a welcoming and cozy vibe.
One of the remarkable qualities of this paint color is its versatility. Whether you're aiming for a rustic cabin aesthetic or a modern farmhouse ambiance, this exquisite shade adapts and enhances various interior design styles.
Along with the earthy vibes, this great color is also the perfect shade to add drama to any room – from the living room to your home office. It's sure to become one of your favorite colors too!
Want something a little lighter and more of a sage? Check out my favorite sage green paint colors here for some fresh ideas!
Paint Color Stats
Brand: Behr Paint
Paint Color Name: North Woods
Paint Color Code: N410-7
LRV: 10
Hex Code: #4D5248
RBG Values: R 85 G 90 B 81
Where To Buy It: Home Depot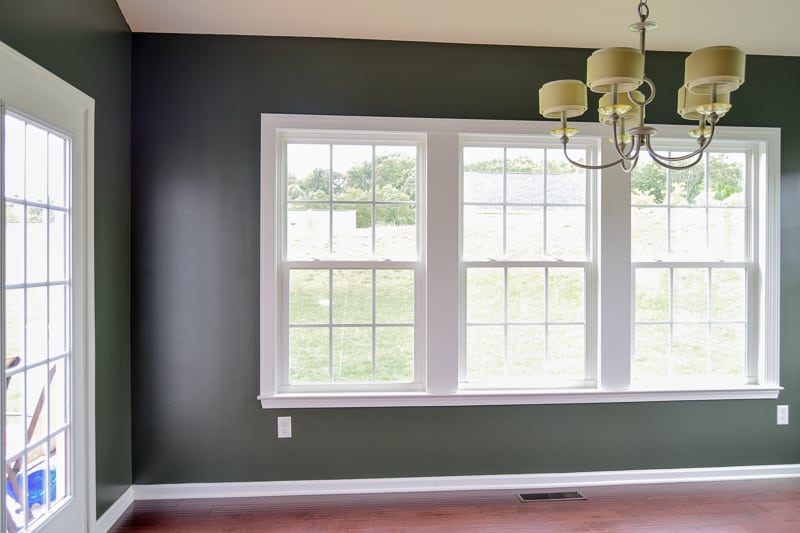 We used North Woods in our midcentury modern dining room and it did not disappoint! This particular room gets so much light from the windows, so a darker paint color was a great option to amp up the mood.
We kept the trim and ceiling in lighter, whiter shades, and we love how they complement each other. I can also totally picture this darker green in a moody bedroom or bathroom.
So, whether you want to create a serene bedroom retreat or an inviting living area, Behr North Woods provides endless possibilities.
Behr North Woods Undertones
Behr North Woods' warm undertones effortlessly blend with earthy accents and natural textures, making it the ideal backdrop for both timeless and contemporary decor. This warm green color works with so many different styles!
Depending on the lighting, this color can bounce around between gray undertones and yellowish-green. That's the only con to darker colors: sometimes they can be pretty temperamental with lighting.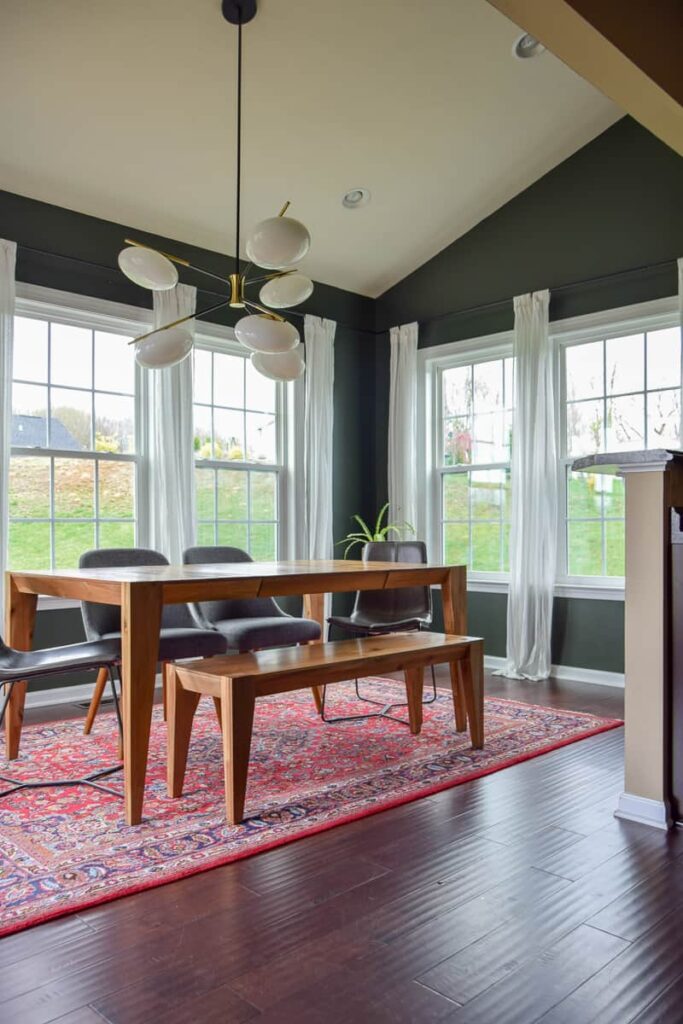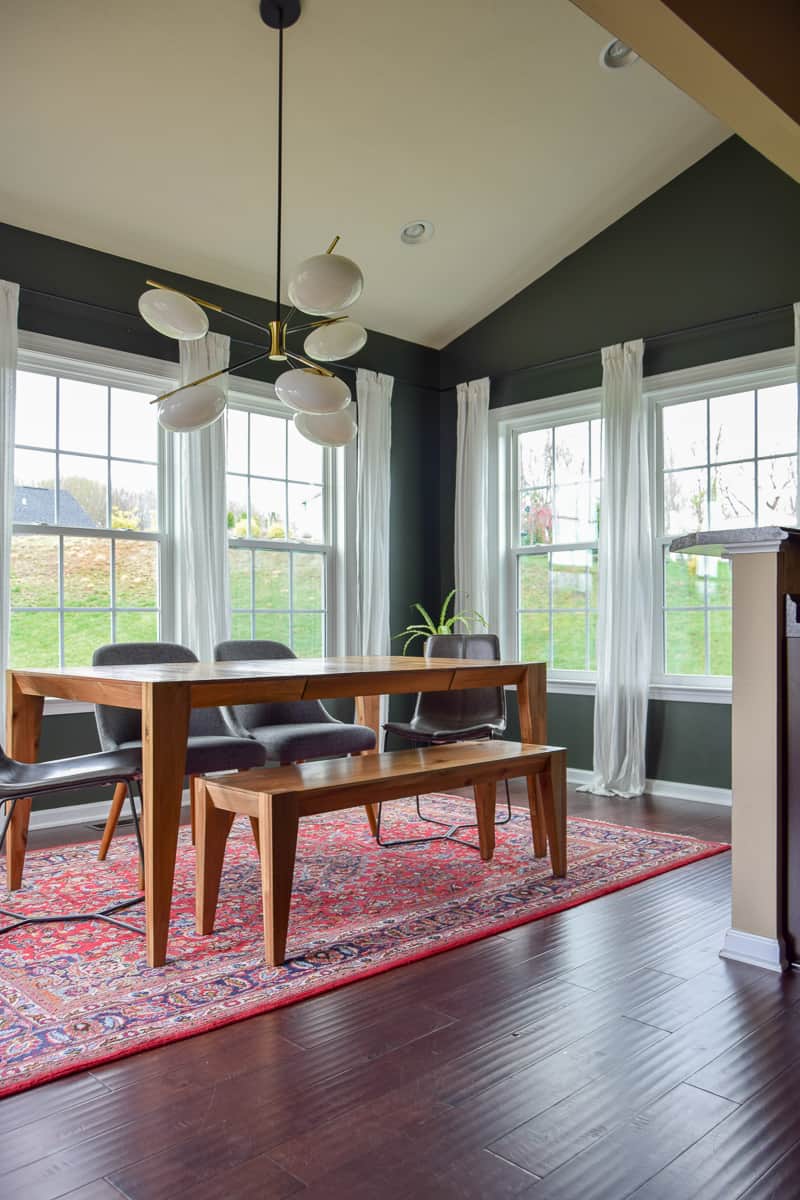 In dim lighting this very dark color can appear almost black, so keep that in mind when selecting a room to paint. In warm-toned or artificial lighting, the color reflects yellowish-green undertones.
We chose to use this paint color in our dining room as it already has plenty of natural lighting, so we weren't too worried about this darker green color making the space feel closed in.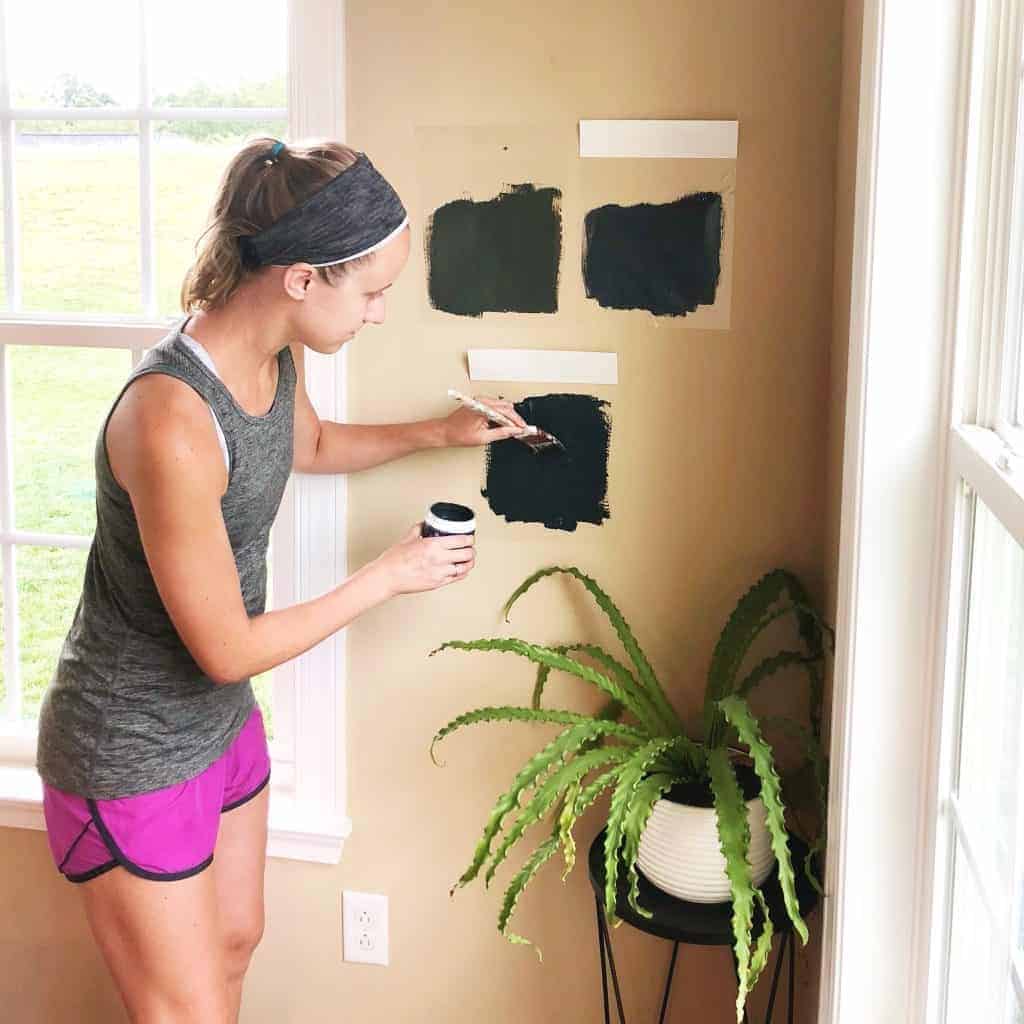 When choosing a paint color for your next project, I recommend bringing home a paint swatch sample for each color you are considering. Paint each of them on the wall and observe the natural light throughout the day to get a sense of how the color will change with the sunlight, lightbulb temperatures, and fabrics. All of these elements play a big part in how a paint color appears.
Keep in mind that textures, fabrics, and colors can drastically affect the way the room feels. Considering window treatments, blankets, furniture, pillows, etcetera before painting will help create a harmonious flow throughout the room.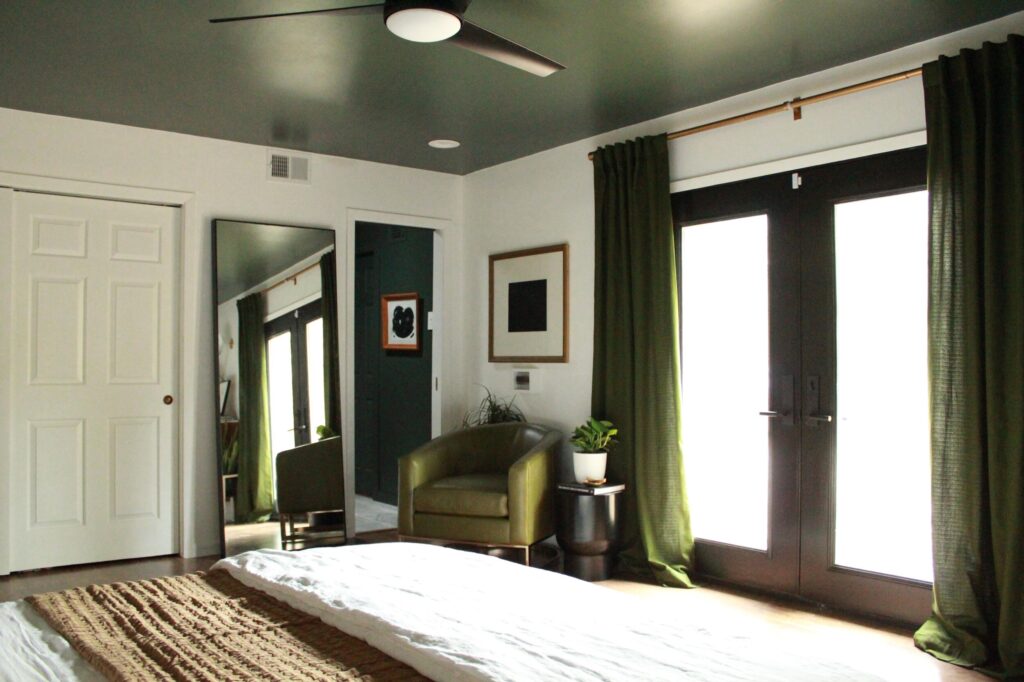 LRV of North Woods Behr
Behr North Woods has an LRV of 10, which means that it is a very dark paint color! This color could cause a bit of trouble in smaller rooms. Darker shades tend to make a room feel more closed in, especially when used on the entire space. Keep this in mind as you are choosing a paint color.
Light reflectance value is the amount of light that is reflected off of the paint color surface. The LRV scale ranges from 0-100, with 100 being pure white and pure black with an LRV of 0.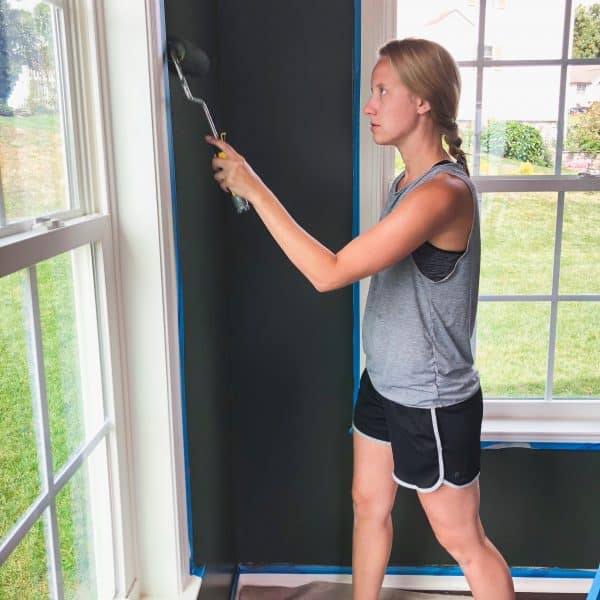 Similar Paint Colors from Other Brands
If you're looking for similar paint colors to Behr North Woods from other brands, there are a few options you can consider.
All of the colors below share the same earthy tone and depth as North Woods and closely resemble the warm, rustic feel of Behr North Woods. These alternatives give you a range of choices to achieve a similar look and feel in your space.
Ashwood Moss by Benjamin Moore
Tar by Farrow & Ball
Evergreen Boughs by PPG
Rookwood Dark Green by Sherwin Williams
Blackened Pine by Valspar
Complementary Colors for Behr North Woods
This color green pairs seamlessly with a variety of design styles and complementary colors. It effortlessly harmonizes with warm neutrals, earthy tones, and wood accents.
If you are looking for complementary colors from Behr, try these neutrals as a second color in the room. Because North Woods is rich and intense, incorporating these softer shades will prevent a space from feeling too dark.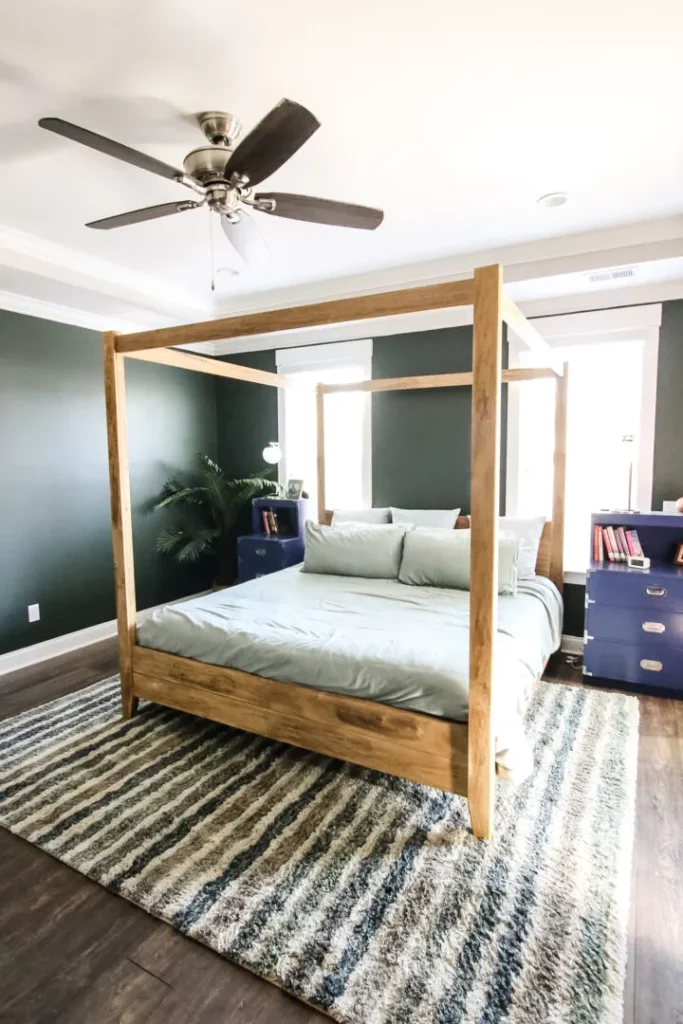 Where to Use Behr North Woods
It's easy to see why Behr North Woods paint color is incredibly versatile. It can transform any room into a sanctuary of natural elegance. In smaller rooms, it adds depth and creates an illusion of space, while in larger areas, it establishes a cozy and intimate atmosphere.
From bedrooms to living rooms, kitchens to bathrooms, let the beauty of this gorgeous color shine throughout your home. This would also be a great choice for an accent wall, front door, or even kitchen cabinets.
Whether you have a cozy nook or an expansive living area, Behr North Woods is the perfect color for a new look.
If you need help choosing a paint color, be sure to check out my Ultimate Guide to Popular Paint Colors!