Design Trend: Cane and Rattan Furniture
Today I'm sharing one of the top current design trends – cane and rattan furniture! If you like this boho look, you're going to love this rattan furniture roundup with more than 150 ideas! From beds to chairs and more, there's something for everyone.
While I'm not a big advocate for following design trends, I am a HUGE fan of cane and rattan furniture.
Cane and rattan definitely a design trend right now.
I've seen it all over HGTV, House Beautiful, and more. You can find rattan furniture at basically every home decor store – from the really expensive stores like Mcgee & Co and Anthro all the way to Target and Walmart.
There has definitely been a push towards natural materials in the interior design industry, just like there's been a push towards natural colors – like green paint colors.
And what better natural material than rattan! It's modern and stylish and gives you such an organic feel.
So today I'm pulling out all the stops with over 150 different cane and rattan furniture ideas. Take a look at a few of my favorite cane tables and rattan tables like a beautiful rattan coffee table, rattan end table, rattan nightstand, and more. I'm also going to share the difference between cane, rattan, and wicker!
Cane barstools in our kitchen
We recently bought cane chairs for our kitchen island and I LOVE them!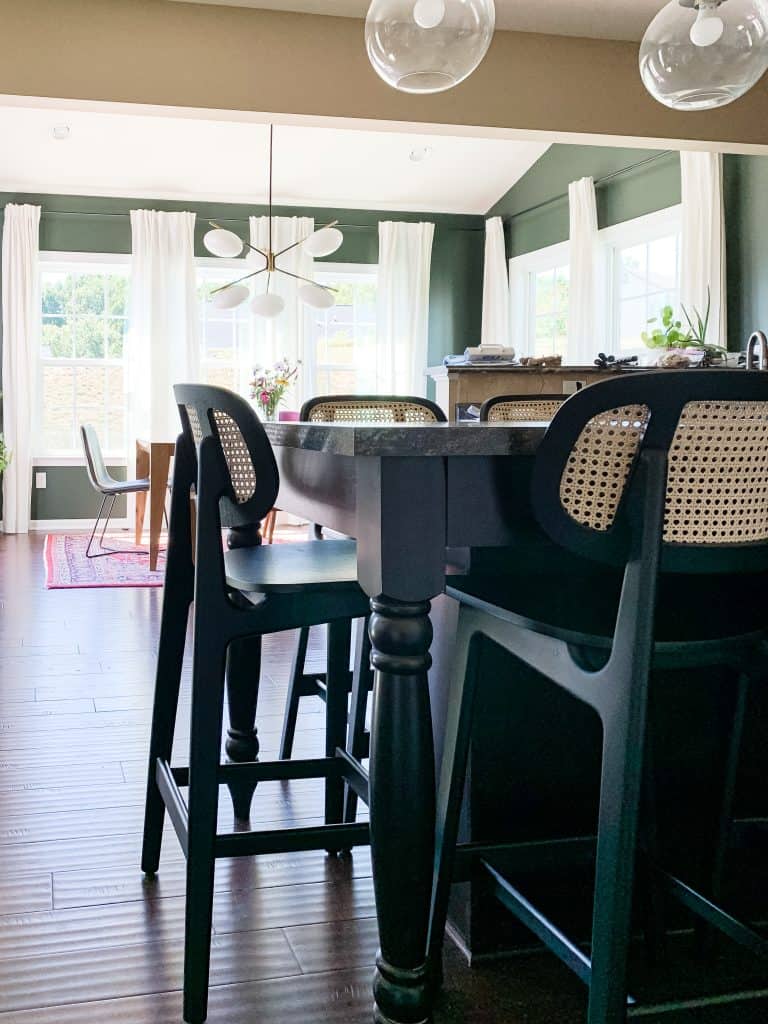 Using cane in DIY furniture projects
I even tried using cane in a DIY project – Evie's DIY Cane Nightstand!
If you want to DIY the cane look, check out these DIY cane furniture ideas!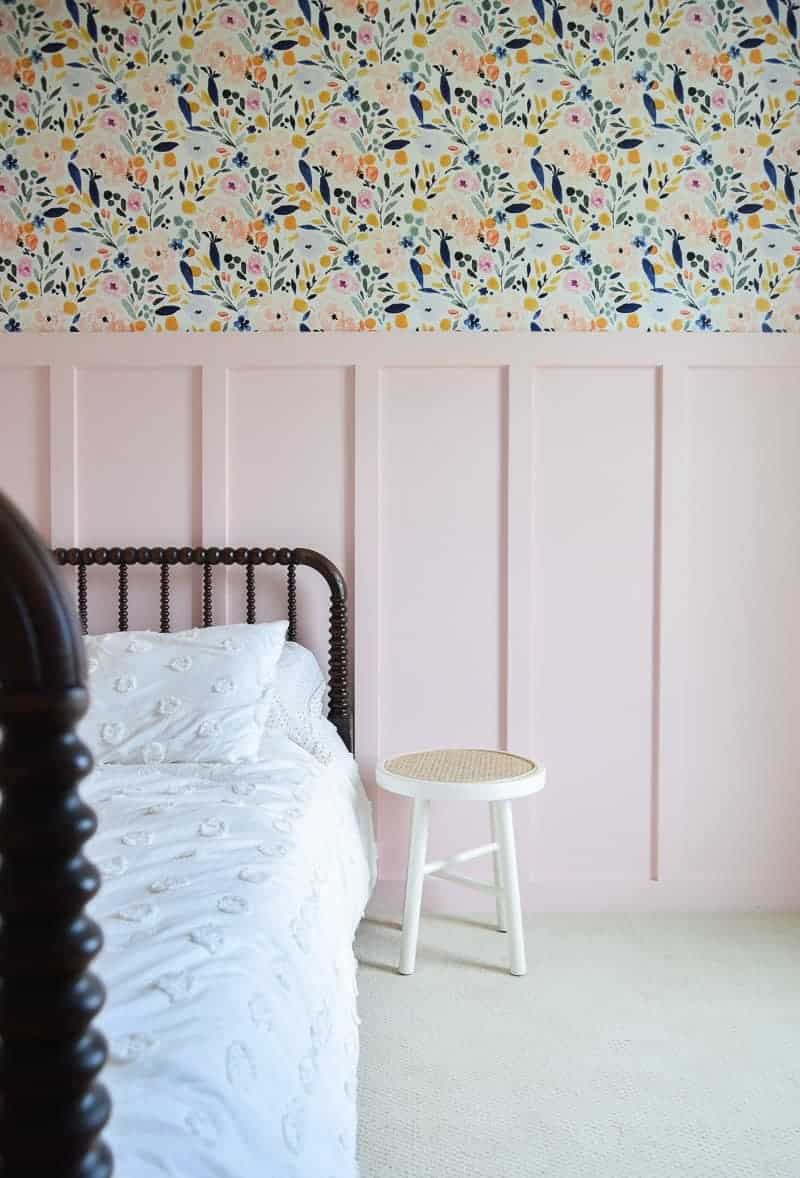 If you aren't in the DIY mood, there are plenty of cane and rattan furniture options out there.
The best part about the rattan trend is that I feel like it works with every type of interior design style! I've seen rattan and cane furniture in modern farmhouse, transitional, modern, eclectic, mid-century modern, and boho styles and it works with ALL OF THEM.
You may be wondering…
What is the difference between cane and rattan furniture?!
I truly didn't know the answer to this. So, I did a bit of googling.
From Norse Interiors, I learned that:
Both Cane and Rattan come from the Rattan Plant in Southeast Asia
Cane

A thinner, more processed version of the Rattan Plant that comes from inside the reed
When you see the backs of chairs or thinner accent pieces, you're seeing cane
Normally kept in its natural color (though I have seen it painted and stained and it still looks gorgeous!)

Rattan

Larger, less processed Reed material from the Rattan Plant
When you see pieces of furniture like entire chairs or ottomans, you're seeing Rattan
They also mentioned wicker, which I had totally forgotten about #facepalm. Wicker refers to any natural material that is woven. So cane is wicker, rattan is wicker, etc. Wicker can be made of rattan, bamboo, or any other natural material.
I've rounded up some of my favorite rattan furniture pieces, broken down by furniture type!
This post contains affiliate links. Please, click here to read my disclosure policy.
Cane Beds and Rattan Beds
There's something so pretty about cane or rattan on a bedframe in a bedroom! Whether you're looking for just a headboard or an entire cane bed frame, you'll love these options. There's something for every style and size!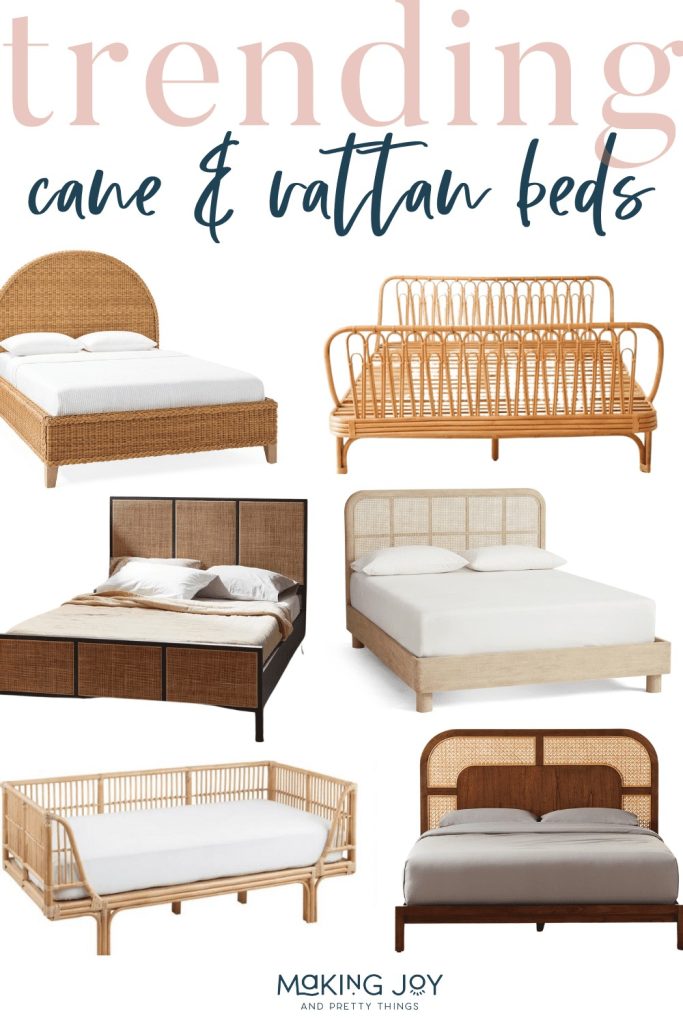 ---
Cane Chairs and Rattan Chairs
Cane armchairs, dining chairs, and barstools are all the rage! They are equal parts earthy and elevated and add so much style to a space. You can put them in pretty much every room of your home.
Adding one in the corner of your bedroom with a pretty throw pillow and lamp is a quick way to add a stylish reading nook. Whether you're looking for chairs for your dining room table or accent chairs for your living room, I'm sure you'll find one of these that you'll love.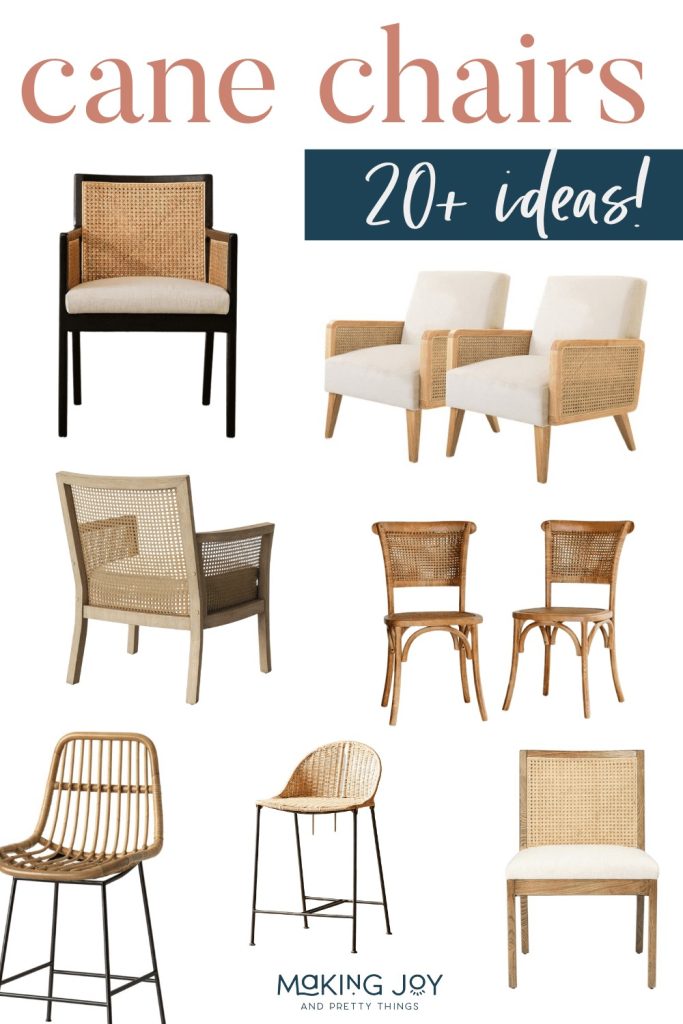 ---
Cane Decor and Rattan Decor
Cane and rattan are not just for furniture!! You can also incorporate this interior design style in smaller ways through decorations, like wall decor, shelves, table decor, mirrors, wall hooks, storage baskets, picture frames, and more. There are just SO many fun boho-style decor ideas with cane and rattan.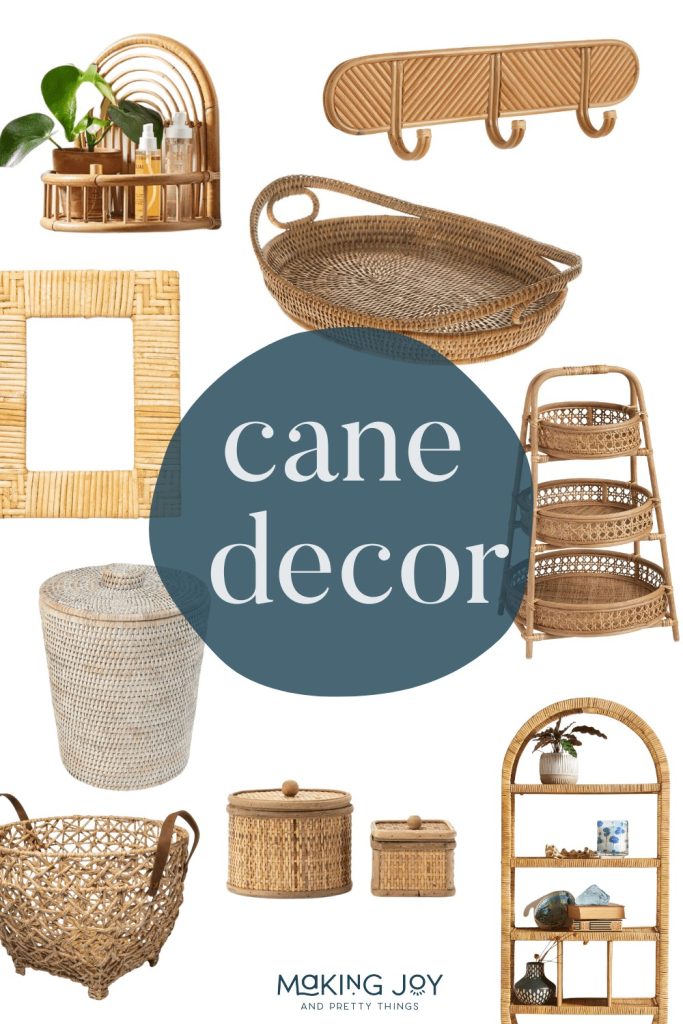 ---
Cane Storage Furniture and Rattan Storage Furniture
Storage cabinets with cane doors are super popular right now. Everyone always needs more storage in their home right?
Check out these ideas for rattan and cabinet storage cabinets, bars, wardrobes, TV stands, media cabinets, and more. These storage furniture ideas work well for living rooms, home offices, and bedrooms.

---
Cane Lights and Rattan Lights
A budget-friendly and low-commitment way to incorporate the cane and rattan into your home is with light fixtures!
Whether you're simply adding a table lamp to your side table in the living room or replacing flush mount lights, a pendant hanging light, or wall sconces, there are so many fun options for cane and rattan lights!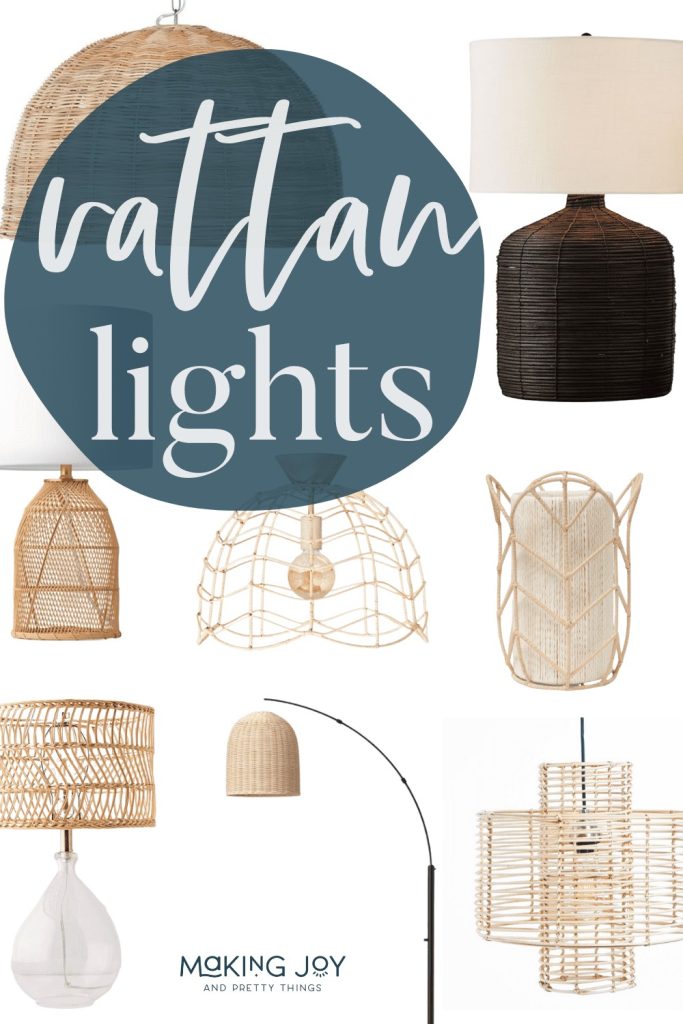 ---
Cane Tables and Rattan Tables
Cane or rattan on a table is such a classic look! You can incorporate this look with a coffee table, console or entryway table, side table or end table for your living room, buffet table in your dining room, and more!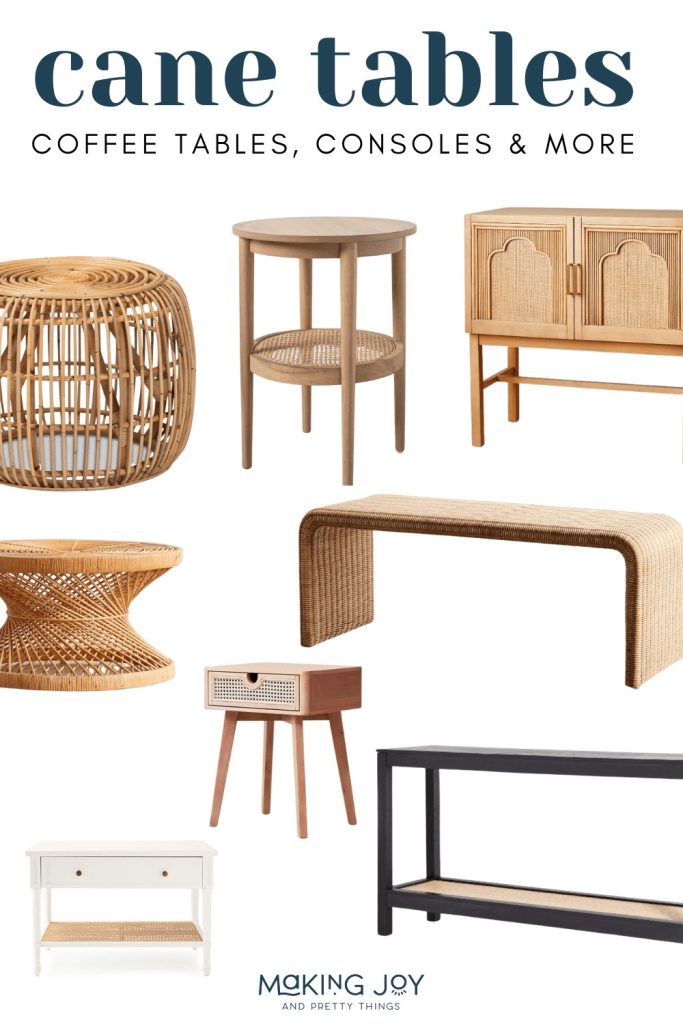 ---
Cane Dressers and Rattan Dressers
A fun way to add the boho look to your bedroom is with a cane dresser! Whether you're looking for a tall or short dresser, natural wood finish, or even white or black cane dressers, we've got you covered!
Related – did you know that you could also use a dresser as a bathroom vanity?!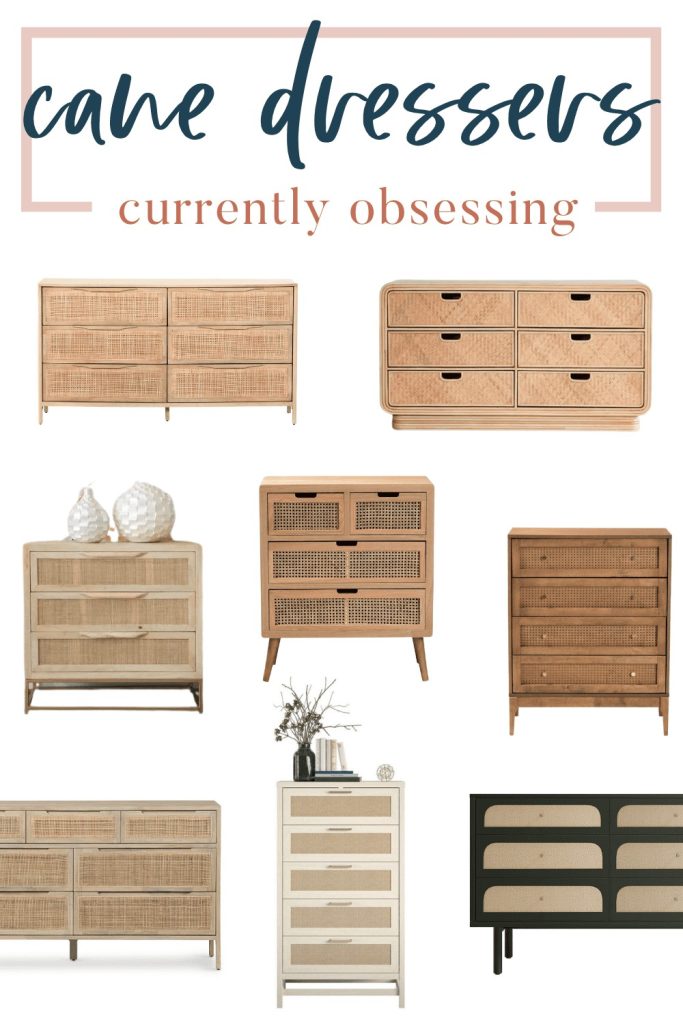 If you're looking to add an organic, natural look to your living room or bedroom that goes with any design style, cane and rattan furniture is perfect!
Let me know what you think about the cane and rattan trend in the comments below!