Dark Paint in the Dining Room and My Favorite Dark Paint Colors
A few weeks ago I shared our plans for our dining room renovation!  The biggest change (by far) is saying adios to the hospital-chic beige paint and hello to beautiful dark green walls!!
If you don't remember, here's how it looked before…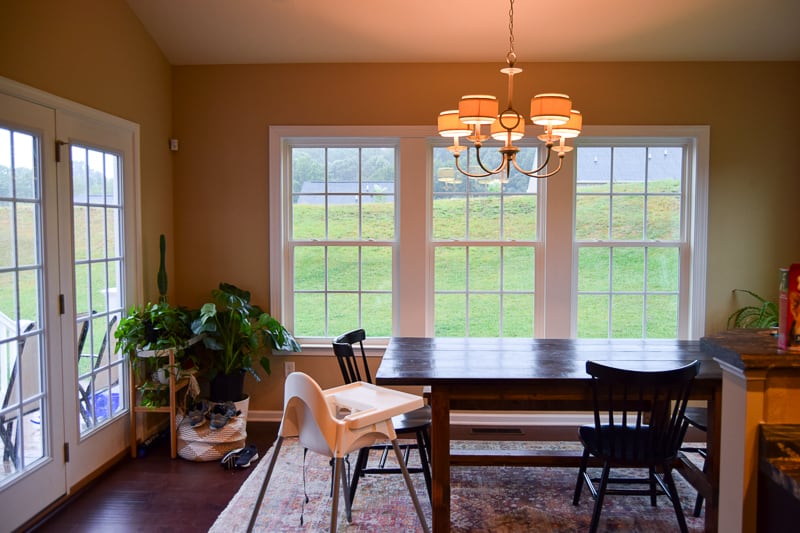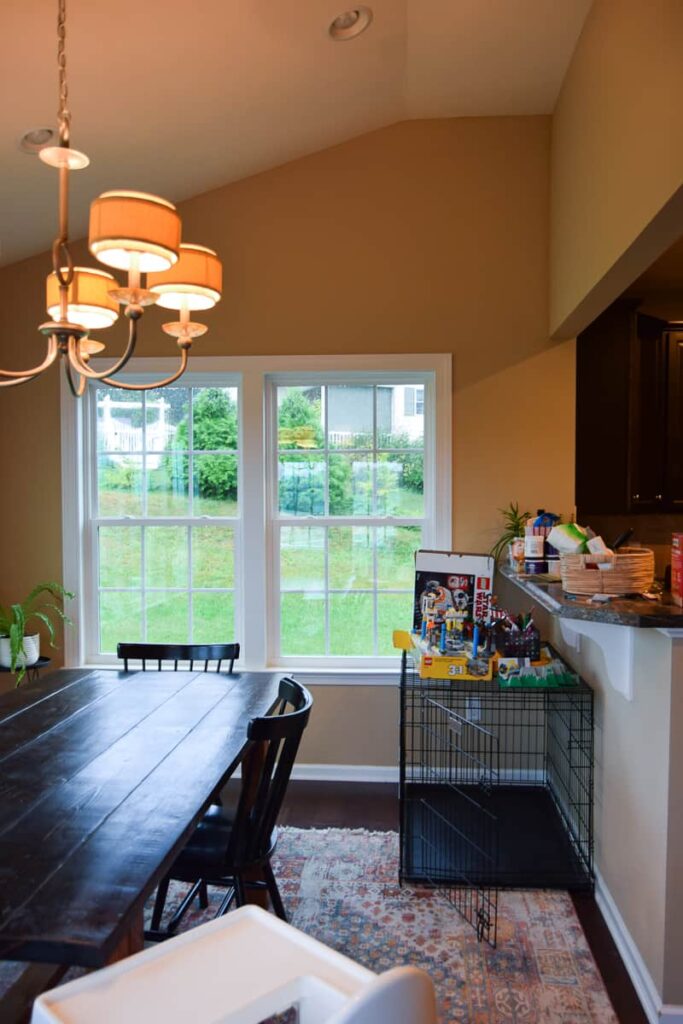 I chose a few different colors and tried out these sticky patch things (also available at Home Depot).  They're actually pretty neat – you stick them onto the wall then paint them with your samples.  Then, you can just peel off the sticky patch (technical term) and you're left with your original wall.
I shared these options on Instagram – most people wanted North Woods (top left) or Little Black Dress (bottom).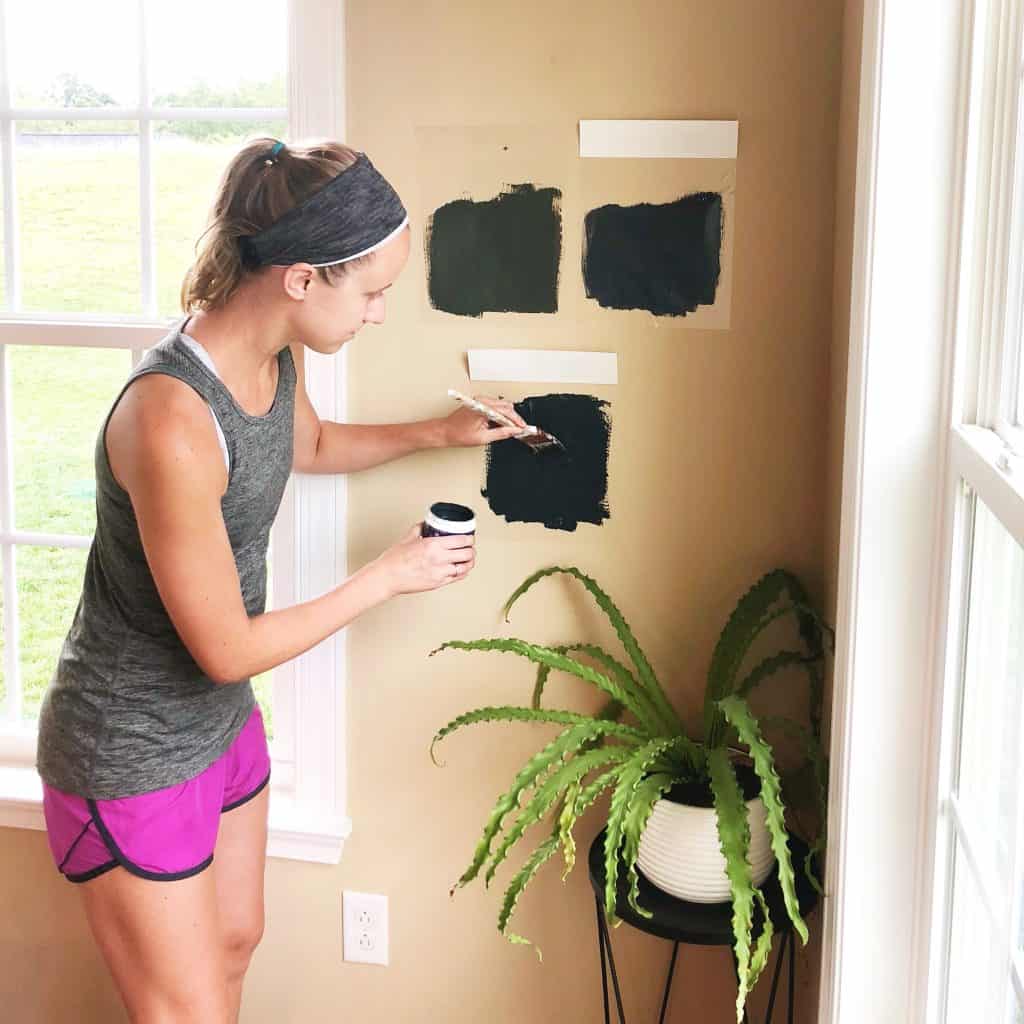 Top Left: North Woods  |  Top Right: Chimney  |  Bottom: Little Black Dress
I don't think the sticky patches were 100% necessary for what I was doing.  I think they would be useful if you're testing out light AND dark options.  That way if you decide to go with a light paint you don't have to worry about covering the dark paint sample.  Or, if you're not going to be painting for a bit and you don't want to looks at random blobs of paint on your wall, it may be nice to just peel them right off the wall.
My biggest tip for working with dark paint – use tinted primer!
You guys, tinted primer makes ALL the difference.  This is the second time we've worked with dark paint and both times we've used tinted primer.  I've heard from others that when they've used dark paint it doesn't look like the swatch when they're done.  This is definitely the result of regular primer.  You NEED the tinted primer.
We got this paint at Home Depot and the guy there asked if we wanted tinted primer.  He used some of the actual North Woods color in regular primer to make the tinted shade.  It goes on and almost looks like a gray color.  Previously, we had used Sherwin-Williams paint and they offer just tinted primer for dark shades.  Same thing though, basically a gray primer.
We ended up deciding on North Woods!!  It's such a pretty green colors.  It feels like a mixture of  evergreen and sage.
Here's the room painted: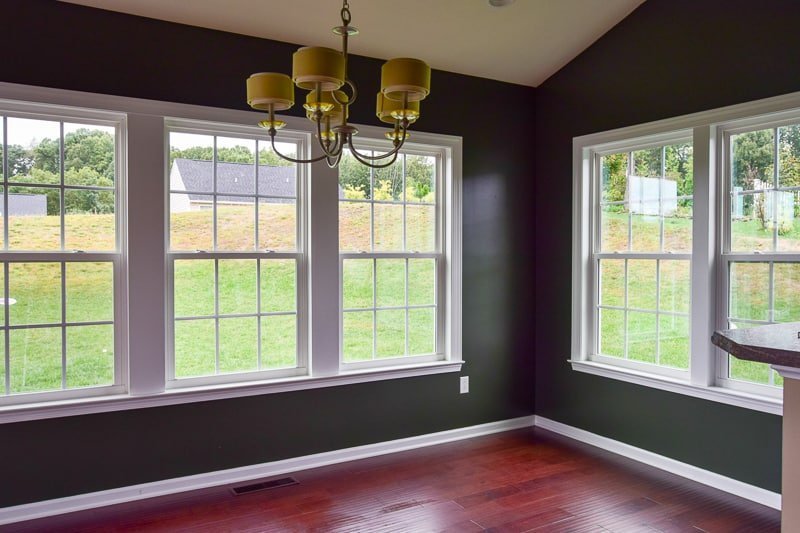 LOVE LOVE LOVE.
We kept the ceiling white-ish (whatever color it was before).  We're going to have to end up painting the ceiling anyway hopefully sometime soon.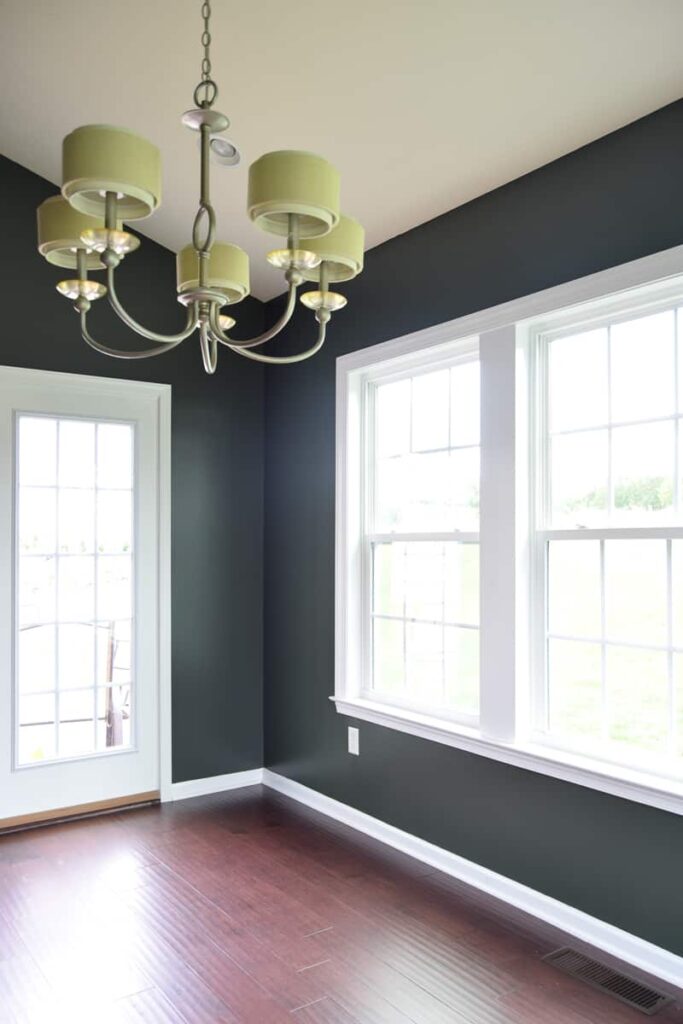 The white trim really pops against the green.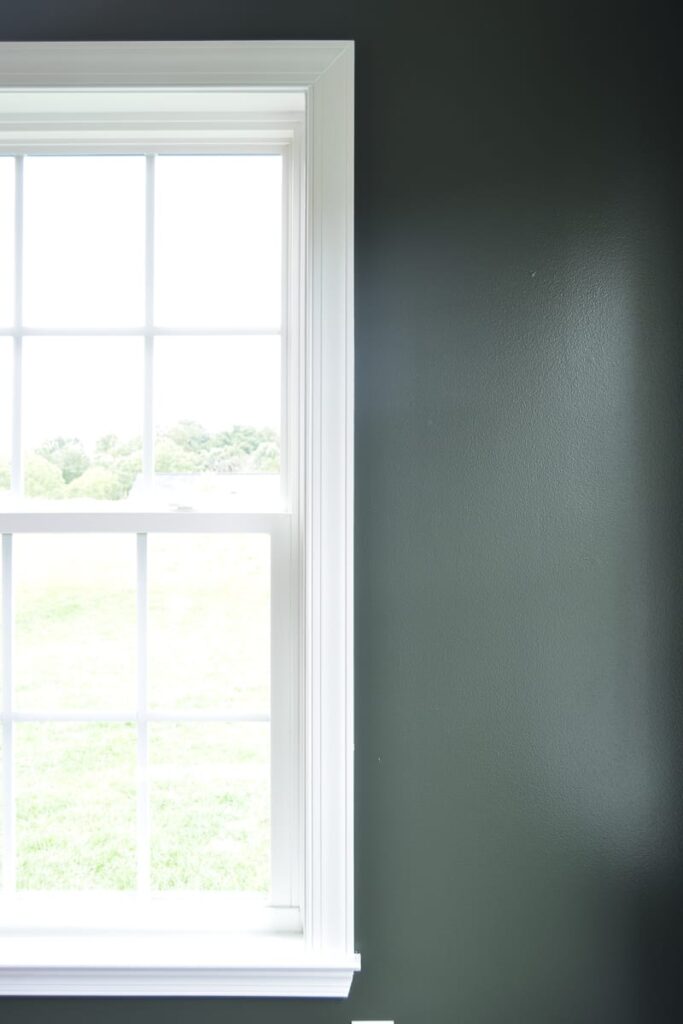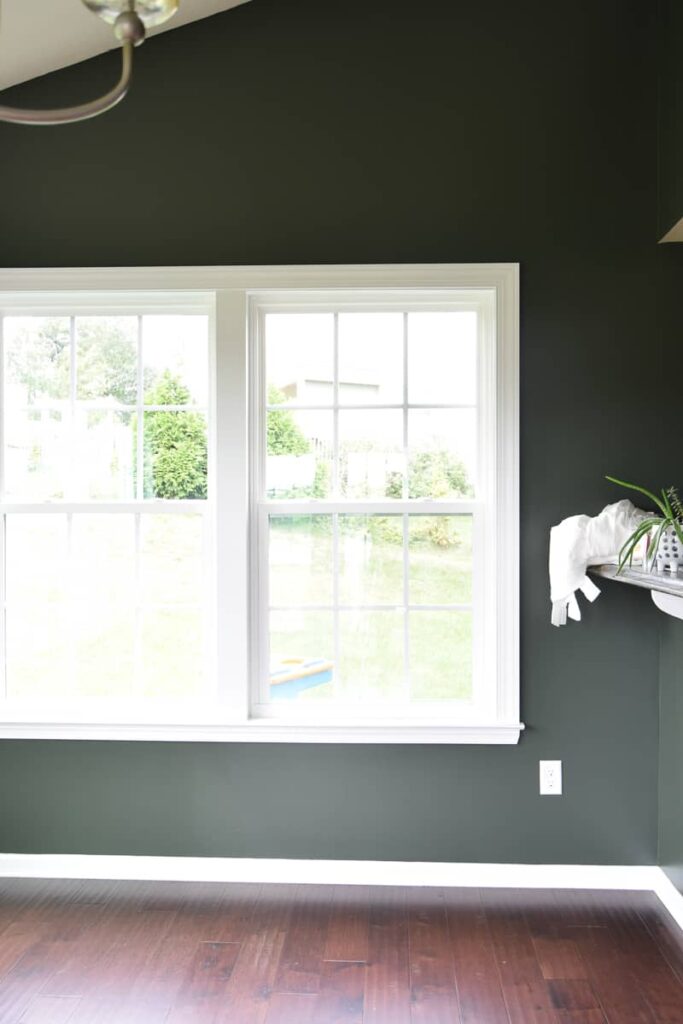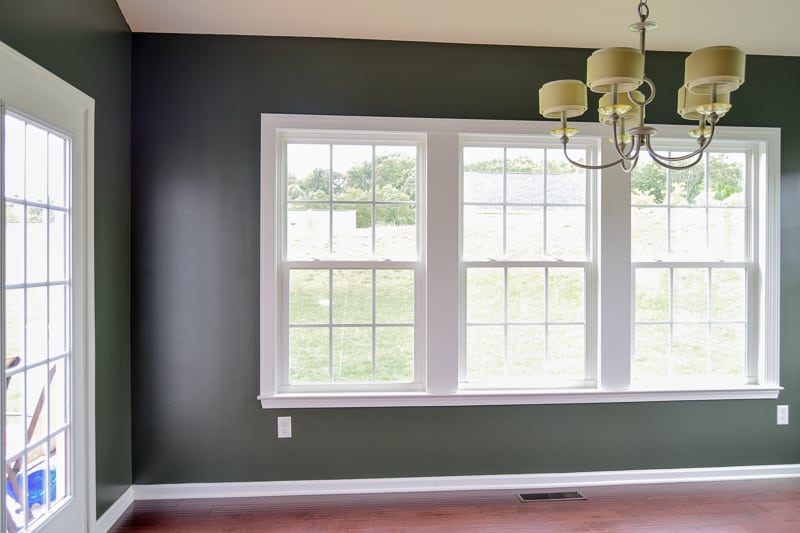 I'm so happy with how it turned out.  I was really comfortable going with such a dark color because the room has SO much natural light.  Almost too much, if that's even possible.
We're well on our way to a beautiful new dining room!!
Because I'm loving dark paint colors, I thought I'd share a few of my favorites!!
Dark paint is really trending right now.  A quick Pinterest search will give you tons of ideas.
A two colors I keep seeing again and again are Hale Navy (first photo) and Salamander (second photo) both by Benjamin Moore.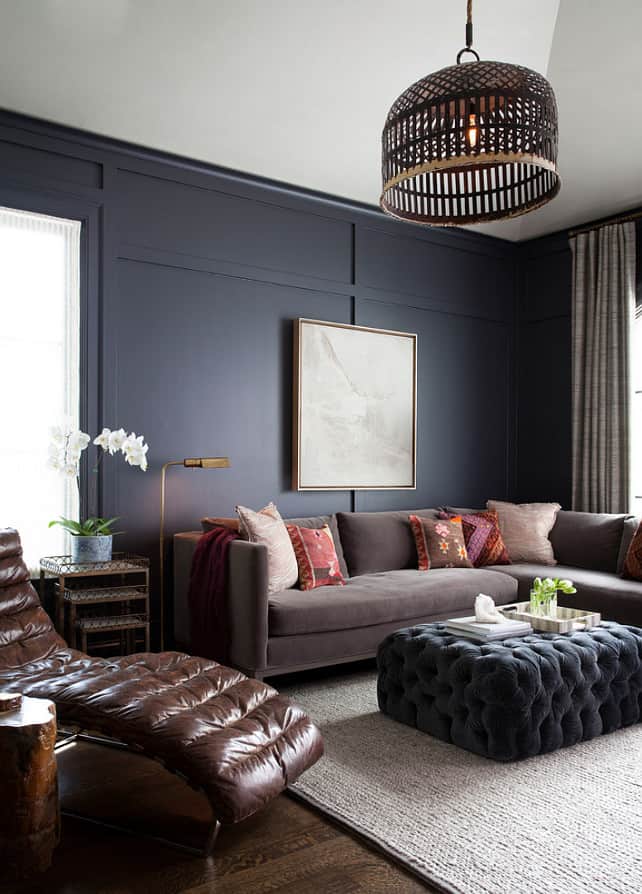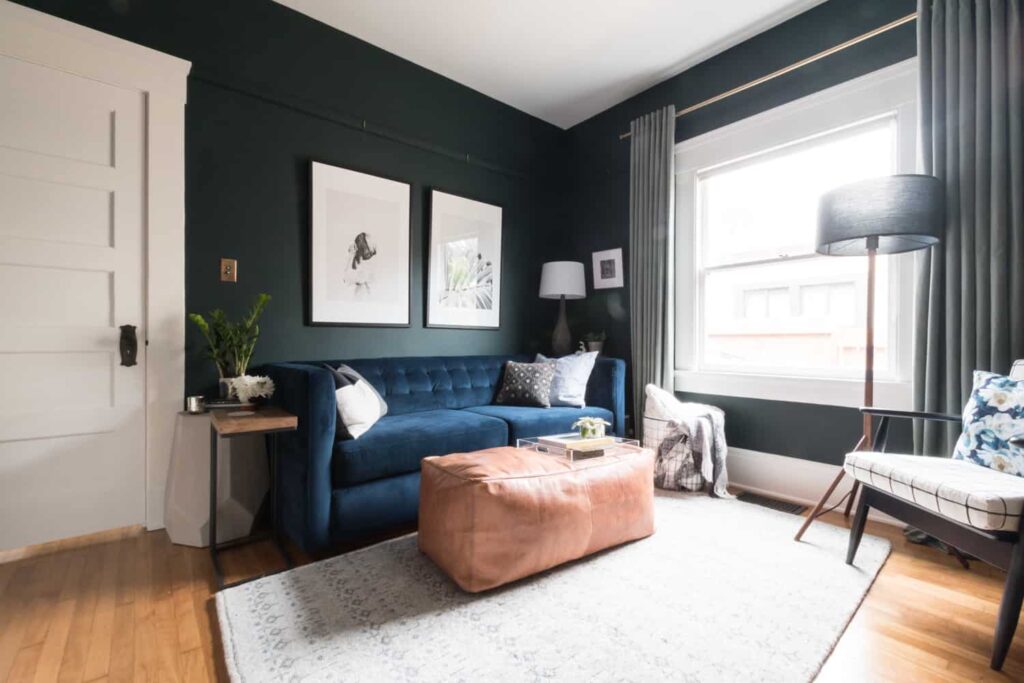 If you don't know where to start, I think those two colors are amazing!
Remember, you don't have to paint an entire room dark.  Even one accent wall can really change the look of your room without the commitment of it all being dark.
I find that most trendy dark paint colors are either blue or green.  Sometimes black.  I'm also loving deep burgundy or maroon!  What do you think?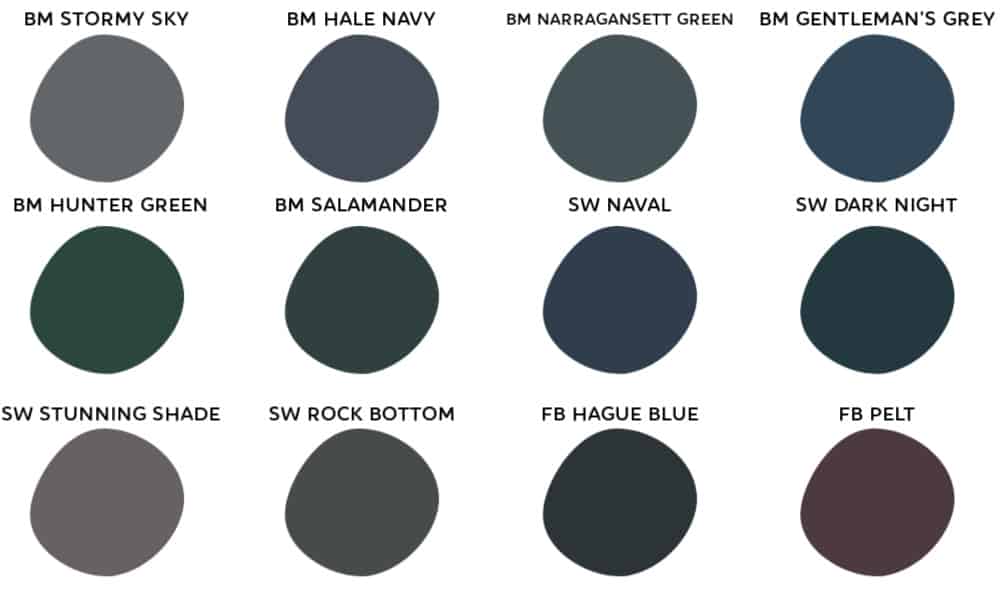 Pin it for later!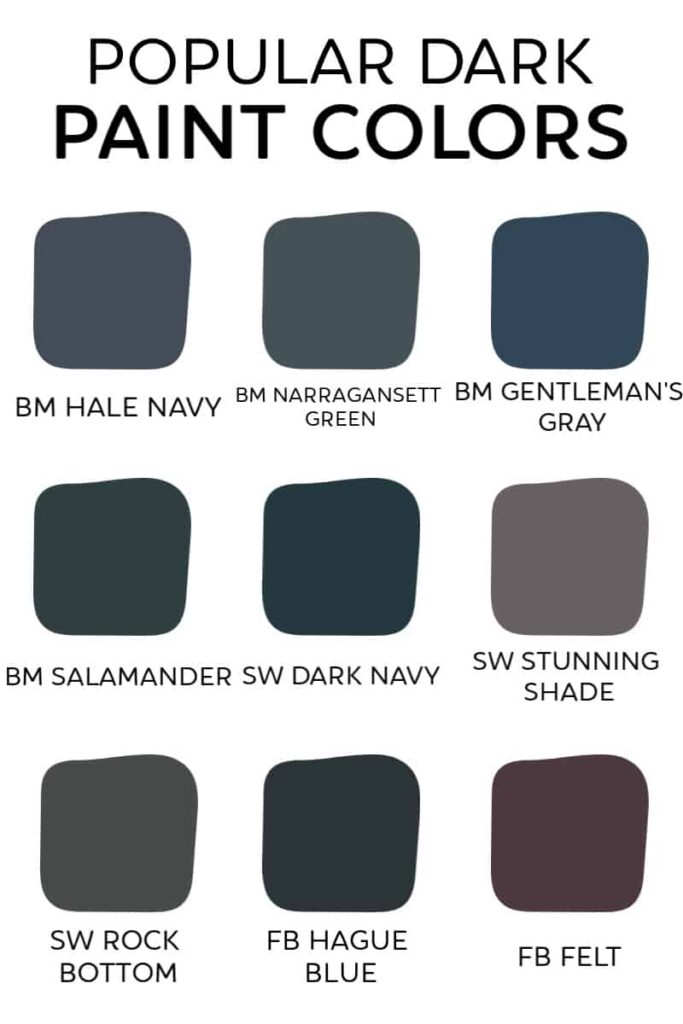 *This post contains affiliate links.  Please see my full disclosure policy for more details*