How to Deep Clean Hard wood Floors with Kids
Ever wonder about how to deep clean hard wood floors with kids? Never worry again with this cleaning system
We are going to learn how to deep clean hard wood floors safely and effectively with 3 kids and a dog! With this system, you never have to worry about how safe your cleaning is for your family
Do you have hardwood floors or tile at home? Do you have kids/pets, too?
**This post was sponsored by Bona. All thoughts and opinions are my own. This post may contain affiliate links. Please see my full disclosure and privacy policy for more details **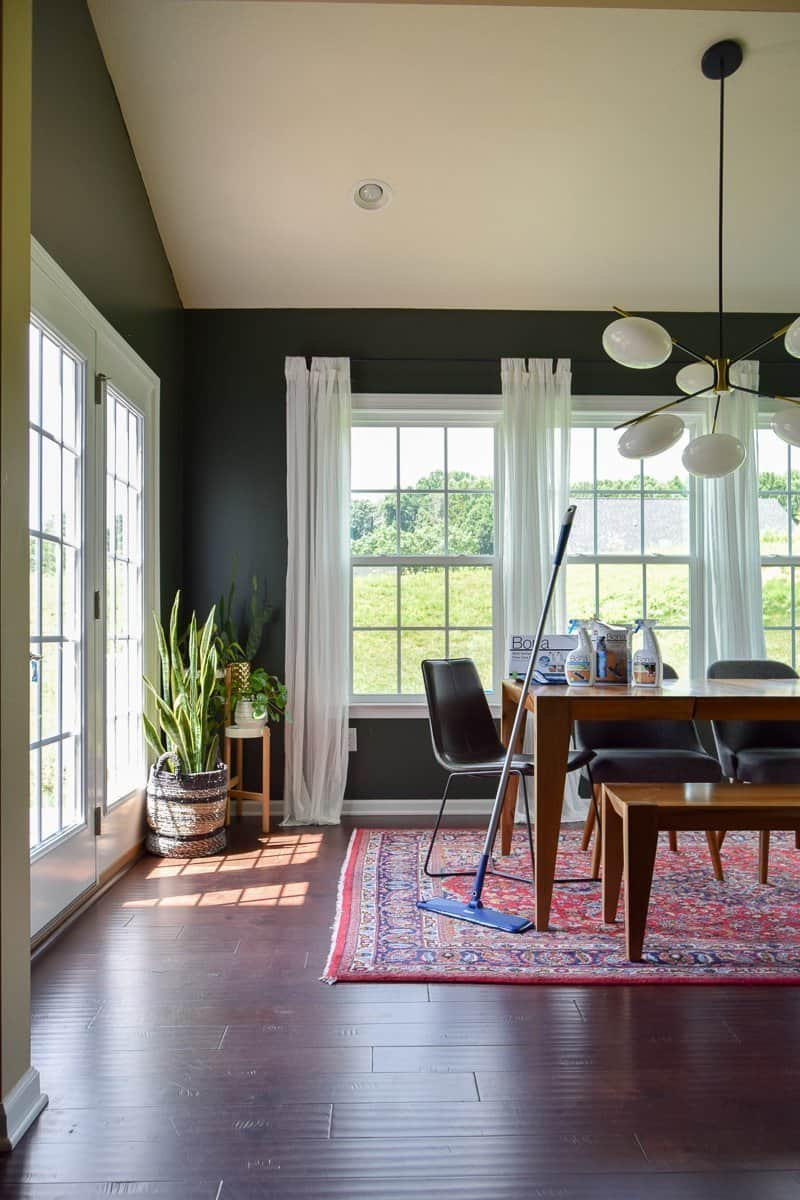 I've had a home with hardwood floors since my husband and I moved in together 500 years ago. I used to use an oil product to clean the floors because it made them smell good!
You see, we had very light hardwood floors at all these homes. So, the waxy residue that was building up wasn't visible at all. I HAD NO IDEA.
Then, we moved to our old Pittsburgh house and installed very dark bamboo floors. I have many thoughts about these floors that are definitely another post entirely.
But, the first time I used that old cleaner on those dark bamboo floors, it left a residue that could quite possibly still be there 4 years later.
It was at that point that I think my mother-in-law suggested using Bona.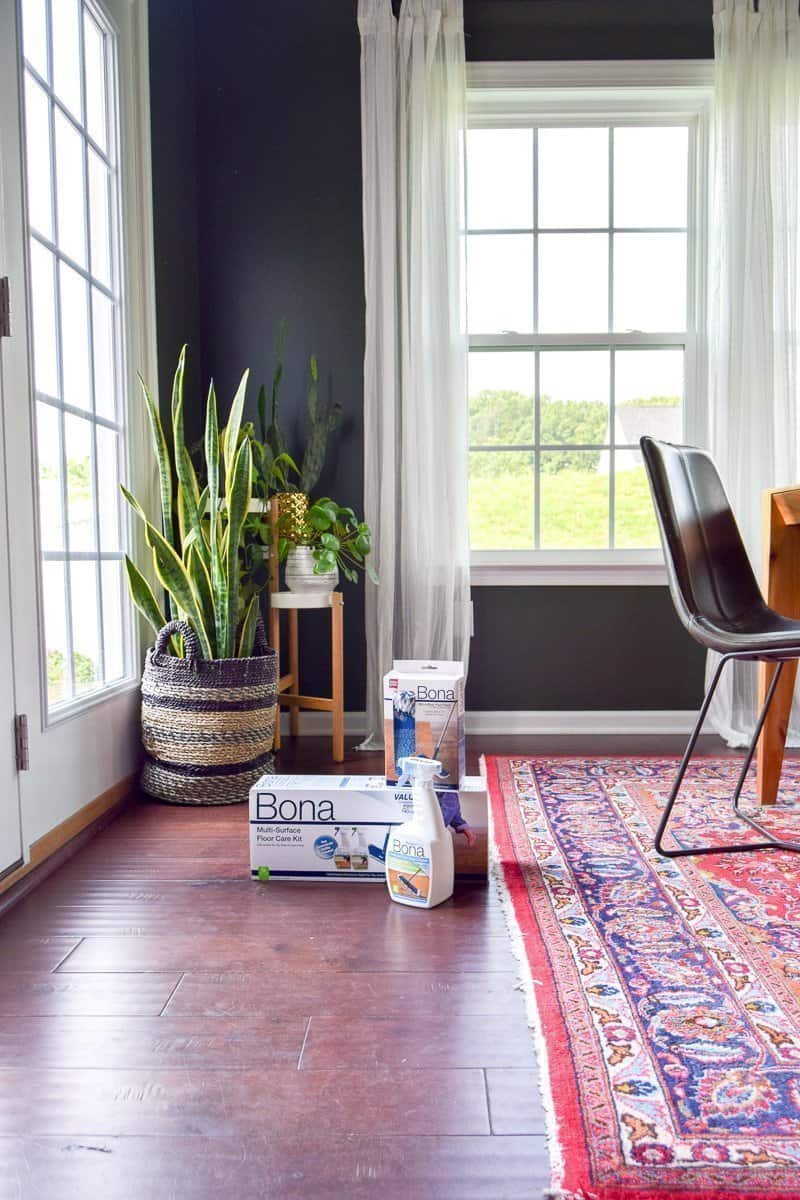 Now, this was 4+ years ago and we still use Bona to clean our hardwood floors.
This post is kinda embarrassing to write. I don't clean our floors nearly as much as I should. And, the dark hardwood shows every single smudgy fingerprint, dog hair, and who knows what else.
Plus, I'm 50 months pregnant right now and there's a 0% chance I'm getting on my hands and knees and scrubbing anything.
That's where Bona's Everyday Essentials comes in. And a little girl in a princess costume.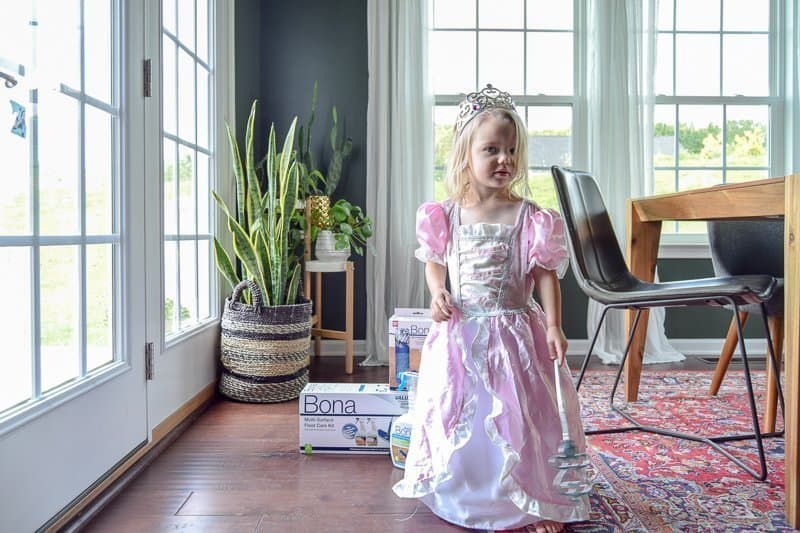 How to Deep Clean Hard Wood Floors with Bona
Bona's Everyday Essentials Collection comes with a Bona® Multi-Surface Floor Care Kit (which has a cleaner for hardwood floors AND another cleaner for tile, stone, and laminate), Bona PowerPlus® Hardwood Floor Cleaner Oxygenated Formula, and Bona® Microfiber Pad Pack.
The Floor Care Kit includes the 4-piece mop handle you'll see me using + mop head, a microfiber cleaning pad (that I SWEAR by!), and the cleaners mentioned above.
While I had used their hardwood floor cleaner religiously for the past 4 years, I was excited to try the Oxygenated Formula!
The oxygenated formula solution loosens tough, heavy build-up. HELLO, LIFE WITH KIDS! That's the definition of our floor status. It has a cool bubbling action, too that lifts away surface debris. The kids were impressed.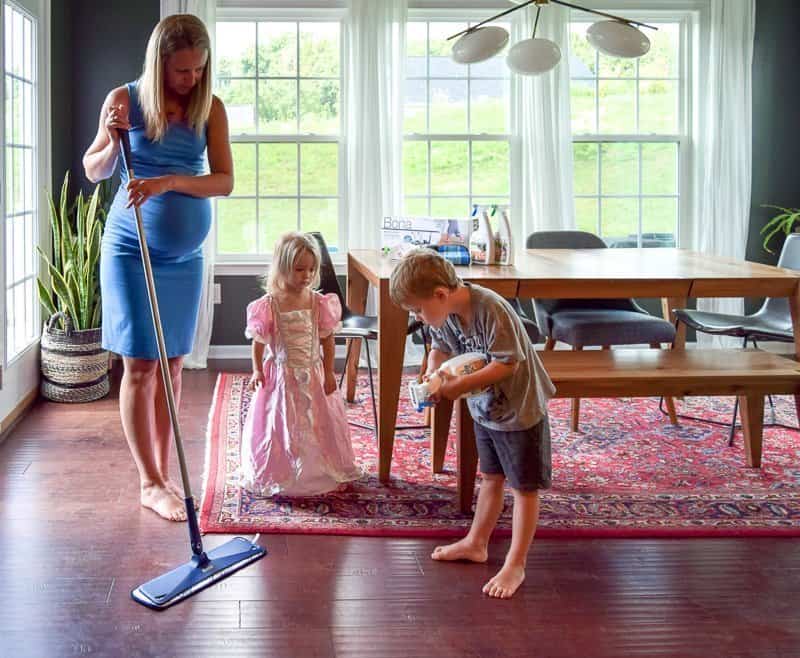 Oh, and in case you're wondering why I'm in a dress and cleaning? Well, I don't have any "nice" shirts that fit over the preggo belly right now. So it was either a dress or my exposed stomach. I chose the dress. You're welcome 😉
The kids actually love helping me clean most of the time. Clean up their toys? Heck no. But spray fun bubbly cleaner and pretend we're a train? Heck YES!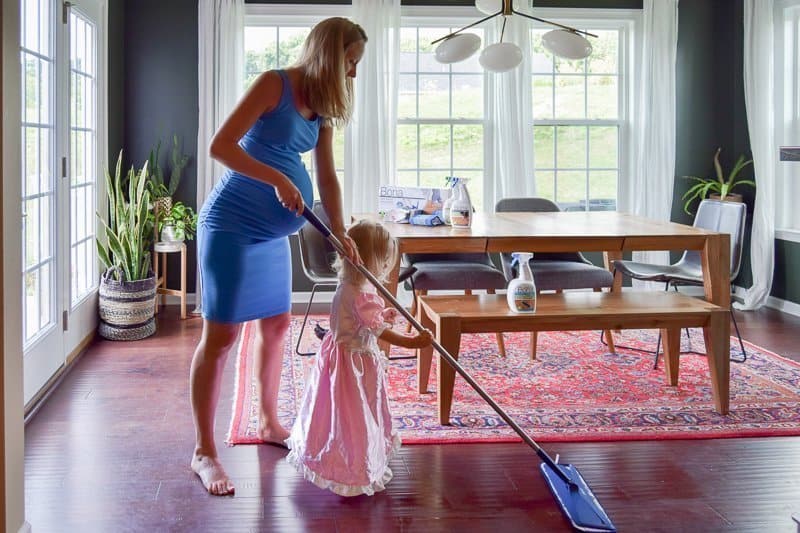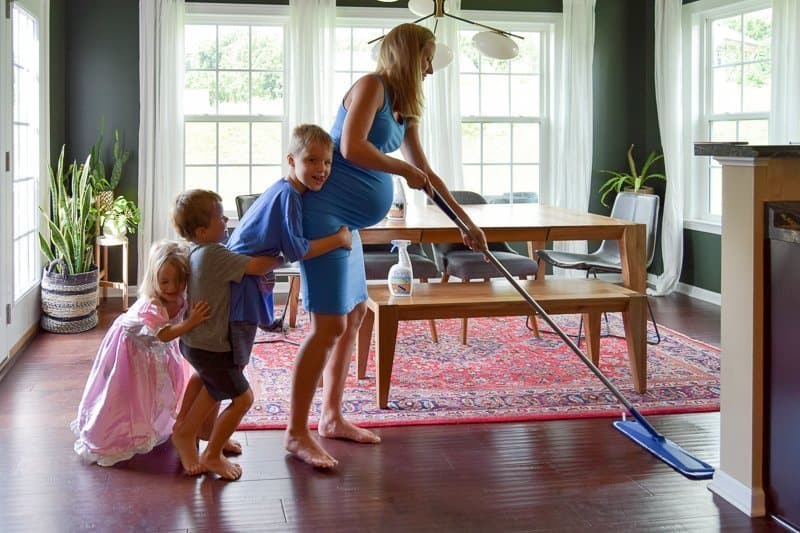 Using a Water Based Formula to Deep Clean Hard Wood Floors
The Hardwood Floor Cleaner Oxygenated Formula is water-based, dries super fast, and is residue-free! Plus, it's GREENGUARD GOLD certified meaning it has very low VOC emissions.
We all know Evie was immediately throwing herself on the floor because I said we weren't watching Paw Patrol, SO it's nice to know the floors are clean AND safe for her to do that 😉
It's nice to have a product that's safe for the kids, doesn't ruin the floors (like some of those DIY cleaners can), and is easy enough that I could do every day if I wasn't 100 months pregnant.
P.S. can you spot the Star Wars mask in this picture *facepalm*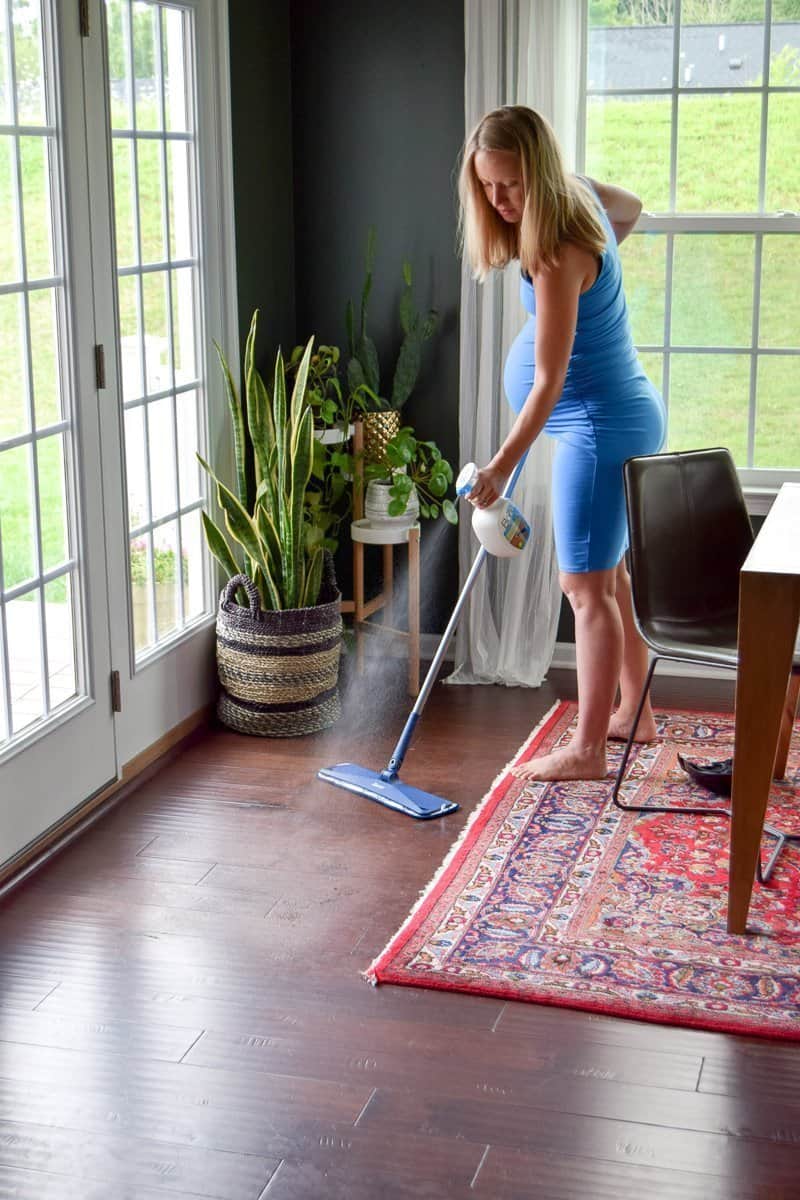 Even princesses like to help mama clean our hardwood floors!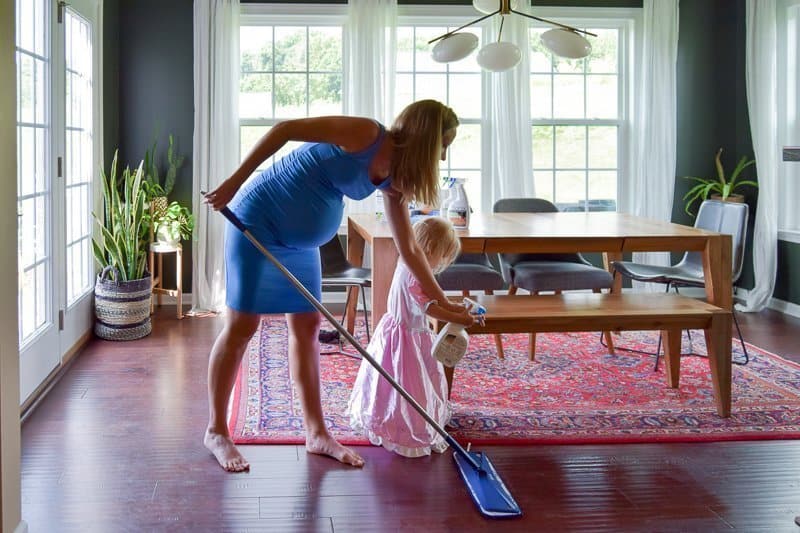 Before and After Deep Cleaning:
Just in case you are wondering yes this cleaner really is amazing if you are wondering how to deep clean hard wood floors. I was amazed at how spotless the floors were after.
Hard Wood Floors Before Deep Clean: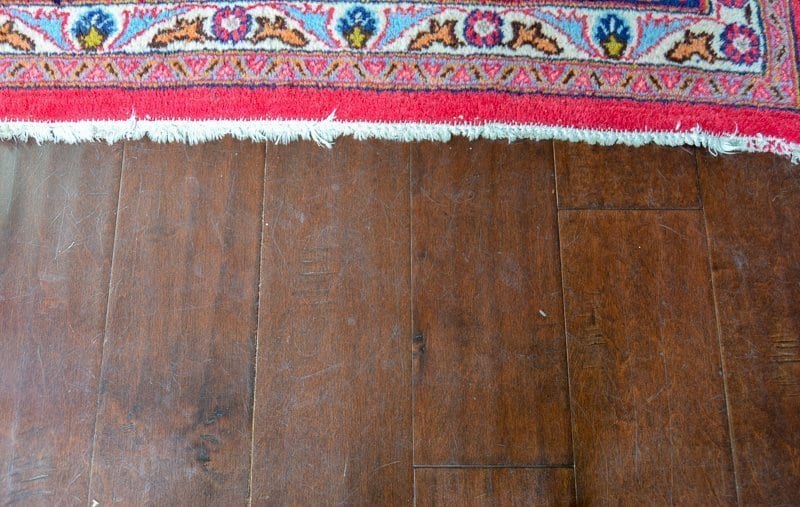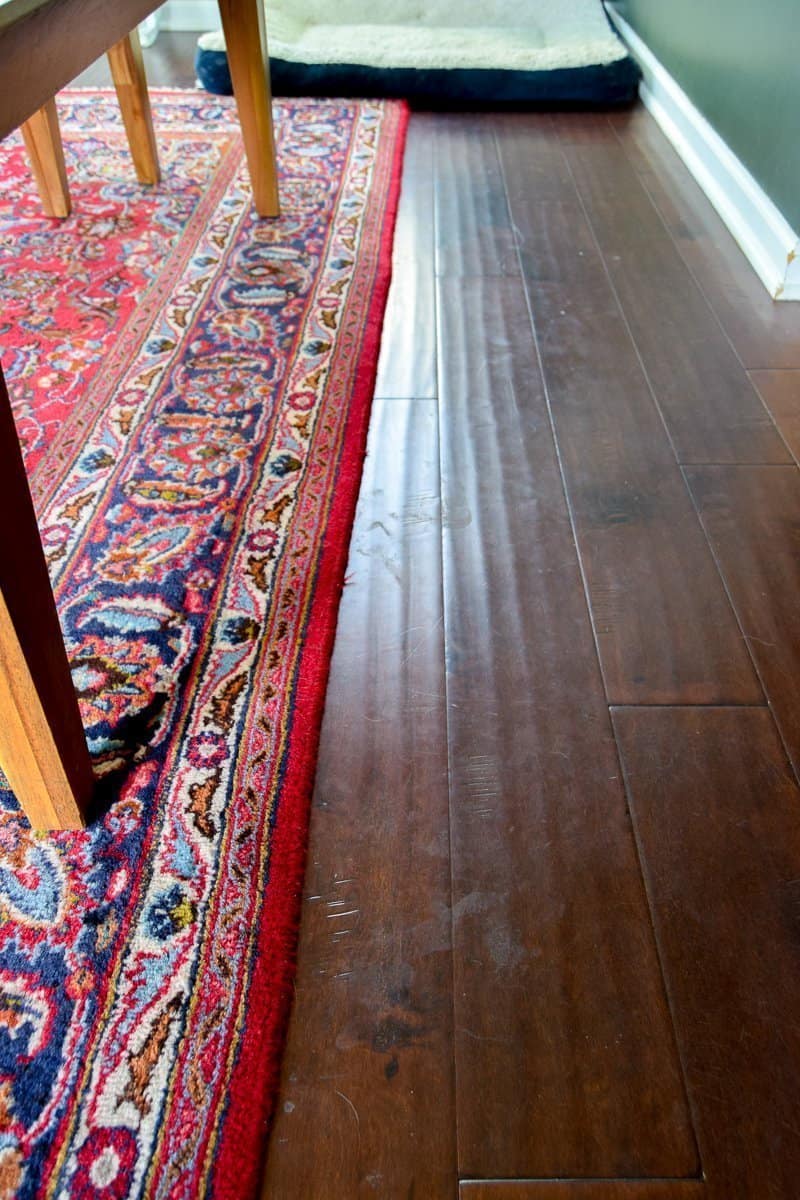 Hard Wood Floors After Deep Clean: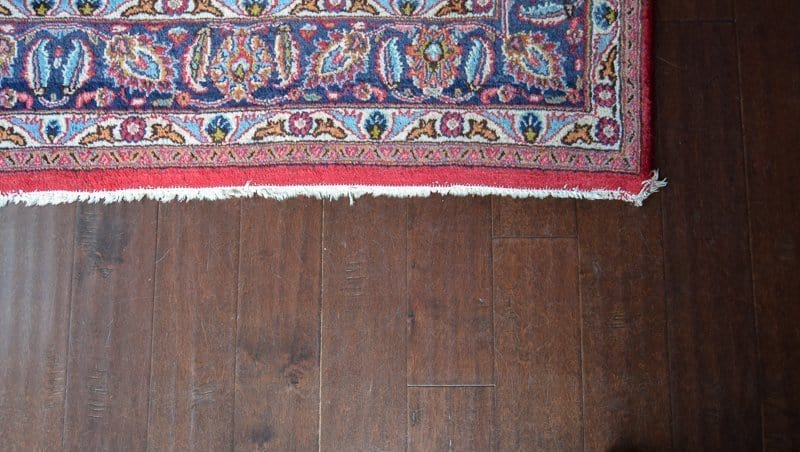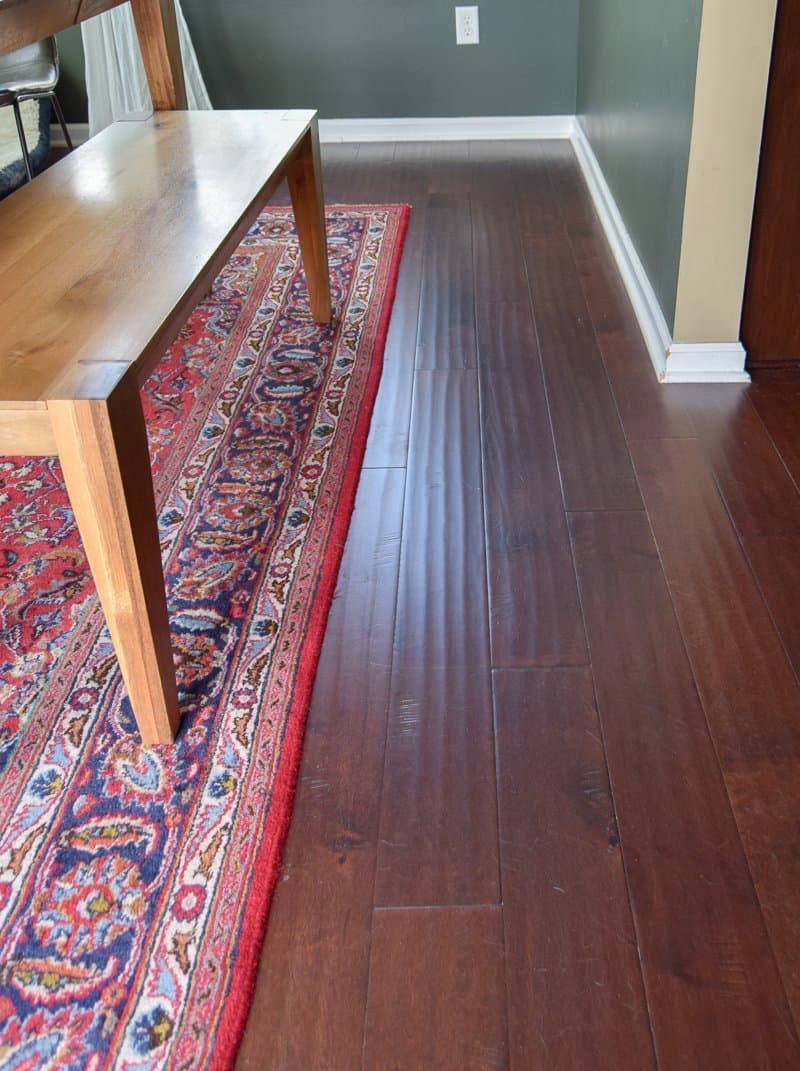 It really worked SO well and required very minimal work from me, which is an added bonus. The Microfiber Cleaning Pad does most of the work for you.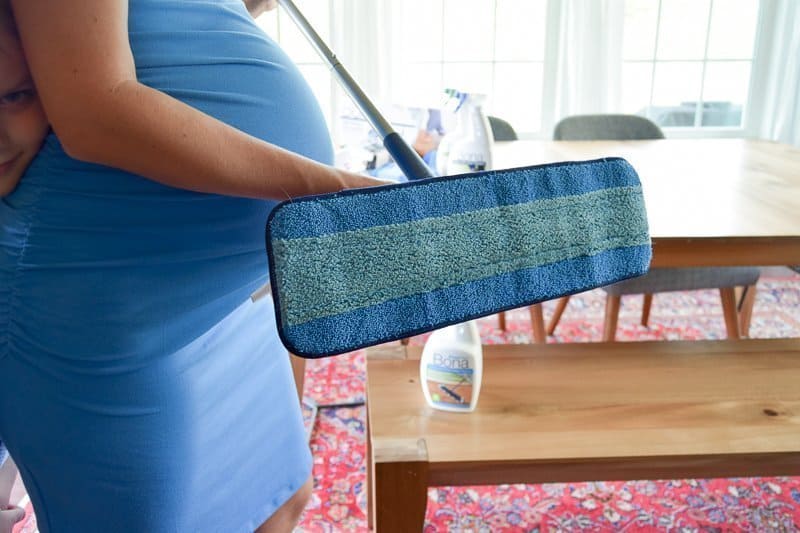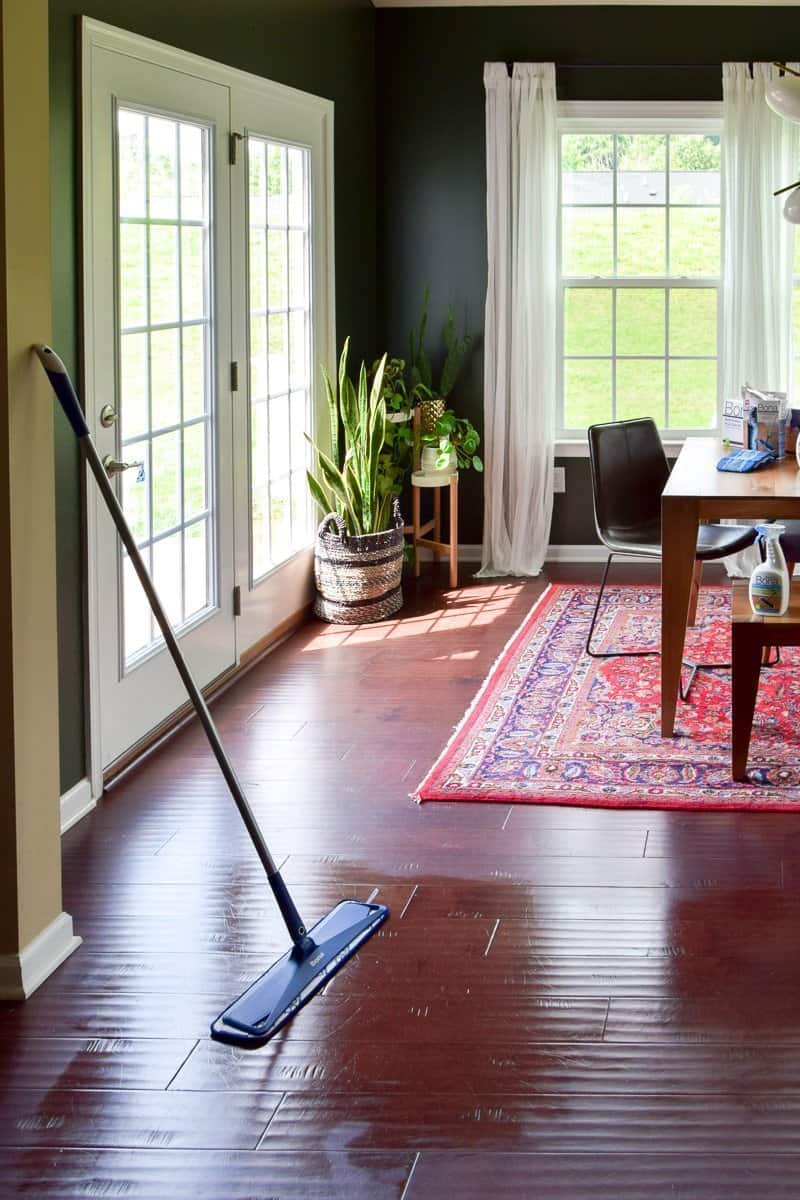 Jack is pretty happy the floors are clean, too. He was waiting for this moment so he could shake all the loose hair off of him into giant chunks on the floor. #buzzcutnextsummer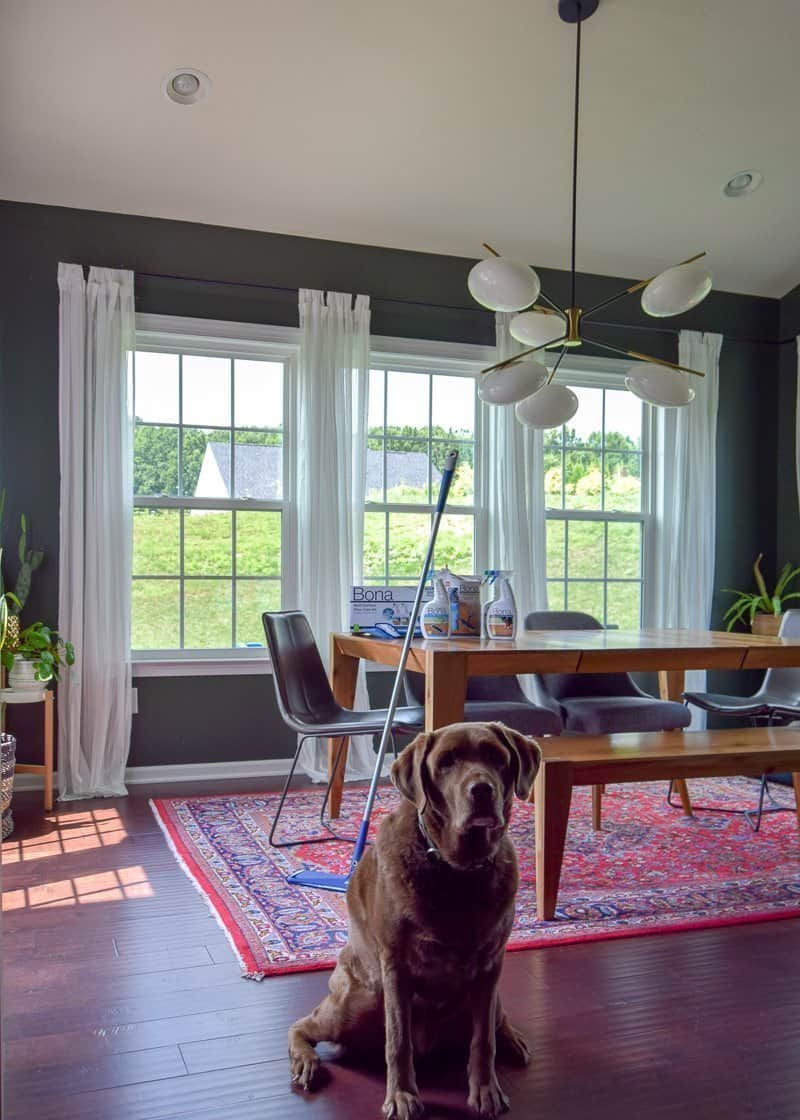 Pick up Pet Hair with a Microfiber Pad
If you do have pets that shed their weight in fur, the Microfiber Pad Pack comes with Bona Microfiber Dusting Pad that has an electrostatic design to trap dust, dirt, and pet hair. Use that for the pet hair then the deep clean pad to clean!
We haven't moved his bed in probably 6 months. I was moderately concerned about what we would find under there…
Watch the video to see the ridiculous amount of dog hair! I used the disposable dry dusting cloth to clean it up which came as a bonus in the Multi-Surface Floor Care Kit. Remember that Microfiber Dusting Pad from the Microfiber Pad Pack, though – I'll use that next!
I'll honestly never use another hardwood floor cleaning product. It always gets the job done, doesn't require me to get on my hands and knees and scrub #notcinderella, and is safe for the kids and pets.
I'm so excited to offer you code "essentials2019" to get free shipping on the Everyday Essentials collection I used.
For more deep cleaning ideas check out this deep clean of a washer from Making Manzanita

How to Deep Clean Hard Wood Floors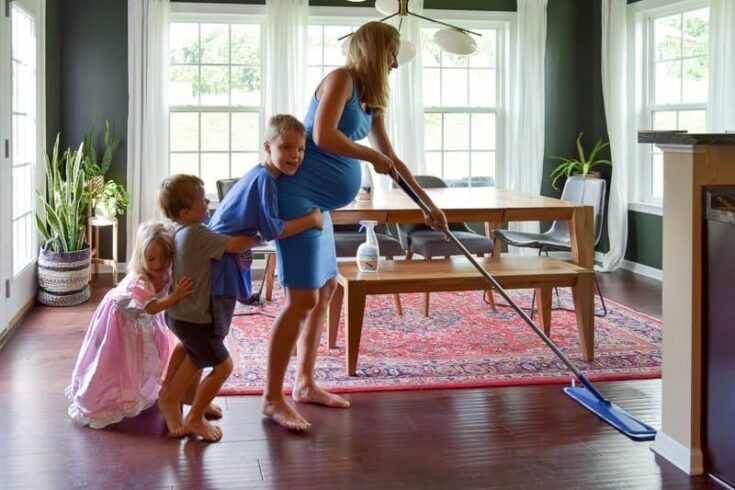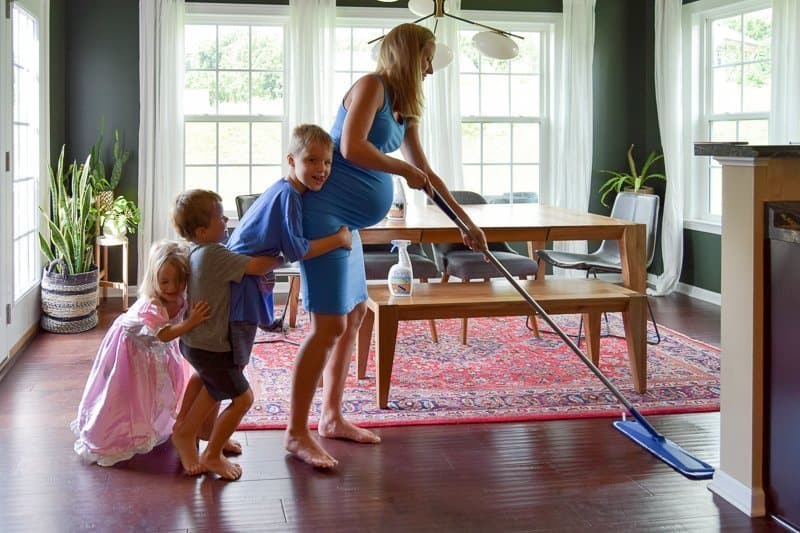 Use Bona's water-based formula used with their multi-surface floor kit to deep clean hardwood floors.
Materials
Bona's Multi Surface Floor Care Kit
Instructions
Spray the hardwood floors with the water-based formula
Use the Microfiber pad to mop up dust and grime
Move any furniture or dog beds as you mop
Let Dry and enjoy clean floors