Budget Friendly Farmhouse Decor from IKEA!
One of the biggest complaints I hear about styling your home or choosing decor is just not having the money. And, I totally get that.
I have a few tips I use when finding and buying home decor. This could apply to any style of decorating; mine of course happens to be farmhouse style.
First, buy a little at a time. If you're like me, you are at Target/IKEA/Michaels waaayyy too often. That can actually work in your favor, though!
For instance, yesterday at Michaels I spotted a cute pale pink lantern in the 50% section. I purchased it, not knowing really where I'll put it. But, on sale for $3, I couldn't pass it up!
Now there were 100 other items I *wanted* to purchase, but, didn't. Maybe in a week or two when I go back I can snag another deal.
When you spread out purchases over several visits, it's not as big of a knock financially.
Second, don't spend a ton of money on large items. I'm so tempted to buy a farmhouse-style kitchen table or that expensive distressed frame.
Smaller detail items, like a galvanized pail, a mini boxwood wreath, or a mason jar add just as much character as that bigger piece.
Or you can DIY your own decor! Making decor yourself is almost always substantially cheaper!
Third, shop at the right stores! I would LOVE to buy everything at Pottery Barn, West Elm, and Anthropologie. But, girl, that's not in the budget right now!
My go to stores are Michaels (of course!), Target, and most recently, IKEA!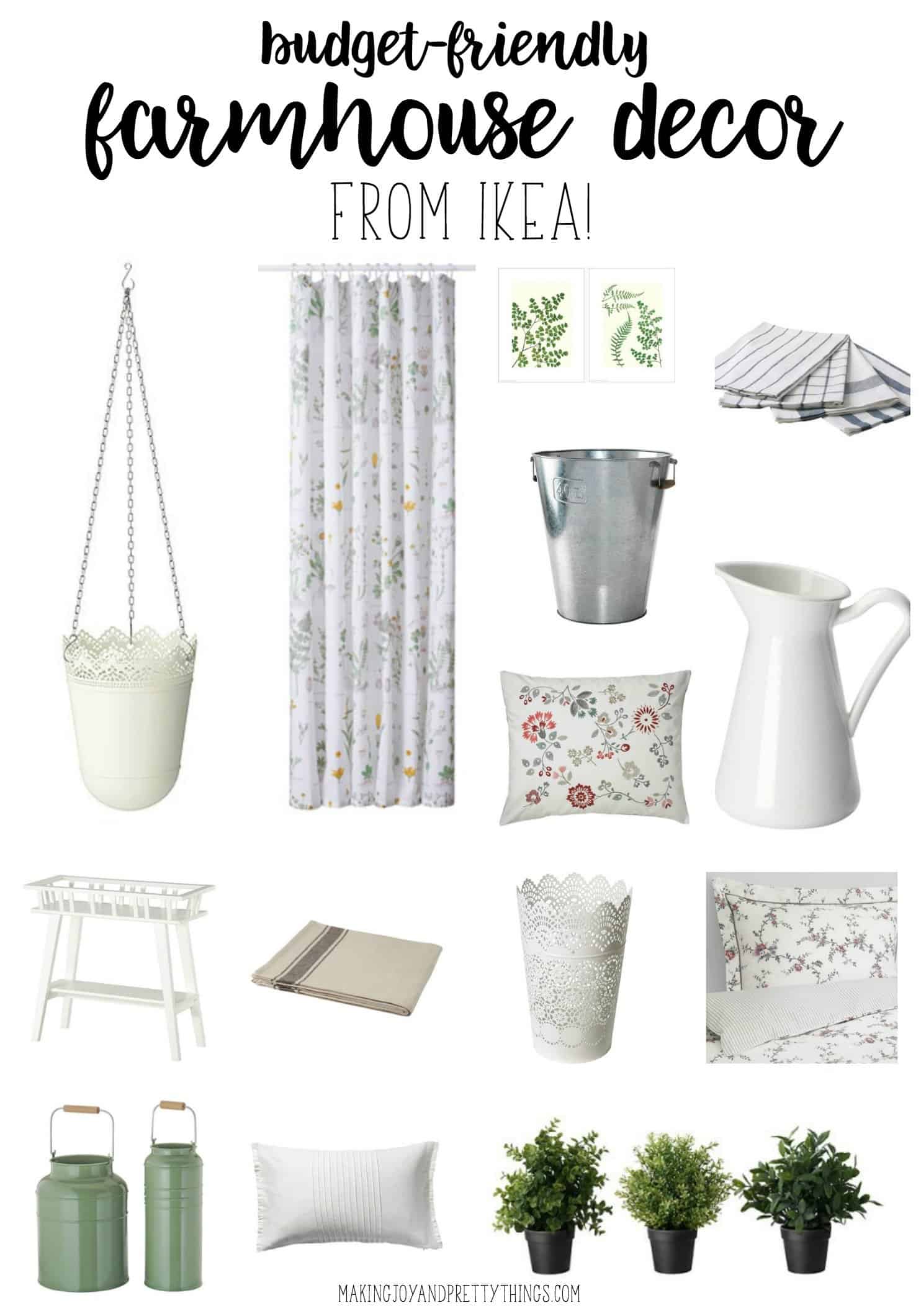 A few weeks ago, I packed the kiddos up and drove to our local IKEA with my SIL and nephews/niece. I love that they have a play area that you can drop kids off in and shop kidless! I mean, that could be dangerous if the option was available at every store!
Charlie bean wasn't old enough to be dropped off so I had to carry him (yes CARRY HIM) the whole length of the store, since he refused to sit in a cart. If you've ever been to IKEA you know the place is gigantic and my arm was JELLO by the end.
Even though I had to carry Charlie, I was so impressed with the decor they had! I used to associate IKEA with college decor or just not good quality. Now, I wasn't looking at larger furniture (like a couch) but everything I DID look at was seriously amazing.
Maybe it was a good thing I had to sprint shop with Charlie because I probably wouldn't have followed my first rule of shopping for home decor 😉
I put together this post filled with budget-friendly farmhouse decor for every part of your home. There's curtains, bed sheets, planter and lamps and everything in between.
I broke it down into categories so you can easily navigate to what you're looking for.
Just click on the picture and you'll be taken to IKEA's website.
Happy Farmhouse shopping, friends!
Lamp:
Curtains:
Shower Curtain:
Fabric:
Tray Table:
Bedding:
Dish Towels:
Tablecloth:
Art:
Decor:
Plant Pots and Holders:
Greenery:
I hope you guys have found some inspiration for budget friendly farmhouse decor.
If you want to find some more farmhouse decor (unintentional rhyme 😉 ), check out this post for some farmhouse finds at Michaels!
Wishing you a wonderful, sunny day!