16+ Gorgeous Nursery Wallpaper Ideas To Steal
Are you dreaming up designs for your little one's nursery and considering wallpaper? Get inspired with these 16 gorgeous nursery wallpaper ideas.
Designing your little one's nursery is an important part of the whole nesting process. If you find yourself sitting in an empty room, dreaming up a design for your baby's bedroom – you're in the right place.
One relatively quick and easy way to quickly change the look and feel of a room is with wallpaper!
Today I'm sharing tons of inspiration with these 16 gorgeous nursery wallpaper ideas!
This post contains affiliate links. Please, click here to read my disclosure policy.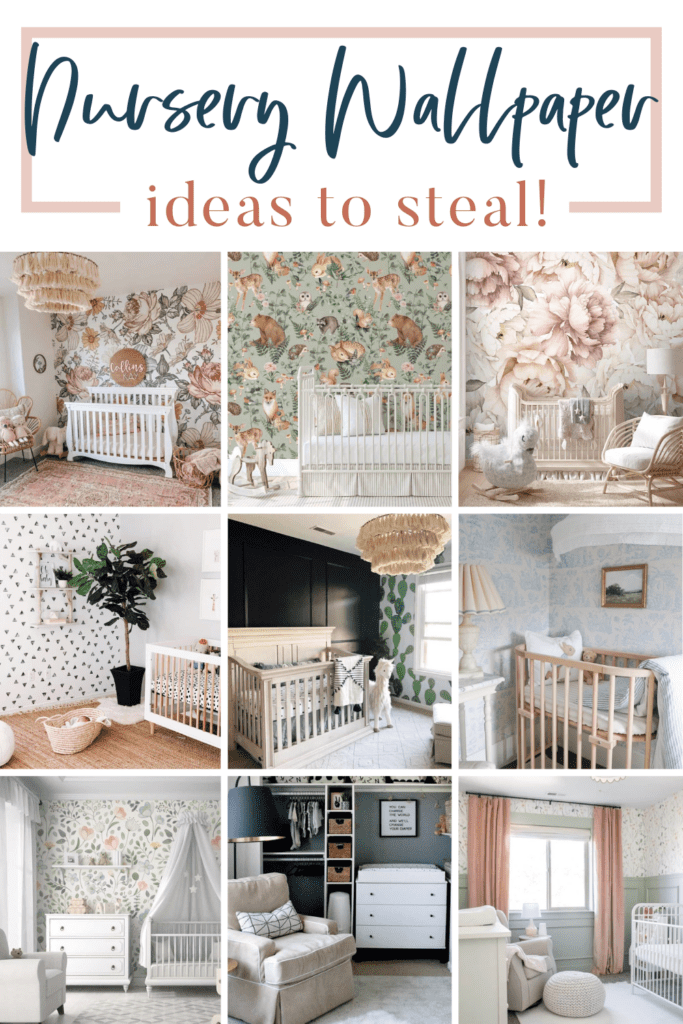 Nursery Wallpaper Considerations
Wallpaper is a great way to add more character or color to a baby's room or kid's room. But choosing the wallpaper can certainly be overwhelming.
When it comes time to choose the wallpaper for your nursery, here are a few things to keep in mind:
Think about your nursery's color scheme: What comes first – the color scheme or the wallpaper design? Well, it is up to you! You may have existing furniture or paint colors that you're keeping in the room, in that case, you'll want to choose a wallpaper design with colors that complement.
Determine the amount of light the room gets: If the nursery gets a lot of natural light, you may want to choose a lighter wallpaper, while a room with less light can handle a darker or bolder pattern. Keep in mind that you'll definitely want to invest in some blackout curtains no matter what so you can make it dark so your little one can have sweet dreams during nap time.
Consider the nursery's size: Large and busy wallpaper patterns can overwhelm small rooms, while a small pattern may get lost in a large room. If having wallpaper on all 4 walls is too much for you, you can do a statement wall or just install it on the top half or bottom half of the walls. There are so many fun wallpaper murals that are great for putting in a child's room!
Consider the wall's texture: If your walls have a lot of texture, you'll need to make a plan for how to smooth it out before installing wallpaper. Some wallpapers will work better than others on walls with a bit of texture, so be sure to read the instructions on the wallpaper you choose to know whether you need to completely smooth the walls first or not.
Don't forget about longevity and removal: Consider choosing a wallpaper that can grow with your child as they get older. I'd recommend avoiding designs that are too baby specific, like a pattern with little elephants. Instead, choose a wallpaper that is more classic and timeless. Keep in mind that some types of wallpaper can be difficult to remove, so choose a design that you can live with for a while and will grow with your kids as they get older and their tastes change.
Take your time: Picking wallpaper is like picking paint. It takes a while to get exactly what you're looking for. It isn't something that I would recommend rushing.
Order samples: Dreaming over wallpaper for your nursery design is fun online, but when it comes time to start making decisions and finalizing color palettes, you definitely need to order samples of your wallpaper. You'll be able to tell so much more by actually holding the wallpaper in your hands. You can touch and feel it to make sure it is good quality. You'll also be able to have a better idea of the true colors and how they look in your space with the lighting.
Check the production time: Some wallpapers will be ready to ship in as little as 2-3 business days, but others may take a couple of months…which can really put a damper on things when you're working with a timeline like having a baby! Before you get your heart set on a certain wallpaper for your nursery, make sure it fits your timing.
Are you sold on adding wallpaper to your children's room? Which of these nursery wallpaper ideas was your favorite?