Creative Closet Wallpaper Ideas
Want to update your boring closet on a budget? What about adding wallpaper inside of your closet?! Get inspiration with these creative closet wallpaper ideas.
If you've spent a lot of time, energy, and money focused on a room makeover, chances are that you haven't given much thought to the closet. They are generally overlooked which dooms them to life as a boring and bland space with plain white walls.
But I'm here to tell you that if you spend just a tiny bit of energy thinking about the design of your closets, you'll be shocked at what a difference it makes to your entire room.
One quick way to instantly update a closet is by simply adding wallpaper to the walls! And because most closets are a smaller space means that you typically don't need to buy much wallpaper – so you can totally do this on a budget.
Whether you're tackling your bedroom closets or a hallway closet used as linen storage, you can transform it with just a little bit of wallpaper!
Wallpaper can add a decorative touch and bring color and pattern to the inside of a closet. It can be especially helpful in a closet that doesn't have much built-in shelving or storage because it helps make the space feel more intentional and finished, instead of forgotten.
This post contains affiliate links. Please, click here to read my disclosure policy.
What sort of wallpaper patterns goes well in a closet?
The world is literally your oyster because there are so many different types of wallpaper patterns. Ultimately the best wallpaper pattern for your closet is one that goes well with the rest of the room and one that you love.
But if you're stuck and overwhelmed with all of the choices, here are some considerations:
Geometric patterns will add a modern touch to a closet. Bold and bright geometric patterns can definitely make a statement, while a subtle geometric pattern can add some texture and texture without overwhelming the small space.
Stripes can be a classic and timeless choice for any space, including a closet. Vertical stripes will make the closet feel taller, while horizontal stripes will make it feel wider.
Floral or botanical prints can bring a soft and feminine touch to a closet. Large-scale floral patterns will create a dramatic look, while smaller floral patterns are a bit more subtle. Floral patterns can also vary greatly with color choices, which you'll notice in several of the closet wallpaper ideas shown below. You can have a floral pattern with black and white to fit in with a neutral color scheme or something with bright and bold colors, which completely changes the look.
Damask patterns will add a touch of elegance and sophistication to a closet. You may find that some damask wallpaper also features intricate designs and metallic elements.
Textured wallpaper, like grasscloth wallpaper or something with linen, will add depth and dimension to a closet. This type of wallpaper can bring a natural and organic feel to the space and generally stick with a soft and neutral color scheme.
Ready to give your closet an entirely different look? Let's get inspired with these closet wallpaper ideas!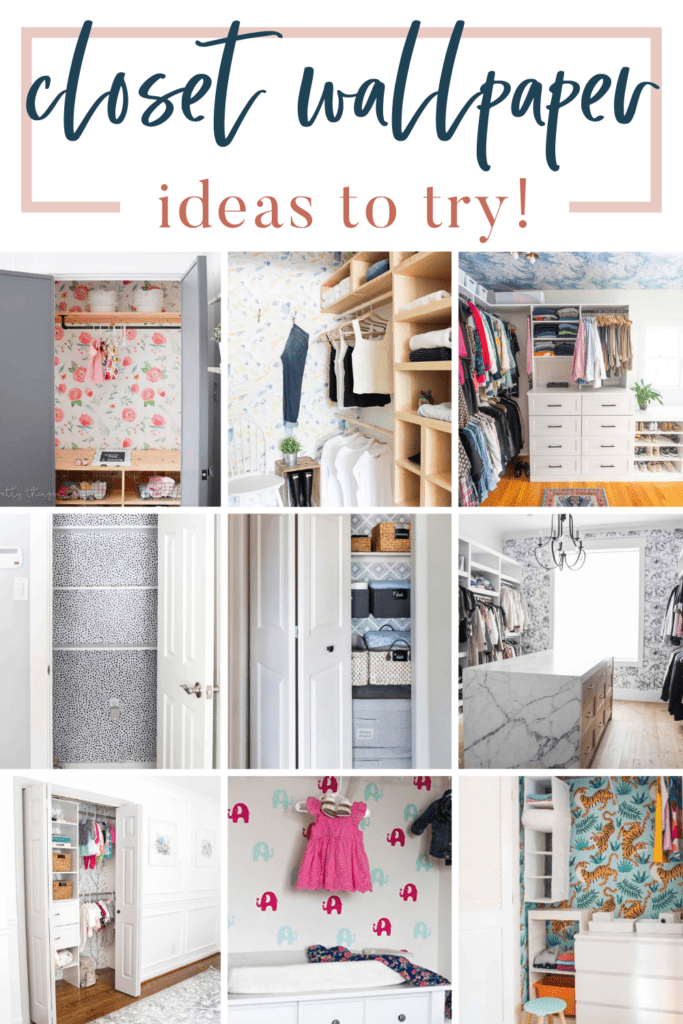 Which of these closet wallpaper ideas is your fave?