Dining Room Christmas Decor
Today I'm showing you how we decorate our dining room for Christmas! I have a ton of dining room Christmas decor and love putting it up every year!
I can't believe Christmas is just a little over a week away!  We still have so much shopping to do.  Then, inevitably wrapping all the gifts starting at 10 pm on Christmas Eve, and of course, putting up the dining room Christmas decor.
Christmas is such a magical time with these kiddos, especially the boys right now. It is Evie's first Christmas. But, she's still totally unaware of what that means. The boys though? They are going to be SO cute on Christmas morning. I can't wait!
Liam especially has been really into decorating this year. He's my little helper. He helped put the lights on the tree, took his time finding the perfect place for each ornament, and helped me set up the nativity.
While the living room is kind of a Christmas explosion, the dining room is a little more subtly decorated. Simple greens and minimal decorations are perfect for the space.
This post contains affiliate links. Please, click here to read my disclosure policy.
Setting up a Minimalist Dining Room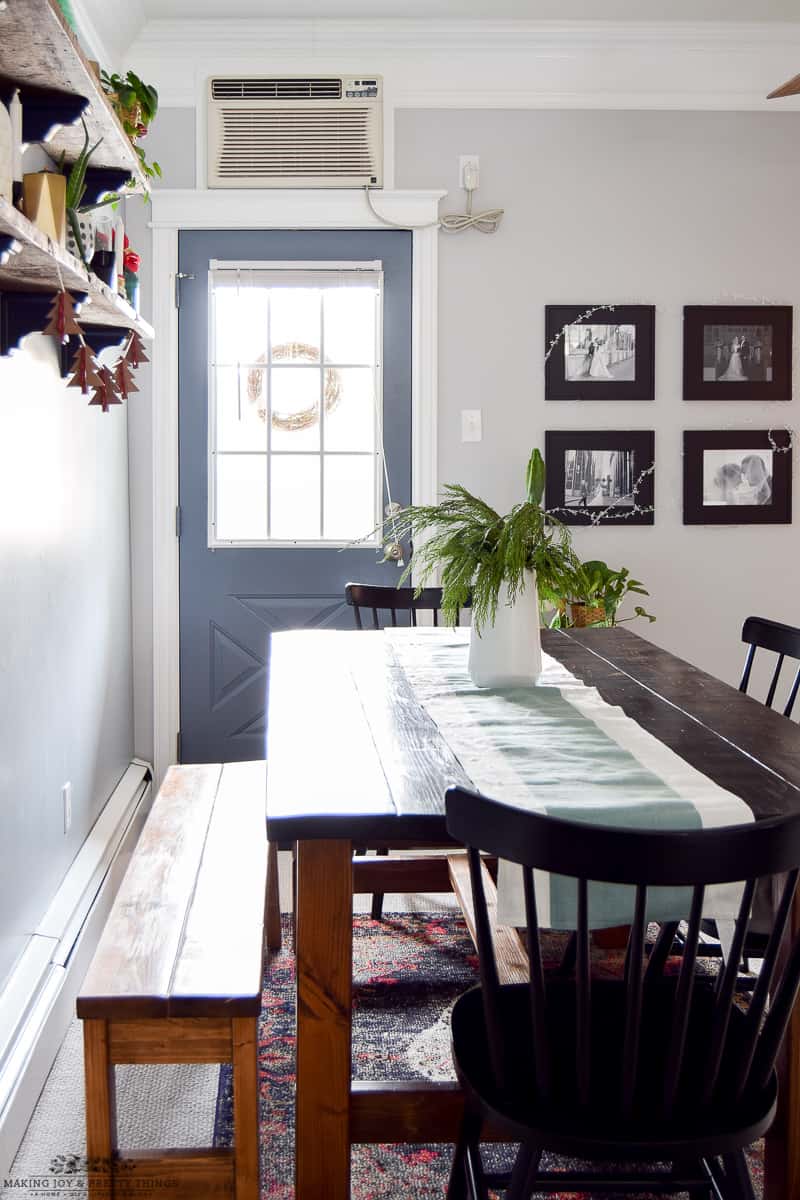 Table runner | White Vase (Similar) | Dining Chairs
The dining room looks a little different than the last time you saw it!
I've been busy updating everything to reflect a more modern style. I'm loving it!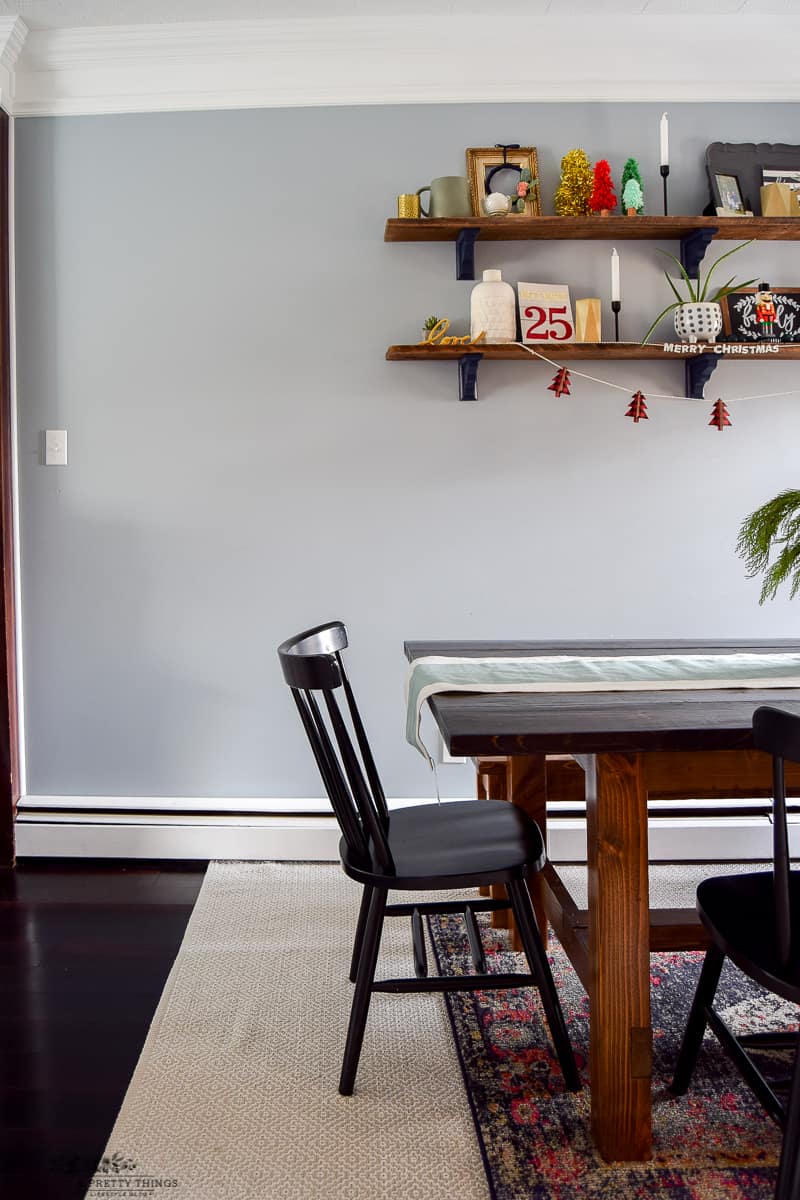 We made our own table and bench! It's proof that if you nag long enough, stuff finally gets done 😉
The chairs are perfecttttt like exactly what I had envisioned for the space.
Simplistic Dining Room Christmas Decor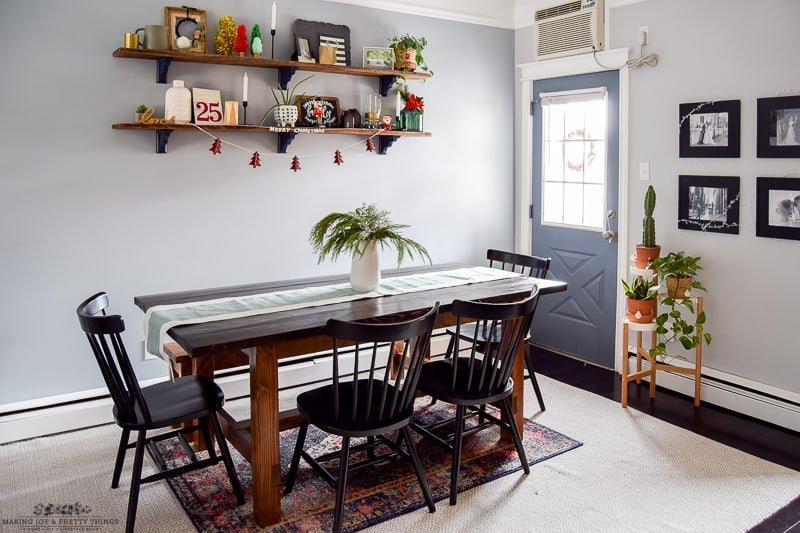 Probably the most "controversial" update to the dining room was the addition of layered rugs!  I audibly heard the gasps from people wondering why I would do something like that with kids.  The horror!
We've had them for a few months now and they've held up SO well. Was it a risky decision? Probably.
Decorating with Kids for Christmas
I'm a true believer that you can't base your home decor decisions on having kids.  Some things need to be changed.  Like we can't have a coffee table and breakable stuff within arm's reach of the kids.  We compromise there.
But, if I did everything based on the fact that we have kids, we would all be perpetually wrapped in bubble wrap, taking a Lysol bath, and wearing masks and helmets. 
While some of us may need that anymore (…..Charles….), it's my house, too and I want it to look pretty.  Your home can be nice AND have kids.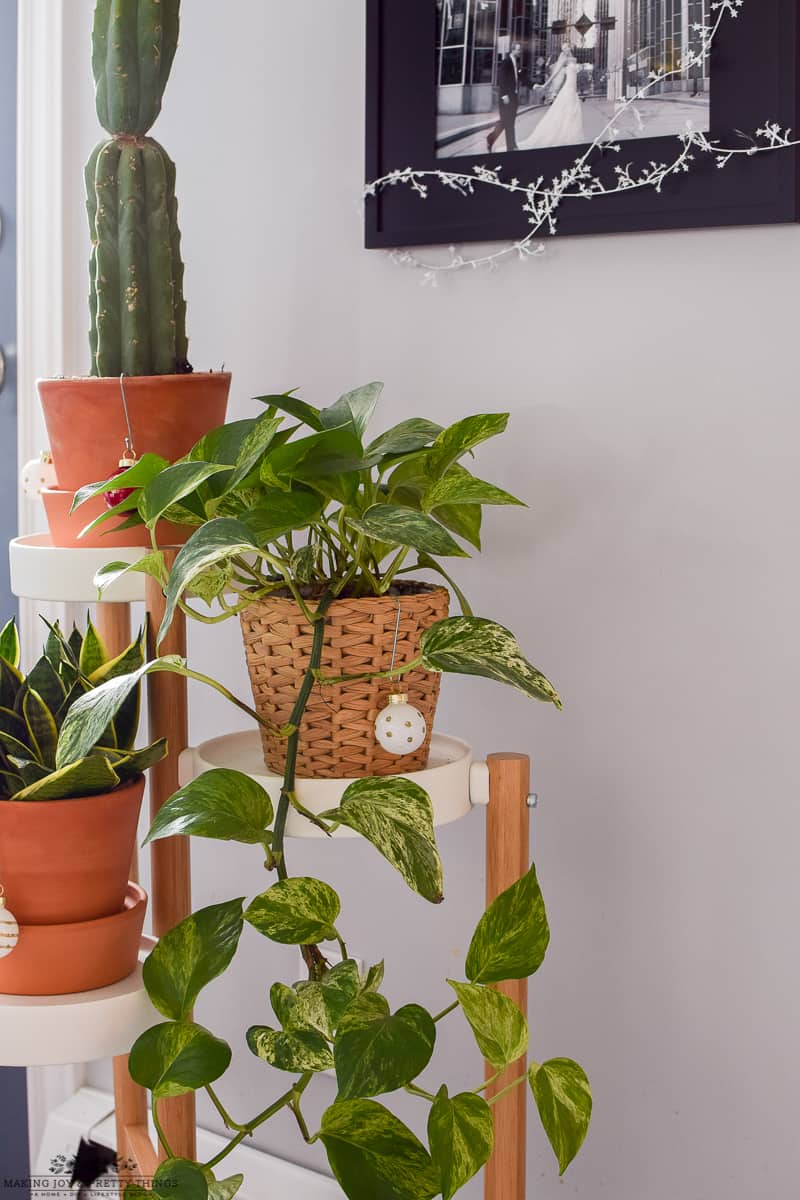 Anyway…..
Back to the Christmas decorating!
We added a little gallery wall with black matted frames.  It's a simple, minimalistic look complete with black and white photos of our wedding day that I love.
I used a little white star garland from Target to add a little Christmas cheer around them.
Incorporating Plants in Christmas Decor
That plant stand is one of my favorite IKEA finds. I shopped at my local nursery for some new plants because a girl can't ever have enough plants. For real.
I dropped that cactus ON THE WAY HOME from the store and was so sad. But, even though it's bruised, it's grown about an inch since I've had it!
I added some cute little ornaments to the pots to dress them up a bit.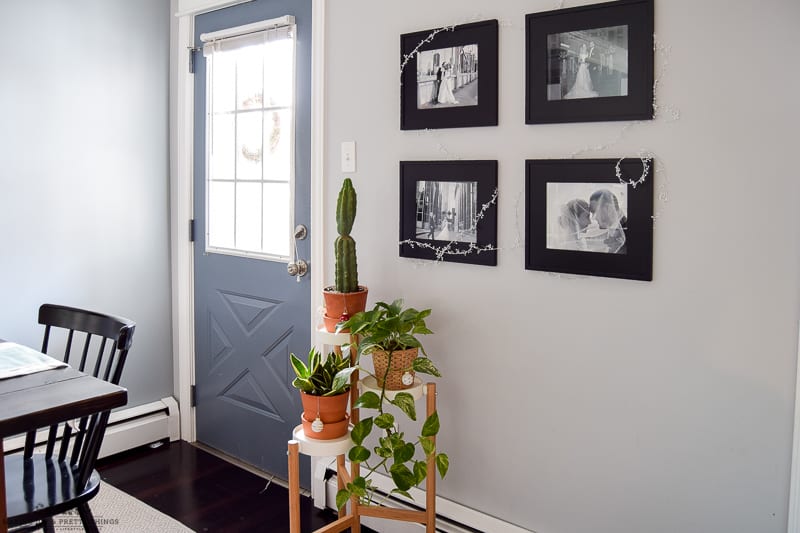 Plant Stand (Available on Amazon) | Pots | Woven Pot | Frames (Michaels in store) | White Star Garland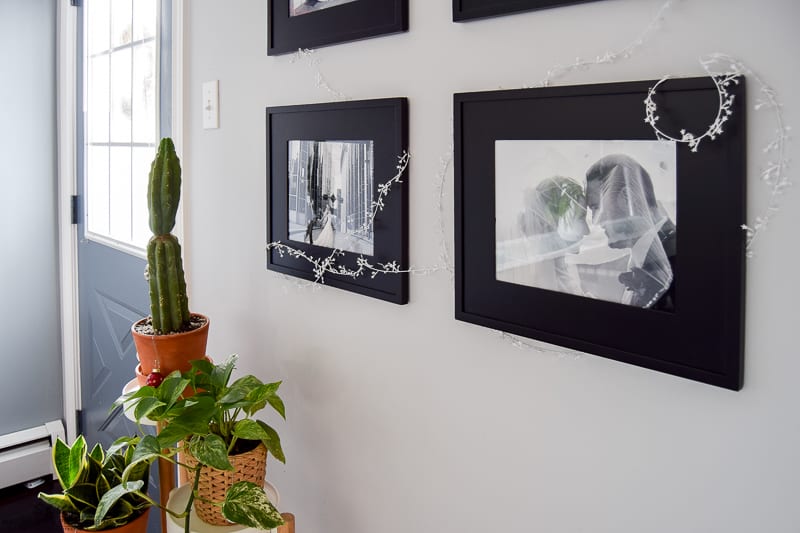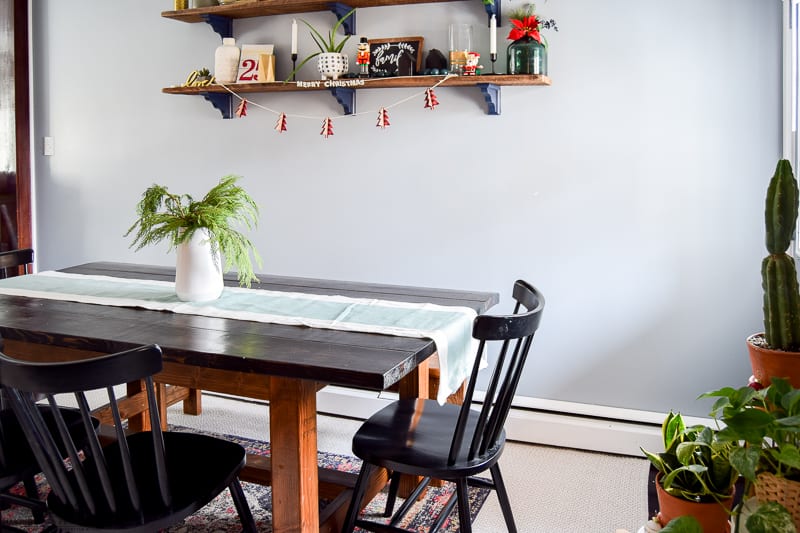 Back to the table, I added some fresh green cedar clippings to water in a vase. Couldn't get any more simple than that! You could even clip some branches from your tree 🙂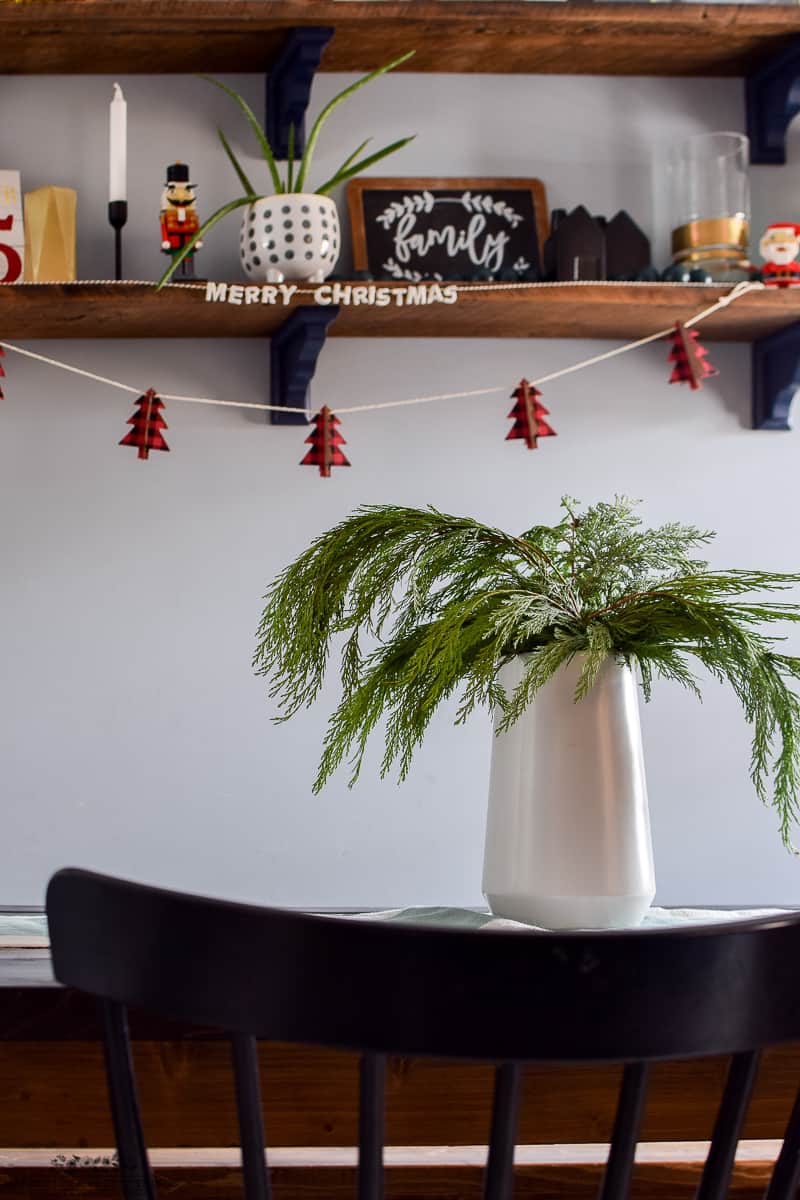 The DIY farmhouse shelves have been updated a bit since the last time you saw them. I wanted to completely change out the corbels for a more modern, metal shelf bracket.
But, I was told that was too much work. So instead I painted them! I'll share more about that later and how I style them normally.
For Christmas, I added some of my husband's Lego Christmas stuff.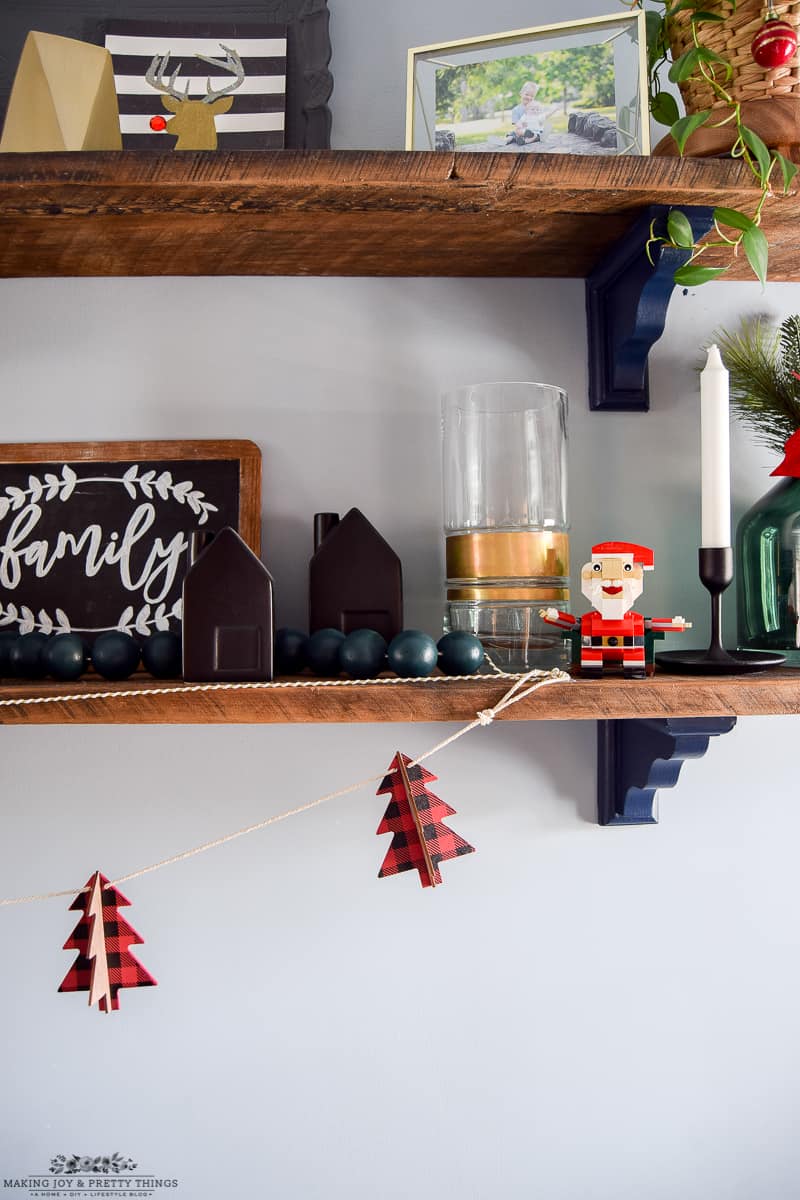 I love the look of layering garlands.  I made the Scandinavian-style "Merry Christmas" clay garland and layered it with some buffalo check tree garland I got from Target last year.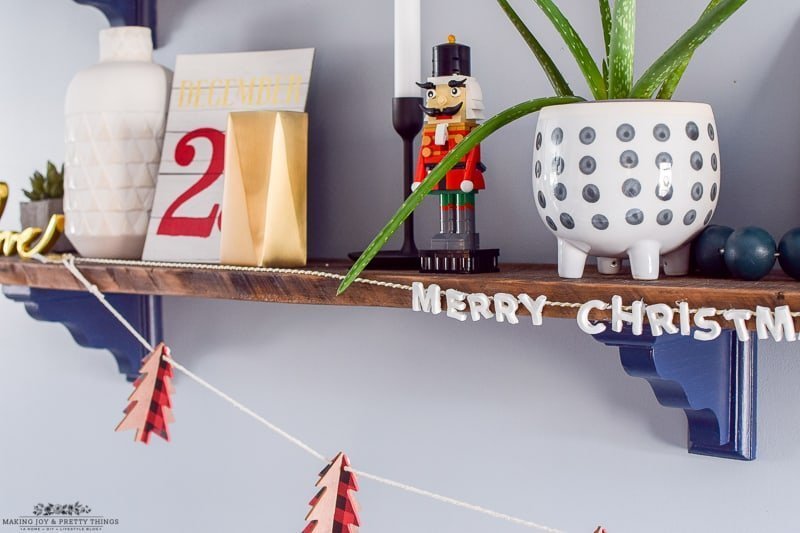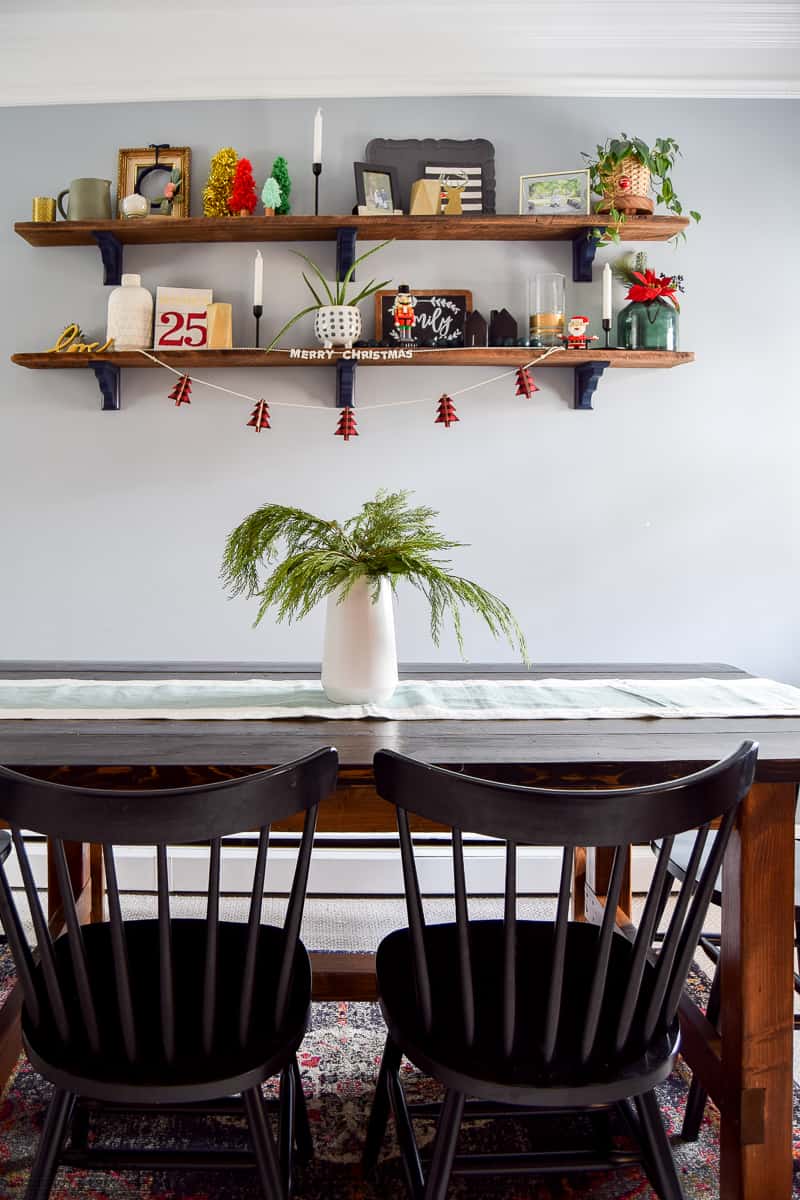 Dotted planter | "Family" chalkboard sign" | Black houses | Brass Wrap Vase (large)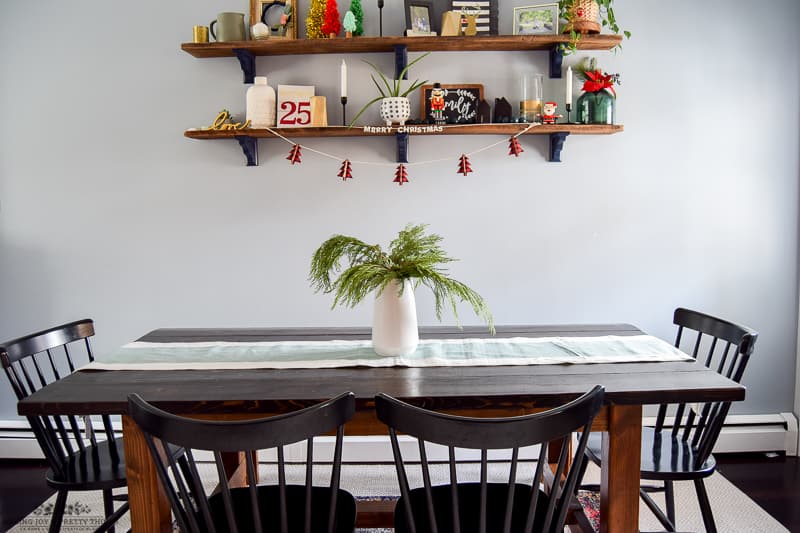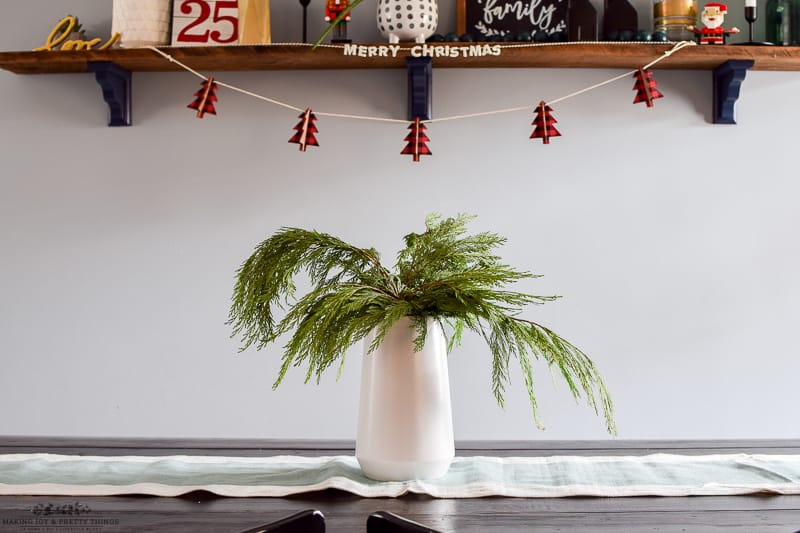 For the shelves, I made some DIY Christmas trees and a few DIY signs from a few years ago to complete the look. For the most part, I kept it pretty simple.
I did add a little ornament to my favorite plant 🙂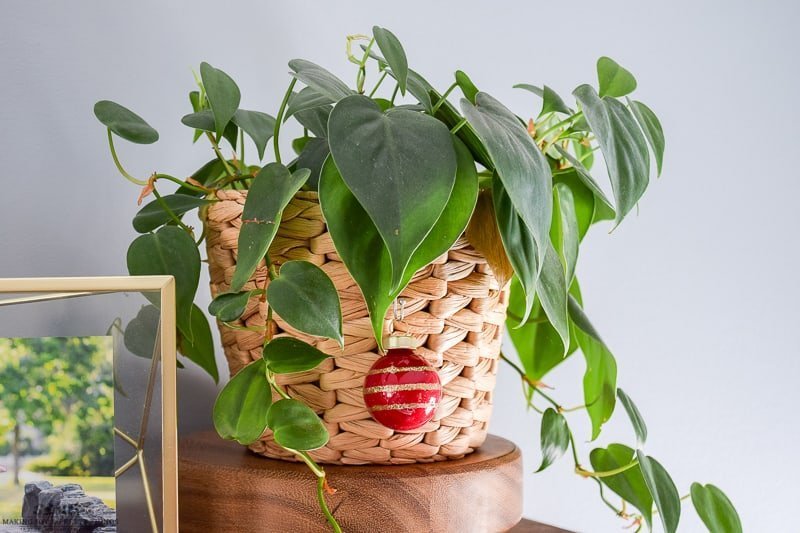 Gold Frame | Footed Tray | Mini Ornaments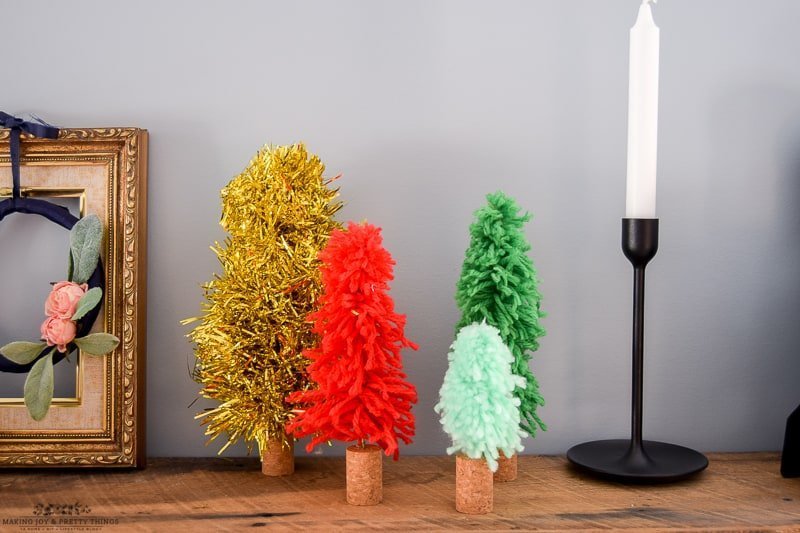 Candleholders | DIY Embroidery Hoop Wreath
Kept the oversized wood bead garland up there, too!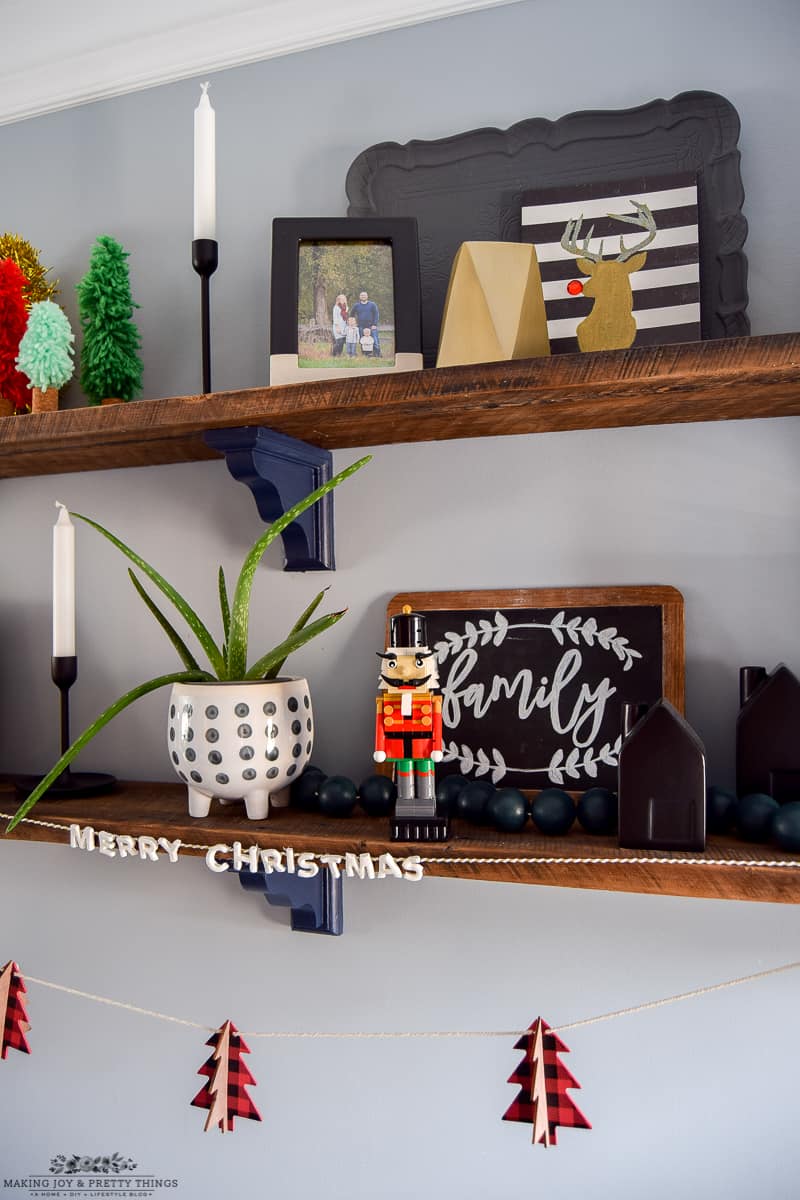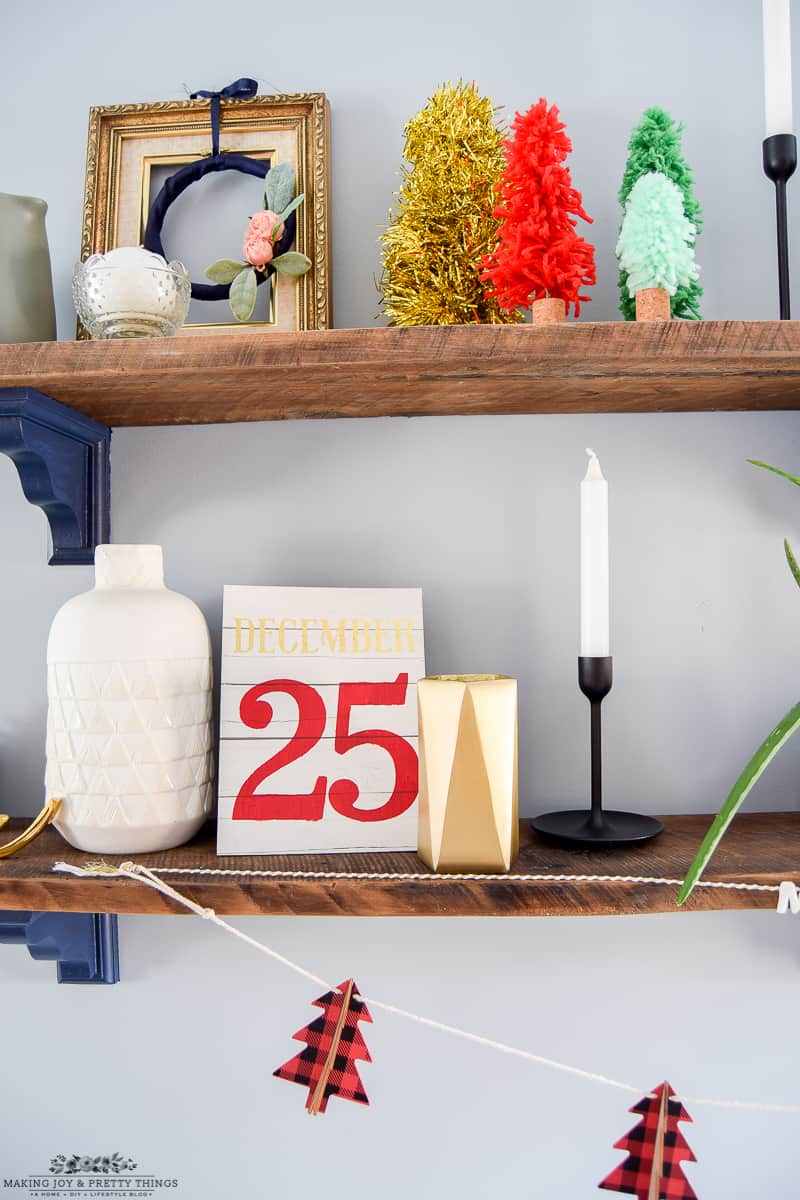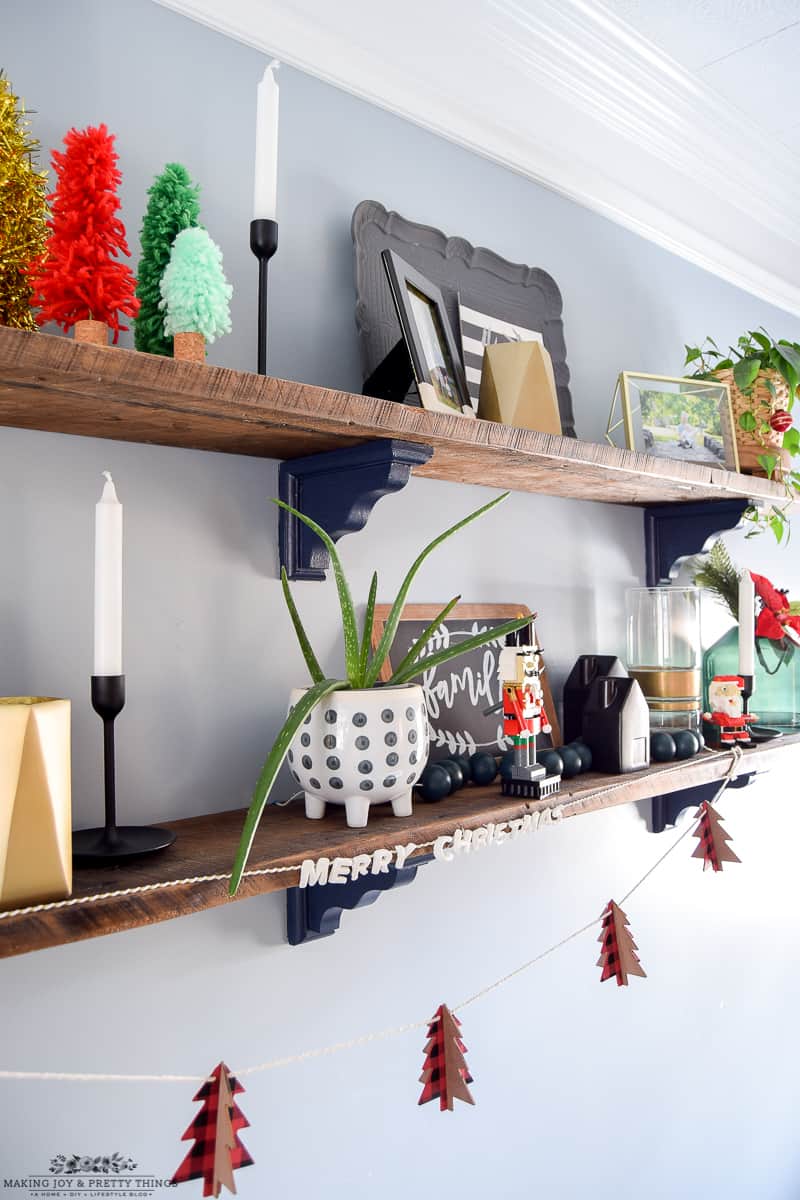 A few more shots of the whole room…
Love that air conditioner on the wall right? (eye roll emoji)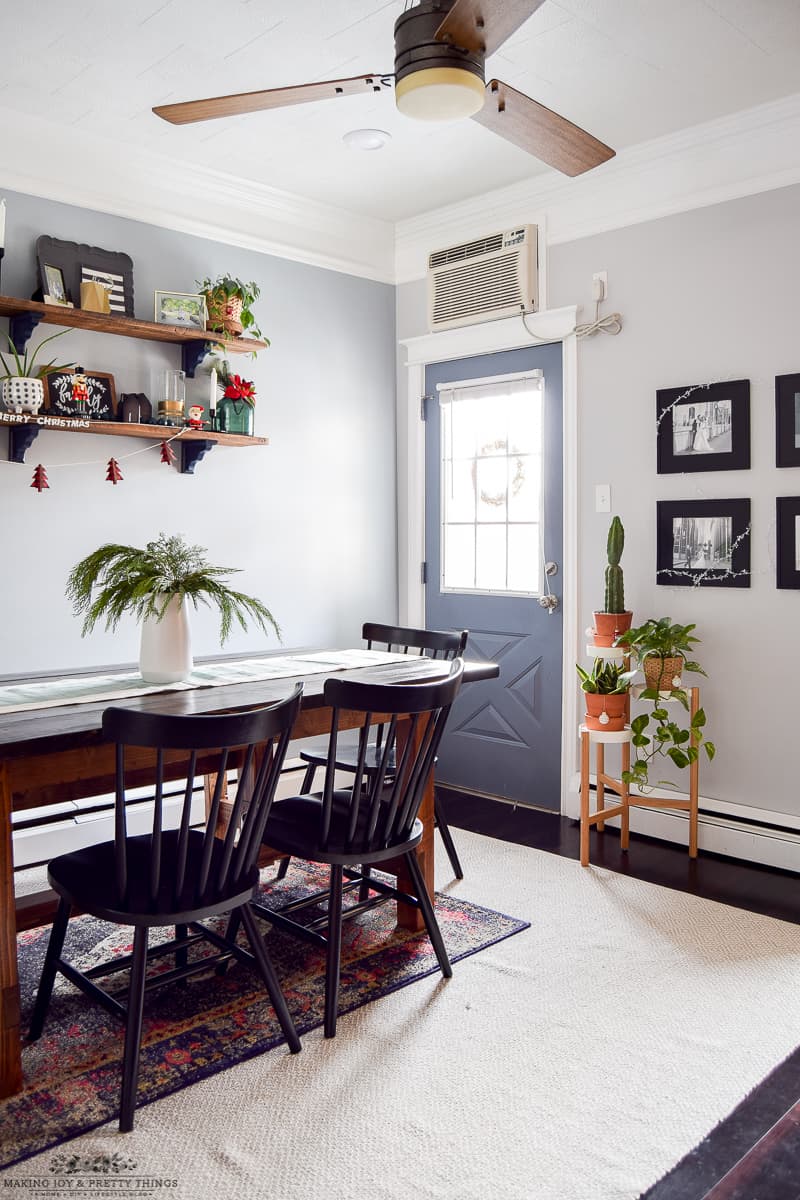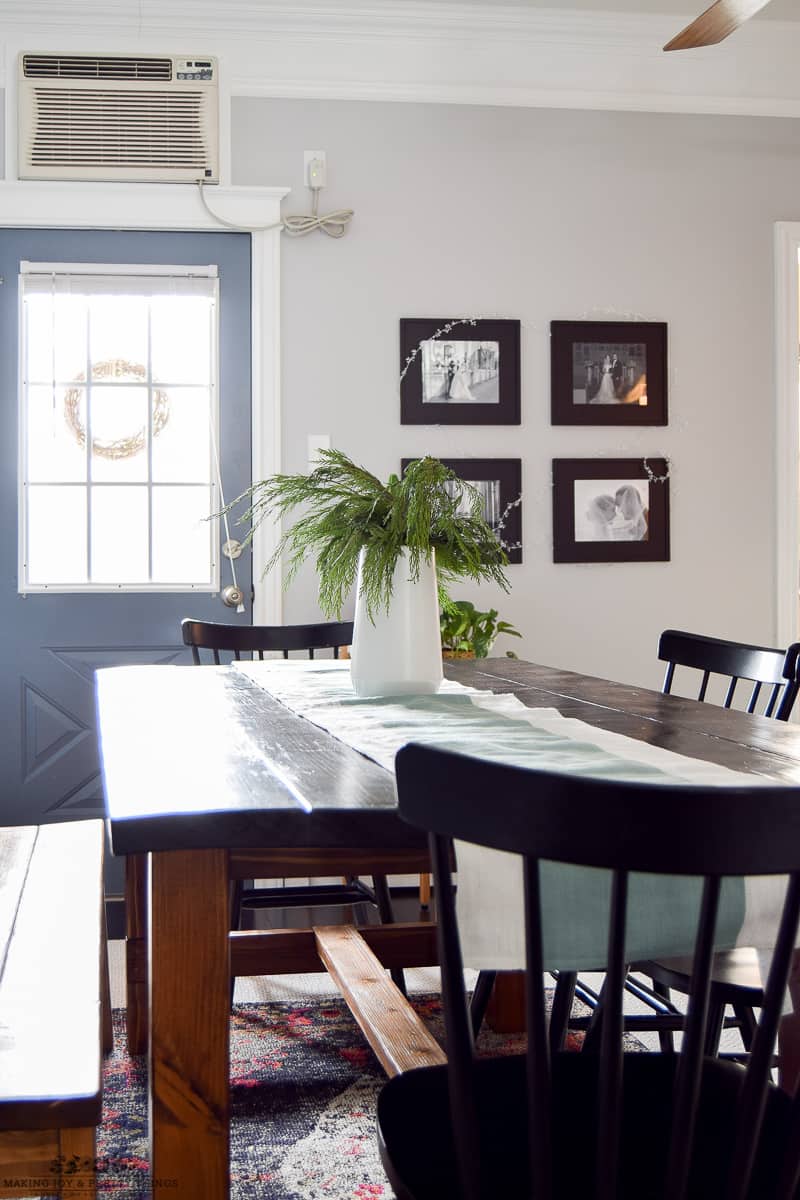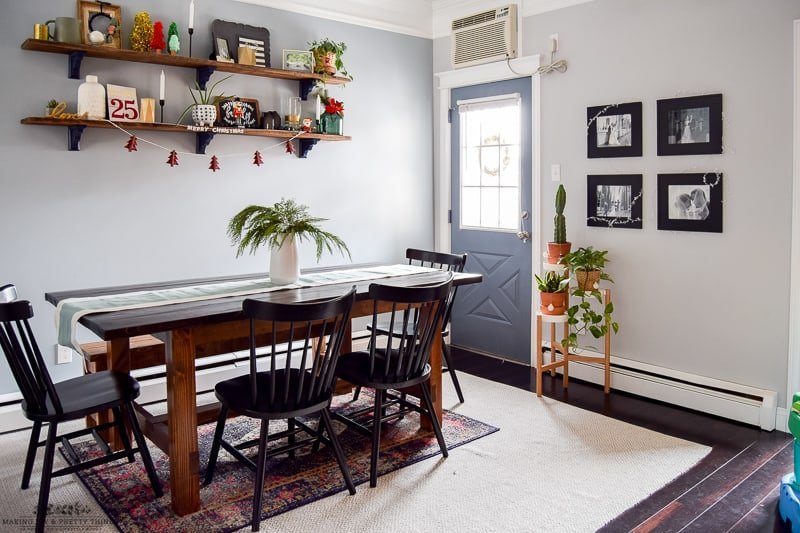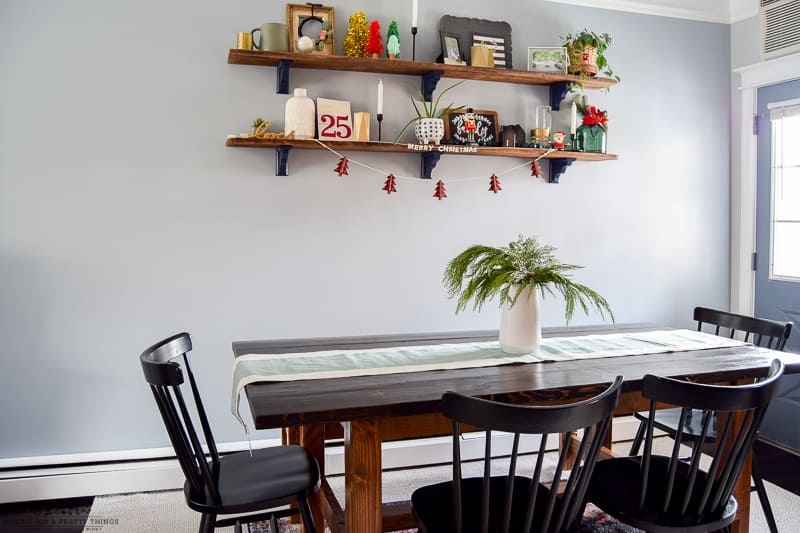 Shop the post below!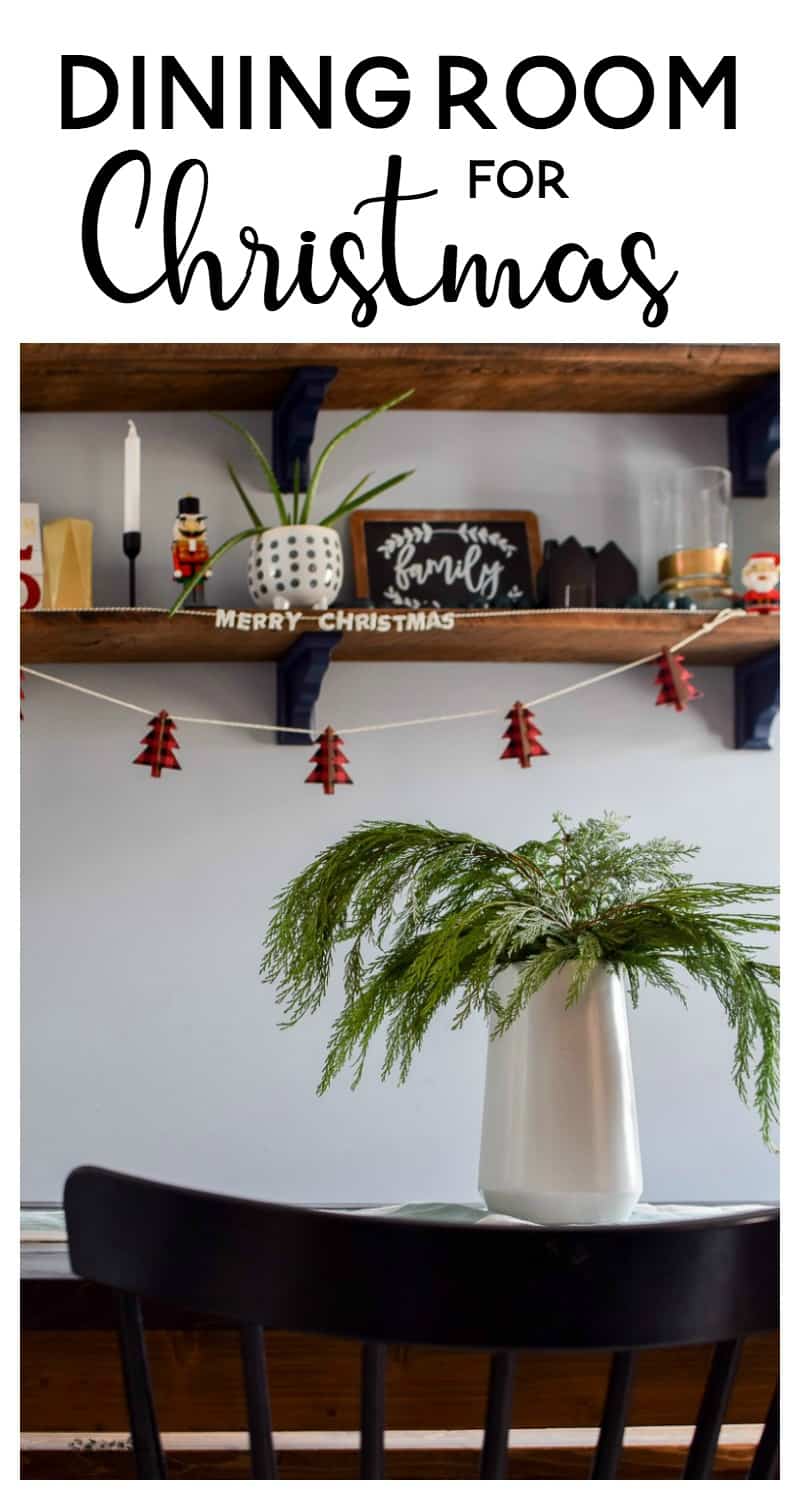 Wishing you a joyful day!