A Farmhouse Nursery Dresser Makeover
Learn how we transformed a plain old dresser into a bright and colorful farmhouse nursery dresser! This DIY pink dresser tutorial is easy and fun.
It's amazing what a coat of paint will do!  I can't wait to share how we transformed a dated, beat-up dresser into a farmhouse nursery dresser.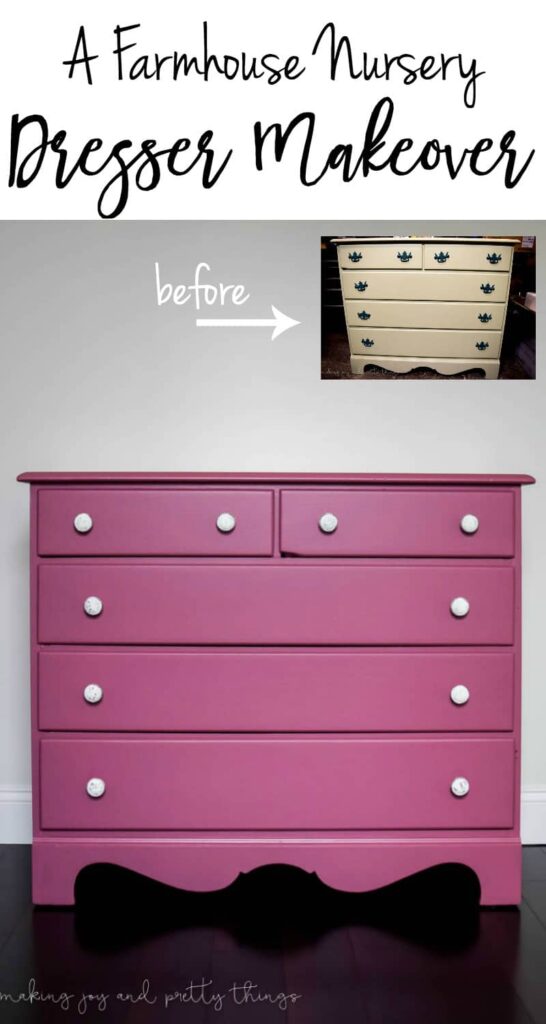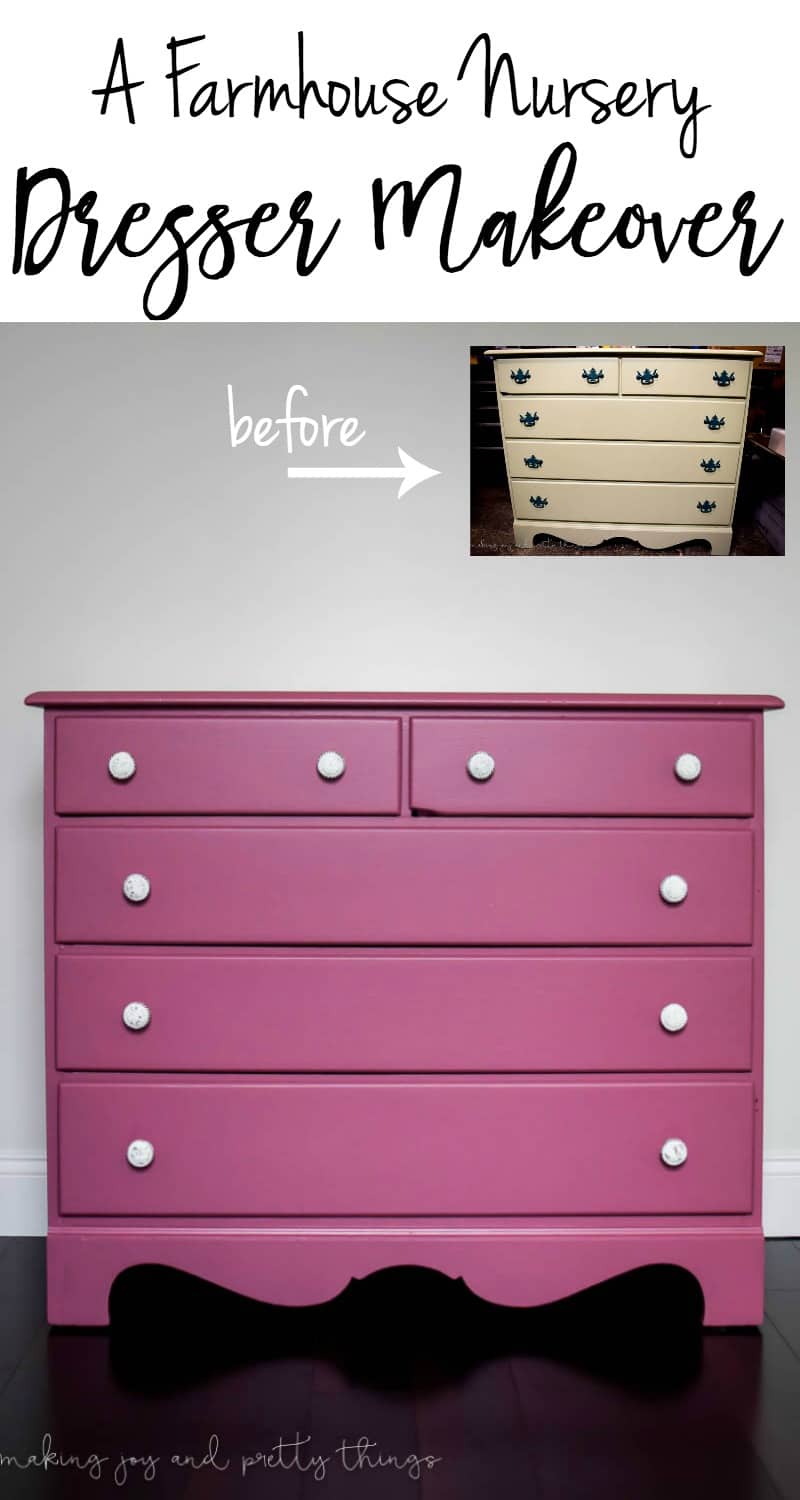 There's no denying the power of paint. A single coat of paint can transform even the ugliest, most dated piece into something beautiful.
Better yet, it's probably the easiest and most cost-effective way to transform anything in your home. A room, a dresser, a picture frame. Imagine the difference paint can make.
But, I can't say I'm still not completely shocked by how incredible the dresser for our nursery looks after some paint…
I had been looking on Craigslist for a few weeks for a dresser when I came across this beauty…
DIY Pink Nursery Dresser: Before Pictures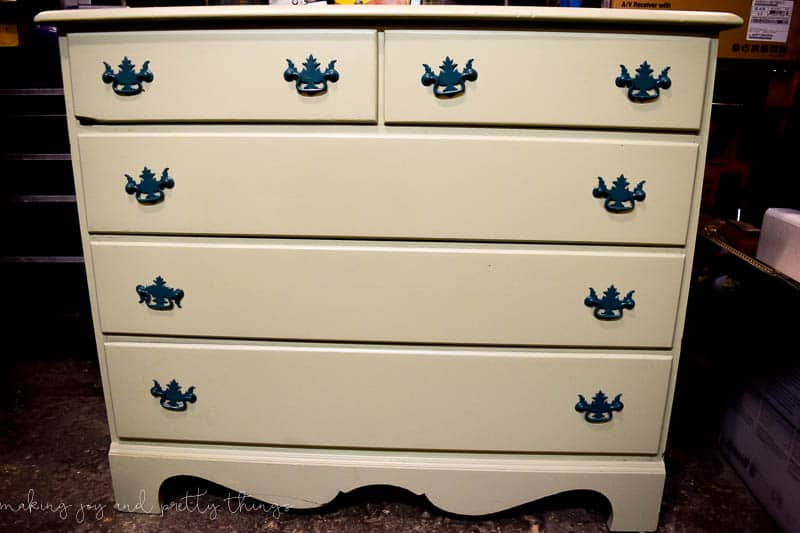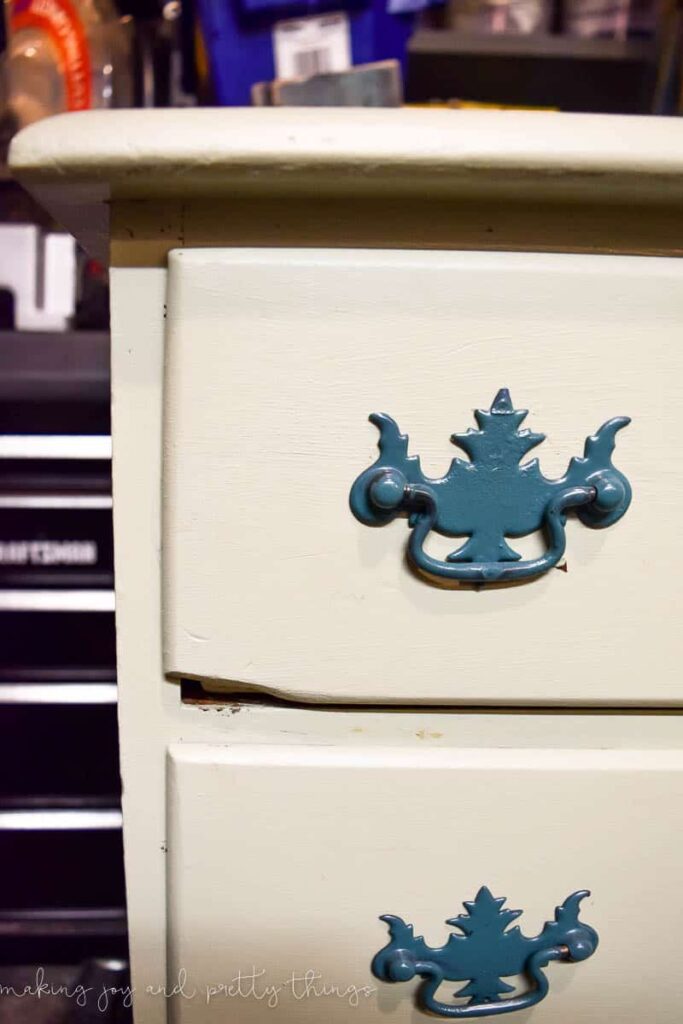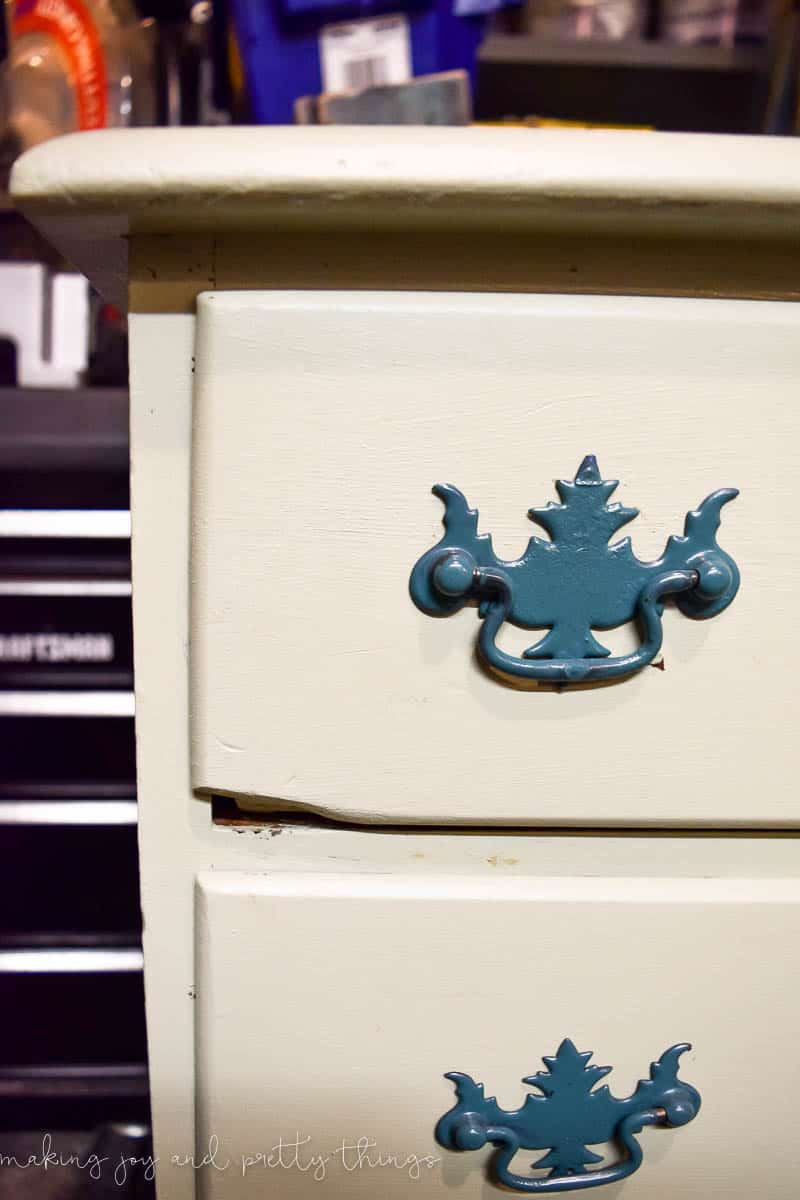 And I mean beauty both seriously and sarcastically.  It is obviously seen better days.  
The old green or yellowish green color (puke color?) with the blue pulls straight from the 90s doesn't make it outwardly beautiful.
But, I didn't see that. I saw its shape. The pretty arch at the bottom, the small piece chipped from the top left drawer,  the random marks, and gauges on its surface.  Oh, if furniture could talk!  Imagine where this piece had been!
I knew as soon as I saw it in person it would be perfect for our farmhouse nursery. We paid $60 USD for it, which was admittedly more than I wanted to spend. But, it's a solid wood piece with plenty of storage that we can use for years to come.
This post contains affiliate links. Please, click here to read my disclosure policy.
DIY Pink Dresser Makeover: How to Update a Thrifted Dresser
We used spackling paste to fill in some of the bigger gauges on the top of the dresser.  
After it dried, we sanded the whole dresser down (especially focusing on the parts where we had used the spackling paste).
With the sanding, we were just trying to get a smooth surface and remove any grim and sealer from the surface. We weren't necessarily trying to sand off all of the previous layers of paint and get down to raw wood. That isn't necessary.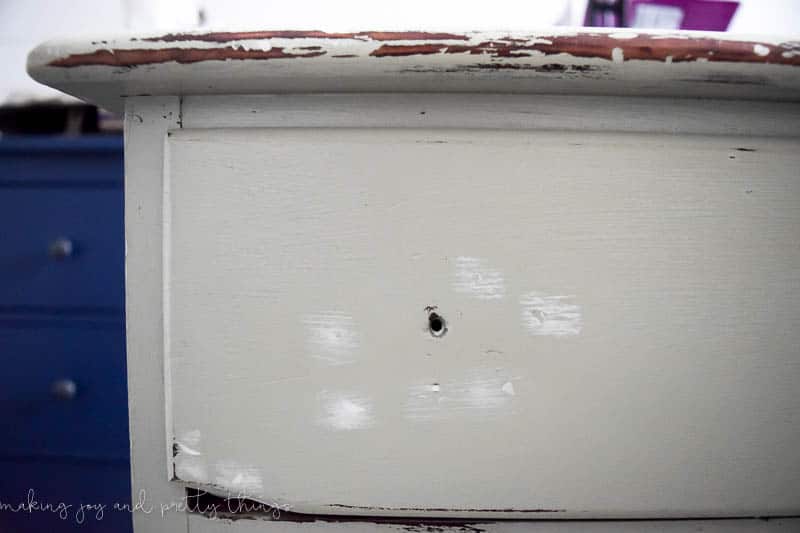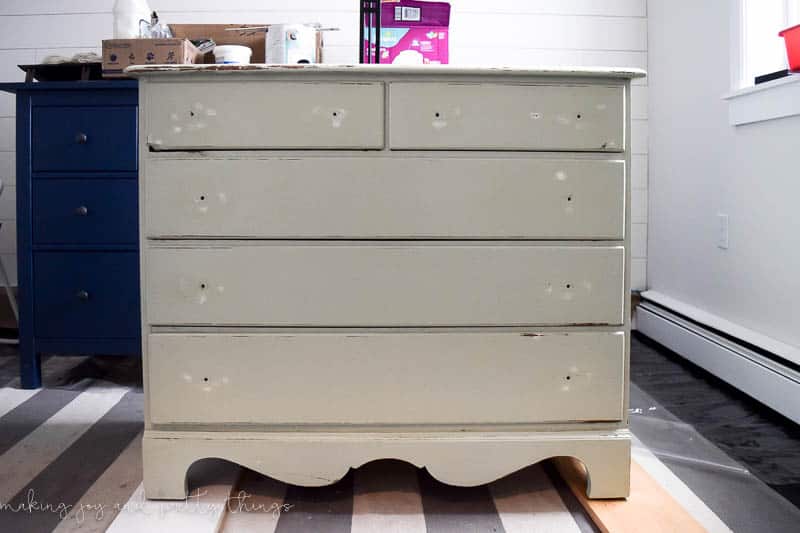 Once it was sanded, it was ready to be painted!
Farmhouse Nursery Design Plans
I talked a bit about the color decision in the design plan and Instagram, but, I was so torn about what color to paint it.
Most of the nursery was neutral. The rug, the crib, the rocker, the curtains. Even the shiplap wall was a creamy off-white (Alabaster by Sherwin-Williams).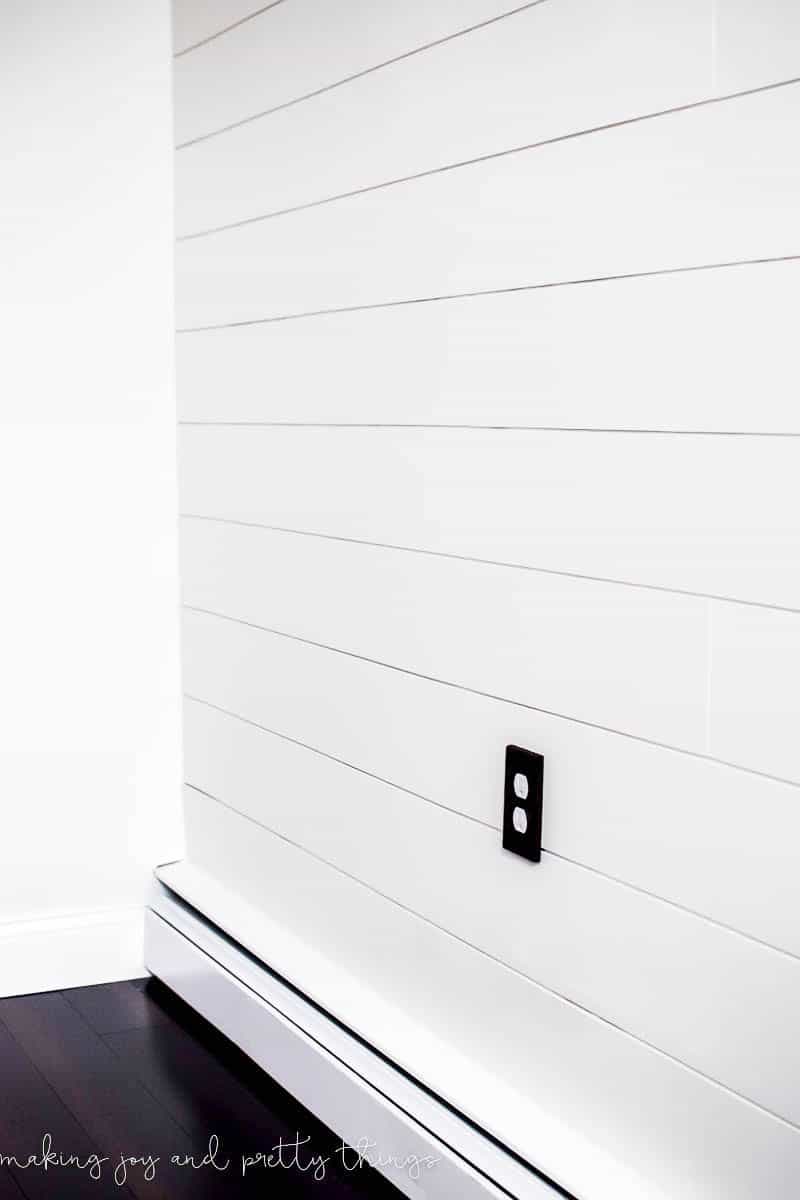 I wanted to go bold. Which is terrifying to me when it comes to choosing paint. I like to stick to anything gray.
After narrowing it down to two shades of pink (moss rose and rose embroidery)….

The Finished Product: DIY Pink Dresser for Our Farmhouse Nursery
I actually went with the darker of the two … MOSS ROSE!!
You guys, I was seriously so nervous to see what this color would look like on the dresser.  Would I hate it?  
Could it be painted a gray color over the dark pink after I inevitably freaked over the boldness of the color?
Well, much to my surprise, I LOVE LOVE LOVE the color.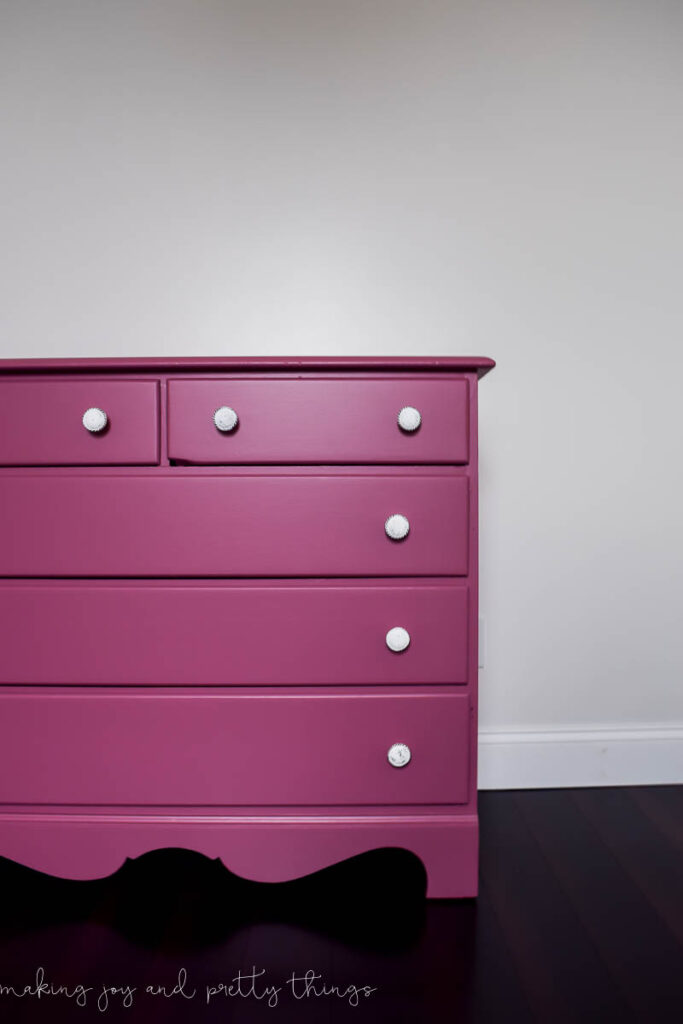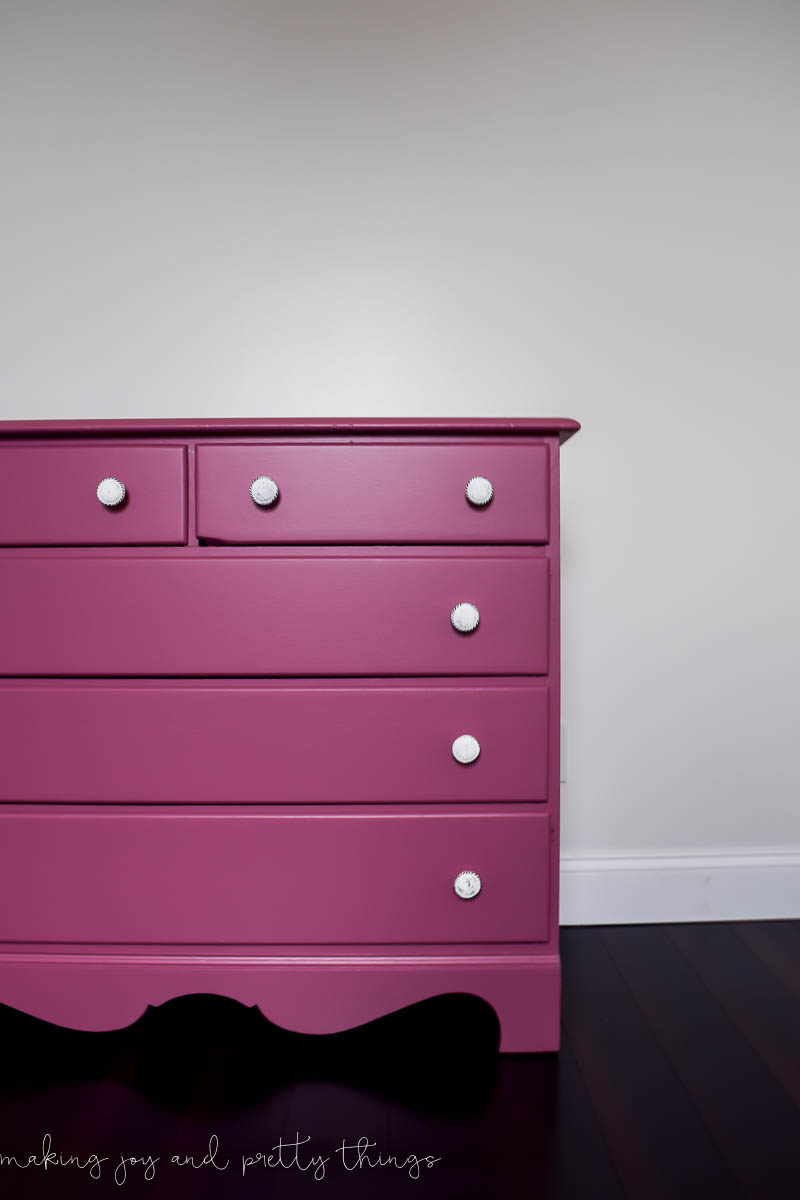 It looks so perfect against the creamy walls and new shiplap wall we just installed.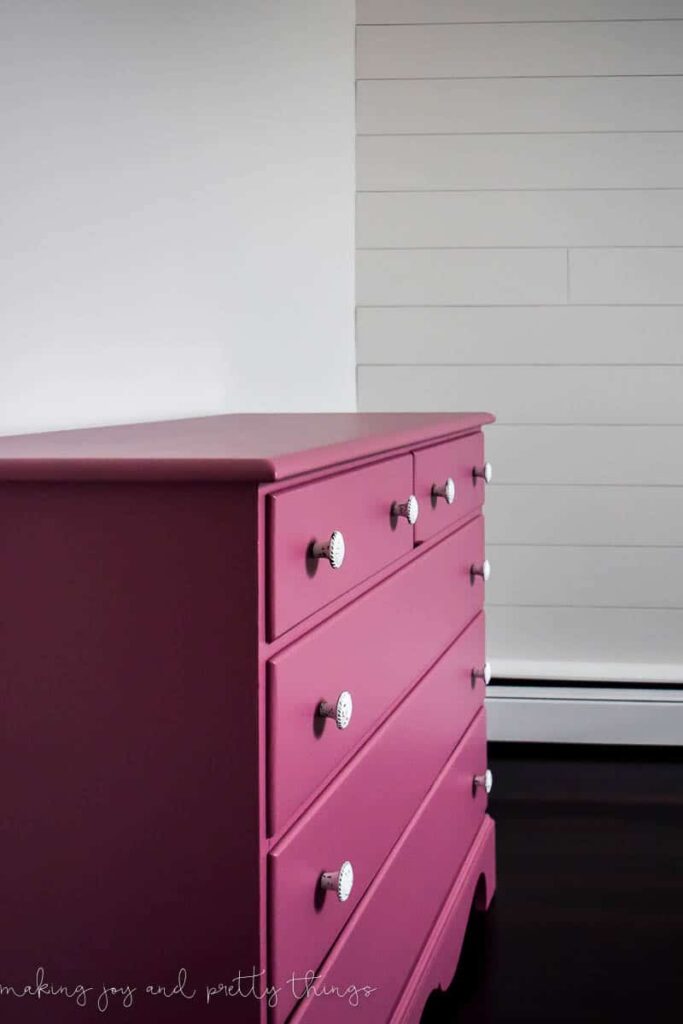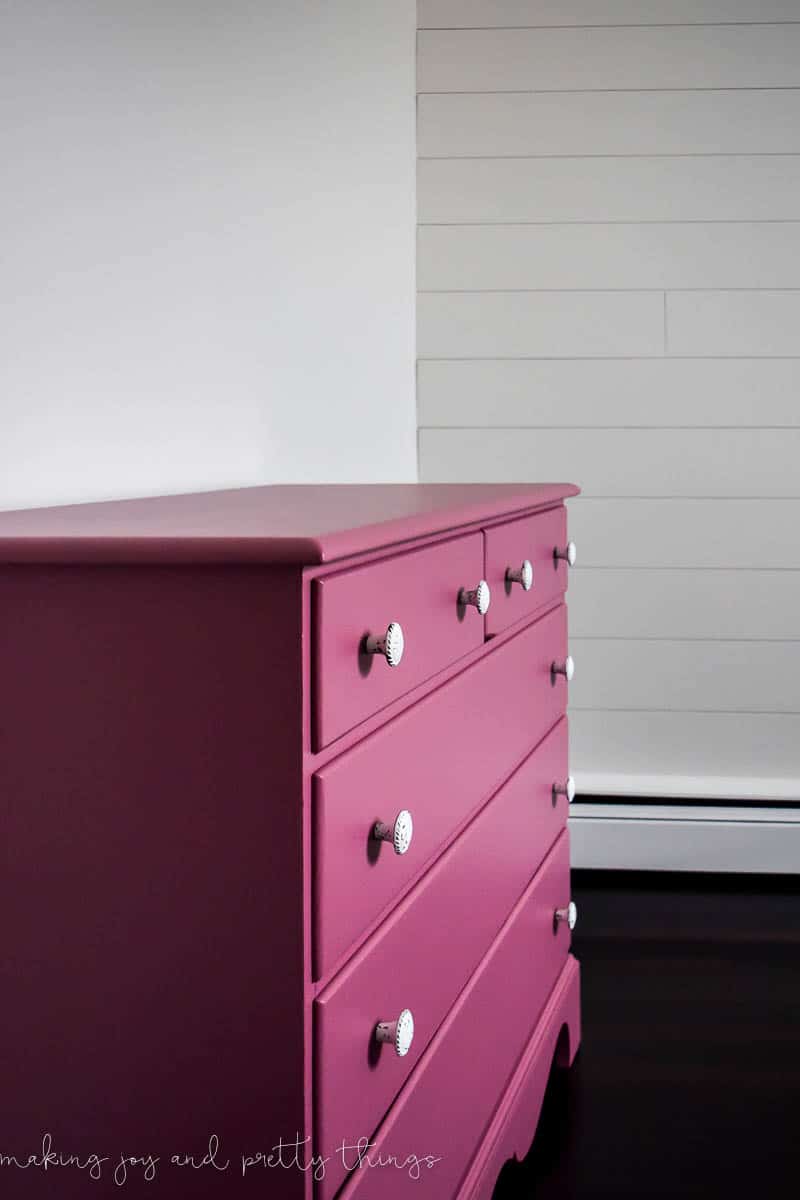 Of course, I traded out the tired blue handles with some rustic knobs I found at Hobby Lobby (for 50% off, seriously don't buy knobs unless they're on sale).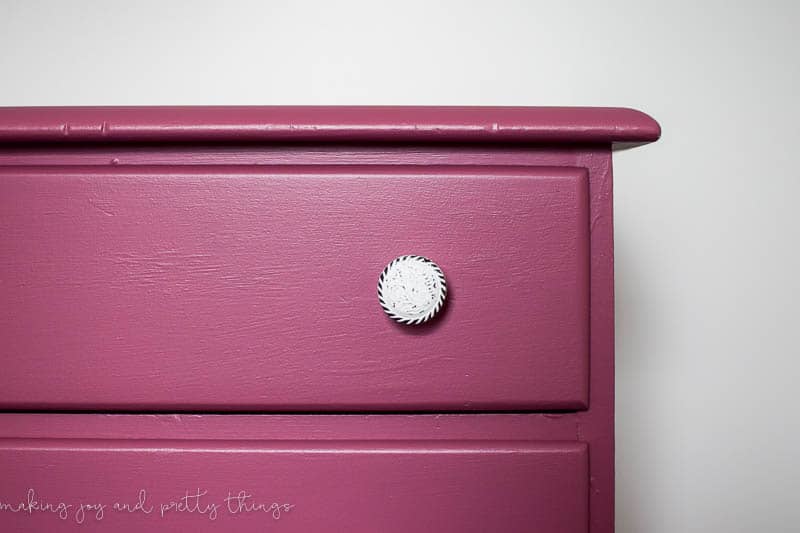 I went back and forth on whether I wanted to sand it down after painting.  This would have given it a more distressed look, similar to this furniture project.  
I decided not to in the end.  But, I don't have a particularly good reason as to why I chose not to distress it except I loved how it looked after painting 🙂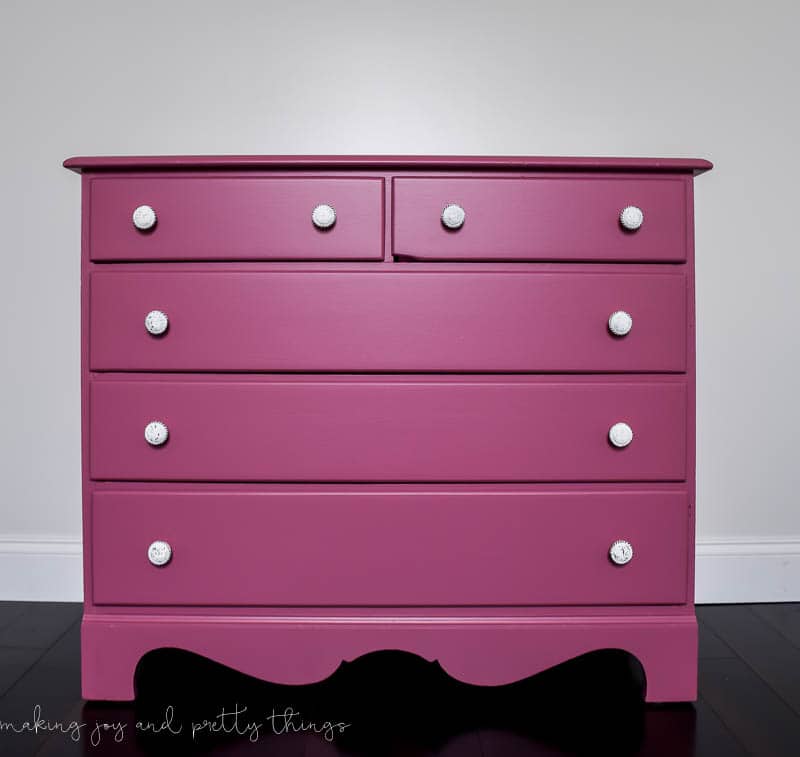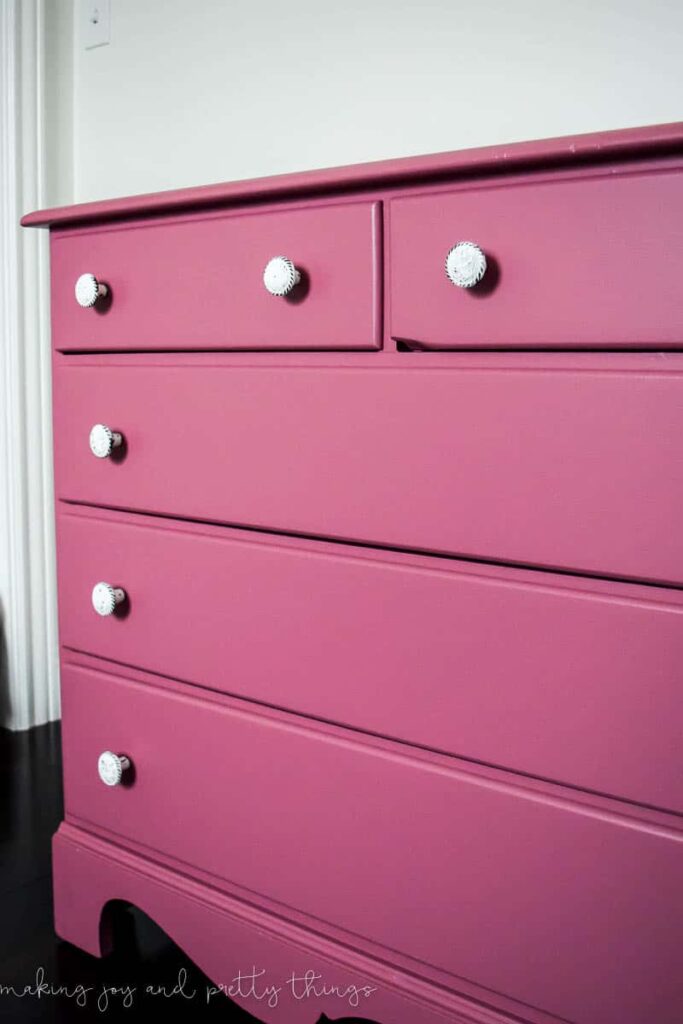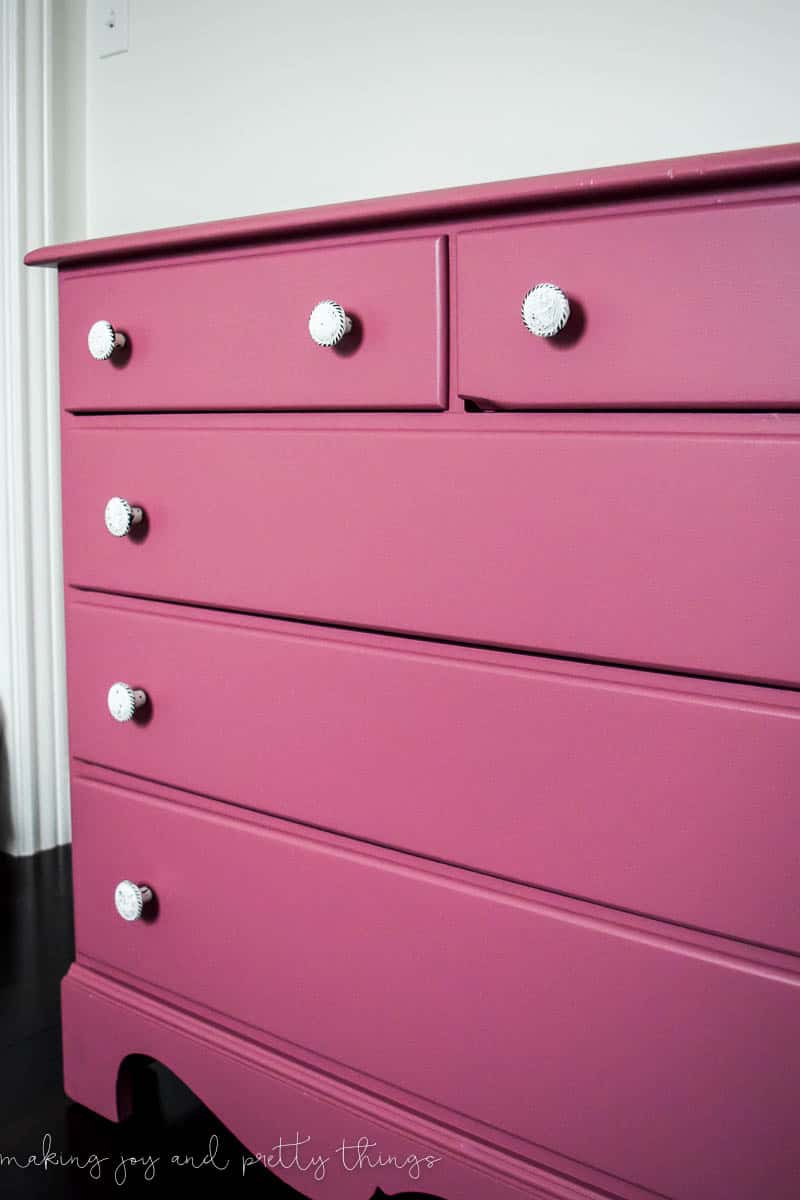 Want more nursery updates? Check out these posts:
I am SO happy with the dresser makeover. I could not picture it looking better than it does.
Do you think you could go bold with a furniture makeover? Or are you a gray kinda girl, too 🙂
Wishing you a joyful day!