How to Make a DIY Triangle Shelf Planter
I can't wait to share how I made the cutest DIY triangle shelf planter using a $3 Dollar Store triangle shelf and an old play-doh container.
Last month, y'all voted for us to make something from the good ole Dollar Store. I can't say I'm a frequent Dollar Store shopper. But I had a really good time making this DIY triangle shelf.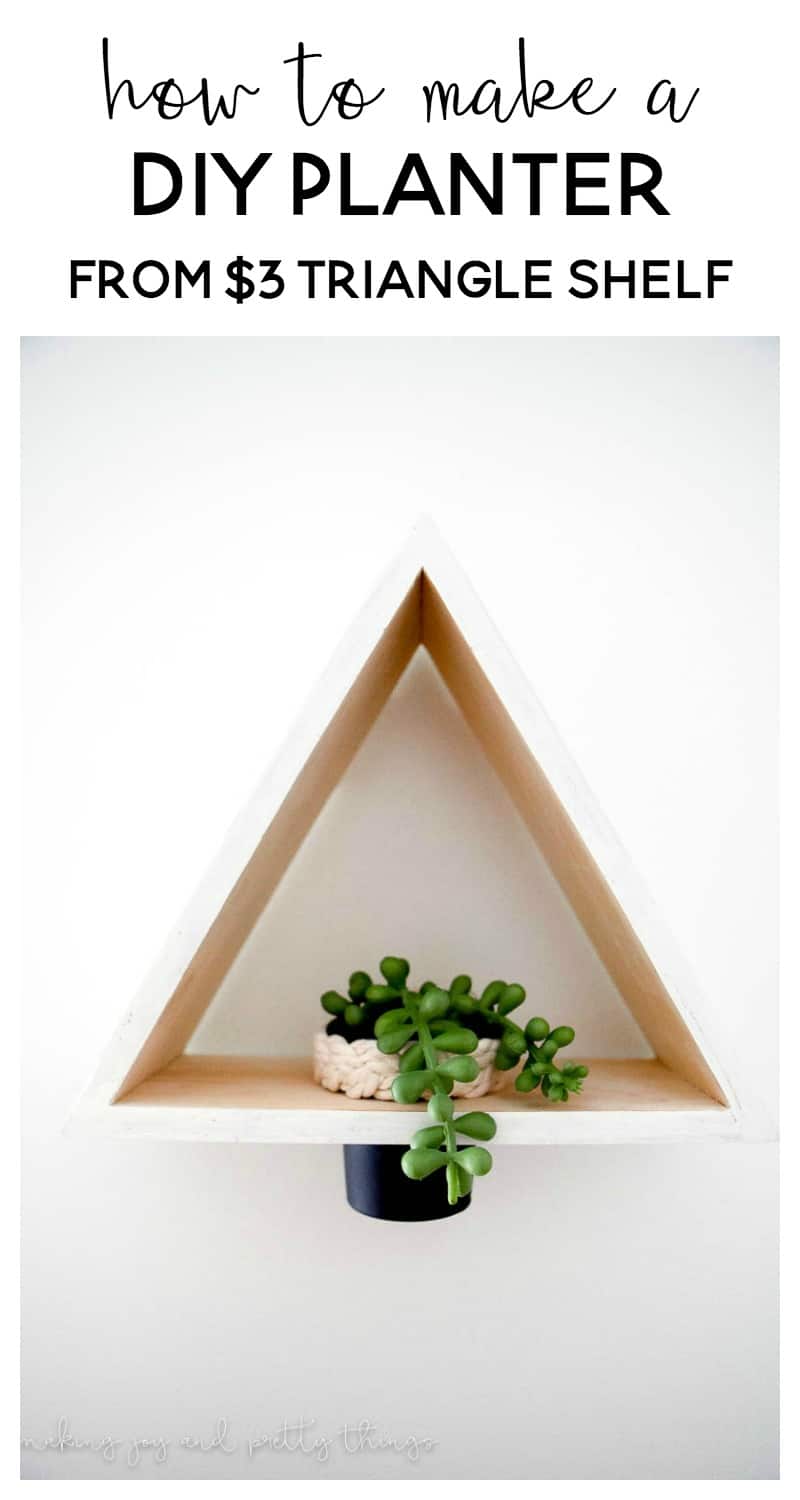 Welcome back for another month of Create with Me DIY Challenge! You can catch up on past months here.
Even with my husband and I to referee, the boys begged for every.little.thing in the store. Craziness.
After we got them a kickball, bubbles, and 4 water guns (I'm not kidding), I had approximately 30 seconds to find something. That's when I spotted the cutest triangle shelves. I mean, it was like hitting the Dollar Store lottery.
I should mention, that we went to Five Below, which is basically the same thing as the Dollar Store.  But, if you're looking for the cute triangle shelf (which has SO much potential) head to Five Below.
This post contains affiliate links. Please, click here to read my disclosure policy.
Supplies for DIY Triangle Shelf:
Thick rope
Triangle Shelf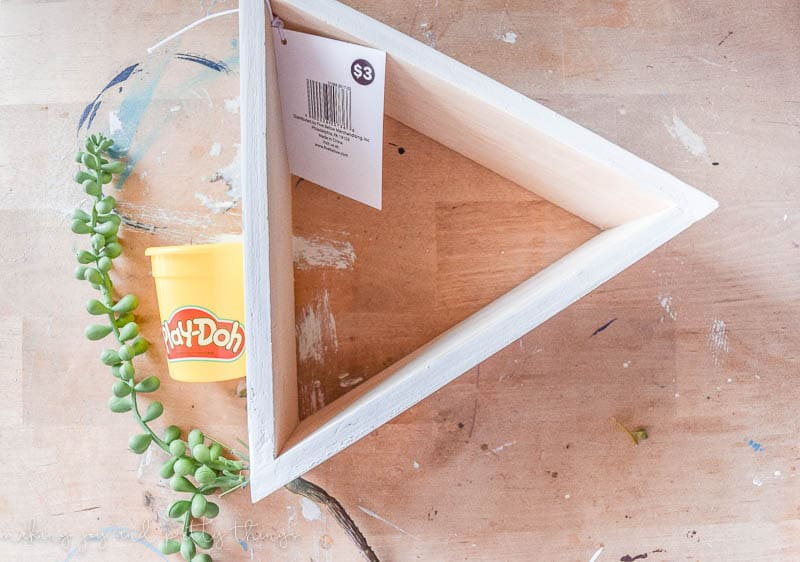 I actually liked the way the shelf looked already so no painting is needed! Woo!
I originally wanted to just set a small terra cotta pot on the shelf and call it a day. But, none of the pots I had on hand would fit and we weren't about to take the kids back out to another store…
Step 1. Paint the Play-Doh Container
So, I grabbed one of the kids' old Play-Doh containers (because we go through this stuff like water) and spray-painted it a matte black color.
This gave it more of a potted plant look and you can't even tell it was originally a Play-Doh container!
Step 2. Drill Hole in DIY Planter Shelf
My hubby used a 2″ Hole Saw to cut a hole centered on the shelf. To center find a tape measure and mark up the center for the length. Then do the same for the width. This makes a perfect spot to drill this hole.
Of course, the 2″ Hole Saw was just a tad too big for the Play-Doh container and slid right through.
Step 3. Wrap Rope to Make a Rim
Being a craft hoarder, I found some thick rope I had on hand and hot-glued it to the rim. Problem solved!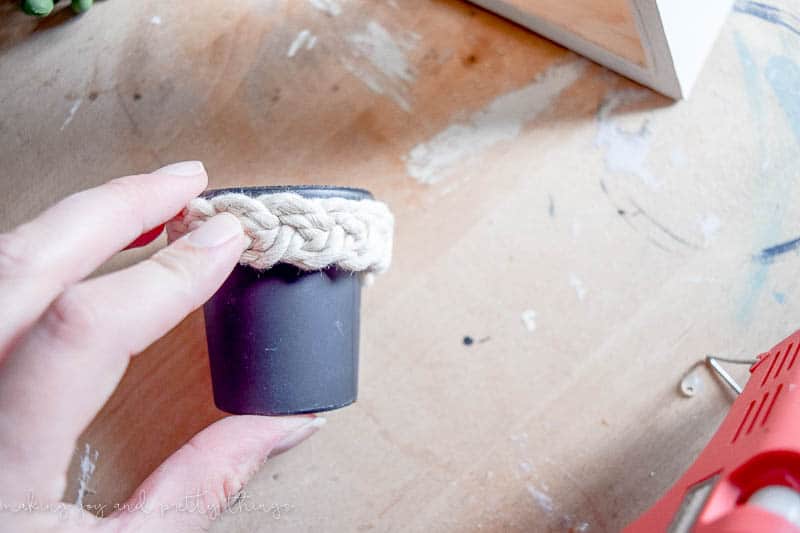 Technically, you could use a real plant here, but it would have to be a succulent or something that doesn't require a ton of soil/water.
Step 4. Add Faux Plant for Shelf
Since I have a mini obsession with a string of pearls (both faux and real!), I decided to use some faux here.
I stuffed a paper towel in the bottom of the Play-Doh container and hot glued some string of pearls succulent around the top, leaving some to drape over the edge.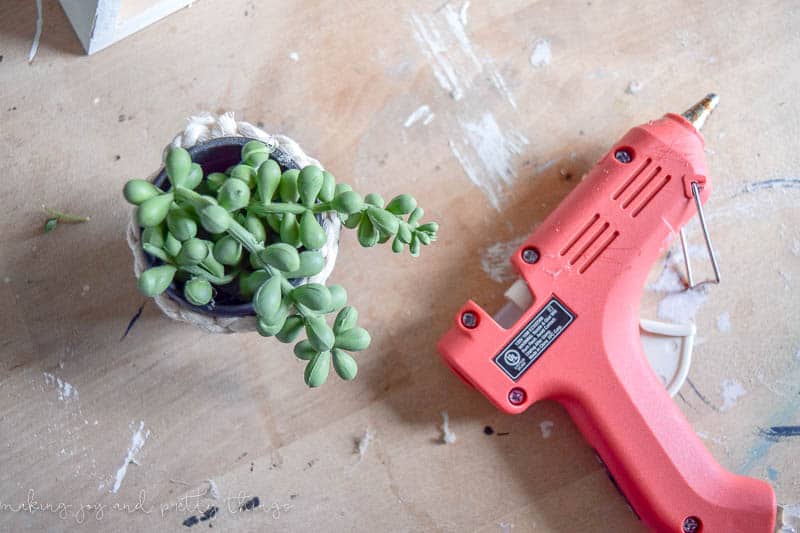 That's it, my friends!
I can't believe how stinkin' cute this little planter turned out!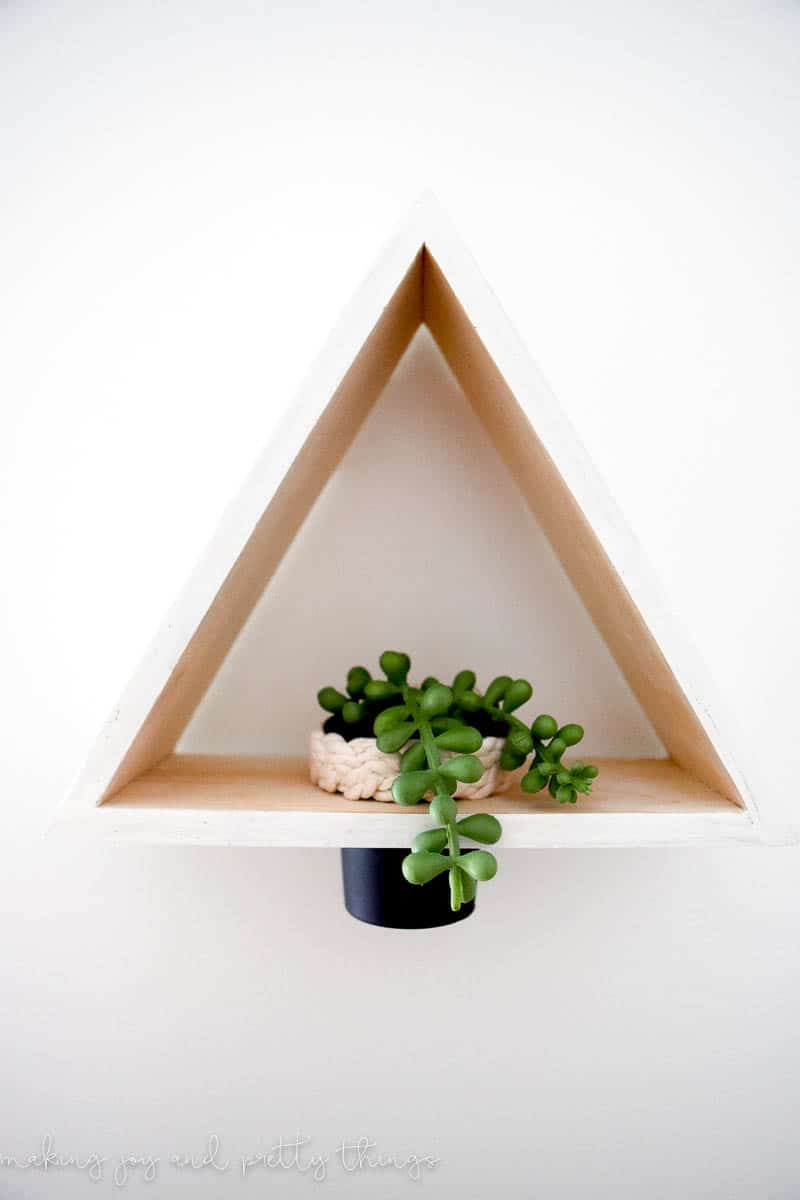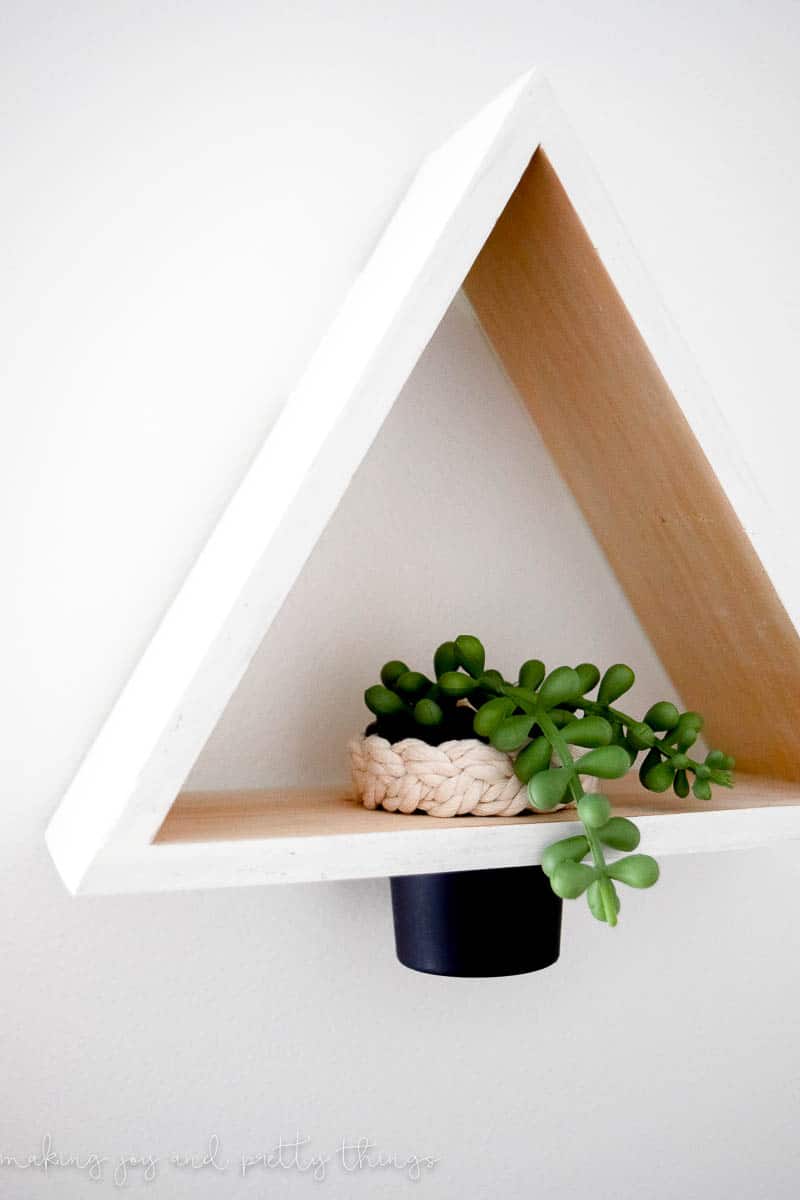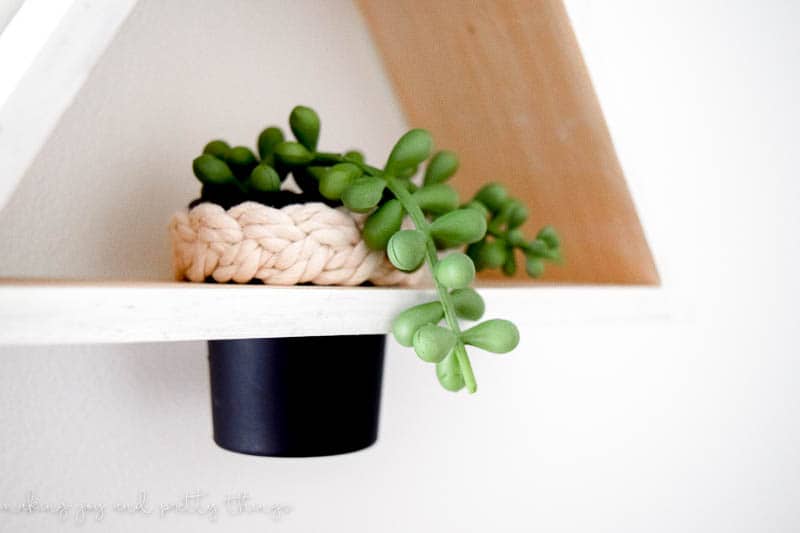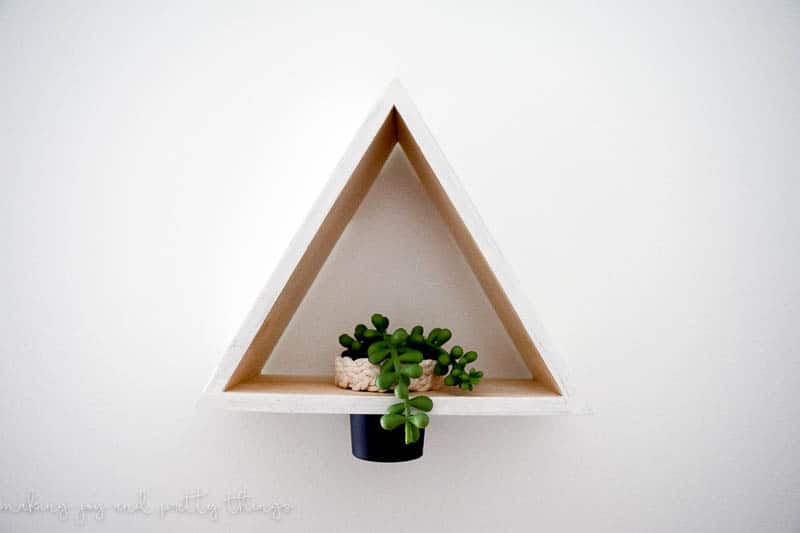 Alright, friends!
And, check out what the other talented ladies created this month: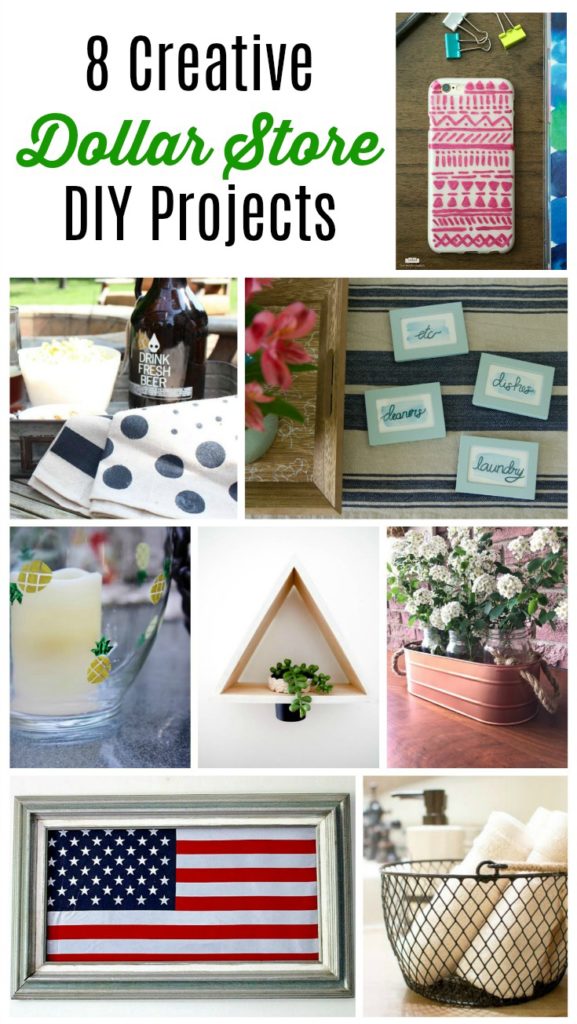 DIY Etched Glass Beer Mugs via My Life from Home
Watercolor Labels via Little Bits of Home
Vase with Pops of Pretty Pineapples via Knock it Off Kim
DIY Triangle Shelf Planter via Making Joy and Pretty Things (that's me)
DIY Fourth of July Art via Our Crafty Mom
Industrial Bin via North Country Nest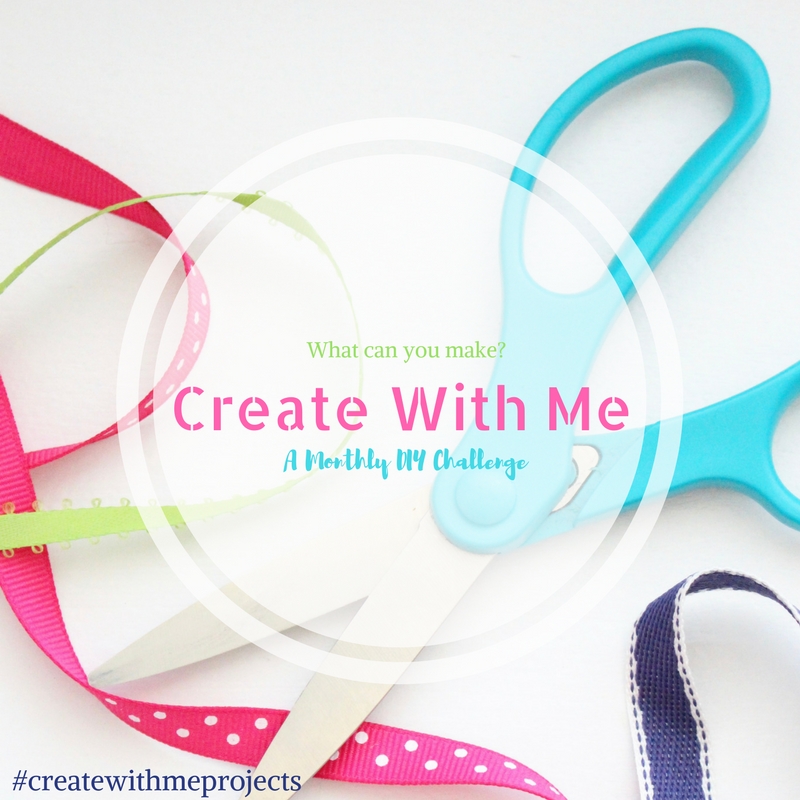 Wishing you a joyful day!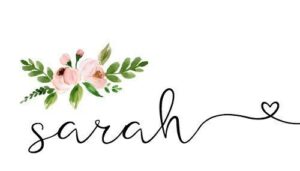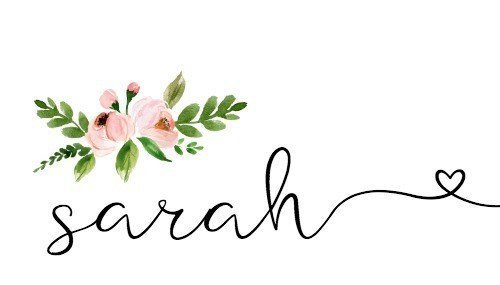 DIY Triangle Shelf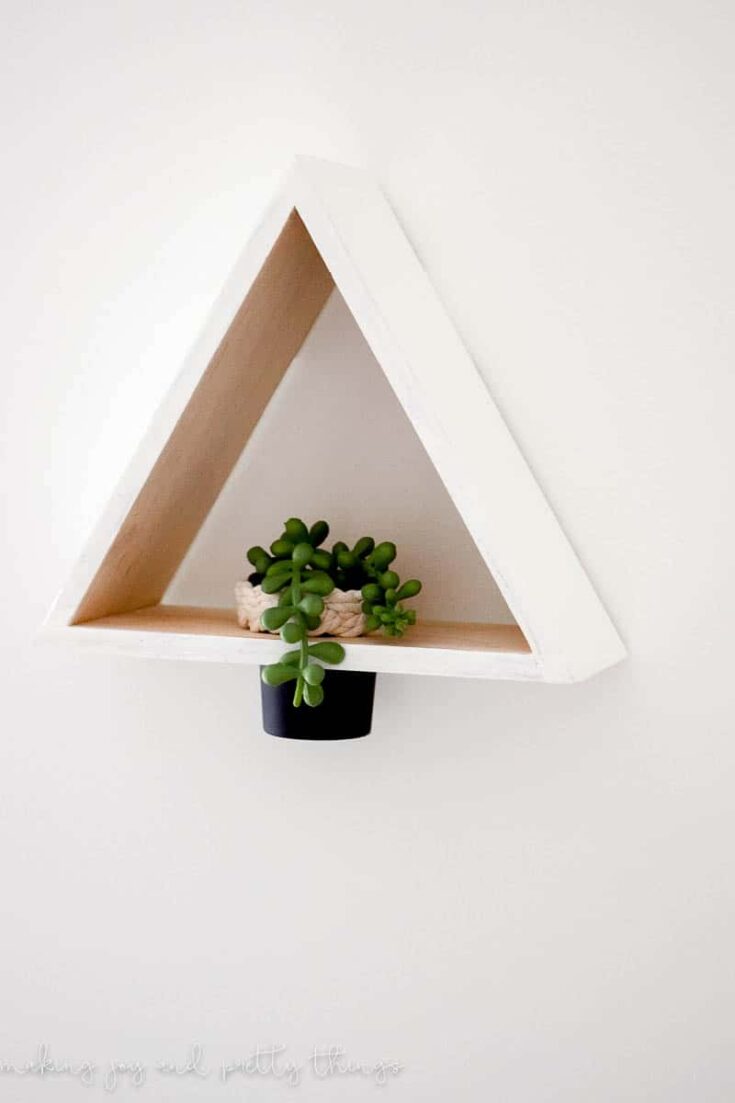 I can't wait to share how I made the cutest DIY triangle shelf planter using a $3 Dollar Store triangle shelf and an old play-doh container.
Materials
Thick rope
Triangle Shelf
Tools
Instructions
Paint the Play-Doh Container
Drill Hole in DIY Planter Shelf
Wrap Rope to Make a Rim
Add Faux Plant for Shelf