Farmhouse Girl's Nursery: Week 1 Progress
Good morning!
I hope you had a wonderful weekend. We celebrated our little Charlie's 2nd birthday! I can't believe that crazy little boy is 2 years old. He amazes me every day and I can see so much of myself in him. Can't figure out if that's a good or bad thing just yet .. 😉
With his birthday this weekend, we didn't get anything done on the nursery! But, I'm excited to share what we HAVE done so far over the past 2ish weeks.
Last week, I shared our full design plan for the nursery.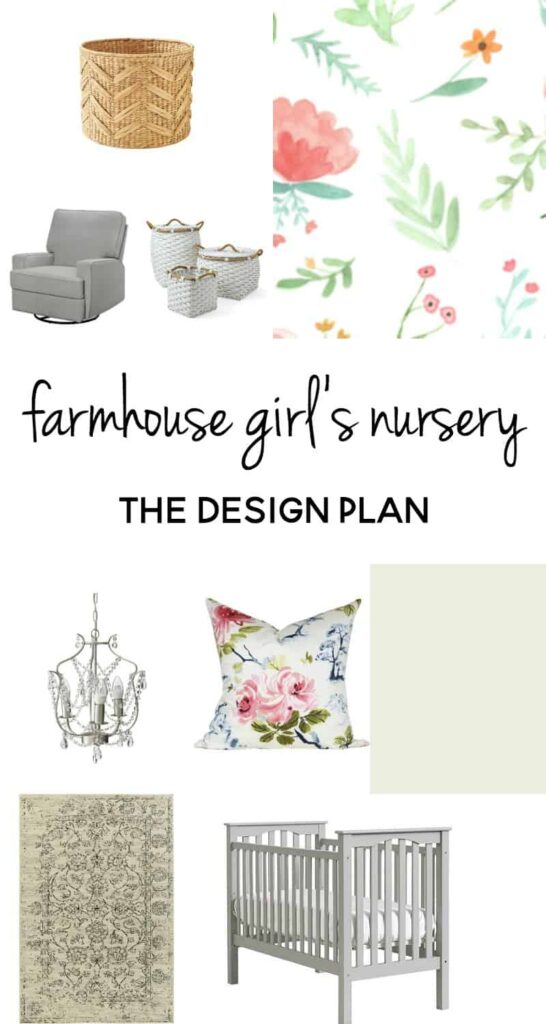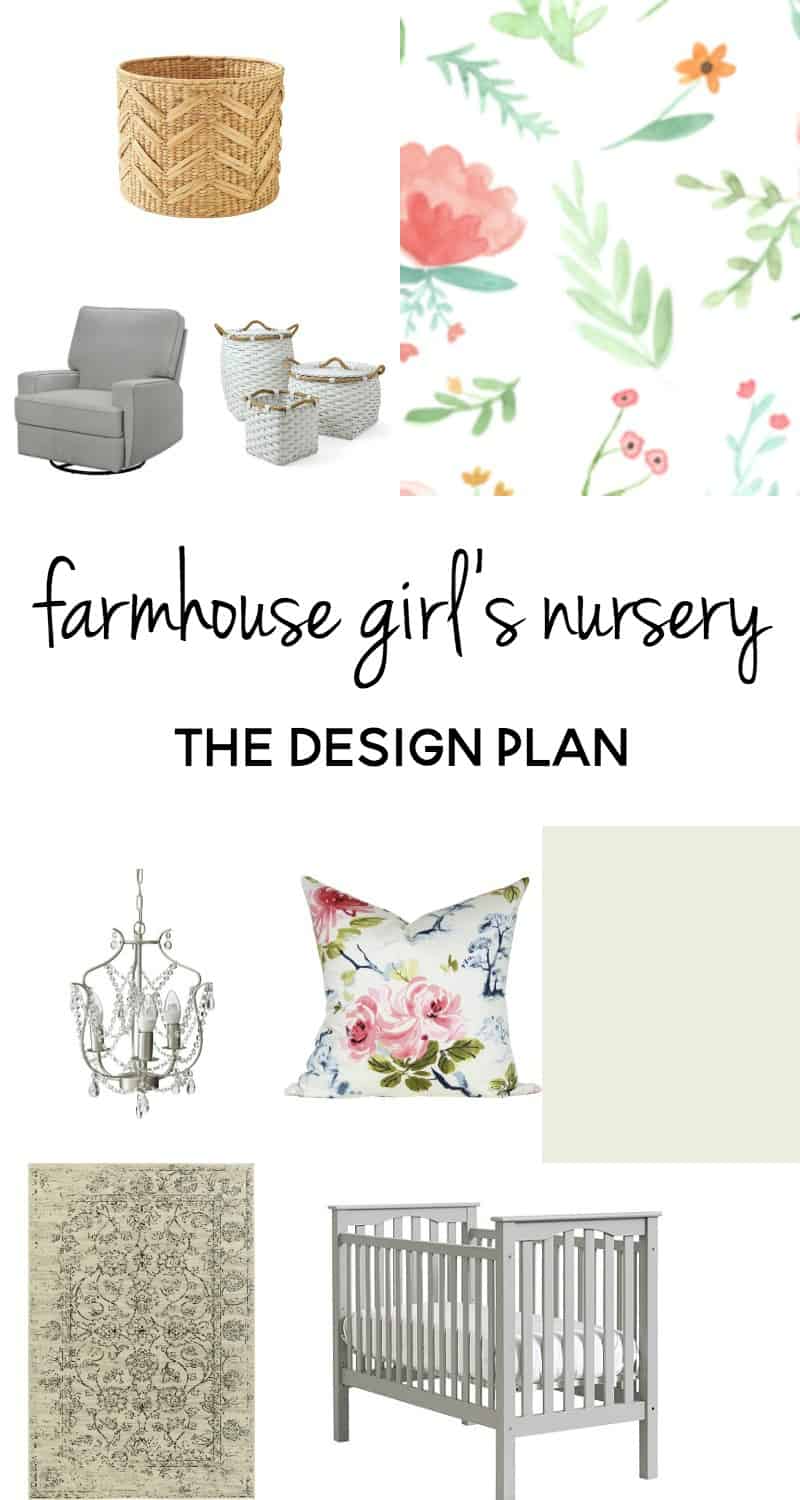 I can't even believe the progress we have made so quickly. And I use the term "we" lightly because I've pretty much just bossed everyone around. And went to Hobby Lobby, a lot.
Everything that's been done so far can be 100% credited to my amazing FIL. He came up almost every day to work on something for her room. I can't wait to not be pregnant so I can paint and stain again. I love getting my hands dirty and hate not being able to contribute more than "you missed a spot".
We started with the planked faux shiplap accent wall. If you remember, it was a bright blue wall from when it was Charlie's room.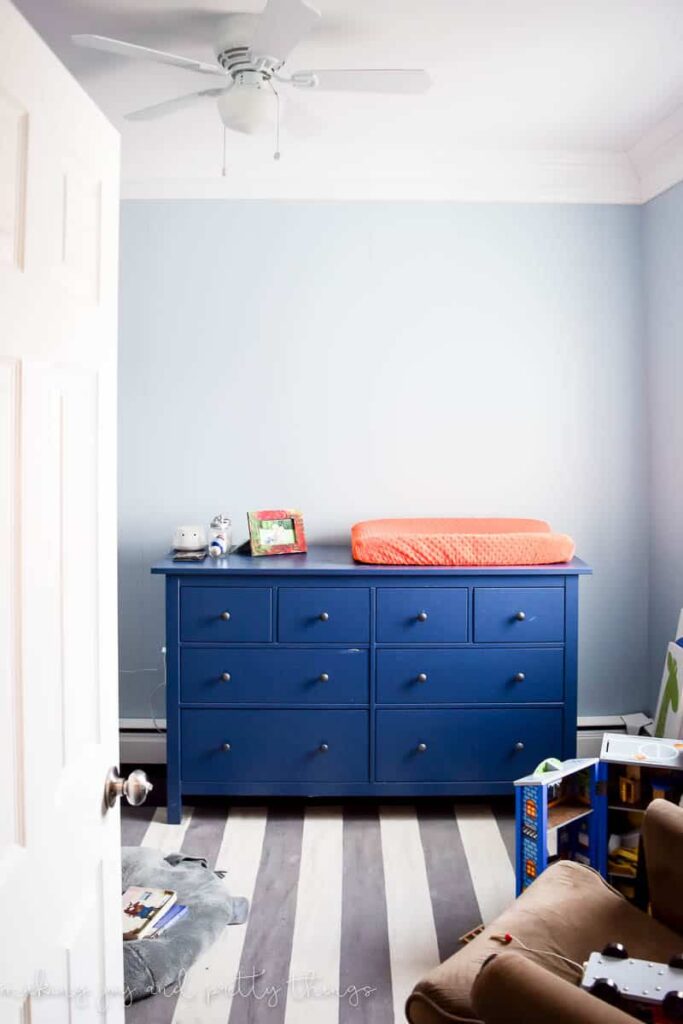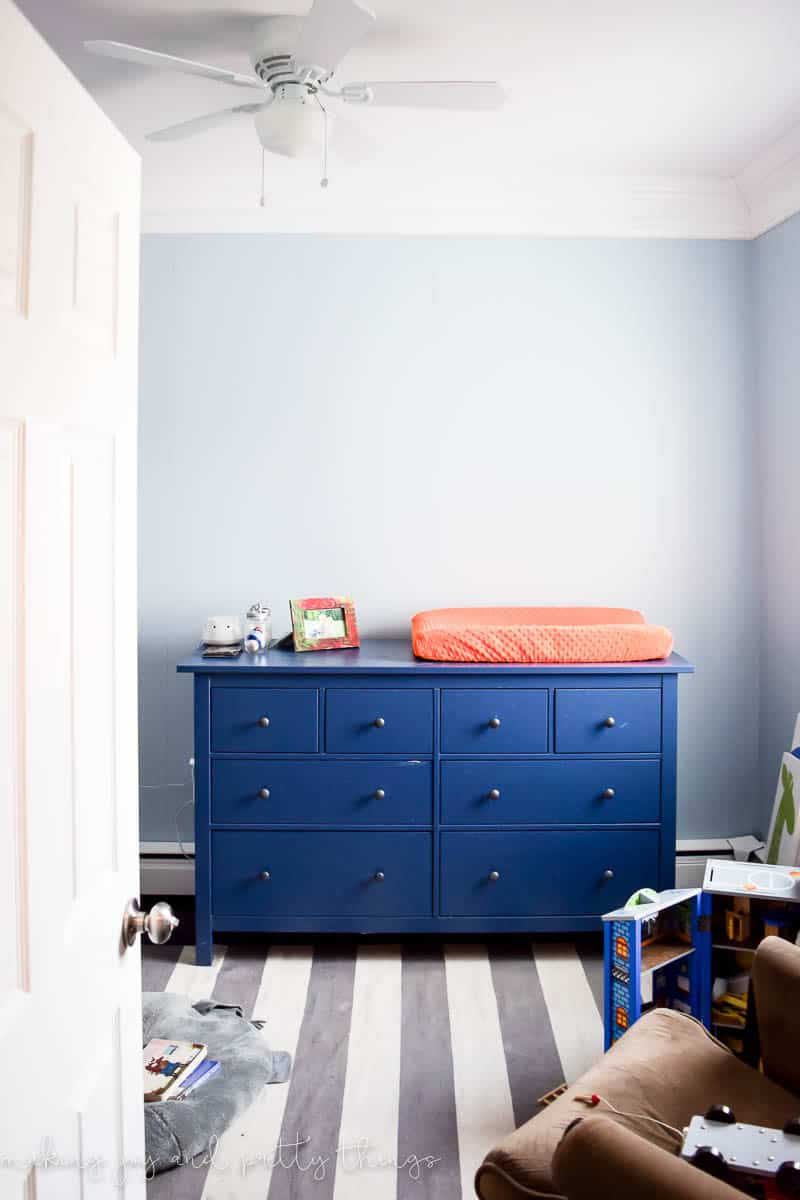 Here's what it looked like while planking.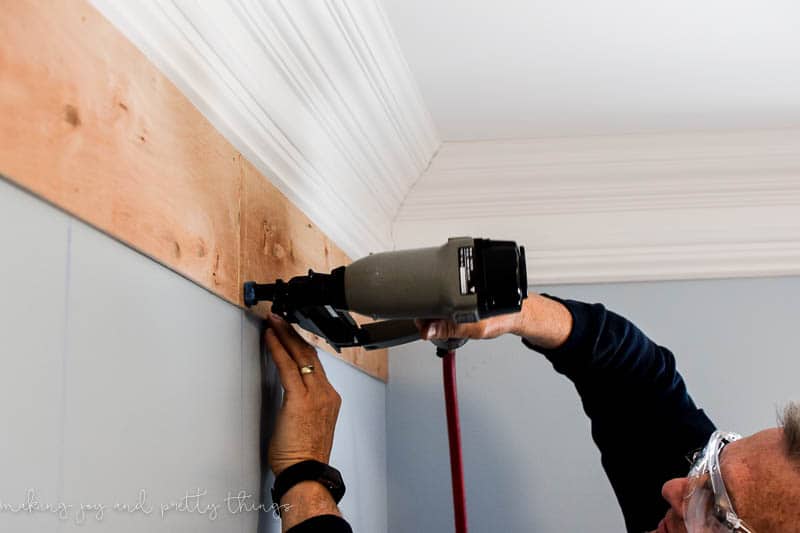 And after the whole wall was planked…
And after painted with the perfect off-white paint (Alabaster by Sherwin Williams).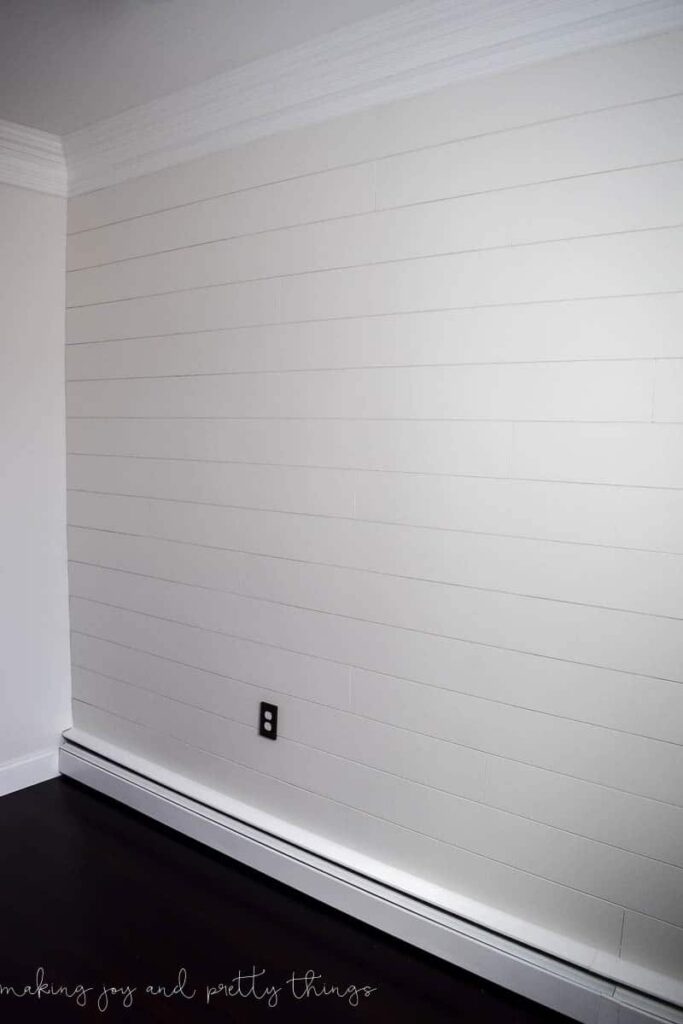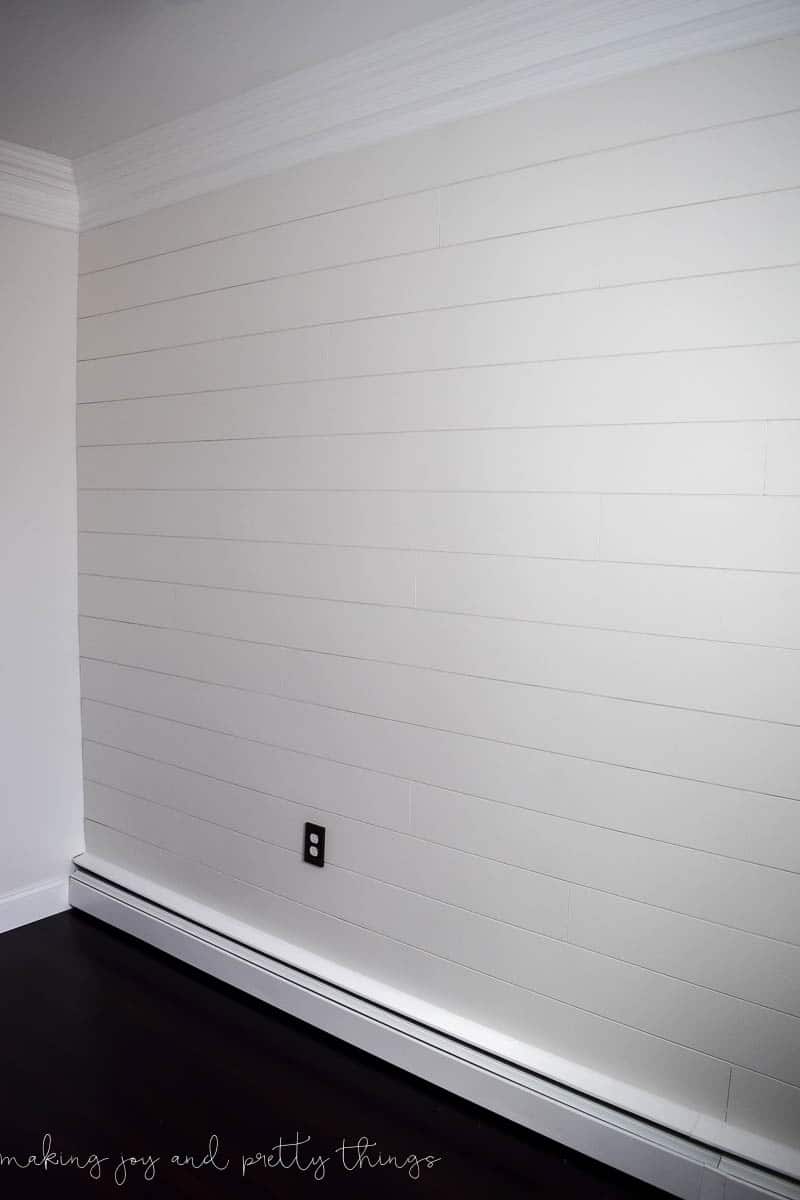 Isn't it perfect??? It came out exactly how I had pictured. And, we literally only spent a little over $30 on the WHOLE WALL. I mean, you can't beat that. I'll be sharing the full tutorial on the planked wall later this week.
But, seriously. Just another picture because I'm obsessed.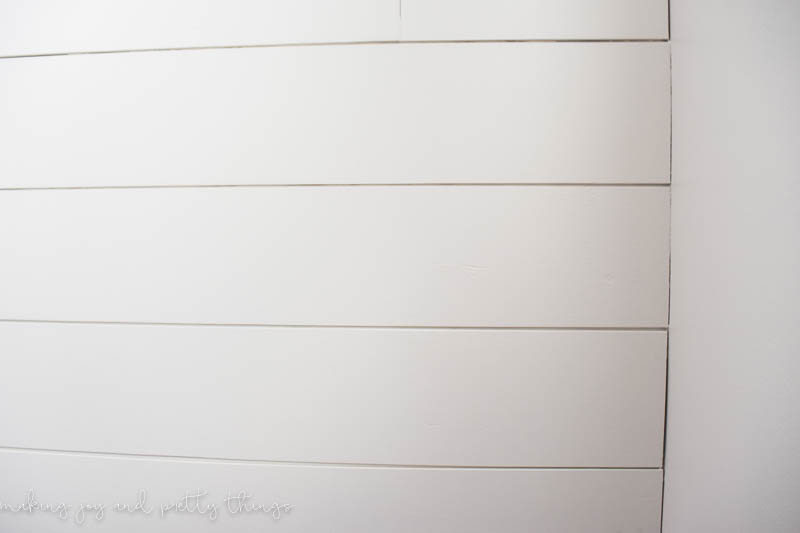 Next, it was on to the dresser.
If you remember, I was choosing between two rosy pink shades for the dresser. This is a huge deal for me because I tend to stick to the neutral colors. Or just any shade of gray basically. Going bold was scary.
The dresser was a Craigslist find for $50. A little before photo…some shade of murky green?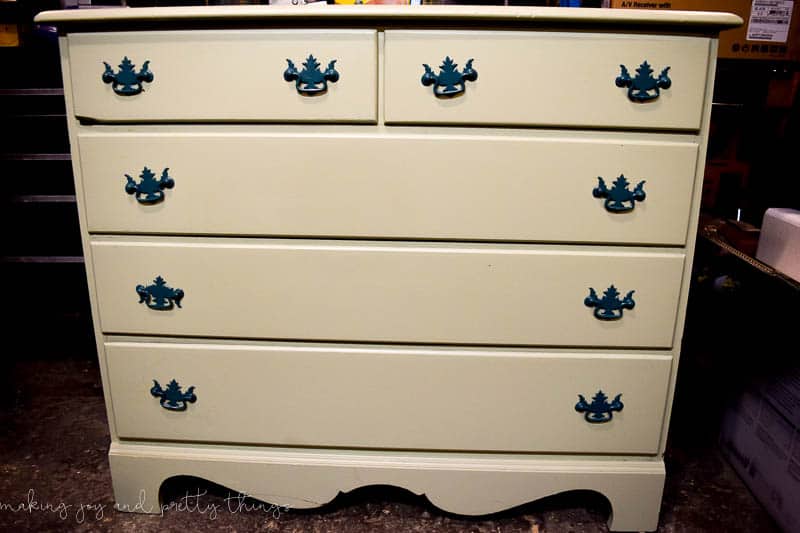 And after painting with … Moss Ross by Sherwin Williams.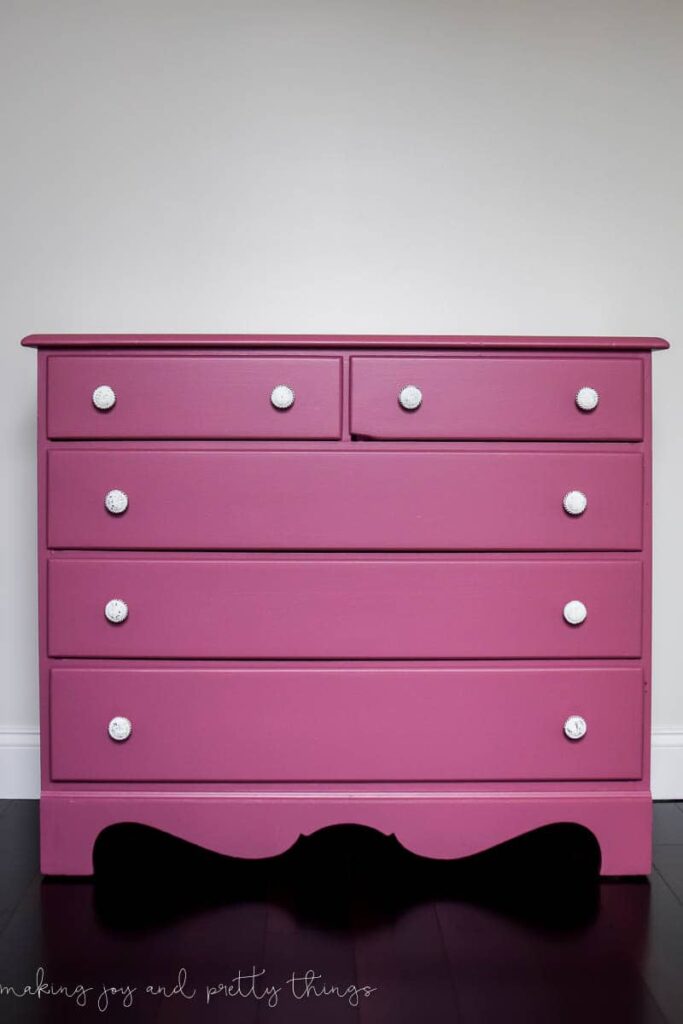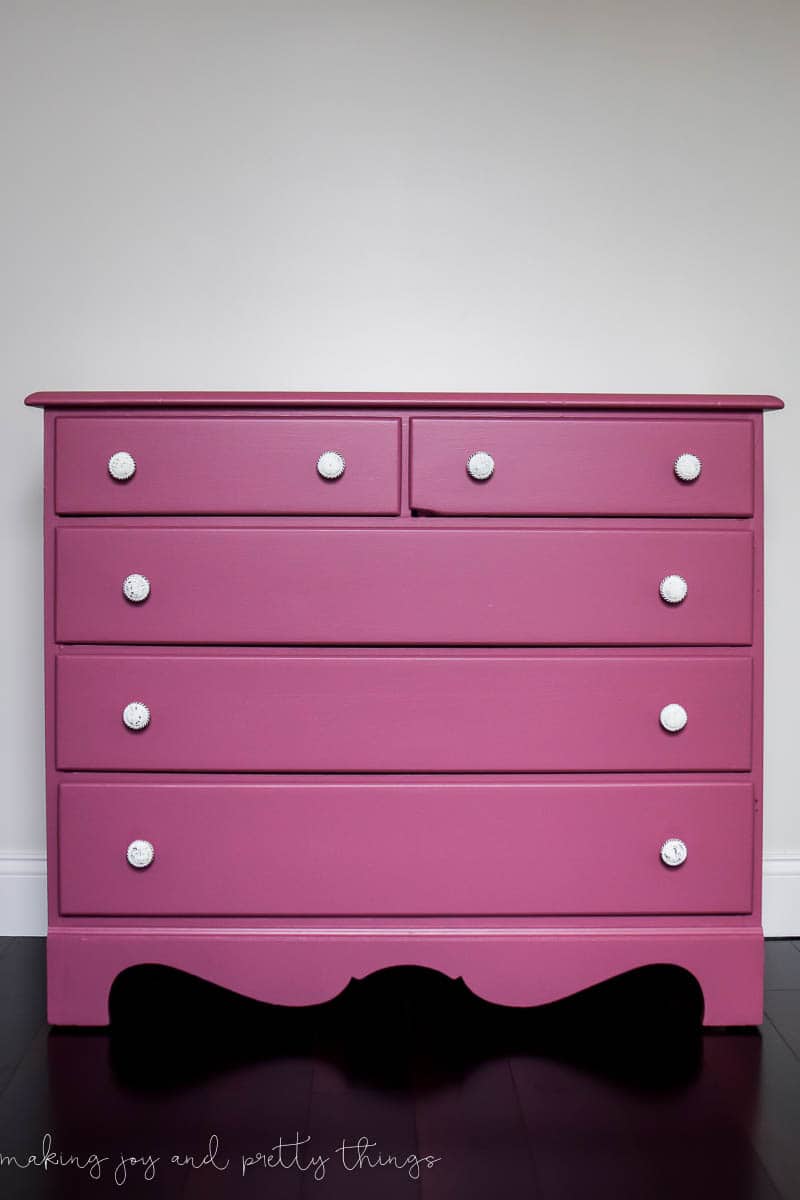 And we updated those knobs with some pretty distressed ones from Hobby Lobby. Don't ever buy these knobs at full price. Hobby Lobby has a sale every couple of weeks where all knobs are 50% off … I snagged all 10 knobs for $2 a piece!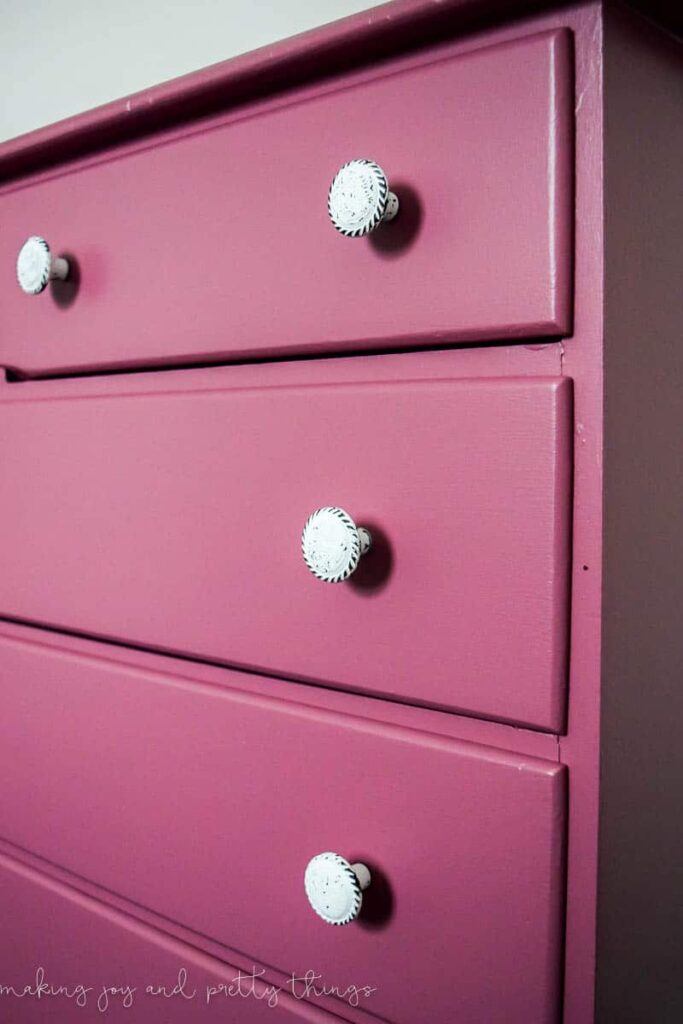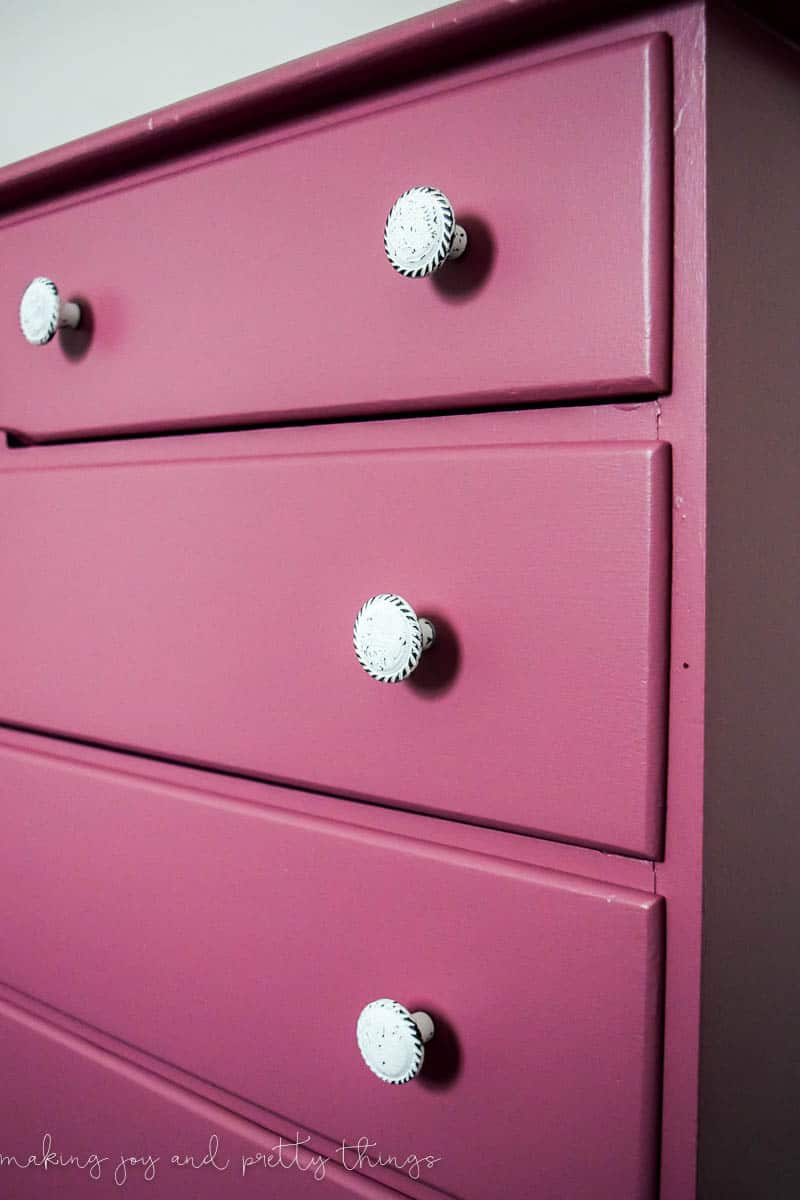 I think going bold was the right choice in this room. With the crib being gray, the dresser being gray, and the walls being a neutral shade, there needed to be some pop of color. Plus, it gives me the opportunity to use pink elsewhere in the room to compliment the dresser.
I'll be sharing the tutorial for the dresser reno sometime next week. Hopefully.
The other big project we finished last week was installing the wallpaper in her closet.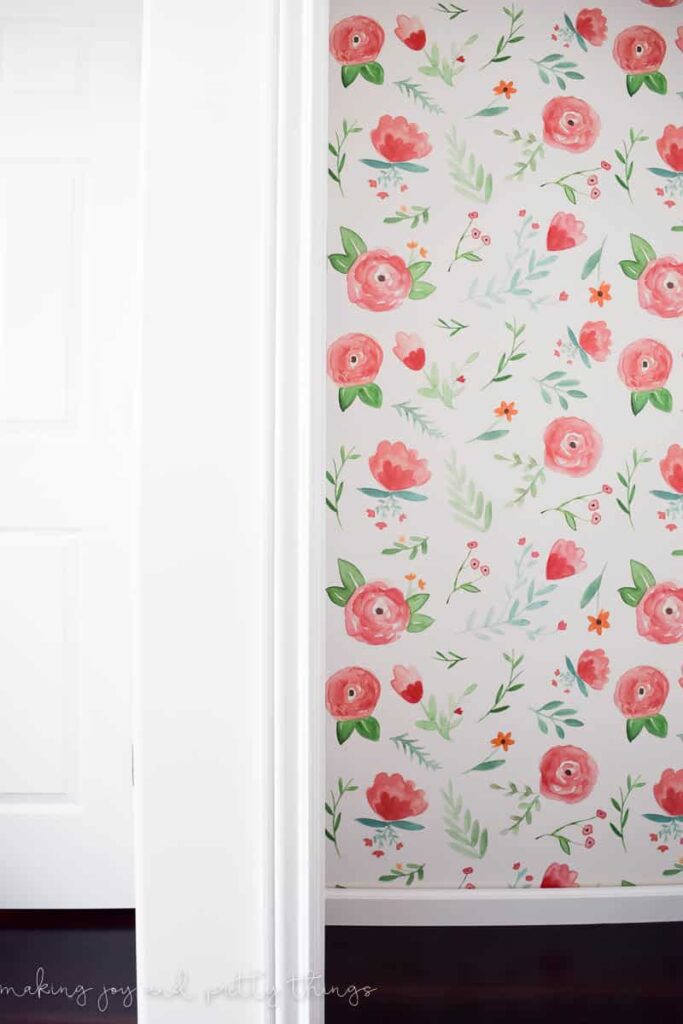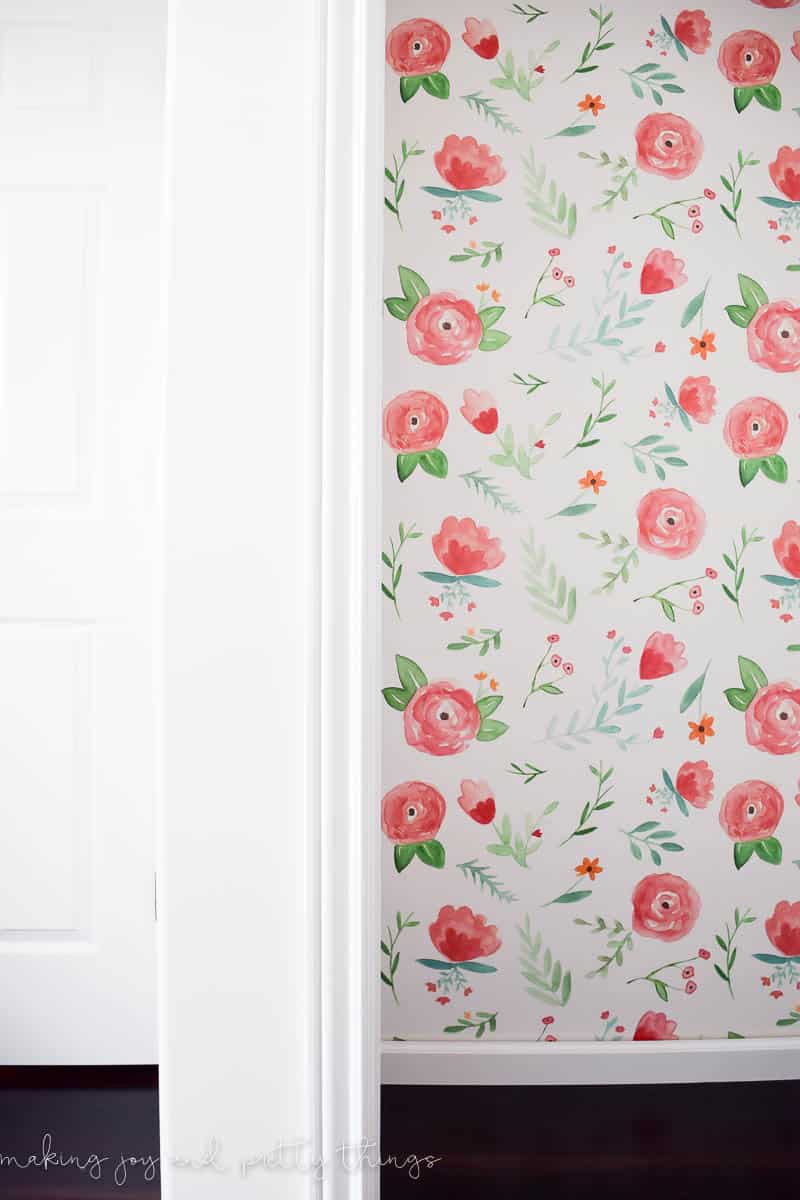 I LOVE LOVE LOVE this wallpaper. I almost feel bad building the closet system in the front of it.
Isn't it so pretty?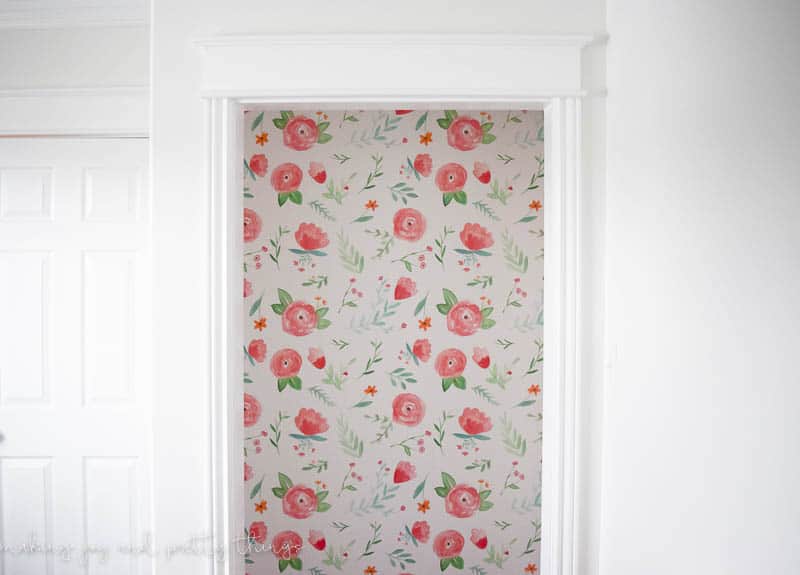 A few other smaller things we accomplished…
We removed all the "crystals" from the IKEA chandelier and spray painted it white. I ordered a billion wood beads and I'm currently trying to figure out HOW on earth I'm going to make the wood bead chandelier. Stay tuned for that! Hopefully next week I'll have a completed chandelier to show you!
We used the same spray paint to update an old curtain rod we had in the basement. I added some white floral knobs from Hobby Lobby (I said I went there this week, right?) to the ends to replace the original, plain ends. AND, I finally came up with a plan for the curtain tie backs.
While doing some cleaning in my "closet" (if you remember that hot mess from this post), I found some pretty white curtains from our old house. I had been looking for them since we moved and I think they might be just the perfect match for Evie's room.
Our new rocker was delivered. It's HUGE. Barely fit through the front door. The UPS driver was so thrilled to lug it down the street….
But, it fits in her little room (surprisingly) and the gray shade of the fabric almost matches the crib perfectly! You never know when you're ordering based on the color you see online. But, I'm thrilled with how it looks, not to mention it's SO comfortable.
Well, friends, that's all for her nursery update this week.
I'm hoping this week to finish the wood bead chandelier and curtain tie-backs. I also want to measure, cut and assemble her closet. I've been on the lookout for an old vintage window so if you see one let me know!
Have a wonderful week 🙂
Wishing you a joyful day!