Affordable Minted Art Prints
Affordable art online is easier to find than ever and the price is just right with these Minted art prints.
This is the second week in a little mini-series I'm doing all about finding affordable art online for your home. I am super excited to share these Minted art prints this week!
I chatted a ton last week about art in general, why I'm doing the series, and what art means to me, and I shared some of my favorite prints from Artfully Walls that you can read here.
This post contains affiliate links. Please, click here to read my disclosure policy.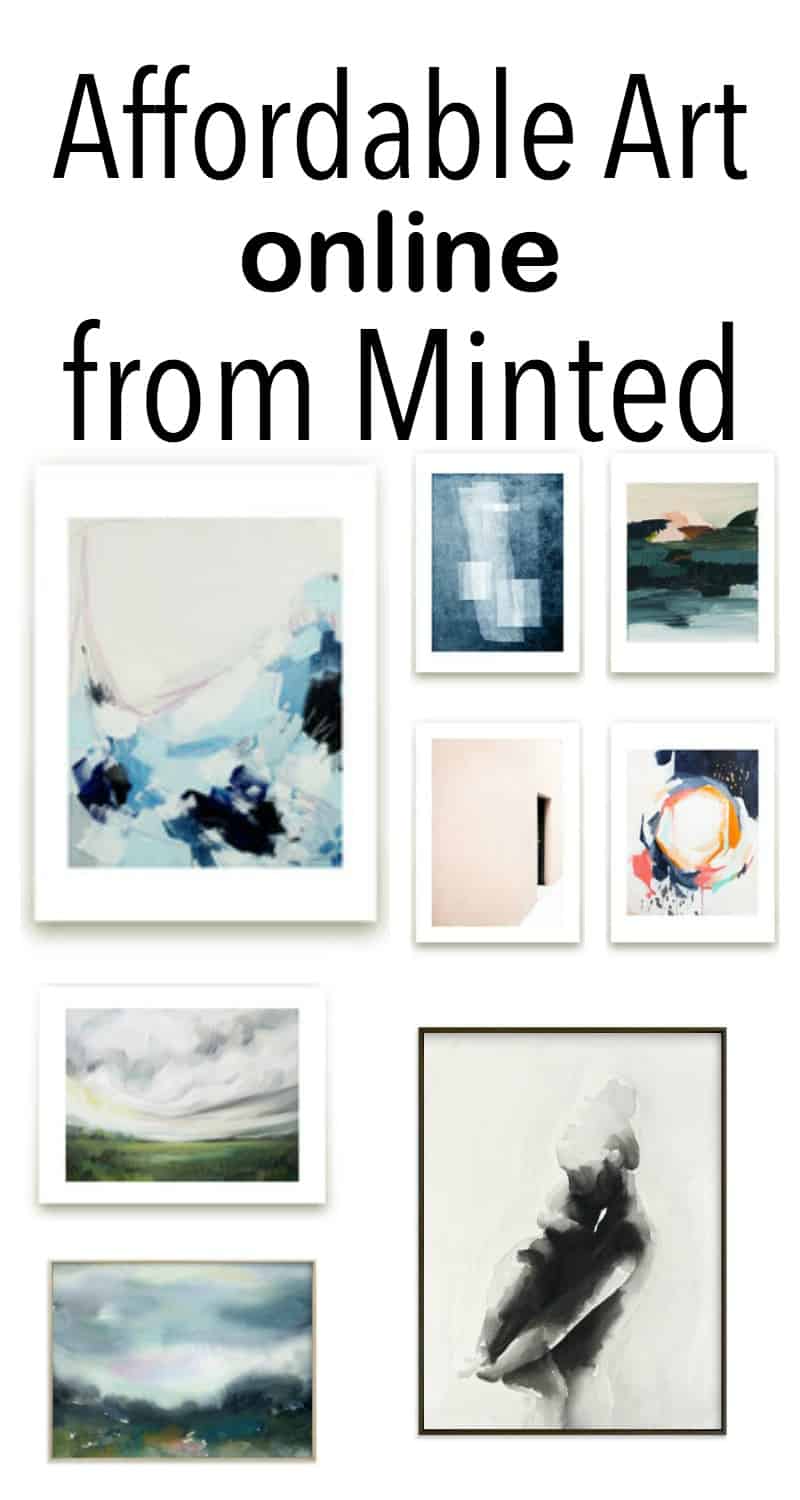 Today, I'm going to share all about one of my favorite online resources for affordable art – Minted!
While I was looking at Christmas cards on Minted last year, I stumbled upon the art they sell, too.  I really thought they only sold cards, invitations, and things along those lines.
Why Minted Art Prints?
Minted is neat in that all of the art sold on their website is from individual artists. You can submit your work, enter contests to be selected, or I guess just be approached by them and sell your art through their website. It's great for exposure, getting your name out there, etc.
This is directly from their website:
We believe that great design lives and thrives in the hands of independent artists that people do not have access to through traditional retailers. Minted uses technology to allow consumers to discover great creative talent, making Minted a place where artists can learn, gain exposure, and build their businesses.
Aside from the art prints they sell, they offer some design services, too. That's always so nice when you're not sure exactly what you want to do and where to even start.
For a $79 fee, they'll design an art wall for you! Pretty neat. I'd love to have that as my job……
Plus, they have art grouped by color palettes, which is nice if you're like me and gravitate towards the blues/blacks and maybe green, if I'm in a good mood 😉
(Find other color palettes under art -> styling inspiration -> color theory collection)

Just like with Artfully Walls, the initial price for each piece is listed INCLUDING a frame. Remove the frame for a crazy reasonable price for beautiful art.
Another bonus for Minted – most of the art has a small description from the artist about its meaning! Perfect for the amateur art interpreter that I am 🙂
A Few of my Favorite Minted Art Prints.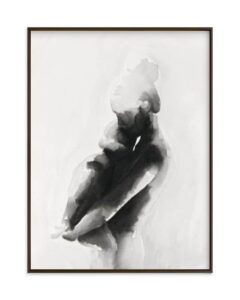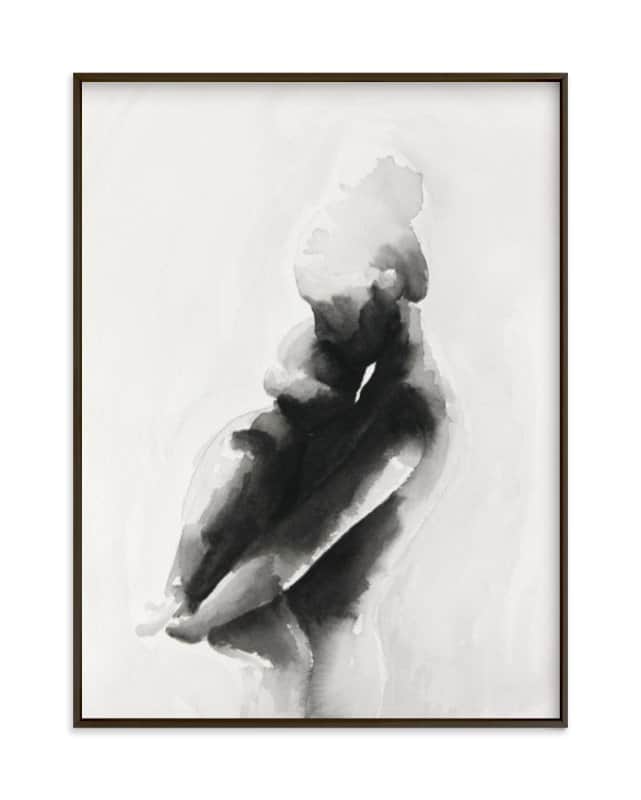 This is my absolute favorite favorite favorite painting. This WILL be in my house somewhere. You don't know who they are or what they're wearing or anything about them.
But that hug and that feeling, the comfort, the warmth, the breathing and loving.  THAT I have felt with my babies.  It's abstract in a realistic way if that makes sense.  It's just … amazing.  Love it!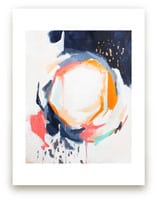 The artist describes it as " Arrangements of line, material, and visual weight create the sense of transitory moment, an emptiness filled with dramatic traces of movement. This combination of emptiness and movement builds a unique energy, hinting at the lawless state of nature and time, yet expressing an underlying order that is harmonious and beautiful." It was definitely the dark colors with a peak of brightness that drew me in. But, the explanation from the artist solidified it as one of my favorites!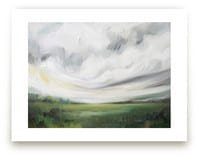 While I was scrolling through all the art (and I mean every single piece), I was continually drawn to all the paintings by Emily Jeffords.  I'm not sure what it is about them but I clicked on every single one!  This one in particular is my favorite.  
The cool green landscape with a mysterious dark sky makes me feel like I'm in that scene with her, feeling the breeze, and smelling the trees.  It has a dark and brooding side, too which I love.
She describes it on the website saying "Cool and lush, this swirling landscape feels energetic and yet, peaceful. Landscapes help to ground us – to center our souls in a place of belonging"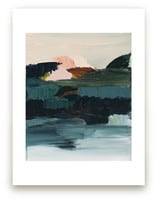 What I love about this painting is the dark and scary bottom with the peak of light and happiness at the top. Take that to mean what you will but it speaks to me.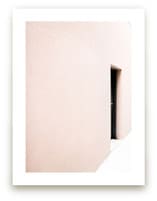 From the artist: "Observing building shape and detail is my own practice of graphic design via photography. This photo of a hidden alley is a reminder to explore our world and create with our eyes. This particular alley is in between two very suburban stores, but for a moment it gave me an escape to someplace I imagine in Europe." I love seeing the unexpected. Like seeing beauty in the ugly. Don't you just want to go in that door??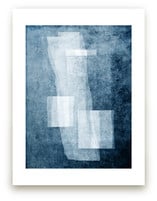 It's the title of the art that really drew me in and the subsequent description by the artist that made it one of my absolute favorites.
From the artist: "Our lives consists of layers and layers of memories, some more transparent while others are more hidden and controlled."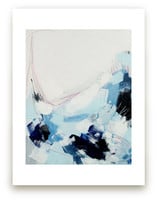 I know you're shocked I chose another dark blue painting. The artist says "While bold areas of navy catch your view, it's the quiet mulberry lines that add that certain something." Isn't this so applicable to human character?
We all have our obvious traits. Talkative, quiet, loud, giving, reserved, outspoken, courageous, etc. But it's the little lines, the little traits, that only those who take the time will see in you. I love this!
While those are my favorites, I added a few more below that I love as well. There are also typography prints and plenty of art that isn't abstract. Though, I seem to be heavily drawn to abstract 😉
Just click the picture to shop!
Wishing you a joyful day!