Well, it's official.
We have completely lost our minds.
As if we don't have enough going on. Between two kids, both of us working, and that small little detail that I'M DUE TO HAVE OUR THIRD CHILD IN 9 DAYS, we have got to be crazy.
And, I think we are…..
But, regardless of the crazy, we are taking place in our second One Room Challenge hosted by Linda from Calling it Home.
We participated in our first ORC this past fall where we transformed our son's bedroom into a shared bedroom for both of the boys. It was SO much fun but also a ton of work and stress.
And, just a few weeks ago, we finished our farmhouse girls nursery renovation for our daughter (who is due in 9 days. Can I say that enough?!)
But, you guys, I couldn't not do the ORC. I had been talking to a few bloggy friends and was having major FOMO. The fall ORC was SO fun and filled with TONS of support from other bloggers and readers alike. It was such an amazing experience I just couldn't pass it up this time around.
I should probably mention my husband is sort of not 100% on board with me. But, I think I can convince him it's a good idea (maybe?). It IS a lot to take on, there WILL be stress, but it WILL be worth it. Or so I keep telling myself 😉
My favorite part of any room is coming up with the design plan.
But, first let's take a look at the room we chose to take on…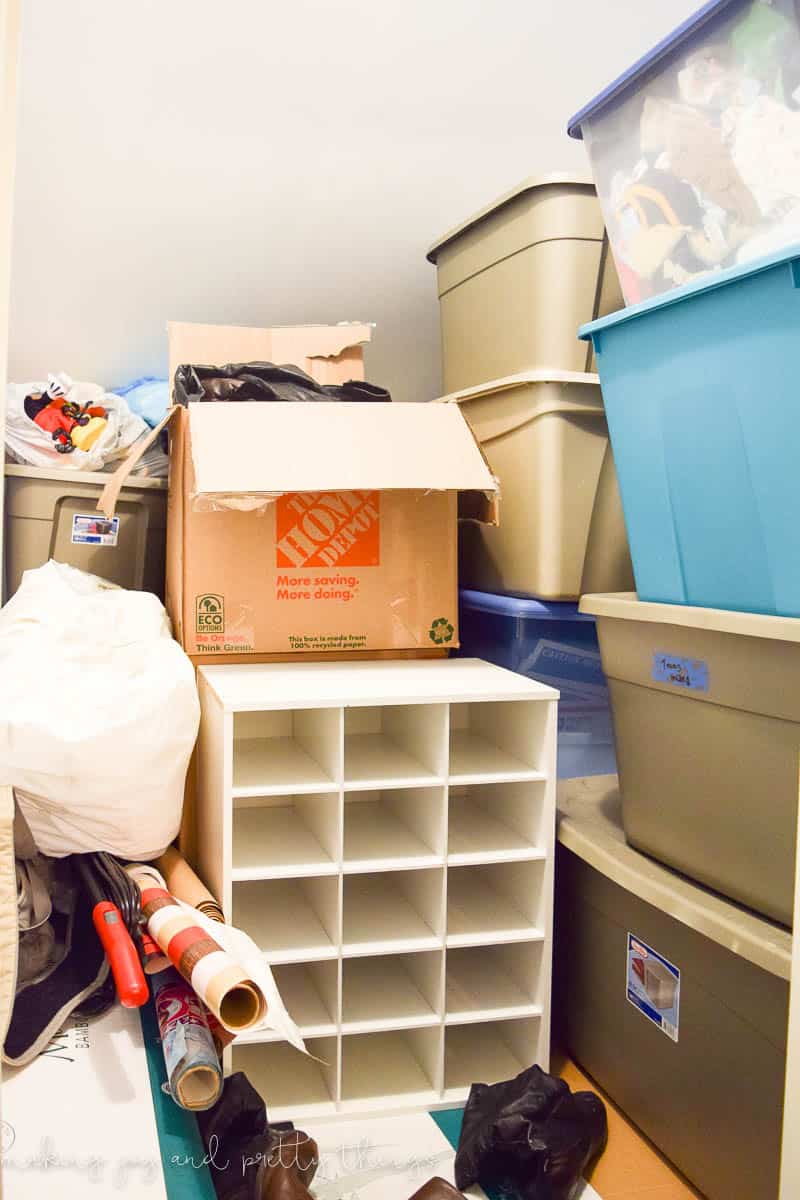 Wow, that's embarrassing. Can you even tell what room that is?!
Well, it's my master closet.
Since we moved into our house a year and a half ago, I have not had a closet. We are lucky to have TWO master closets in our attic turned master bedroom. But, my husband uses the other one because he needs to "hang up his work clothes".
I do have a few nice dresses hanging in there but my every day clothes (aka leggings) are either piled in a laundry basket or crammed into an overstuffed dresser drawer. Or in a pile on the floor, if I'm being totally honest. And it's been like this since we moved in.
My "closet" has just been a catch all for stuff we don't know where to put. Like bins upon bins of kid clothes (they have more clothes than me), my wedding dress, a random vacuum I didn't even know we had, and leftover wood floor boards.
Honestly, my husband got so annoyed with my clothes being everywhere that he decided to take this closet on. And, I couldn't help but jump on board.
There's really not any more pictures I can show you of the space because that's literally the whole room! It's pretty small for a walk-in closet and has a sloped ceiling, really making it difficult to find a clothing system that works.
The door is a cheapy door that just isn't going to fly with the room decor. It's painted a gross blue with white on the sloped ceiling, a single lightbulb sticking out of the wall as its "light fixture", and unfinished baseboards.
But, on the plus side for us at least, it's not a huge project. I know some people are redoing kitchens and bathrooms. And while we do plan on doing our kitchen AND master bath at some point, this renovation is much smaller. There's not any moving walls, plumbing or heavy construction involved. Which, is a good thing because of that little girl that will be born oh so soon.
So, onto the good part …. the design plan!
I'm going a little out of my comfort zone by mixing in some industrial decor into my typical farmhouse style. Also, I have plans for some bold colors (yikes!)
So, here's the plan for our farmhouse industrial master closet:
– Clean out all the garbage
– Paint the walls and ceiling
– Add a shiplap feature wall to the sloped ceiling
– Design and install custom framing around the shiplap
– Design and install a custom closet system that works with the sloped ceiling
– Design and DIY an industrial lighting feature
– Add some character with DIY planters
– DIY a scalloped towel rack
– DIY a trumeau mirror (or something similar)
– Find and refinish an antique door
So, not too too bad, right?!
Normally I would say this is easy peasy. But, with little girl due in 9 days I'm not sure how it's all going to play out. Either way, I'm excited to get started!
Remember to hop over to Calling it Home to see all the other bloggers participating in the challenge!
See you next week for an update!