Hello, friends!
Welcome back for week 2 of the madness that is the One Room Challenge. In case you missed last week's post or have no idea what I'm talking about, we are participating in our second One Room Challenge hosted by Linda from Calling it Home (you can read about our first ORC here).
We have 6 weeks to renovate one space and we have chosen our master bedroom closet. All in all it's not a huge renovation. There's really not a ton of work to do (as in no drywall, moving walls, plumbing, etc). But, don't let the size of the project fool you. Our biggest challenge is getting the room done while I'm 39 weeks pregnant Yes, I am due to have this little girl in just two days.
Since we are up against a timeline AND we have no idea when little miss will be born, it's been SO important for us to get ahead of things early.
Last week, I shared our full design plan to turn this junk yard into a functional and stylish farmhouse industrial master closet. Here's what we started with: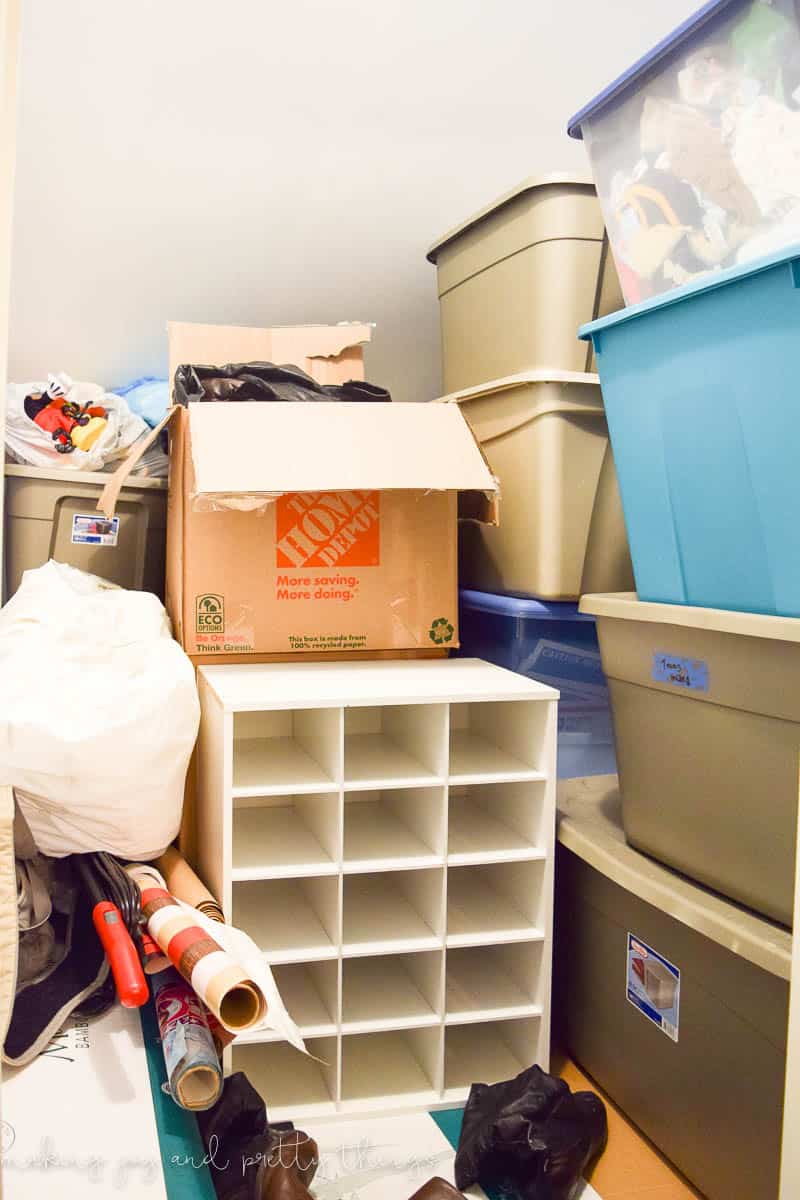 Can you even tell it's a closet?! I promise I'm not a hoarder, though you can't really tell from this picture, huh?!
This past week, my husband went nuts and painted this ole' closet space for me! I can't WAIT to not be pregnant and be able to paint again. And stain things. If you need anything stained bring it over here 😉
But first, I cleaned the junk yard out! I'm not gonna lie, I actually did that BEFORE the challenge started. It took me a whole day and I we ended up with 3 bags of garbage, 3 bags of clothes to donate, and 1 bag of toys to donate. Somehow we still have more toys than Toys R Us. Go figure.
Next, it was on to paint colors!
The closet doesn't get any natural light, though I don't know that any closets really do? So, I didn't want to go too dark. But, I still really wanted something dramatic in the space.
I went with a lighter, more neutral color for the walls (SW Vaguely Mauve) and went more bold/dramatic with the shiplap (SW Mink).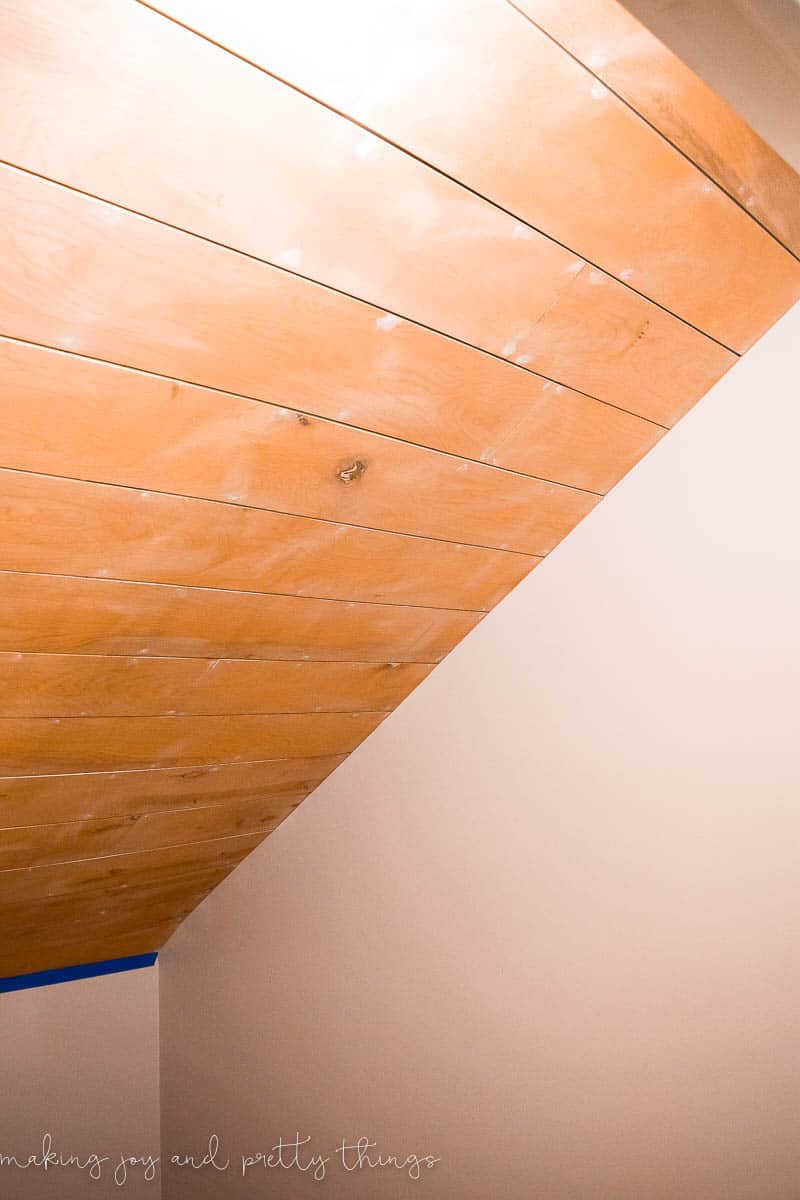 I looooove the mauve color ever since I saw Lindi from Love Create Celebrate and her master closet. Plus, this is just a closet for me, so I can have it be a little girly, right?!
The dark gray color is perfect for the "industrial" aspect of my design plan. I actually wish I would have gone a little darker!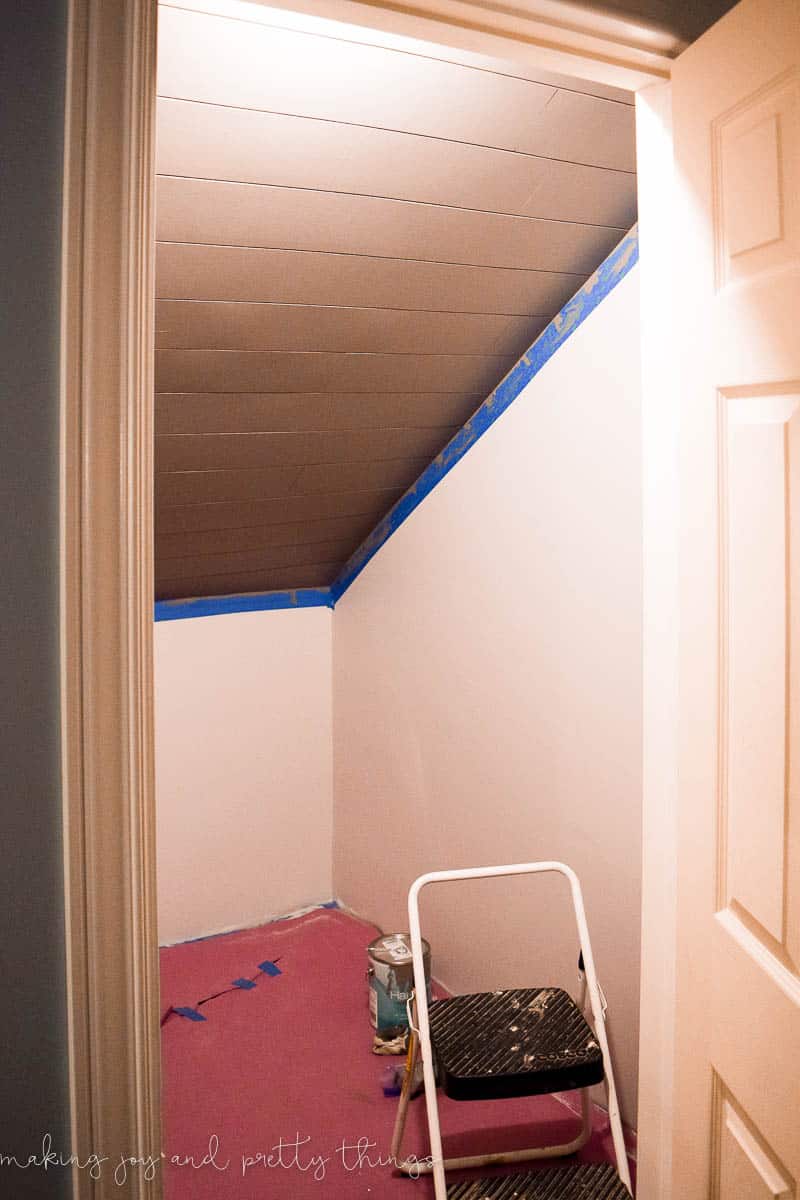 We decided to frame in the shiplap. Haven't quite figured out how to frame it or with what material. But, I think framing it in will give some dimension to the space.
To make the shiplap wall, we used the same DIY tutorial that we shared for our farmhouse nursery. It is seriously SO easy and extremely budget-friendly. Here's how it looked in the nursery: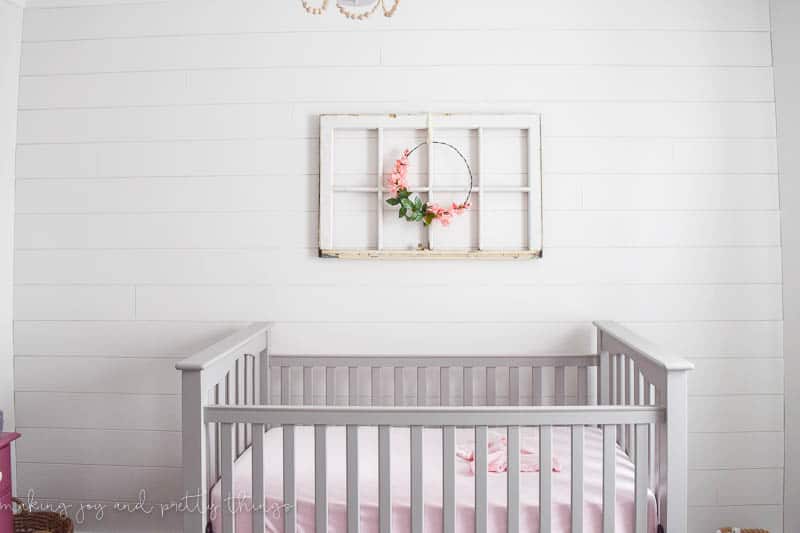 Also, I found the most gorgeous antique mirror this past weekend! Originally I was planning on making a mirror to fit the space and giving it a distressed, antique look. But, when I stumbled across this mirror, I couldn't resist!
Apparently it's from the 1860-1870s!! How the guy knew this I don't really know. I have all the heart eyes for it. It won't fit on the wall (stupid sloped ceiling!) so it's going to be on the back of the closet door. We have some rearranging to do to make a few other pieces work since the mirror position changed.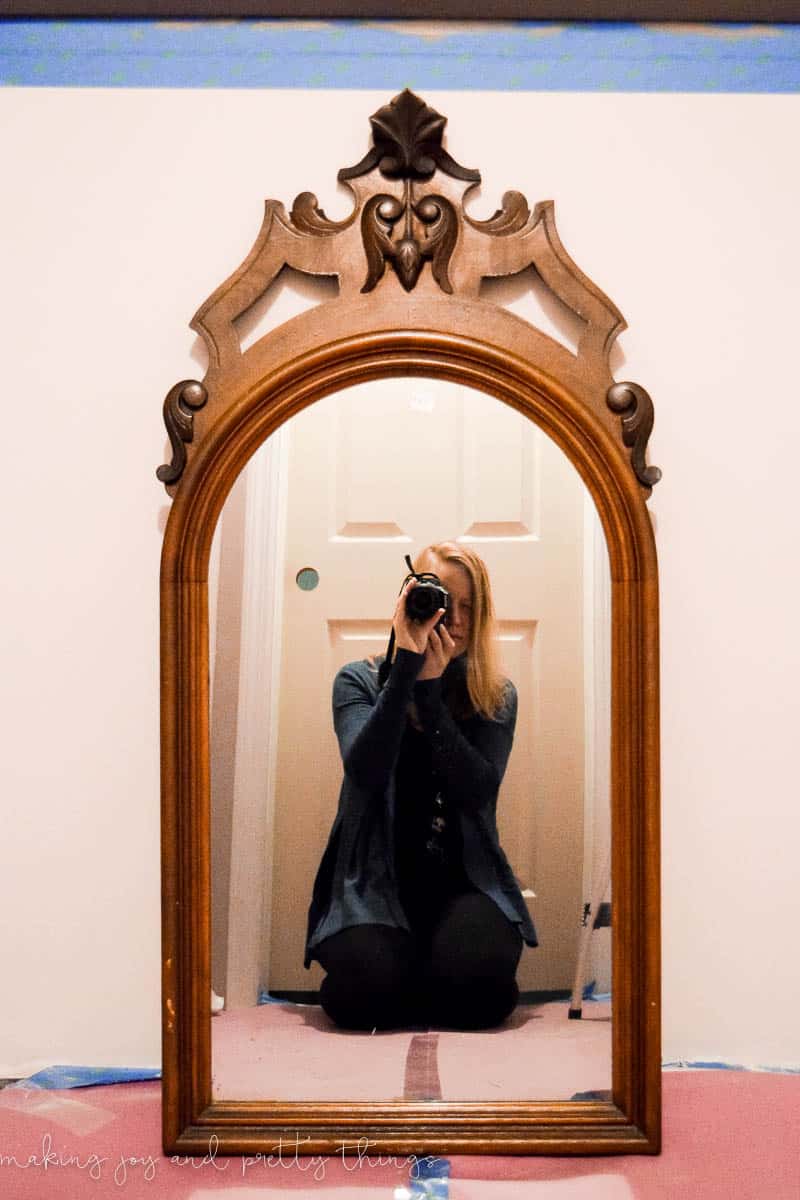 The next big project is figuring out what on earth to do with this door. We went hunting for an antique door to fit the space but couldn't find anything. So, I'm left with coming up with some way to makeover this horribly ugly door.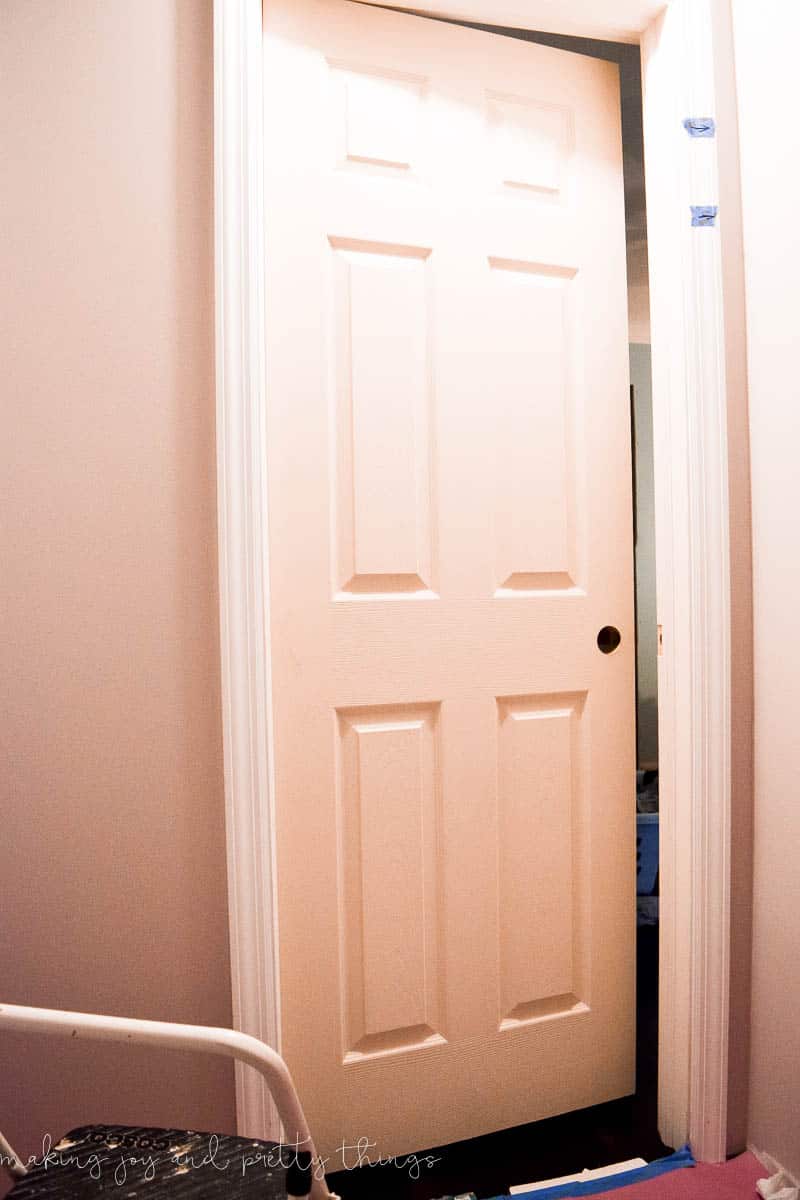 And as always, let's see how we progressed this past week on the to-do list:
– Clean out all the garbage
– Paint the walls and ceiling
– Add a shiplap feature wall to the sloped ceiling
– Design and install custom framing around the shiplap
– Design and install a custom closet system that works with the sloped ceiling
– Finish baseboards
– Find a rug
– Design and DIY an industrial lighting feature
– Add some character with DIY planters
– DIY a scalloped towel rack
– DIY a trumeau mirror (or something similar) clean up antique mirror
– Find and refinish an antique door or now cover the gross door with something DIY?
Alright, friends. Hopefully next week's update will be that I had this little girl!!
Remember to hop over to Calling it Home to check out what other talented bloggers are doing for the challenge!
Wishing you a joyful day!