One Room Challenge {Week One}: A Shared Boys Bedroom
I guess this post makes it official…
We have signed up for our first One Room Challenge (ORC)!!
What is the ORC, you may ask? It's a room renovation competition of sorts where home decor and DIY bloggers makeover ONE room in 6 weeks. Yes, 6 weeks. Am I crazy to do this??
I am feeling all the emotions about the ORC beginning right now. Excited to get started. Nervous everything won't get done in time! Unsure if we even HAVE enough time for all the DIYs I've planned. Wishing I knew how to use power tools so I didn't have to rely on others for that part.
Really though, just thrilled to have the opportunity to take part in the challenge.
Now, what room are we redoing?
I could really take my pick. Redo the kitchen? Our master bedroom? Master bathroom (or current room of plywood)? Basement bathroom (or spider web hub)?
Nope! We picked our little boy's room.
It's going to be a shared boys bedroom!!!
Don't worry, just because we aren't doing plumbing or installing a sink doesn't mean we haven't taken on quite a bit of work.
But, before we get started … we have to show you what we are starting with: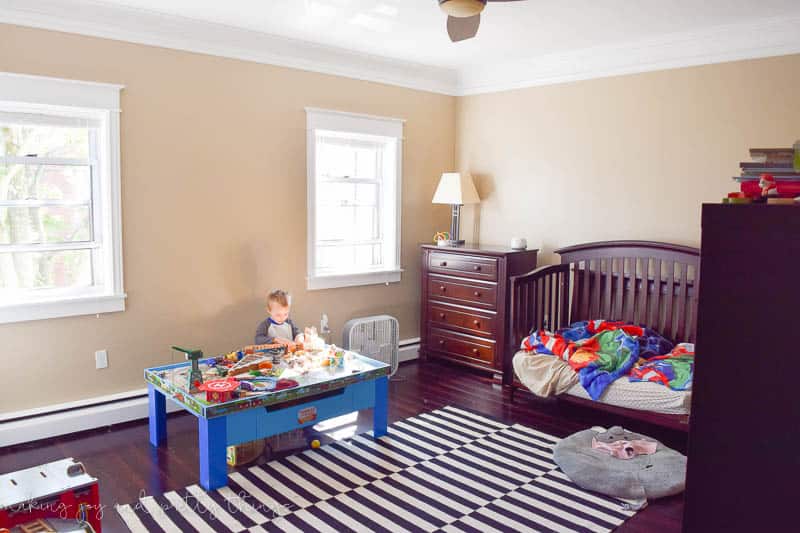 Welcome to Liam's room! At first glance, it's not too bad 😉
(though, if I'm being honest, I did clean for a few hours before taking pictures. shhhhh….)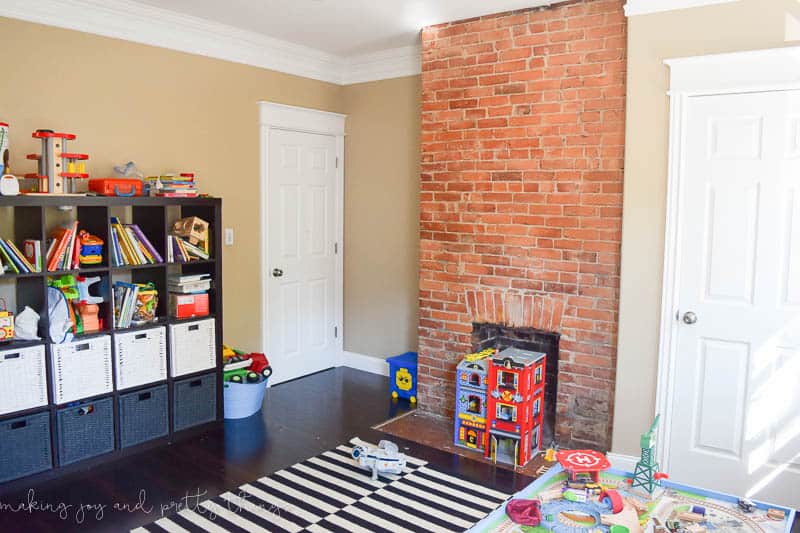 The room is HUGE. In fact, it used to be the master bedroom until we turned the attic space into our master bedroom.
It has lovely high ceilings, TWO closets, new bamboo floors (though don't get me started on those), framed in windows and my favorite: crown moulding!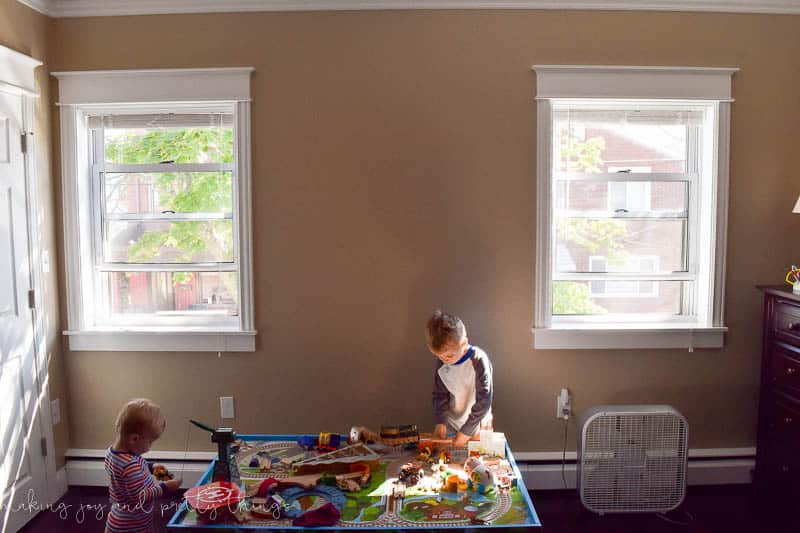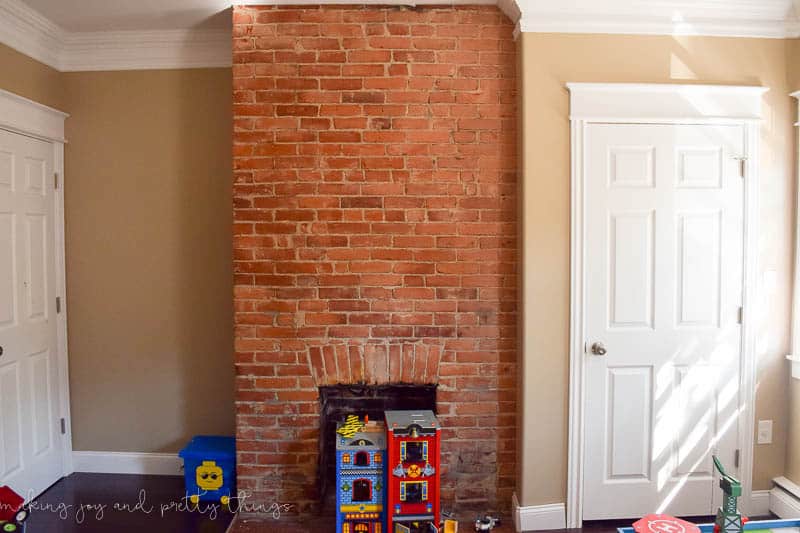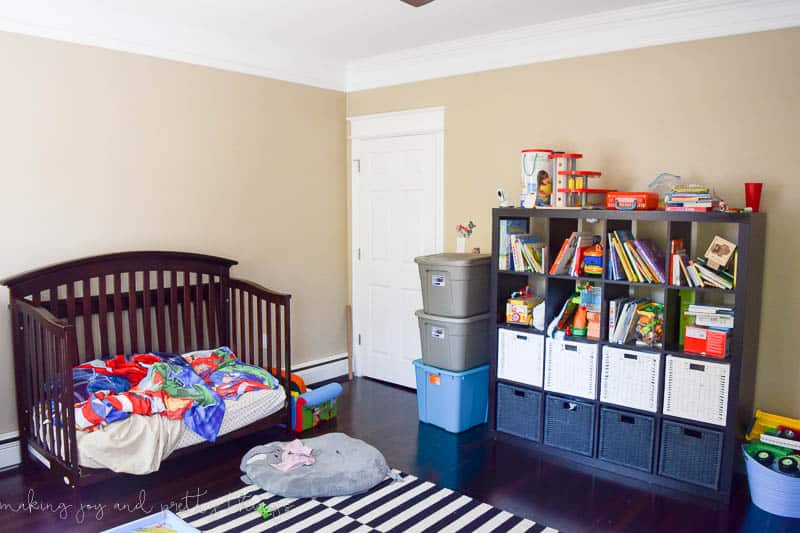 So, at first glance, not too shabby, right?
Well, if you're like us, you have collected SO many toys, SO much clothes, and SO many books that you're practically drowning!
This room has turned into a dumping ground for anything we don't know what to do with.
It HAS the space, just not being used in the most functional way.
There are baby rattles mixed in with go fish cards. A Thomas the Tank Engine table that takes up half of the room. A closet that looks like this:
The other closet looks like this: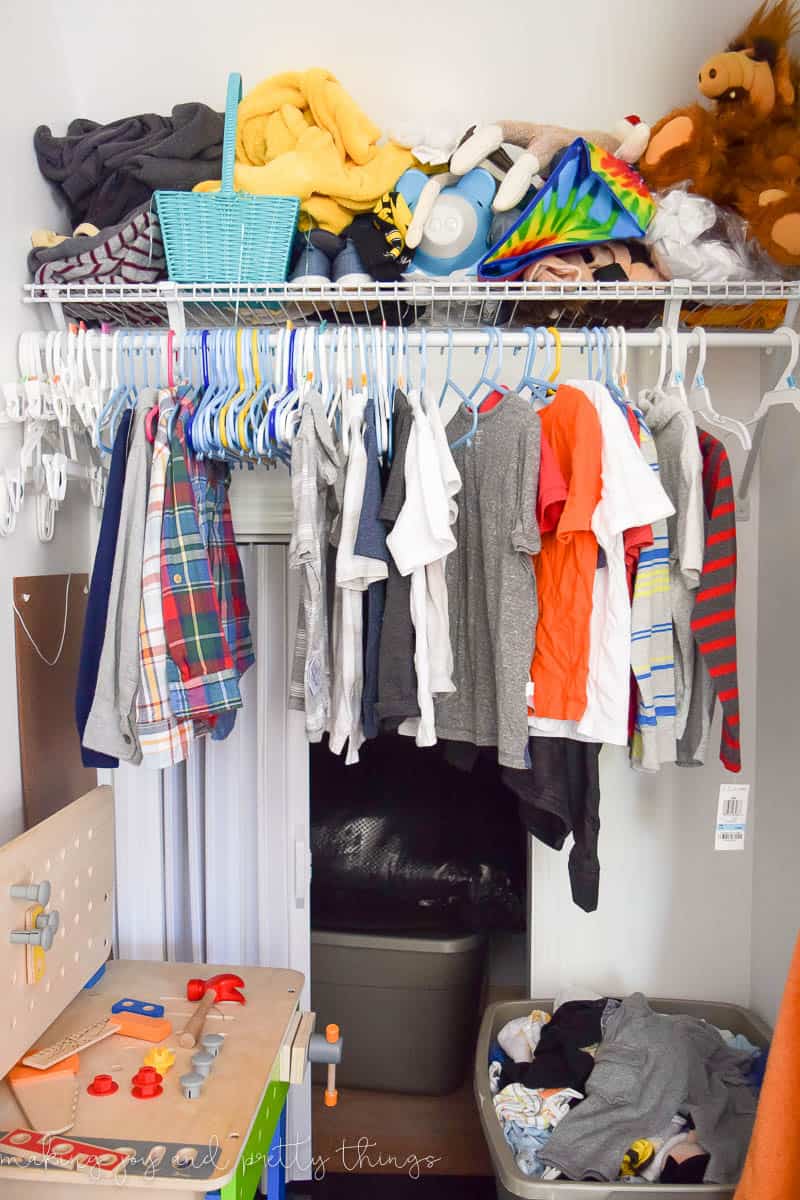 It's a hot mess.
These bookshelves gotta go.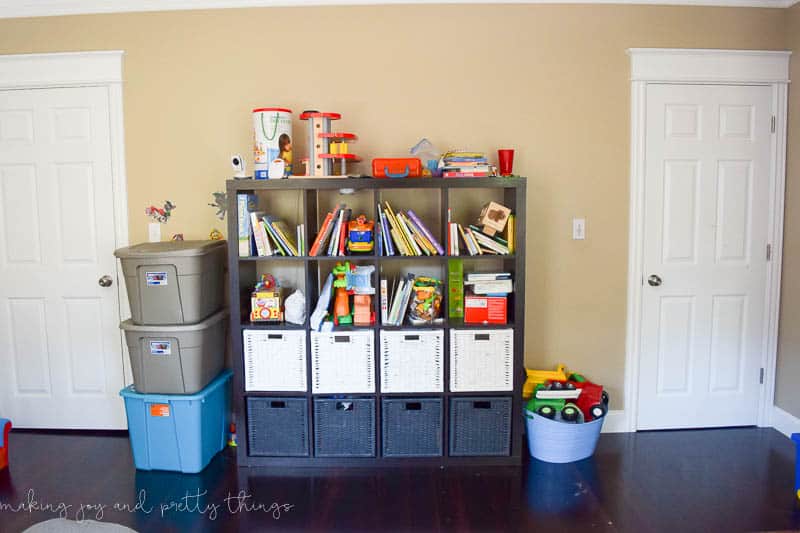 The fireplace needs a facelift.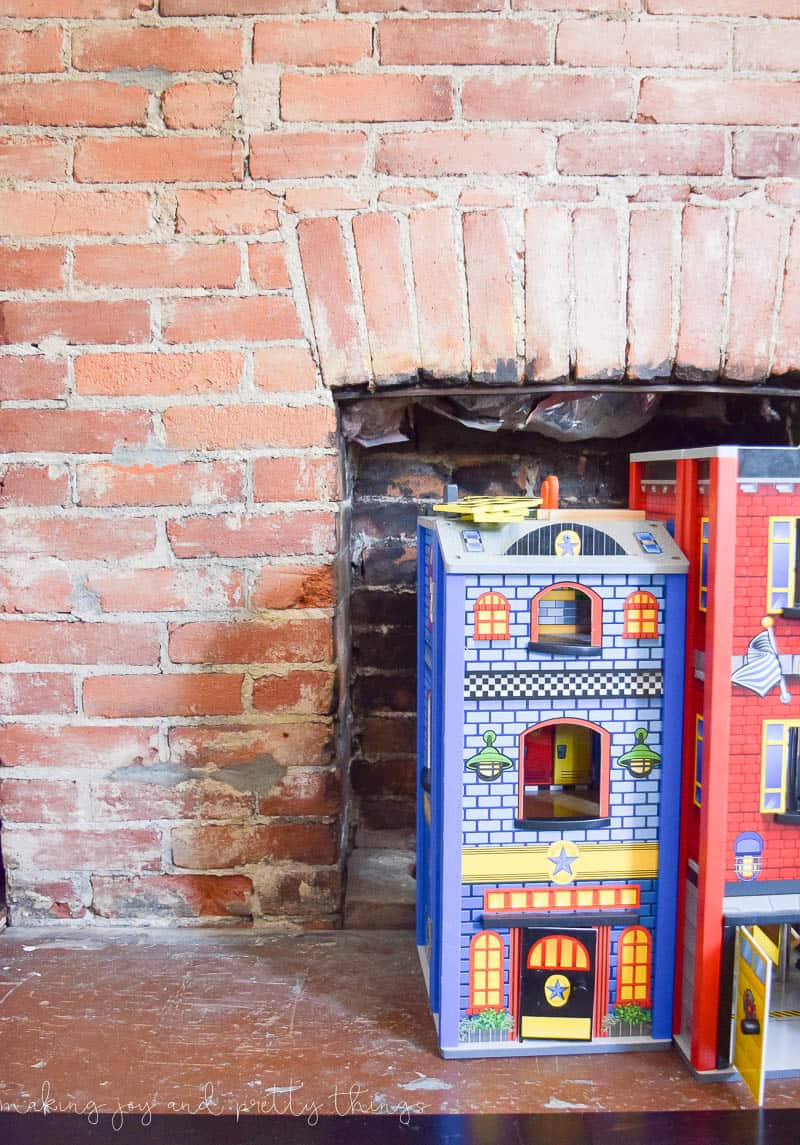 Goodbye toddler bed and hello bunks beds!
So long scratchy, uncomfortable rug!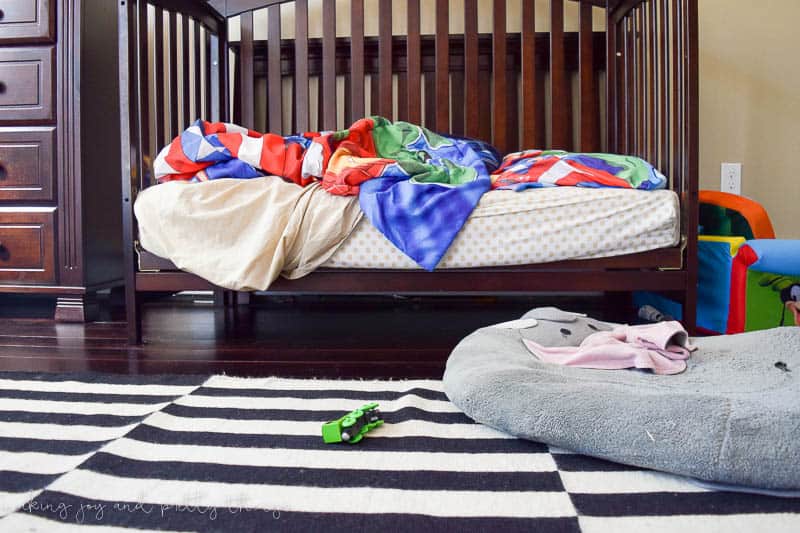 Are you in the same boat as me? Are you drowning in toys, clothes, and books? Nowhere to store them?
THAT, my friends, is my motivation for turning this room with so much potential into a shared boys bedroom.
It needs to be functional. It needs to be safe. It needs to be FUN, a place where they can come to fight play together. It needs to be kid-style (no farmhouse style here unfortunately 🙁 )
So what exactly do we have planned for the space?
Well, you'll have to wait until next week for the to do list and inspiration photos. But, I couldn't completely leave you hanging, so here's a little mood board to show you a general idea of what we've dreamed up!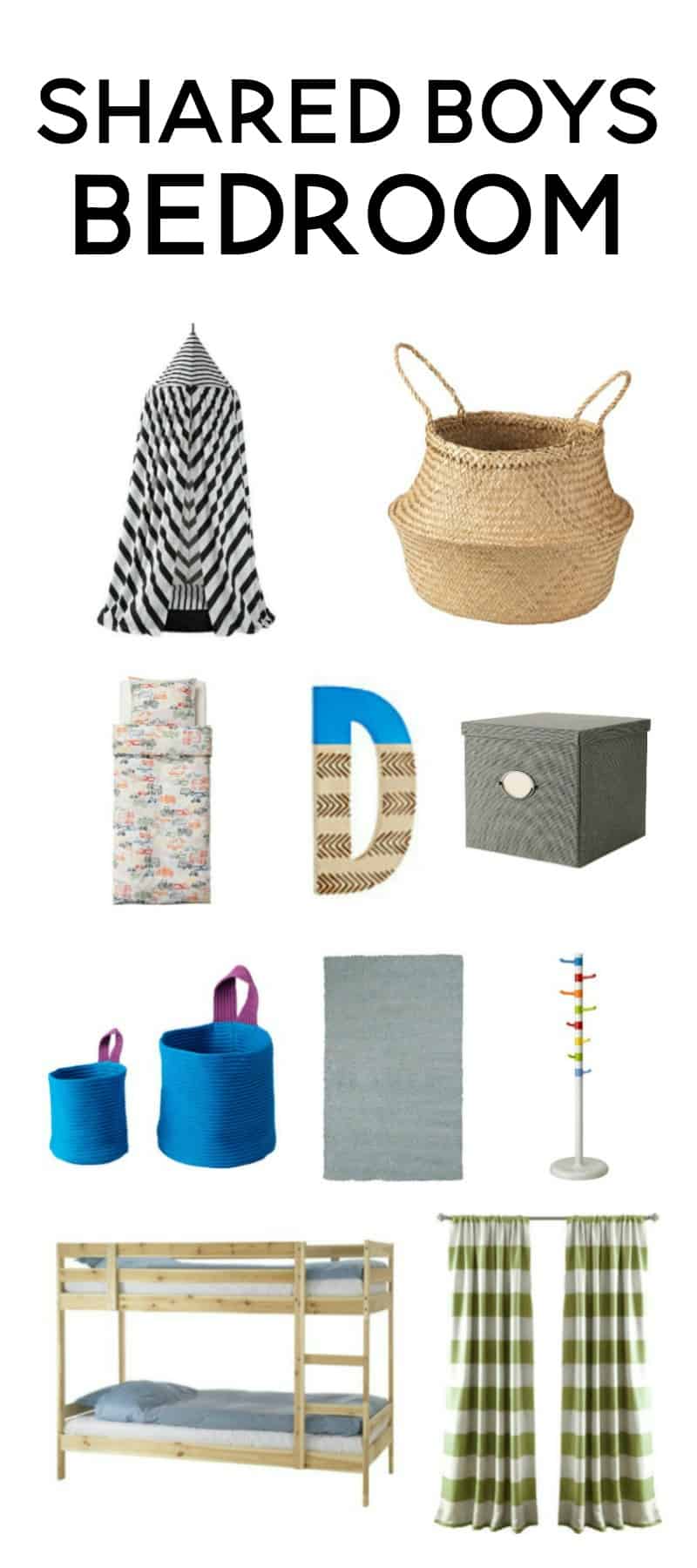 Remember to stop back next Wednesday for an update on the boys bedroom and tons more plans/inspiration for a shared boys bedroom.
Hop over to Calling It Home to check out what all the other talented bloggers are doing for the One Room Challenge!!
Wishing you a joyful day!