How to Make a Frame for a Canvas Without Powertools
Learn how to make a frame for a canvas WITHOUT using power tools!  Now you can get the polished, and finished without worrying about using power tools.
I am so excited to be participating in my first Create with Me DIY Challenge with this tutorial on how to make a frame for a canvas!
It's the neatest idea – you all (my fabulous readers) get to choose from 4 materials and I/we have to make something, ANYTHING out of that supply!!
Last month, the readers chose a canvas.  Which, I have to admit I wasn't thrilled about!  When I think of a canvas, I think of a beautiful abstract art piece full of life and watercolor paint.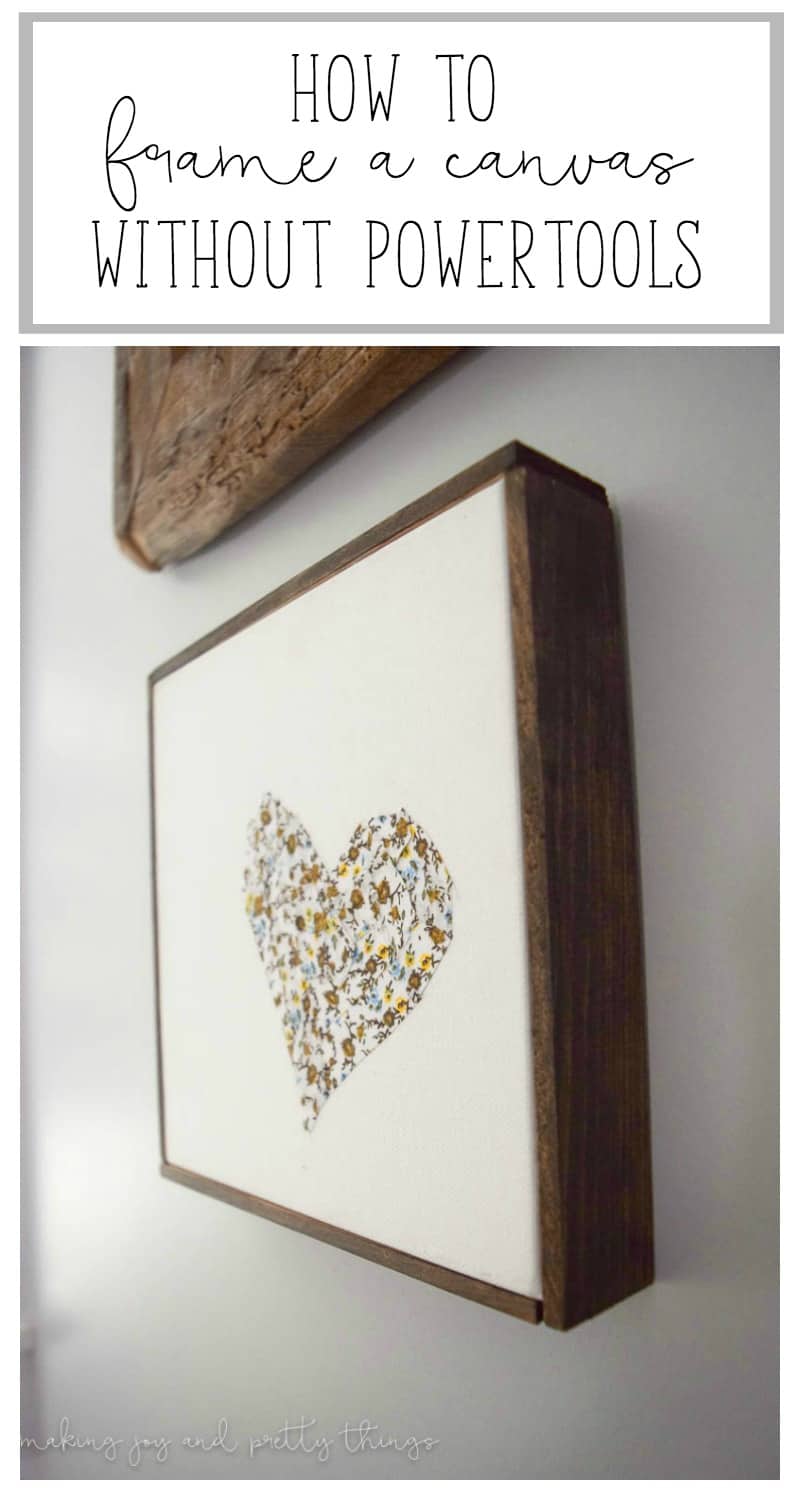 And, I can't paint. Or draw. At all. It's basically at a 5th-grade level. Embarrassing.
Thinking Outside of the Box for the Canvas
So, I knew I had to think outside the box for the canvas. Any ole' pretty art wouldn't do, mostly because I couldn't DO pretty art.
That's when I came up with the idea of doing a framed canvas, without power tools!! So many of the projects I do here on the blog require power tools.
And, while I'm generally okay with that, I know many people who either don't have or don't know how to use power tools (like me!!).
Well, you're in luck! You CAN frame a canvas WITHOUT power tools.
This post contains affiliate links. Please, click here to read my disclosure policy.
Supplies for Canvas Frame
Step 1. How to Mark Wood to frame a Canvas
First, start by measuring your pine wood against the length of the canvas.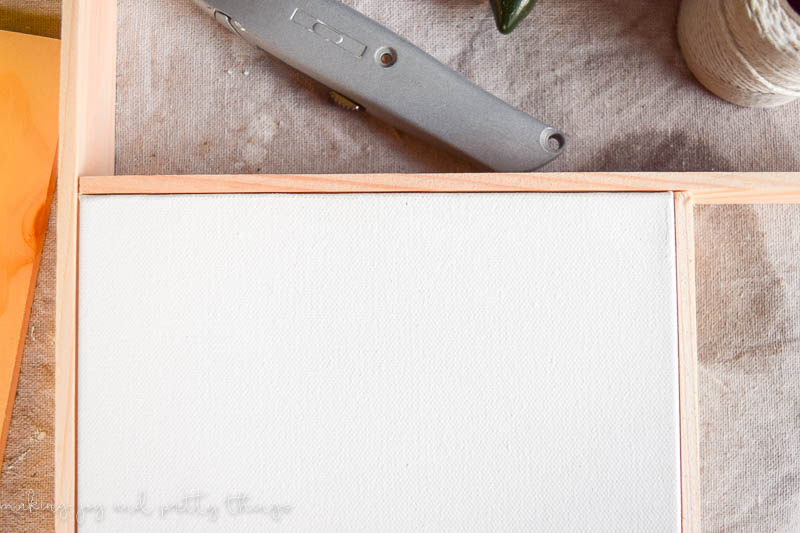 Using the pencil, mark a line where to cut the wood so that each piece is a little longer than the length of the canvas. You want the top of each cut piece to be level with the next flat piece of the frame.
In other words, the length of each side of the frame is equal to the length of the canvas plus the width of the frame piece.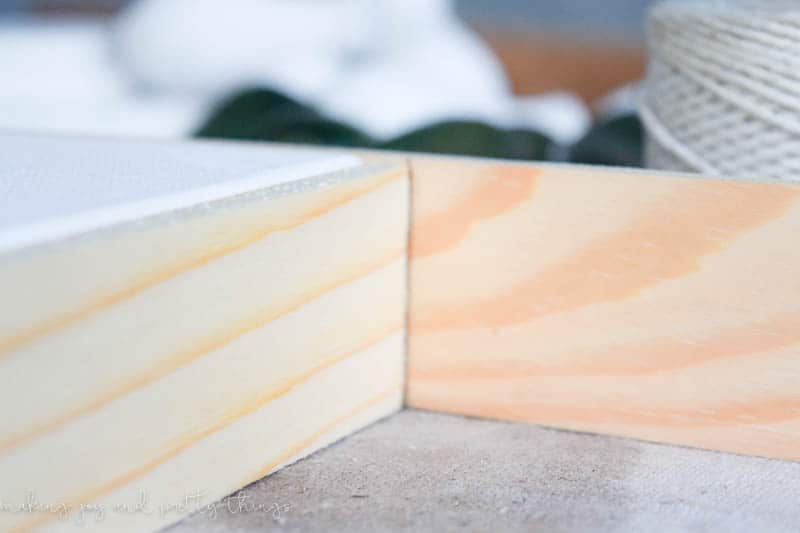 Step 2. Cut Wood for Canvas Frame
Once we had the pencil mark, we lined the mark up with the straight cut opening on the miter box (technically the 90-degree mark)and cut.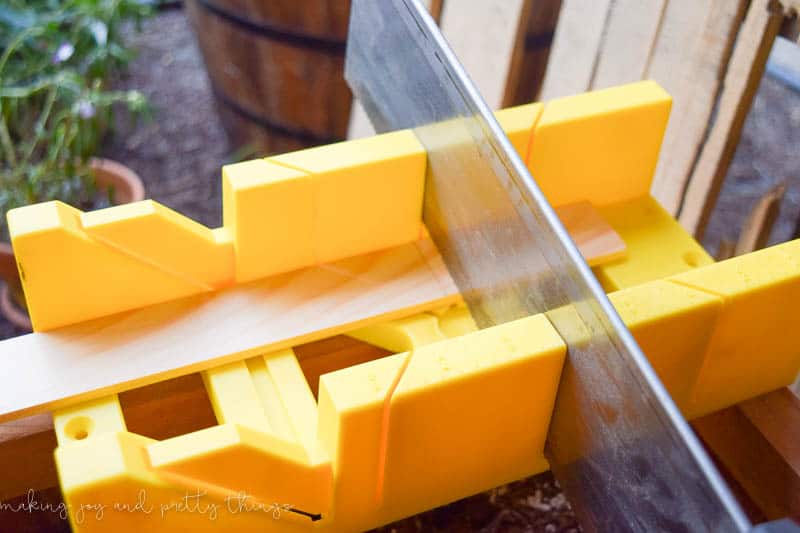 Next, we used that cut piece as the template and marked all the other pieces to match. (Since the canvas is a square, each piece is the same length)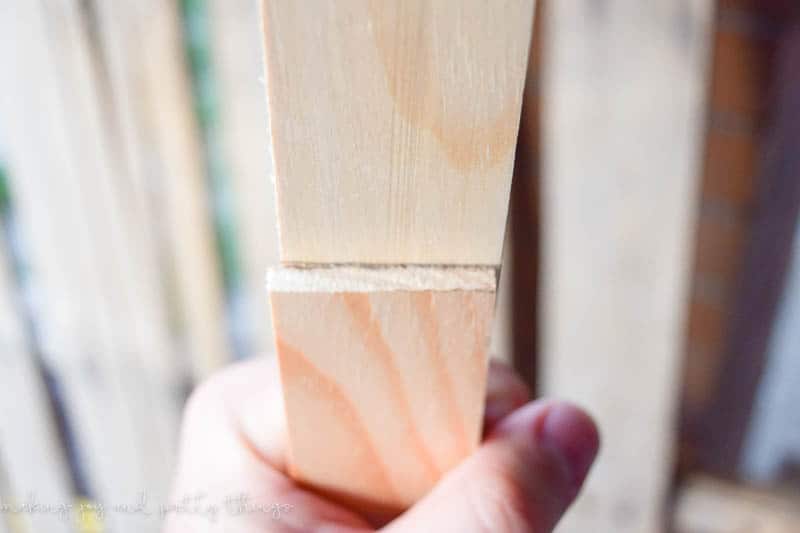 Step 3. Stain Wood for Frame
Now that we had 4 equal-length trim pieces, it was time to stain them! I love the Jacobean stain; not too light, not too dark.
Stain 5 sides of each piece. The only side that doesn't need stained is the innermost side that will be touching the canvas. Don't forget those edges!!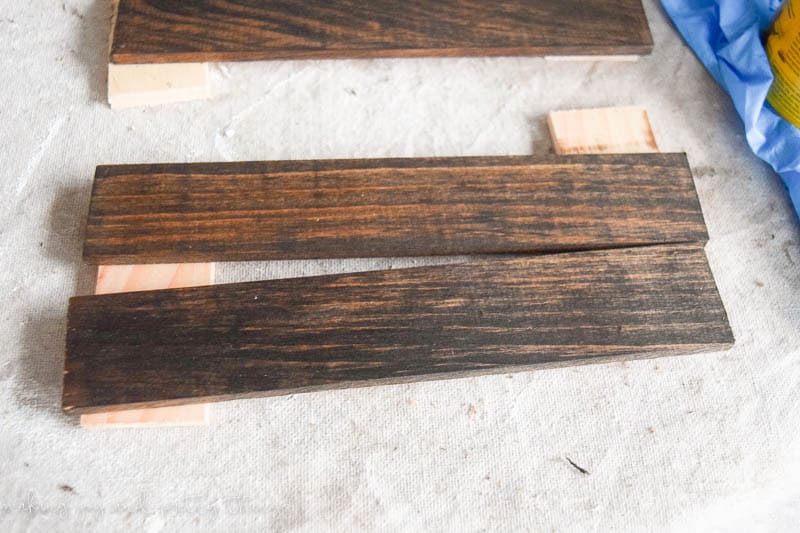 I let the pine dry overnight. You don't have to sand the pine at all because it's a completely smooth finish! That saves so much time.
Step 4. Glue your Wood Frame to your Canvas
Next, I grabbed my hot glue gun and got to work. I covered the innermost (unstained) part of the wood with glue and stuck it to one edge of the canvas.
Remember, once you have the piece on it's difficult/impossible to move without damaging the canvas so try to line it up pretty straight the first time.
Press firmly for a few minutes to make sure it's adhered.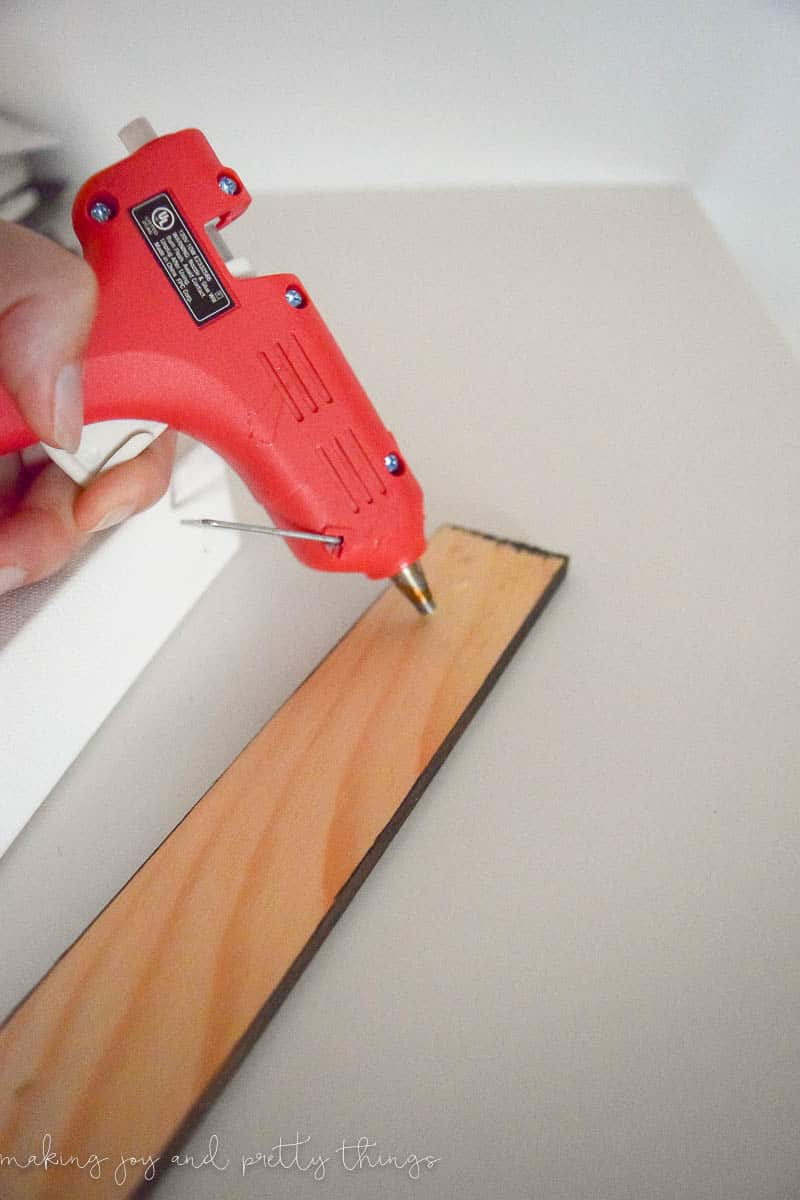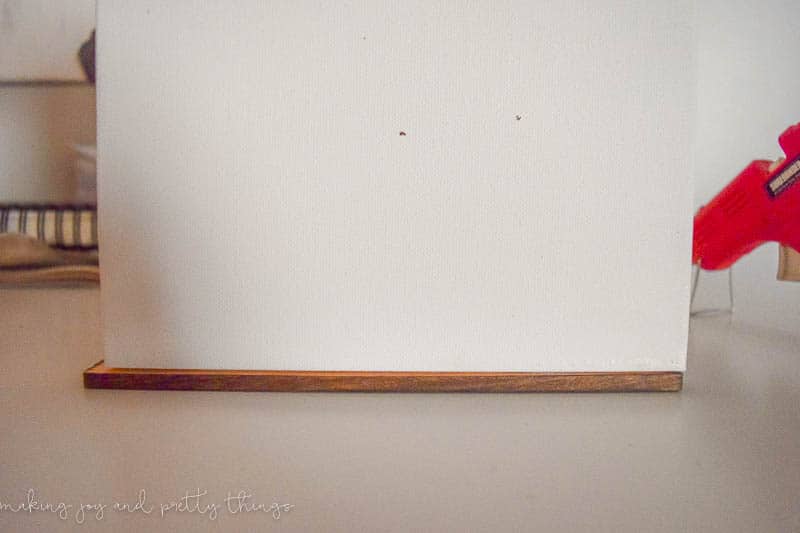 Continue the same steps with the remaining 3 pieces of wood and you're finished!!
Step 5. Add Heart to Canvas
I simply drew a heart in pencil over an area we accidentally got some stain on and used washi tape to fill it in. Make small cuts to the washi tape to get fill in the round edges of the heart.
I used this same washi tape for the pumpkin place cards and I'm obsessed!
Keep in mind, if you can actually make pretty art you can do that, too!! Then have a gorgeous frame around it!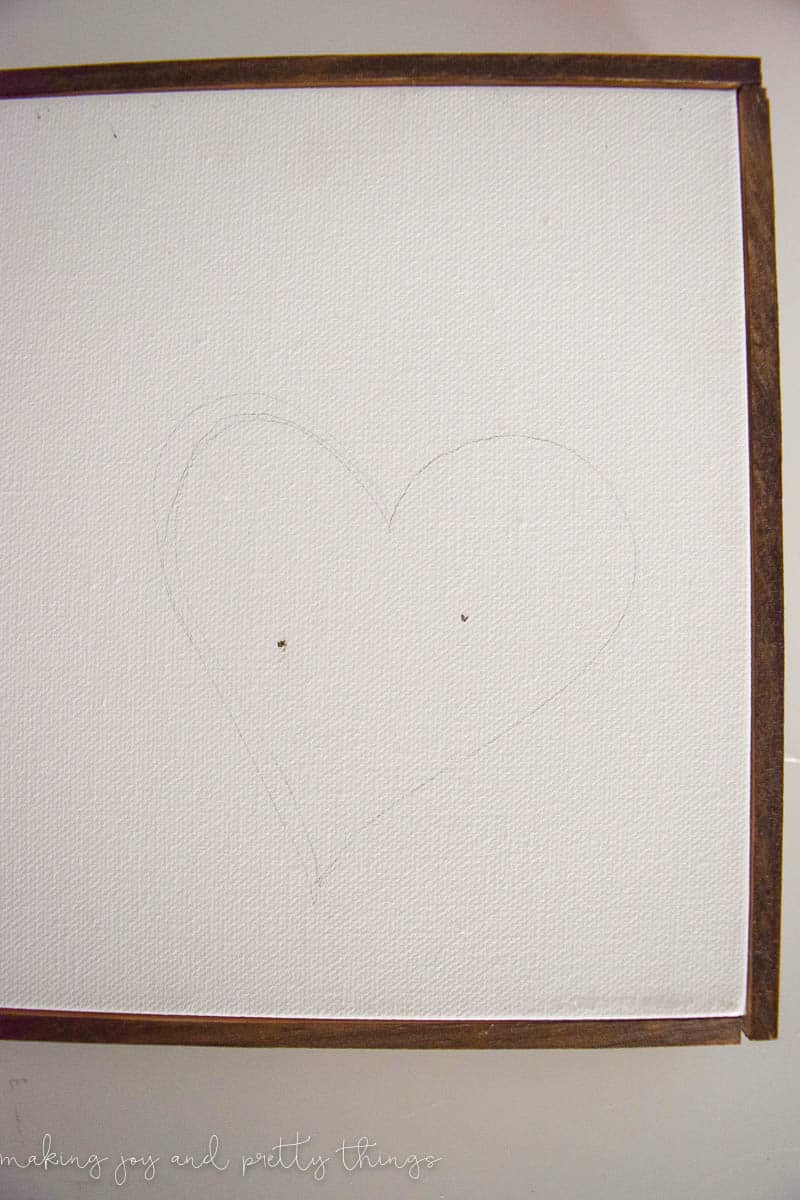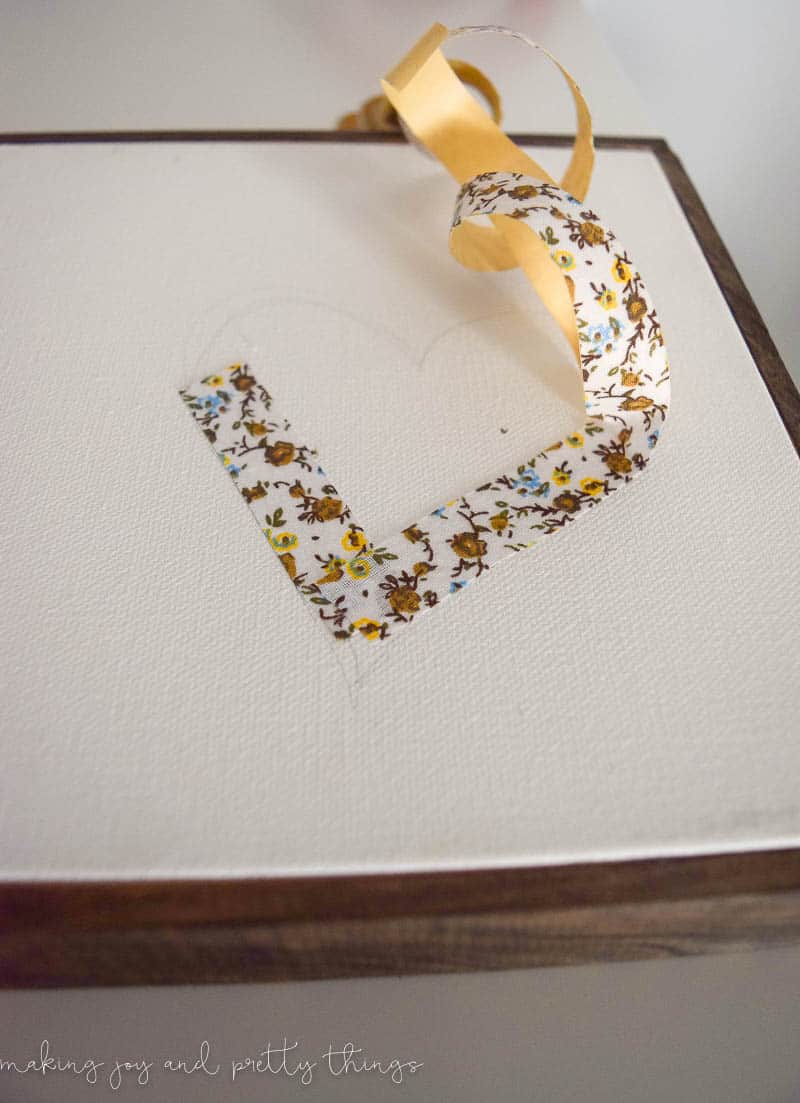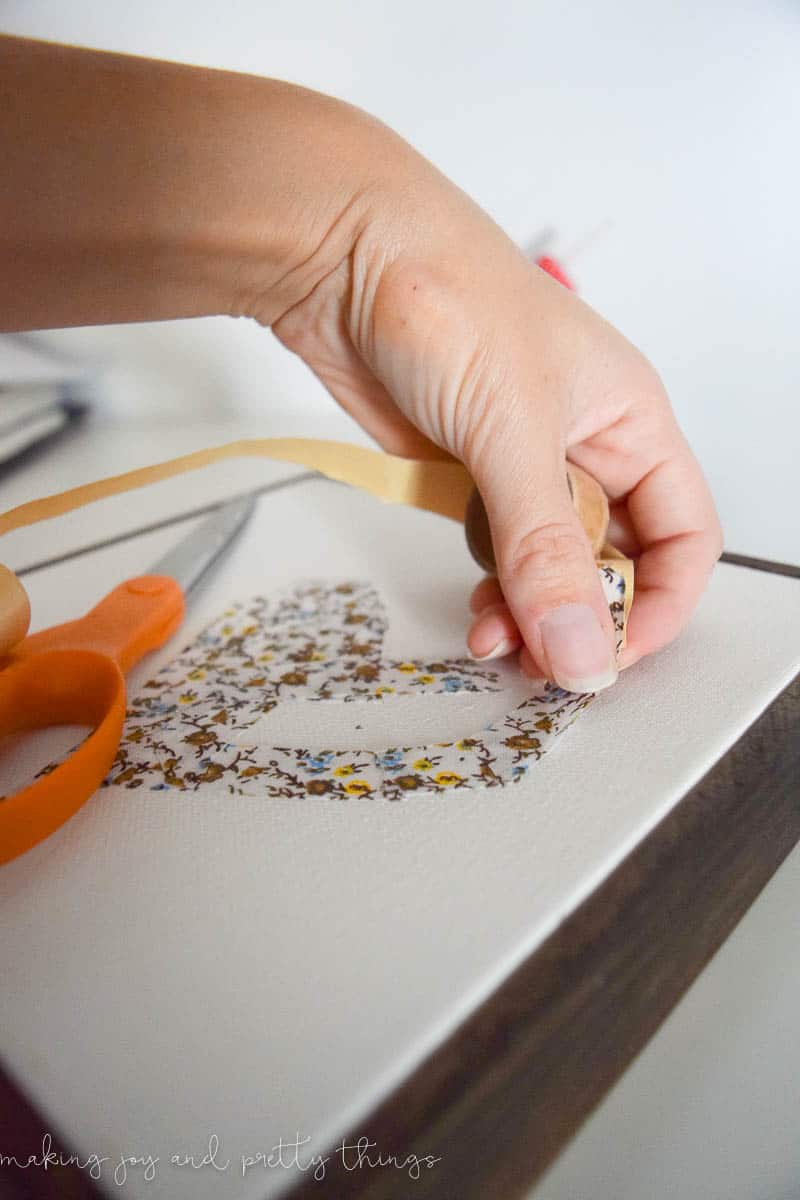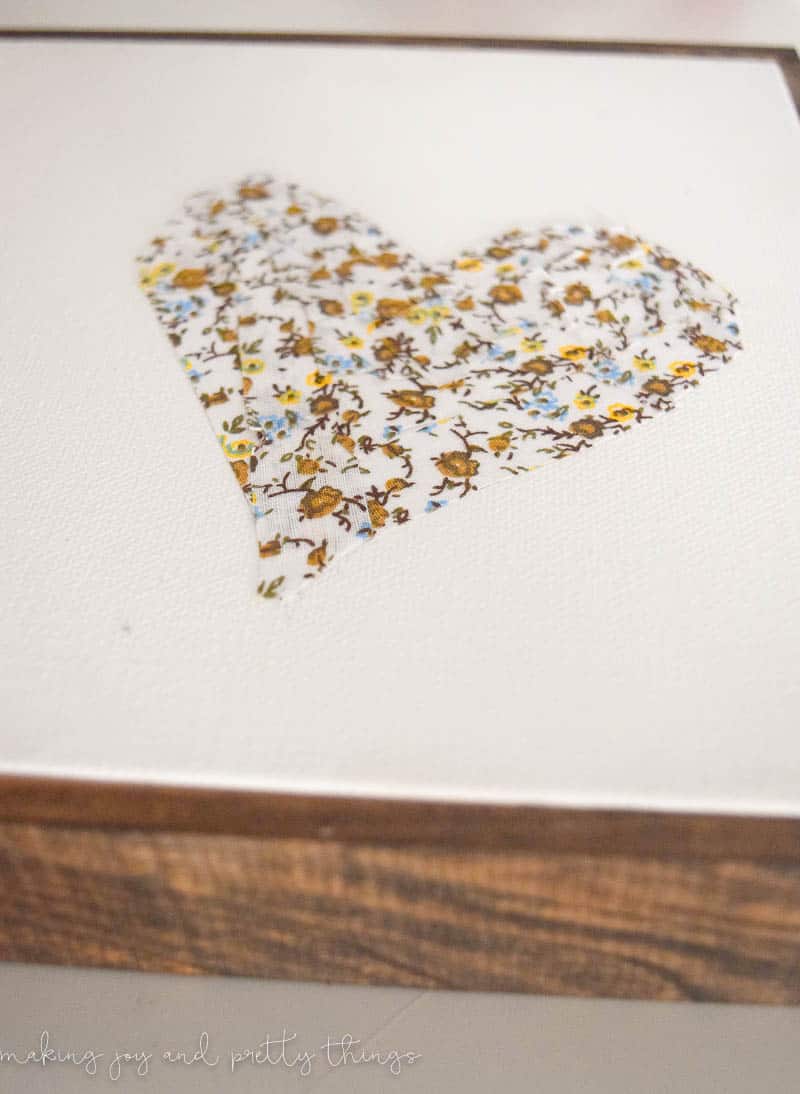 And, that's it, my friends!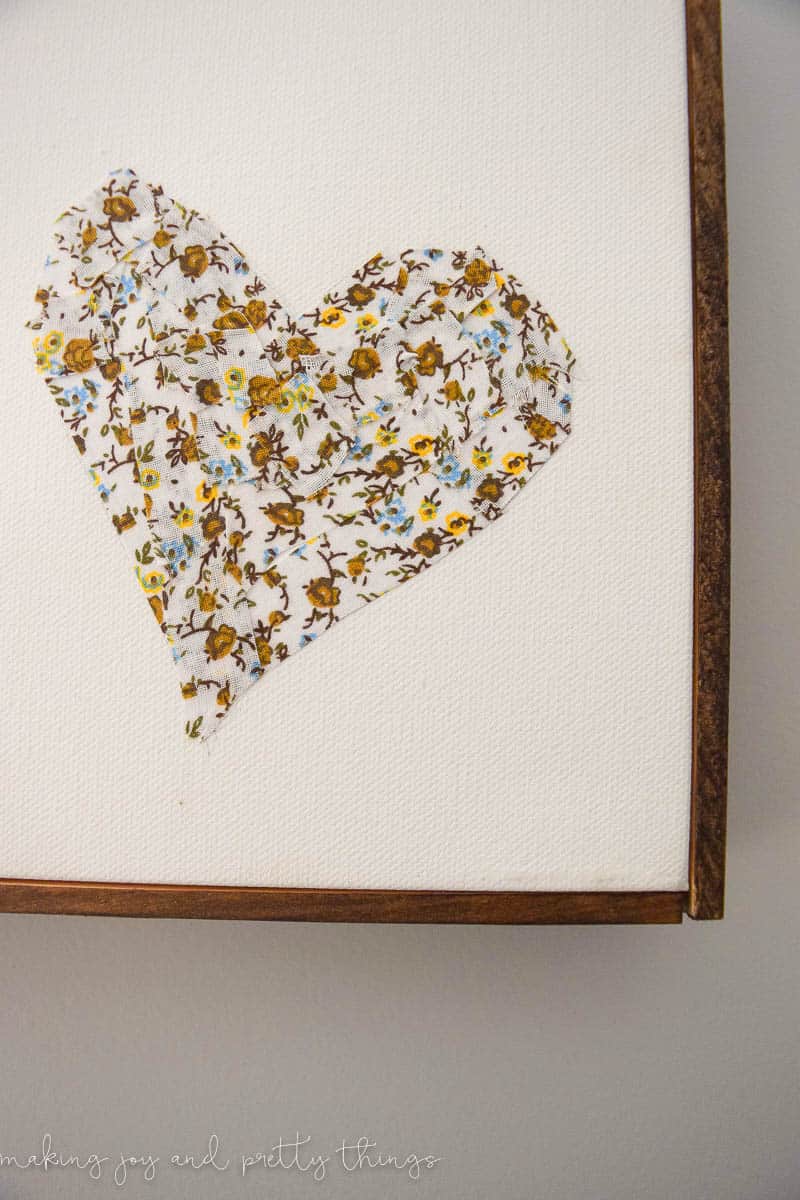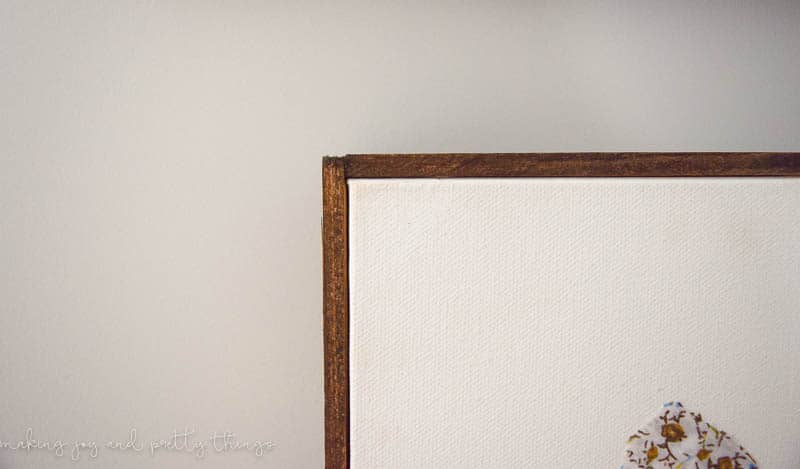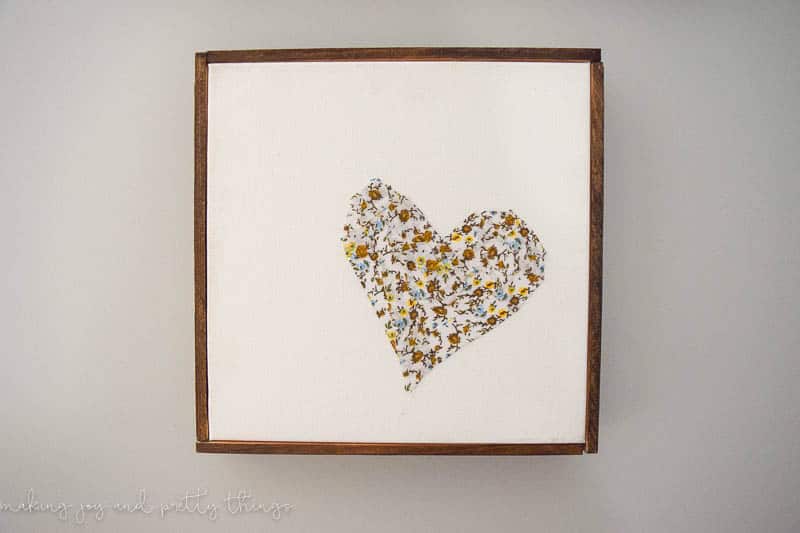 It's currently hanging (via 3M strips) under the DIY Irish Blessing Framed Sign. I just need one more piece there to make that little area complete…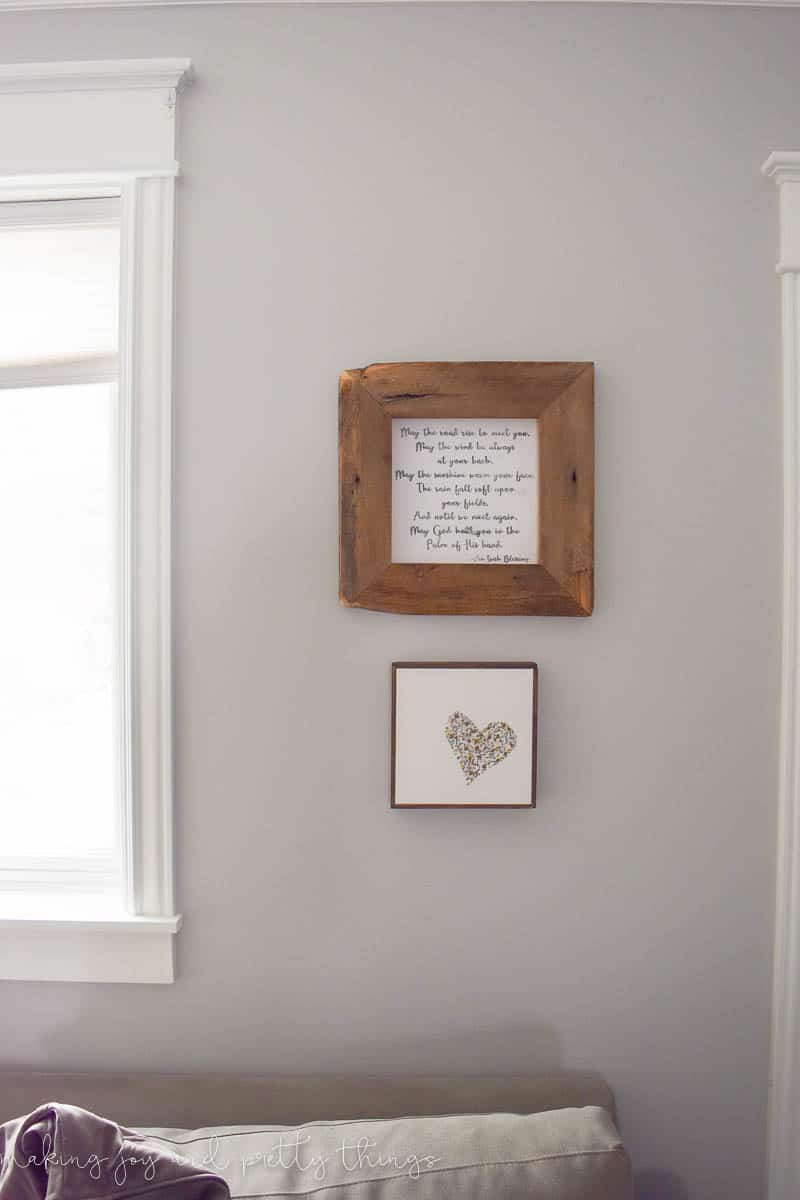 I hope you enjoyed learning how to make a frame for a canvas without using any power tools whatsoever. This was a nice and easy project using no power tools at all! I love participating in these create with me projects and it's easy to follow along too!
Hop down under the survey to see what the other ladies made!!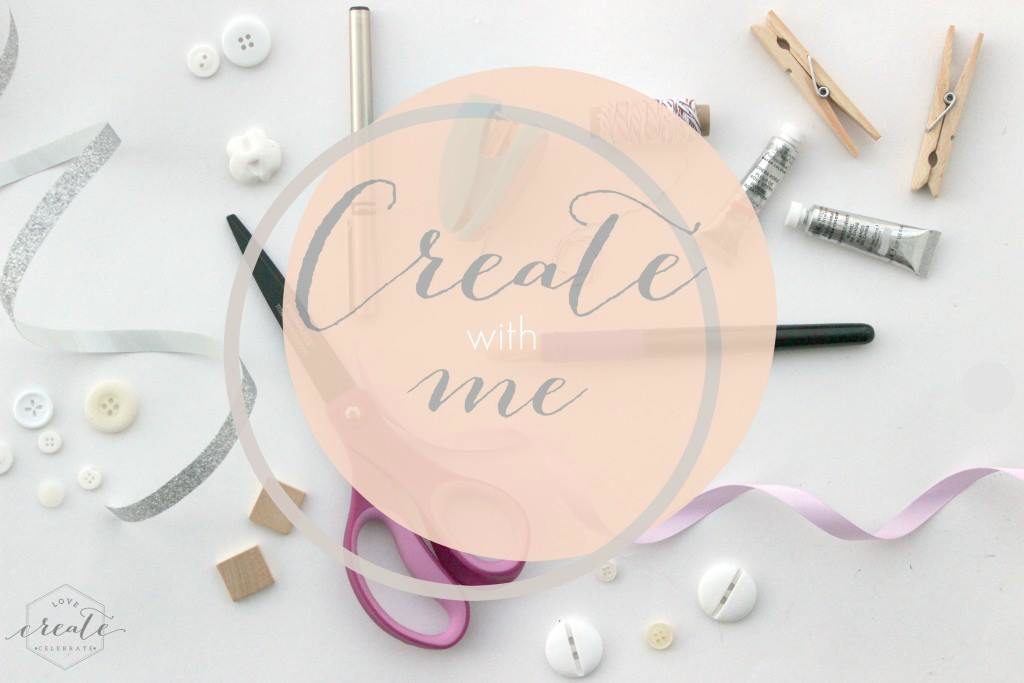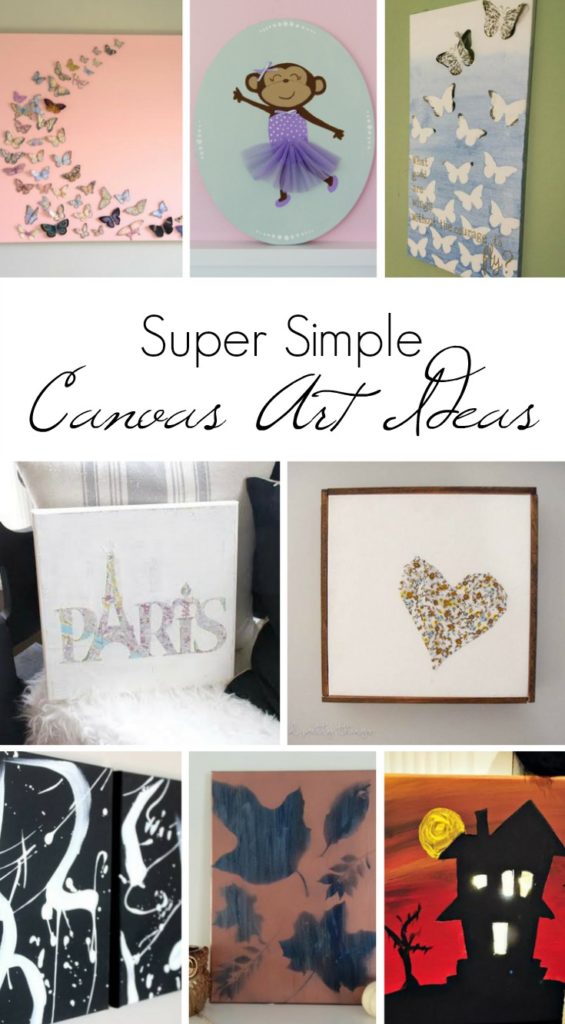 Butterfly Canvas- Our House Now a Home
Mixed Material Art- Little Bits of Home
Ombre Butterfly Art- Refresh Living
Map Canvas Wall Art- My Life from Home
How to Frame a Canvas – Making Joy and Pretty Things (that's me)
Two Minute Canvas Art- Love Create Celebrate
Lighted Halloween Canvas- Knock it Off Kim
Wishing you a joyful day!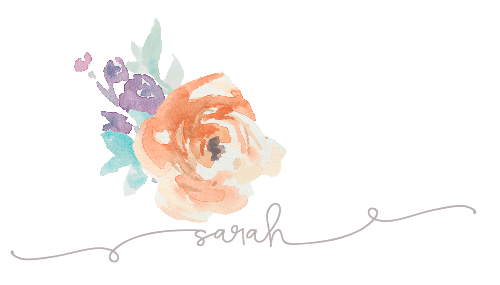 Yield: 1 canvas frame
How to Frame a Canvas Without Power Tools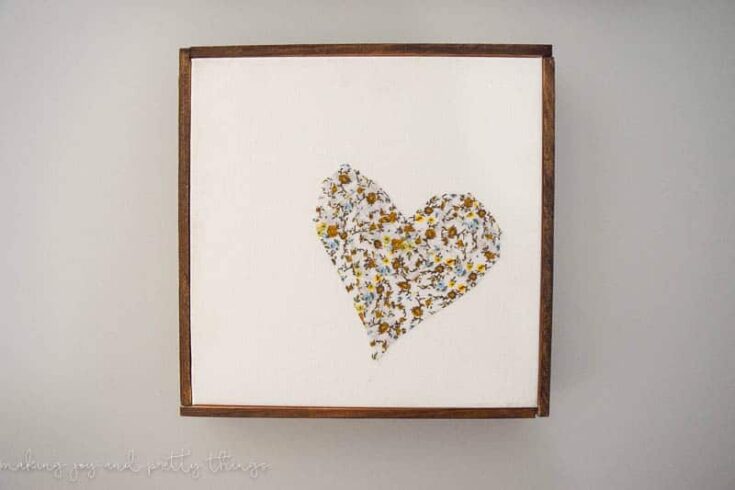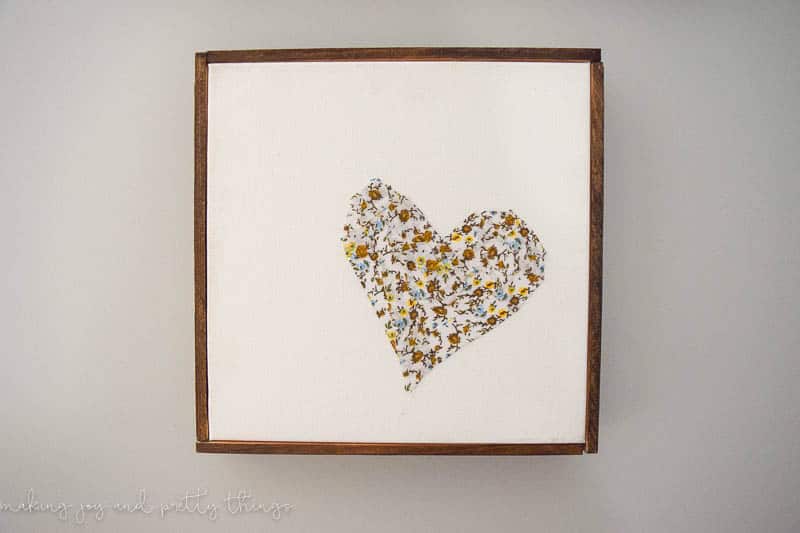 Frame a canvas WITHOUT using power tools!  Now you can get the polished, finished look of a framed canvas without worrying about using power tools.
Materials
Instructions
Cut your pine boards into 4 pieces to fit your canvas to make the frame. You can do this using a hand saw and a miter box.
Stain the pieces and let dry overnight. You don't need to stain the side that will rest against the canvas.
Using hot glue, apply it to the unstained side of each piece and adhere it to the canvas.
Draw a heart shape on the canvas with a pencil.
Use washi tape in your favorite pattern to fill in the heart.
Hang on the wall and enjoy!